General History Resources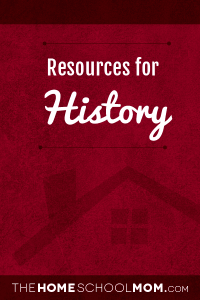 See legend at bottom for explanation of age codes
Quatr.us - History and Science for Middle School Kids (M)
A study guide for anybody interested in history.
Homework Helper (Y,M,O,T)
Homework Helper From National Geographic. Research for pictures, articles, maps, and more on our top subjects: Animals, History/Culture, Maps/Geography, Places, Science/Nature, and Art/Photo's.
History Detective Kids (Y.M)
Designed to help kids explore and solve history mysteries. The interactive content in this site provides kids with everything they need to know to become a History Detective and investigate a question or topic from start to finish. The site is set up for a kid to use on his or her own, with a friend, or with a parent or teacher.
BBC Children (Y,M,O,T)
BBC has one of the best children's sites on the web. It has long been my favorites for their flash games, but the site is large and has much more to offer. School Day 24 connects kids all over the world, particularly kids living in areas of conflict. Science, nature, history, and more are covered in ways that get kids engaged. The site also includes movie reviews, articles, and links to other areas of the BBC site like health and sport, cooking, and more.
A Book In Time - Timeline of Historical Fiction and Nonfiction (Y,M,O,T)
The Ultimate History Booklist! I have featured this site before, but they recently changed their URL and that was a reminder for me to mention it again. A Book In Time is a recommended reading list for history including fiction and non-fiction books, which are listed by time period.
History Central Com (Y,M,O,T)
"History's home on the web" - too much information to list; includes an online store
History - reference site from MyVirtualEncyclopedia (Y,M,O,T)
History - reference site from MyVirtualEncyclopedia
Why & How I Teach with Historical Fiction (T)
Scholastic article by Tarry Lindquist
Age Range Key
Y—Young (PreK-3rd)
M—Middle (4th-6th)
O—Older (7th-12th)
T—Teacher Resources