Activities, Lesson Plans, and More
Age Range Key
Y—Young (PreK-3rd)
M—Middle (4th-6th)
O—Older (7th-12th)
T—Teacher Resources
National Endowment for the Humanities US History Lessons  (Y, M, O, T)
The National Endowment for the Humanities website is home to hundreds of US History lesson plans on famous figures, native cultures, government, and other topics. Most lessons are accompanied by reading materials, primary sources, and activities for further learning. You can find lessons for grades K-5, 6-8, and 9-12.
Reading Like a Historian US History Lessons  (M, O, T)
"The Reading Like a Historian curriculum engages students in historical inquiry. Each lesson revolves around a central historical question and features a set of primary documents designed for groups of students with a range of reading skills." Use the category filters or lessons index page to sort by time period. US History lessons cover the Colonial Era, Salem Witch Trials, Expeditions, the American Revolution, Civil War, Cold War, and much more.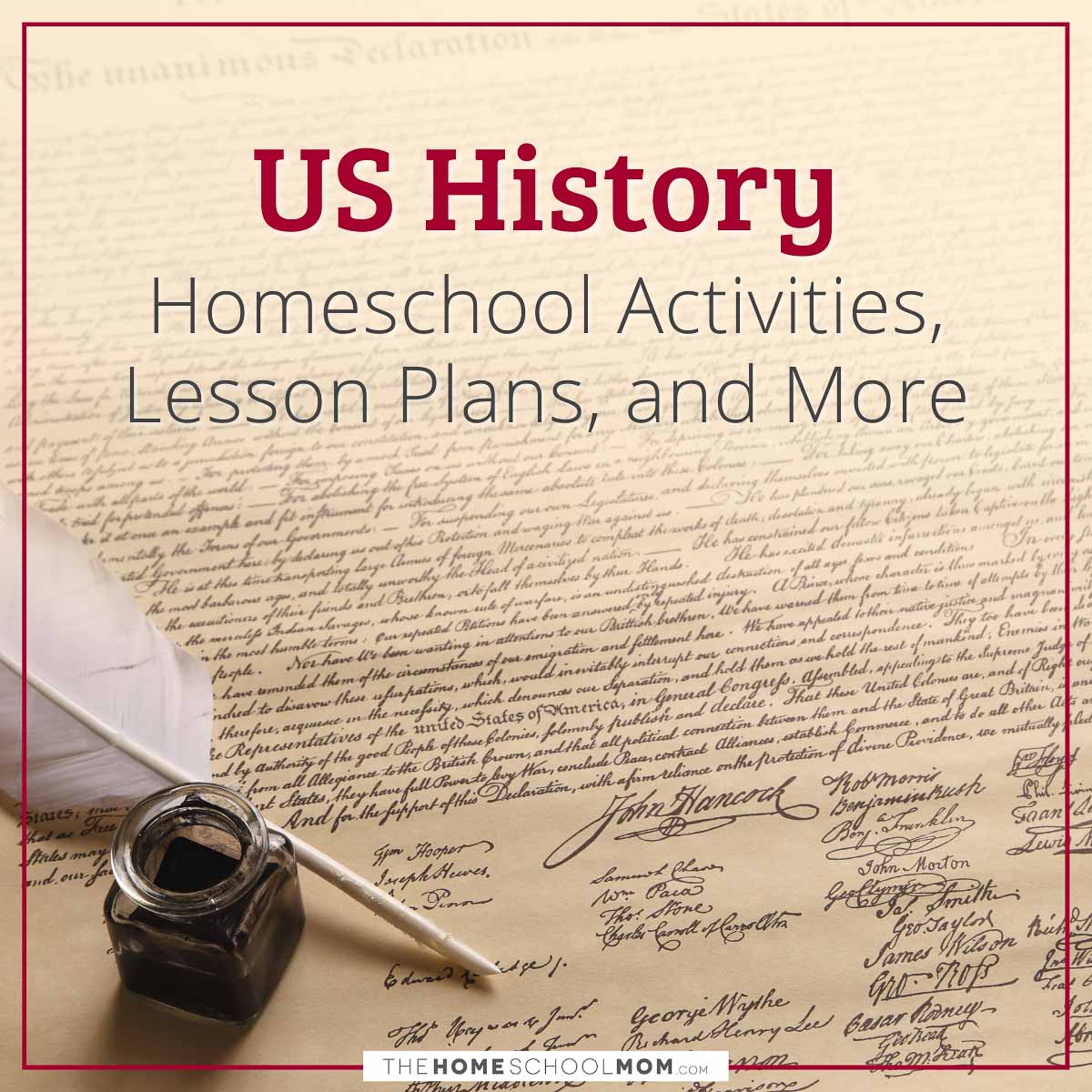 The Gilder Lehrman Institute of American History  (Y, M, O, T)
The Gilder Lehrman Institute is an excellent resource for any US History curriculum. In addition to articles and primary sources, the website regularly publishes digital exhibitions and interactive maps, timelines, and other resources on special topics and time periods.
A Brief Introduction to US History  (M, O)
This Khan Academy US History Intro Course will guide students through all of the major time periods and events of American History, from pre-colonization to today.
The American Yawp: Free US History Textbook  (O, T)
"The American Yawp offers a free and online, collaboratively built, open American history textbook designed for college-level history courses. Unchecked by profit motives or business models, and free from for-profit educational organizations, The American Yawp is by scholars, for scholars. All contributors—experienced college-level instructors—volunteer their expertise to help democratize the American past for twenty-first century classrooms."
US History Scene  (M, O, T)
The US History Scene website is a comprehensive American History website that allows you to browse articles and resources via century, theme, or interactive timeline. In addition to thousands of articles, the website hosts tons of primary source documents, teacher guides, reading lists, lesson plans, and more.
US History Special Topic Websites  (O, T)
This roundup of US History free resource websites from New York University covers a ton of special-interest topics in US History, including Women's History, Black History, Chinese-American History, the US-Mexico War, Agriculture, Prohibition, the Founding Fathers, the New Deal, the Great Depression, Labor History, and much more.
National Museum of American History  (Y, M, O, T)
The Smithsonian's National Museum of American History is home to a massive collection of primary source documents, artifacts, historical photos, and more related to major US historical events, as well as lesser known events and topics. You can explore the collection by topic, check out their digital exhibitions, and find plenty of educator resources on its website.
Mission US: History Games  (M, T)
Mission US is a public media project designed to teach history and tackle difficult topics through immersive, narrative games. The missions cover the American Revolution, Slavery, Native Americans, Immigration, the Great Depression, and WWII. Each mission includes a game, background information, a teaching guide, videos, and primary sources. Designed for middle school students.
The Zinn Education Project  (Y, M, O, T)
The Zinn Education Project is based on the premise of Howard Zinn's best-selling book, "A People's History of the United States" and features history lessons, articles, and other resources that teach history through the eyes of "working people, women, people of color, and organized social movements in shaping history." You can search resources based on theme, time period, or grade level.
PBS US History Lessons  (Y, M, O, T)
"U.S. History is broken down by time periods, ranging from Three Worlds Meet (beginnings to 1620) to Contemporary United States (1968 - today). Students can explore Westward Expansion from 1790 to 1850 using an interactive map, teachers can create a document-based question for students to analyze dozens of Civil Rights documents, and classes can discuss political cartoons from every time period from the Colonial Period to Contemporary America. The Revolutionary War, the wars in Iraq and Afghanistan, Reconstruction, and the Great Depression are among additions topics covered." From PBS.
Spartacus Educational: History Website  (M, O)
The Spartacus Educational website is an impressive, encyclopedic website that features American History, British History, German History, and Russian History, with more topics continuously being added. Each country profiles features a vast database of historical events, primary sources, biographies, cultural profiles, and much more. There's tons to explore on this site.
Columbus Day Controversy  (M, O, T)
Each October, a holiday celebrating Christopher Columbus ushers in debate about the man's character and accomplishments. Most people now know that Columbus didn't actually discover America, nor did he discover that the earth was not flat. Beyond that, there are 3 main issues with Columbus' activities in the Americas at the heart of the debate about whether Columbus Day should exist: "the use of violence and slavery, the forced conversion of native peoples to Christianity, and the introduction of a host of new diseases that would have dramatic long-term effects on native people in the Americas". Learn more from this History.com feature on the man, the controversies, and the consequences.
Lesson Plans for Young Heroes of History  (M,O)
The homepage of the author of this series of Children and Young Adult historical fiction
Eyewitness to History  (M,O)
EyeWitness to History is an award-winning website presenting history through the perspective of those who actually lived it - from the ancient world through the 20th century. Be aware that it is not white-washed or edited for children, but with proper supervision it is an awesome resource for studying history from the point of view of those who were living it.
The Flag of the United States  (M,O,T)
Students learn the history of the flag, flag etiquette, meanings behind traditions surrounding the flag, and more.
Interpretation and Education - Historic Places  (T)
To celebrate going back to school, Teaching with Historic Places highlights on the web the following lesson plans that consider important aspects of the history of education and educational facilities. Based on historical sites listed in the National Register of Historic Places, these lessons were created by National Park Service interpreters, preservation professionals, and educators. The lessons are free and ready for immediate classroom use by students in history and social studies classes.
The Library of Congress - American Memory  (Y,M,O,T)
American Memory provides free and open access through the Internet to written and spoken words, sound recordings, still and moving images, prints, maps, and sheet music that document the American experience. It is a digital record of American history and creativity. These materials, from the collections of the Library of Congress and other institutions, chronicle historical events, people, places, and ideas that continue to shape America, serving the public as a resource for education and lifelong learning.
Getting Started with Primary Sources  (Y,M,O,T)
The Library of Congress Teachers' page is designed to help educators use primary sources to teach history and culture. It offers tips and tricks, definitions and rationale for using primary sources, activities, discussions, lesson plans, and suggestions for using the collections in classroom curriculum.
American Providentialism  (Y,M,O,T)
The hand of God in American history. Many Americans today are ignorant of their own history and ignorant of the Founding Fathers wise words of wisdom to the country. Some want to remove God from government, society and the minds of Her people, especially children. It won't be done and it can't be done because it is basis and reason of our existence as a country. God was "The Original Intent" behind the country's formation and it is only by His hand the country still exists today
HippoCampus  (Y,M,O,T)
HippoCampus provides free, multi-media content in many subjects, including Algebra, Physics, Calculus, Environmental Science, U.S. History and more. It is a bit awkward to navigate around entire books on the site, but there is a wealth of information online at no cost.
Digital History  (Y,M,O,T)
I have been working on my family history and have found the Interactive Timeline on this site to be very useful. In addition, the site has primary sources, multimedia resources, historical music, and teacher resources. Digital History is an excellent place to look for anything to do with American (and some world) history. The Interactive Timeline allows you to move a slider bar approximately one generation in length across a timeline which changes the events displayed on the US map above. Mouse over any of the events for a brief summary, or click on them for more detailed information.
Wild West.org  (Y,M,O,T)
This site presents a look at the American West, the history and legends of Native Americans or American Indians, if you prefer, western cowboys, western cowgirls and women of the west, guns (like the legendary 1873 Colt Peacemaker) and other western facts, lawmen and outlaws. Look for info on ShowBiz cowboys too. We also offer cowboy poetry, cowboy songs, western cowboy recipes, plus links to great cowboy and American Indian greeting cards.
History and President Trivia  (M)
Learn facts about the 20th Century in the United States and about 20th Century Presidents. Each Presidents' page includes a biography and notable events during their presidency.
America's Story from America's Library  (Y,M,O,T)
Learn about US history through famous Americans, time periods, states, and other topics. From the Library of Congress - games and stories of America's past.
Primary Documents in American History  (Y,M,O,T)
From the Library of Congress: Declaration of Independence, U.S. Constitution, The Bill of Rights, The Federalist Papers, Documents from the Continental Congress and the Constitutional Convention, 1774-1789, Guide to American Historical Documents Online, and Charters of Freedom from the U.S. National Archives and Records Administration.
Declaration of Independence  (Y,M,O,T)
Image copies of the Declaration of Independence and rough drafts from the Library of Congress - Primary Documents in American History.
Human Migration Within and Into the United States  (O)
From Xpeditions, National Geographic Society. A lesson that examines human migratory behavior. Grades (9-12)
Popular Songs in American History  (Y,M,O,T)
If your student loves music, he will love learning these songs and their place in history. My kids have enjoyed learning songs like Wait for the Wagon and Yankee Doodle Dandy and this site offers not just the songs, but the background and lyrics.
History Central  (Y,M,O,T)
"History's home on the web" - Explore US history via time period, special topic, famous people, state, and more.
History of the Age of Imperialism  (O)
During the late nineteenth and early twentieth centuries, the United States pursued an aggressive policy of expansionism, extending its political and economic influence around the globe.
US History Subtopics