Jump to:
Below is a list of some companies that offer discounts and/or educator appreciation receptions for homeschoolers. I have linked to the website if one exists, but that does not necessarily mean that the discount is honored online. Most of the sites have a store locator where you can find a brick and mortar store near you.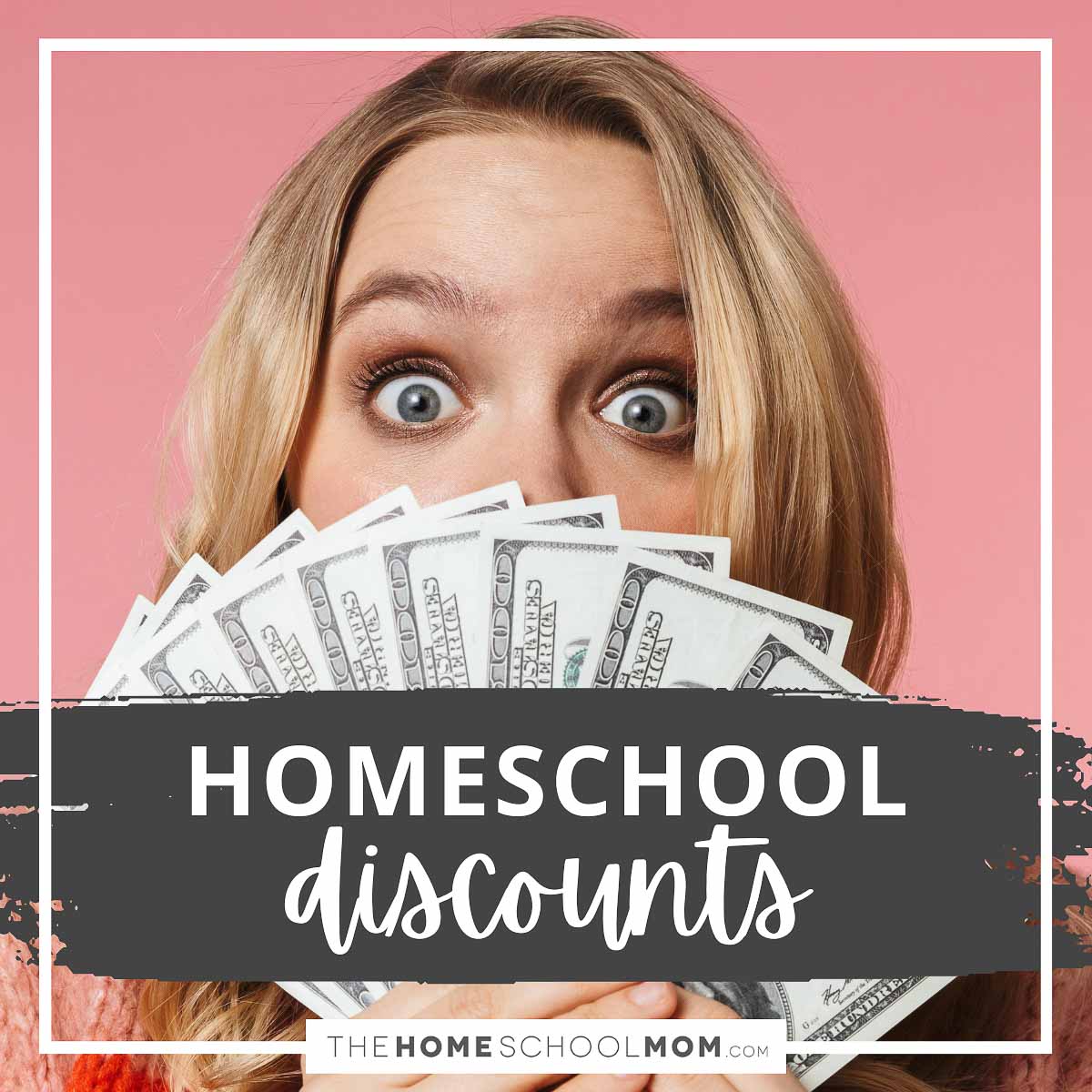 Homeschool Discount Programs
Apple Computers - The full line of educational products are available to homeschoolers who meet their state's requirements for legally homeschooling.
Adobe software up to 75% off for students, teachers, and schools
Microsoft software - up to 75% off for students, teachers, and schools
Office Depot/Office Max Rewards - Non-exclusive rewards program that includes special coupons for teachers with ID
Barnes and Noble bookstore - Educator's Discount Card available in stores only
Books-A-Million - 20% for classroom purchases when you fill out a teacher discount card; online registration available
JoAnn Crafts - 15% discount in-store and online with deeper discounts available during special teacher events (30% off for teachers the entire month of July 2022)
Target - Target offers various savings opportunities through their Circle program and a specific coupon for use during their Teacher Prep Event; to sign up, login or register for an account and select Home School for the name and K-12 Homeschool for the teacher/faculty type; complete the remainder of the form, and submit proof of educator status (see homeschool ID ideas) to receive a 15% off coupon for use during the Teacher Prep Event
Tilco Educational Shower Curtains - Use code HSM15 for 15% off your order
Paradigm Accelerated Curriculum - Paradigm Accelerated Curriculum offers a 40% discount with a minimum purchase of $1,000 for group purchases where there is one purchaser and one shipping address. Call 325-649-0976 for discount code. Other available discounts include 40% for single parents and 20% for military, law enforcement, first responders, ministry, farmers and ranchers. Discounts do not apply to digital curriculum.
Homeschool Buyers Co-op (referral link) - Negotiates deals with vendors based on quantity purchases
CollegePrepGenius - Use code EZCLASS - $10.00 off Class Registration, EZSHIP for free shipping on orders $50.00 or more, and EZOFF to get "15 Secrets to Free College" eBook for a penny ($9.95 value)
Tutor.com - Use promo code "homeschoolmom" to get 50 free minutes of online tutoring. You will also receive 10% off any purchases made within 3 months of signing up. Additionally, all eligible U.S. military families have unlimited access to Tutor.com provided by the Department of Defense. Military service members and their dependents around the world can work with a certified, professional tutor online 24/7 to get help with homework, studying, test prep, resume writing and more.
Not Consumed - 10% discount on entire order with no minimum purchase. Contact joy@notconsumed.com and ask for the discount for TheHomeSchoolMom. Discount details
Museum Discount & Savings Programs
Many museums offer special membership pricing to educators, so it is always worth it to ask. Even at full price, the reciprocal programs below are a great way to save money at museums, science centers, zoos, and aquariums. To take advantage of the program, join a participating museum (check requirements, some require proof of local address), then use your membership for free or discounted admission to other institutions in the network.
Homeschool Discounts FAQ
What do I use as a homeschool teacher ID?
If your state requires a Notice of Intent to Homeschool or an application to homeschool, you can often use these as adequate proof of homeschooling. For stores that require something different, the reply from your school district, letterhead from your umbrella school, or an identification card from a homeschooling support group are other options. For specific requirements, please ask the individual retailers what they require.
How do I ask if a store offers a discount to homeschoolers?
If you wish to know whether a store offers a discount, one way to approach the subject is to ask if that store offers a discount to educators. If the answer is yes, you could pursue whether the discount is extended to homeschoolers as well. If it is not, it is always a good idea to ask in a friendly manner if they have considered extending their educator discount to homeschoolers and give them some stats on the large numbers of local homeschoolers in your area. Often a retailer may not have considered the idea. If one of their competitors does offer such a discount, few retailers want to watch business walk away because they will not meet a competitor's offer.