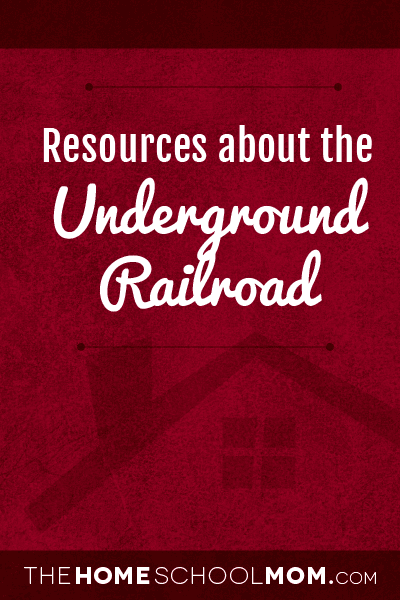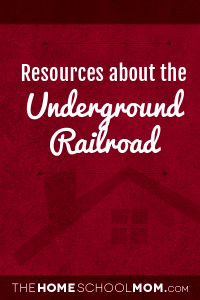 See legend at bottom for explanation of age codes
The Underground Railroad in KY (M, O)
"In Boone County, Kentucky, research has uncovered the local stories of heroism and sacrifice on the Underground Railroad, the secret network of people who helped enslaved individuals escape north to freedom. The county's ridge overlooking the Ohio River gave people a wide view as they prepared to cross over. Historians describe several local sites on the Underground Railroad, and tell the story of the Cincinnati 28, who made a daring escape and then hid in plain sight as they passed through Cincinnati." (from PBS Learning Media)
How Slaves Found their way North (Y)
Students learn about natural and human-made clues that helped slaves find their way north through the Underground Railroad. Then they create a quilt with clues about routes to freedom. Grades 1-2
The Underground Railroad Route (y)
Students will identify slave states and free states during the time of the Underground Railroad, explore the challenges of escaping, and choose the route they would have taken. Grades 1-2
Introduction to the Underground Railroad (y)
Students learn about the Underground Railroad and why slaves used it. Grades 1-2
The Underground Railroad: Journey to Freedom Educator Guide (Y)
Using Game-Play to Explore History with Students in Grades 6-10. An interactive journey from National Geographic.
The Underground Railroad (Y, M, O, T)
Africans in America resource bank from PBS.org
The Underground Railroad (T)
Resources for teachers from Scholastic.com
Underground Railroad (Y, M, O, T)
From History.com
How the Underground Railroad Worked (Y, M, O, T)
From How Stuff Works.com
Underground Railroad Tours (Y, M, O, T)
From the Friends of First Living Museum. A reenactment tour including the First Congregational Church of Detroit and Charles Wright Museum.
Underground Railroad Sites in Indiana (Y, M, O, T)
Information about Underground Railroad activity in Indiana.
Underground Railroad Sites in Indiana (Y, M, O, T)
Indiana has a rich history of Underground Railroad operations. Many escaped slaves traveled across the Hoosier State in the years prior to and during the Civil War.
The Underground Railroad Teachers Guide (Y, M, O, T)
From Scholastic.com. Teaching guides for three level of student. Grades, 3-5, 6-8, and 9-12
Harriet Tubman Readers Theater (Y, M)
A multiple-role reader's theater script to learn about Harriet Tubman, an American hero, and to learn about the Underground Railroad. Grades 1-6
Harriet Tubman: Lesson Plan & Worksheet (Y)
From Scholastic.com Grades K-4
Underground Railroad List of Sites (Y, M, O, T)
From the National Parks Service
Pathways to Freedom: Maryland and the Underground Railroad (Y, M, O, T)
This comprehensive site offers primary source documents, events, museums, and people who worked the Underground Railroad in Maryland.
Underground Railroad: The William Still Story (Y, M, O, T)
From PBS.org
Myths of the Underground Railroad (Y, M, O, T)
From Teachers.Scholastic.com
Slavery and the Underground Railroad (Y,M)
Uses Follow the Drinking Gourd to discuss the Underground Railroad
Newton History Museum (Y,M,O,T)
The Newton History Museum presents permanent and changing exhibits on a variety of historic topics. Discover what life was like for New England's earliest settlers. Learn about the abolition movement in Newton and how the Jackson family used their home as a stop on the Underground Railroad. The museum houses the Newton Historical Society and holds an extensive library and research collection.
John Brown Museum (Y,M,O,T)
Reverend Samuel Adair and his wife, Florella were peaceful abolitionists who came to Kansas and settled near Osawatomie, an abolitionist community and a center of conflict during "Bleeding Kansas." The Adair cabin was a station on the Underground Railroad and Florella's half brother, John Brown,used this cabin as his headquarters. The cabin survived the Battle of Osawatomie where John Brown and 30 free-state defenders fought 250 proslavery militia in 1856, and stands on the battle site today. Learn more about the Adairs, John Brown, and others who struggled to survive the border war when you visit the John Brown Museum.
Levi Coffin House (Y,M,O,T)
A part of the legendary Underground Railroad for fleeing slaves of pre-Civil War days, this registered National Historic Landmark is a Federal style brick home built in 1839. Levi and Catharine Coffin were legendary in helping many former slaves escape to freedom in the North. During the 20 years they lived in Newport, the Coffins helped more than 2,000 slaves reach safety.
Age Range Key
Y—Young (PreK-3rd)
M—Middle (4th-6th)
O—Older (7th-12th)
T—Teacher Resources