TheHomeSchoolMom may earn affiliate commissions from purchases made using links on this page. Read our full
disclosure
.
Amid the fireworks, parades and cookouts, you can help your kids understand what Independence Day is really all about: Independence—the birth of the United States of America!
A poll by YouGov in June 2022 found that 7% of U.S. adults believed that the Fourth of July celebrates the day that America declared independence from France.[source] Homeschoolers have a wonderful opportunity to ensure that their children understand the meaning behind the holiday that is the foundation of our nation's existence.
Bake a flag birthday cake for the United States with your kids and do a little impromptu unit study!
Put on the Hamilton sound track and explore our family activities and learning ideas (more below) for Independence Day!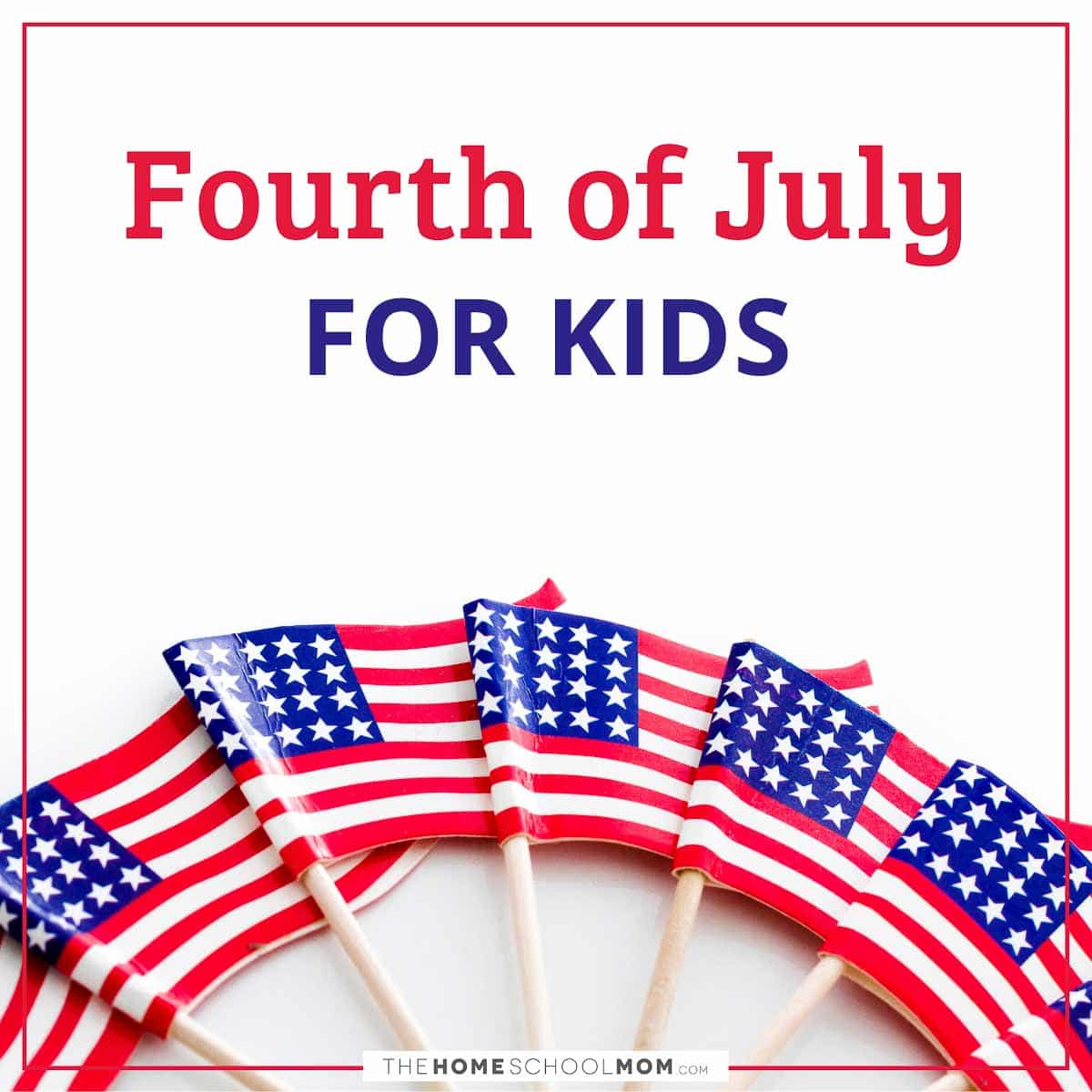 Jump to:
Age Range Key
Y—Young (PreK-3rd)
M—Middle (4th-6th)
O—Older (7th-12th)
T—Teacher Resources
Fourth of July Activities for Kids
1. Learn the history – In addition to at-home history resources, there are wonderful online options to help children learn about the people, documents, and events behind the Fourth of July. History.com has information about the history and traditions of July Fourth, as well as educational videos on the holiday. This free Francis Scott Key literature-based lesson will tie in music and history through the Star Spangled Banner.
2. Watch educational videos – These child-friendly teaching videos address everything from the independence of the 13 colonies to the role of George Washington.
For teens, try Benjamin Franklin: A Film by Ken Burns. Benjamin Franklin was an editor and signer of the Declaration of Independence and negotiated the treaty that brought an end to the Revolutionary War. The four-hour series about his life and work can be streamed on PBS for a donation, or your library may have a subscription that gives you free access.
3. Listen to old radio shows – Listen online to old radio shows with Fourth of July themes at Old Time Radio Catalog. Includes one show about the signing of the Declaration of Independence, true stories from the radio of a squad car on July 4, 1934, and more!
4. Make a Fourth of July lapbook– The Speech Addict at TeachersPayTeachers is offering free resources for creating a lapbook to celebrate Independence Day. This is a great way to have fun doing crafts, while helping kids learn about the holiday!
5. Make some patriotic food! What better way for kids to remember than for them to eat what they learn? Have kids help make these patriotic recipes, and talk to children about what the colors red, white, and blue represent for America, as well as the meaning behind the symbols of patriotism as they eat their way into the spirit of the holiday!
6. Read eyewitness accounts – Read the original letter from John Adams, reporting on his meeting with the British King in 1785, after America's victory in the Revolutionary War. This online resource comes from the National Archives, and features a variety of eyewitness accounts from people throughout history.
7. Go on a scavenger hunt. Kids can learn about Independence Day and national symbols with this printable Fourth of July scavenger hunt. Rock Your Homeschool also has a printable scavenger hunt.
8. Listen to patriotic songs. If you don't have any patriotic music of your own, listen online to songs such as "Stars and Stripes Forever," "My Country 'tis of Thee," and "America the Beautiful." As you listen to the music, read and discuss the lyrics and how they relate to Independence Day.
9. Play a game. The Road to Revolution Game is an on online game about the American Revolution from PBS that quizzes students on important American Revolution events and facts. Every correct answer moves you further along the timeline to Revolution.
10. Write about it. Play With Education's Fourth of July flipbook has 11 firework-inspired writing games to get your kids writing.
Fourth of July Crafts for Kids
Fourth of July Activity Pack Printable (Y)
This free Independence Day activity pack is a fun July 4th printable the kids can work on as they enjoy the celebration. The set includes 4 different pages and the activities are for elementary aged children.
Fourth of July Crafts & Other Fun (Y,M)
A brief overview of the United States and Fourth of July crafts, coloring pages, games, puzzles, worksheets, recipes, and more from DLTK-Kids.
Crafts, Books, and Printables (Y)
Large selection of Fourth of July crafts, activity pages, worksheets, puzzles, and more from Enchanted Learning.
Independence Day Coloring Pages (Y)
A collection of free, kids' coloring pages to celebrate Fourth of July from Doodle Art Alley.
Independence Day Activity and Coloring Pages (Y)
Free Independence Day printable coloring pages, worksheets, and activity pages from Crayola.
Primary Sources about Independence
Charters of Freedom (M,O,T)
The Declaration of Independence, the Constitution, and the Bill of Rights are collectively known as the Charters of Freedom. You can learn more about each document and find a full transcript online on the National Archives website.
Declaration of Independence (M,O,T)
The Library of Congress website has image copies of the Declaration of Independence and a rough draft from the Library of Congress in their collection Primary Documents in American History.
Virtual Tours & Exhibitions about Independence
Independence National Historical Park(Y,M,O,T)
Independence Hall is the assembly hall where the Declaration of Independence was signed. The Liberty Bell is located there as well. The website offers links and information for folks not able to visit in person.
Declaring Independence: Drafting the Documents (Y,M,O,T)
Declaring Independence is a digital exhibition from the Library of Congress that looks at the drafting documents of the Declaration of Independence. In addition to documents, letters and correspondence, artwork, and a timeline are included.
History & Science Fourth of July Lessons and Resources
Season of Independence: Interactive Map and Timeline(Y,M,O,T)
Season of Independence is a digital exhibition from the Museum of the American Revolution featuring an interactive map and timeline for exploring important events and reading differing opinions on Independence from January 1776 to July 1776. The exhibition is accompanied by teacher resources, primary sources, essays, and a glossary. Lesson topics include: Understanding the British Empire, Decision Making and Civic Engagement in Revolutionary America, Support and Opposition to Independence, and more. The lessons are for middle-school students, but were designed to be adaptable for varying age ranges.
The Declaration of Independence Study Guide (Y,M,O)
Thought Co provides a brief overview on the history of the Declaration of Independence, including the events leading up to its signing and the economic system of the time. Also included are guided study questions for students.
The Declaration of Independence Lesson Plans (O,T)
These Declaration of Independence lesson plans from EDSITEment will have students analyze the structure, purpose, and tone of the document, learn about events leading up to its signing, read selections of John Locke's Two Treatises of Government, and place it all in context. Designed for grades 9-12.
Teach History Through Hamilton (M,O, T)
TeachThought offers ideas on how to teach history through the play Hamilton, noting "that a student can almost literally study nearly the entire Founding era through the life of Alexander Hamilton. The man was present or heavily involved in so many of the era's key events, from the British takeover of New York, when Hamilton famously leads his men to steal cannons; to the work he did as Washington's aide; to the betrayal by Benedict Arnold at West Point, to the victory at Yorktown, to the Annapolis and Philadelphia Conventions to debate the creation of a new governing document, to his role as the chief author of the Federalist Papers, to his role in the Washington administration as the nation's first Secretary of the Treasury, to his role in the creation of America's first political party. Hamilton was there for all of it, and when combined with those stories being told in Miranda's musical, Hamilton makes for a powerful way for students to study this era of history."
American Indians and Fourth of July (O,T)
Read this article from Smithsonian Magazine to learn why American Indians have so many tribal gatherings and ceremonies on or near the Fourth of July. Think about the impact of the Declaration of Independence on Native Americans.
July Fourth and early Black Americans: It's complicated (O,T)
Consider how early Black Americans may have viewed the Declaration of Independence and the principles on which the American Revolution was based. The Cornell Chronicle interviews Derrick Spires, who describes Frederick Douglass's lecture, "What to the Slave is the Fourth of July?"
People's History of Fourth of July (M,O)
Learn about Fourth of July stories from years past, including "when slavery was abolished in New York (1827), Frederick Douglass's speech "The Meaning of July Fourth for the Negro" (1852), the Reconstruction era attack on a Black militia that led to the Hamburg Massacre (1876), protest of segregation at an amusement park in Baltimore (1963), and more." From Zinn Education.
Fourth of July in History (M,O)
The first Independence Day was celebrated in Philadelphia in 1777, but celebrations didn't become commonplace until after the War of 1812 and didn't become a federally-recognized holiday until 1870. Learn more about the history of Fourth of July on the Library of Congress.
How Fireworks Work (Y,M,O)
Learn all about what makes fireworks spark, boom, and make different colors and patterns in this interesting article from How Stuff Works.