Activities, Lesson Plans, and More
Age Range Key
Y—Young (PreK-3rd)
M—Middle (4th-6th)
O—Older (7th-12th)
T—Teacher Resources
Character Change: The Diary of Anne Frank  (M,O)
"In this interactive lesson supporting literacy skills, students examine what Anne Frank's writing and a video dramatization of her diary reveal about her character and how it changed while she was in hiding. Students develop their literacy skills as they explore an English language arts focus on character change. During this process, they read informational text, learn and practice vocabulary words, and explore content through videos and interactive activities."
Teaching Tolerance: Holocaust Resources  (Y,M,O,T)
Teaching Tolerance has a large collection of lessons, learning plans, and teacher resources for teaching the Holocaust.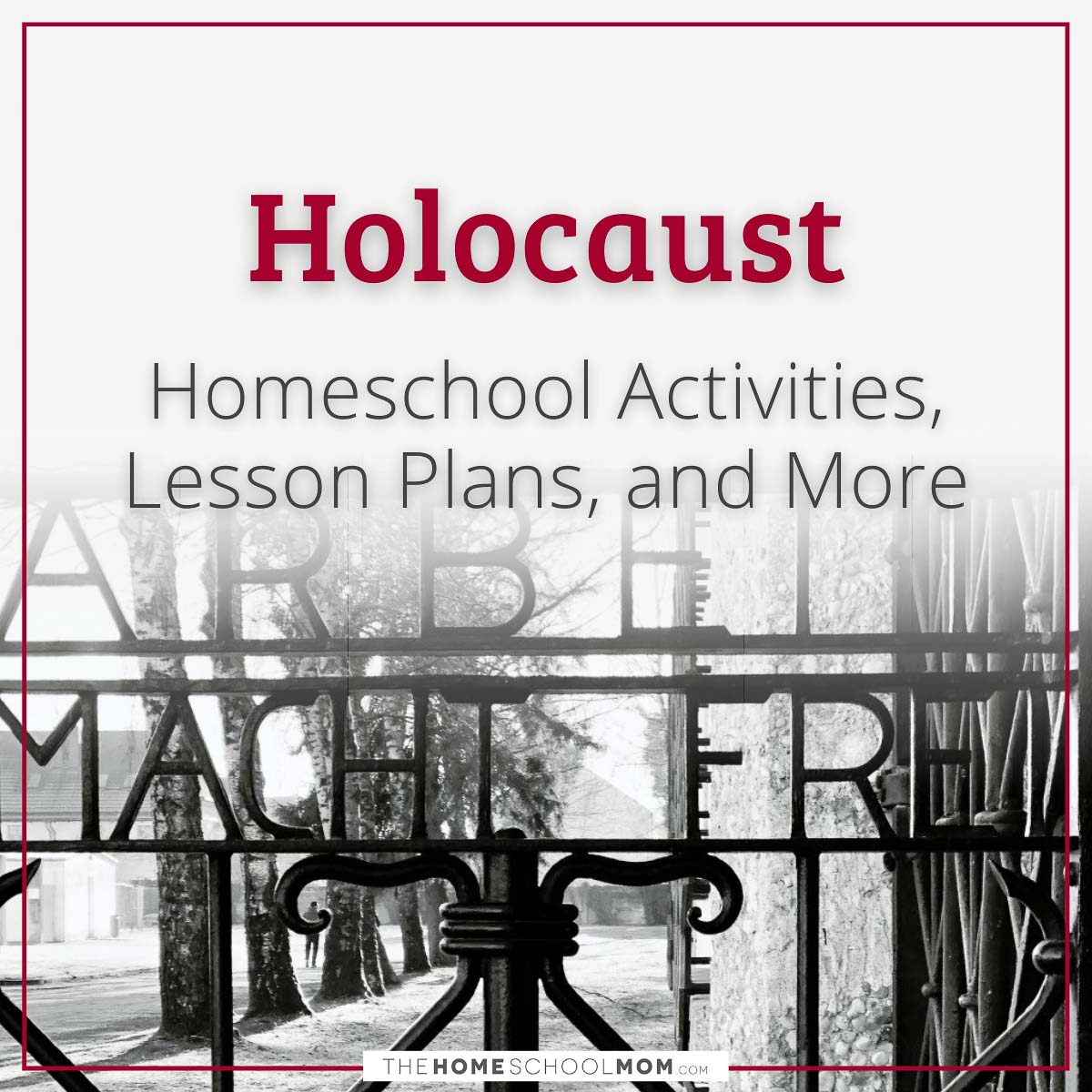 Anne Frank House: The Secret Annex (Virtual Tour)  (Y,M,O)
Students can take a virtual tour and learn more about the Secret Annex where Anne Frank and her family lived for more than two years during WWII.
Timeline of the Holocaust  (M,O)
This comprehensive, interactive timeline from Echoes & Reflections allows students to click through critical moments throughout the Holocaust and learn more about each event. Each event description is supported with photos, videos, documents, and other sources for additional learning.
Centre for Holocaust Education from University College London  (M,O,T)
This teacher's guide from the University College London provides a topic-based resources that are accompanied by downloadable handouts, photos, videos, and other archival sources.
The Nuremberg War Crimes Trials: Primary Sources  (O)
The Avalon Project from Yale contains a comprehensive database of primary sources related to the Nuremberg Trials including documents, reports, testimonies, and more.
Holocaust Museum LA: Educator Resources  (Y,M,O,T)
Holocaust Museum LA teacher resources include videos of survivor testimony, a coloring book, art project, and lesson plans for grades 4-12. The HMLA also live streams survivor testimonies on a regular basis on its Facebook page: facebook.com/hmla1961
Museum of Tolerance: Teacher's Guide and Resources  (Y,M,O,T)
The Museum of Tolerance provides a large collection of resources and lesson plans for teaching about the Holocaust, as well as tolerance, diversity, and discrimination. It contains helpful resources even for young learners.
Jewish Partisans: Nazi-Resistance Fighters  (M,O,T)
The Jewish Partisans Educational Foundation is one of the most comprehensive resources for learning about Jewish and Non-Jewish Nazi-Resistance Fighters. The JPEF provides a collection of documentaries, lesson plans, biographies, study guides, activities, and more.
Survivor Testimonies (Video)  (M,O,T)
The Shoah Foundation of the University of Southern California hosts a large collection of survivor testimony videos. Some are appropriate for younger students; some are not. Please be sure to review for age-appropriateness.
FCIT: Teacher Resources for the Holocaust  (M,O,T)
The Florida Center for Instructional Technology contains a large selection of primary and secondary sources for teaching the Holocaust. Included are documents, maps, photos, film, music, bibliographies, and virtual tours of concentration camps. (VR tours are only available on Apple devices.)
Groups Persecuted by the Nazis  (M,O,T)
This unit from The Florida Center for Instructional Technology focuses on the many groups persecuted by the Nazis. It is accompanied by in-depth information and examples from different persecuted groups, lesson plans, and a quiz.
Results of Death-Camp Experiments: Should They Be Used?  (O,T)
An interactive, quiz-style debate that introduces students to Nazi medical experimentation and the ethical dilemma of using data from such experiments in modern science. It presents arguments both for and against the idea and challenges students to form their own opinion. From PBS NOVA. Contains disturbing details and descriptions; be sure to review for age-appropriateness.
FRONTLINE's Collected Reporting on the Holocaust (Video)  (O)
This collection of documentaries from PBS's FRONTLINE contains original footage of Nazi concentration camps following their liberation at the end of WWII, as well as survivor stories. Contains disturbing details and descriptions; be sure to review for age-appropriateness.
Book List: The Holocaust for Young Readers  (Y,M)
This book list from the Holocaust & Human Rights Education Center has a large collection of age-appropriate reading for teaching younger students about the Holocaust. The majority of books listed are accompanied by a printable study guide or worksheet.
Teaching Holocaust and Human Behavior  (O)
This unit consists of 23 lessons and an assessment designed to lead middle or high school students through an examination of the catastrophic period in the twentieth century when Nazi Germany murdered six million Jews and millions of other civilians, in the midst of the most destructive war in human history. The essential question is "What does learning about the choices people made during the Weimar Republic, the rise of the Nazi Party, and the Holocaust teach us about the power and impact of our choices today?" (from Facing History and Ourselves)
Projections of Life: Jewish Life before World War II  (O,T)
The United States Holocaust Museum's Steven Spielberg Film and Video Archive holds over 1,200 hours of historical film footage collected since 1994. This playlist consists of private films from their collection focusing on prewar Jewish life. Viewing films from this playlist is a good way to help students see those affected by the Holocaust as individuals with full lives prior to Nazi oppression rather than existing solely as victims of the Holocaust.
Nazi Propaganda  (O)
Learn how the Nazis used propaganda to serve their purpose according to Hitler's belief that its "task is not to make an objective study of the truth, in so far as it favors the enemy, and then set it before the masses with academic fairness; its task is to serve our own right, always and unflinchingly." From the Holocaust Encyclopedia of the United States Holocaust Memorial Museum.
Oral Histories of Holocaust Survivors  (O)
This large collection of oral histories contains disturbing accounts and videos; be sure to preview for age-appropriateness. Not all content is in English. From the United States Holocaust Memorial Museum.
Online Lessons from Auschwitz Birkenau State Museum  (M,O)
A visit to the authentic Memorial Site is a unique educational experience. However, people who do not have the ability to visit the former concentration camp of Auschwitz now have the opportunity to become acquainted with its history through education conducted via the Internet. Whereas for those who have already visited the place, remote access to educational materials will help in deepening the knowledge gained during the visit. E-learning can also be used as an aid in preparing visitors to the Memorial Site.
Educational Materials from Yad Vashem  (O,T)
Resources include resource videos for teachers, educational videos for students, age appropriate lesson plans, "The Holocaust – an Introduction" (Free MOOC), and more. From Yad Vashem's International School for Holocaust Studies.
The Righteous Gentile: The Story of Irena Sendler and the Holocaust  (O,T)
Students learn about people behind the Holocaust, more specifically Irena Sendler, by the use of maps and primary sources. Grades 9-12.
Propaganda and the Holocaust  (M,O,T)
A social studies lesson where students are asked to discover different propaganda techniques.
UEN Holocaust Resources  (M,O,T)
A list of online resources for studying the Holocaust including museums, organizations, lesson plans, a bibliography, and more.
The Holocaust - Nuremberg Laws  (M,O,T)
A social studies unit in world civilizations where students are asked to discover and talk about the Nuremberg Laws and their effect on the Jewish people living during the Third Reich.
The Cybrary at Remember.org  (M,O,T)
A comprehensive site about the Holocaust, the Cybrary is organized into 2 sections: Research, areas where you can explore the issues of the Holocaust, and Forums, where discussion and ongoing feedback is held.
US Holocaust Memorial Museum  (M,O,T)
The US Holocaust Memorial Museum hosts a large digital collection of primary sources - including photos, video, artifacts, documents, and more - as well as provides a plethora of teacher resources, lesson plans, and virtual events.
Anne Frank Teacher Workbook  (Y,M,O,T)
UEN provides a comprehensive list of resources to teach your students about Anne Frank. The workbook includes readings, timelines, and lesson plans for grades 3-6 and 7-12.
Holocaust and Resistance  (O,T)
A humanities lesson in which students learn about the Holocaust by taking the point of view of those who actively resisted Nazi persecution. Grades 9-12
Elie Wiesel  (M,O,T)
Lesson plans and calendar activities for Elie Wiesel from ReadWriteThink.org. Grades 6-12.
FCIT: A Teacher's Guide to the Holocaust  (Y,M,O,T)
This Teacher's Guide is made up of activities for students of all grades. Included are lesson plans for elementary, middle, and high school students. Produced by the Florida Center for Instructional Technology.