Activities, Lesson Plans, and More
Age Range Key
Y—Young (PreK-3rd)
M—Middle (4th-6th)
O—Older (7th-12th)
T—Teacher Resources
Native American Heritage Month  (Y, M, O, T)
NativeAmericanHeritageMonth.gov is "a collaborative project of the Library of Congress and the National Endowment for the Humanities, National Gallery of Art, National Park Service, Smithsonian Institution, United States Holocaust Memorial Museum and U.S. National Archives and Records Administration." Its online collection features thousands of primary source documents, artifacts, photos, and more for studying and learning about both historical and contemporary Native American cultures. It also hosts a large collection of educator resources, lesson plans, and activities.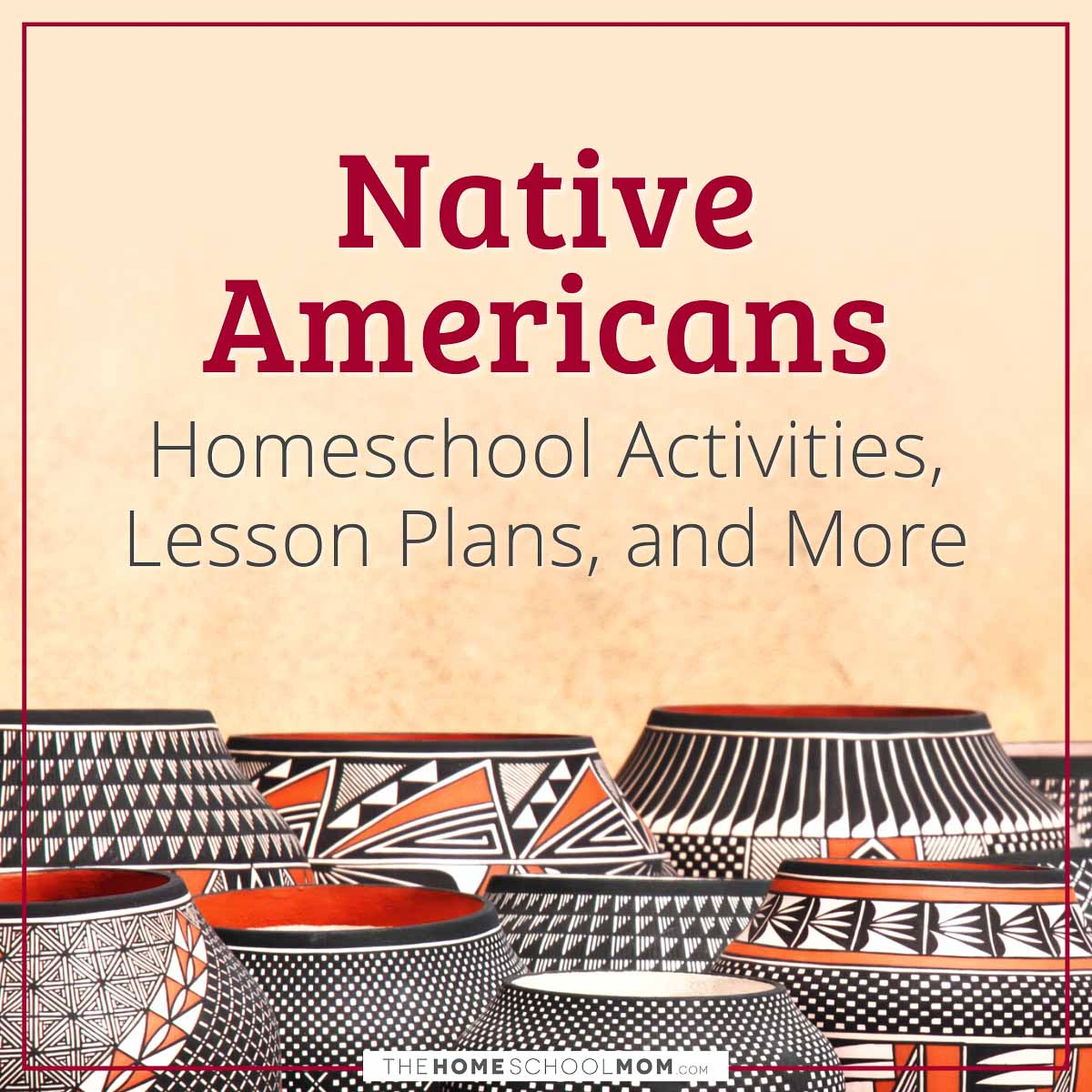 National Museum of the American Indian  (Y, M, O, T)
The Smithsonian's National Museum of the American Indian is home to a large collection of artifacts, objects, photos, and other media from Native cultures all over the Western hemisphere. In addition to browsing the collection online, you can find other educational events, programs, and resources on its website.
Tribal Directory and Tribal Organizations  (T)
An extensive database of US tribes, national tribal organizations, regional intertribal organizations, and other associations from the National Congress of American Indians. Use the list to find organizations in your area for news, events, and other resources.
Native Land Map  (Y, M, O, T)
Use this interactive map to explore the first nations and indigenous cultures from around the world. The site includes a teacher's guide and additional links and resources for learning more about each nation.
Invasion of America: Interactive Map  (M, O)
"Between 1776 and 1887, the United States seized over 1.5 billion acres from America's Indigenous people by treaty and executive order. The Invasion of America shows how by mapping every treaty and executive order during that period. It also contains present-day federal Indian reservations." The Invasion of America is a project of eHistory.org.
American Indian History Timeline  (M, O, T)
"This is an updated American Indian History Timeline that illustrates events, policies, legislation and laws relating to Indian land tenure from 1598 to the present." By Indian Land Tenure Foundation.
Key Events in Northern Plains and Southwest Indian History  (M, O, T)
"Key events in the history of Native Americans include more than a hundred and fifty years of interaction with white settlers. These events, often tragic and inaccurately documented, contain the historical roots of life today on the reservations in the Northern Plains and Southwest. Historical events continue to impact education in Indian Country today." From Native Partnership.
Census Bureau: American Indian and Alaska Native Resources  (Y, M, O, T)
The U.S. Census Bureau collects and publishes demographic data on American Indian and Alaska Native tribes and tribal areas, which can be accessed via its online tool, My Tribal Area.
The Native History of Indigenous Peoples' Day  (M, O)
This article from Yes! Magazine discusses the history behind the movement for recognizing Indigenous Peoples' Day as a holiday and why many cities and states now celebrate it in lieu of Columbus Day.
Indigenizing the News  (M, O, T)
Indigenizing the News is online publication focusing on contemporary US Indigenous culture. It collects and highlights stories from around the web in its monthly newsletter as well as hosts a good collection of reading lists, lesson plans, and other educator resources.
Indian Country Today  (M, O)
Indian Country Today is one of the largest news organization dedicated to covering American Indian news and culture. It's an excellent resource for finding stories of both everyday and famous Native Americans and learning about current events, issues, culture, and history.
Project 562  (M, O)
"Created by Matika Wilbur, Project 562 is a multi-year national photography project dedicated to photographing over 562 federally recognized tribes in The United States resulting in an unprecedented repository of imagery and oral histories that accurately portrays contemporary Native Americans."
American Indians in Children's Literature  (Y, T)
"Established in 2006 by Dr. Debbie Reese of Nambé Pueblo, American Indians in Children's Literature (AICL) provides critical analysis of Indigenous peoples in children's and young adult books."
Book Titles to Avoid - Native Americans  (T)
Despite the fine writing and exciting plots, many books about Indians foster continuations of classic blatant stereotypes. Recommended titles for reading as well as titles to avoid with explanations.
Books By and About Native Americans  (T)
Birch Bark Books is an independent bookstore in Minneapolis, MN that is dedicated to selling authentic and culturally-appropriate books by and about Native Americans. If you can't visit in person, you can find books on just about any topic for any age in its online store.
Native Americans Today: Booklist and Lesson Plans  (Y, M, O, T)
"Many people think that Native Americans are a vanished people—that they do not exist in the present day. In this lesson plan, teachers use photo essays and other texts to introduce students to Native children and their families, thereby countering the idea that Native people no longer exist." Lessons, activities, and discussion topics for K-12 from Read Write Think.
Powwows.com: Native American Lesson Plans and Learning Activities  (Y, M, O, T)
Powwows.com has an extensive guide for reframing your studies on Native Americans through a contemporary lens, as well as incorporating Native studies into your everyday curriculum. You can find guides for teaching students of all ages, lesson plans, activity ideas, games, music, recipes, and other resources. You can also use the website to find local events and videos of powwows.
National Indian Education Association Lesson Plans and Educator Resources  (Y, M, O, T)
NIEA hosts a large collection of PK-12 lesson plans, classroom activity ideas, and other educator resources on its website.
Native Pasts: Digital Exhibition and Lessons  (Y, M, O, T)
Native Pasts is a digital exhibition and timeline by Bunk History that spans from pre-Colonization to today and "showcases the cultural, political, and environmental histories of American Indians." Each subtopic/era includes related activities and lessons.
Teaching Native American Histories: Lesson Plans  (Y, M, O, T)
A large online database of Native American History lesson plans for all ages from the University of Massachusetts Amherst.
Zinn Education: Native American History Resources  (Y, M, O, T)
Zinn Education has a large collection of K-12 lesson plans, teacher guides, activities, reading lists, films, and other resources for learning about Native American History.
American Indian History and Heritage Lessons and Teacher's Guide  (Y, M, O, T)
This teacher's guide and related resource collection from EDSITEment provides an overview of American Indian cultures and history.
Woodland Indian Educational Programs  (Y, M, O, T)
WIEP offers Eastern Native American cultural awareness programs that will travel to your location. Many of the programs are a hands-on way for students to learn about historical Native American fiber techniques, foods, structures, and culture. In addition to in-person learning, WIEP has a variety of informative articles, printable worksheets, and coloring pages you can use virtually.
Native Americans in the West: 1838-1900  (M, O)
These resources "demonstrate to students distinct chapters in the encounters between white Americans and Native Americans. Students will understand the forces that spurred these encounters, the traits that characterized each side's treatment of one another, and the ultimate outcome of the American government's strategy towards native populations. The culminating activity invites students to create a monument commemorating an important element of the Native American struggle during this time period, either for the Cherokee, one of three tribal leaders, or for the children at residential schools." (from PBS Learning Media: Ken Burns in the Classroom)
Native American Cultures  (Y,M,O,T)
Most scholars break North America into 10 separate culture areas: the Arctic, the Subarctic, the Northeast, the Southeast, the Plains, the Southwest, the Great Basin, California, the Northwest Coast and the Plateau. You can learn about these Native American cultures grouped by contiguous peoples who shared similar habitats and characteristics from History.com.
When Rivers Were Trails (Game)  (Y, M, O)
When Rivers Were Trails is a 2D point-and-click adventure game similar to Oregon Trail that shows the impact of colonization on Indigenous communities in the 1890's. The game was developed in collaboration with the Indian Land Tenure Foundation and Michigan State University.
7 Generation Games: American Indian History Games  (Y, M)
7 Generation Games is dedicated to integrating Indigenous and Latino history with Math, ELA, and other subjects.
NativeTech  (Y,M,O,T)
"NativeTech is an educational website that covers topics of Native American technology and art with an emphasis on the Eastern Woodlands region. The web site is organized into categories of Beadwork, Birds & Feathers, Clay & Pottery, Leather & Clothes, Metalwork, Plants & Trees, Porcupine Quills, Stonework & Tools, and Weaving & Cordage. Instructional information about how some of these materials are used by Natives is coupled with detailed background on the history and development of these kinds of Native technologies."
Native Languages of the Americas: Cultural and Language Resources  (Y,M,O,T)
Native Languages of the Americas is a site dedicated to the survival of Native American languages and contains a large number of worksheets, vocabulary lists, linguistic information, and other resources. In addition to language-learning resources, the site hosts a amount of information on Native American culture, geography, books, myths and legends, and more.
Big Orrin: American Indian Fact Pages for Kids  (Y,M,O,T)
BigOrrin.org is a web project by Cherokee Indian Orrin Lewis. The site contains fact pages on more than 50 American Indian peoples, as well as an archive of articles from around the web.
Native American lessons  (Y,M,O,T)
A large collection of worksheets and lesson plans covering Native Americans, Westward Expansion, various conflicts, battles, and policies, and more from SchoolHistory.co.uk.
Trail Tribes  (Y, M, O, T)
Learn about the American Indian Tribes that Lewis and Clark encountered with this interactive map. Use the map to explore each tribe's modern and historical culture and relationships with the United States.
Cherokee Language Learning Resources  (Y, M, O, T)
The Cherokee Nation offers a variety of online materials for learning the Cherokee Language, including children's books, printable activity pages, vocabulary posters, phonetic charts, free software, free online classes, and other teaching materials.
Cherokee Nation Video Collection  (Y, M, O)
Stop by the Cherokee Nation on Youtube for a variety of educational videos. The collection features videos on Cherokee culture, history, storytelling, and more.
Cherokee History Interactive Timeline  (M, O)
This interactive timeline documents Cherokee history beginning in 2500 BC to modern day. The timeline includes many supporting videos and references for further research.
Cherokee Nation History and Culture  (M, O)
Students can take an in-depth look at Cherokee history and culture through a large collection of articles from VisitCherokeeNation.com.
The Carlisle Indian Industrial School  (M, O, T)
The Carlisle Indian Industrial School was an Indian residential boarding school from 1879 to 1918 where Native children were sent for forced assimilation. The school's website, hosted by Dickinson College, contains a large online database of records, photos, and other primary sources.
Museum of Northern Arizona  (Y,M,O,T)
The Museum of Northern Arizona is dedicated to the land and peoples of the Colorado Plateau. Visit in person or browse its large online collection of art, artifacts, and geology, paleontology, and biology projects.
Koshare Museum  (Y,M,O,T)
The Koshare museum was originally built by a Boy Scout troop during the Great Depression Era and officially opened its doors to the public in 1949. The 1949 structure is a registered state historic site of the Colorado Historical Society. It houses a collection of Native American art and artifacts considered to be among the finest in the world.
NPS: Indigenous Heritage People and Places  (Y,M,O,T)
The National Park Service Indigenous Heritage page has a collated list of more than 100 National Parks, Historical Sites, and Monuments spanning the U.S. that are related to Indigenous heritage, culture, and history. You can also find biographies on Indigenous figures from history, topic articles, activities, lessons, and other educational resources.
Nez Perce National Historic Trail  (Y, M, O, T)
The Nez Perce (Nimiipuu or Nee-Me-Poo) National Historic Trail stretches from Wallowa Lake, Oregon, to the Bear Paw Battlefield near Chinook, Montana. It was added to the National Trails System by Congress as a National Historic Trail in 1986. The 1877 flight of the Nez Perce from their homelands while pursued by U.S. Army Generals Howard, Sturgis, and Miles, is one of the most fascinating and sorrowful events in Western U.S. history. Chief Joseph, Chief Looking Glass, Chief White Bird, Chief Ollokot, Chief Lean Elk, and others led nearly 750 Nez Perce men, women, and children and twice that many horses over 1,170 miles through the mountains, on a trip that lasted from June to October of 1877.
Little Bighorn Battlefield National Monument  (Y,M,O,T)
This area memorializes one of the last armed efforts of the Northern Plains Indians to preserve their way of life. Here in 1876, 263 soldiers and attached personnel of the U.S. Army, including Lt. Col. George A. Custer, met death at the hands of several thousand Lakota and Cheyenne warriors. The NPS website offers historical information about the park for those who cannot visit in person.
Ocmulgee National Historical Park  (Y,M,O,T)
The Ocmulgee Mounds National Historical Park is a prehistoric American Indian site, where many different American Indian cultures occupied the land for more than 12,000 years. American Indians first came here during the Paleo-Indian Period hunting Ice Age mammals. Around 900 CE, the Mississippian Period began, and people constructed mounds for their elite, which remain here today. The NPS website offers historical information about both for those who cannot visit in person.
Sand Creek Massacre National Historic Site  (Y,M,O,T)
On November 29, 1864, Colorado Territory militia attacked and destroyed a village of Cheyenne and Arapaho Indians encamped on the eastern plains. An estimated 150 to 200 Indians were murdered, nearly all elderly men, women and children. The NPS website offers historical information about the massacre for those who cannot visit in person.
The Spirit Lake Massacre - Abbie Gardner Cabin  (Y,M,O,T)
"In 1857, amidst rising tensions between Native Americans and new settlers, 13-year-old Abbie Gardner's family was killed by men of the Dakota Indian nation. This tragedy became known as the Spirit Lake Massacre. Young Abbie was taken hostage by the Dakota band and released 84 days later. Decades after the massacre, in 1891, Abbie returned to Arnolds Park and purchased the cabin, operating it as one of Iowa's earliest tourist attractions." If you can't visit in person, the State Historical Society of Iowa website includes a site history and teacher's guide downloads. Visitors Center with artifacts and film. Location: Monument Drive. Arnolds Park, IA 51331
Indian Grinding Rock State Historic Park  (Y,M,O,T)
The park includes the Chaw'se Regional Indian Museum. The museum gives visitors a view of exhibits and artifact collections from Sierra Nevada Indians. A Miwok village with a ceremonial roundhouse has been reconstructed in the middle of the small valley. Teachers's Guide available in PDF format.
Santa Monica Mountains National Recreation Area  (Y,M,O,T)
The Satwiwa Native American Indian Culture Center hosts cultural programs and workshops throughout the year. Offering a Junior Ranger program for children.
Navajo National Monument  (Y,M,O,T)
Navajo National Monument preserves three intact cliff dwellings of the Ancestral Puebloan people. A visitor center, museum, three short self-guided trails, two small campgrounds, and a picnic area are available for visitors.
Canyon de Chelly National Monument  (Y,M,O,T)
For 5,000 years, people have lived in the canyons. Navajo families today, make their homes, raise livestock, and farm the lands in the canyon. The park offers a Junior Ranger and Webranger programs.
Iñupiat Heritage Center  (Y,M,O,T)
The Iñupiat Heritage Center in Utqiagvik, Alaska is dedicated to the history, language, and culture of the Iñupiat people. Its resources are hosted on the North Slope Borough website, where you can find photos, films, artifacts, language-learning resources, visitor information, and more.
Horseshoe Bend  (Y,M,O,T)
On 27 March 1814, Major General Andrew Jackson's army attacked Chief Menawa's Red Stick Creek warriors in a bend of the Tallapoosa River and killed more than 800 Red Stick warriors. The Battle of Horseshoe Bend can be viewed as a multi-national struggle between the forces of the Creek, the Cherokee, and United States.
Trail of Tears National Historic Trail  (Y,M,O,T)
The park commemorates the survival of the Cherokee people and their forced removal from their homelands in the Southeastern United States in the 1840s. The NPS website also hosts photos, interactive maps, activities, lesson plans, and other educational resources for learning about the Trail of Tears.