Activities, Lesson Plans, and More
Age Range Key
Y—Young (PreK-3rd)
M—Middle (4th-6th)
O—Older (7th-12th)
T—Teacher Resources
Juneteenth at the National Museum of African American History and Culture  (Y, M, O, T)
A collection of resources from the Smithsonian's National Museum of African American History and Culture to learn about and celebrate Juneteenth. Included are links to video lectures, tools for researching African American ancestry, classroom activities, lesson materials, reading lists, recipes, and more.
The Birth of Juneteenth; Voices of the Enslaved  (O, T)
Learn about Juneteenth via a collection of primary sources from the Library of Congress. The collection includes links to audio and written stories from formerly enslaved people, historical photos and architectural drawings of former plantation homes, and surveys of Emancipation Park in Houston.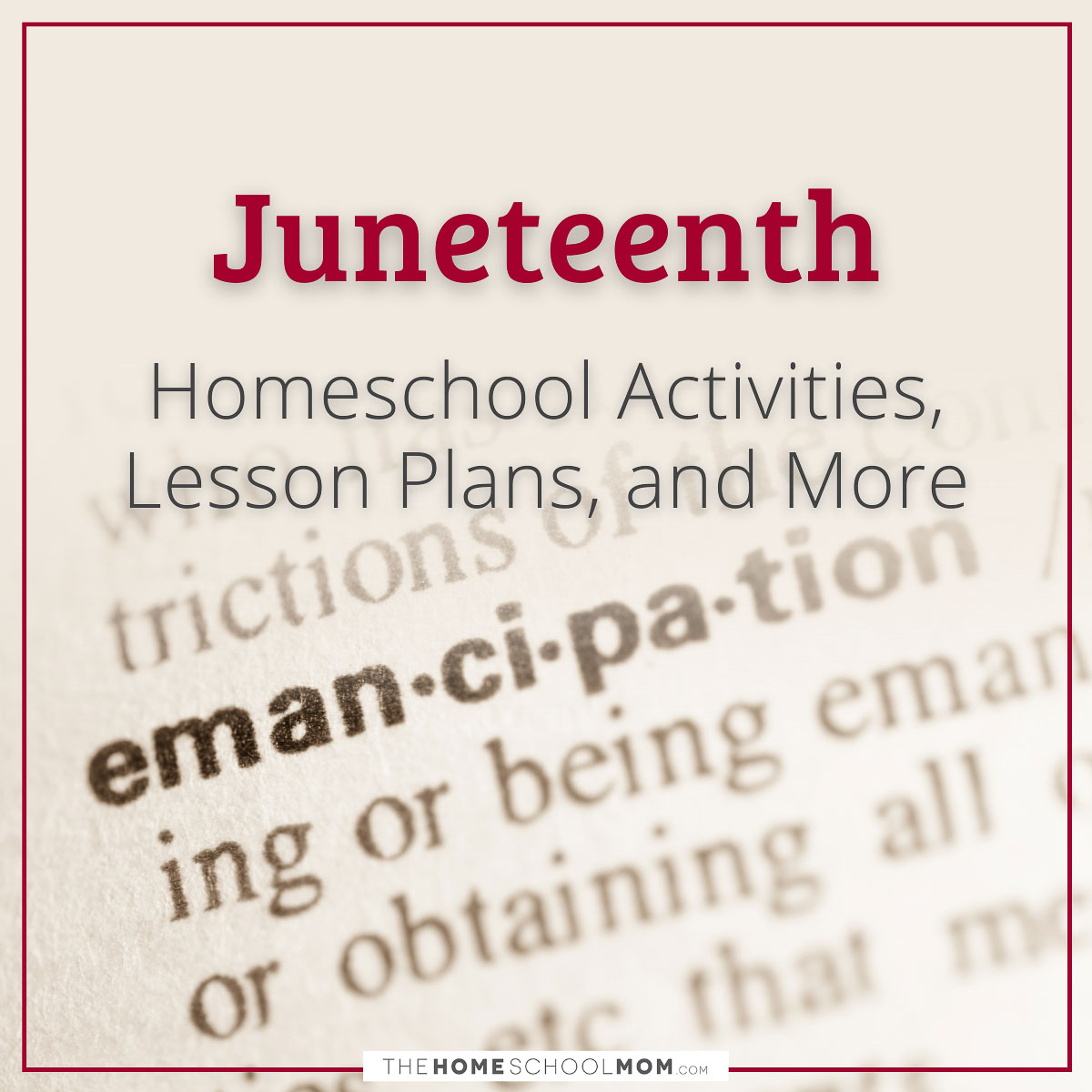 Voices Remembering Slavery: Freed People Tell Their Stories (Audio)  (O, T)
An audio collection of interviews from the Library of Congress in which formerly enslaved people tell their stories of enslavement, their lives and families, and learning about their freedom.
History of Juneteenth and Why It's Set to Become a National Holiday  (M, O, T)
A lesson plan from PBS that explores the history of Juneteenth and marking it as a national holiday. Includes ideas for activities, research, and discussion.
Juneteenth Becomes a National Holiday (Video)  (M, O, T)
A collection of video clips and resources from C-Span marking the recognition of Juneteenth as a federal holiday. The collection includes videos of Vice President Kamala Harris's address commemorating Juneteenth, the House of Representatives vote to make Juneteenth a federal holiday, history videos, and more.
Teaching Juneteenth  (T)
This article from Learning for Justice reviews some of the lesser-known history of Juneteenth and discusses various frameworks you can explore in your classroom.
Juneteenth Interactive Timeline and Photos  (M, O)
This interactive timeline from the Washington Post details how news of Emancipation and the celebration of Juneteenth spread across the country. It includes historic and modern photos of celebrations, as well as links to articles for additional learning.
Juneteenth: An American History Through Maps  (M, O)
An interactive timeline from Juneteenth America that includes a series of interactive maps, historic photos, and articles. The maps show the migration of former enslaved peoples through the US after Emancipation, how the celebration of Juneteenth traveled, and how Juneteenth is recognized in various states.
The History of Juneteenth Celebrations  (M, O)
An in-depth article from Thought Co. that covers the history of Juneteenth and how it came to be recognized as a Federal Holiday.
Original 'Juneteenth' General Order  (M, O, T)
Juneteenth marks the day in 1865 that U.S. Maj. Gen. Gordon Granger traveled to Galveston, TX to announce that the Emancipation Proclamation, issued two and a half years earlier, had freed the enslaved people of Texas. You can find the original text of Gen. Granger's order at Archives.gov.
How to Talk to Children about Juneteenth  (Y, T)
This article from the University of Pittsburgh provides practical tips for talking to young children about difficult topics like Juneteenth, enslavement, and racism in the US.
8 Great Books to Teach Kids about Juneteenth  (Y, M, O, T)
This book list from Parents.com includes age-appropriate reading recommendations for children ages Pre-K to 5, ages 5-9, and ages 9-14.
Teach for America Juneteenth Resources  (Y, M, O, T)
A large collection of Juneteenth teaching resources from Teach for America, including articles, books, movies, and lesson plans for grades K-12.
Juneteenth Printables, Videos, and Lesson Plans  (Y, M, O, T)
A large collection of Juneteenth lesson plans and resources from Share My Lesson that includes printable worksheets, handouts, and coloring pages, and lessons on related topics such as Reconstruction, Jim Crow laws, and more.
5 Ways to Celebrate Juneteenth as a Family  (Y, M, O, T)
These Juneteenth activity ideas from Parents.com include visiting an African American History Museum, attending Juneteenth church services or events, and more.
Zinn Education Juneteenth Resources  (Y, M, O, T)
A large collection of lesson plans, articles, and resources for teaching about Juneteenth, Emancipation, Reconstruction, and Jim Crow laws from Zinn Education. Included are videos, poetry, biographies of famous abolitionists, teaching guides, book lists, and more.
Juneteenth Celebrates Freedom from Slavery in the US (Video)  (YMOT)
This YouTube video from Newsy provides a brief background and history of Juneteenth. Published on Jun 17, 2019.
Juneteenth Freedom Day - Information and Resources"  (MOT)
Juneteenth general information, learning resources, books, videos, and related resources from Utah Education Network.org
Juneteenth Lesson Plan  (Y,M)
The free lesson for Juneteenth was created by a Florida public school social studies content team for grade 8.
Celebrate Juneteenth!  (MOT)
Event descriptions, classroom activities, websites, and related Juneteenth resources from Read, Write, Think.org Grades 5-12
Juneteenth.com  (YMOT)
The JUNETEENTH.com website is dedicated to the Juneteenth celebration and to those who tirelessly contribute to its continued existence and growth.
Texas State Historical Association Juneteenth  (MT)
A narrative of Juneteenth from the Handbook of Texas Online