Many homeschool parents start with the question, "What's the best homeschool curriculum?" A more productive question is, "What homeschool curriculum is the best fit?"
Choosing the best homeschool curriculum is important to new and prospective homeschooling parents, as well as those who want to improve homeschooling or adjust to a new phase, such as kids starting high school.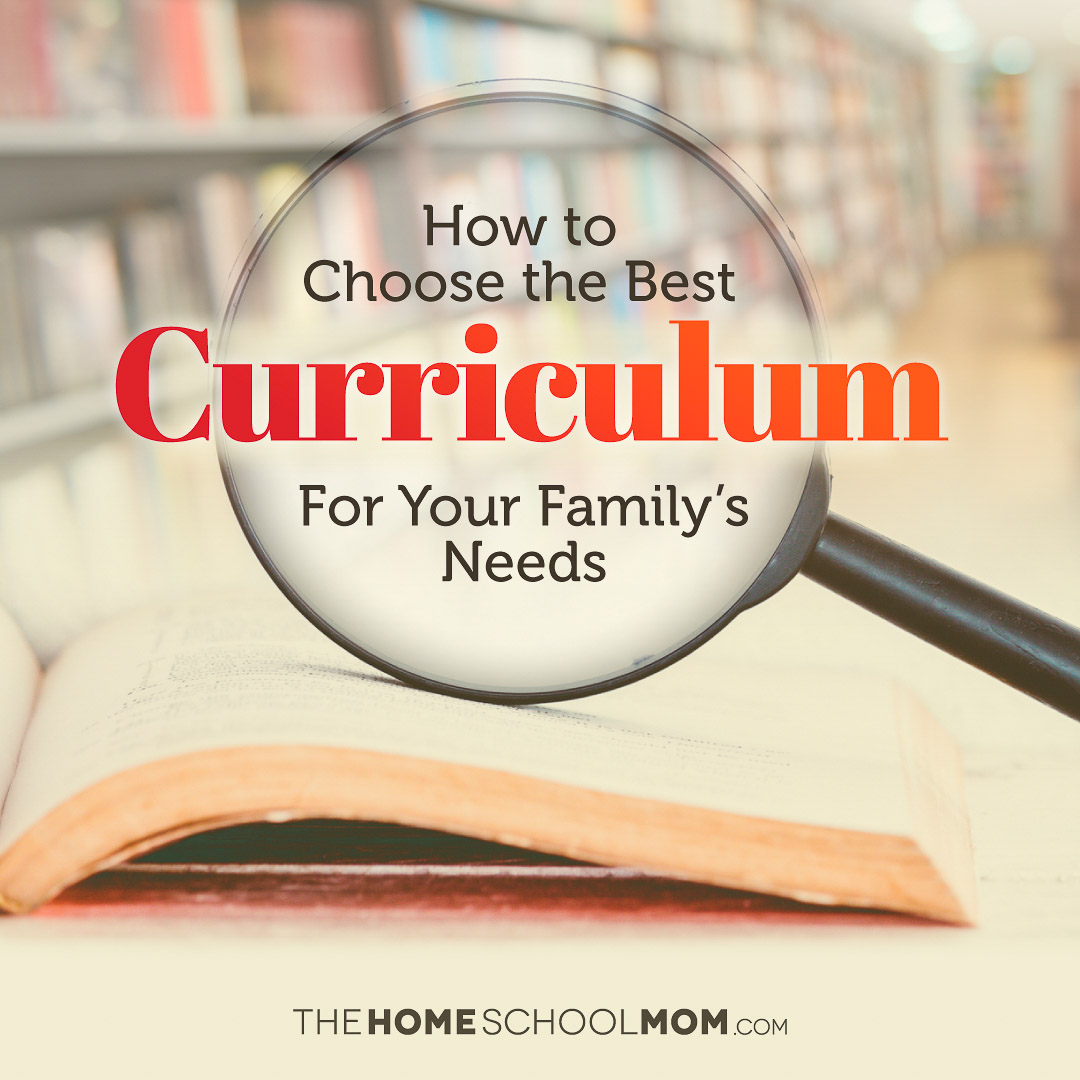 Jump to:
In order to find the homeschool curriculum that is the best fit for your family, consider
Your children
Your self
Your situation
You'll want to choose a homeschool curriculum that addresses all three. This guide will help you evaluate these considerations, as well as how to determine if a homeschool curriculum fits for your unique needs.
🔎  Choosing a Curriculum with Your Children in Mind
Children come in different ages, stages, levels of development, learning preferences, personality types, and activity levels, and they have different interests.
For example, if you have young children, you may wonder what to use for preschool curriculum or how to choose Kindergarten homeschool curriculum. Or you may be interested in what homeschool curriculum to use for an active, outdoorsy child. Or you may need a homeschool math curriculum for a struggling student.
Learning styles. Some children learn more by creating and making things; others through reading or talking to people. When you choose your homeschool curriculum, take these preferences into consideration by exploring learning styles like visual learning, auditory learning, and kinesthetic learning. You may also need to consider whether your child is a right-brain learner when choosing curriculum.
Interest-led learning. If your child has a strong interest or does not respond well to typical school work, you may want to try interest-led learning. You can choose resources that support the interest, and that might not include choosing a formal homeschool curriculum.
Grade levels. You may want to know what homeschoolers think about how a child's grade level affects curriculum choice, and when grade level may matter most. Homeschooled kids frequently learn at different grade levels for different subjects, and there is more freedom to help them at the level where they are rather than the level they should be.
Post-graduation plans. Your high schooler might be college bound or headed toward a vocation or entrepreneurship. Mary Ann's posts detailing her daughter's 10th and 11th grade plans can give you a look at what one college-bound homeschooler's course load looks like: Homeschool High School: Our 10th Grade Plan and Homeschool High School: Our 11th Grade Plan. You might even be just getting started with homeschooling a high schooler—there's bad news and good news!
If you have a struggling high schooler who is currently in public school, you might want to look at the ideas for choosing a homeschool curriculum for a potential dropout.
🔎  Choosing a Curriculum with Yourself in Mind
How much time do you have? Some people hope to outsource all or part of their children's learning because of time limitations, parental health issues, or other factors.
🔎  Choosing a Curriculum with Your Situation in Mind
Families in all types of situations successfully homeschool, but success depends on recognizing and working with your circumstances. Consider what your situation will be when you are homeschooling as you choose your curriculum:
All of these situations play into your choice of curriculum (or choice to not use curriculum).
If money is in short supply, look at the ways people homeschool on a budget, including choosing free homeschool curriculum.
Many people are also concerned about whether homeschooling leads to a diploma.
Your child may be attending a co-op, taking homeschool classes, or attending a university model school, so you might only need to choose curriculum for specific subjects.
You might even explore why some parents use more than one homeschool curriculum for the same subject.
You can also learn what other homeschoolers think of curriculum by browsing TheHomeSchoolMom's homeschool curriculum reviews, which are arranged by subject and title. Parents have written these curriculum reviews based on their own experiences—they share the pros/cons, grades used, and what they think of the curriculum—with specific homeschool curricula for language arts, math, science, social studies, art, history, typing, technology and more.
We even have reviews of a book that reviews homeschool curriculum! That would be Cathy Duffy's 100 Top Picks for Homeschool Curriculum.
📚  What to Look for in a Curriculum
When you're trying to determine how a homeschool curriculum fits, look at
the content
the approach to learning
the delivery
Content. What topics does the content cover? For example, does the content of the sixth-grade math curriculum you are considering cover topics that are usual for that level, or is there a reason why it does not?
Approach. Do you and your child like the structured approach of homeschool curriculum emphasizing learning from textbooks, or do you like the idea of homeschool curriculum consisting of living books as recommended in the Charlotte Mason approach to homeschooling?
Different homeschool styles go with different homeschool curricula, and reading about the approaches to homeschooling will help you choose a homeschool curriculum.
Delivery. Have you considered the pros and cons of a curriculum that is delivered online as an all-in-one program? What about the pros and cons of learning that is delivered through activities and projects? Are you familiar with the idea of learning delivered through the creation of lapbooks or notebooks?
A great way to learn more about homeschool curriculum is to visit with curriculum vendors at a homeschool convention. You can hold it in your hands, and show it to your children.
Competing Priorities
Sometimes determining the fit of a homeschool curriculum is difficult because there are competing priorities or constraints. The one you like the most costs too much. The one your child likes uses so many crafts that you know you will not like it. The one that covers all the bases is completely uninspiring to your child. The one done online turns out too much (or too little!) time.
And of course, there is always the question about homeschool curriculum for multiple children; what fits one child may not fit the others! Many people use unit studies as part of their homeschool curriculum if they have kids of different ages.
You may have to make changes in your curriculum choices as you recognize how these factors play out. In fact, this happens to homeschool parents with regularity just a month or two after homeschooling gets started, so we have proclaimed October 1 as "Curriculum's Not Working Day." Read about it, so you'll understand that many people are making changes to their homeschool curriculum, so homeschooling will work better.
💡 Alternatives to Formal Homeschool Curriculum
Did you know some people do not use a formal homeschool curriculum at all? Some people prefer to select and use multiple non-curricular resources instead of curriculum.
In fact, veteran homeschoolers recommend that new homeschoolers do something called deschooling before making a decision about homeschool curriculum.
Many homeschoolers also purposely delay formal academic lessons before introducing curriculum when their children are older.
There is even something called unschooling, which includes learning without a formal homeschool curriculum at all.
Homeschooling is Not School
As you pick your homeschool curriculum, it's important to keep in mind all the ways that homeschooling is not like school. You don't have to do things like school, even though that's the most familiar approach to education for many people.
Homeschoolers will tell you that picking a curriculum that's flexible has benefits.
You can even buy used homeschool curriculum. Here are some great sources for buying used homeschool curriculum.
But remember, choosing a homeschool curriculum is just one factor in homeschooling. Homeschooling 101 will walk you through the basic steps to getting started. Just a few more steps for your To Do list!