Jump to: Homeschool Co-ops | Homeschooling Classes & Academic Enrichment
Looking for someone to teach physics to your teen? Need a way to avoid teaching algebra? Want to enroll your Kindergartener in a co-op for social time? Homeschool classes and co-ops are a great way to spend time with other homeschoolers and skill-share with other homeschool parents.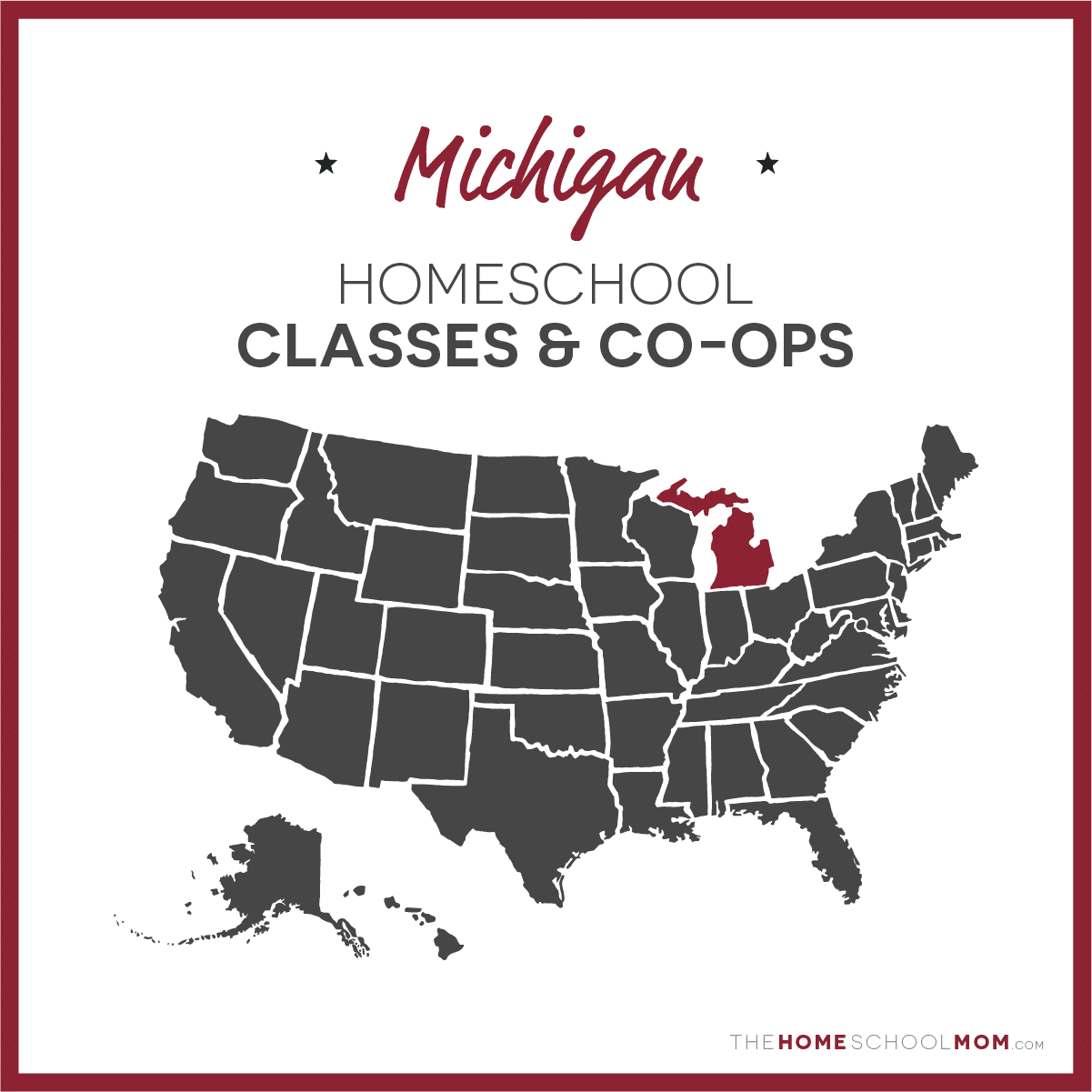 Submit a Local Resource
Our listing of Michigan co-ops and academic classes for homeschoolers is ordered alphabetically by city, with co-ops in the first section and all other academic resources below. If you would like to submit a Michigan co-op or academic resource, you may do so using the red button above.
Michigan Homeschooling Co-ops
Explorers Home School AssociationAnn Arbor
Explorers Home School Association is an ecumenical Christian cooperative. Explorers meets Tuesdays in Ann Arbor, Michigan, for two thirteen week long semesters beginning in September.
Home School ConnectionAnn Arbor
The Home School Connection (HSC) is an interdenominational Christian co-operative: families working with families, to provide a variety of academic and enrichment classes for home-schooled students of all ages, giving...
Parent Teacher Co-opByron Center
The Parent Teacher Co-op is a home school tutoring organization whose mission is to come alongside parents to raise up a generation of well-educated warriors for Christ. We offer classes with academic excellence along...
CTK Homeschool GroupChelsea
CTK Homeschool Group is a community of Catholic families, faithful to the teaching our Holy Mother the Church. Their mission is to raise our children to fulfill their Baptismal promises, in love with The Truth, and po...
Lake Michigan Home School ConnectionFruitport
A distinctly Christian, parent-run organization, the mission of LMHSC is to enhance established home school programs by making available unique and trusted educational and informational resources while encouraging soc...
HEARTH Co-op and support groupGenesee
A community of support for homeschoolers in Genesee County, MI and the surrounding areas. HEARTH stands for Hope, Encouragement and Resources Targeting Homeschoolers. Offer a co-op as well as a general support group t...
PIONEERS Tutorial Support ServicesJackson
PIONEERS is a Christian homeschool co-op. While you do not have to be a Christian to take classes here, please know that our program is based on Judeo-Christian principles. We meet three Wednesdays per month, for a to...
REACH Kzoo Homeschool Co-opKalamazoo
REACH Kzoo is a group of Christian families who gather together to provide educational, social and charitable enrichment opportunities for the local homeschool community in Kalamazoo, MI. Offering core and extracurric...
Sanctuary Academy of DewittLansing
This is a Catholic Homeschool Academy, an affiliate of Acton Academy. The group meets on Tuesdays & Thursdays in Dewitt. It is a learner-driven community where the emphasis is on learning to be, learning to learn,...
Enrich Christian Homeschool Co-opMetro-Detroit area
A Christian homeschooling enrichment program meeting in the Metro Detroit Area. Families come from Wayne, Oakland, and Macomb counties. Offering classes for the K-12 grade home school family. Classes are taught by the...
Homeschool AxxessNorton Shores
Axxess is a co-operation of homeschool families with students between the ages of 6th-12th grades. Our goal is 3 C's: Christ-Centered, Core-Classes that are Cost-Effective.
Eagle Creek Academy Homeschool art and gym classesOakland
Eagle Creek Academy now offers homeschool art and gym classes to children ages 7 to 12 years. Classes are once a week for 1.5 hours and are instructed by an experienced art teacher and coach. Each session lasts 3 to 5...
Heritage Home EducatorsPlymouth
Heritage is a parent-run Christian co-op serving homeschoolers in need of support from other homeschooling families. We meet in Plymouth on Mondays for two 14-week semesters during the academic year. We provide qualit...
COVE Homeschool Co-opRedford
With families from Wayne and Oakland counties, COVE provides high quality core middle school and high school classes taught from a Christian worldview. There are also enrichment classes for elementary aged students. M...
Deep Roots Homeschool CollaborationRomeo/Macomb County
Deep Roots Homeschool Collaboration is a faith-based group for homeschool parents to come together to use their strengths and areas of giftings to educate homeschoolers and find Christian community as a family. Collab...
Covenant Learning Co-opSaint Joseph
Covenant Learning Co-op (CLC) is a Christian, non-denominational homeschool educational cooperative based upon Biblical truth. Located along the lakeshore in beautiful southwest Michigan, CLC meets for classes from Se...
Creek Christian Homeschool AssociationSwartz Creek/Flint Township
Creek Christian Homeschool Association is a co-op that meets weekly on Tuesdays from 9am - 3pm. They offer two tracks of elective style classes. There is an Elementary and Jr/Sr High track, both offer 6 classes each. ...
CACHE - Charlotte Area Christian Home EducatorsVermontville
Supporting homeschoolers in Michigan. Tutored Classes - Algebra 2, Geography, Pre-Chem/Pre-Physics, Spanish, Physics, Speech, Consumer Math, Biology, Sign Language, Government & Economics Exploratory Classes - Pai...
Homeschool Enrichment Network (HEN)Williamsburg
Membership gives your family access to valuable homeschooling support and resources such as e-newsletters, a community directory, forums, a robust event calendar with scheduled activities for students of all ages, and...
Adventurers Homeschool AssociationYpsilanti, Washtenaw and surrounding counties
Adventurers serves high school homeschoolers and their families with weekly academic and enrichment classes from Biology to Drama, American Government to Stage Combat. Please schedule a visit to see what we have to of...
Michigan Homeschooling Classes & Academic Enrichment
Onsted Virtual AcademyAdrian, Hudson, Onsted, Tecumseh
Onsted Online Academy can help support those looking for assistance with homeschooling.
Michigan Crossroads Council Cub ScoutsAll Areas
The Michigan Crossroads Council is offering an opportunity for youth grades K-5 to join Cub Scouts. Once Packs in your area start meeting in person we will find a local Pack for youth to join. Scouting is a year-round...
United Learning AcademyAnn Arbor
United Learning Academy strives to provide exceptional and innovative elective-style classes for homeschoolers in the Ann Arbor Area. Our on-site courses, taught by professional teachers, include science and engineeri...
The Catechesis of the Good Shepherd (CGS)Ann Arbor
The Catechesis of the Good Shepherd (CGS) is a religious education program for children ages 3-6 (level I), 6-9 (level II), and 9-12 (level III). It is rooted in the Bible, the liturgy of the Church, and the education...
Homeschool WorkshopsAuburn Hills
LEGOLAND® Discovery Center offers hands-on S.T.E.M. activities & programs for pre-booked Homeschool Groups of 10+ individuals as well as individual Homeschool families during select Homeschool Weeks throughout the...
Homeschool ConnectionsAuburn Hills
Homeschool Connections is an Independent Homeschool Program Created by Homeschoolers for Homeschoolers. Homeschool Connections proudly serves the Metro-Detroit homeschool community by offering innovative, high-quality...
SEA LIFE Michigan AquariumAuburn Hills
SEA LIFE is Michigan's largest aquarium and offers a fun, educational and hands-on field trip destination for homeschool groups. The aquarium also hosts 'Homeschool Week' events throughout the year for homeschool fami...
LEGOLAND Discovery Center MichiganAuburn Hills
LEGOLAND® Discovery Center is an indoor family attraction which offers a fun, hands-on, STEM field trip destination for homeschool groups. It hosts periodic 'Homeschool Week' events throughout the year for homeschool ...
Paideia LearningBrighton
Paideia Learning is a faith neutral homeschool hybrid and part-time electives program serving families in Livingston County. Students meet two days per week (M/W or T/Th) in Brighton, MI. Families can choose to use sc...
CTK Homeschool GroupChelsea
CTK Homeschool Group is a community of Catholic families, faithful to the teaching our Holy Mother the Church. Their mission is to raise our children to fulfill their Baptismal promises, in love with The Truth, and po...
New Heights Educational Group, IncDefiance
The New Heights Educational Group, Inc. promotes literacy for children and adults by offering a range of educational support services. Such services include: assisting families in the selection of schools; organizatio...
Regina Caeli Academy - DetroitDetroit
Regina Caeli Academy is a hybrid homeschool resource center in the Catholic tradition offering academic and extra curricular classes for homeschoolers. The nationally accredited program serves PreK-3 - 12th grade stud...
Free Reading Tutors- Beyond Basics at DISDetroit
FREE resource for the community! Beyond Basics- Literacy is available inside the Durfee Innovation Society a.k.a. the old Durfee Elementary building in Detroit. (Davison and The Lodge) Reading Coaches work one on one ...
MetroEHSDetroit
We offer free screenings for Speech/Language, Occupational and Physical Therapy. We have experienced fully licensed therapy professionals that design a program based on your child's unique needs • On-site therapy serv...
Girl Scouts Jr. Troop for Fourth and Fifth Grade GirlsEast Lansing
Fourth and Fifth Grade Girl Scout Troop #30268 welcomes homeschoolers! Please check us out and learn about the great fun and opportunities to unite with other girls your age. Girl Scouts is more than cookies! We get t...
Renaissance Homeschool GroupFarmington Hills
Renaissance Homeschool Group (RHG) offers quality educational opportunities to families in Southeast Michigan to expand learning and social connections in an environment that is positive, cooperative, and mutually sup...
Way of Wisdom Homeschool GroupGrand Blanc/Flint
Way of Wisdom Homeschool Group provides an innovative opportunity for homeschool students to attend both fun and educational classes without a financial burden to families. Through a partnership with Oxford Virtual Ac...
Discovery Wilderness SchoolGrand Rapids
Discovery Wilderness School offers outdoor courses to home school students ages 2-14. Students meet at Kent County Parks and are led by qualified teachers in courses such as Nature Explorers, Natural Crafting and Outd...
English, Reading and Writing Tutoring with Emily AltGrand Rapids
Nationally Board Certified English teacher with 20 years of teaching experience. Available for students in grades 7-12 and college level, I can offer literacy & writing instruction, reading support, customized rea...
GRACE Home School Association - MichiganGrand Rapids
Grace Home School Association is an organization dedicated to promoting homeschooling and to supporting parents who have chosen to educate their children in the home. GRACE is an independent, non-profit association un...
Worship Arts ConservatoryGrosse Pointe Woods
Worship Arts Conservatory offers college level courses and apprenticeships in worship, Bible and music. Our Apprenticeships come with 12 credits of free courses per term. It is our goal to train people for ministry wi...
Spark!Lab Smithsonian at the Holland MuseumHolland
The Smithsonian Institution's Spark!Lab is a hands-on invention space that will allow children and families to create, collaborate, explore, test, experiment, problem solve, and invent. Spark!Lab activities incorporat...
Impression 5 Science Center - Homeschool ProgramsLansing
Impression 5 is a hands-on learning center. Workshop Series Themes include Space Science, Computer Science, Environmental Science and Health Science. Homeschool Science Days are offered on Thursdays for students Pre-K...
MASC/MAHS Michigan Student LeadershipLansing
The purpose of MASC/MAHS Student Leadership is to further develop student leaders into productive members of their own community and, ultimately, the community they choose to live in.
The Early College at Lansing Community CollegeLansing
The Early College at Lansing Community College allows students starting, their junior year in high school, to begin taking college courses and to continue college courses through year thirteen. Students may earn up to...
Seven Ponds Nature CenterLapeer
Seven Ponds Nature Center is an ideal outdoor classroom where children can experience nature first hand. Nature Study Series for Homeschoolers are programs where naturalists guide children toward an awareness and appr...
Code Ninjas MacombMacomb
CodeNinjas is a fun coding center where kids have fun and parents see results! Our drop in program allows parent flexibility and minimizes scheduling conflicts. Kids build video games, do robotics, electronics and STE...
Ally Learning TutoringMetro Detroit
Ally Learning tutoring company that specializes in homeschooled and adoption students. Offering high quality tutoring and mentoring that aims to help students achieve their academic potential. Tutoring programs are sp...
Quo Vadis HomeschoolersMetro Detroit
This program offers funded, elective style classes to homeschoolers in the Metro Detroit area. Family friendly and boasting small class sizes that are both hands-on and interactive. Class lists, Course Descriptions an...
Michigan VirtualMichigan
Michigan homeschoolers can choose from over 250 online courses with Michigan Virtual, including a wide selection of AP courses, world languages, dual enrollment courses, advanced science and mathematics courses, and c...
Michigan City Virtual AcademyMichigan City/Michiana
This is an online/fully virtual learning experience for 9-12 grade students who are seeking a traditional High School diploma in a non-traditional homeschooled setting. MCVA is in its first year and already has 50 stu...
Michigan Classical ConversationsMichigan Statewide
CC is a national homeschooling program that uses a Bible based curriculum taught in a christian, classical tradition. Classes are geared for age 4 through high school.
White OrthodonticsMid-Michigan/Great Lakes Bay Region/Saginaw
This resource is an orthodontic office that provides an opportunity for children of all ages to learn about oral health care and how it relates to general health. Dr. White and the staff host field trips at their offi...
Lyceum Learning InstituteMonroe
Lyceum Learning Institute creates personalized learning opportunities for homeschool children. Offering classes, local business partner classes, workshops, events, sports teams, field trips, virtual classes, and fores...
Toledo Zoo Homeschool ProgramsNorthwest Ohio
This program starts in October and runs through mid-May. Each month will focus on a new age-appropriate myth or story and the animals found in the story. Toledo Zoo's homeschool program is a fun way to learn life scie...
Specializing in language learning, Koby offers Japanese, French, or Spanish language classes for beginners/high beginners, and private tutoring for any level. Also offers individualized one-on-one tutoring for such su...
Today's Orthodontics and Pediatric Dentistry Field TripsNovi, Northville, Canton, Plymouth, Brighton, Livonia, Farmington, Farmington Hills, West Bloomfield, Westland, Wayne, Garden City, South Lyon, Howell
Today's Orthodontics and Pediatric Dentistry is offering field trips for students and families to come in and be educated on proper oral hygiene along with having some fun activities to really make this field trip exc...
Student Statesmanship Institute OnsiteOwosso
Spring Vale Christian School in Owosso, MI is hosting an SSI (Student Statesmanship Institute) Onsite and would like to invite any interested 9th-12th graders to join us. High school students will experience real-worl...
Coram Deo AcademicsPerry
Coram Deo means "Before the face of God." Coram Deo Academics brings together the best teachers, relevant subjects, and the Classical Education model—utilizing the Grammar, Logic, and Rhetoric stages. This strategy li...
Pack 379Rochester Hills
We are a small but growing Boy Scout pack comprised of dedicated homeschoolers in Rochester Hills, MI. We are very family oriented. We welcome other homeschoolers, and are an all inclusive group.
Nutty Scientists of Southeast MichiganSoutheast Michigan
Nutty Scientists offers science enrichment resources throughout Southeast Michigan. Nutty Scientist's mission is to awaken the curiosity and imagination of children through interactive, hands-on scientific activities ...
Michigan Virtual High SchoolThumb of Michigan
The Michigan Virtual School is an online resource that enables Michigan high schools and middle schools to provide courses (all taught by certified teachers) and other learning tools that students wouldn't otherwise h...
CACHE - Charlotte Area Christian Home EducatorsVermontville
Supporting homeschoolers in Michigan. Tutored Classes - Algebra 2, Geography, Pre-Chem/Pre-Physics, Spanish, Physics, Speech, Consumer Math, Biology, Sign Language, Government & Economics Exploratory Classes - Pai...
Explorers Homeschool AssociationWashtenaw County
Explorers is an ecumenical Christian cooperative for families with children from pre-school through 12th grade. If you are considering applying to Explorers, please contact the administrator: explorersceo@gmail.com.
Oakdale Academy Homeschool PartnershipWaterford
Oakdale Academy offers homeschool students grades 7-12 classes that can be difficult to teach effectively in a homeschool setting. Homeschool students are integrated with full-time students in the classroom, and recei...
Adventurers Homeschool AssociationYpsilanti, Washtenaw and surrounding counties
Adventurers serves high school homeschoolers and their families with weekly academic and enrichment classes from Biology to Drama, American Government to Stage Combat. Please schedule a visit to see what we have to of...
Go to...