Jump to: Homeschool Arts | Homeschool Sports
In addition to the opportunity to get out of the house and socialize, homeschool sports and arts programs can offer long-term benefits by developing characteristics like leadership, self-confidence, perserverance, and self-esteem. Many organizations and businesses have opportunities specifically for homeschoolers, while others invite homeschoolers to participate in their regular programs.
Not sure how to choose activity/activities for your children? Read how Rebecca narrows down the choice of extra-curricular activities.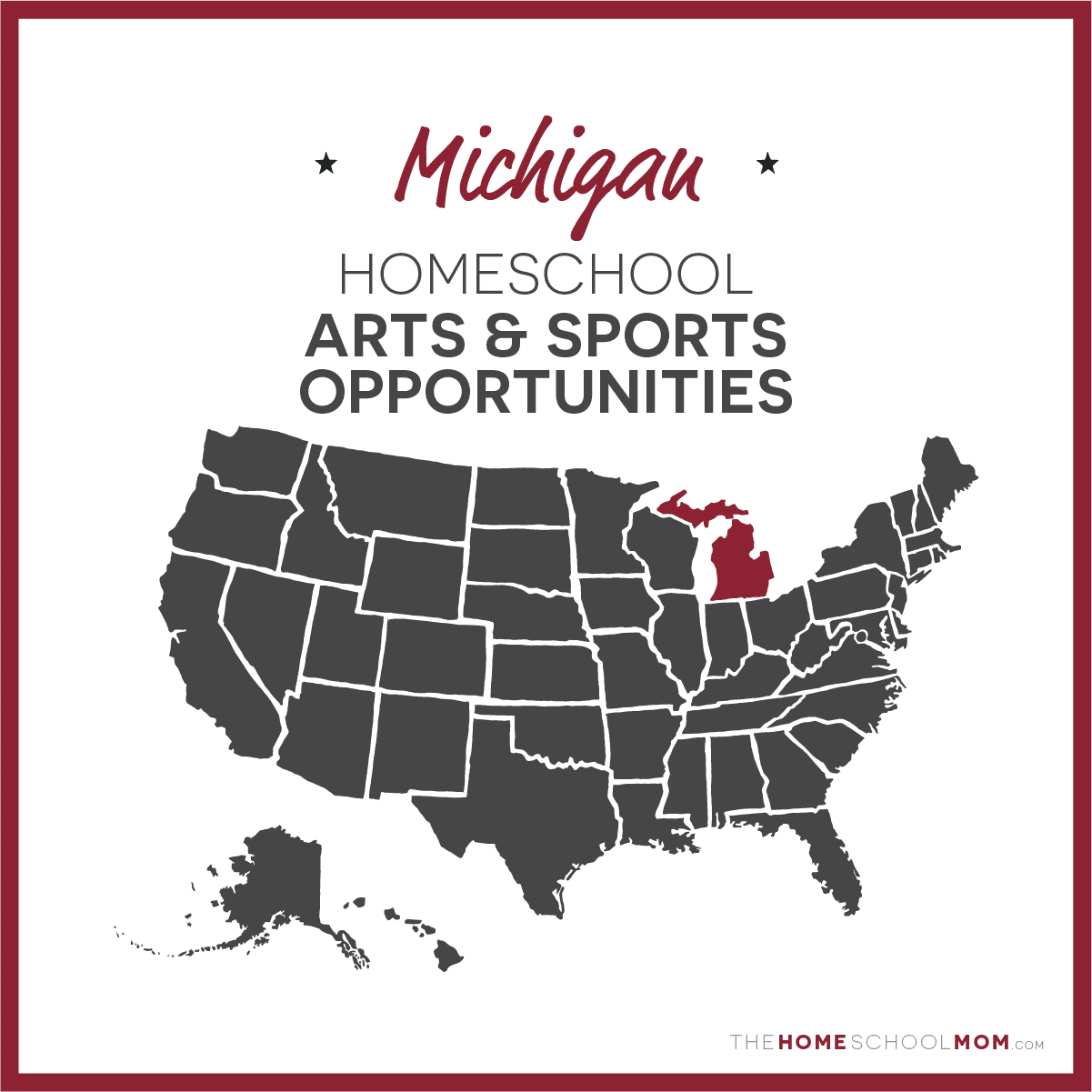 Submit a Local Resource
Our listing of Michigan list of homeschool arts and sports programs is ordered alphabetically by city, with arts in the first section and sports in the second section. If you would like to submit an Michigan arts or sports program, you may do so using the red button above.
Michigan Homeschool Arts Programs
Ada Conservatory of Music

Ada

Ada Conservatory of Music offers lessons in piano, voice, violin, viola, flute, guitar, ukulele and bass guitar with the top instructors in West Michigan. Located in the heart of Ada Village, students have access to monthly group classes, several community events throughout the year as well as recitals at St. Cecilia Music Center. All instructors hold degrees in their instrument and have experience with students of all ages and ability levels. Come experience the difference music can make in your life at Ada Conservatory.
Flipside Art Studio

Ann Arbor

Flipside offers classes and workshops that explore a variety of media and techniques. Ages preschool through adult.
His Feet Dance

Ann Arbor

His Feet Dance is a Christian dance school in Southeast Michigan. Classes are during the daytime and are designed for homeschooling students. There are two locations, one in Brighton and another in Ann Arbor. Classes run weekly from September to May and finish off the year with a spring recital. School is owned by homeschool alumna, Hannah Hackel. His Feet Dance offers baby ballet, adult ballet, beginner-intermediate advanced ballet, pointe, and lyrical classes for all ages.
Clonlara School Enrichment Courses

Ann Arbor

Clonlara School offers afternoon enrichment courses that are open to homeschoolers and other local area students. Enrichment courses are taught by local professionals and provide opportunities for students to develop new interests and passions through activities like ceramics, arts and crafts, capoeira, STEM exploration, and more.
National Homeschool Music Ensembles, NHME

Ann Arbor and Tecumseh, Michigan

National Homeschool Music Ensembles, NHME, provides group music lessons and ensemble playing experiences to homeschool students at two locations in southeast Michigan. NHME offers student musicians the opportunity to play and perform in Concert Band, String Orchestra, Choir, and Beginning Ensembles. Rehearsals and classes are held from September to May with summer camp experiences available in June and July. Beginning students without prior musical instruction join the ensembles in September. NHME is a non-profit 501(c)(3), charitable corporation with a twenty year track record of music excellence!
Fine Arts Academy

Ann Arbor, Brighton, Whitmore Lake, South Lyon, Pinckney

The Fine Arts Academy offers classes in Dance, Martial Arts, Music, Tumbling, Musical Theatre, and Painting. Currently offering specialized dance classes for the Homeschooling Community. Contact us at 734-449-0505, or at https://www.facebook.com/thefineartsacademy/
Homeschool Connections

Auburn Hills

Homeschool Connections is an Independent Homeschool Program Created by Homeschoolers for Homeschoolers. Homeschool Connections proudly serves the Metro-Detroit homeschool community by offering innovative, high-quality classes in six locations across southeastern Michigan. Each campus meets one day a week to complement your homeschooling journey! Their goal is to help you educate your children well! Their classes are taught by highly qualified instructors that bring enthusiasm and experience to their lessons. From history to art to science, math, writing, literature, robotics and even P.E., you're sure to find a class that will delight and engage your child.
Axis Music Academy-Birmingham

Birmingham

Axis Music Academy features private one-on-one lessons for musicians of any age and skill level. Choose your instrument, choose your instructor, and begin your road to music mastery. Mention that your child is home schooled and we'll provide your first lesson FREE. If you're happy and would like to continue, short term lesson plans are available. No long term commitment required.
Solstice Healing Arts Collective

Bloomfield Hills

Solstice Healing Arts Collective is an inclusive space that offers an integrative, holistic approach to healing. We provide creative and mindful experiences for individuals and groups to participate in the transformative power of the healing arts. Our collective seeks to provide and make creative art therapy services more accessible in our community.
Karen Donato Violin Studio

Canton

Karen Donato Violin Studio is now offering convenient daytime lessons for homeschool students ages 4 and up! 30, 45, and 60 minute spots are available. Affordably-priced lessons are located in the heart of Canton. Group classes are also available as a supplement to private lessons. All proficiency levels can be accommodated. Karen Donato is a Suzuki-certified teacher who has been teaching since 1999. For more information, please visit www.karendonato.com.
School of Rock Canton

Canton/Western Metro Detroit

School of Rock Canton is the world's premier performance music school. They offer group music sessions for children 3 - 7 years old, and use rock songs to learn about melody and dynamics. They also learn to play instruments while working on fundamentals like chords, rhythm and song structure. Starting at age 8, individual lessons are added as students prepare to play live shows throughout greater Metro Detroit. School of Rock focuses on guitar, bass, drums, keyboards/piano and vocal lessons, and employs local professional musicians for their instructors.
Mosaic Youth Theatre of Detroit

Detroit

Mosaic Youth Theatre of Detroit creates equity through the arts for over 300 Detroit area youth by connecting them to professional artists, preparing them for college and career pathways and amplifying youth voices. With arts as the motivating catalyst Mosaic's programming develops and inspires the behaviors and critical life and learning skills youth need to have successful, empowered lives through adulthood. Young artists transform as they engage in comprehensive and consistent training, workshopping tried and true, as well as, experimental works and cultivating their artistic voice through the creation of original work. Mosaic's critically acclaimed youth-driveperformances and national and international tours have brought worldwide attention to Detroit as a center for arts and culture while shining a spotlight on the area's talented young people and creating new and diverse audiences for the performing arts. Additionally, since it's founding in 1992 95% of Mosaic youth ensemble members go one to college and since 2019 have maintained a 76% college pertinence rate. Youth grades 3-12 who are interested in music, theater, sound design, lighting design, scenic design or stage management can get involved in Mosaic through it's youth ensemble, school residencies, summer camp or virtual engagement.
Detroit Symphony Orchestra Free Educational Concert Series

Detroit

The Detroit Symphony Orchestra's Educational Concert Series (ECS) has introduced students to classical music for more than 80 years. Each ECS performance is thematically designed to explore topics like science, history, and art through orchestral music. ECS performances take place in historic Orchestra Hall and are webcast for free via the Live from Orchestra Hall: Classroom Edition series. All ECS programs offer accompanying teacher resource tools to classrooms who purchase tickets or register to watch webcasts. ECS performances are recommended for students in 3rd through 8th Grade.

Detroit Symphony Orchestra Free Educational Concert Series details
Hudson Education Center for the Arts

Dexter

The Hudson Education of the Arts is a 501(c)3 non-profit organization that provides students ages 5-18 with opportunities in music. HEC believes in allowing students to grow in leadership through the experience of music education and performance. Programs include private lessons, choral ensembles, music workshops, classes, and more! Private lessons are available throughout the year while semester programs (ensembles, classes, etc) will begin in January and run through June.
Christian Eggert Violins - Orchestra Instruments and Rentals

Duluth

Violin, Viola, Cello and Bass: Established in Duluth MN in 1994 and Fargo ND in 2003. We are a full service shop serving the upper Midwest and across the country (Schools, Beginners and Professional Players). We proudly provide rental outfits, sales, repair, restoration and appraisals. We proudly display our "Distinguished Service Award" from the String Teachers Association. We look forward to serving you. CEViolins@aol.com Toll Free 1-877-800-6568 We also welcome students of all ages to tour our shop and they can play the instruments. Many schools bring their classes in for a field trip. Our Duluth, MN Shop is in the beautiful Historic DeWitt-Seitz Building in Duluth's Canal Park, always fun

Christian Eggert Violins - Orchestra Instruments and Rentals details
School of Rock Farmington

Farmington

School of Rock offers students of all skill levels age 7-18 a performance-based music curriculum in a fun environment. Weekly private lessons are combined with structured group rehearsals. Students prepare to perform live on stage. Areas of instruction range from guitar lessons to bass, vocals, keys and drums lessons. Also offers summer camps, monthly events, workshops, clinics, guest professors and additional performance opportunities through the local House Band and national All Stars programs. Location: 22730 Orchard Lake Rd. Farmington, Michigan 48336
Renaissance Homeschool Group

Farmington Hills

Renaissance Homeschool Group (RHG) offers quality educational opportunities to families in Southeast Michigan to expand learning and social connections in an environment that is positive, cooperative, and mutually supportive.
Bowker Music Studio

Farmington Hills

Looking for a stress free and productive environment for you or your child's musical education? Look no further! The mission at Bowker Music Studio is to give the student a customized learning experience to achieve their best results possible. Every student is different, that means what works for some, may not work for others. Every lesson is planned to fit the student and designed to reach each goal set by the student/parent. Lessons offered include Piano, Trumpet and Guitar. Please contact lessons@bowkermusicstudio.com for more information.
Flat Rock Community Center Homeschool Program

Flat Rock

Offering Youth/Adult Fitness, Authentic Art Programs, and swimming instruction during the academic school year. Contact (734) 379-1450 for questions.
The Flint Institute of Arts Homeschool Program

Flint

The Flint Institute of Arts Homeschool programs meet on Monday mornings and include monthly classes and three-part workshops. Separate classes are offered for ages 3-5, 6-8, and 9-18. The registration deadline for each program is one week before the start program. For additional information, please contact the FIA education department at 810.237.7314 or education@flintarts.org.
Dunes Music Education Fund

Grand Haven

Dunes music education fund provides free private piano lessons for elementary age students. Teacher is an accomplished pianist with a masters degree in music education
Ledge Craft Lane children's art classes

Grand Ledge

Ledge Craft Lane Gallery is seeking children ages 8-16 to join a small group of students, some currently Home Schooled, for classical art instruction. This group meets in a classroom in downtown Grand Ledge where local kids have been taking this class for over 20 yrs. Projects mostly involve study of famous artists, perspective, realist proportions, etc. Teacher is a published illustrator, professional muralist has attended Syracuse University in NY& has extensive experience from workshops & guilds, also has been teaching in the parochial & public setting. The instructor would like to keep the group under 10, meets Fridays for one hour, all materials provided, $12/hr. very flexible however times will reflect availability of classroom.
West Michigan Homeschool Fine Arts (WMHFA)

Grand Rapids

A non-profit organization with classes in Grand Rapids and Kalamazoo whose purpose is to assist and support families in the musical education of their home schooled children ages 7 and up. The programs offered by WMHFA include band, orchestra, choir, recorder, handbells, and colorguard.
I'm An Artist Community Studio

Grand Rapids

I'm An Artist Community Studio believes that everyone is an artist. We offer fine arts-based enrichment classes for home and unschool students, open studio times in the afternoons and Saturdays, guided art classes, and more. Located in the heart of Gaslight Villiage, I'm An Artist is a perfect location for inspiration, growth and learning.
Music Lessons with Claire C

Grand Rapids

Music is an intrinsic part of the human experience. Whether its a few chords around the campfire or an orchestra performing at Carnegie Hall, music makes life better! Learn to sing or play guitar, piano or ukulele with a compassionate, enthusiastic teacher. Lessons follow student's interest and passion to ignite curiosity and a life long joy of learning music!
Larissa Fall's Violin Studio

Grand Rapids and Holland

Larissa Fall is a violinist, teacher, and arts administrator currently residing in Grand Rapids, Michigan. She has a Bachelor of Music in Violin Performance from Hope College in Holland, MI and a Masters Degree in Arts Administration from the University of Kentucky. She is a registered Suzuki violin instructor and is continuing her training in the method. She currently teaches private violin lessons, works in administration at the Grand Rapids Symphony, performs in and manages the Charmante String Quartet, and is a member of the Holland Symphony.
Worship Arts Conservatory

Grosse Pointe Woods

Worship Arts Conservatory offers college level courses and apprenticeships in worship, Bible and music. Our Apprenticeships come with 12 credits of free courses per term. It is our goal to train people for ministry without the added burden of debt. We accept advanced high school students.
Piano Studio of Lola McIntyre

Holland

Classical pianist, Lola McIntyre specializes in teach students from the earliest age and beginning levels through the most advanced concert level. She has taught piano at 2 colleges, and privately for over 40 years. She holds a Master of Music degree specifically in the field of piano teaching.
Homeschool Performing Arts

Kalamazoo

Homeschool Performing Arts ("HPA") provides many opportunities for students to participate in music, drama, and theater. It is a well established program, with many opportunities for students.
Dan Forbes Music

Kalamazoo, Portage, Mattawan

Dan Forbes Music teaches a wide variety of instruments including, but not limited to: piano, guitar, ukulele, and violin. Classes are typically 30 minutes once a week and the location can be accommodated to fit your needs. Please contact through the website.
Christian Arts Acdemy

Macomb County

This Dance studio offers ballet, Jazz, tap and lyrical to ages 3 and up. They use family friendly music and modest costumes. Their focus is on Christ, Creativity and Community while helping families through teaching self discipline, reverence, respect and responsibility. They offer daytime classes for homeschool families and afternoons classes as well.
Anton Art Center Classes

Mount Clemens

The Art Center brings to the people of Macomb County arts experiences and opportunities, which would otherwise be unavailable to them. The loyalty of 400 plus Center members attests to this. Moreover, the Center's work has been recognized by support from The Michigan Council for Arts and Cultural Affairs, The Community Foundation of Southeastern Michigan, The Kresge Foundation and other benefactors, in both the community and private sectors, whose support is universally recognized as a seal of quality. The Anton Art Center presents a quarterly schedule of educational programs in various media for youth and adults
Anishinabe Performance Circle

Mt. Pleasant

Promoting the arts and culture of the Anishinabek. The Anishinabe Performance Circle will foster a greater understanding of our rich cultural heritage through educational cultural presentations. This increased exposure and access to the rich heritage of the Anishinabe people will help bridge ethnic and cultural relationships plus build strong community partnerships. The mission of the Anishinabe Performance Circle is aimed at promoting and enhancing positive self images of Anishinabe children through the use of traditional Anishinabe arts (storytelling, dance, music, and language), and preparing our youth as Anishinabe leaders in a multicultural society.
Art Reach of Mid Michigan

Mt. Pleasant

We offer art classes that are open to the public.
Sara Ewan, Private Voice and Piano teacher

Mt. Pleasant

Sara Ewan is a private voice and piano teacher who is also a trained, performing singer and has studied with a former student of Pavarotti. Sara has also studied in Toronto, Germany, and New York City with a teacher who teaches singers from the Metropolitan Opera. She holds a Bachelor of Music in Vocal performance degree with a minor in piano. Sara began her formal piano training at age six. In addition, she has performed pop in Nashville, won awards for her jazz singing, and is also well-versed in musical theater, having been nominated for an Irene Ryan Award. Sara has taught private piano and voice lessons to children and adults for over ten years. For lesson inquires, please use this email: sarawhitney@hotmail.com
Sarqit Outdoor Living School

Muskegon

Sarqit Outdoor Living School strives to connect students to nature and the to past through hands on experences. Group classes can be set up with the focus on Ancestral skills, Blacksmithing, Boat Building, Bushcraft, Nature, Permaculture, Survival, and Woodworking.
Articipate Art Studio

Oakland County

Introducing students to new types of art, such as indigo dyeing, mosaics, print making, collage, painting with acrylics, watercolor, and pastels. Class times available during the day or in the evenings.
Plymouth Community Arts Council

Plymouth/Canton

This non-profit arts organization provides daytime art classes in pottery, painting, drawing, digital photography, and sculpture for all ages. Art appreciation and art history lessons may be incorporated, with educational experiences designed for the specific needs and curriculum requirements of your home school group. Experienced instructors, all materials included, onsite gallery field trips and exhibit opportunities for students.
School of Rock Rochester

Rochester

School of Rock offers students of all skill levels age 7-18 a performance-based music curriculum in a fun environment. Weekly private lessons are combined with structured group rehearsals. Students prepare to perform live on stage. Areas of instruction range from guitar lessons to bass, vocals, keys and drums lessons. Also offers summer camps, monthly events, workshops, clinics, guest professors and additional performance opportunities through the local House Band and national All Stars programs. Location: 415 Walnut Blvd Rochester, Michigan 48307
Deborah's Stage Door Center for the Performing Arts

Rochester Hills

Provides opportunities for homeschool student organizations and individuals to take field trips or classes that explore the exciting world of dance, music and theatre. Field trips and group classes can be customized to meet your requirements. Some of the options include: ballet, tap, jazz, lyrical, tumbling, musical theatre, voice, piano, etc. Special group rates are available. Please contact Debbie Olszewski at 248/852-3939 Ext. 1 to inquire about our fully customizable programs, or email her at www.dolsz@flash.net.
Royal Oak Children's Choir

Royal Oak

The Royal Oak Children's Choir (ROCC) brings together children of all backgrounds from grades three through eight to perform. Through a high-quality music education program, the students build a strong foundation of musicianship and vocal performance to become well rounded musicians. Singers take part in meaningful performance opportunities locally and beyond. They develop their musical artistry, foster meaningful relationships, and build confidence in a learning environment that is nurturing, fun and professional.
MusicLife Academy

Shelby Township, MI

Musiclife Academy was founded with an inner desire to share a passion for music. Our mission is to create well-rounded musicians, equipped with tools and skills to enjoy and share their music with friends and loved ones for a lifetime. We offer lessons in most instruments as well as vocal and music theory classes. We are also affiliated with Trinity College of London and offer students the opportunity to pursue a fully-accredited Associate degree in Music while they are in the K-12 age range.
Childrens Community Theatre of Shiawassee County

Shiawassee County/Perry/Owosso

Children's Community Theatre of Shiawassee County exists to encourage children ages 6-18 to reach their full potential by using their God-given gifts to enrich their community through the arts. The program aims to build confidence while bringing to life on stage great classical literature! Two main-stage productions are held annually, workshops are held monthly and a week long summer camp with a performance is also offered. Some upcoming workshops and productions include working on drama techniques, voice projection, musical performance and choreography in sword fighting, creative moment, and mid-evil dance.
Home School Dance Club at STAR II Center for Dance

Southfield

STAR II Center for Dance, has a passion for the art of dance and for helping your child discover their inner dancer in an encouraging and socially up building environment. STAR II Center for Dance provided an elite program for homeschoolers only. Classes meet every other Wednesday for 2 and a half hours. Dancers will enjoy tap and stretch/Jazz classes with snack/craft or game break in between classes to socialize and enjoy the company of other homeschoolers in the area.
Artios Academies of Grand Haven

Spring Lake

For over 30 years, the leadership of Artios has been partnering with parents to guide every student to his or her fullest potential in Christ. From the youngest ages through high school, we emphasize the development of a Biblical worldview, especially as it relates to cultural literacy in the arts and encourage awareness of how the arts have impacted society. Because Truth manifests itself throughout history in the form of art, events, people, leaders, and leading ideas, it is imperative to contextualize and consume these details, not as stratified subject matter, but as God intended – seeing every historical milestone, personality, and ideology, as part of the greater story of God. An Artios education equips students to compare and contrast all ideas and art forms as either Truth or something that stands opposed to Truth. This knowledge frees students to reason, relate, discern, discuss, and express the Truth of Scripture and in the process, realize it is… SHAPING THEIR CHARACTER, BUILDING THEIR CONFIDENCE, & SHARPENING THEIR CONSCIENCE. In that moment, true learning and true heart transformation take place, and it is inspiring and beautiful. Artios is art. Artios is heart. Artios is smart!
Seaway Chorale

Trenton, Downriver Area

The Seaway Chorale is a community-based mixed chorale ensemble of adult singers, chosen by selective audition, drawn primarily from the metro Detroit area. Always looking for singers in all voice parts. To schedule an audition, contact Edie Raleigh at 734-671-5530.
Whitepine Studios

Washtenaw County

Whitepine Studios offers students of all ages and adults an opportunity to explore, experiment, collaborate and experience the visual arts by enrolling in workshops. One of our goals is to provide homeschool students an opportunity to supplement their art education. For younger students, we adhere to process art that is child-directed and celebrates the experience of discovery. The final artwork is always unique and there is no outside the lines or inside the lines. Our classes are organized by age groups with targeted goals for development in the visual arts. Content is developed to encourage creativity, problem solving and social skills. We seek to build confidence in a supportive and fun environment.
The Art Experience, Inc.

Waterford

The Art Experience is Oakland County's award winning community arts studio which offers creative art programs for young people, adults, and seniors.
Palaestra Dance Team

Wayne County, Oakland County

Palaestra Dance Team (EST. 2007) is a non-profit group bringing the excitement of dance to homeschoolers in southeast Michigan! Daytime classes are offered on Tuesdays and Fridays at Center Stage Dance Company in Northville, MI. Classes begin in September, run throughout the school year and conclude with a recital in May. Recitals are presented annually and are a professional level production. Classes include Ballet, Pointe, Jazz, Pom, Lyrical and Praise dance. Ages 3-16.
Axis Music Academy West Bloomfield

West Bloomfield

Axis Music Academy teaches all instruments, all ages, and all skill levels in both private settings and group classes. With locations in both West Bloomfield and Birmingham we offer special matinee pricing for kids that can attend our academies during regular school hours. Axis also offers public performance opportunities through our affiliations with the Detroit Zoo, 20 Front St. in Lake Orion, Otus Supply in Ferndale, and art fairs hosted by The Guild. Please contact us to discuss enrolling your child today!
Center for Performance Arts & Learning

Wixom/Novi

"Bringing people together through Dance Arts and Culture" The Center for Performance Arts and Learning strives to bring people together through dance, music, arts and culture. Creating and fostering an all-inclusive environment dedicated to building a strong culture of acceptance, empowerment, and collaboration, spanning diverse cultural communities. Cen4Pal is a multi cultural center located in the Novi Wixom area - offering various arts, music, yoga, language and dance classes for all, cultures meet here.
Adventurers Homeschool Association

Ypsilanti, Washtenaw and surrounding counties

Adventurers serves high school homeschoolers and their families with weekly academic and enrichment classes from Biology to Drama, American Government to Stage Combat. Please schedule a visit to see what we have to offer your family. We are a Christian co-op based out of Ypsilanti, Michigan, serving families from all over southeast Michigan.
Michigan Homeschool Sports Programs
Allegan Swim School

Allegan/Allegan County

Providing swim lessons for all ages 6 mo to adult, as well as Family Fun time.
Allegan Event

Allegan/Southwest Michigan

A new 13,000 square feet indoor adventure center. Conquer the 2 level ropes course with 2 zip lines and exit the course with a quick jump free-fall simulation. There is a 18 vertical climbing challenges and a vertical drop slide. For the younger crowd, they can explore the kids-only Sky Tyke rope course with a parent assisted zip line. This amazing adventure center is fun for all ages.
Washtenaw Saints Football Team

Ann Arbor

The Washtenaw Saints is a high school football team based in the Ann Arbor area, and players from anywhere are welcome to join. The goal of the team is to provide home school students with the opportunity to play tackle football. The Saints encourage competitive, fundamental based football, with an emphasis on player safety. The team has a Christian focus, and guides young men to behave with good sportsmanship, humility, and honor, on and off the field.
Ann Arbor Track Club Youth Division

Ann Arbor

The Ann Arbor Track Club Youth Division is a non-profit youth track club that serves Washtenaw county and beyond. It has been the area's premier track club for youth ages 5-18 for decades. They compete in AAU and US Track and Field (USATF) meets throughout the spring and summer track seasons and fall cross country. The AATC has a team of specialized coaches dedicated to coaching kids of all abilities. Team members are free to make the commitment of their choice from learning to train, to traveling throughout Michigan and the midwest for local, regional and national meets. The club trains at the University of Michigan and Eastern Michigan (in winter), as well as local parks during cross country. All coaches are Safesport certified and have various levels of USATF certifications for coaching. Kids are free to join throughout the season at reduced rates, and scholarships are available for those with financial need.
Bay City Academy

Bay City

Bay City Academy is a small charter school located in Bay City, MI. Currently they are looking for a homeschool organization in the Bay County Area that would like to co-op with them to increase the size of their athletics. If you are interested, please contact them at hugoj@baycityacademy.com.
Liberty Homeschool Sports Program

Byron Center

Homeschool sports, currently providing 4 levels of girls fall volleyball and spring season club volleyball. Working on adding basketball, softball and boys volleyball.
Homeschool United Soccer Club

Canton

Homeschool United Soccer Club is a faith based homeschool soccer program for youths in southeastern Michigan, primarily in the Novi/Plymouth/Canton/Northville area, however players from further away are welcome. At the younger levels, the program is designed as an entry to soccer for boys and girls who may not have played before, have no desire to compete on higher level "Select" or "Premier" level teams, or who are not eligible to play on their local school teams. The younger age teams play both a Spring and Fall season, whereas the varsity soccer program plays in the Fall. Unlike the recreational program for the younger players which accepts all players, the varsity program is try-out based. The Homeschool United Soccer Club high school varsity team is a competitive boys soccer team that competes against other homeschool varsity soccer teams in southeast and mid-Michigan each Fall. The team also typically attends two tournaments during the season, one of which is the Michigan Homeschool State Soccer Tournament. One unique feature of the varsity team is that it awards varsity letters like a traditional high school varsity sport. In addition, the team has an end of season awards banquet, team bonding events, and an annual Alumni game where a lot of the former players come back to play against the current varsity team.
Kennedy Athletics PE

Commerce Charter Twp

Our Physical Education programming focuses on five major components of Health Related Physical Fitness 1- Cardio-respiratory Endurance 2 - Muscular Strength 3 - Muscular Endurance 4 - Flexibility 5 - Body Composition 6 - Healthy Lifestyle Practices Programming includes multi-sport programming for K-1 tumbling and general fitness, grades 2-3 intro to sports, team work and general nutrition, Grades 4-5 seasonal sports and nutrition (4 weeks of soft stick intro to lacrosse and 4 weeks of badminton) - 8 week program 30-45 minute time slots at pre-scheduled time (15 minutes between sessions for cleaning and social distancing). Minimum 10 participants for a session. $8 per session paid in full at the first of 16 sessions ($128 per student). For Middle and High School Students we have multiple options. We have Virtual Reality Fitness, Multi-Sport (lacrosse soft stick or if have own equipment we could run box lacrosse, flag football, badminton), and fitness and weight training classes (utilizing science and kinesiology based practices). Participants cycle through sports, fitness and weight lifting and health twice a week for 8 weeks. This course load would run 45-60 minutes a session and would need a minimum of 10 participants for a session to run at $15 a session ($240 per student).
British Swim School Northwest Detroit - DoubleTree

Detroit

For nearly 40 years, British Swim School has been driven by the mantra of "Survival of the Littlest" which they live out each day through their water survival and stroke development classes. British Swim Schools teach adults and children as young as three months old through small class sizes in indoor, heated pools using their signature fun and gentle methods.
British Swim School Northwest Detroit - Farmington Hills

Detroit

For over 40 years, British Swim School has operated under the mantra that every person regardless of age or ability has the right to become safe and happy swimmers. To bring this to life, we teach our classes in pools that are indoor and well heated. We believe in smaller class sizes, gentle teaching methods that reflect each child's pace, and that children learn best when they are having fun. We also hold classes for adults and people of all ages with special abilities.

British Swim School Northwest Detroit - Farmington Hills details
HEA Firebirds

Detroit Metro Area

The Home Educators Association (HEA) is a group of volunteers. Our mission is to provide a physically beneficial and spiritually healthy sports environment to Detroit Metro area youth. This provides an opportunity to develop Christ-like character, team unity and athletic skills as we focus on consistency, determination, dependability and enthusiasm. We believe that God has created within all of us the desire to play and learn. These desires are good and should be fulfilled in a God-honoring way. We run programs for Boys & Girls Volleyball (8-18), Boys & Girls Basketball (8-18), and different Sports Academies. Sports Academy is for young children aged 5 - 12 just learning to play sports and have fun, while the competitive HEA program is for boys and girls aged 8 - 18. If your child is younger than 8 they may still be able to play.
RedLine Athletics - Dexter, Youth Fitness Training

Dexter

RedLine Athletics - Dexter is a top of the line training facility that focuses on strength and conditioning for kids ages 8 to 18. This facility is 10,000 square feet, complete with Rally Shock Absorption Floor, Turf, Basketball Simulation Floor and a 2,500 square foot weight room. RedLine focuses on the all-around athlete. Each session runs 60 minutes in length with emphasis on flexibility, speed and agility and strength training. RedLine is able to make each class work for any child of any skill level. The goal is to move more and feel better! Homeschool class offered at 11am on Mondays and Wednesdays. Please contact at (734) 604 9220 with any questions!
Master Lockman's Black Belt Academy

Dexter

The Kaizen Karate classes at Master Lockman's Black Belt Academy are available in the evening or daytime for home-schoolers. The classes teach self-defense, conflict resolution tactics, and character development/"mat chat" discussions. Classes include exercises to promote leadership and social skills, as well as physical exercises to promote physical fitness.
Capital Homeschool Athletic Program

East Lansing

CHAP exists to serve Jesus Christ, homeschool parents and their children. Our purpose is to provide homeschool children with opportunities, through competitive athletics, to develop physically, spiritually, and learn to display Christ-like character. CHAP Chariots was founded in 2002 and has grown to 15 basketball teams who play in the winter, a girls soccer team that plays in the spring, and boys Varsity and 7th and 8th grade football teams which play in the fall. Offering sports for homeschooled boys and girls ages 8 - 18 in the Mid-Michigan area.
Flat Rock Community Center Homeschool Program

Flat Rock

Offering Youth/Adult Fitness, Authentic Art Programs, and swimming instruction during the academic school year. Contact (734) 379-1450 for questions.
Lightning Strikes Shotokan Karate

Flint

Internationally certified karate instructor, Jamie Lynne Kennedy, is offering karate classes to the Homeschool Group Students as either physical fitness or extra curricular activities. The dojo is open on Mondays from 5:30-6:30, Wednesdays and Fridays 5:30-7:30, and Tuesdays and Thursdays 4:30-5:30. Available to open at other times for special training opportunities. Classes are on going and you don't need any prior experience. Karate is great for improving the health of your mind, body, and spirit. The traditional Japanese Martial Art of Shotokan Karate uses the body for self-defense purposes and does not use weapons or promote violence
Christian Homeschool Association for Sports Excellence

Genesee County

CHASE Michigan (Christian Homeschool Association for Sports Excellence) is a newly formed corporation existing solely to provide organized sports opportunities for home educated children in and around the Genesee County Michigan area while promoting God honoring attitudes and high standards of sportsmanship.

Christian Homeschool Association for Sports Excellence details
Great Lakes BJJ

Genesee County, Flint

Jiu-Jitsu classes available for ages 3 and up. A family ran gym that focuses on self-defense and sport Jiu-Jitsu. There is even a full gym that parents are able to work out, or even learn Jiu-Jitsu themselves, while their kids do Jiu-Jitsu. Kids will learn discipline and self defense while having fun!
National Flag Football - Gibraltar

Gibraltar

National Flag Football is the largest NFL FLAG affiliate organization in the country. Offering programming designed exclusively for boys and girls Pre-K through 8th grade. This program provides a safe, convenient, affordable, and fun opportunity to build the Fundamentals of football. They host two seasons that you can play in, Spring, Fall and Winter. Spring registrations opens in November, Fall opens in May and Winter opens in October. Check out their website for more information on how you can get your kid(s) in on the fun!
Ultimate Frisbee Homeschool Group

Grand Rapids

Ultimate Frisbee Homeschool Group is a Christian Ultimate Frisbee team made up primarily of co-ed homeschoolers aged 13-19 year-old. They are a youth Ultimate Frisbee team centered around building relationships and spreading the love of Jesus while playing Ultimate Frisbee. They have a monthly "Zig Zag Life" meeting and are partnering with a few local churches. Ultimate Frisbee is non-contact, self-officiated (even at the national level), fun, lots of running, and with Jesus at the center of it all. A video about the group is available here: vimeo.com/zaagmanvideo/whitelightningultimatepromo
Grand Valley Christian Patriots Varsity Football and Cheer

Grand Rapids

A home school Christian Varsity Football Team for ages 14-18. Team members practice in the Grand Rapids area and play home games out of Skinner Field in Cedar Springs. We also offer Varsity Cheerleading ages 14-18. Away games are held in lower Michigan and northern Indiana. Head Coach, Brian Shafer,  can be reached at patriots.gr@gmail.com, sabot6d@yahoo.com or 616-426-7149.

Grand Valley Christian Patriots Varsity Football and Cheer details
Grand Rapids Chariots of Fire

Grand Rapids

GR Chariots of Fire is a homeschool Cross Country and Track & Field program. XC runs in the fall (Aug-Nov); TF is in the spring (Mar-May). There is a middle school program for grades 6-8, and a high school program for grades 9-12. The program is for boys and girls (each races separately).
Venture Action Sports

Grand Rapids

Venture Action Sports provides extreme and outdoor sports programs for 3rd-12th grade. Action Sports programs provide "sampler packages" of a variety of extreme sports including: wakeboarding, wake surfing, snowboarding, parkour, skiing, scuba diving, rock climbing, backpacking skills, skateboarding, tactical laser tag, and high/low ropes leadership experiences. Bushcraft program provides outdoor and wilderness skills lessons including lessons in: kayaking, archery, axe throwing, shelter building, fire starting, orienteering , fishing, and foraging, along with knots, woodcraft, and bladed tools.
West Michigan Heat Soccer

Greater Grand Rapids Area

West Michigan Heat is a homeschool soccer club providing a fun and competitive environment for homeschool boys in junior high and high school. The club is comprised mostly of Christian athletes and welcomes believers and nonbelievers to participate. West Michigan Heat encourages players in the areas of discipline, character, and sportsmanship with Jesus Christ as their model. The Heat is committed to providing families with a quality soccer experience. Extra effort is placed on safety, transparency, good attitudes, sportsmanship, character-building, valuing one another, and fun.
Zig Zag Ultimate

Greater Grand Rapids Area

Ultimate Frisbee club for anyone 9-19 years old. No experience required - learn the basics once you start and progress through the club. Never played? That's ok! We have coaches who play professionally and work full time investing in your youth. Think soccer club, but instead we are an Ultimate Frisbee club. Never played Ultimate Frisbee? That's ok! Our team of coaches will teach you. It's played on a football-like field and is a mix of soccer and football, however, you don't need to tackle because you can't run with the disc. You can throw the disc in any direction with the goal to score in a football like end zone. The teams will be coach by Mike Zaagman, pro Ultimate Frisbee player with 8 years experience coaching and Zahra Franco, 8 years experience playing and 2 years coaching.
Barry County Homeschool Alliance

Hastings

Barry County Christian School is proud to release a BRAND NEW Homeschool program for students, not just in Barry County, but across the State of Michigan! The Alliance focuses on providing parents with the opportunity to provide education at home, but with the support of a State recognized private school. This Program is divided into three distinct choices: Full Program, A-la-cart, K-12 Program Homeschool students are welcome and encouraged to play on athletic teams whether they are involved in the program or not. See website for detailed information!
Champion Gymnastics USA Homeschool Gymnastics Classes

Holland

Champion Gymnastics USA is proud to offer openings in gymnastics classes just for homeschooled kids! Call to inquire or sign up today!

Champion Gymnastics USA Homeschool Gymnastics Classes details
Kalamazoo Cougars

Kalamazoo

Kalamazoo Cougars is a sports league for homeschool students that provides many athletic opportunities. It is the largest homeschool sports program in the state of Michigan. Many sports are offered for both boys and girls. The coaches seek to develop Godly character in the students.
Kennedy Athletics Homeschool Gym and Sports

Lakes Area Oakland County

Small group classes introducing Elementary through High School Home School Students to High End Performance Training. Certified & Degreed Trainers instruct in basic athleticism and rules of popular team sports to younger athletes. As students grow and join sports the trainers switch gears to train their bodies to move more efficiently for that particular sport. This resource is focused on cohorts looking for Physical Education instruction with 5-10 students per 1 hour block sessions run 1-2 blocks per week for 6 weeks - no drop ins. We book Homeschool from 10:00am - 1:30pm - get your group together and and get the Physical Education your students need from professionals in student athlete development. Open Gym time will be scheduled with availability. Full Sports Performance Training during evening hours is available - Home School Discounts will apply to current students.
Lapeer Lakers Competitive home school sports

Lapeer

A Christian competitive home school sports program offering volleyball, soccer, basketball and baseball for 8-18 year olds in and around Lapeer, Genesee, Oakland Counties
Howell Athletic Association of Christian Homeschoolers (HAACH)

Livingston county

HAACH is a christian organization providing competitive sports to homeschool students currently offering basketball and soccer ages elementary-high school. Any questions contact haachboard@gmail.com

Howell Athletic Association of Christian Homeschoolers (HAACH) details
National Flag Football - Livonia

Livonia

National Flag Football is the largest NFL FLAG affiliate organization in the country. Offering programming designed exclusively for boys and girls Pre-K through 8th grade. This program provides a safe, convenient, affordable, and fun opportunity to build the Fundamentals of football. They host two seasons that you can play in, Spring, Fall and Winter. Spring registrations opens in November, Fall opens in May and Winter opens in October. Check out their website for more information on how you can get your kid(s) in on the fun!
SCS GreenHornets Youth Football & Cheer

Macomb

This is a Youth Football team and Cheerleading from ages 6-14. Part of the ESFL (Eastern Suburban Football League). Guaranteed playing time for all players. Games are played at local High Schools in Macomb County. Teams come from East Detroit, Warren, Sterling Heights, and Mt.Clemens.
National Flag Football - Metro Detroit

Metro Detroit

The nation's largest youth flag football organization for boys and girls ages 4-14. Currently running leagues on Saturdays and Sundays at various locations throughout all of Southeast Michigan and also in the Grand Rapids area. Each child gets equal playing time, there are no tryouts, and all get an NFL reversible flag jersey, flag belt and trophy to keep. Register today to secure your child's spot on the team!
Gripz Gym; Ninja Warrior Class

Oakland/Wayne County

These classes incorporate different obstacles based on the ages of the participants. The class is designed to develop core, agility, balance, strength and overall confidence in each child so they can conquer obstacles both in and out of the gym. All of the movements can translate to other sports and activities. But, the most important thing is the kids are having fun by jumping/swinging/running/bounding over, under and through obstacles!
World Tour Cheer and Tumble

Okemos

A brand new Cheer and Tumbling facility located in Okemos MI. Reaching out to the Homeschool community to offer ongoing weekly classes for all ages. Classes would involve stretching, conditioning, tumbling and more. Please email us at Worldtourcheer.com if you are interested.
Heavenly Horse Stables

Pinckney

Heavenly Horse Stables provides horsemanship and horseback riding lessons year round in an indoor arena and on 8+miles of trails. Heavenly Horse 4-H Club is open to all kids interested in learning about horses (you don't need your own horse!) Heavenly Horse Interscholastic Equestrian Association Team offers kids 6-12th grade an opportunity to be on a team, learn the competitive world of horses, and you learn and use one of the lesson horses.
Kingdom Sports Soccer Class

Portage

Founded in 1995, Kingdom Sports is Kalamazoo's leading soccer club and boasts a 60,000 square foot indoor sports complex with the area's best playing surfaces. Offering a range of youth soccer camps, leagues, and classes, as well as programs designed to help players of all ages develop their skills, Kingdom Sports is an inclusive, family-friendly facility that welcomes players of all abilities. Whether you're a recreational player looking for a fun, exciting way to get exercise or an elite player interested in honing your skills, you can be confident that you'll find a program that will work for you. From flag football and lacrosse to youth soccer and skateboarding, Kingdom Sports offers the leagues, camps, and classes that you've been searching for!
3D Fit Ultimate Fitness Arena

Riverview

3Dfit is a gym located in Riverview Michigan that covers all different levels of fitness. The trainers and Employees of 3Dfit are proud to introduce a gym class for home schooled kids! Days and time slots are still being decided while they communicate with the home schooled community to see what would be most beneficial.
fLipSpot Gymnastics and Cheer Homeschool Gymnastics/Tumbling Classes

Rochester

Gymnastics and tumbling class for homeschooler kids age 7 and up. The classes are separated by gender and are held Wednesdays.

fLipSpot Gymnastics and Cheer Homeschool Gymnastics/Tumbling Classes details
Summit Soccer Club

Romeo

Summit Soccer Club is a competitive homeschooling Soccer Club in East Michigan. Our ladies season has just started but we are still looking for both JV and Varsity players. Our boys season is in late summer and fall. Please check our website and send any inquiries to the contact person on the site. At Summit you can expect top quality soccer training from certified coaches with an excellent track record (National Tournament Final in 2021 for men, Ladies Head Coach is Oakland University Men's Assistant Head Coach) and a deep faith in Christ.
Owosso Homeschool Sports

Shiawasee County

Owosso Homeschool Sports has a vibrant basketball league for boys and girls 8-18. Contact us for more information! Latisha Thompson at 989-326-7395 or lthompson116@gmail.com
Pinz Bowling Center

South Lyon

Looking for a fun outing for your kids or home school group? Pinz is your answer. Everyone can participate, and you don't have to be a pro-bowler to have fun. Students can use bumpers to prevent gutter balls and bowling ball ramps for extra momentum. Bowling gets kids moving and bowling field trips are a rewarding way to provide kids with exercise and fun. Bowling burns calories while building muscle, and helps develop balance and hand-eye coordination.
Great Escape Stables Horseback Riding Lessons

South Lyon

Beginning to Advanced level horseback riding & horsemanship lessons for K-12 students. Safe, professional lessons in a family friendly setting with groups of 2 to 4 riders. Customized lessons are available. Lessons are held in 4 week, day time sessions with current ongoin enrollment. Lessons cover safety, horse care, grooming, tacking up, basic riding skills at the walk & trot as well as other aspects of horsemanship. Lessons are taught by USHJA certified instructors on safe lesson horses & pony's. All homeschool lessons can be modified to fit the needs of the participants.
Warriors for Christ Basketball

St. John's/Clinton County

The St. Johns Warriors for Christ Homeschool Basketball program is for 9 to 18 year old youth in the greater St. Johns/Clinton County area. Established in 1991 this program desires to serve homeschool families by providing a competitive athletic outlet while encouraging Christ like character on & off the court. The warriors program is a great community for local families to connect on the court and in the stands.
Summit Eastside Homeschool High School Baseball

Sterling Heights and Southeast Michigan

Summit Eastside is a homeschool baseball organization playing against public, parochial, and other homeschool high school teams. Summit has a junior varsity and varsity team. The team is consists of high school age players throughout southeast Michigan. Tryouts and selections occur in February of each year. Last year Summit played in the Midwest Homeschool World Series- Indianapolis, and National Homeschool World Series, Florida. From last years team two players are now playing college baseball. Practice begins indoors in February. Contact Dave Cupp, Athletic Director at summiteastside@gmail.com
Traverse City Fencing Club

Traverse City

Traverse City Fencing Club's mission is to empower fencers of all skill levels to create their own success by, ◦ Provide high-caliber coaching in a safe and supportive environment; ◦ Give youth a place to belong, develop, and achieve; and ◦ Promote fencing in the local community and advocate for its value as a sport of choice. We believe that the centuries-old sport of fencing builds character through discipline, perseverance, and sportsmanship.
National Flag Football - Warren

Warren

National Flag Football is the largest NFL FLAG affiliate organization in the country. Offering programming designed exclusively for boys and girls Pre-K through 8th grade. This program provides a safe, convenient, affordable, and fun opportunity to build the Fundamentals of football. They host two seasons that you can play in, Spring, Fall and Winter. Spring registrations opens in November, Fall opens in May and Winter opens in October. Check out their website for more information on how you can get your kid(s) in on the fun!
Rivertown Christian Volleyball

Wyoming

Rivertown Christian Volleyball is a homeschool girls volleyball club for the junior high, junior varsity and varsity levels in the West Michigan area. Practices located at the Homeschool Building and games held at various locations around West Michigan. Some tournaments are held further away.