Jump to: Homeschool Arts | Homeschool Sports
In addition to the opportunity to get out of the house and socialize, homeschool sports and arts programs can offer long-term benefits by developing characteristics like leadership, self-confidence, perserverance, and self-esteem. Many organizations and businesses have opportunities specifically for homeschoolers, while others invite homeschoolers to participate in their regular programs.
Not sure how to choose activity/activities for your children? Read how Rebecca narrows down the choice of extra-curricular activities.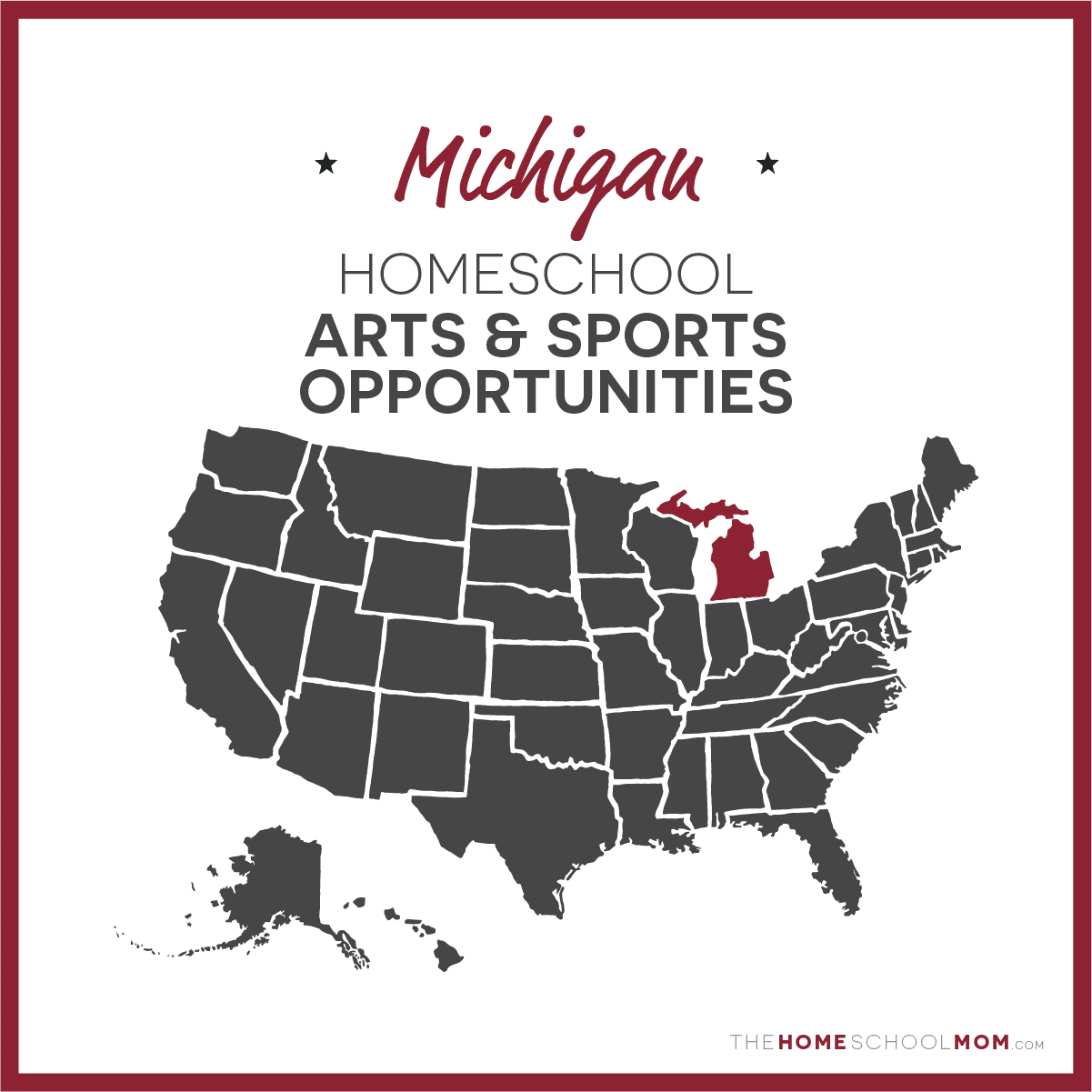 Submit a Local Resource
Our listing of Michigan list of homeschool arts and sports programs is ordered alphabetically by city, with arts in the first section and sports in the second section. If you would like to submit an Michigan arts or sports program, you may do so using the red button above.
Michigan Homeschool Arts Programs
Ada Conservatory of Music offers lessons in piano, voice, violin, viola, flute, guitar, ukulele and bass guitar with the top instructors in West Michigan. Located in the heart of Ada Village, students have access to m...
Little Worshipers DanceAllendale
Little Worshipers Dance offers classes for the young dancer ages 4 and up. Classes are centered around learning Classical Ballet technique with a focus on using dance as a form of Worship to God. Mrs. Kelly is the fou...
Flipside Art StudioAnn Arbor
Flipside offers classes and workshops that explore a variety of media and techniques. Ages preschool through adult.
Cello Studio of Andrew BaderAnn Arbor
Andrew Bader holds a bachelor's in Cello Performance from Indiana University, and a Master's from the University of Michigan. He is currently accepting students for his studio in Ann Arbor. If you are interested in se...
His Feet DanceAnn Arbor
His Feet Dance is a Christian dance school in Southeast Michigan. Classes are during the daytime and are designed for homeschooling students. There are two locations, one in Brighton and another in Ann Arbor. Classes ...
Tempest NeuCollins Small Group Art ClassesAnn Arbor
Tempest NeuCollins is an experienced educator, offering private/small group art classes in Ann Arbor, MI. Tempest NeuCollins has an MFA in studio arts from the School of Visual Arts. After receiving her degree she spe...
National Homeschool Music Ensembles, NHMEAnn Arbor and Tecumseh, Michigan
National Homeschool Music Ensembles, NHME, provides group music lessons and ensemble playing experiences to homeschool students at two locations in southeast Michigan. NHME offers student musicians the opportunity to ...
Fine Arts AcademyAnn Arbor, Brighton, Whitmore Lake, South Lyon, Pinckney
The Fine Arts Academy offers classes in Dance, Martial Arts, Music, Tumbling, Musical Theatre, and Painting. Currently offering specialized dance classes for the Homeschooling Community. Contact us at 734-449-0505, or...
Homeschool ConnectionsAuburn Hills
Homeschool Connections is an Independent Homeschool Program Created by Homeschoolers for Homeschoolers. Homeschool Connections proudly serves the Metro-Detroit homeschool community by offering innovative, high-quality...
Axis Music Academy-BirminghamBirmingham
Axis Music Academy features private one-on-one lessons for musicians of any age and skill level. Choose your instrument, choose your instructor, and begin your road to music mastery. Mention that your child is home sc...
Solstice Healing Arts CollectiveBloomfield Hills
Solstice Healing Arts Collective is an inclusive space that offers an integrative, holistic approach to healing. We provide creative and mindful experiences for individuals and groups to participate in the transformat...
Mekis MusicBrighton, Commerce Township, Milford, Novi
Mekis Music offers both group and private music lessons specializing in piano, flute, guitar and ukulele. The teachers have more then 20 years experience. Mekis Music also offers music therapy services and adapted mus...
Artful Classes, LLCBrighton, Howell, Hartland, Walled Lake, Wixom, New Hudson, Fowlerville, Williamson, Webberville, Dansville, Mason
Educational and enrichment classes combining learning modalities and are based on State learning benchmarks. Available to groups of four or more, at your home, church, or local community education office (currently in...
Karen Donato Violin StudioCanton
Karen Donato Violin Studio is now offering convenient daytime lessons for homeschool students ages 4 and up! 30, 45, and 60 minute spots are available. Affordably-priced lessons are located in the heart of Canton. Gro...
School of Rock CantonCanton/Western Metro Detroit
School of Rock Canton is the world's premier performance music school. They offer group music sessions for children 3 - 7 years old, and use rock songs to learn about melody and dynamics. They also learn to play instr...
Mosaic Youth Theatre of DetroitDetroit
Mosaic Youth Theatre of Detroit creates equity through the arts for over 300 Detroit area youth by connecting them to professional artists, preparing them for college and career pathways and amplifying youth voices. W...
Detroit Symphony Orchestra Educational Concert SeriesDetroit
The Detroit Symphony Orchestra's Educational Concert Series (ECS) has introduced students to classical music for more than 80 years. Each ECS performance is thematically designed to explore topics like science, histor...
Academy of Russian Classical BalletDetroit metropolitan area, Ann Arbor, Livingston County
The Academy of Russian Classical Baller has partnered with Oxford Virtual Academy so homeschool students may receive credit for their artistic classes at ARCB, as well as have a portion of their artistic tuition cover...
Hudson Education Center for the ArtsDexter
The Hudson Education of the Arts is a 501(c)3 non-profit organization that provides students ages 5-18 with opportunities in music. HEC believes in allowing students to grow in leadership through the experience of mus...
Christian Eggert Violins - Orchestra Instruments and RentalsDuluth
Violin, Viola, Cello and Bass: Established in Duluth MN in 1994 and Fargo ND in 2003. We are a full service shop serving the upper Midwest and across the country (Schools, Beginners and Professional Players). We proud...
School of Rock FarmingtonFarmington
School of Rock offers students of all skill levels age 7-18 a performance-based music curriculum in a fun environment. Weekly private lessons are combined with structured group rehearsals. Students prepare to perform ...
Hui o Polynesia Michigan Hula Classes for Home SchoolersFarmington Hills
Daytime Hula Classes for Home School students. This class is for all new students, regardless of previous hula experience. This class introduces hula basic steps, hand motions, dance posture, Hawaiian language and cul...
Renaissance Homeschool GroupFarmington Hills
Renaissance Homeschool Group (RHG) offers quality educational opportunities to families in Southeast Michigan to expand learning and social connections in an environment that is positive, cooperative, and mutually sup...
Flat Rock Community Center Homeschool ProgramFlat Rock
Offering Youth/Adult Fitness, Authentic Art Programs, and swimming instruction during the academic school year. Contact (734) 379-1450 for questions.
The Flint Institute of Arts Homeschool ProgramFlint
The Flint Institute of Arts Homeschool programs meet on Monday mornings and include monthly classes and three-part workshops. Separate classes are offered for ages 3-5, 6-8, and 9-18. The registration deadline for eac...
Ledge Craft Lane children's art classesGrand Ledge
Ledge Craft Lane Gallery is seeking children ages 8-16 to join a small group of students, some currently Home Schooled, for classical art instruction. This group meets in a classroom in downtown Grand Ledge where loca...
West Michigan Homeschool Fine Arts (WMHFA)Grand Rapids
A non-profit organization with classes in Grand Rapids and Kalamazoo whose purpose is to assist and support families in the musical education of their home schooled children ages 7 and up. The programs offered by WMHF...
I'm An Artist Community StudioGrand Rapids
I'm An Artist Community Studio believes that everyone is an artist. We offer fine arts-based enrichment classes for home and unschool students, open studio times in the afternoons and Saturdays, guided art classes, an...
Larissa Fall's Violin StudioGrand Rapids and Holland
Larissa Fall is a violinist, teacher, and arts administrator currently residing in Grand Rapids, Michigan. She has a Bachelor of Music in Violin Performance from Hope College in Holland, MI and a Masters Degree in Art...
Worship Arts ConservatoryGrosse Pointe Woods
Worship Arts Conservatory offers college level courses and apprenticeships in worship, Bible and music. Our Apprenticeships come with 12 credits of free courses per term. It is our goal to train people for ministry wi...
Gift Of Joy Dance CompanyHamburg
A homeschool/Christian based dance company offering dance classes (tap, ballet, lyrical, point, pre-dance) for homeschool students during the day. (Classes held at, but not affiliated with, Spotlight Dance Studio in H...
Homeschool Performing ArtsKalamazoo
Homeschool Performing Arts ("HPA") provides many opportunities for students to participate in music, drama, and theater. It is a well established program, with many opportunities for students.
Anton Art Center ClassesMount Clemens
The Art Center brings to the people of Macomb County arts experiences and opportunities, which would otherwise be unavailable to them. The loyalty of 400 plus Center members attests to this. Moreover, the Center's wor...
Anishinabe Performance CircleMt. Pleasant
Promoting the arts and culture of the Anishinabek. The Anishinabe Performance Circle will foster a greater understanding of our rich cultural heritage through educational cultural presentations. This increased exposur...
Art Reach of Mid MichiganMt. Pleasant
We offer art classes that are open to the public.
Sara Ewan, Private Voice and Piano teacherMt. Pleasant
Sara Ewan is a private voice and piano teacher who is also a trained, performing singer and has studied with a former student of Pavarotti. Sara has also studied in Toronto, Germany, and New York City with a teacher w...
Articipate Art StudioOakland County
Introducing students to new types of art, such as indigo dyeing, mosaics, print making, collage, painting with acrylics, watercolor, and pastels. Class times available during the day or in the evenings.
Plymouth Community Arts CouncilPlymouth/Canton
This non-profit arts organization provides daytime art classes in pottery, painting, drawing, digital photography, and sculpture for all ages. Art appreciation and art history lessons may be incorporated, with educati...
School of Rock RochesterRochester
School of Rock offers students of all skill levels age 7-18 a performance-based music curriculum in a fun environment. Weekly private lessons are combined with structured group rehearsals. Students prepare to perform ...
Deborah's Stage Door Center for the Performing ArtsRochester Hills
Provides opportunities for homeschool student organizations and individuals to take field trips or classes that explore the exciting world of dance, music and theatre. Field trips and group classes can be customized t...
Murphy Music AcademyRoyal Oak
The Murphy Music Academy seeks to provide the best and most thorough instruction in violin playing, at competitive pricing, in the Detroit and Ann Arbor areas. Through intense personal study at the conservatories of t...
MusicLife AcademyShelby Township, MI
Musiclife Academy was founded with an inner desire to share a passion for music. Our mission is to create well-rounded musicians, equipped with tools and skills to enjoy and share their music with friends and loved on...
Childrens Community Theatre of Shiawassee CountyShiawassee County/Perry/Owosso
Children's Community Theatre of Shiawassee County exists to encourage children ages 6-18 to reach their full potential by using their God-given gifts to enrich their community through the arts. The program aims to bui...
Home School Dance ClubSouthfield
STAR II Center for Dance, has a passion for the art of dance and for helping your child discover their inner dancer in an encouraging and socially up building environment. STAR II Center for Dance provided an elite pr...
Artios Academies of Grand HavenSpring Lake
For over 30 years, the leadership of Artios has been partnering with parents to guide every student to his or her fullest potential in Christ. From the youngest ages through high school, we emphasize the development o...
Seaway ChoraleTrenton, Downriver Area
The Seaway Chorale is a community-based mixed chorale ensemble of adult singers, chosen by selective audition, drawn primarily from the metro Detroit area. Always looking for singers in all voice parts. To schedule an...
Whitepine StudiosWashtenaw County
Whitepine Studios offers students of all ages and adults an opportunity to explore, experiment, collaborate and experience the visual arts by enrolling in workshops. One of our goals is to provide homeschool students ...
The Art Experience, Inc.Waterford
The Art Experience is Oakland County's award winning community arts studio which offers creative art programs for young people, adults, and seniors.
Palaestra Dance TeamWayne County, Oakland County
Palaestra Dance Team (EST. 2007) is a non-profit group bringing the excitement of dance to homeschoolers in southeast Michigan! Daytime classes are offered on Tuesdays and Fridays at Center Stage Dance Company in Nort...
Axis Music Academy West BloomfieldWest Bloomfield
Axis Music Academy teaches all instruments, all ages, and all skill levels in both private settings and group classes. With locations in both West Bloomfield and Birmingham we offer special matinee pricing for kids th...
Center for Performance Arts & LearningWixom/Novi
"Bringing people together through Dance Arts and Culture" The Center for Performance Arts and Learning strives to bring people together through dance, music, arts and culture. Creating and fostering an all-inclusive e...
Adventurers Homeschool AssociationYpsilanti, Washtenaw and surrounding counties
Adventurers serves high school homeschoolers and their families with weekly academic and enrichment classes from Biology to Drama, American Government to Stage Combat. Please schedule a visit to see what we have to of...
Michigan Homeschool Sports Programs
Allegan Swim SchoolAllegan/Allegan County
Providing swim lessons for all ages 6 mo to adult, as well as Family Fun time. [Read more...]
Allegan EventAllegan/Southwest Michigan
A new 13,000 square feet indoor adventure center. Conquer the 2 level ropes course with 2 zip lines and exit the course with a quick jump free-fall simulation. There is a 18 vertical climbing chall... [Read more...]
Washtenaw Saints Football TeamAnn Arbor
The Washtenaw Saints is a high school football team based in the Ann Arbor area, and players from anywhere are welcome to join. The goal of the team is to provide home school students with the oppo... [Read more...]
Bay City AcademyBay City
Bay City Academy is a small charter school located in Bay City, MI. Currently they are looking for a homeschool organization in the Bay County Area that would like to co-op with them to increase th... [Read more...]
Hagen's Custom Golf Home School ProgramBronson
We are excited to offer Home School Students and Public School students a new golf learning experience that will help them build confidence, develop golf skills, life skills and better athletic mov... [Read more...]
Homeschool United Soccer ClubCanton
Homeschool United Soccer Club is a faith based homeschool soccer program for youths in southeastern Michigan, primarily in the Novi/Plymouth/Canton/Northville area, however players from further awa... [Read more...]
Kennedy Athletics PECommerce Charter Twp
Our Physical Education programming focuses on five major components of Health Related Physical Fitness 1- Cardio-respiratory Endurance 2 - Muscular Strength 3 - Muscular Endurance 4 - Flexibility 5... [Read more...]
British Swim School Northwest Detroit - DoubleTreeDetroit
For nearly 40 years, British Swim School has been driven by the mantra of "Survival of the Littlest" which they live out each day through their water survival and stroke development classes. Britis... [Read more...]
British Swim School Northwest Detroit - Farmington HillsDetroit
For over 40 years, British Swim School has operated under the mantra that every person regardless of age or ability has the right to become safe and happy swimmers. To bring this to life, we teach ... [Read more...]
RedLine Athletics - Dexter, Youth Fitness TrainingDexter
RedLine Athletics - Dexter is a top of the line training facility that focuses on strength and conditioning for kids ages 8 to 18. This facility is 10,000 square feet, complete with Rally Shock Abs... [Read more...]
Master Lockman's Black Belt AcademyDexter
The Kaizen Karate classes at Master Lockman's Black Belt Academy are available in the evening or daytime for home-schoolers. The classes teach self-defense, conflict resolution tactics, and charact... [Read more...]
Capital Homeschool Athletic ProgramEast Lansing
CHAP exists to serve Jesus Christ, homeschool parents and their children. Our purpose is to provide homeschool children with opportunities, through competitive athletics, to develop physically, spi... [Read more...]
Flat Rock Community Center Homeschool ProgramFlat Rock
Offering Youth/Adult Fitness, Authentic Art Programs, and swimming instruction during the academic school year. Contact (734) 379-1450 for questions. [Read more...]
Lightning Strikes Shotokan KarateFlint
Internationally certified karate instructor, Jamie Lynne Kennedy, is offering karate classes to the Homeschool Group Students as either physical fitness or extra curricular activities. The dojo is ... [Read more...]
Christian Homeschool Association for Sports ExcellenceGenesee County
CHASE Michigan (Christian Homeschool Association for Sports Excellence) is a newly formed corporation existing solely to provide organized sports opportunities for home educated children in and aro... [Read more...]
Great Lakes BJJGenesee County, Flint
Jiu-Jitsu classes available for ages 3 and up. A family ran gym that focuses on self-defense and sport Jiu-Jitsu. There is even a full gym that parents are able to work out, or even learn Jiu-Jitsu... [Read more...]
National Flag Football - GibraltarGibraltar
National Flag Football is the largest NFL FLAG affiliate organization in the country. Offering programming designed exclusively for boys and girls Pre-K through 8th grade. This program provides a s... [Read more...]
Ultimate Frisbee Homeschool GroupGrand Rapids
Ultimate Frisbee Homeschool Group is a Christian Ultimate Frisbee team made up primarily of co-ed homeschoolers aged 13-19 year-old. They are a youth Ultimate Frisbee team centered around building ... [Read more...]
Grand Valley Christian Patriots Varsity Football and CheerGrand Rapids
A home school Christian Varsity Football Team for ages 14-18. Team members practice in the Grand Rapids area and play home games out of Skinner Field in Cedar Springs. We also offer Varsity Cheerle... [Read more...]
Grand Rapids Chariots of FireGrand Rapids
GR Chariots of Fire is a homeschool Cross Country and Track & Field program. XC runs in the fall (Aug-Nov); TF is in the spring (Mar-May). There is a middle school program for grades 6-8, and a... [Read more...]
Venture Action SportsGrand Rapids
Venture Action Sports provides "Intro to Action Sports" classes for grades 6-12. Students learn and experience 6 different action and adventure sports including Cable Wakeboarding, Skateboarding, R... [Read more...]
West Michigan Heat SoccerGreater Grand Rapids Area
West Michigan Heat is a homeschool soccer club providing a fun and competitive environment for homeschool boys in junior high and high school. The club is comprised mostly of Christian athletes and... [Read more...]
Zig Zag UltimateGreater Grand Rapids Area
Ultimate Frisbee club for anyone 9-19 years old. No experience required - learn the basics once you start and progress through the club. Never played? That's ok! We have coaches who play profession... [Read more...]
Barry County Homeschool AllianceHastings
Barry County Christian School is proud to release a BRAND NEW Homeschool program for students, not just in Barry County, but across the State of Michigan! The Alliance focuses on providing parents ... [Read more...]
Champion Gymnastics USA Homeschool Gymnastics ClassesHolland
Champion Gymnastics USA is proud to offer openings in gymnastics classes just for homeschooled kids! Call to inquire or sign up today! [Read more...]
Howell Area Football ClubHowell
The Mission of the Howell Area Football Club is to provide an opportunity for kids to play high intensity football in the Christian Football League (CFL) of Michigan. Students play competitive foot... [Read more...]
Kalamazoo CougarsKalamazoo
Kalamazoo Cougars is a sports league for homeschool students that provides many athletic opportunities. It is the largest homeschool sports program in the state of Michigan. Many sports are offered... [Read more...]
Kennedy Athletics Homeschool Gym and SportsLakes Area Oakland County
Small group classes introducing Elementary through High School Home School Students to High End Performance Training. Certified & Degreed Trainers instruct in basic athleticism and rules of pop... [Read more...]
Lapeer Lakers Competitive home school sportsLapeer
A Christian competitive home school sports program offering volleyball, soccer, basketball and baseball for 8-18 year olds in and around Lapeer, Genesee, Oakland Counties [Read more...]
Howell Athletic Association of Christian Homeschoolers (HAACH)Livingston county
HAACH is a christian organization providing competitive sports to homeschool students currently offering basketball and soccer ages elementary-high school. Any questions contact haachboard@gmail.com [Read more...]
National Flag Football - LivoniaLivonia
National Flag Football is the largest NFL FLAG affiliate organization in the country. Offering programming designed exclusively for boys and girls Pre-K through 8th grade. This program provides a s... [Read more...]
SCS GreenHornets Youth Football & CheerMacomb
This is a Youth Football team and Cheerleading from ages 6-14. Part of the ESFL (Eastern Suburban Football League). Guaranteed playing time for all players. Games are played at local High Schools i... [Read more...]
National Flag Football - Metro DetroitMetro Detroit
The nation's largest youth flag football organization for boys and girls ages 4-14. Currently running leagues on Saturdays and Sundays at various locations throughout all of Southeast Michigan and ... [Read more...]
Taekwondo and self-defense classes for all ages. Day program availabile for homeschool attendees. Grandmaster Yang brings 50 years of experience. Belt change ceremonies, Friendship, self protection... [Read more...]
Gripz Gym; Ninja Warrior ClassOakland/Wayne County
These classes incorporate different obstacles based on the ages of the participants. The class is designed to develop core, agility, balance, strength and overall confidence in each child so they c... [Read more...]
World Tour Cheer and TumbleOkemos
A brand new Cheer and Tumbling facility located in Okemos MI. Reaching out to the Homeschool community to offer ongoing weekly classes for all ages. Classes would involve stretching, conditioning, ... [Read more...]
Heavenly Horse StablesPinckney
Heavenly Horse Stables provides horsemanship and horseback riding lessons year round in an indoor arena and on 8+miles of trails. Heavenly Horse 4-H Club is open to all kids interested in learning ... [Read more...]
Kingdom Sports Soccer ClassPortage
Founded in 1995, Kingdom Sports is Kalamazoo's leading soccer club and boasts a 60,000 square foot indoor sports complex with the area's best playing surfaces. Offering a range of youth soccer camp... [Read more...]
3D Fit Ultimate Fitness ArenaRiverview
3Dfit is a gym located in Riverview Michigan that covers all different levels of fitness. The trainers and Employees of 3Dfit are proud to introduce a gym class for home schooled kids! Days and tim... [Read more...]
fLipSpot Gymnastics and Cheer Homeschool Gymnastics/Tumbling ClassesRochester
Gymnastics and tumbling class for homeschooler kids age 7 and up. The classes are separated by gender and are held Wednesdays. [Read more...]
Summit Soccer ClubRomeo
Summit Soccer Club is a competitive homeschooling Soccer Club in East Michigan. Our ladies season has just started but we are still looking for both JV and Varsity players. Our boys season is in la... [Read more...]
Owosso Homeschool SportsShiawasee County
Owosso Homeschool Sports has a vibrant basketball league for boys and girls 8-18. Contact us for more information! Latisha Thompson at 989-326-7395 or lthompson116@gmail.com [Read more...]
Pinz Bowling CenterSouth Lyon
Looking for a fun outing for your kids or home school group? Pinz is your answer. Everyone can participate, and you don't have to be a pro-bowler to have fun. Students can use bumpers to prevent gu... [Read more...]
Great Escape Stables Horseback Riding LessonsSouth Lyon
Beginning to Advanced level horseback riding & horsemanship lessons for K-12 students. Safe, professional lessons in a family friendly setting with groups of 2 to 4 riders. Customized lessons a... [Read more...]
Warriors for Christ BasketballSt. John's/Clinton County
The St. Johns Warriors for Christ Homeschool Basketball program is for 9 to 18 year old boys in the greater St. Johns/Clinton County area. Established in 1991 this program desires to serve homescho... [Read more...]
Summit Eastside Homeschool High School BaseballSterling Heights and Southeast Michigan
Summit Eastside is a homeschool baseball organization playing against public, parochial, and other homeschool high school teams. Summit has a junior varsity and varsity team. The team is consists o... [Read more...]
Traverse City Fencing ClubTraverse City
Traverse City Fencing Club's mission is to empower fencers of all skill levels to create their own success by, ◦ Provide high-caliber coaching in a safe and supportive environment; ◦ Give youth a p... [Read more...]
AoE EsportsTroy, Oakland County, MI
AoE Esports provides structured leagues, tournaments, instructional programs, and event space to host your own functions at a start of the art gaming facility. They have taken traditional youth spo... [Read more...]
National Flag Football - WarrenWarren
National Flag Football is the largest NFL FLAG affiliate organization in the country. Offering programming designed exclusively for boys and girls Pre-K through 8th grade. This program provides a s... [Read more...]
Rivertown Christian VolleyballWyoming
Rivertown Christian Volleyball is a homeschool girls volleyball club for the junior high, junior varsity and varsity levels in the West Michigan area. Practices located at the Homeschool Building a... [Read more...]
Go to...