When people who don't know anything about homeschooling start talking about why it can't work, one of their criticisms is that homeschooling parents can't possibly know enough about the "hard" subjects to homeschool high school, which is why homeschooled kids won't ever get into college.
Of course, this would be a shock to all the homeschooled kids who've not only been accepted to college, but also already graduated.
But what I mean to talk about is, how does the learning happen? I mean, one of my sons speaks pretty fluent Spanish, but I don't. Another of my sons writes code, but I can't. Another son is an excellent musician, but I'm not.
How do homeschoolers learn things that their parents don't know anything about?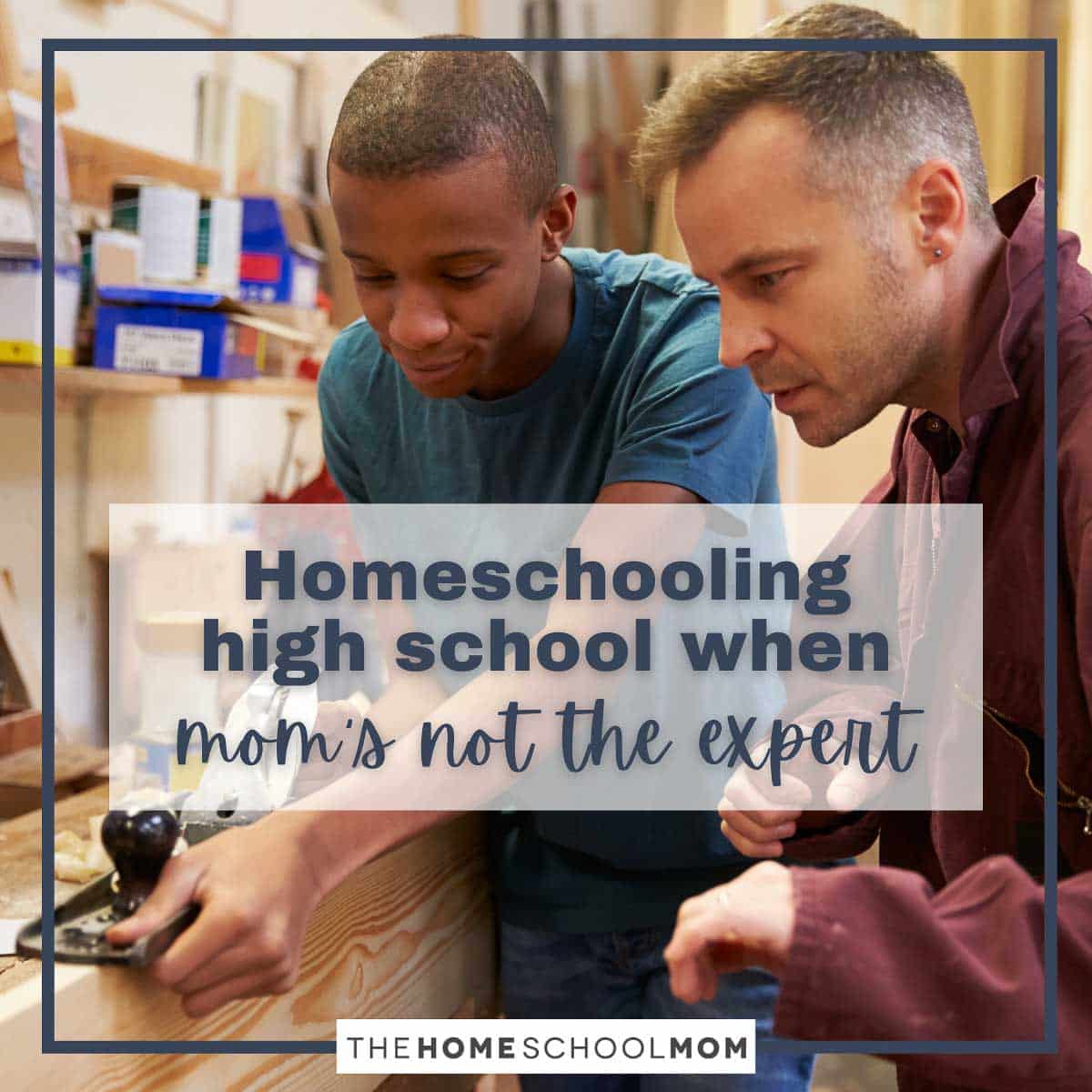 Just a little research in the world of homeschoolers can show people that homeschooling parents don't have to teach everything their children are learning. They just have to facilitate opportunities so their kids can learn.
Here are a few of the ways kids learn things their parents don't know about:
Trade with other parents. As a writer and former writing teacher at the college level, I've frequently traded my ability to help kids with writing to another parent who could help my kids with things I can't do. I've known parents to trade foreign language for history, and math for language arts, and science for crafts.
Set up an apprenticeship, internship, or mentorship. I've had my kids work in computer stores and music stores to further their knowledge interests. I've known kids who have worked as apprentices at horse farms, small animal veterinary hospitals, and surveying companies. Apprenticeships may not be that well-known in some parts of our society, but they're alive and well among homeschoolers.
Take community college classes. Many homeschooled kids dual enroll in community college courses just as their public school counterparts do. They can take lab classes, foreign language, or other classes that may be hard for parents to replicate at home.
Use MOOCs. Homeschooled kids join many others who take Massive Open Online Courses offered by major universities. Some are taught by top professorial talent, using college-level texts and well-designed course content and assessments.
Enroll in school part-time. Many states allow kids to enroll in classes part-time at their local schools. My home state of Virginia allows each school division to decide whether it wants to enroll homeschooled students. A kid who wants to study something specific that his parents don't know about can often find resources at the local school that may not be available elsewhere, especially in a rural area.
Develop independent studies. As a homeschool evaluator, I regularly see the amazing results of passion-driven independent study by motivated high school homeschoolers. Kids who want to know more have incredible resources online and through their local libraries. They can also watch documentaries and listen to audiobooks to create a multi-dimensional learning experience. I have enjoyed watching my oldest sons continue this into their young adult years, well past their college experiences.
Meet with a tutor. Homeschoolers use tutors for one-on-one help in subjects like math, chemistry, and foreign language. In fact, many tutoring centers have now recognized the homeschooling market and have expanded their hours and services to accommodate the desires of homeschoolers.
Participate in a co-op or university model school. Homeschoolers in many communities have the opportunity to study in group settings with teachers who are experts in their subject areas. They may attend co-op or part-time school one or two days a week, with reading and homework assigned in between.
Take classes from private teachers. Unbeknownst to many outside homeschooling, a cottage industry has sprung up of people offering classes for home-educated kids. Former teachers, retired college profs, and specialists in many fields have developed their own classes in everything from Wildlife Conservation to Algebra II.
Take classes from museums and community programs. Homeschoolers often fill classes at science museums, state parks, and nature centers. These kids are welcomed not only because they make excellent students, but also because they can attend at times that others can't attend, making them a great way to use the capacity and resources available in these large spaces.
Get a relevant job. Again, homeschooled kids can be available when some other employees can't, and it can be an ideal learning situation to work in a paid part-time job in some fields.
Volunteer. The training to work at a science museum, art museum, or history museum can be outstanding and ongoing. I know some homeschooled kids who are so respected as volunteers that they have won awards and are practically treated like staff. They have direct access to subject area experts who are working with them all the time. Students who volunteer in areas where a second language is spoken may find outstanding experience for practicing their foreign language.
Use self-teaching materials. There are now many curricula that are designed for use with minimal parent input. Many are set up online, so kids can go through them independently and take assessments on mastery before moving forward. There are also science curricula that come complete with directions and material lists to conduct all the "real" labs right at home.
Travel and have immersion experiences. Living in a foreign country during a "gap year" can cement language learning. This can sometimes be combined with volunteer work.
Use online resources. Come on, you've got Crash Course on YouTube, Khan Academy ("You can learn anything. For free. For everyone. Forever"), and CK-12 Foundation's free online textbooks and resources. It's not like we're living in a different world than everyone else -- we have access to all this great stuff online, and the time to use it.
Use private distance learning courses and schools. There are all kinds of entities that are providing coursework to high schoolers today -- universities, private schools, subject area specialty providers, and curriculum providers. Some have full teacher support. Others provide a DIY service with complete assessment options. Still, others encourage open-ended exploration that match a "learning as living" lifestyle, which can include advanced studies.  
There are more possibilities, but it should be clear that just because I as a homeschool mom don't have expertise in a specific subject doesn't mean my kid can't learn it.
A homeschool parent's job is not to have everything to teach, but to put everything within reach.
We can facilitate by using all these resources and more to help our kids learn what they want to learn and what they need to learn to meet their goals.