Homeschooling is regulated at the state level, so connecting with local homeschoolers is an important step to start homeschooling in Michigan. Find the Michigan homeschool groups closest to you and get connected with your local homeschooling community, learn about the homeschool requirements in Michigan, and discover the co-ops, classes, sports and arts opportunities, and social get-togethers in your area.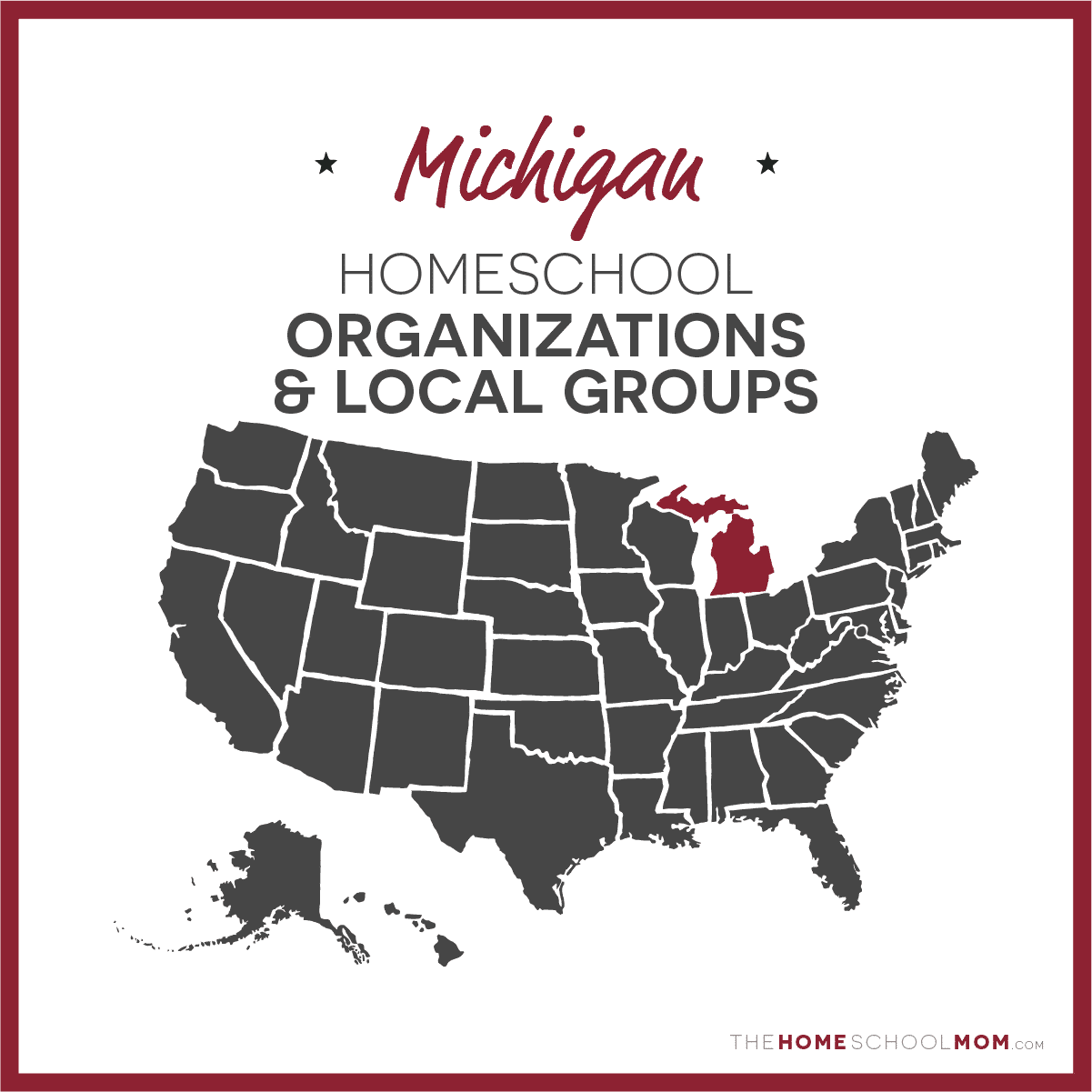 Submit a Local Resource
Jump to: State Organizations | Local Groups
Our listing of Michigan state organizations and local homeschool groups is ordered alphabetically by city, with statewide organizations listed first. If you would like to submit a group, you may do so using the red button above.
Michigan Homeschool Organizations (Statewide)
MICHN: Michigan Christian Homeschool Network

Michigan Statewide

MICHN (formerly INCH) exists to come alongside families who want to see Christ glorified from one generation to the next. It is our sincere prayer that God will use every aspect of our ministry, including this website, for that purpose! We long to see Jesus Christ exalted as one generation proclaims His great mercies to the next. MiCHN believes that homeschooling is uniquely suited to this purpose, and we pray that the Lord would find us faithful in that task.
Michigan Local Homeschool Groups
L.I.F.E. (Lenawee Involved in Family Education)

Adrian/Lenawee county

L.I.F.E. membership is open to families pursuing Christian home education. As a cooperative support group, members assist with planning and conducting training and programs for students and families. The annual membership fee includes a free monthly newsletter subscription, member discounts on activities, and a bi-monthly support group meeting.
Battle Creek Pre-K and Elementary Homeschoolers

Battle Creek, Calhoun County

Local secular Battle Creek/Marshall group for younger homeschooled kids with lots of fun activities geared for the age level of 3.5 to 12. The group is not based on any one religion, and anyone is welcome to join. Activities are geared toward the younger set, but older siblings and kids are welcome at our events as well.
FISH Families In Support of Homeschooling

Belleville

FISH is an all-ages support group, meeting each Tuesday 10-12. Members have access to a full-sized classroom, gym, playground, and baseball diamond. Arts/crafts, activities, Spanish class, and snack time each week with occasional entertainment, classes, and field trips.
Paideia Learning

Brighton

Paideia Learning is a faith neutral homeschool hybrid and part-time electives program serving families in Livingston County. Students meet two days per week (M/W or T/Th) in Brighton, MI. Families can choose to use school of choice funding through Oxford Community Schools or self-pay for this high quality homeschool education. Paideia's curriculum combines a Charlotte Mason, literature rich approach with a classical studies focus. The mission of Paideia Learning is to cultivate in students the ability to think deeply, lead justly, and inquire creatively. We are committed to cultivating the mind, body, and affections through a study of the liberal arts, music, and sport, and to inculcate a love for creativity, empathy, rigorous inquiry, and informed deliberation to lead a life of service and purpose.
Battle Creek / Marshall Homeschoolers

Calhoun County

An inclusive group offering support for all homeschooling families in Calhoun County and surrounding areas, answering questions and sharing resources. Online(ex: art lessons, book club) and offline(ex: library, museum, park, zoo) events/meetings.
CTK Homeschool Group

Chelsea

CTK Homeschool Group is a community of Catholic families, faithful to the teaching our Holy Mother the Church. Their mission is to raise our children to fulfill their Baptismal promises, in love with The Truth, and possessing the virtues and knowledge needed to live and spread The Gospel in a fallen world.  Currently offer two programs for academic enrichment and educational co-ops. Tuesday: Our partnership day with Oxford Virtual Academy (OVA) -  Tuesday Program is a drop-off program with a wide range of elective classes where four classes may be for FREE for those who enroll as part time students with OVA (although people are always welcome to pay for the classes themselves and not enroll as part time students with OVA).  Surveys are done each year to determine what the new classes will be based on the needs and desires of members.  Tuesday classes are meant to complement and supplement our Thursday core classes, although members do NOT need to participate on Thursday in order to enroll on Tuesday.   Tuesday elective partnership classes are open to everyone, regardless of race or religion.  Currently, a small number of service jobs will be required of all members. Thursday: Our Classical, Catholic, Co-op Day - High School classes on Thursday focus on theology, history, literature, philosophy, art and music. Middle school classes prepare students for high school with excellent history and literature overview classes, as well as strong writing, logic and science courses.  Elementary classes are supplemental to what homeschooling parents are doing at home which engages students at every level from 4-year-olds up through 6th grade. CCD and Atrium programs are available in the afternoon as part of the co-op.
Homeschooling In Detroit

Detroit

Homeschooling in Detroit was founded by a veteran homeschooling mom to help connect homeschool families to the right program, event, co-op and support groups near them.
Homeschool Wayfinders

Detroit

This is a resource for anyone living in Downriver, Mi, the suburbs of Detroit, all the way south to Monroe. This group organizes social gatherings and field trips as well as educational classes within the community. They also lead a resource and support group to help locals find other meetup groups and local co-ops near Detroit that aren't widely listed
Seeds of Faith Homeschool Support

Dryden

We are a Christian homeschool support group in the Lapeer County, Michigan area. We connect homeschool families with each other. We offer: activities and field trips, homeschool support meetings, co-op classes, an email group, and more!
Renaissance Homeschool Group

Farmington Hills

Renaissance Homeschool Group (RHG) offers quality educational opportunities to families in Southeast Michigan to expand learning and social connections in an environment that is positive, cooperative, and mutually supportive.
Renaissance Academy

Farmington Hills

Renaissance Academy in Farmington Hills is a drop-off program with classes for grades DK-12th grade on Tuesdays, Wednesdays, Thursdays, and/or Fridays. Families may self-pay or choose funding through Oxford Virtual Academy. With enrollment options ranging from one to four days per week, Renaissance Academy offers quality educational opportunities to homeschooling families in Southeast Michigan to expand learning and social connections in an environment that is positive, cooperative, and mutually supportive.
His In The Spirit Catholic Homeschool Group (H.I.T.S.)

Fenton - Genessee, Shiawassee, & Northern Oakland Counties

In response to their vocation as parents, the families of HITS Homeschool Group, strive to provide a supportive atmosphere for Catholic homeschoolers by offering social, educational, and faith based activities, as well as information, guidance, and encouragement. This group meets for activities and field trips in and around Fenton, Michigan. Activities are planned to accommodate children of all ages. Families need not be Catholic to participate, however, some activities do center around the Catholic faith.

His In The Spirit Catholic Homeschool Group (H.I.T.S.) details
Earth Scouts of Genesee County MI

Flint

Earth Scouts was created as a secular group to get our nature loving families together. The group believes being outdoors as much as possible is extremely important for our health and well being, as well as our creativity and soaking up mother earth's vitamins. We stand by the Montessori, Waldorf, Charlotte Mason, Forest Schooling, child-led approach. The goal is to connect like minded families. Earth Scouts meet up multiple times a week at various homeschool programs put on by Genesee county and different parks for hiking, foraging, identifying plants, trees, fungi, insects and wild life. We bring along field guides and come up with fun prompts for most of the meet up days such as crafting with nature items, making nature journals, doing circle time & so on. Park visits, play museums, science centers, planetariums and more are places we meet up at. We also host homeschool swap days where we can swap learning materials, books and even clothing our children may have grown out of. Please note this is a secular group. We do not follow or debate religion or politics. We openly support the LGBTQ+ community. This is a safe group who is open to ALL walks of life.
Lake Michigan Home School Connection

Fruitport

A distinctly Christian, parent-run organization, the mission of LMHSC is to enhance established home school programs by making available unique and trusted educational and informational resources while encouraging social interaction between families. Co-op Classes are held on Friday's. New enrollment will begin in May. In addition to our Fall and Winter classes we offer field trips, holiday parties, mom outings and lots of opportunities for support.
Christian Homeschoolers of Northern Michigan

Gaylord

A Christ-centered support group established to provide fellowship, encouragement and to enhance the ability of Christian families to home educate their children. 1. Represent the home schooling community in a manner that honors Jesus Christ. 2. Provide moral support, informal sharing and educational training for parents. 3. Provide educational opportunities: skill exchanges, science fairs, and weekly gym/classes co-op. 4. Inform the community and educate new homeschoolers about homeschooling.
HEARTH Co-op and support group

Genesee

A community of support for homeschoolers in Genesee County, MI and the surrounding areas. HEARTH stands for Hope, Encouragement and Resources Targeting Homeschoolers. Offer a co-op as well as a general support group that is most active through our Facebook group. Activities and field trips are generally open to all homeschoolers. For more information, please see our website for more information.
Lake Michigan Home School Connection, Inc

Grand Haven, Muskegon, and Rothbury

Our support group, offers many activities and events throughout the year, such as: Home School Information Sessions, Science/History Fair, Fine Arts Night, Field Trips, Thanksgiving Feast, Valentine's Party, Christmas Party, workshops, Moms Night Out, track & field day, etc
Barry County Homeschool Alliance

Hastings

Barry County Christian School is proud to release a BRAND NEW Homeschool program for students, not just in Barry County, but across the State of Michigan! The Alliance focuses on providing parents with the opportunity to provide education at home, but with the support of a State recognized private school. This Program is divided into three distinct choices: Full Program, A-la-cart, K-12 Program Homeschool students are welcome and encouraged to play on athletic teams whether they are involved in the program or not. See website for detailed information!
Jackson Area Home Educators

Jackson County

J.A.H.E. was founded as a Christian organization with the goal of meeting the needs of the home educators in the Jackson County, Michigan and surrounding area. We meet three Wednesdays per month, for a total of 28 weeks, during the months of September through May.
OASIS

Kalamazoo

We are a diverse group of homeschooling families in the Greater Kalamazoo Area. We are an inclusive group that benefits from the vast knowledge, creativity, and diversity of each family. We keep our members "in the know" concerning events, classes, and opportunities available in Southwest Michigan through our Yahoo Group
Kalamazoo Heart

Kalamazoo, VanBuren

Kalamazoo HEART (Home Educators are Resourceful Teachers) is a Christian homeschool group offering field trips open to all Kalamazoo Area homeschoolers, as well as a bi-weekly co-op, family field trips, mom's coffee days and mom support group meetings.
Christian Home Educators Support System (CHESS)

Lansing

Christian Home Educators' Support System (CHESS) was founded in the fall of 1993 as a co-operative effort on the part of a few Lansing area home educating families who realized that by working together and sharing the load, we could all benefit tremendously! We are currently serving over 300 families from all over the greater Lansing area and beyond! CHESS provides a wide variety of opportunities to interact with other families who, like you, are striving to follow the Lord in the home education of their children. Some are just starting to homeschool, others are seasoned veterans; all are an important part of the CHESS community.
F.A.I.T.H. Homeschool

Lapeer

Faithfully Assisting In Teaching Homeschoolers homeschool program exists to provide educational classes in a Biblically based teaching environment, extra curricular activities, group field trips, sports and commencement for homeschooled students in grades K-12.
Mason County Christian Home Educators

Mason County

A homeschool community that gathers together to provide support, information, and encouragement, from a Biblical standpoint, to those who desire to home educate their children. Located in Mason County, Michigan and serve Ludington, Scottville, and the surrounding communities. Members organize field trips, ice skating, and service opportunities, and offer a homeschool library, a resource directory, transcript support, and a member directory to aid you as you educate your children at home. Also hosting periodic meetings of interest where members gather to encourage each other and provide useful tips and tools from other experienced moms.
HSB, Inc

Michigan Statewide

HSB, Inc. has been providing information, resources and networking opportunities for area families and home educators in Michigan since 1999. We are proud to have a tremendously wide reaching and positive impact in our community.
Homeschooling in Michigan

Michigan Statewide

This group is to provide support and encouragement for Michigan parents who have chosen (or thinking about) a nontraditional approach to education
Great Lakes Bay Homeschoolers

Mid-Michigan

A newly formed Homeschool group in the Mid-Michigan area. We offer low cost co-op classes, community class like tae kwon do and tennis as well as clubs.
CHEMinistry

Midland

A home school support group with good chemistry! We are the Christian Home Educators of Midland Ministry, Inc. We are a Midland-based, Christian, nonprofit home school support group that serves over 170 families in Mid-Michigan. Whether you are considering home schooling or have been home educating for several years, CHEMinistry has a lot to offer. These public pages will give you a glimpse of the many benefits and opportunities provided by CHEMinistry for its members. Academic and sports programs for kids, encouragement and mentoring for moms, an array of special events for families, and our comprehensive private web site are some examples of how our Midland-based home schooling support group helps its members train their children to be godly Christians.
True Life Centers

Monroe

True Life Centers is a Christian homeschool support group located in Monroe County Michigan. We have over 100 families that belong to True Life Centers. Throughout the school year we have field trips, Mom's Night Out, a curriculum fair, and some specialty classes for the whole group. Socialization is achieved through families participating in fields trips and group activities. Visitors are welcome to come visit one of our activities to see if they would like to join.
Bluewater Homeschool Teens

Port Huron

A group for Bluewater Homeschool teens, ages 10+ Also open to ANYONE who is willing to drive! VERY active group, tons of hands on activities, bowling team, Roblox club ++ Active all year long, not secular. Welcome all styles of Homeschooling.
Oakland County Homeschoolers

Rochester Hills

We are a secular homeschool group for families in the Oakland County, Michigan, and surrounding areas. Though all in the area are welcome to join and participate, activities are centered in the southern half of Oakland county. We meet often in local areas to provide fun social activities for our children and support opportunities for ourselves. There are lots of opportunities for children of all ages and plenty of volunteer opportunities for parents as well.
HEORC Home Educators of Roscommon County

Roscommon County

Home Educators of Roscommon County is an association of Christian families who recognize that the education and nurturing of their children in all phases of life is the God-given responsibility of the parents. The organization and all of it's activities and publications will be consistently and forthrightly Christian. HEORC members plan play dates, park days, field trips, Moms night out, gym days swim days, etc. "Offering support to one another in an endeavor to educate our children in the home."
Oakland Homeschool Music, Inc.

Springfield Township

Oakland Homeschool Music, Inc. is a Michigan nonprofit organization whose mission is to assist families of home-schooled children and other children who do not have access to a music education program in their school have the opportunity to develop musical talents and appreciation.
CHEBWA (Christian Home Educators of the Blue Water Area)

St. Clair County

CHEBWA is a Christian support group for families who HS in the Blue Water Area. We welcome all styles of HS and love to learn from one another. We do this primarily through monthly support group meetings, educational & social activities and our new website. At our website you can view pics of field trips & Mom's Night Out events, glance through our online calendar, plus check out our blog!

CHEBWA (Christian Home Educators of the Blue Water Area) details
Southwest Michigan Christian Scholars

St. Joseph

SMCS is a non-denominational homeschool support group serving families in St. Joseph, Stevensville, and surrounding Michigan areas.
Creek Christian Homeschool Association

Swartz Creek/Flint Township

Creek Christian Homeschool Association is a co-op that meets weekly on Tuesdays from 9am - 3pm. They offer two tracks of elective style classes. There is an Elementary and Jr/Sr High track, both offer 6 classes each. There are two semesters per school year. Family fees are due at time of registration and supply fees are due prior to the start of each semester. Creek Christian offers a lunch that can be purchased, or families can bring their own.
TACHS Thumb Area Christian HomeSchools

Thumb

Thumb Area Christian Home Schools (TACHS) was started in 1986 to serve as a support group to Christian home schools in the Thumb Area of Michigan. We believe the responsibility of schooling, training, and raising our children falls upon the parents as the Word of God teaches in Deuteronomy 6:4-9, Ephesians 6:4, and Proverbs 22:6. Our goal is that our children love and obey God and their parents, that they will be equipped to be future leaders for God's glory and that they develop their God given abilities, talents, and gifts to His service. We desire to encourage and enable others to strive toward this challenge and responsibility. Our Goals are to provide support and encouragement, to share information about homeschooling, to provide educational opportunities, and to represent home schooling to the community. Our Monthly Activities during the school year include a Gym Day in Sebewaing, Mom's Coffee Night, and Co-op Classes in Caro as well monthly fieldtrips and/or educational opportunities.
T.E.A.C.H.

Traverse City

TEACH is a Christ-centered home school support group based in Traverse City that is serving home school families throughout northwest lower Michigan.
WBMI Catholic Schoolhouse

Troy

This community of Catholic families gathers weekly to follow the Catholic Schoolhouse curriculum. They also offer opportunities for field trips, social gatherings, and homeschool support to members. Our title states West Bloomfield, however we currently meet in Troy and the current families reside in cities spanning as far as Lapeer to Warren and Macomb to New Hudson.
Homeschoolers of Washtenaw

Washtenaw County

Welcome! H_O_W is an inclusive group for homeschooling and unschooling families in Washtenaw County, Michigan and surrounding areas. Our group mission statement is to respect all opinions, celebrate the diversity of our members and help enrich the homeschooling community by creating educational and social opportunities in the area as well as being an online forum for homeschoolers to discuss any topic of interest. We generally get together for fun activities once a week, and all members are invited to plan and announce activities at any time. H_O_W offers social and educational activities and support for homeschoolers. Some current activities include park days, bowling, and Moms night out.
Homeschool Enrichment Network (HEN)

Williamsburg

Membership gives your family access to valuable homeschooling support and resources such as e-newsletters, a community directory, forums, a robust event calendar with scheduled activities for students of all ages, and a weekly parent-led co-op.