TheHomeSchoolMom's local resource listings are sponsored by Time4Learning, where you can find resources, support groups, test prep info, and more.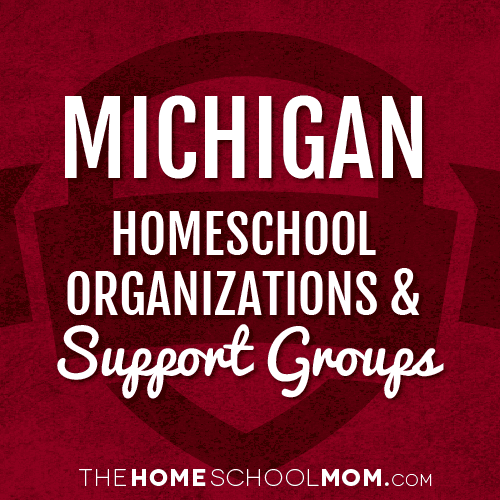 Since homeschooling is regulated at the state level, connecting with local homeschoolers is an important step to start homeschooling in Michigan. State homeschool organizations and local homeschool groups are not just a good place to learn the specifics of legally homeschooling in Michigan—they can also help you to get connected with the local homeschooling community. Many homeschool groups offer co-ops, classes, sports and arts opportunities, and social get-togethers.
Our listing of Michigan state organizations and local homeschool groups is ordered alphabetically by city, with statewide organizations listed first. If you would like to submit a group, you may do so using the red button above.
Michigan Homeschool Organizations
Homeschool HUB – MichianaMichiana area
The Homeschool HUB organizes programs and field trips, and a provides a communication network among homeschool families in the Michiana area. We are an inclusive group. Our goal is to provide oppo...
Information Network for Christian HomesMichigan Statewide
Since 1984 our mission has been to serve families interested or involved in home education by providing the information, resources and encouragement needed to teach their children at home in the st...
Michigan Local Homeschool Groups
L.I.F.E. (Lenawee Involved in Family Education)Adrian/Lenawee county
L.I.F.E. membership is open to families pursuing Christian home education. As a cooperative support group, members assist with planning and conducting training and programs for students and familie...
Battle Creek Pre-K and Elementary HomeschoolersBattle Creek, Calhoun County
Local secular Battle Creek/Marshall group for younger homeschooled kids with lots of fun activities geared for the age level of 3.5 to 12. The group is not based on any one religion, and anyone is...
FISH Families In Support of HomeschoolingBelleville
FISH is an all-ages support group, meeting each Tuesday 10-12. Members have access to a full-sized classroom, gym, playground, and baseball diamond. Arts/crafts, activities, Spanish class, and snac...
Families in Michigan that UnschoolDetroit
This group is for families in Michigan that Unschool or are relaxed homeschoolers. It's a forum to discuss unschooling, share our unschooling experiences, ask questions or just explore the concept...
Homeschooling In DetroitDetroit
Homeschooling in Detroit was founded by a veteran homeschooling mom to help connect homeschool families to the right program, event, co-op and support groups near them.
Seeds of Faith Homeschool SupportDryden
We are a Christian homeschool support group in the Lapeer County, Michigan area. We connect homeschool families with each other. We offer: activities and field trips, homeschool support meetings, c...
Renaissance Homeschool GroupFarmington Hills
Renaissance Homeschool Group (RHG) offers quality educational opportunities to families in Southeast Michigan to expand learning and social connections in an environment that is positive, cooperati...
His In The Spirit Catholic Homeschool Group (H.I.T.S.)Fenton - Genessee, Shiawassee, & Northern Oakland Counties
In response to their vocation as parents, the families of HITS Homeschool Group, strive to provide a supportive atmosphere for Catholic homeschoolers by offering social, educational, and faith base...
HEARTH Co-op and support groupGenesee
A community of support for homeschoolers in Genesee County, MI and the surrounding areas. HEARTH stands for Hope, Encouragement and Resources Targeting Homeschoolers. Offer a co-op as well as a ge...
Lake Michigan Home School Connection, IncGrand Haven, Muskegon, and Rothbury
Our support group, offers many activities and events throughout the year, such as: Home School Information Sessions, Science/History Fair, Fine Arts Night, Field Trips, Thanksgiving Feast, Valentin...
Barry County Homeschool AllianceHastings
Barry County Christian School is proud to release a BRAND NEW Homeschool program for students, not just in Barry County, but across the State of Michigan! The Alliance focuses on providing parents ...
NOAH'S ARC (Newaygo Oceana Area Homeschool Support Activities Recreation ConnectionHesperia, Fremont, White Cloud, Holton, New Era, Walkerville
Weekly Support Group
Homeschool HUB Support GroupsIndiana and Michigan
Support groups in the area
Jackson Area Home EducatorsJackson County
J.A.H.E. was founded as a Christian organization with the goal of meeting the needs of the home educators in the Jackson County, Michigan and surrounding area.
OASISKalamazoo
We are a diverse group of homeschooling families in the Greater Kalamazoo Area. We are an inclusive group that benefits from the vast knowledge, creativity, and diversity of each family. We keep ou...
Kalamazoo Area Home School Association, Inc.Kalamazoo
KAHSA offers a monthly newsletter full of resources and information for the homeschool family. They also have activities, support groups, and more. The website calendar coordinates homeschool activ...
Kalamazoo HeartKalamazoo, VanBuren
Kalamazoo HEART (Home Educators are Resourceful Teachers) is a Christian homeschool group offering field trips open to all Kalamazoo Area homeschoolers, as well as a bi-weekly co-op, family field t...
Christian Home Educators Support System (CHESS)Lansing
We are a Lansing based homeschool organization that reaches out to serve all mid-Michgan homeschoolers. Our vision is to inspire and affirm parents who are called to train up their children in the ...
F.A.I.T.H. HomeschoolLapeer
Faithfully Assisting In Teaching Homeschoolers homeschool program exists to provide educational classes in a Biblically based teaching environment, extra curricular activities, group field trips, s...
Lenawee Involved in Family Education HomeschoolLenawee County
L.I.F.E. membership is open to families pursuing Christian home education. As a cooperative support group, members assist with planning and conducting training and programs for students and famili...
LIFE – Learning in a Family EnvironmentLivingston county
We welcome all homeschooling families in Livingston county in Lower Michigan. We will have at least one field trip a month during the school year, a Back-to-School picnic and Mom's Night Out once a...
Macomb County Christian HomeschoolersMacomb County
We are a relaxed group of Christian parents and children who get together to socialize, commiserate and collaborate for and about homeschooling.
Macomb Christian HomeschoolersMacomb County Michigan and Surrounding Areas
Macomb Christian Homeschoolers is a support group whose motto is...No mandatory meetings! No fees! No stress! This is an organized, relaxed group of Christian homeschooling parents who plan social...
Mason County Christian Home EducatorsMason County
A homeschool community that gathers together to provide support, information, and encouragement, from a Biblical standpoint, to those who desire to home educate their children. Located in Mason Co...
Network of Michigan Home Educators (NMHE)Michigan Statewide
Welcome to the Network of Michigan Home Educators website (formerly Michigan Homeschoolers)! We are a group of parents who love to homeschool our children. We represent a wide range of homeschoolin...
Michigan HomeschoolersMichigan Statewide
Online support group for Michigan Homeschooling families including the planning of group trips and events. We welcome any and all Michigan residents (and those soon to become residents) to join us....
INCH (Information Network for Christian Homes)Michigan Statewide
INCH was founded by families who were seeking to find ways to legally home educate their children in Michigan. This quickly expanded to helping families throughout the state & became a conduit for ...
CHEMinistryMidland
A home school support group with good chemistry! We are the Christian Home Educators of Midland Ministry, Inc. We are a Midland-based, Christian, nonprofit home school support group that serves ove...
True Life CentersMonroe
True Life Centers is a Christian homeschool support group located in Monroe County Michigan. We have over 100 families that belong to True Life Centers. Throughout the school year we have field tri...
Mt. Pleasant Home Education AssociationMt. Pleasant
The Mt. Pleasant Home Education Association is a Christian support group serving home educators living in Mt. Pleasant, Michigan and the surrounding area. Offers a weekly co op, field trips, mom's ...
Enrichment HubOakland and Macomb Counties
Enrichment hub is a center of educational and artistic activities to support the Home School community and families in all ages of education. Enrichment Hub is open to learn, teach, volunteer, crea...
West Michigan Eclectic HomeschoolersOttawa, Kent, Muskegon, and Allegan Counties
An online discussion group for homeschooling families in west Michigan who do not consider themselves mainstream homeschoolers. We exist to celebrate the diversity of home education styles and cho...
Oakland County HomeschoolersRochester Hills
We are a secular homeschool group for families in the Oakland County, Michigan, and surrounding areas. Though all in the area are welcome to join and participate, activities are centered in the sou...
HEORC Home Educators of Roscommon CountyRoscommon County
Home Educators of Roscommon County is an association of Christian families who recognize that the education and nurturing of their children in all phases of life is the God-given responsibility of ...
Washtenaw County HomeschoolersSaline, Ann Arbor, Dexter, Chelsea, Milan
For homeschoolers living in Washtenaw County, Michigan (Saline, Ann Arbor, Dexter, Chelsea, Milan). All homeschool discussion of grades K-12 welcome. School ideas, local event/activity listings and...
Homeschoolers United, Inc.Southwest Michigan and Northern Indiana
A group of homeschoolers in southwest Michigan and northern Indiana that are starting a new kind of homeschool group. We are a non-profit corporation with a mission to be an information clearinghou...
Oakland Homeschool Music, Inc.Springfield Township
Oakland Homeschool Music, Inc. is a Michigan nonprofit organization whose mission is to assist families of home-schooled children and other children who do not have access to a music education prog...
CHEBWA (Christian Home Educators of the Blue Water Area)St. Clair County
CHEBWA is a Christian support group for families who HS in the Blue Water Area. We welcome all styles of HS and love to learn from one another. We do this primarily through monthly support group me...
Thumb-Area HomeschoolersThumb area of Michigan
This is an online group for homeschooling families in the Thumb of Michigan. Our goal is to provide members with a network of friends within our area with which to share our homeschooling adventures.
T.E.A.C.H.Traverse City
TEACH is a Christ-centered home school support group based in Traverse City that is serving home school families throughout northwest lower Michigan.
Homeschoolers of WashtenawWashtenaw County
Welcome! H_O_W is an inclusive group for homeschooling and unschooling families in Washtenaw County, Michigan and surrounding areas. Our group mission statement is to respect all opinions, celebrat...
Holy Rosary Home EducatorsWayne and Oakland counties
Holy Rosary Home Educators is an informal Catholic support group for homeschoolers mostly based in the western suburbs of Metropolitan Detroit. Members communicate through a Yahoo e-group. There is...
HSB, IncWest Michigan
HSB, Inc. has been providing information, resources and networking opportunities for area families and home educators in West Michigan since 1999. We are proud to have a tremendously wide reaching ...