Jump to: Homeschool Arts | Homeschool Sports
In addition to the opportunity to get out of the house and socialize, homeschool sports and arts programs can offer long-term benefits by developing characteristics like leadership, self-confidence, perserverance, and self-esteem. Many organizations and businesses have opportunities specifically for homeschoolers, while others invite homeschoolers to participate in their regular programs.
Not sure how to choose activity/activities for your children? Read how Rebecca narrows down the choice of extra-curricular activities.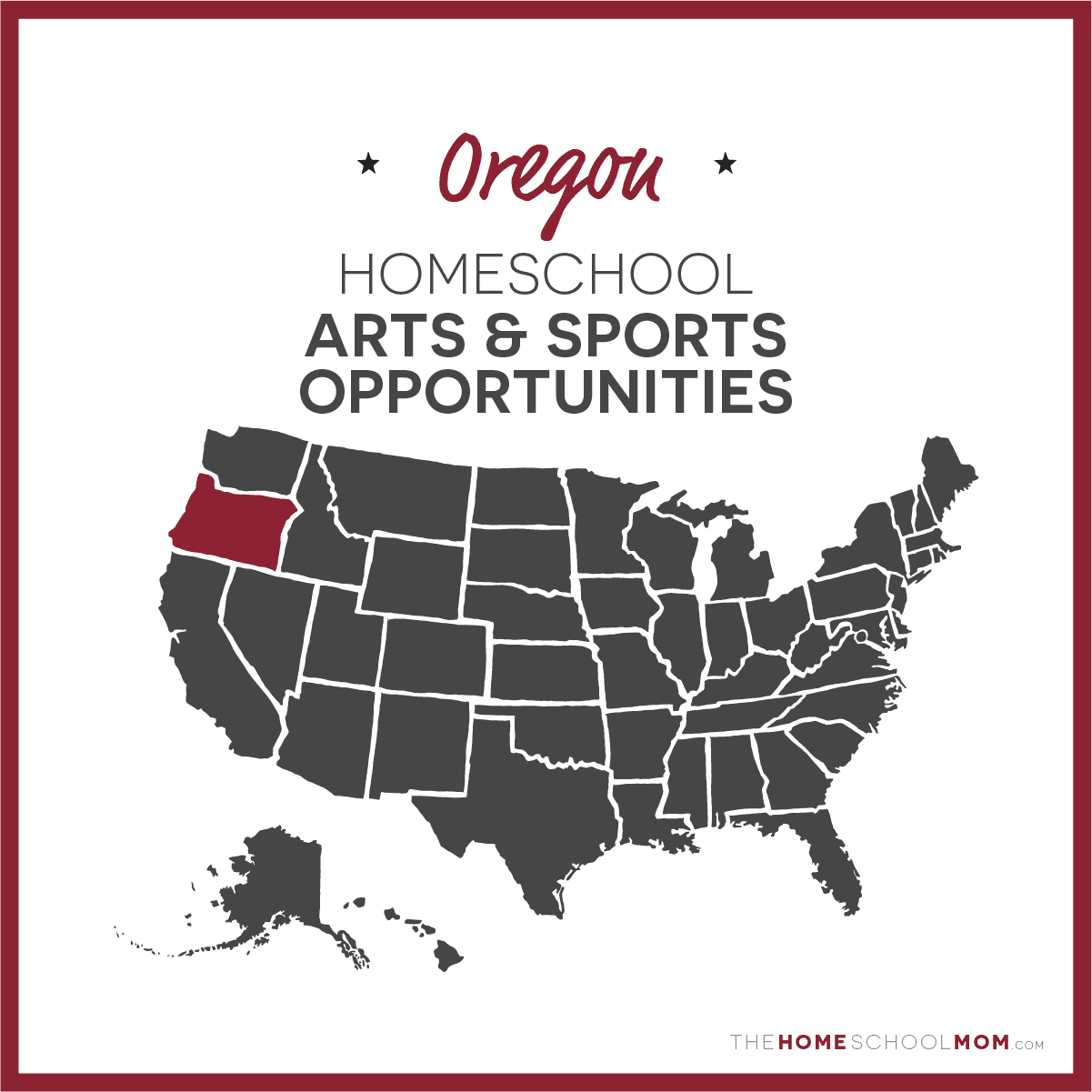 Submit a Local Resource
Our listing of Oregon list of homeschool arts and sports programs is ordered alphabetically by city, with arts in the first section and sports in the second section. If you would like to submit an Oregon arts or sports program, you may do so using the red button above.
Oregon Homeschool Arts Programs
Beginning Guitar, Violin, Singing, Piano Lessons at Oregon Music Academy

Beaverton, Tigard, Sherwood, Tualatin, Lake Oswego, Wilsonville, SW Portland

Oregon Music Academy provides private music lessons and music classes for kids (and some of their parents!). They have exceptionally caring, talented, and professional teachers and staff. They have a location in Tigard, Oregon (near Bull Mountain). But families also travel here from the surrounding areas (Sherwood, Tualatin, Beaverton, Lake Oswego, Portland). They offer Piano lessons, guitar lessons, violin lessons, cello lessons, singing lessons, drum lessons, ukulele lessons, and more. It's so cool to go to OMA and hear all of the different musical instruments and levels of students improving. An added bonus of going to a larger professionally run music academy, rather than an individual's home piano studio is that kids get exposure to different instruments, music, and levels and can even try different instruments. If you're interested in getting your child started with music lessons, this is a great place to get started! The one downside is that they are near capacity. So if you want to snag a spot, you may have to wait or get started in a time slot that isn't your first pick.

Beginning Guitar, Violin, Singing, Piano Lessons at Oregon Music Academy details
Art Station

Bend

Offering a wide variety of home school art and art education programs/workshops. The Art Station can offer clay, 2D, 3D, multi-media, glass fusion, jewelry, drawing and painting for all ages. We can create specific classes for the home school community and provide hands on learning in a fun, nurturing atmosphere.
Amber's Art World Art Lessons

Central Point

What is Color, Form, Line, Shape, Space, Texture, and Value? They are the 7 magical elements of art and design! Classes run continuously throughout the year, and every single one will build skills in one of these elements, using various art mediums and techniques.
The Shedd Community Music School

Eugene

The Shedd Institute's Community Music School offers classes and private lessons for all ages in a wide range of musical instruments and styles. Private and semi-private lessons run all year round at The Shedd and can be arranged to fit into your schedule and interests. You can sign up for private lessons any time and start right away. Just contact the Registrar's office, and we'll be glad to help you set up lessons for yourself or your child. Our academic year corresponds roughly to that of Eugene-Springfield's public school calendar: Ten to 12 week courses are offered fall, winter and spring, with camps filling summer break. You sign up for courses on a term by term basis, and most courses may be joined in-progress. Courses include, but are not limited to: Mariachi, String Band, Gig Band, our music intro course: The Music Box. Students are also encouraged to form their own ensembles that we can match with one of our faculty members to act as a coach and teacher.
Elyse M. Walters Suzuki Violin Lessons

Eugene/Springfield

Suzuki trained teacher now accepting new violin students of all ages and abilities. Please check out the website or call for further information. 541-539-1546
Brittany Rudoi, Private Voice Lessons

Eugene/Springfield

As a voice instructor and vocalist, Brittany Rudoi has a passion for making music and for teaching others and encouraging them to make music. Currently offering 30 minute to 1 hour long voice lessons for students who are interested in learning how to sing with their own unique sound. These lessons focus on a strong foundation in breathing and healthy singing techniques. Classical music will be used at first to incorporate strong singing habits, but from there students can expand to other genres, like musical theatre, or jazz. Contact brittanyrudoi@gmail.com for more info or visit www.brittanyrudoi.com.
Joannah Ball Music Studio; Voice and Piano Lessons

Forest Grove/Washington County

Voice lessons include training in classical vocal technique. I use vocal exercises and a variety of repertoire to discover each student's freest and most efficient vocal production. I also teach sight-reading skills and performance preparation. Piano Lessons include technical exercises, study of repertoire, and a thorough exploration of music theory. Combination Voice + Piano lessons are also available and highly recommended for the young aspiring singer. Lessons are available for all ages and skill levels. Contact Joannah Ball via email at: lessons@joannahball.com for more information!
Chrysalis Aerial Academy

Gresham

Chrysalis Aerial Academy offers affordable Aerial Arts and Circus fitness classes in Gresham, OR.
One River School of Art and Design: Transforming Art Education

Lake Oswego

One River Kids Art classes are built around our unique, project-based curriculum that celebrates artists and techniques from the last 50 years. It is built for young creative minds and instructors are hand selected with the skills and sensibility to get the most out of each student. Transforming Art Education method teaches across all media and makes learning art fun while producing ambitious artistic / educational outcomes across a wide array of materials, subject matter and complexity. Please let us help you reach your Art Education fulfillment and use the promo code: HOMESCHOOL to save $75 dollars on enrollment.

One River School of Art and Design: Transforming Art Education details
One River School of Art and Design

Lake Oswego

One River School of Art + Design has embarked on a mission to transform art education in America. One River School has developed a proprietary method for teaching art and digital design programs to students of all ages in a state of the art facility. This process allows students to have more fun, make inspiring artwork, develop new friendships and grow their art making skills along the way. The exhibition program has become a national taste-maker for emerging artists across the country, presenting the most current, and compelling artworks in school galleries. Inevitably, exhibition series supports working artists and the mission to create more awareness for contemporary art.
Christian Youth Theater

Portand, Tualatin, Aloha, Milwaukie

Christian Youth Theater is a national non-profit children's theater training program. CYT Portland is an afterschool program, training children 4-18 in the performing arts utilizing professional Christian teachers educated and experienced in their field. There are three 10 week sessions each year (fall, winter, spring) with camps in the summer. Children are taught acting, singing, dancing and a variety of specialty theater skills during a two hour class held once a week. Each term enrolled students between the ages of 8-18 are eligible to audition for a Broadway style musical as well.
American Guitar Academy Music Lessons

Portland

Offers private individualized guitar lessons for anyone ages 4 and up at one of our many convenient studio locations. American Guitar Academy has provided lessons for Portland home school families and groups for over 17 years. We offer lessons for guitar, piano, drums, voice, ukulele and music theory.
Piano, Guitar, Violin and Cello Lessons at the Eliason School of Music

Portland

The Eliason School of Musics provides Piano, Guitar, Violin, and Cello Lessons in Portland, OR. We offer music instruction for students of all ages as well as family discounts and free recitals. Visit on the web or call (503)293-2390 today to find out more or to register for your first lesson.

Piano, Guitar, Violin and Cello Lessons at the Eliason School of Music details
Sensational Play - Aerial Yoga & Mindfulness for Homeschoolers

Portland

Sensational Play is an indoor play space that strengthens kids minds and bodies with aerial yoga and mindfulness classes that emphasize fun and positive social experiences.

Sensational Play - Aerial Yoga & Mindfulness for Homeschoolers details
Vibe Studio: Homeschool Art & Music Workshops

Portland

Vibe partners with homeschool groups like Village Home, Rose City Academy, Classical Conversations, and other informal groups of homeschooling families to bring quality sessions of art classes to students. Vibe incorporates multi-cultural art history, processed based instruction into every lesson and project. The Vibe Studio is available during the week for a multi-week or a mini workshop setting. If you have a group of 6 or more students we would love to get your group in the studio. Costs will vary depending on the class length and number of students attending. Please email Laura at studio@vibepdx.org to coordinate a time!
Photography Classes by Christine

Portland

Tailored photography lessons for enhancing your extra curricular activities! From basic art theory of design and composition, to the mechanics of using a camera, and the creative skills of storytelling, there is so much to learn with photography! Taught by Christine Armbruster, a photographer who has photographed all over the world and taught in universities, workshops, and individual lessons for nearly ten years.
Piano Lessons with Sophie Christian

Portland

Offering piano lessons in the Bethany area, OR 97229. Instructor has a Doctorate in Piano Performance and 16 years of teaching experience. Fellow homeschoolers' referral available.
Thrasher Music

Portland Area

Personalized Private Guitar Lessons: -Acoustic -Electric -Bass Beginner & intermediate lessons customized to the the individual student. See the Thrasher Music blog for more information. Will come to you!
Starr Studios Salem School of Dance

Salem

Dance is the perfect way for your child to make friends, get moving, and have fun. Starr Studios welcomes homeschoolers to join our dance community this school year. Offering dance classes in a variety of styles, starting at age 2, and up to adults.
Valley Suzuki Violin

SW Portland

Lindsay Durant, owner of Valley Suzuki Violin, is now accepting new students. She has 15+ years of teaching experience and has a warm and welcoming studio near Multnomah Village in Portland. Please see website and get in touch if you would like more information.
M.U.S.E. Instrumental Programs

Tigard

Band Classes and Private Instruction for Flute, clarinet, saxophone, trumpet, trombone, and drums. Winter term starts the second week of January for band classes. See website for more info at www.museband.com
Journey Theater Arts Group

Vancouver/Portland

Journey Theater Arts Group encourages and inspires youth to grow into and embrace who God designed them to be. This group is an after-school theater arts training program. JTAC offers more than 80 classes from drama to dance to improv, 12 school-year shows in four locations and summer community theater. Journey's professional-quality school-year musicals are exclusively cast with kids ages 8-18. Supports Portland, Beaverton, and Vancouver.
Oregon Homeschool Sports Programs
Empire Athletics

Albany

Empire Athletics operates on Honesty, Integrity, Character, and Teamwork. We are focused on developing talented coaches and athletes. It's never too late to join the family or sign up for a class! No matter what your skill level, we will not only welcome you, we will also place you on a team. The challenge is yours, so call today!
Girls Rugby

Beaverton and Portland

Flag Rugby (non-contact) for girls in Grades 2-8. Learn new skills, meet new friends and develop self-confidence, resilience and a strong growth-mindset.
Beaverton Swim Center -THPRD

Beaverton/Portland/Hillsboro/Tigard

Beaverton Swim Center offers American Red Cross swim lessons to children ages 3-15 during the week in the morning and afternoon hours for home-schooled children. For more information, please call 503-629-6312.
Northwest Gymnastics Training Center

Gresham

Homeschool PE classes
The Movement Park - Parkour Homeschool PE

Hillsboro

Build a positive relationship with exercise and movement in our Homeschool PE program. Classes explore ninja disciplines combining, parkour, obstacle training, tumbling, and freestyle movement. Students learn to develop fine and gross motor skills and transverse dynamic spaces safely as they practice awareness of themselves, others and their environment and build confidence through playful exercise. Our 4-week homeschool series classes are September through June on Tuesday and/or Thursdays from 11:30-12:30 pm. Classes generally range from ages 6-10 unless otherwise specified or requested. Ages 10+: are welcome at our open-gym M/W 11:30-1:00 pm Options for school groups upon request. *Subject to availability. *Minimum class size is 6 students. Duration: 60 minutes
Western Oregon University Swimming Lessons

Monmouth

The Aquatic Center is housed within the Health and Wellness Center and includes both the historic Wolverton Memorial swimming pool and a recently added therapy pool. The facility is open for year round aquatic exercise classes, lap and open swimming, swim lessons and many more aquatic activities.
G.I.R.L.S. Gym

Portland

Classes for teenage girls in self defense, kickboxing, submission grappling and mixed martial arts.
Sensational Play - Aerial Yoga & Mindfulness for Homeschoolers

Portland

Sensational Play is an indoor play space that strengthens kids minds and bodies with aerial yoga and mindfulness classes that emphasize fun and positive social experiences.

Sensational Play - Aerial Yoga & Mindfulness for Homeschoolers details
Peninsula Wrestling Club

Portland

Wrestling program for children of all ages by one of the best coaches around. Very inexpensive for high quality instruction.
Soccer Shots

Portland

Soccer Shots is the nations leader in providing age appropriate soccer classes to children ages 2-8 years old. Through imaginative play, each child learns the technical skills of soccer. We are proud to announce that our curriculum is in line with state NAYCE standards in the classroom or homeroom. Trained coaches will also work to build character with our weekly terms like respect, confidence, and determination.
Martial Arts Lessons - Thurston Shaolin Kempo

Springfield, Eugene, Lane

Thurston Shaolin Kempo offers quality traditional martial arts instruction. They offer both individualized, semi private and group lessons. The highly trained instructor team has provided lessons to the Springfield/Eugene, and surrounding areas for over 10 years. Many home school parents and Charter schools have utilized Thurston Shaolin Kempo's classes for P.E. credits. Parents also recognize the value in the opportunityto participate in a lifelong activity that builds confidence and character.
Archers Afield Archery

Tigard

Archers Afield offers opportunity for homeschoolers to experience archery. First Friday and third Monday of each month. 10:30am to 12:30pm, all equipment is provided.
Archery World

Troutdale

Archery World is a new local archery range and pro shop providing a Homeschool Target League open to all school age shooters with various shooting experience. You may bring your own equipment. The leagues are $35 for four week sessions. The format is 2 practice rounds, and then 10 rounds for score. It is designed to see improvement in yourself, not necessarily to compete against others. Check out our website for all upcoming league dates. Sign up by calling 503-489-5596 or coming in to the shop located at 1053 NW Corporate Dr. Troutdale, OR 97060