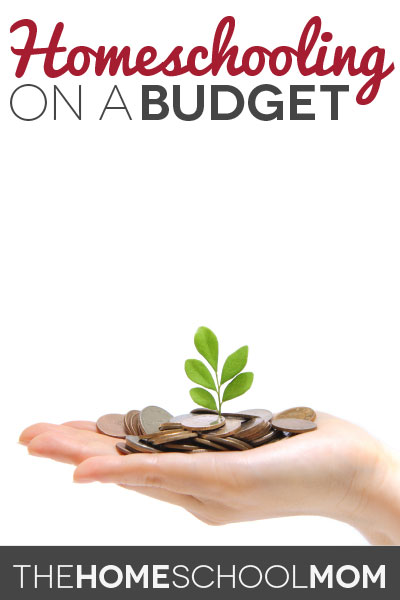 Homeschooling does not have to break your budget! The range of families who homeschool varies from the wealthy movie stars to low-income families that must be careful with every dime. Keep in mind that although you may be spending money to homeschool, you will save money by not having your child in a public or private school.
Older clothes work fine for the home setting, where more stylish (and expensive) clothes are desired for school. It is far cheaper to make lunch at home than to buy a school lunch every day, and that money can add up to a significant amount that can be used for homeschool resources. There are no book fees to pay to a school so that money can also go into your homeschool fund. School fundraisers are avoided and the money spent on them goes in the pot as well. By the time you add up all of the school expenses that you have saved, you might be surprised to find that homeschooling isn't as expensive an alternative as you thought it would be! It is entirely possible to successfully homeschool without spending a fortune, and below are some great resources to add to your budget homeschooling toolbox.
Don't overlook our downloads on TheHomeSchoolMom. You won't find these resources available for sale anywhere – we have created these quality workbooks and unit studies exclusively for our newsletter subscribers. From our financial workbooks for teens to our notebooking units for middle grades, you can't buy these exclusive downloads, but we will give them to you when you subscribe to TheHomeSchoolMom newsletter.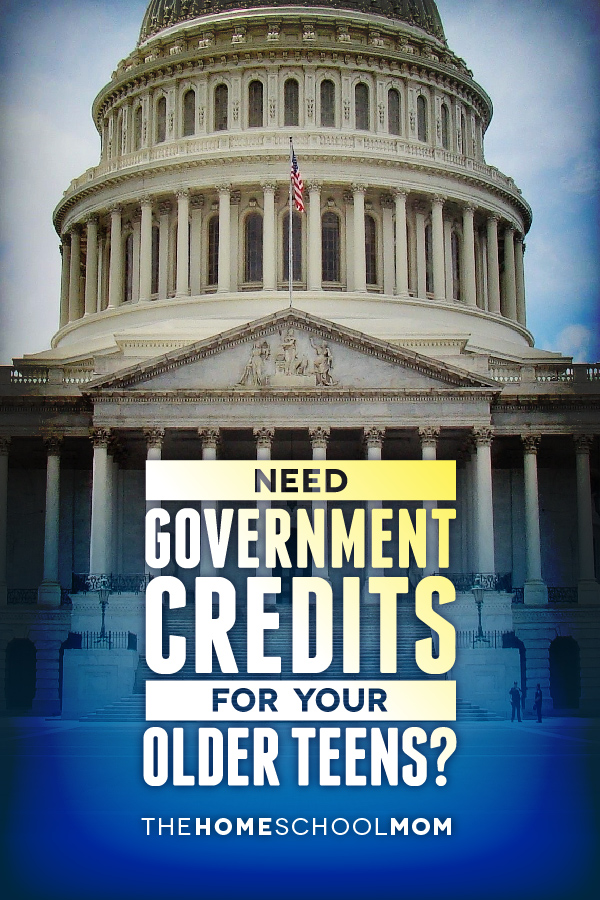 Don't depend on boring government textbooks; use an activities approach to learning how government works. If teens do these activities, talk about their experiences with you and others, and follow rabbit trails online, they will likely retain more knowledge about how government works than if they just read from a government textbook. Read More »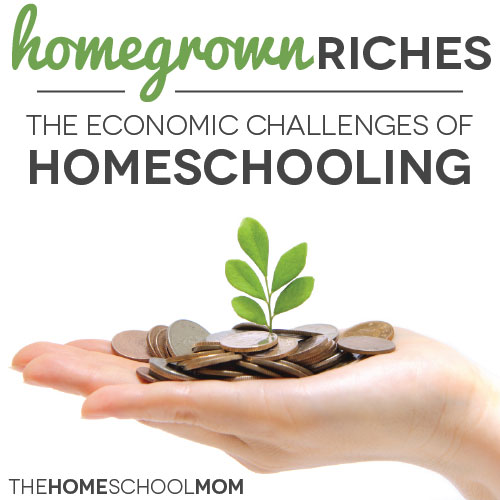 Homeschooling is an economic challenge for many families, including mine. Sometimes it takes extra creativity to make it work. I've had to adjust my habits and expectations along the way. The two most important things for me have been crafting a realistic budget and being clear about our family's priorities. Making homeschooling work is non-negotiable in our family, so we make adjustments in other areas. I've learned that courage and creativity can enable a sense of richness and abundance while keeping things economically balanced. Here are some of the things that I've learned. Read More »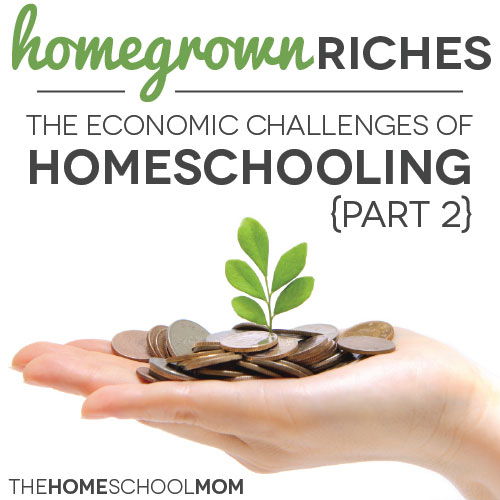 Holiday celebrations are important. Over the years we've focused mainly on simple, handmade, joy-filled ways of celebrating. Our crowd's favorite kind of birthday party typically includes a special birthday snack, a gaggle of kids, and a fun place to run around. I encourage my children–and their friends–to give gifts of the heart: treasures from nature, homemade goodies, special handmade items, lovingly selected hand-me-downs, thoughtfully chosen items. We've stepped away from commercially prescribed traditions and created our own. We have consciously shaped many heartfelt traditions that we can replicate year after year even when the budget is meager. Read More »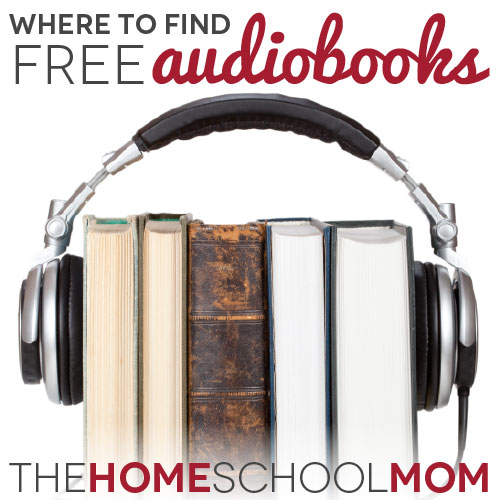 LibriVox is a great online source for free audio books. This means you and the kids can listen to lots of well known classic fiction, nonfiction, and children's books — at no cost — right from your personal computer, smart phone, or tablet, by either streaming or downloading the audio files. The books available on LibriVox are books whose copyright has expired, meaning LibriVox volunteers can record them without violating copyright laws, and you can listen without paying a purchase price. Read More »
Sites with Extensive Free Curricula
Easy Peasy All in One Homeschool
A complete, free online Christian homeschool program for Preschool – 8th grade that was designed by a mom for her own kids
Easy Peasy All in One High School
From the creator of Easy Peasy for Preschool – 8th grade, the high school site is set up similar to the lower school, except that there are no levels
Ambleside Online
A complete, free online Charlotte Mason styled homeschool program with a corresponding discussion forum
Khan Academy
Khan Academy now contains over 4200 free videos for K-12 in mostly math and science topics; some videos reach into the humanities with playlists on finance and history. Each video is a digestible chunk, approximately 10 minutes long, and especially purposed for viewing on the computer. Playlists are available to help progress through a topic in a logical manner.
An Old Fashioned Education
A portal site for out of copyright resources linked by subject
Enchanted Learning
Over 35,000 web pages of free printables for younger students (a small optional annual fee removed the advertising banners and supports the site)
Lesson Pathways
A portal site for K-5 with pathways (ready-to-teach learning units) in science, history, math, language arts, and reading and phonics
Crash Course
Engaging video courses (from John Green and his brother Hank) designed to be review courses for AP exams; topics available are US History, Chemistry, World History, Biology, Literature, and Ecology.
Other Free Homeschool Resources
The Library
Marci's 31 year old likes to say "I didn't go to school, I went to the library." Don't be limited to what your local library has on the shelf. Ask about InterLibrary Loan (ILL) to borrow resources from other libraries (there is usually a small fee for postage for ILL). Get online access to article databases for research (many libraries offer this feature from your home computer with your library login). Librarians are your friends — get to know them and ask them lots of questions. Find out what services are available for teachers and if they also apply to homeschoolers.
The Internet
Obvious, yes. Resources change on a regular basis, so what we list here will never be complete. Learn to make effective use of your favorite search engine to drill down to the good stuff. Add a toolbar to your browser to allow you to quickly and easily fine-tune your searches to within the site you are browsing, to only images, to only videos, etc. "Search terms in quotes" will return only that exact phrase – helpful if you are getting irrelevant results. Search engines are very powerful and you can leverage that by learning to use them efficiently.
Homeschool Planner Plus
Free downloadable spreadsheet planner
Saving on Homeschool Curriculum
Used Curriculum Resources
Our list of popular sources for used curriculum
Homeschool Buyers Co-op
HBC negotiates excellent deals with curriculum and resource providers based on quantity purchases.
Affordable or Free Online Resources
Superteacherworksheets.com
Printables and a spelling curriculum for younger students for a small annual fee
Math Worksheet Site
Free worksheet generator
Ed-Helper
Extensive site with downloads for a reasonable annual fee
Math-U-See Free Resources
Drills, worksheet generator, and webinars
Starfall
Free online reading/phonics program
DonnaYoung.org
Extensive collection of carefully designed downloadable forms and resources
Clever Dragons and Always Icecream
Although these sites want to separate the interests of boys and girls along gender roles in a way that may bother some parents, the sites are good quality learning games for younger students and could be be useful if your child enjoys the themes.
Homeschool Share
Unit study printables
Education World
Free online printables
Learning Page
Free online printables
FunBrain
Free online learning games