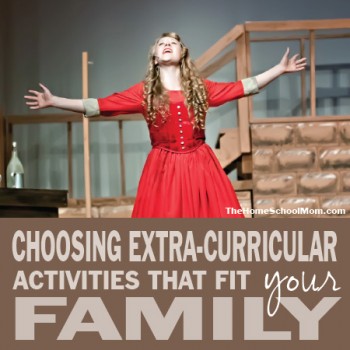 Soccer? Dance? Basketball? Piano lessons? Swim team? Debate team? Choir?
There are so many extra-curricular activities for kids, it can make your head spin.
At some point in your homeschooling career, you will have to decide: What are we going to do about extra-curricular activities for our children?
Homeschoolers these days have virtually the same options for activities as students in public school, with homeschool sports teams and co-op options. It can be overwhelming to make decisions about what to choose – especially since time and money are often in short supply for homeschooling families. It is also easy to get sucked into the extra-curricular activity vacuum: Everyone is doing it, so my kid should be, too. Right?
Not necessarily.
One of the reasons we homeschool in our family is to have more family time. To not have to be running around willy-nilly all day every day with barely a moment to speak to one another. I've discovered that extra-curricular activities can easily take over family life, making the schedule king over more important things. Before I know it, hustle and bustle and life-on-the-go squeeze out relaxed, comfortable home life, and, at least in my household, none of us is better for it.
So we've had to make some choices.
But how? How do you choose?
Choosing Extra-Curricular Activities For Kids
Our family uses some basic guidelines to determine, for each child, in what extra-curricular activities we will participate. These guidelines have helped us to make sure that the activities our kids join are worth the time, money, and energy – and that we will ultimately be glad we chose them. Our guidelines are a series of questions that we ask about any potential extra-curricular activities we are considering for a particular child. If the activity adequately addresses the question, we can move on to the next question. If the activity does not adequately address the question, then that activity is automatically out – we know the child is not going to be allowed to participate in it. Because the truth is that we only have limited time with our children. We want that time, and the way we use it, to be spent wisely!
When children are young, these questions would be addressed primarily by the parents. However, as children get older, families should discuss the guidelines with their children, and help children to be a part of the decision-making process.
Here are our guidelines for choosing extra-curricular activities, in approximate order of significance from most important to least important:
1.    How well does the activity support the values we consider to be most important for our children?
We start with the values of the activity. If it does not support our family's values, there is no need to consider anything else – it's a "no-go". For us, those values include our faith beliefs, as well as our values around character. So, for example, music lessons (voice or instrument) support our family's values, because we believe that music is a wonderful way to learn discipline, express worship, and minister to others. Soccer would also make the cut, as it teaches self-discipline, cooperation with others, perseverance, and encourages physical health and wellness. Belly-dancing lessons, however, would not support our family's values of modesty, so that is not something about which we would need to ask any additional questions.
 2.    What is the long-term benefit of the activity for this child?
Time is precious – especially time with children. We want our children to be using their time wisely, and to engage in activities that will have long-term benefit. Sure, camps and fun and time at the skating rink is enjoyable, but if it is an activity in which we are going to invest time and money over a period of time, we want it to be something that will contribute to our child's development and character over the long haul. We often ask ourselves, as a parenthesis to this question, "What is the likelihood of our child continuing to participate in or benefit from this activity when he or she is no longer school age?"
Under this question, both music lessons and soccer practice would still be in the running, because both have the opportunity to contribute benefits that would positively impact our children later on in life. However, for our family, music might edge out soccer just a bit in this category, because music is something they will likely do for the rest of their lives, whereas they are not as likely to play soccer much past their school years. Soccer would still be in the running, but we'd have to look more closely at it and weigh the costs and benefits of it with the future questions.
3.    How does the activity correspond with this child's natural talents, abilities, strengths, and interests?
We try to avoid "one-size-fits-all" extra-curricular activities (or anything else, for that matter). We try to look at each of our children as individuals, and to determine what each of their natural strengths and interests are – and then to find extra-curricular activities that support those. Sometimes, when children are young, it is difficult to know what their talents and interests will be. In those cases, we generally either wait until our children are old enough to begin to show their natural strengths and passions, or we will try an activity that we know, because of family history, they are likely to have an interest in or affinity for.
For example, both I and my husband have musical abilities. Therefore it is highly likely (although not guaranteed) that music is an area in which our children will excel as well, so the odds are pretty good that music lessons will be in most of their futures. It's not a given, in our house, however, that everyone will be on a sports team. If one child shows a particular affinity for team sports, and/or demonstrates that she is interested in playing, then we will consider asking the rest of the questions in this list for that activity for that particular child.
One of our daughters, interestingly, has the perfect body for playing sports – but not a competitive bone in her body. She is more likely to pick daisies on the field than kick the ball. So at this point in our guidelines, we would rule out soccer for her. On the other hand, she is very creative and has shown a unique talent for and interest in making clothes for her dolls. As a result, we have procured sewing lessons for her, and she is thriving in the activity. We want extra-curricular activities to correspond with each child's God-given strengths and passions, so that they support our efforts in helping each child become who he or she was created to be, and our efforts in aiding each child be most effective at using his or her talents in a way to bless others.
 4.    How often does it meet and, therefore, how much will it infringe on family life?
This is a significant question for us, because one of the major reasons we homeschool is to place a priority on family time. We are willing to transport children to activities that will adequately address the above questions, but only if the activities do not compromise our ability to maintain a relaxed, family-focused rather than schedule-focused home life. Music lessons, at once a week, would fit this criteria just fine, but soccer might not make the cut, with three-times-a-week practices as well as weekend games.
This question would have to be weighed against the others, however, in terms of costs and benefits. If, for example, one of our children showed the potential for significant physical talent, and demonstrated a very strong interest in playing soccer (such that we thought it might become a long-term career or important factor in that child's adult life), we might be willing to accept the infringement on family life that multiple practices and games per week might impose – due to the long-term benefit for that child. The important point is that there would have to be a significant benefit to the child in other areas for our family to justify participating in an activity that took up a lot of time, energy and resources.
5.    How much does it cost?
As a (primarily) one-income family, we have to live on a budget. We do not have the option of shelling out hundreds of dollars per child for multiple activities, so we have to choose our activities wisely. If an activity effectively answers all of the other previous questions, then we will likely do what is necessary to pay for that activity for the child (if it is in our budget to do so). Even if, say, music lessons were a stretch on the budget, if such an activity adequately addressed all of the other questions and was clearly something highly beneficial for our child, we might make additional sacrifices or necessary changes to the budget to be able to afford it.
However, going through all of the previous questions helps to ensure that we do not waste money on activities that are not going to ultimately be worthwhile for our children – the process narrows down the potentially huge number of extra-curricular activities for which we could pay down to just one or two, making it much more reasonable to be able to fund them.
6.    How far is it away from our home?
This is the last consideration, and often helps us make the final decision between two activities between which we are deciding. If both activities meet all of the previous criteria relatively equally, but one is significantly closer than the other – the choice becomes easy. Less travel means less money spent on gas, and more time together at home as a family!
Choosing extra-curricular activities doesn't have to be a nightmare. And, contrary to the message often portrayed in our culture, kids do not have to do everything to be well-rounded. In fact, a few thought-out activities which support each child's individual interests and abilities, while also corresponding with the family's overall values, can be immeasurably more effective for the child's long-term well-being.
Don't feel like you have to do it all. Don't become a slave to extra-curricular activities. Just set some guidelines, clarify your goals for your children, and let those extra-curricular activities work for you – in helping to create competent young adults who feel good about themselves and are able to bless others.