These are some of the questions that we are most frequently asked about homeschooling. Have a question you don't see answered here? We may have answered it elsewhere on the site, so try the site search function.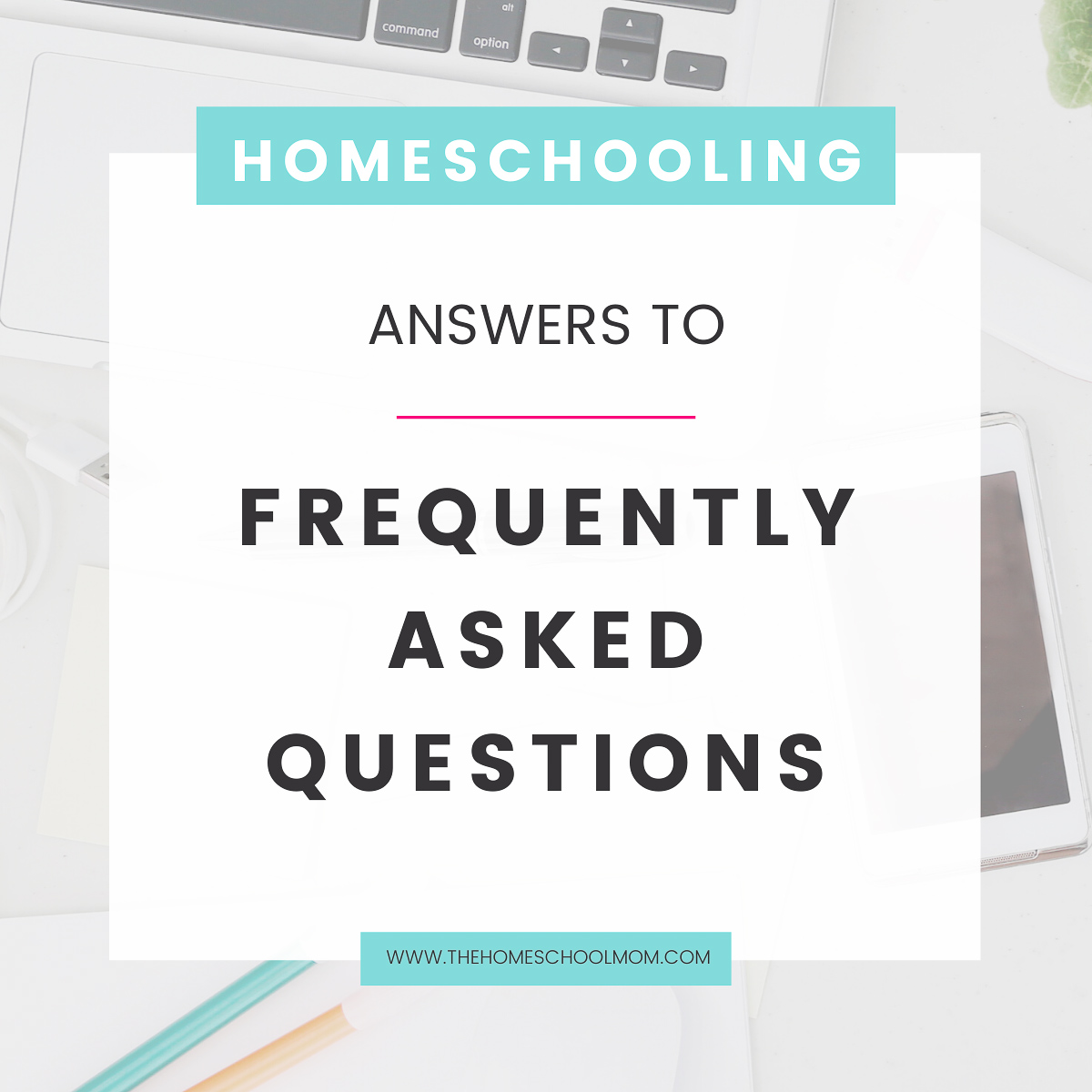 Jump to:
What is homeschooling?
Homeschooling is when children's education is based at home with their parents' guidance rather than through enrollment in a public school or private school.
Read more:  What is homeschooling? »
What are the benefits of homeschooling?
The list of benefits of homeschooling is long and varied, from meeting current needs now instead of teaching to a test to doing school in your PJs. Families want the advantages of homeschooling, with the flexibility, academic benefits, efficiency, and opportunities homeschooling can offer. They seek an education and even a lifestyle that's not based on minimum standards and a one-size-fits-all approach.
Read more: Benefits of homeschooling »
How do I know if homeschooling is right for me?
Homeschooling is a commitment, and commitments are most successful when they are entered into with realistic expectations.
Find out if homeschooling is right for you »
How do I get started?
Read our 6 Steps to Start Homeschooling, or if you prefer to jump right in, check out our Quickstart Guide to Homeschooling.
What do I need to do to legally homeschool?
In the US, homeschooling is regulated by the state. The best way to find the most accurate and up-to-date information about homeschool legalities in your state is to look on the website of your state homeschool organizations. They often include both the text of the homeschooling statute and an explanation of what it means. You can find homeschool organizations listed by state on our Local Homeschool pages.
Do I need a teaching degree to homeschool?
Jeanne says: "Nope. You don't need teacher training to homeschool. You don't need teacher certification; you don't need an education degree; you don't need even a few college courses in education..."
Read more of Do I need a teaching degree to homeschool »
What is deschooling?
Deschooling is an adjustment period that students and parents go through when leaving a school environment and beginning homeschooling. What is deschooling (includes some challenging or confusing attitudes and behaviors that are helped by deschooling)? Get tips for deschooling, or read through our Parental Deschooling series to understand how attending school affects your homeschooling expectations.
Can I withdraw my child mid-year or do I need to wait until the end of the school year?
There is usually no problem withdrawing from public school mid-year as long as you meet the local paperwork requirements. You would need to find out your state's homeschooling legal requirements and submit any necessary paperwork in order to be legally homeschooling.
What about online programs and virtual schools?
New-to-homeschool parents are often confused about the difference between online public school, online private school, online homeschool programs, or a hybrid education option. The important distinction is the answer to who is in charge:
 an online school funded by the state is an online public school
a full course load taken at an online school and funded by the student is an online private school
online classes taken by students a la carte is usually an online homeschool program, but some public schools and private schools allow part-time enrollment, muddying the waters of this hybrid "homeschool" model
It is important to understand the limitations of classes or full programs offered by public schools, since they may not give you the curriculum, flexibility, customized learning, or reasonable workload that your kids need.
How do I choose the best homeschool curriculum?
This is probably the number one question we have seen homeschoolers ask, and we devoted an entire post packed with important considerations to answer it. Read How to Choose the Best Homeschool Curriculum »
Does my curriculum need to be accredited?
Nope! In fact, it can't be. Accreditation is for institutions, not curriculum. Read the full answer to "Does my curriculum need to be accredited?"
Does my homeschool need to be accredited?
Nope! No state requires that homeschools be accredited. If you are in one of the unusual circumstances where an accredited program might be beneficial, you can read more about how accreditation works and how to find an accredited program.
Do I have to spend a lot of money on curriculum?
While some families spend hundreds of dollars on curriculum every year, others get by spending very little. The amount you spend depends on several factors, such as the homeschooling method you use, where you purchase materials, and whether you impulse shop. Check out our tips for homeschooling on a budget. Used homeschool curriculum is a great way to save. Our Homeschool Curriculum Reviews can help you make sure you don't waste money buying a curriculum that won't work for your family.
What is a "learning style" and how do I find out my child's learning style?
There are many different styles of homeschooling, including the textbook method, the Charlotte Mason method, unit studies, delight directed, and unschooling. Your child's learning style is simply the way your child best processes information.
How is a learning style different from a "teaching style"?
Your teaching style is the way you normally prefer to teach (and is usually related to your own learning style). It is important to understand that your child's learning style may differ from the way you prefer to teach. You can read about the various styles of homeschooling and consider which one fits your lifestyle and your child's learning style. You may find that a combination of styles work best for your family.
While you are learning about what works best, don't be worried about jumping in with both feet immediately with a full school schedule. Homeschooling is most successful when it does not try to duplicate school at home. Read this if homeschooling's not working. You can keep track of the things that you observe your child doing throughout the week and you will begin to realize that children do not have to be spoon fed to learn. (Check out our easy-to-use homeschool record keeper for this type of thing).
Is it disruptive to a child's learning to change teaching styles?
Think about this question by turning it around: "Is it disruptive to a child's learning if a parent continues to teach them in a way which makes it more difficult for them to learn?" Obviously, the answer is yes. While it might rock the boat a little to change teaching styles, it is better than leaving your child in a position that makes it harder for him to learn. Any change that brings a positive result is going to be better than leaving everything status quo when it is not working, as Rebecca describes in her post about changing math curriculum . . . again.
Will homeschooling help a child with ADD/ADHD?
Jeanne's observations regarding homeschooling for ADD/ADHD might be helpful to you (but do not substitute information on TheHomeSchoolMom for the advice of a medical professional).
What about homeschool socialization?
At one time, this was the top question we heard about homeschooling. More recently, most people know homeschoolers personally and realize that socialization is not an issue. If you still have questions, you can read our thoughts on the "What about homeschool socialization?" question.
How do I determine at what level to start my child's homeschooling?
If you desire to keep pace with what is typically covered by public or private schools, Home Learning Year By Year by Rebecca Rupp (affiliate link), a scope and sequence that contains a list of skills normally found at each grade level for K-12, will help. It is less than $15 at amazon.com, and unlike many books that are only good for one grade level, this is an excellent resource that lasts through all of the homeschooling years. Keep in mind that no book can totally determine the scope and sequence best for your child. Some books are overzealous in their goals and others may be dumbed down. One of the greatest benefits of homeschooling is that you can adjust to your child's abilities in each subject area instead of worrying about homeschool grade levels, so you may find yourself working in several different grade levels at once depending on the subject. In addition, you may find that your goals for your children differ significantly from what is known as the common core, and setting your own goals is one of the benefits of homeschooling.
How do you make sure you're covering "everything"?
You won't cover everything, and neither will the public school. There is no way to cover everything, but if you have taught your child how to learn, they will be able to pick up anything that they missed fairly easily.
Plan your goals, work toward them, and relax. If you do that, you are not going to ruin your child's future by missing some key element of their primary curriculum. Most schooling simply builds on concepts learned previously, taking it to a deeper level as the child is ready for more information. If you have missed something, in all likelihood you will come across it later and cover it as it is needed.
Will homeschooling hurt them in the future?
"Since homeschoolers are not in a classroom they don't have to compete to get attention from a teacher/they don't know how to relate to other students/they don't know how to relate to the teacher/etc. Will this hurt them in the future?"
This question assumes that school is the only place a child is in a group setting with an adult leader. 4-H, Girl Scouts, Boy Scouts, Awana clubs, church, and many different sports activities are only a few of the places outside of school where children learn the rules of engaging in public society.
I need help finding something on TheHomeSchoolMom.com.
At the top right of each page on the site is a site search engine that allows you to search this site. Input the name of the subject for which you are searching and it will return all of the times that subject is listed on the site.