Jump to: Homeschool Co-ops | Homeschooling Classes & Academic Enrichment
Looking for someone to teach physics to your teen? Need a way to avoid teaching algebra? Want to enroll your Kindergartener in a co-op for social time? Homeschool classes and co-ops are a great way to spend time with other homeschoolers and skill-share with other homeschool parents.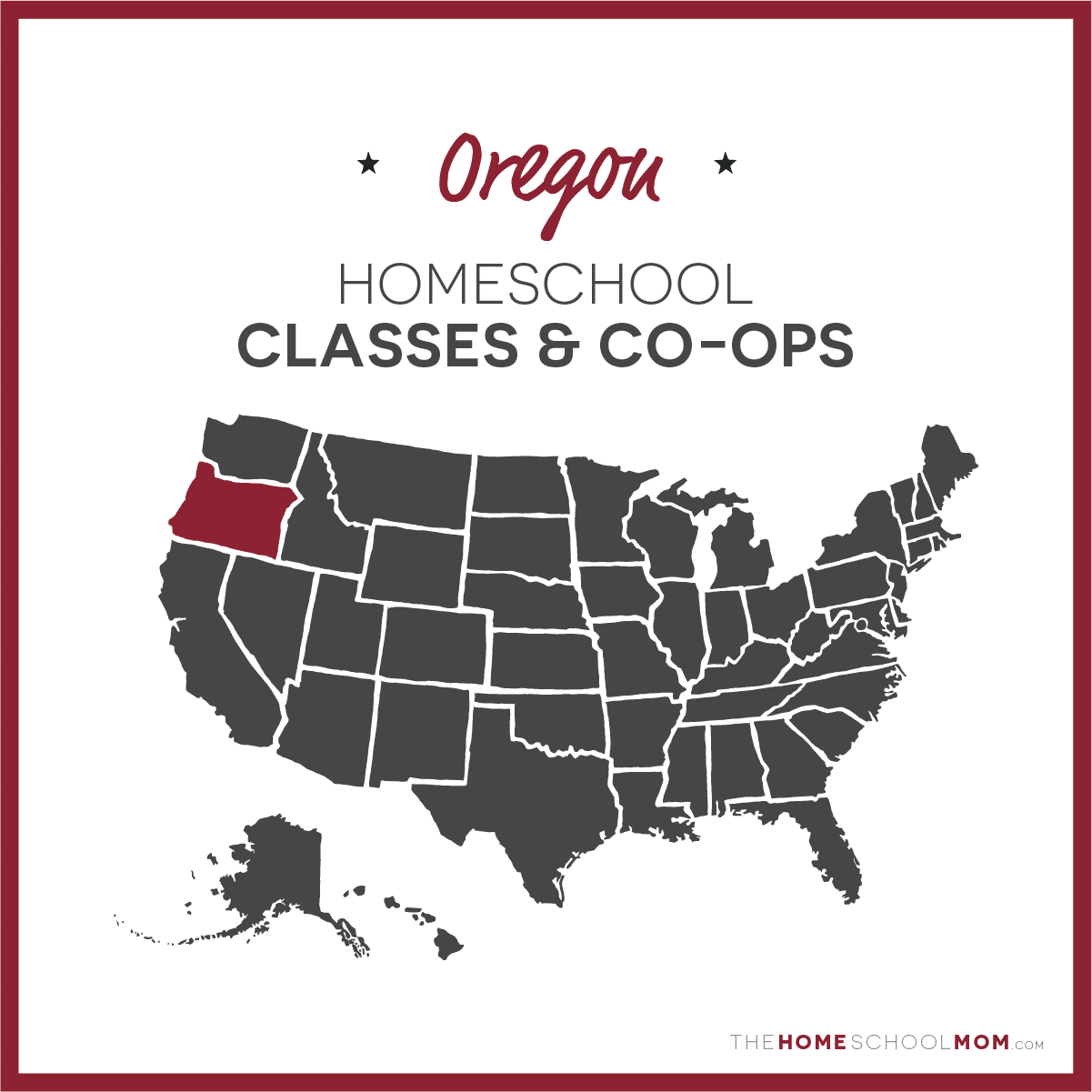 Submit a Local Resource
Our listing of Oregon co-ops and academic classes for homeschoolers is ordered alphabetically by city, with co-ops in the first section and all other academic resources below. If you would like to submit a Oregon co-op or academic resource, you may do so using the red button above.
Oregon Homeschooling Co-ops
Global LearnersAshland / Talent
The Global Learners homeschool co-op and summer program provides an arts based education in southern Oregon for elementary and middle school students. Traditional academics are integrated with a project oriented, hand...
Cascade Christian Co-op is a homeschool group dedicated to supporting homeschool families in Central Oregon through supplementary educational classes, social events, field trips, and prayer. We meet on Friday mornings...
Hero Generation CommonwealthHillsboro
Hero Generation Commonwealth is organized to bring together families for shared leadership educational experiences based on a Godly foundation and principles found in the book, A Thomas Jefferson Education. We endeavo...
Firmly Planted WestsideHillsboro,
Firmly Planted Westside is a one-day-a-week, cooperative organization that focuses on community and homeschool enrichment with a solid Christian foundation. Co-op families meet for Monday School during a Fall and Spri...
Linn County Christian Co-op (LC3)Lebanon
LC3 is a collaborative co-op for home-centered education. The LC3 Mission: To support the continuance of home schooling The LC3 Model: supporting each other in core subject areas and electives while utilizing our own ...
First Class Clackamas TeensMilwaukie
First Class Clackamas Teens is an academic community just for homeschool teens. We offer classes on Mondays for 16 weeks per two term including; a student-led chapel, with monthly events and field trips. This program ...
Southeast Christian Homeschool CommunityMolalla
Southeast Christian Homeschool Community is a Home School Co-op ministry that used to be a part of First Class Homeschool Ministries. We exist to encourage, support and build up the local community of homeschool famil...
First Choice Eastside Portland Home School Co-opPortland
First Choice is a Christian homeschool co-op that meets on Fridays in Portland, Oregon. Offering enrichment classes that provide opportunities for fellowship and encouragement as well as academic and spiritual growth....
Oregon Homeschooling Classes & Academic Enrichment
Introduction to Geology & OceanographyAstoria, Clatsop County, Oregon
An Adjunct faculty ED Joyce at Clatsop Community College is offering an introduction to Geology and Oceanography course that can be tailored to individual age groups and ability levels. Geologic topics include rocks, ...
Beaverton CBS Bible LessonsBeaverton
In addition to Bible study for women, Beaverton CBS offers a program tailored to children in their care. Middle school students looking to meet with peers for in-depth Bible study and discussion, led by committed and ...
Village Home Education Resource CenterBeaverton/Portland/Salem
Village Home is a secular learning community designed for family-directed learners. Village Home provides classes, community field trips, and more in a family-friendly environment. Learners choose from more than 200 c...
Wild Roots Learning: Empowered tutoring for students with dyslexiaBend
Wild Roots provides creative and effective Orton-Gillingham instruction to young students with dyslexia as well as anyone who is struggling in reading, writing, and spelling. Tutoring is 1-1 for 45-60 minute sessions....
Samara Learning CenterBend/Central Oregon
Samara Learning Center caters to individuals with Learning Disabilities, ADHD, high functioning Autism, Anxiety, School Phobia, and Trauma. We offer a Day School (Monday- Friday) for elementary and middle schoolers, d...
Group Classes at Connect the Dots Pediatric TherapyEugene
Connect the Dots Pediatric Therapy offers group classes for children and parents in a variety of topics including Emotional Regulation, Kindergarten Readiness, and Ninja Training. Each group is developed and run by li...
Connect the Dots Pediatric TherapyEugene and Roseburg
Connect the Dots is a private clinic offering occupational, physical and speech therapy for kids ages 0-18 years old. Connect the Dots uses play-based therapy to help children gain the skills to successfully perform d...
EdenAcres Environmental EducationHillsboro
The Nature Days program is open to all who are interested in giving their child a nature immersion experience that will build confidence and leadership, provoke a sense of awe and feelings of stewardship, while having...
Think Straight Tutoring, Pods, and Homeschool Support LLCHillsboro
Elementary age online and in-person pods, or home school classes. I also tutor, and teach enrichment classes in Science, Art, and Creative Writing, among others.
Forest Hills Lutheran SchoolHillsboro, Forest Grove
Forest Hills Lutheran School is offering classes that home school students may join. These opportunities will be art, chorus, theater, Spanish, band, strings and science. Visit our website to learn about Forest Hills....
BUGS-R-USJackson/Josephine County
BUGS-R-US offers a "Portable Zoo" Featuring live, safe, touchable insects as well as hundreds of preserved specimens, this showcase is perfect schools, daycare centers, Birthday parties, corporate events, libraries, c...
The TEK CenterLake Oswego
To Every Kid (TEK) provides high level tech focused classes to students 2nd grade and up. Come join the other children at the amazing center and learn to build robots, program Arduinos, use 3d printers, build circuits...
Orton Gillingham TutoringNewberg
I am a former elementary classroom teacher. I currently substitute teach, as well as tutor individuals for reading, writing, and spelling using the Orton Gillingham Approach. This involves direct and explicit instruct...
Greenways Academy of OregonOregon and Southwest Washington
Greenways Academy was founded as an alternative for students whose needs are not being met at traditional schools. Some of these students have difficulty excelling in a traditional school setting because of medical co...
Basic SkillsOregon City
Basic Skills is a privately owned business that offers onsite as well as distance supplemental classes for Jr. high and high school, state approved achievement testing (both in Oregon and Washington), tutoring, specia...
Oregon Classical ConversationsOregon Statewide
CC is a national homeschooling program that uses a Bible based curriculum taught in a christian, classical tradition. Classes are geared for age 4 through high school.
Sheridan AllPrep AcademyOregon Statewide
Sheridan AllPrep Academy is an online charter school serving K-12 students in Oregon. The school works with home school families to support students and their parents in providing a comprehensive education. Teachers c...
Learn Nature SkillsPortland
Learn Nature Skills is an independent educational organization dedicated to connecting kids and families to wild nature. It offers classes and workshops in natural history, ecology, wilderness skills, homesteading, an...
Shining Star Waldorf School Outdoor EducationPortland
For those with kids ages 5-10 who want to be outside, we have a One-Day Thursday Outside Class meets ten weeks....all over the city and country areas, contact us at Shining Star Waldorf School
Play-Well TEKnologiesPortland
Play-Well TEKnologies is an engineering educational outreach program that teaches engineering principles to children aged 5-11 utilizing LEGO materials.
Rewild Portland Nature ImmersionPortland
Rewild Portland's Nature Immersion Homeschool program takes children ages 5-11 out into the forest every Friday from September through June. Children play in the woods and develop a connection to one another and to th...
Educator EmilyPortland
Educator Emily provides homeschool coaching and teaching services to local families with 4-10 year olds. She offers coaching packages for parents that help build a homeschool environment that fosters self-direction, a...
Homestead EconomicsPortland
Homestead Economics is a exciting and innovative education program offering homesteaders aged 8 and up the opportunity to experience the building of an urban homestead. We will learn the traditional home based arts in...
The Lake Oswego Learning CenterPortland
The Lake Oswego Learning Center is a newly formed educational model that is quickly gaining speed. While this program is new, the highly successful hybrid concept of taking a home-based education and giving it a class...
Malheur Field StationPrinceton
A unique place for families to learn together in southeastern Oregon's spectacular Great Basin region. We offer workshops in geology, bird watching, plant and butterfly identification, and stargazing. Inexpensive lodg...
Homeschool Adventures Classes - Gilbert House Children's MuseumSalem
Homeschool Adventures is a program offered in Salem, Oregon, at Gilbert House Children's Museum. Classes explore a different topic each month in a group setting with the guidance of an instructor, with classes meeting...
Youth Classes at Humane Society for Southwest WashingtonVancouver, WA / Portland, Or
Teaching kids about compassion for animals is important. At HSSW, we're inspiring a humane generation with programs and projects to get kids involved. School Year Programs are your kid's ticket to a year of learning. ...
WordWielderWilsonville
WordWielder is run by a veteran homeschooling mom whose goal is to come alongside parents to teach writing and literature. WordWielder offers in-person classes and tutoring featuring classically-oriented curricula suc...
Go to...