Jump to: Homeschool Co-ops | Homeschooling Classes & Academic Enrichment
Looking for someone to teach physics to your teen? Need a way to avoid teaching algebra? Want to enroll your Kindergartener in a co-op for social time? Homeschool classes and co-ops are a great way to spend time with other homeschoolers and skill-share with other homeschool parents.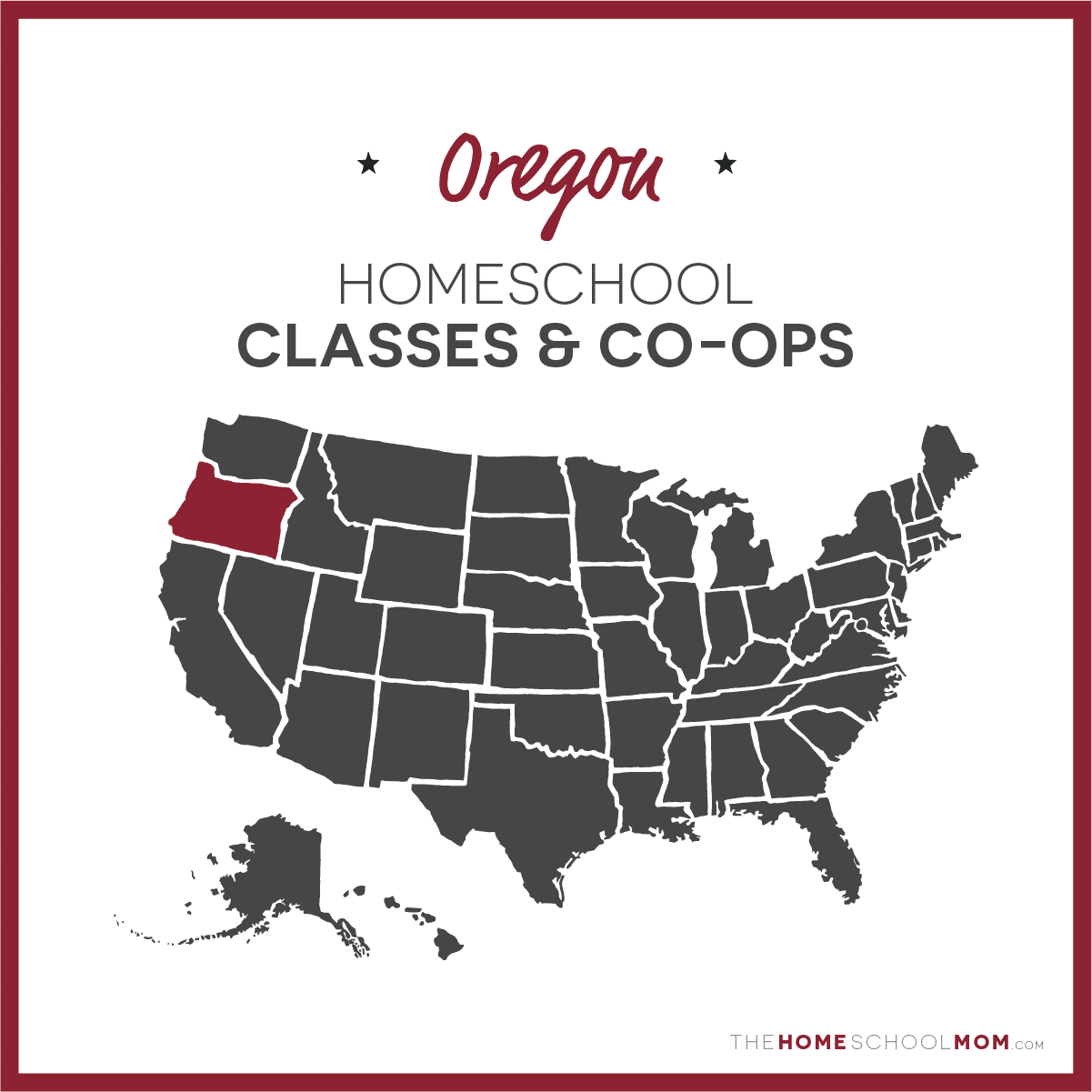 Submit a Local Resource
Our listing of Oregon co-ops and academic classes for homeschoolers is ordered alphabetically by city, with co-ops in the first section and all other academic resources below. If you would like to submit a Oregon co-op or academic resource, you may do so using the red button above.
Oregon Homeschooling Co-ops
Cornerstone Academy

Albany

Cornerstone Academy's mission is to support families in their home schooling journey by providing academically rich, once-a-week, in-person classes for homeschool students focused on STEM and college preparatory subjects taught with a Christian worldview. Located in Albany, Oregon
Global Learners

Ashland / Talent

The Global Learners homeschool co-op and summer program provides an arts based education in southern Oregon for elementary and middle school students. Traditional academics are integrated with a project oriented, hands-on learning style. Students meet in small groups from Monday - Thursday from 9 - 2 at the one acre property with a converted barn classroom. The homeschool co-op runs from September to May, and the summer program offers two 5 week sessions. A strong international theme runs throughout the programs with the goal of developing knowledgeable, empathetic global citizens.
Cascade Christian Co-op

Bend

Cascade Christian Co-op is a homeschool group dedicated to supporting homeschool families in Central Oregon through supplementary educational classes, social events, field trips, and prayer. We meet on Friday mornings for 3 - 8 week sessions throughout the school year. Our co-op serves families with children from birth through high school. F
Mountain View Classical Academy

Boring

Mountain View Classical Academy (MVCA) is a classical, Christian, homeschool co-op program that meets one-day a week on Tuesdays at a church located between Boring and Sandy, OR. Mt. View has paid tutors who introduce core subjects for the week supported with work assignments and resources to complete at home. Mt. View also welcomes charter school students! The campus is a drop-off program for 12 years old and up—but parents are always welcome to stay in class, and on campus. High school students are allowed to enroll part-time in the program, as well. The campus is geographically diverse—with families from all over Clackamas County. MVCA is in it's 5th year as a private, locally-run, non-denominational, 501(c)(3) homeschool co-op program.
Round Table Homeschool Collective

Eugene

Round Table desires to be a vibrant community of homeschoolers in the Eugene-Springfield area in Oregon designed for the mutual support, connection and growth of its members. As many factors are pushing our society toward isolation, Round Table's purpose is to create times and spaces of in-person gathering, to build real and lasting friendships, and to inspire and affirm one another on this homeschooling journey! Round Table's name is inspired by 3 core values, pulling meaning both from the Arthurian legend of the Round Table, as well as the modern meaning of being a group where everyone's voice is heard and valued. There are 2 main sessions of classes per year, one in fall and one in spring, along with other events throughout the year, including park days, hikes, parent nights, teen events, themed parties, etc.
Hero Generation Commonwealth

Hillsboro

Hero Generation Commonwealth is organized to bring together families for shared leadership educational experiences based on a Godly foundation and principles found in the book, A Thomas Jefferson Education. We endeavor to provide a synergistic, inspiring, Mom School environment which will assist children, youth, and adults in gaining the vision, skills, and abilities specific to their phase of learning and their personal mission. Students meet on Thursdays from 9:45am to 3:00pm. They start with a devotional followed by two class blocks. There is a lunch break in between the two classes.
Firmly Planted Westside

Hillsboro,

Firmly Planted Westside is a one-day-a-week, cooperative organization that focuses on community and homeschool enrichment with a solid Christian foundation. Co-op families meet for Monday School during a Fall and Spring Term, but we also meet throughout the year for a variety of optional activities: field trips, game/movie nights, holiday parties, summer activities, etc.  Co-op members also join our host church in service projects that reach out to the community we live in.
Linn County Christian Co-op (LC3)

Lebanon

LC3 is a collaborative co-op for home-centered education.

The LC3 Mission: To support the continuance of home schooling
The LC3 Model: supporting each other in core subject areas and electives while utilizing our own gifts and talents that God has gifted us with.
The LC3 Method: Providing once per week classes with homework in the core subject areas; history, science and writing while also providing unique electives that wouldn't be available to individual homeschoolers.

We have four levels of education...(oldest child must be 5 by Sept 1 of current year)

Nursery-Preschool - available for those who have younger ones
Elementary - Kinder-6th grades
Middle School - 6th-8th grades
High School - 9th-12th grades
First Class Clackamas Teens

Milwaukie

First Class Clackamas Teens is an academic community just for homeschool teens. We offer classes on Mondays for 16 weeks per two term including; a student-led chapel, with monthly events and field trips. This program was birthed from seeing the need for teens to gain more academic instruction and social interaction with like peers in a program designed just for them while still being homeschooled. We have identified three core principles that guide our program:

Affordable - we strive to provide homeschool families the opportunity to participate in a full day of classes, 16 weeks per term, for minimal class fees.
Christ-Centered - as a whole program and within each class we teach with a Christ-centered, Biblical worldview.
Partners with Parents - In most classes we assist homeschool parents with a jumpstart and structure to their teen's weekly assignments.
Southeast Christian Homeschool Community

Molalla

Southeast Christian Homeschool Community is a Home School Co-op ministry that used to be a part of First Class Homeschool Ministries. We exist to encourage, support and build up the local community of homeschool families, reaching out in the name of Christ. We provide a once a week school co-op, field trips, parties and various activities for all ages. There is minimal cost for classes at Monday School and parental involvement is required as we are a co-op. We are a community of Christians coming together to help educate, encourage and support each other. We do our best to keep it affordable. Parents teaching classes helps keep this possible. We are a group of homeschool families who gather in Molalla, Oregon area for "Friday School" classes, park days, field trips and anthing else member families are inspired to facilitate. Our leadership team works to coordinate opportunities for all members to be involved. SCHC is a place where you and your children can learn and socialize with other homeschooling families - making friends and getting connected!
First Choice Eastside Portland Home School Co-op

Portland

First Choice is a Christian homeschool co-op that meets on Fridays in Portland, Oregon. Offering enrichment classes that provide opportunities for fellowship and encouragement as well as academic and spiritual growth. Classes, which include Nursery through High School, are taught in two 8-10 week semesters each year. One semester runs in the fall, and the other in the spring. Also offering field trips and mom's night out opportunities.
Oregon Homeschooling Classes & Academic Enrichment
Introduction to Geology & Oceanography

Astoria, Clatsop County, Oregon

An Adjunct faculty ED Joyce at Clatsop Community College is offering an introduction to Geology and Oceanography course that can be tailored to individual age groups and ability levels. Geologic topics include rocks, minerals, volcanoes, earthquakes, plate tectonics, glaciers, deserts, shorelines, and evolution. Rock/mineral hand specimens are provided and field trips to local geologic features are included. The study of Oceanography includes marine sediments, ocean circulation, waves, coastlines, marine life and environments, and climate change. Fields trips to local shorelines provide interaction with local marine environments.
Beaverton CBS Bible Lessons

Beaverton

In addition to Bible study for women, Beaverton CBS offers a program tailored to children in their care. Middle school students looking to meet with peers for in-depth Bible study and discussion, led by committed and caring adult volunteers, gather Thursday mornings and study the same passages as the adult groups. Preschool and elementary school children enjoy Bible stories, songs, crafts, and the love and attention of their leaders. Trained staff care for infants and toddlers in the nursery. There is a place for homeschool students to engage with God's word at CBS!
Village Home Education Resource Center

Beaverton/Portland/Salem

Village Home is a secular learning community designed for family-directed learners. Village Home provides classes, community field trips, and more in a family-friendly environment. Learners choose from more than 200 classes per week in every subject area for ages preschool through high school.
Wild Roots Learning: Empowered tutoring for students with dyslexia

Bend

Wild Roots provides creative and effective Orton-Gillingham instruction to young students with dyslexia as well as anyone who is struggling in reading, writing, and spelling. Tutoring is 1-1 for 45-60 minute sessions. All lessons are taught by an Academy approved Orton-Gillingham trained language therapist.

Wild Roots Learning: Empowered tutoring for students with dyslexia details
Samara Learning Center

Bend/Central Oregon

Samara Learning Center caters to individuals with Learning Disabilities, ADHD, high functioning Autism, Anxiety, School Phobia, and Trauma. We offer a Day School (Monday- Friday) for elementary and middle schoolers, dual enrollment for single subjects (language arts, mathematics, etc), after school small group tutoring (Monday-Thursday), individual tutoring, IEP and 504 consultation/advocacy, academic problem solving and listings of community resources.
Reading and the Squid Tutoring

Central Oregon

Top Orton Gillingham Structured Literacy Tutors in Central Oregon! Providing a tailored approach to address challenges and capitalize strengths. Personalized Reading and Writing Instruction
Corvallis Tutoring

Corvallis

This resource can provide one to one or small group tutoring in all levels of math and language arts. Phonics is a specialty area of expertise. Computer Science, Latin, and Spanish are also available. Test prep (SAT) and study skills are also areas that are covered. Graphic arts is another area of specialty that classes can be provided in. This can be ongoing or a special one time event can be created. Professional email writing is an example of a one time event. Resume, cover letter, and job application writing could also be a one time event. Lesson plans or events will be tailored for the individual student's need and learning style.
Group Classes at Connect the Dots Pediatric Therapy

Eugene

Connect the Dots Pediatric Therapy offers group classes for children and parents in a variety of topics including Emotional Regulation, Kindergarten Readiness, and Ninja Training. Each group is developed and run by licensed therapists who help kids gain skills in emotional, physical, mental and social aspects of their lives through fun peer interactions and with education and support for parents. Classes are ongoing and all kids in the community are welcome to participate in this resource. With locations in Eugene, OR and Roseburg, OR there are classes available for community members in both cities!
Connect the Dots Pediatric Therapy

Eugene and Roseburg

Connect the Dots is a private clinic offering occupational, physical and speech therapy for kids ages 0-18 years old. Connect the Dots uses play-based therapy to help children gain the skills to successfully perform daily tasks like dressing, feeding, social interactions, and fine and gross motor skills needed for schoolwork and play. Along with one-on-one therapy, Connect the Dots offers various group classes and camps. This resource has two clinics, one serving the Eugene/Springfield area and the second serving the Roseburg/Douglas County area. Connect the Dots accepts most commercial insurances, OHP, and private pay.
STARBASE Rees

Hermiston

STARBASE Rees is a FREE program for 5th-grade students that is completely federally funded and run through the State of Oregon. The only things not provide free of charge are transportation and lunches, so it is on the parents to arrange for these. The program provides 25 hours of hands-on STEM (Science, Technology, Engineering, and Math) curriculum by seeing students one day a week for five weeks, but we can accommodate other needs too. We have openings throughout the rest of this school year and are looking to plan attendance for next school year. IMESD's YouTube shows some of our activities during Umatilla's McNary Elementary visit https://youtu.be/0KE5ObKRY9E.
EdenAcres Environmental Education

Hillsboro

The Nature Days program is open to all who are interested in giving their child a nature immersion experience that will build confidence and leadership, provoke a sense of awe and feelings of stewardship, while having fun learning and exploring out of doors. At the heart and soul of the program is engagement with the natural world. Through hands-on projects, journaling, play, and exploration children learn how to overcome adversity, work alongside others, and develop a deeper relationship with nature. Each day children will move between instructor-directed activities and self-directed play, both of which play important roles in the holistic development of a child's hands, heart, and mind.
Think Straight Tutoring, Pods, and Homeschool Support LLC

Hillsboro

Elementary age online and in-person pods, or home school classes. I also tutor, and teach enrichment classes in Science, Art, and Creative Writing, among others.

Think Straight Tutoring, Pods, and Homeschool Support LLC details
EdenAcres Nature School

Hillsboro

Fostering the development of the whole child through emergent and child-centered learning, play, exploration, and discovery in the natural world. Nature-Immersion programs for children 3-15. Each day children move between instructor-directed activities and self-directed play and exploration, both of which contribute to the holistic development of a child's hands, heart, and mind. Place-based and seasonal curriculum integrates reading, writing, math, social studies, and the arts through hands-on projects, games, and activities.
Forest Hills Lutheran School

Hillsboro, Forest Grove

Forest Hills Lutheran School is offering classes that home school students may join. These opportunities will be art, chorus, theater, Spanish, band, strings and science. Visit our website to learn about Forest Hills. Call 503-359-4853.
BUGS-R-US

Jackson/Josephine County

BUGS-R-US offers a "Portable Zoo" Featuring live, safe, touchable insects as well as hundreds of preserved specimens, this showcase is perfect schools, daycare centers, Birthday parties, corporate events, libraries, church events, parks and recreation centers, retirement centers, scouts, etc.
The TEK Center

Lake Oswego

To Every Kid (TEK) provides high level tech focused classes to students 2nd grade and up. Come join the other children at the amazing center and learn to build robots, program Arduinos, use 3d printers, build circuits, and have a ton of fun in the process! Offering Saturday classes, after-school classes and full day camps.
Orton Gillingham Tutoring

Newberg

I am a former elementary classroom teacher. I currently substitute teach, as well as tutor individuals for reading, writing, and spelling using the Orton Gillingham Approach. This involves direct and explicit instruction, as well as the implementation of multisensory techniques. I offer in person and virtual tutoring sessions for one hour, two times a week on Tuesday and Thursday. For further information, please contact Jen at grahjen07@gmail.com.
Greenways Academy of Oregon

Oregon and Southwest Washington

Greenways Academy was founded as an alternative for students whose needs are not being met at traditional schools. Some of these students have difficulty excelling in a traditional school setting because of medical conditions, learning disabilities, psychological issues, or unique scheduling needs. Other students enroll to supplement their school's curriculum with courses they may not be able to take at their current school. The program is for students in grades K-12 offering core subjects as well as foreign languages, fine arts, computer science, career planning, and other electives. With one-on-one teaching for every course, teachers get to know students and utilize the strengths of their personalities and learning styles to ensure their success. The flexibility of this program sets us apart from traditional schools, which often try to make all students conform to a pre-set teaching style, regardless of their learning strengths, weaknesses, or personalities.
Basic Skills

Oregon City

Basic Skills is a privately owned business that offers onsite as well as distance supplemental classes for Jr. high and high school, state approved achievement testing (both in Oregon and Washington), tutoring, special needs classes, curriculum and much more. Please check our website out and feel free to contact us for further information. We also send out weekly (usually) articles via an ezine.
Oregon Classical Conversations

Oregon Statewide

CC is a national homeschooling program that uses a Bible based curriculum taught in a christian, classical tradition. Classes are geared for age 4 through high school.
Sheridan AllPrep Academy

Oregon Statewide

Sheridan AllPrep Academy is an online charter school serving K-12 students in Oregon. The school works with home school families to support students and their parents in providing a comprehensive education. Teachers conduct regular home visits to work with students one on one and provide individual academic plans.
Learn Nature Skills

Portland

Learn Nature Skills is an independent educational organization dedicated to connecting kids and families to wild nature. It offers classes and workshops in natural history, ecology, wilderness skills, homesteading, and sustainable living. These are taught as practical real-life skills from instructors who have used them in professional and daily life.
Shining Star Waldorf School Outdoor Education

Portland

For those with kids ages 5-10 who want to be outside, we have a One-Day Thursday Outside Class meets ten weeks....all over the city and country areas, contact us at Shining Star Waldorf School
Play-Well TEKnologies

Portland

Play-Well TEKnologies is an engineering educational outreach program that teaches engineering principles to children aged 5-11 utilizing LEGO materials.
Rewild Portland Nature Immersion

Portland

Rewild Portland's Nature Immersion Homeschool program takes children ages 5-11 out into the forest every Friday from September through June. Children play in the woods and develop a connection to one another and to the natural world under the tutelage of skilled outdoors instructors. Rewild familiarizes children with the natural world in a way that challenges them to expand their comfort zone in the wild and open their senses to an other-than-human world.
Educator Emily

Portland

Educator Emily provides homeschool coaching and teaching services to local families with 4-10 year olds. She offers coaching packages for parents that help build a homeschool environment that fosters self-direction, a joy of learning and family connection. Her teaching services include classes and tutoring rich in hands-on learning for individuals or homeschool groups.
Homestead Economics

Portland

Homestead Economics is a exciting and innovative education program offering homesteaders aged 8 and up the opportunity to experience the building of an urban homestead. We will learn the traditional home based arts including organic gardening, animal care, natural medicine, knitting, cooking, sewing and anything else that captures our interest.​​​ Homestead Economics offers two programs​. For school-based homesteaders we offer a schools out program for those days that school is not in session. For homeschooled homesteaders we offer a school calendar two-day a week program. Not only will the students be learning and exploring their world they will get an opportunity to learn about economics as part of the program includes the option to sell the items grown and made by the Jr. Homesteaders. They will learn marketing both online and in-person by attending craft fairs, bazaars and other markets. 100% of the proceeds from items they sell will be theirs to keep. All programs have a 10:1 ratio to ensure personalized attention and maximum learning flexibility.
The Lake Oswego Learning Center

Portland

The Lake Oswego Learning Center is a newly formed educational model that is quickly gaining speed. While this program is new, the highly successful hybrid concept of taking a home-based education and giving it a classroom model with peers is not new. It gives the student control to learn at their own pace, with the freedom to excel, and keeps the parents at the helm. The main goal at the learning center is to keep the many benefits of a home-education, while providing a more traditionally academic environment where children can benefit from group projects and presentations, have time for play and exercise, demonstrate intellectual and emotional growth, and enjoy social relationships consistently year after year with the same peers.
Little Kitchen Academy

Portland

Little Kitchen Academy is the first-of-its-kind Montessori-inspired cooking academy for children ages three through eighteen. Students experience a 3-hour class once a week, or 5 consecutive days during seasonal camps. In every class, students are empowered to cook on their own at individual professional cook stations, which builds confidence, independence, and healthy eating habits, while gaining practical life skills and polishing up their table manners by sharing meals around the LKA community table. lka12@littlekitchenacademy.com
Malheur Field Station

Princeton

A unique place for families to learn together in southeastern Oregon's spectacular Great Basin region. We offer workshops in geology, bird watching, plant and butterfly identification, and stargazing. Inexpensive lodging is available for family and larger groups.
Homeschool Adventures Classes - Gilbert House Children's Museum

Salem

Homeschool Adventures is a program offered in Salem, Oregon, at Gilbert House Children's Museum. Classes explore a different topic each month in a group setting with the guidance of an instructor, with classes meeting four times each month. Classes highlight concepts in science, art, computer science, culture, and engineering. Registration is separate for each month.

Homeschool Adventures Classes - Gilbert House Children's Museum details
Youth Classes at Humane Society for Southwest Washington

Vancouver, WA / Portland, Or

Teaching kids about compassion for animals is important. At HSSW, we're inspiring a humane generation with programs and projects to get kids involved. School Year Programs are your kid's ticket to a year of learning. They're a fun and educational deep dive into the world of HSSW for kids grades 3-8.

Youth Classes at Humane Society for Southwest Washington details
WordWielder

Wilsonville

WordWielder is run by a veteran homeschooling mom whose goal is to come alongside parents to teach writing and literature. WordWielder offers in-person classes and tutoring featuring classically-oriented curricula such as IEW, CiRCE Institute, Omnibus, and the Great Books.