Field trips are a great way to reboot a bad homeschooling week, get out of the house when everyone has cabin fever, and learn about your local area. Before heading out, check out Jeanne's tips for improving homeschool field trips.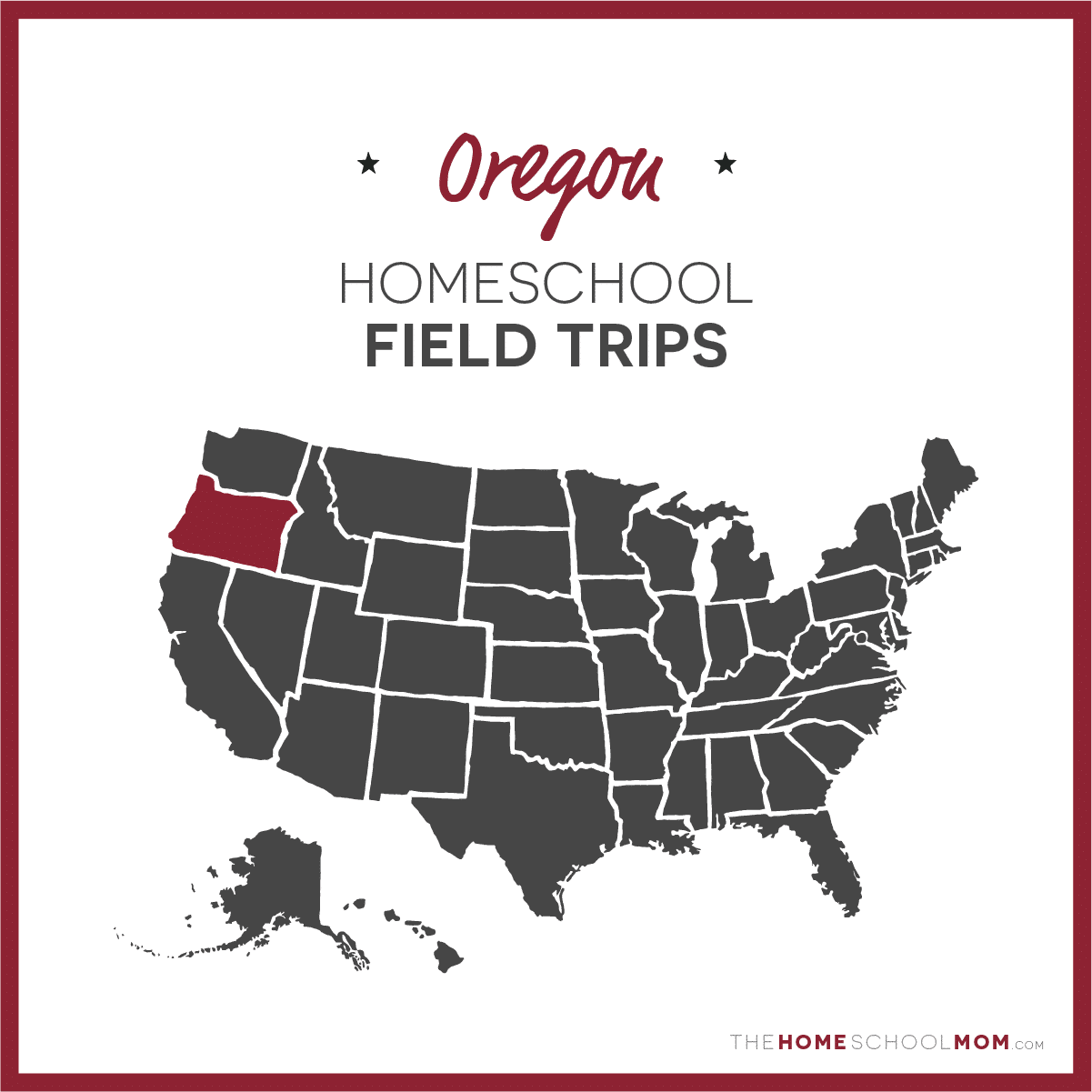 Submit a Field Trip Destination
Our listing of Oregon field trips for homeschoolers is ordered alphabetically by city. If you would like to submit a Oregon field trip destination, you may do so using the red button above.
An asterisk * after the title indicates that a virtual field trip is also available.
Nez Perce National Historic Trail

The Nez Perce (Nimiipuu or Nee-Me-Poo) National Historic Trail stretches from Wallowa Lake, Oregon, to the Bear Paw Battlefield near Chinook, Montana. It was added to the National Trails System by Congress as a National Historic Trail in 1986. The 1877 flight of the Nez Perce from their homelands while pursued by U.S. Army Generals Howard, Sturgis, and Miles, is one of the most fascinating and sorrowful events in Western U.S. history. Chief Joseph, Chief Looking Glass, Chief White Bird, Chief Ollokot, Chief Lean Elk, and others led nearly 750 Nez Perce men, women, and children and twice that many horses over 1,170 miles through the mountains, on a trip that lasted from June to October of 1877.
Lewis and Clark National Historical Park

The Park is made up of 12 park sites located on a 40-mile stretch of the Pacific coast from Long Beach, WA to Cannon Beach, OR. Visit the sites in any order you wish; we recommend starting at Fort Clatsop or the Lewis and Clark Interpretive Center at Cape Disappointment. Both offer rangers, gift shops and exhibits on the region.
California National Historic Trail

More than 250,000 gold-seekers & farmers crossed into to the gold fields & rich farmlands of California during the 1840's and 1850's. 1,000 miles of trail ruts and traces can still be seen to remind us of early American travelers and settlers.
Lewis & Clark National Historic Trail

Lewis & Clark, in their quest for a water route to the Pacific Ocean, opened a window onto the west for the young United States.
Oregon National Historic Trail

The Oregon Trail was for fur traders, gold seekers, missionaries and others, the pathway to the Pacific. Wagon rutsw and landscape scars can still be seen from that time.
Schneider Museum of Art

Ashland

A dynamic small art museum offering a wide selection of exhibitions and educational programs for the campus, schools and the community.
Science Works Hands-On Museum

Ashland

To inspire wonder and stimulate creative exploration through fun interactive science and the arts.
Tub Springs State Wayside

Ashland

In 1846, a wagon train led by Jesse Applegate traversed southern Oregon along what became known as the Applegate Trail. Tub Springs Wayside is one of the stopping points before you head down the mountain pass into Ashland. Take a moment to stop here amid the towering fir and sense what it was like 150 years ago. Breathe in the fresh mountain air. There's an interpretive panel at the wayside describing the difficulties faced by these pioneers.
Fort Stevens State Park

Astoria

Fort Stevens was the primary military defense installation in the three fort Harbor Defense System at the mouth of the Columbia River (Forts Canby and Columbia in Washington were the other two). The fort served for 84 years, beginning with the Civil War and closing at the end of World War II. Today, Fort Stevens has grown into a 3,700 acre park offering exploration of history, nature, and recreational opportunities.
Bradley State Scenic Viewpoint

Astoria

This park was one of the first parcels donated as park land to the Oregon Highway Commission in 1922. One of the few rest stops along Highway 30, you'll find a restroom, monument, and a wondrous Douglas fir forest overlooking the Columbia River.
Sunset Beach State Recreation Site

Astoria

Sunset Beach State Recreation Site comes with a very famous past. The park marks the west trailhead of the historic Fort-to-Sea Trail?a 6.5 mile route that recreates the experience Lewis and Clark and the Corps of Discovery encountered as they traveled between Fort Clatsop and the Pacific Ocean during the famous winter of 1805-6.
Face Rock State Scenic Viewpoint

Bandon

There is an American Indian legend about this spot. Some say they hear a maiden's voice on the wind, and standing on the cliff overlooking the ocean you can easily pick out the face on Face Rock. There is a well-kept trail to the beach, and several rocky intertidal areas to explore at low tide.
Bullards Beach State Park

Bandon

Bullards Beach is a large, family-oriented park located just two miles north of Bandon. The campground is nestled among shore pines and well protected from the strong ocean breezes. Besides three loops of campsites, the park boasts 13 yurts, making year-round camping a very popular choice. The horse camp features easy access to the beach and dunes for our equestrian campers.
Bandon State Natural Area

Bandon

Bondon awaits the beachcomber, the explorer, the artist and the dreamer. Located along Bandon's Beach Loop Road, there are several locations with beach access, picnicking and unsurpassed views.
Seven Devils State Recreation Site

Bandon

Seven Devils Wayside is the jumping-off point for sandy beach adventure. At this access point, you can travel several miles up and down the open beach. Agates are often the beachcombing goal of visitors to this out-of-the-way spot.
L. L. Stub Stewart State Park

Banks

Stub Stewart State Park is the playground in your backyard. Just 31 miles west of Portland, the park offers camping, picnicking and hiking. If you like trails, this is the park for you. Explore nearly 15 miles of new trails. Bring your horse or bicycle and spend hours exploring the far reaches of the park. After a day of play, finding a quiet spot to relax is easy in the 1,650 acres of lush rolling hills, forest and deep canyons.
Banks Vernonia State Trail

Banks

Stop. Look. Listen. Not for the train ... it doesn't whistle along this old, abandoned, 21-mile railroad anymore. Listen to the rustling wind, birds and trickling streams. Stop at Manning. Stop at Vernonia. Stop at Tophill or Buxton. Stop at any of these trailheads and get on this trail to walk, bicycle, clop along on your horse or push the stroller. Look at the old trestles and gorgeous wildflowers, animals and trees. Hop on board. 21 miles of adventure await. There's a ticket with your name on it.
Tumalo State Park

Bend

Nestled in the heart of sunny central Oregon, Tumalo rests along Oregon's spectacular Deschutes River. The campground is simultaneously close enough to the town of Bend to make an quick jaunt to the grocery store, but far enough away to escape the commotion. Its location makes it an ideal stepping stone for any type of outdoor activity you could possibly dream of: lush green golf courses, clear blue-ribbon trout steams, pristine alpine lakes, miles upon miles of challenging yet scenic hiking and mountain bike trails, and of course the Cascade Mountains are all within easy reach.
Pilot Butte State Scenic Viewpoint

Bend

Come and explore an old cinder cone located just east of Bend. Hike up and around on one of three trails. The trails wind through stands of juniper and sage. All of the trails lead to the summit. Once at the top, get ready for a grand panoramic view of the high desert.
LaPine State Park

Bend

If you want to immerse yourself in a subalpine pine forest where the air has that high-Cascades tang; to stay in a clean, quiet campground next to a twisting, cold river brimming with trout (and a nearby legendary fly fishing spot) and surrounded by miles of waiting-to-be-explored wilderness; to sit smack in the middle of dozens of high-mountain lakes (in winter, near some of the best ski-spots in the land); to see eagles or red-tailed hawks grabbing breakfast right in front of you; or, to just sit in a campsite pondering what you might do tomorrow ... ... then LaPine State Park demands a visit.
Crissey Field State Recreation Site

Brookings

This rustic park offers a place of solitude that invites introspection and wildlife viewing. Stroll along the edge of the Winchuck River estuary until it joins the Pacific Ocean. Birds abound. Harbor seals and California sea lions surf and feed in this rich mix of fresh and salt water. Follow the trail through ancient driftwood logs into a fragile dune system filled with unique native plant species, miniature wetlands, and old-growth Sitka spruce trees.
Winchuck State Recreation Site

Brookings

Winchuck provides parking area and access to the Winchuck River and ocean beach for fishing, exploring, clamming, strolling, photographing seascapes and observing marine life.
Samuel H. Boardman State Scenic Corridor

Brookings

This corridor is a 12 mile, forested linear park with a rugged, steep coastline interrupted by small sand beaches. This park was named in honor of Samuel H. Boardman, the first Oregon Parks superintendent. He and others of his generation felt this shining green emerald coastline should be saved for the public. What gems they gave us: admire the 300-year old sitka spruce trees, gaze at the amazing Arch Rock and Natural Bridges, and walk the 27 miles of Oregon Coast Trail that weave through giant forests.
McVay Rock State Recreation Site

Brookings

McVay is a well-hidden park noted for surf fishing, clamming, whale watching, and plenty of space to walk on the beach. The large lawn area is great for blanket picnics. The park is elevated above the ocean. As you walk along the edge, you'll often have eye-to-eye encounters with the seabirds catching the updrafts from the beach.
Harris Beach State Park

Brookings

Harris Beach was named after the Scottish pioneer George Harris who settled here in the late 1880s to raise sheep and cattle. The park boasts the largest island off the Oregon coast. Bird Island (also called Goat Island) is a National Wildlife Sanctuary and breeding site for such rare birds as the tufted puffin. The park offers sandy beaches interspersed with eroded sea stacks.
Alfred A. Loeb State Park

Brookings area

Your first impression of Loeb may well be the scent of the myrtlewood forest ... a crisp, bay leaf aroma. The park is nestled in a grove of these lovely trees. Many of the trees in the park are well over 200 years old. The Chetco River swirls and dances just beyond the park.
The Living Rock Studios

Brownsville

The Living Rock Studios in is a unique cultural and educational experience. Made of 800 tons of rock, this two story hand build building contains: seven one-of-a-kind translucent rock Living Rock Pictures, bird paintings (many life size) original wood carving made out of native Oregon woods, over 300 specimens of rocks and minerals on display, tons of petrified wood, a crystal display, gift shop and much more. We give family oriented, personal tours. Groups, please call in advance to make your time special. Open Wed.-Sat. 10-5, donations requested.
Molalla River State Park

Canby

Imagine combining a scenic drive, hiking, picnicking, fishing, boating, and wildlife viewing and a ferry ride all in one location. You can do it all at Molalla River State Park near Canby, Oregon.
Ecola State Park

Cannon Beach

One of Ecola State Park's first attractions was a beached whale. In 1806, Capt. William Clark and twelve members of the Corps of Discovery climbed over rocky headlands and fought their way through thick shrubs and trees to get to the whale in what is now Ecola State Park. Today, a paved road from Cannon Beach makes your trek to the park much easier. Winding your way through towering Sitka spruce, you suddenly emerge upon a breathtaking view of the Pacific Ocean. Be sure to have your camera ready.
Arcadia Beach State Recreation Site

Cannon Beach

A shady spot, just off of the highway and a few feet from the sandy ocean beach. Take a lunch break on your way north or south on Highway 101. Kick off your shoes and leave them in the car ... you'll want to feel the sand between your toes and the waves lapping at your ankles.
Tolovana Beach State Recreation Site

Cannon Beach

After a long day of shopping in Cannon Beach's boutiques, head for the heart of the city: Tolovana Wayside. Just a few steps down from the parking lot, you're on the beach with a spectacular view of Haystack Rock. A short walk down this lovely beach and you'll be at the rock's base. An amazing natural formation, many visitors feel the need for a closer look (but please don't climb!). Enjoy the beauty of the formation, tidepools around the base and abundance of wildlife -- the area is a wildlife refuge.
Oswald West State Park

Cannon Beach

The campground at Oswald West is closed until further notice. We are studying the health of the trees in the campground -- many are very large and very old -- so we can develop options that balance the needs of the forest with your need for recreation. Please consider one of our other nearby campgrounds (Nehalem Bay, Fort Stevens and Cape Lookout). You can still view pictures, maps and park brochure on line!
Hug Point State Recreation Site

Cannon Beach

Just south of Cannon Beach, this little wayside gives you easy access to the beach and a peek at some interesting history. Imagine travelling by stagecoach along the beach (before the highway was built, the beach was the only way to go). North of the parking area you can still walk along the original trail carved into the point by the stagecoaches. The wayside was named after this trail because it hugs the point. Looking further north, Haystack Rock--one of the most identifiable landmarks along the coastline--is easily visible.
Oregon Caves National Monument

Cave Junction

Oregon Caves National Monument offers family focused opportunities to explore a marble cave, visit a National Historic Landmark (the Oregon Caves Chateau), hike trails through ancient forests, and earn a Junior Ranger Badge.
Illinois River Forks State Park

Cave Junction

Heading to or from the Oregon coast or the giant redwoods on Hwy. 199, you may want to stop for a picnic at this day-use park. Located at the confluence of the east and west forks of the Illinois River, the park offers picnic tables and restrooms. There is a short walking trail near the picnic area. The Illinois Valley is a unique geologic area with many rare plants. Visit here to enjoy the natural beauty of the area.
Crater Rock Museum

Central Point

The museum exhibits include a collection of world class minerals, as well as a large collection of petrified woods and indigenous rocks of Oregon, the US and Mexico. Other exhibits feature fossils, Native American artifacts, a mid-1800s scrimshaw collection, a collection of glass work by Dale Chihully and his students, and a wonderful collection of shells.
Crater Lake National Park

Chiloquin

Like No Place Else on Earth - Crater Lake has inspired people for hundreds of years. No place else on earth combines a deep, pure lake, so blue in color; sheer surrounding cliffs, almost two thousand feet high; two picturesque islands; and a violent volcanic past. It is a place of immeasurable beauty, and an outstanding outdoor laboratory and classroom. There are no inlets or outlets to the lake. Crater Lake, at 1,943 feet (592 meters) deep, is the seventh deepest lake in the world and the deepest in the United States.
Philip Foster Farm on the Oregon Trail

Colton

Hands on pioneer historic site. Includes items that are also tied to 4th grade history and math curriculum. Hands on tools include log cabin building, loading a covered wagon, washing laundry, cross cut saw, corn grinding. As well as yours to historical buildings (1860 house, 1883 house, 1860 barn, and repro. 1848 cabin). Gardens, orchards with varieties from the period.
Philip Foster Farm

Colton

Hands on pioneer historic site. Includes items that are also tied to 4th grade history and math curriculum. Hands on tools include log cabin building, loading a covered wagon, washing laundry, cross cut saw, corn grinding. As well as yours to historical buildings (1860 house, 1883 house, 1860 barn, and repro. 1848 cabin). Gardens, orchards with varieties from the period.
Golden and Silver Falls State Natural Area

Coos Bay

A hidden gem in the dense coastal forests of southwest Oregon. The small parking and picnic area are located along the banks of Glenn and Silver Creeks and is shaded by large maple, alder, and Oregon myrtle trees. Hiking trails wind through scenic canyons to each of the waterfalls -- they plunge over sheer rock cliffs to moss covered boulders 100 feet below.
CAM: Coos Art Museum

Coos Bay

Through collections, exhibitions, and educational programs, we build an arts and cultural community by promoting the appreciation, understanding, and expression of visual art. Coos Art Museum offers S.T.E.A.M. and Art Field Trips to families and groups. Request one today!
Shore Acres State Park

Coos Bay

Perched on rugged sandstone cliffs high above the ocean, Shore Acres State Park is an exciting and unexpected combination of beautiful natural and constructed features. Once the grand estate of pioneer timber baron Louis Simpson, Shore Acres features lushly planted gardens with plants and flowers from all over the world. Something is in bloom almost every day of the year.
Cape Arago State Park

Coos Bay area

Cape Arago may be the end of the road (the road out of Coos Bay goes no further), but it's really only the beginning if you want to explore the southern Oregon coast. Visitors can scan the horizon for migrating whales and other marine mammals, as well as fishing boats and ships entering and leaving nearby Coos Bay.
Sunset Bay State Park

Coos Bay Area

Situated in one of the most scenic areas on the Oregon coast, Sunset Bay State Park features beautiful sandy beaches protected by towering sea cliffs. Only a short walk from the beach, the campground has sites for tent camping and RV's, as well as cozy and comfortable yurts. Day-use and picnic facilities are located along the bay to allow easy access for beachcombing, fishing, swimming, and boating.
John B. Yeon State Scenic Corridor

Corbett

John B. Yeon Scenic Corridor, honors one of the principal architects of the Historic Columbia River Highway, a man who gave generously of his time and professional skills. Here is a hiker's paradise with a gentle rising trail that permits access to two of the most beautiful and secluded waterfalls in the Columbia River Gorge: (lower) Elowah Falls and (upper) McCord Creek falls. The crisp air, easy access and accompanying scenery of this area offer some of the best hiking and viewing opportunities available in the Gorge.
Whale Watching Center

Depoe Bay

Located along the seawall in Depoe Bay, the Whale Watching Center is dedicated to sharing information about whales. The center is home to the Whale Watching Spoken Here program, which sponsors the winter and spring break whale watching weeks. Gray whales migrate past the Oregon Coast on their way to and from the waters off Alaska and Mexico. The center includes exhibits on the history and behaviors of whales and a free theater showing whale movies.
Fogarty Creek State Recreation Area

Depoe Bay

Where the creek and ocean meet, you?ll find ingredients that make the spirit soar. Discover this park?s perfect wind-sheltered picnic areas. In case of rain, head for the covered picnic shelter. Walk the wooden footbridges arching through the Sitka spruce, western hemlock, shore pine and alder forest. At the cliff-rimmed beach, a lazy creek flows into the sea, cutting through an enchanting scenic ocean cove. This park has some of the best birdwatching and tidepooling on the coast.
Boiler Bay State Scenic Viewpoint

Depoe Bay

A miraculous and rugged, basalt-rimmed bay, Boiler Bay is a great place to watch wild surf action on the rocky spurs. This splendid panoramic viewpoint presents a good opportunity to see migrating and resident gray whales. Take your binoculars -- this is one of the best sites in Oregon to see ocean-going birds (like shearwaters, jaegers, albatrosses, grebes, pelicans, loons, oystercatchers and murrelets). In 1910, an explosion sank the J. Marhoffer, and you can see the ship's boiler at low-tide. A short, rough trail takes you to some of Oregon's richest tide pools.
Milo McIver State Park

Estacada

Situated along the scenic Clackamas River, McIver State Park is only 45 minutes from Portland. This beautiful park provides a variety of outstanding recreational opportunities. Within this little-known gem, you can spend a day or a week exploring the river, forest and fields. River-lovers can challenge the sometimes wild (but always picturesque) Clackamas River with rafts, canoes or kayaks.
Bonnie Lure State Recreation Area

Estacada

If you want to get off the beaten path, Bonnie Lure State Park along Eagle Creek provides a refreshing getaway. You may catch a rare glimpse of a pileated woodpecker or hook an elusive steelhead trout (otherwise known as a silver-sided freight train) on its way back to the hatchery. It could easily become your favorite day-trip destination.
Jordan Schnitzer Museum of Art

Eugene

The University of Oregon's Jordan Schnitzer Museum of Art (JSMA) a premier Pacific Northwest visual arts center, features engaging exhibitions, significant collections of historic and contemporary art, and exciting educational programs that support the Virginia Haseltine's academic mission and the diverse interests of its off-campus communities. The JSMA's collections galleries present selections from its extensive holdings of Chinese, Japanese, Korean and American art.
Fall Creek State Recreation Area

Eugene

Fall Creek Reservoir is a prime recreation area surrounded by day-use parks and a campground.
Elijah Bristow State Park

Eugene

Elijah Bristow was one of the first pioneer settlers in Lane County. The park is comprised of 847 acres of scattered meadows, woodlands and wetlands. Elijah Bristow has more than 10 miles of trail for hikers, mountain bikers and equestrians. Part of the trail system includes a portion of the Eugene to Pacific Crest trail.
Dexter State Recreation Site

Eugene

Zipping down Highway 58 east of Eugene, you'll suddenly find yourself driving along side a long, skinny reservoir. In spring, summer and fall, the Dexter and Lookout Point Reservoirs are dotted with boats. Whether you like to fish or boat, you'll find a pair of convenient day-use parks on the lake.
Lowell State Recreation Site

Eugene

Lowell, accessible by crossing over the reservoir at the Lowell turn-off from Highway 58, is a great place to take a break. Picnic areas, a short walking trail, boat access and a marina are just a few of the amenities packed into this small park.
Jasper State Recreation Site

Eugene

After you visit Jasper for the first time, you might be tempted to tell all your friends about it. Go ahead. We don't mind. The park has plenty of room for games, picnics, fishing ... sounds like the perfect place to hold a family reunion, doesn't it? The reservable group shelters come complete with covered cooking facilities.
Shelton McMurphey Johnson House

Eugene

SMJ House is a Victorian House Museum in Eugene, OR. We offer an educational program for grades 3-4 but it can be altered to fit younger or older students. All school groups pay a special school rate for kids and caregivers. Our museum focuses on late 1800's to 1950's, specifically regional history and Victorian Era. There is also a video tour available for those unable to travel.
Tokatee Klootchman State Natural Site

Florence

Tokatee Klootchman sits a few feet above the ocean with an excellent view. A great place to watch for whales.
Muriel O. Ponsler Memorial State Scenic Viewpoint

Florence

Picnicking with whale watching, beachcombing and a view of the beach. There are approximately five miles of sandy beach with China Creek to the south of the park.
Jessie M. Honeyman Memorial State Park

Florence

Situated half way up the Oregon coast and three miles south of Florence on scenic Highway 101 is the second largest overnight camp in the state. There are two miles of sand dunes between the park and the ocean. Two natural freshwater lakes are within the park. Cleawox -- which is great for swimming -- and Woahink, which has a public boat ramp, is used for all water sports. Rent a canoe and explore the lake.
Heceta Head Lighthouse State Scenic Viewpoint

Florence

Heceta Head State Park (which includes Devils Elbow State Park) is located in a cove at the mouth of Cape Creek. There are picnic tables sheltered from the wind and a great view of the ocean. A short trail leads to the historic Heceta Head lighthouse and lighthouse keeper's house. A recently-completed trail gives you a spectacular view of the coast north to Cape Perpetua.
Darlingtonia State Natural Site

Florence

Darlingtonia State Natural Site is the only Oregon state park property dedicated to the protection of a single plant species. Concurrently, the plants it protects are the only carnivorous flora in the system. This 18-acre botanical park provides parking and a boardwalk trail out into a fen that is home to Darlingtonia californica. Also called a cobra lily, the rare, strangely-shaped plant is the only member of the pitcher plant family (Sarraceniaceae) in Oregon.
Carl G. Washburne Memorial State Park

Florence

Washburne is located on the east side of Highway 101 with a buffer of native plants between you and the highway. A walking trail leads you under the highway to a five-mile sandy beach and a day-use area, where you'll find space to watch whales, hunt agates, beachcomb, and picnic. Another trail connects you to the Heceta Head trail, which you can use to reach the historic Heceta Head lighthouse
Jackson F. Kimball State Recreation Site

Fort Klamath

J. F. Kimball State Park is a pristine site located at the headwaters of the Wood River. This stream flows from the pine forest into open meadow land laced with picturesque quaking aspen surrounded by the southern Cascade Mountains. Wood River offers fine fishing that can be accessed from the park by canoe. Kimball Park offers primitive camping next to a spring-fed lagoon at the beginning of this waterway.
Fort Rock State Natural Area

Fort Rock

Like a desert mirage, this National Natural Landmark rises huge out of the barren, immense flatness of Oregon's high desert. An enormous near-circle of towering jagged rock walls make it seem like a fort. Hike around and you'll soon realize it's even bigger than it looks! It's an old tuff ring set in what was a shallow sea in prehistoric times. As you walk around inside, imagine the early American Indians who canoed to and from what was then an island. Sandals found in a nearby cave are the oldest ever discovered, dating back around 9,000-13,000 years.
Fort Rock Cave

Fort Rock

Fort Rock Cave is a National Heritage site and is open only by a state park guided tour. Fort Rock Cave is the site of an archaeological discovery of several 9,000 to 13,000 year-old sagebrush sandals. This property serves as a reminder of the rich cultural heritage that has shaped so much of Oregon's history.
Del Rey Beach State Recreation Site

Gearhart

The ocean is a just a short walk from Del Rey's quiet, secluded parking area. If ever there was a place to play, fly a kite, build a sandcastle or picnic, this is it. The sunsets can be spectacular, too.
Geisel Monument State Heritage Site

Gold Beach

Within this historic site of a Rogue Indian war skirmish, the park contains the grave sites of the Geisel family. It is a peaceful, secluded picnic area to enjoy, while traveling along Highway 101.
Cape Sebastian State Scenic Corridor

Gold Beach

Cape Sebastian ... the very name invokes images of early Spanish explorers and long journeys. The cape was named in honor of Saint Sebastian in 1603 by the Spanish navigator Sebastian Vizcaino. The most striking features of this park are its two parking vistas. The parking lots are over 200 feet above sea level. At the south parking vista, you can see up to 43 miles to the north with Humbug Mountain filling the view. Looking south, you can see nearly 50 miles toward Crescent City, California and Point Saint George Lighthouse.
Pistol River State Park

Gold Beach

Pistol River State Park is set in the dunes of the southern Oregon coast. The river supposedly got its name when a militia soldier lost his pistol in the river during the infamous Rogue River Indian War. In March of 1856, a decisive battle was fought here.
Otter Point State Recreation Site

Gold Beach

Excellent walking and hiking trails overlooking pristine beaches and unusual sandstone rock formations sculpted by wind and waves.
Wolf Creek Inn State Heritage Site

Grants Pass

Imagine yourself as a traveler along a section of the Applegate Trail in the late 1800s. Take a step back in time and visit the inn, which is on the National Register of Historic Places. In front of the tavern, you'll find interpretive panels depicting life on the Applegate Trail. The inn still provides lodging and meals to the weary traveler. Wolf Creek Inn is the oldest continuously operated hotel in the Pacific Northwest.
Valley of the Rogue State Park

Grants Pass

A pleasant green oasis awaits you in southern Oregon's Rogue Valley. Valley of the Rogue Park has both a day-use picnic area and an overnight campground along three miles of shoreline on the Rogue River. A meeting hall is available for groups. An easy, self-guided interpretive walking trail provides a relaxing 1.25 mile stroll along the river's edge.
Bald Peak State Scenic Viewpoint

Hillsboro-Silverton Hwy

Bald Peak (1,629' elev.) is located where the worlds of high-tech and rural Oregon meet. Restaurants, shops, nightlife and a fast pace abound in nearby Hillsboro. Farms, wineries, fruit stands and a slower pace of life can be found in Newberg. Take a relaxing, scenic drive through the Chehalem hills from Hillsboro to Newberg. Along the way, stop at Bald Peak State Park, where you will experience a stunning view of the Willamette Valley and five snowcapped Cascade peaks on a clear day
Wygant State Natural Area

Hood River

The Wygant trail -- six miles west of Hood River -- was a gift to Oregon honoring the memory of the Wygant family. This park adjoins two other state parks near Mitchell Point 5 miles west of Hood River on Interstate 84. A trail strikes through the park in a dense, hilly wilderness area that was once the old Oregon Trail and later the Historic Columbia River Highway. The first mile of this trail is on pavement that hasn't had an automobile on it for 50 years (it still has the yellow divider stripe). As it moves into the wilderness, Wygant trail penetrates a dense forest hillside along a gurgling creek. It is an ideal spot for backpackers who are looking for a little solitude.
Vinzenz Lausmann Memorial State Natural Area

Hood River

The family of Vinzenz Lausmann gave 126 acres of rugged scenic land to the State of Oregon in his memory. This park adjoins two other state parks tract near Mitchell Point located about 5 miles west of Hood River on Interstate 84. A plaque honoring Mr. Lausmann is at the foot of the park, where a trail leads the visitor up the steep faces of fir, alder and maple which define the Columbia River Gorge in this area. The views of the Gorge from this trail are spectacular.
Viento State Park

Hood River

One of the Gorge's best kept secrets: Viento is a great place to camp! With modern campsites, Viento almost always has a spot available when other campgrounds in the area are full. No reservations are accepted; camping is first-come, first-served. On weekends in the summer, rangers provide interpretive programs.
Starvation Creek State Park

Hood River

Starvation Creek is a feast for the eyes and feet. Trails spreading out from this day-use park lead onto adjacent National Forest Service land. The waterfall at Starvation Creek, one of the few in this area of the gorge, is an elegant cascade admired by gorge travelers for thousands of years.
Sanctuary One

Jacksonville

Sanctuary One's Learn, Care and Grow Field Trips are offered in three distinct, yet interwoven, varieties, each exploring the Care Farm model of simultaneous, holistic care for animals, people and the earth. All field trips include hand-on activities, games, farm tours, and animal interaction in a unique outdoor classroom setting, and are appropriate for school grades K-12 as well as other youth-service organizations. Field trips are conducted year-round. Public tours allow visitors to visit the farm and animals April - October.
Clyde Holliday State Recreation Site

John Day

Think of Clyde Holliday State Recreation Site as an oasis. Its tall, willowy cottonwood trees provide shade and serenity. Each campsite is clothed with a variety of trees and other plants to give you that private, secluded feeling. The park borders the beautiful John Day River and is surrounded on all sides by some of Oregon's most pristine wilderness areas.
Alderwood State Wayside

Junction City

A forested tract along Hwy 36 west of Junction City. There's a picnic area and short trail along the Long Tom River. Bring a lunch and relax!
John Day Fossil Beds National Monument

Kimberly

A visit to the John Day Fossil Beds National Monument is like taking a journey into ancient Oregon. Whether you tour the museum at Sheep Rock, hike a trail at the Painted Hills, or picnic at Clarno, Oregon's exciting past will be revealed.
OC&E Woods Line State Trail

Klamath Falls

Welcome to the OC&E Woods Line State Trail -- Oregon's longest linear park! This 100-mile, rail-to-trail conversion is built on the old railbed of the Oregon, California, and Eastern Railroad. The trail is open for all non-motorized recreation, beginning in the heart of Klamath Falls, extending east to Bly and north to the lush Sycan Marsh. From its beginnings as a railroad carrying millions of board feet of timber and railcars loaded with cattle, to its present cargo of recreational trail users, this railroad line has always been on the move.
Collier Memorial State Park

Klamath Falls

Collier Memorial State Park features a campground; outdoor museum of historic logging equipment; relocated pioneer village; and a new four-corral, primitive horse camp and trailhead. At the state's finest logging museum, you'll see rare and antique logging equipment dating to the 1880s, as well as more recent pieces.
Oswego Heritage House

Lake Oswego

The Oswego Heritage House invites visitors of all ages to stop by and see the historic house and attend our featured events. Oswego Heritage's permanent history exhibit begins with an introduction to local Native American history and continues around the room, bringing you to Oswego's more current history. There are revolving exhibits that focus on aspects of Oswego Heritage's research throughout the year. The museum is free to attend.
Chandler State Wayside

Lakeview

Take a break from the open road and pull into this uncharacteristically wooded area. Have a spot of lunch alongside a cool stream or rest in the shade of large ponderosa pine. The park has picnic tables, drinking water, flush toilets, and access to Crooked Creek, home to rainbow trout and crayfish.
Roads End State Recreation Site

Lincoln City

A fine place for a romantic stroll with tidepools, islands, and the headland with its hidden cove. Sailboarders come from everywhere! When Lincoln City's beaches are crowded or windy, this sheltered spot just north of town is surprisingly quiet. A short path descends to the beach at the pebbly mouth of a lazy little creek. The north beach is topped by a jumble of quaint old cottages until the beach narrows to the massive Cascade Head. Fragments of lava form ragged islands where comic, long-necked cormorants dry their black wings atop guano-stained roosts. At low tide it's possible to clamber around the headland's tip to a secret cove and beach.
H. B. Van Duzer Forest State Scenic Corridor

Lincoln City

Enjoy your drive through this scenic corridor surrounding Highway 18. Along the way, there's a place to pull off, stretch your legs and enjoy a spot of lunch amid a captivating ancient forest. If the time is right, get ready for some exciting wildlife viewing. A weekday would be the most peaceful, and give you a chance to discover the old growth Douglas-fir trees along the Salmon River. Stay alert for salmon, deer and Roosevelt elk. Exactly one mile east of the park entrance is a pull-out with a short trail leading to a swimming hole beneath more ancient trees.
Gleneden Beach State Recreation Site

Lincoln City

It's not your imagination ... those really are seal heads peering at you from the surf! A short paved trail descends from the parking and picnic area through the shore pine forest to a soft sand beach flanked by crumbling orange sandstone bluffs. Wetsuit-clad surfers often catch waves here in the mornings. As you hike to the right along the beach, the horizon is dominated by the dark green cape of Cascade Head. In case you decide to venture onward, please don't disturb the sea lions found at the tip of the four mile Salishan Spit.
Devils Lake State Recreation Area

Lincoln City

With downtown Lincoln City mere minutes away, you can glide quietly by canoe or kayak on the lake while you watch for coots, loons, ducks, cormorants, bald eagles, and grebes. As the only Oregon coast campground located in the midst of a city, the lake is a center of summertime activity. Boaters, skiers, swimmers, and personal watercraft users share the water. Kayak tours of the lake are scheduled in the summer (we provide the kayak).
D River State Recreation Site

Lincoln City

The shortest river in the world, D River flows a mere 120 feet from Devils Lake into the roaring ocean. The park is right off the highway with easy access to a busy -- and reliably windy --beach. D River Wayside is home to a pair of the world?s largest kite festivals every spring and fall which gives Lincoln City the name Kite Capital of the World.
The Cove Palisades State Park

Madras

The Cove Palisades State Park is a year-round recreational destination for the entire family. Located in our high desert region, the weather is sunny and warm in the summer months and chilly but generally mild in the winter. The park is situated among towering cliffs that surround beautiful Lake Billy Chinook.
Nehalem Bay State Park

Manzanita Junction

Imagine waking up to the song of the seagull, spending your afternoon on a kayak trip around Nehalem Bay, then taking a short walk over the dunes to the beach. There you'll sit with a blanket and watch the sun set over the ocean in the shadow of Neah-Kah-Nie Mountain. Finally, snuggle down for the night while the ocean waves sing you a lullaby. This is Nehalem Bay State Park.
Blue Mountain Forest State Scenic Corridor

Meacham

Blue Mountain Forest State Scenic Corridor lies along the Old Oregon Trail Highway between Deadman's Pass and Spring Creek. The corridor protects one of the few examples of mature evergreen forests on I-84 between Ogden, Utah and The Dalles, Oregon.
Touvelle State Recreation Site

Medford

This is a beautiful day-use park located on the bank of the Rogue River and at the foot of the geologically prominent Table Rocks. You can fish, swim, hike, watch wildlife and experience nature at its finest. An ideal spot for family gatherings or group picnics, the site has a large picnic shelter with cooking utilities. There?s a smaller picnic kitchen and three sites with water and electricity. Denman Wildlife Refuge is next to this park and teems with local and migratory wildlife -- a bird viewing paradise. Salmon and steelhead pass through seasonally on treks to and from the ocean. Rainbow trout are stocked by the Oregon Department of Fish and Wildlife. A boat ramp with toilet facilities provides excellent access to the river.
Joseph H. Stewart State Recreation Area

Medford

Picture yourself in a campsite overlooking Lost Creek Reservoir with wildlife, large conifer trees, and mountains surrounding you. Take a hike or bike ride on our 11-mile trail system, through the forest with year-round streams and wildlife viewing. Take a swim in the cool, mountain water; rent a boat from the marina, and troll the 10-mile lake for trout and bass ... an angler's dream. Or bring your own boat and waterskis, and spend a few days in the sun.
Casey State Recreation Area

Medford

Picture yourself reeling in a salmon, steelhead or trout at Casey State Park. Cradled in the arms of the wild and scenic Rogue River, bring your family and have a picnic on the lush, tree-ringed lawns or raft the river. A relaxing and fun spot.
North Santiam State Recreation Area

Mill City

North Santiam State Park plays host to some of the most beautiful riverfront in the area. It is one of the finest steelhead fishing spots on the North Santiam River. North Santiam State Park is an undisturbed day-use area with drinking fountain and restroom facilities. Picnic tables dot the grass, making North Santiam State Park a great place to stop to stretch and eat a picnic lunch. Hiking trails show the beauty of the large old-growth trees and the river.
Sarah Helmick State Recreation Site

Monmouth

Sarah Helmick is located six miles south of Monmouth off Highway 99W. Helmick lies along the floodplain of the Luckiamute River and is forested in Douglas fir, grand fir, maple, ash, Port Orford cedar and cottonwood. There are two reservation picnic areas for groups up to 200 people. Electricity, water, picnic tables and restrooms are provided at each site. There is plenty of shade from the bigleaf maples that tower above you. A quiet spot to walk along the trails that border the Luckiamute River, with plenty of birds and native plant life to investigate.
Historic Columbia River Highway State Trail

Mosler

Where motorists on old U.S. Highway 30 once crept around curves high along the cliffs of the Columbia River Gorge, hikers, bicyclists and users of other muscle-driven forms of transportation leisurely enjoy the view from the Historic Columbia River Highway State Trail. The trail, two disconnected paved ribbons along abandoned stretches of the historic highway, give you more than 10 miles of sightseeing thrills.
Ripley's Believe It Or Not Museum

Multiple Locations

Offers museums and attractions in multiple countries focusing on odd and amazing things. Provides videos, details about exhibits, and their history.
Hoffman Memorial State Wayside

Myrtle Point

Hoffman Memorial Myrtle Grove is a shaded glen canopied with spectacular myrtlewood trees. Interpretive signing accompanies a self-guided tour brochure designed to help you experience this cool respite from the highway. There's no drinking water at the park. The myrtlewood tree is a relative of the bay laurel. Many people cook with myrtlewood leaves in place of bay leaves. Can you imagine the pungent aroma that will greet you as you enter this grove?
Coquille Myrtle Grove State Natural Site

Myrtle Point area

Coquille Myrtle Grove will bring out the Huckleberry Finn in you. Located along the Powers Highway, this secluded swimming hole has a shaded myrtlewood grove near the parking area and a sandy beach along the Coquille River just a short way down the hill. Bring your innertube and float along with the river's gentle current.
Saddle Mountain State Natural Area

Necanicum Junction

Two and a half miles. That's all it is from the parking lot (elev. 1,650') to the summit of Saddle Mountain (elev. 3,283'). Be prepared to marvel at the sheer volume of natural beauty packed onto the mountain, from a mature forest setting to fields of wildflowers to an open rocky summit. The view from the top of the mountain is one that cannot be described ... it must be experienced.
Champoeg State Heritage Area

Newberg

The Champoeg features a unique combination of history, nature, and recreation. This is the site where Oregon's first provisional government was formed by a historical vote in 1843.
Yaquina Bay State Park

Newport

Yaquina Bay State Park is located in Newport at the north end of Yaquina Bay near its outlet to the Pacific Ocean. The bluff is forested with spruce and pine, but the real star is the historic lighthouse. The lighthouse -- later used as a Coast Guard Lifeboat Station -- has been restored and is open to the public. Attractions nearby include the historic Newport bayfront, Hatfield Marine Science Center and the Oregon Coast Aquarium.
South Beach State Park

Newport

South Beach State Park and the surrounding areas offer a variety of recreational opportunities. Kayak tours, fishing, crabbing, boating, windsurfing and beachcombing.
Seal Rock State Recreation Site

Newport

Seal Rock State Wayside has large off-shore rock formations which are the habitat of seals, sea lions, sea birds and other marine life. The wayside includes interesting tidepools as well as excellent ocean views and a sandy beach. Developed for day-use, the picnic area is in a pleasant stand of shore pine, spruce and salal.
Otter Crest State Scenic Viewpoint

Newport

Soak in the view from 500' above the ocean on the breathtaking crescent sweep of white sandy beach stretching to the south. Cape Foulweather is stunning and inspirational with its picturesque promontory. This popular whale watching spot also provides a good view of the Devil's Punchbowl environs. Imagine Captain Cook's first sighting on that stormy March day in 1778. The adjacent gift shop is privately owned.
Ona Beach State Park

Newport

Ona Beach State Park is located 8 miles south of Newport, Oregon. The park is a fine, forested ocean flat now developed for extensive daytime shore use. Easy access for beachcombing and great for large picnic gatherings.
Lost Creek State Recreation Site

Newport

Lost Creek State Park is located seven miles south of Newport, Oregon. The park is developed for picnicking and beach access. Great for beachcombing, whale watching and incredible sunsets.
Ellmaker State Wayside

Newport

On the highway between Newport and Corvallis, this land works equally well as a highway rest stop and tree preserve. Fruit trees are still found on the south side. Four picnic tables border a spacious, grassy meadow. A small stream flows from the northeast through the fir forest to join the Tumtum River.
Devils Punch Bowl State Natural Area

Newport

Surfers and surf watchers energize this area! During winter storms, water from the restless ocean slams with a thundering roar into a hollow rock formation shaped like a huge punch bowl. The surf churns, foams, and swirls as it mixes a violent brew. The punch bowl was probably created by the collapse of the roof over two sea caves, then shaped by wave action. The park is a popular whale watching site and displays an intriguing geology. This is a scenic picnic spot atop the undulating rocky shoreline. Don't forget to explore the tidepools.
Beverly Beach State Recreation Site

Newport

Beverly Beach is popular for a reason! Like magic, a well-known walkway goes under the highway and emerges to the long expanse of sandy beach extending from Yaquina Head (you can see the lighthouse from here) to the headlands of Otter Rock. When the weather cooperates, kites color the air and whip in the wind. Bring a bucket and build a sand castle! Surfers often head to the north beach, while folks looking for fossils head south.
Agate Beach State Recreation Site

Newport

Diggers, this park's for you! Also known as a surfers paradise, if you plan to visit prime Newport attractions like the Oregon Coast Aquarium and Hatfield Marine Science Center, you must stop in for a refreshing picnic at Agate Beach. A tunnel leads to the invigorating ocean beach and day-use area. If you walk through this tunnel, you might imagine Newport farmers many years ago leading cattle westward through this tunnel to the ocean salt.
South Jetty

Newport

Adjacent to South Beach State Park, South Jetty offers horse access to the beach, fishing, clamming, surfing, scuba diving and (for the advanced) windsurfing when conditions permit.
Rocky Creek State Scenic Viewpoint

Newport area

Rocky Creek is a spectacular ocean-front park on a forested bluff overlooking the ocean. Offshore rocks provide spectacular wave action in storms and are nesting areas for birds and sea lions. The viewpoint is an official Whale Spoken Here site for watching migrating and resident gray whales.
Coos Historical & Maritime Museum

North Bend

The communities of coastal southern Oregon face the present and future with a special history of self-sufficiency and extensive reliance on waterways. The Coos Historical & Maritime Museum is a cultural gathering place that encourages awareness and appreciation of that unique, sometimes hidden history. We enhance community awareness of local history as a key to modern times, with school programs, lectures, partnerships with other community groups, author nights, research services, and a store. Our museum offers changing exhibits that feature our extensive trove of images, artifacts, and archival materials that illuminate regional history.
Four Rivers Cultural Center and Museum

Ontario

At Four Rivers Cultural Center, we marvel at the transforming power of story. It's why we celebrate the history of our diverse world. We acknowledge that by building a connection to our world, we are creating a healthy atmosphere of curiosity, discovery, education, and inspiration for a better future. A powerhouse of stories, our museum houses the regional wonders of more than a century. Our unique collection includes unforgettable life-scale dioramas that trace the settlement patterns of the cultures which formed the Four Rivers region. Taking a closer look at its people, its land, and its water, the museum brings to life the remarkable stories of the Northern Paiutes, Basque, Japanese, Hispanic, and EuroAmerican immigrants.
Farewell Bend State Recreation Area

Ontario

Historic Farewell Bend State Recreation Area, located on the Oregon/Idaho border north of Ontario, offers a beautiful desert experience on the banks of the Snake River's Brownlee Reservoir. Pioneers on the Oregon Trail took a final rest here before leaving the Snake River to travel wearily inland on their way to Oregon City. Historic markers and interpretive displays provide visitors with information on Farewell Bend's significance on the Oregon Trail.
Frenchglen State Heritage Site

OR 205, 60 miles S. of Burns

Frenchglen Hotel is a small slice of peace and quiet in southeastern Oregon at the gateway to the mighty Steens Mountain. Offering rooms for rent, the accommodations are rustic and the food is excellent.You don't need to drive to the Sierra Nevada or Montana to get that glorious wide-open sky feeling. This historic building has been preserved and is open during the summer season. Come enjoy the history and unique beauty of this timeless piece of Oregon history.
McLoughlin House

Oregon City

He was known in Oregon City as the "Doctor" - a trained physician who once presided over British fur trade interests in a vast area stretching from California to Alaska. John McLoughlin, former Chief Factor at Fort Vancouver in the Oregon Country from 1825-1845, possessed both business acumen and compassion. He made money for the Hudson's Bay Company, but also assisted exhausted, starving American emigrants arriving into the region via the Oregon Trail.
Cape Kiwanda State Natural Area

Pacific City

Cape Kiwanda is part of the Three Capes Scenic Route (along with Cape Meares and Cape Lookout). Kiwanda is the smallest of the three, but it's one of the best places to experience spectacular wave action. Pacific City is the home of the Pacific Dory Fleet. South of Cape Kiwanda is the dory boat launching area. North of Cape Kiwanda to Tierra Del Mar is a stretch of beach popular with picnickers. Kiwanda provides great hang gliding and kite flying opportunities.
Bob Straub State Park

Pacific City

This park is located in Pacific City and provides beach access, parking, and restrooms. It's a nice place to go for a walk on the beach and explore the Nestucca sand spit. The Nestucca River is legendary for 50 pound chinook salmon.
Heritage Station Museum

Pendleton

Heritage Station Museum provides something for all ages and interests. Stop by and experience the region's fascinating story. Explore a wide variety of interesting topics through the Museum's special events. Enjoy publications which inform and entertain.
Emigrant Springs State Heritage Area

Pendleton

Perched near the summit of the Blue Mountains, Emigrant Springs State Heritage Area offers visitors an opportunity to camp and explore a popular pioneer stop over along the Oregon Trail. The park is nestled in an old-growth forest.
Cape Blanco State Park

Port Orford

Use our extra-large, private, sheltered campsites as your base of operations while you enjoy the lighthouse and historic Hughes House tours. Cape Blanco is the most southern of Oregon's lights, and is the westernmost point in Oregon. Proposed in 1864, it was the first lighthouse in the state outfitted with a first-order Fresnel lens in 1870.
Point Orford Heads State Park

Port Orford

The Port Orford Lifeboat Station was constructed in 1934 by the Coast Guard to provide lifesaving service to the southern portion of the Oregon Coast until 1970. A museum, operated by the Point Orford Heritage Society, is now housed in the station. The museum is free (donations accepted, of course), and is open April-October, Thursday-Monday, 10 a.m.-3:30 p.m. A 36-foot motor lifeboat used at this station is on the premises and waiting to be restored.
Paradise Point State Recreation Site

Port Orford

A parking area with an expansive coastal vista stretching from Port Orford Heads to Orfords offshore reef and distant Cape Blanco and the lighthouse there. The beach is great for beachcombing; it's not unusual to find floats and agates here.
Humbug Mountain State Park

Port Orford

The park and campground are dominated by Humbug Mountain (elevation 1,756 feet) and surrounded by forested hills. The campground enjoys some of the warmest weather on the Oregon coast as the surrounding mountains offer protection from cool ocean breezes. Many visitors enjoy windsurfing and scuba diving. Hiking to the top of Humbug Mountain is a major activity.
Portland Art Museum

Portland

Founded in late 1892, the Portland Art Museum is the seventh oldest museum in the United States and the oldest in the Pacific Northwest. The Museum is internationally recognized for its permanent collection and ambitious special exhibitions, drawn from the Museum's holdings and the world's finest public and private collections. The Museum's collection of more than 42,000 objects, displayed in 112,000 square feet of galleries, reflects the history of art from ancient times to today. The collection is distinguished for its holdings of art of the native peoples of North America, English silver, and the graphic arts
Willamette Stone State Heritage Site

Portland

Every bit of Oregon (and the United States, for that matter), is divided into a grid. At several places across the nation, the government established a land survey starting point (called a meridian) and drew the grid lines from there. What is the Willamette Stone? It's the starting point for all the land surveying west of the Cascade Mountains in both Oregon and Washington. It's the "zero point" for the Willamette Meridian.
Tryon Creek State Park

Portland

Located only minutes from downtown Portland is Oregon's only state park within a major metropolitan area. Every day, visitors come to hike or stroll Tryon Creek State Park's nature trails through the verdant ravine between Boones Ferry Road and Terwilliger Boulevard in southwest Portland. Cyclists of all ages bike along the paved trail on the park's eastern edge, stopping along the way to admire a trillium.
Government Island State Recreation Area

Portland

Government Island (in the Columbia River northeast of Portland) is a series of islands accessible by boat only. There are two docks and a floating tie-up on the north side of the main island. With 15 miles of shoreline, the park is popular with anglers. Camping is permitted below the vegetation line around the perimeter and in a few upland areas where picnic tables and a shelter have been installed.
Rooster Rock State Park

Portland

Rooster Rock is where spring fever happens. Imagine the first warm, sunny days of spring where meadows of wild roses and the spicy scent of Oregon grape combine with an endless panorama of the Cascade mountains, blue sky and the deep blue waters of the Columbia River. One of the largest swimming areas near Portland serves visitors who want a natural experience. It's even more natural the farther east you go at Rooster Rock (where you'll find one of Oregon's two designated nude beaches). By design, the nude beach area is completely separate and not visible from the clothing-required area of the large park. The two areas coexist in harmony.
Lewis & Clark State Recreation Site

Portland

Located at the western gateway of the Columbia River Gorge, Lewis & Clark State Park appropriately honors its legendary namesakes who camped and explored here in November, 1805. The park is situated near the mouth of the Sandy River where it spills into the mighty Columbia River and at one of the entrances to the Historic Columbia River Highway. A flat, grassy, tree-dotted park invites blankets and sun-lovers to come spend a leisurely day.
Benson State Recreation Area

Portland

Simon Benson was a lumber magnate, philanthropist, and one of the principal promoters of the Historic Columbia River Gorge Highway. Located one mile west of Multnomah Falls on I-84 at milepost 30 (eastbound access only), picnickers love this park; there's even a disc golf course and a reservable shelter for groups.
Experiment PDX

Portland

Explore the wacky, whimsical world of science at this hands-on museum where all ages are encouraged to play, create, and enjoy interactive exhibits. This venue hosts a range of child and family-friendly events, as well as summer camps, classes, and more. Visit their website to find a complete list of events. Drop-in hours are also available every day of the week. This would make a wonderful field trip for those curious about physics, coding, biology, nature, and the art of science.
The Freshwater Trust

Portland, Corvallis, Bend

The Freshwater Trust is a not-for-profit organization that actively works to preserve and restore our freshwater ecosystems.
Prineville Reservoir State Park

Prineville

Need a place to play? Where you can enjoy nature viewing at its finest? This is a place where those weary of hectic schedules and jangling telephones can find peace, a place where life can be pondered from a different and unique perspective. Most of all, a place carefully designed and maintained for people -- for the mother and her baby out for a Sunday drive, for the father teaching his son how to fish, for the teenager who wants to get away for a bit, for the couple on a weekend camping trip, for the grandparents who just want to take it easy for a week.
Jasper Point (Prineville Reservoir)

Prineville

Need a place to play? Where you can enjoy nature viewing at its finest? This is a place where those weary of hectic schedules and jangling telephones can find peace, a place where life can be pondered from a different and unique perspective. Most of all, a place carefully designed and maintained for people -- for the mother and her baby out for a Sunday drive, for the father teaching his son how to fish, for the teenager who wants to get away for a bit, for the couple on a weekend camping trip, for the grandparents who just want to take it easy for a week.
Prospect State Scenic Viewpoint

Prospect

Beautiful, quiet secluded forest area with picnic tables and a hiking trail leading to Pearsony Falls, the Rogue River and Mill Creek Falls.
Smith Rock State Park

Redmond

If you enjoy scenic views of deep river canyons or rock climbing, Smith Rock State Park is the place for you. There are several thousand climbs in the park. More than a thousand are bolted routes. We also offer miles of hiking and mountain biking trails. Along your trip through the canyon, you might see golden eagles, prairie falcons, mule deer, river otter and beaver.
Peter Skene Ogden State Scenic Viewpoint

Redmond

If you enjoy vertical basalt cliffs and scenic river canyons, the Ogden Wayside is for you. The park is perched at the top of a striking canyon. Bring a camera!
Cline Falls State Scenic Viewpoint

Redmond

On the banks of the Deschutes River lies a quaint rest area that provides plenty of shade for picnickers. An ideal place to stop for a break, lunch or simply to relax in the warm sun. The park provides fishing access to the river.
Bolon Island Tideways State Scenic Corridor

Reedsport

This park is a quiet place with a hiking trail that extends half way around the island. Lots of birds roost at the end of the trail. The trail also provides a nice view of the Umpqua River.
William M. Tugman State Park

Reedsport

Tugman State Park is relatively unknown -- a private hideaway on the wondrous south coast. Situated on Eel Lake near the community of Lakeside, Tugman offers 94 campsites with electric/water hookups tucked away in a mature stand of shore pines. The day-use area has a restroom and gazebo-style shelter surrounded by broad green lawns.
Umpqua State Scenic Corridor

Reedsport area

This small park contains a couple of picnic tables, a vault-style restroom and a short boat ramp leading into the Umpqua River.
Umpqua Lighthouse State Park

Reedsport area

Umpqua Lighthouse State Park is located less than a mile from the famous Salmon Harbor on Winchester Bay. The campground and developed day use areas are centered around beautiful Lake Marie. Access to this small freshwater lake is provided for angling and non-motorized boating. There is also a small sandy beach set aside for swimming or just relaxing.
Manhattan Beach State Recreation Site

Rockaway Beach

You'll find this day-use park just off of Highway 101 north of Rockaway. Picnic tables are nestled into small cul-de-sacs surrounded by shore pine to provide a break from the wind. After a leisurely lunch, kick off your shoes and take the short walk down the access trail to the ocean beach. A thoroughly relaxing spot.
Mission Mill Museum

Salem

Mission Mill Museum Association is a not-for-profit, tax-exempt corporation established to educate and to interpret and preserve the history of the Willamette Valley and Oregon's textile industry.
Detroit Lake State Recreation Area

Salem

Detroit Lake State Park is the gateway to beautiful Detroit Lake. The 400-foot-deep lake was created in 1953 when the U.S. Army Corp of Engineers completed the Detroit Dam project. The lake is over nine miles long with more than 32 miles of shore line. This is the spot for all types of water sports: fishing, boating, swimming, water skiing, and personal watercraft.
State Capital State Park

Salem

The park features not only cherry trees and other plants favored by Oregonians, but tells a little history as well. Stone plaques set in the mall sidewalks list the county seat and establishment date for each of Oregon's counties. On the Willson Park side of the street, flags from every state in the union sit in a circle near the Moon Tree, a state heritage tree. The young Douglas-fir, just north of the flags along Court Street, was grown from a seed carried to the moon by Apollo 14 astronaut Stuart Roosa in 1971.
Willamette Mission State Park

Salem

Willamette Mission is one of the most significant and beautiful historic sites in the Willamette Valley. The park occupies land where the first mission for American Indians was founded in 1834 by the Reverend Jason Lee. Members of the Methodist Mission were later active in the formation of Oregon government. A monument is located in the park providing information on this settlement. The park offers many daytime opportunities for boaters, anglers and other users. The park also has areas set aside for volleyball, horse shoes, softball and soccer. Eight miles of trails run along the Willamette River, with an incredible amount of native birds, plants and wildlife [there's even a self-guided interpretive trail through our riparian education project].
Silver Falls State Park

Salem

Nestled in the lower elevation of Oregon's Cascade Mountains lies a temperate rain forest. It is here that the Trail of Ten Falls/Canyon Trail can be found. The Canyon Trail and the falls descend to a forest floor covered with ferns, mosses, and wildflowers. You will also find stands of Douglas fir, hemlock, and cedar. While thousands visit the park every year, it is large enough for you to find quiet places to sit and watch for birds. The Canyon Trail is a nationally recognized trail system that leads hikers along the banks of the north and south forks of Silver Creek. It takes you to 10 majestic waterfalls. Four of these falls have an amphitheater-like surrounding where you can walk behind the falls and feel the misty, crisp spray.
Mongold (Detroit Lake)

Salem

Mongold Day Use area is 1.5 miles west of Detroit Lake State Park. It's the only public boat launch facility on the lake featuring a swimming area, grass beach, picnic facilities and restrooms. Mongold is a year-round fee area.
Maud Williamson State Recreation Site

Salem

Maud Williamson occupies a flat edge of cultivated Willamette Valley farm land on the west side of the Salem-Dayton highway. It's covered by a fine stand of second-growth Douglas fir. The park also includes a historic farm house once occupied by the person who donated the property as a park.
Wy'East Mountain Academy

Sandy

Wy'East Academy offers a 28-acre private campus that is covered in skateboard parks, trampolines, mountain bike trails, weight room, airbags & dryslope facilities for skiing & snowboarding. With over 30 years of experience providing life improvement through movement, we would love to extend these opportunities to the homeschooling community.
Thompson's Mills State Heritage Site

Shedd

Thompson's Mills is a unique reminder of times past, chronicling the past 150 years of Oregon rural life. It is the oldest water-powered grain mill in the state: its system of waterways, dams, control gates, ditches and dikes has moved water from the Calapooia River to the mill head gates since 1858. A water right that predates statehood produced the water flow that ran the milling machines. Pioneer families came with their grain crops and left with the flour that would keep them through the coming year. Visitors to the mill today will see antique milling machinery, hand-hewn timbers and mortise and tenon construction.
Erratic Rock State Natural Site

Sheridan

This 40-ton rock was deposited during a prehistoric flood. Other than this specimen, rocks of this type are only found in Canada. It was carried here on an iceberg during an Ice Age some 20,000 years ago, probably by way of the Columbia River. The rock was deposited when the ice melted. This is the largest glacial erratic found in the Willamette Valley. The trail to the rock provides an excellent view of Yamhill Valley Vineyards.
Cascadia State Park

Sweet Home

The first thing that strikes you when you arrive at Cascadia is the tranquility. While the park is quite large, there are barely two dozen campsites, making this a great spot for an intimate getaway.
Columbia Gorge Discovery Center/Wasco County Historical Museum

The Dalles

The Columbia Gorge Discovery Center is the official interpretive center for the Columbia River Gorge National Scenic Area. This 26,100 square-foot exhibit wing holds interactive displays which bring to life the tremendous volcanic upheavals and raging floods that created the Gorge, theories of why the Ice Age occured, and a closer look at the mighty river which sculpted patterns for a unique and spectacular diversity of vegetation, wildlife, and ancient ways of life. The Wasco County Historical Museum is a 17,200 square-foot exhibit wing which tells the stories of the people of Wasco County past and present. Once the largest county in the nation, Wasco County began in what is now western Montana and was the home, place of work, and gateway to the interior of western North America.

Columbia Gorge Discovery Center/Wasco County Historical Museum website
Memaloose State Park

The Dalles

The Chinook Indian tribes of the Columbia Gorge used to lay the bones of their dead on open pyres on Memaloose Island in the middle of the Columbia River near The Dalles. A granite monument visible from Memaloose State Park campground marks the resting place where a local pioneer named Victor Trevitt wished to chart his eternal course buried among honorable men. Today, Memaloose State Park is a virtual oasis of beauty in the hottest part of the Columbia River Gorge.
Mayer State Park

The Dalles

If you need an open invitation to go explore a peaceful tree-lined lake in the summertime, consider yourself invited. Go see lower Mayer State Park from the top of Rowena Crest and soak in a view of the most beautiful lake around.
White River Falls State Park

The Dalles

One of Oregon's secret hideaways is located just east of Tygh Valley along Highway 216. The White River plunges 90? over a basalt shelf. The park offers excellent viewpoints of the White River falls. A rugged quarter-mile trail takes hikers down deep within the canyon to the historic hydroelectric power plant at the base of the raw, churning power of the falls. The power plant supplied electricity to Wasco and Sherman Counties from 1910 until the completion of The Dalles Dam in 1960.
Heritage Landing (Deschutes)

The Dalles

Heritage Landing is a popular jetboaters launch. It provides access to the Deschutes and Columbia Rivers. This is where river guides meet their clients, families gather to head out onto the Columbia River for salmon fishing or water skiing, and everyone collects to share the excitement of their big catch. Jetboating is allowed on the lower segment of the Deschutes River all year around except alternating weekends from June - September; boaters passes are required.
Deschutes River State Recreation Area

The Dalles

The Deschutes River State Recreation Area is a tree-shaded, overnight oasis for campers. The sparkle-laden, swift, green rush of the Deschutes converges with the Columbia here, and there's no better place for family outing activities like hiking, mountain biking, camping, rafting, world-class steelhead and trout fishing, and equestrian trail riding.
Tillamook County Pioneer Museum

Tillamook

The history of Tillamook County serves as a reminder of the diverse people who have called it home. From the Tillamook Indians to Captain Gray's 1788 voyage into Tillamook Bay, this stretch of the north Oregon coast is a living memorial to those who came before. Tillamook County's rich history is preserved for all to enjoy at the Tillamook County Pioneer Museum.
Cape Meares State Scenic Viewpoint

Tillamook

A must-see when driving the Three Capes Scenic route, Cape Meares State Scenic Viewpoint is situated on a headland 200 feet above the ocean. Cape Lookout and Cape Kiwanda are the other two capes on this route. Cape Meares provides an excellent view of the largest colony of nesting common murres (the site is one of the most populous colonies of nesting sea birds on the continent). Bald eagles and a peregrine falcon have also been known to nest near here.
Cape Lookout State Park

Tillamook

Cape Lookout State Park can be reached by traveling an hour and a half west of Portland through the scenic Wilson River pass. Along the way, stop and enjoy waterfalls, scenic views and some great fishing.
Oceanside Beach State Recreation Site

Tillamook

Located in the center of the community of Oceanside, this park offers some of the best agate hunting during the winter season when the sand is stripped away by ocean currents. During the summer season, the park is a popular place to beachcomb, explore tidepools and surf.
Munson Creek State Natural Site

Tillamook

The park is home to ancient western red cedar and Sitka spruce. An important salmon spawning ground, Munson Creek Falls tumbles 319', making it the tallest waterfall in the Coast Range. A trail system winds through the hills to the waterfall.
Shepperd Dell State Natural Area

Troutdale

In 1915, a local dairy farmer named George Shepperd gave all that he had (this tract of land) to the City of Portland as a memorial to his wife. Today, thousands of visitors along the Historic Columbia River Highway visit this beautiful spot, with its roaring waterfall cascading down steep cliffs into Youngs Creek and out to the Columbia River far below. One of the most beautiful and historic highway bridges crosses the canyon here, but you can't see or appreciated it unless you leave your car and take the short trail to the falls.
Portland Women's Forum State Scenic Viewpoint

Troutdale

The view is absolutely breathtaking and it's one of the best spots to soak in a view of one of the most beautiful places on earth: the magnificent, awesome Columbia River Gorge. Any visit to the Gorge would be nearly perfect with Women's Forum as the starting place to a fun-filled day of adventure and discovery. With the scenic Vista House and the wide expanse of the Columbia Gorge in the background, more photographs of the Columbia Gorge are probably taken from this point than anywhere else (but don't let that stop you ... go ahead and take a few shots of your own).
Guy W. Talbot State Park

Troutdale

Guy Webster Talbot and his family used this property as a summer estate until 1929 when they donated it to the state. Today, it's a beautiful picnic park. A modern picnic shelter is available for rent (and is reservable).While the park is terrific for a group or family picnic, the park is often uncrowded even on the best days because of its seclusion. A gently sloping grassy hill dotted with Port Orford cedars, Douglas firs, alders and maples invites frisbee tossing and quiet relaxation.
Dabney State Recreation Area

Troutdale

The classic summer place, Dabney has been a popular cooling-off swimming and picnic spot for over 50 years. It's easy to see why when you visit. The lower, older part of the park at the west end features an asphalt trail leading down to a classic swimming hole. Large picnic tables and electric cooking stations are on hand and fill up quickly on hot days. The newer parts of the park feature a covered, reservable picnic shelter and trails winding through tall bamboo, horsetail, cottonwoods and alders.
Crown Point State Scenic Corridor

Troutdale

Just as the Statue of Liberty is a symbol of freedom, the Vista House serves as the symbol of the Columbia River Gorge. In fact, the architect of the Vista House -- Edgar Lazarus -- and Emma Lazarus (who wrote the poem of the Statue of Liberty), were brother and sister. The Vista House was built in 1916 at the same time as Highway 30 (what is now the Historic Columbia River Gorge Highway, and the only way to reach Crown Point). The building was designed to be a place of refreshment and enjoyment of the Columbia Gorge. The popular clifftop viewpoint recently underwent a $3.2 million restoration to repair and rejuvenate the building's key historic features.
Bridal Veil Falls State Scenic Viewpoint

Troutdale

The park offers a nice parking area, picnic tables and restrooms all within easy walking distance from the parking area. Nice grassy areas afford visitors a chance to stretch a blanket in one of the laziest parts of the Columbia River Gorge.
Ainsworth State Park

Troutdale

Nestled in the awe-inspiring Columbia River Gorge, Ainsworth is equal parts waterfall wonderland, hiker's playground and camper's delight. Situated at the eastern end of Historic Highway 30, from Ainsworth to Crown Point to the west, you'll find the world's greatest concentration of high waterfalls (like Multnomah Falls).
Battle Mountain Forest State Scenic Corridor

Ukiah

Battle Mountain Forest State Scenic Corridor -- located on U.S. 395 nine miles north of Ukiah -- was purchased to protect the forest of ponderosa pine, larch, Douglas fir and spruce. It provides prime habitat for all kinds of wildlife. The name commemorates one of the last battles between native Americans and settlers in eastern Oregon. This confrontation took place near the park.
Catherine Creek State Park

Union

Tranquil, crystal-clear waters and towering ponderosa pines frame the landscape at Catherine Creek State Park. Cradled in a canyon created by the creek, the park provides visitors a cool, quiet and peaceful setting for outdoor activities. Camp in the campground next to Catherine Creek and enjoy the thrill of landing a rainbow trout or simply cool your heels in its icy waters.
Fort Yamhill State Heritage Area

Valley Junction.

Built in the mid-1800s, Fort Yamhill represented a time of transition for the people of the Northwest. The fort served to ease tension between settlers and natives, protect both populations and control traffic between them. Visiting Fort Yamhill today offers an insight into the physical and emotional hardships endured by all the people involved, as well as the emotional tone of the state from 1856-1866. Exhibits and cultural restoration are provided in partnership with the Confederated Tribes of the Grand Ronde.
W.B. Nelson State Recreation Site

Waldport

W.B. Nelson provides a small freshwater lake and fishing dock. Bass and stocked pan-sized trout are the most common fish. The area is known for abundant waterfowl. Adjacent to the Alsea River, there's a scenic wetland area. A free fishing day is held every year in May.
Governor Patterson Memorial State Recreation Site

Waldport

Governor Patterson State Park is a beachcomber's delight. ... miles of flat, sandy beach and just a short hike from the mouth of Alsea Bay where you can windsurf, crab, or just watch the seals. Excellent whale and storm watching. Sunsets are beautiful here and it's a great place to take photos.
Driftwood Beach State Recreation Site

Waldport

Driftwood Beach State Wayside provides access to the ocean and picnic facilities scattered among the shore pine. The area offers a wide, flat, sandy beach. A great place for beachcombing and enjoying beautiful sunsets.
Beachside State Recreation Site

Waldport

A few miles south of Waldport and north of Yachats on the central coast, this small, exquisite destination campground is right along side miles of broad, sandy beach that makes the park perfect for kite flying and watching. Tent and electric sites accommodate one vehicle per site. Every site is mere seconds from the beach, which makes the park perfect for watching storms, sunsets and whales.
Alsea Bay Historic Interpretive Center

Waldport

The Historic Alsea Bay Bridge Interpretive Center in Waldport was constructed by the Oregon Department of Transportation as part of the bridge replacement project. It's operated by the Oregon Parks and Recreation Department with help from the Waldport Chamber of Commerce. There are daily bridge tours during the summer (at 2 p.m.) led by a park naturalist. The tours cover the story of the bridge replacement.
The Clay Myers State Natural Area at Whalen Island

Whalen Island

The Clay Myers State Natural Area at Whalen Island is a remarkable place. A virtually untouched coastal estaurine ecosystem, it is bounded by the Sand Creek estuary. This is critically valuable habitat for adult salmon moving upstream to spawn and for smolt leaving the inland fresh waters for their marine journey. The area is a ecological potpourri, including mixed woodlands, grasslands, fresh and saltwater wetlands and a rare native dune sedgeland. Species run the gamut from salmon and steelhead to shorebirds to deer, otter, and even bear and cougar.
Yachats State Recreation Area

Yachats

n the heart of Yachats, turn west on 2nd Street. The road makes a small loop, offering a serene view of the Yachats river as it meets the Pacific Ocean. Park and see the wild waves and gray whale migration. Rock and salmon fishing and tidepools bring people back to this park again and again. Plenty of resting benches and picnic tables.
Yachats Ocean Road State Natural Site

Yachats

South of Yachats, the road makes a one-mile loop, exposing one of the most scenic viewpoints on the coast: the Yachats Bay and the Pacific Ocean. Park along the loop and enjoy access to the beach, tidepools, blowholes, summer sunsets and whale watching.
Stonefield Beach State Recreation Site

Yachats

Stonefield has easy beach access. Tenmile Creek is just to the north. A great place to sit in the sun and watch for whales.
Smelt Sands State Recreation Site

Yachats

An excellent whale watching and photography viewpoint. Walk the historic 804 Trail (.75 miles one-way with resting benches scattered along the way). The park is known for tidepooling, rock fishing and the yearly smelt run (smelt are small, silvery relatives of salmon). Breathtaking sunsets.
Neptune State Scenic Viewpoint

Yachats

Benches set on a cliff above the beach give you an excellent view of Cumming Creek, wildlife and the rock-pounding waves. From this location, you can watch for whales, see a variety of birds, sea lions and the occasional deer in the creek. The creek is also a great place to look for agates. At low tide you can walk to the south to see a natural cave and tidepools.