Homeschooling parents whose kids will likely seek admission to college usually realize their homeschool graduates will need parent-made homeschool transcripts. They will probably also need "outside evidence."
That's because a homeschool transcript full of parent-graded courses and independent learning done at home may not by itself convince university admissions counselors of a teen's preparation for college-level work.
How can "outside evidence" of college readiness help your homeschooled child's application?
Outside evidence can legitimize the parent-awarded grades and/or credits you put on a transcript.
Letters from instructors and mentors will almost surely be needed as part of both admission and scholarship applications.
Test scores may help colleges evaluate homeschooled students alongside their public school peers.
Community activities, sports,  and volunteering show homeschoolers' ability to work in groups.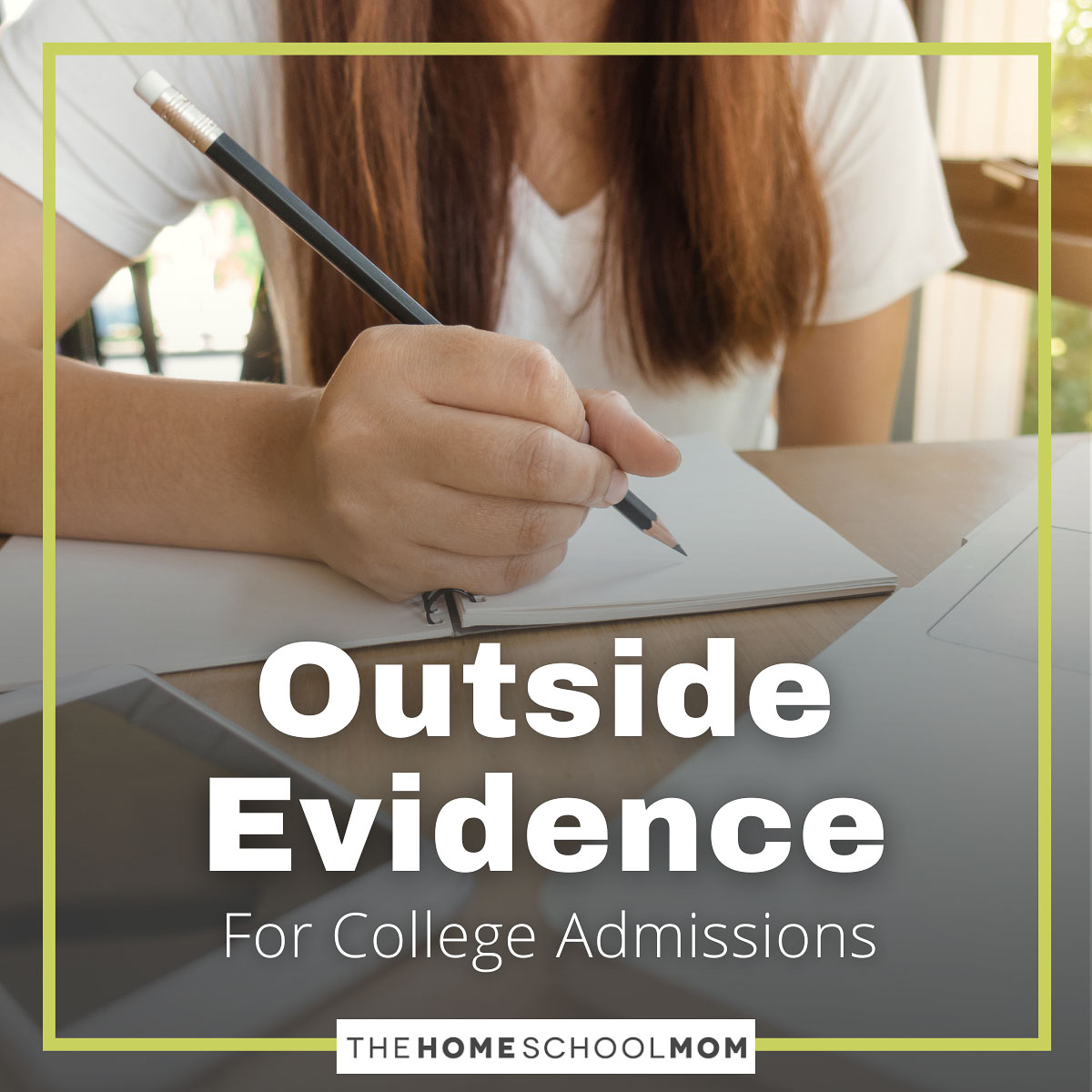 Where can my child get some of this outside evidence?
Community college classes. Good grades in dual enrollment classes taken while students are in their high school homeschool years—or classes after graduation from homeschooling—show four-year colleges and universities that your child is already doing college work. Instructors can write letters of recommendation. These classes also legitimize a student's homeschool grades. A kid who got all As in math done at home and then gets an A in calculus at community college probably deserved those As at home.
Homeschool co-ops and homeschool classes. More populated areas now offer classes for homeschoolers, which can demonstrate that your teen can flourish with teachers "other than" mom and in group settings. Instructors can write letters of recommendation, and some provide grades or report cards.
Tutoring centers. Learning from a tutor is another way to show "not-just-mom" learning. Some tutors can write letters of recommendation or help you quantify what skills and content were learned.
Online classes. Some online classes with authentic contact hours with an instructor or respected curriculum may be beneficial in college admissions. Some other programs may be seen as lightweight flash card-and-quiz type programs. Check the instructional methods and reputation!
Mentors. Some teens develop relationships with adults at places they volunteer, learn, work, compete, or play. These can include instructors, employers, supervisors, coaches, pastors, or leaders of organizations such as Scouts or 4H. Mentors tend to be outstanding sources for letters of recommendation.
SAT and ACT scores.Community colleges do not usually require these scores, though it could vary state-to-state. Many universities require them of teens who are applying as freshmen.
Original work. Homeschooled students can complete projects that are released to the public. Examples include:

Publishing writing
Exhibiting fine art and photography
Producing film or video
Choreographing dance, gymnastics, or figure skating routines
Conducting and documenting citizen science or original research
Writing and recording music
Designing video games
Creating apps and code
Oral history projects or other historical research
This need for "additional evidence" applies most strongly to students who want to head straight to a four-year institution without transferring with an associate degree from community college, and to students who are applying to more highly selective universities or programs within universities.
A parent who thinks that just moving a kid through a curriculum at home during the high school years is enough to gain admission to a four-year college at 18 may end up with a disappointed teen. College-bound kids need relationships with other adults who can sing their praises in letters and provide that outside evidence.
That said, teens who don't mind attending community college first and going to university later will find, for example, that they might not even need SAT or ACT scores to transfer to some institutions. While the "attend a four-year college starting at 18" is something many homeschoolers do, many others find the community college route beneficial.
There are also slower and more meandering routes such as taking a gap year or working and attending college over a longer period, which have been great choices for some homeschool grads. And of course, many homeschoolers find meaningful work through entrepreneurship or leading a creative life rather than through college.
But. If a teen wants to go to college at 18, there needs to be some outside evidence of college readiness.
And? Of course, the life experience gained from outside classes, work, volunteering, and creativity serves teens well, helps fuel interest in learning, and might even become the fodder for that college admissions essay.
Nearly all homeschoolers recognize this and may even face the stress of too many activities and classes. But make sure there is enough outside evidence teens can gather if they want to attend college.