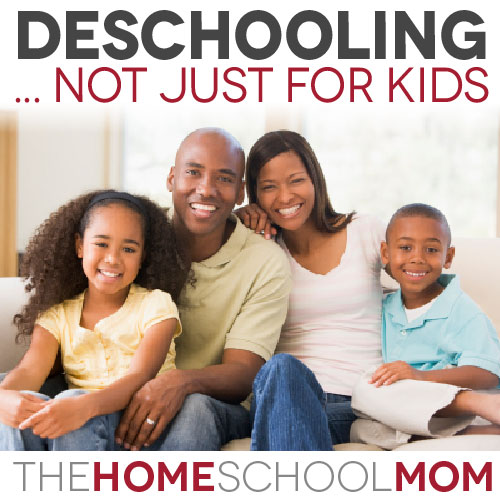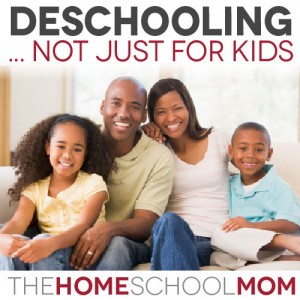 Parental Deschooling Part 1 | 2 |  3 | 4 | 5
Starting Out Right
Have you decided to homeschool?
You probably need some parental deschooling.
Most parents who are choosing to homeschool their children today attended school themselves. We have also lived for many years in a world where the public school model of education is predominant.
School is the status quo.
School is the default.
School is the norm.
As many of my school-teacher-turned-homeschooler friends have pointed out to me over the years, one of the hardest things about transitioning to homeschooling as a parent is getting out of the school mindset. 
This is not surprising. We've lived and breathed compulsory attendance at public schools for a few generations now, and such a massive institution that everyone takes part in is bound to set expectations for how education should be conducted.
However, the benefits of homeschooling are much more difficult to access until parents deschool - that is, until they begin to look at their children's education independently of the way things "have to be done" in school.
Rethinking Education
As you begin to homeschool and continue over the years, you will find yourself rethinking many things in light of what seems typical of schools:
Where should learning take place?
When should learning should take place?
Who should set the agenda for learning?
How should learning occur?
Do I need tests to assess my children's learning?
Do we need school-type textbooks?
Should I reward learning with food, privileges, or material goods?
How important is the notion of grade level?
Is a quiet, orderly environment the best one for all learning?
Does my child learn to her potential when I am teaching based on minimum standards?
Should I hide the answer key?
Is it helpful or necessary to grade learning as A, B, C, D, or Failing?
Is memorizing facts important in an information world?
Who is in charge here?
And so much more.
Redefining Learning
All of these things are important in the school world. In the school world, we know that kids get treats and parties when they reach learning goals. We know that classroom management -- keeping kids quiet and orderly -- takes a vast amount of energy and is necessary to avoid chaos in the typical school classroom. We know that grades and grade level are paramount. We know that kids must be able to repeat facts on standardized, curriculum-aligned tests. We know that learning takes place in desks, with curriculum, with teachers imparting knowledge. We know that kids need to read by six, and be able to "read to learn" in other subject areas by third grade.
But here's the short answer about the homeschool world: a kid can learn a lot playing in a sandbox while his mom reads a non-textbook to him that's not part of any formal curriculum that he doesn't get graded on and he doesn't get cookies for and that is five grades above his reading level.
We know that kids who have been in a rich environment of literacy can begin reading later and be just fine.
We know that even of the few homeschoolers who start out with school desks in their home, most pretty quickly abandon them for something more homey because kids like to learn sprawled across the floor, in a tent under the dining room table, in the tree house, at a computer desk, and in bed. Oh yes, and at the proverbial kitchen table.
And -- a whole lot more learning takes place in the car and in the community than non-homeschoolers realize.
We know that homeschooled kids get ready for college and career, sometimes with no testing and grades, sometimes with very little testing and few grades, and sometimes with much later testing and grades only in high school.
We know that kids can learn facts not just through rote memorization, but also through art and arguing and auto repair.
We know that it doesn't take eight hours to "do school" and we don't have to start at eight o'clock.
We know that sometimes, giving the kid the answer key is the right thing to do, having known many a homeschooler who has worked backward through difficult algebra problems.
However, even as experienced homeschool moms can tell you all these things they have discovered, you will find you still have to personally deschool, because the school defaults run so deep in most of us.
Less experienced homeschool moms often feel crisis after crisis as they encounter the need to cast away school defaults one after another.
But this is such a complete curriculum. And it was so expensive!
We will not be like those lax homeschoolers. We'll start by 7 a.m.
We're using a chart for reading. Ten points for every on-grade-level book, and when he reaches 100 points, he'll get to choose a prize.
We'll do one lesson every day in every subject.
Then it turns out that the expensive, complete curriculum is a bust, because your child doesn't have the learning style the curriculum depends on. It turns out that you accomplish so much in several hours a day, that there is no need to start at 7 a.m. It turns out that incentive plans often backfire, demotivating kids instead of motivating them. It turns out that your kid loves the lesson on Ancient Egypt, so you can't resist studying it alongside her for weeks.
But what about the curriculum? The schedule? The rewards chart? The lesson plans?
You're homeschooling!
Renegotiating Your Relationship to School Norms
As you deschool, you'll find that your task is to renegotiate your relationship to school norms.
Some homeschooling parents will find that starting at 7 a.m. really does work for their family, and they'll keep doing it -- not because their neighborhood school starts then, but because it fits. Other families will find that the early start was a terrible, horrible, no good, very bad idea: Mom is a night owl, the baby needs attention at that hour, or the kids get too tired later in the day if they start that early.
Some moms will abandon behavior modification techniques like rewards charts; others will come to rely on them.
Some moms will take the interest in Ancient Egypt as a cue to use unit studies as their homeschooling style. Others will see it as the onset of eclectic homeschooling or unschooling. Others will see it as a way for curriculum to fuel interests and set positive agendas -- evidence that this is a great curriculum that works!
As you deschool yourself as a parent, you'll find answers about how to help your children learn outside of the school model.
You'll realize it's okay to question institutional approaches to education, since your child is learning in a family, not an institution.
(Note: Learn more about How To Start Homeschooling by reading about the deschooling period children go through and tips for deschooling children. )
Parental Deschooling Part 1 | 2 |  3 | 4 | 5