Can Homeschoolers Attend College?
(Be sure to check out our Homeschool High School page for resources to help you choose and track high school academics.)
Homeschoolers are often asked (or may even themselves ask) if it's possible for homeschooled students to go to college. Although some homeschoolers are opting out of college altogether, preferring entrepreneurship or apprenticeship instead, many others are following the traditional path to college.
For those that go on to a college or university, the process can seem intimidating because most of the resources available are geared toward public school students. Colleges are aware that homeschoolers do not fit the typical student mold and understand that the components of their application may look different. Admissions departments are very helpful, and some colleges (ranging from Princeton to Biola) have even set up special pages for homeschooled applicants.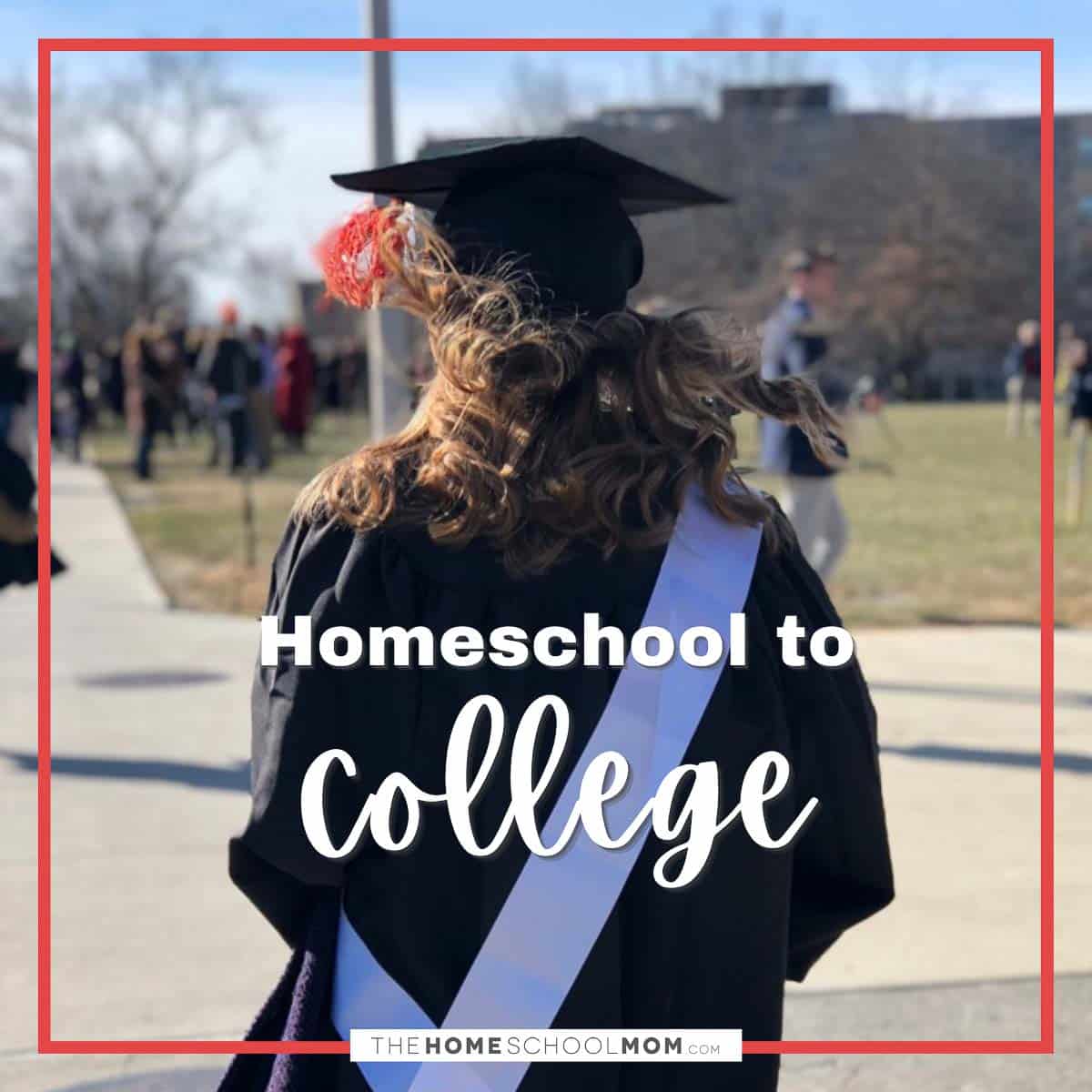 In terms of applications, most schools put more weight on standardized tests like the SAT & ACT for homeschooled applicants. If a student does not test well, they may wish to begin their college career by taking classes at a community or junior college to build up a transcript of college-level courses (and save money, since tuition at those institutions is much less expensive per credit hour), which will lessen the weight put on test scores.
The University of Virginia asks that homeschoolers help them to see "their academic performance in the clearest possible context" through such things as "taking courses in a local college; joining organizations in their community; providing samples of academic projects (e.g., essays, research papers, articles) they have completed; sending multiple recommendations from non-family-members who know them well . . ."
College admissions departments will not ask to see the student's diploma, which is basically a pretty certificate meant for hanging on a wall. Instead, they will want to see an official high school transcript, which can be created at home (or through an umbrella school if they provide that service).
We offer a free homeschool transcript template that will automatically calculate grade point averages based on the grades entered. The transcript page includes extensive information about transcripts that will help you as you plan your student's high school courses.
In addition to making sure that the basic credits are covered, you will want to ensure that your student has outside evidence of her college readiness. These are some things to consider if your child plans to attend a 4-year college:
Dual enrollment at a community college. Attending community college for basic courses saves on tuition by paying for credits where they cost less, and taking the classes as a dual-enrolled (or joint enrolled as some schools call it) homeschooler allows the classes to count for both high school and college. Use our community college course planner to keep track of credits earned, and be sure to match them up to the credits needed for the chosen major at the desired 4-year school for the most savings. Dual enrollment courses should be listed on the high school transcript as DE and can be weighted. Check with your local community college for their requirements regarding dual enrollment.
Credit by testing. CLEP and DSST are 2 ways to receive college credit by testing. DSST tests are frequently used by military members. DSST courses are listed on their website, and both test centers and a list of institutions accepting credit for DSST tests can be located with their search tool. CLEP tests are administered by the College Board; check their website for details about institutions accepting credit for CLEP tests as well as dates and locations for testing. Another credit by exam option is UExcel through Excelsior College; check their site for details.
AP testing. Although it is becoming less common for colleges to award college credit for AP tests, a good score on an AP test shows a college that a student is likely to succeed in a college setting. You do not have to have taken an approved AP course to sit for an AP exam, but the courses cover all of the material that will be on the exam. Exams are administered by the College Board for several subjects and are scored on a 1-5 scale, with credit being awarded at a college's discretion (usually credit is only awarded for a score of 4 or 5, and sometimes not even then).
AP classes. A class can only be called an AP class if it has been approved by the College Board, so you should only use that designation on your transcript if the student took an AP course approved by the College Board. The terms Honors or Advanced can be used as appropriate for advanced material and coursework and be weighted heavier.
Things to be aware of when preparing college applications:
SAT/ACT testing availability is limited to certain dates and locations. Sign up early and make sure the date you choose is well before the application deadline for the college. All portions of an application (including test scores and official transcripts) are expected to be received by the deadline date, so if you choose a testing date within a week or two of the application deadline, the scores will not be received by the college before the deadline.
AP testing is only offered once per year (in May). Homeschoolers can contact the College Board to find a local school that will allow them to sit for the AP exams.
Test scores must be submitted to the college directly from the testing company. Colleges will not accept copies of a student's scores from any other source.
Transcripts should be submitted to colleges in a sealed envelope with the signature of the administrator or guidance counselor of the school across the seal. This is true even for homeschoolers where mom is the administrator. If possible, include the student's name, SSN or college ID number (if one was assigned during the application process), and date of birth on the front of the envelope. All pages of the transcript should include the student's name, date of birth, and (at a minimum) the last 4 digits of the student's SSN.
Help for Going From Homeschooling To College
External Links
The largest online college community with lots of articles and helps; the most valuable resource is the very active forums, which are the web's busiest discussion community related to college admissions with parents, students, and admissions representatives participating in the discussions.
A fun college matching tool that actually works. Photos, videos and advice to help you get to know what a school is really like, and you can create a personal profile to save and compare your favorite schools.
"More than 1,000 schools of higher education appear on this FAQ and its subpages, and links to over 980 college Web sites appear on these pages."
Helpful Books
(Affiliate links)
Book by Cafi Cohen, Linda Dobson (Editor)
Book by Cafi Cohen, Patrick Farenga (Editor)