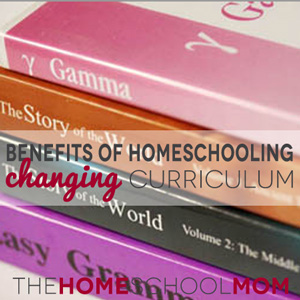 I am going to be a math curriculum expert before this whole homeschooling thing is over.
Yep, we are now on our third math program in four years.
This isn't how I planned it, but then, does anything in homeschooling go according to plan? I would have liked to have begun a math program in Kindergarten and stuck with it, at least through the sixth grade. That would have helped me be able to avoid repetition, progress more efficiently, and be able to keep a more accurate assessment of exactly what she was mastering.
Alas, it was not to be.
My oldest daughter struggles with math; the logical, detailed nature of things like arithmetic are just a challenge for her creative, spatially-oriented, holistic right-brained mind. To help her, I have used a variety of programs – actually 3 different programs in 4 years. I've tried a number of different approaches, with mixed success. The good news is that she is progressing adequately, and I have learned a lot about homeschooling math programs. The bad news is that it is highly likely that no matter what program I use, math is just not ever going to be "her thing".
Except, is that really bad news?
Sometimes it feels like it. Because as homeschool moms we pressure ourselves to believe that our children must be the equivalent of straight A students in every subject, to validate the fact that we are doing a good job and our children are getting a good education. We stress over test scores and whether they are progressing quickly enough through their books, and we do everything possible to maximize our children's learning. We change programs in search of the "holy grail" of a fit that will just skyrocket our kids to academic stardom. But the truth is that when our children struggle in a certain area, it doesn't have to be "bad news". It can simply be a journey to learning more about our precious children, and a pathway to helping us appreciate and nurture their unique and individual needs.
Isn't that why we homeschool to being with?
Certainly, if there is a program out there that will be more conducive to my daughter's success in math, I definitely want to find it. I actually have switched to my newest program, because as I've learned more about her and her learning style this past year, I've been able to refine the parameters of what I believe will help her learn best. Our past curriculum wasn't bad (actually, it was quite good); but I think the new one will be even more effective. Regardless of what program I use, though, the truth is that math is not ever going to be her strong suit.
And, I've learned, that's okay.
Because she has so many other strengths. And the strengths that "traditional school" nurtures and applauds are not the only strengths that exist. I homeschool to nurture the child that I have, not a cookie-cutter child that fits into the mold the government believes she should fit into. And the child I have has strengths in areas that are going to serve her very well after this whole schooling thing is over – creativity, social and emotional awareness, technological savvy, communication skills, and a mechanically-oriented mind, just to name a few. I also know that she would not, if she were in public school, get much focus on developing those strengths, but that because we homeschool, we get to individualize our approach to nurture her unique skills. And that is much more important to me than making sure she is a math whiz.
So…we're beginning a new math program. Yes, we are changing homeschool curriculum—again. But not because I have delusions that this one will be the magical answer that will transport her into the world of math genius. We begin a new book because I believe doing so will be the most individualized way to help her learn math best, according to her own unique abilities. And rather than letting her academic challenges make me question my own effectiveness as a teacher, or the efficacy of our decision to homeschool, I am going to let them move me to appreciate the opportunity homeschooling affords to individualize my teaching to the wonderful child that I have.
Some may see 3 programs in 4 years as bad news. I see it as the blessing of being able to fit the curriculum to my child, instead of trying to fit my child into the curriculum. And I see it as yet another opportunity to seek out and develop the special strengths that are unique to only her – and to appreciate the homeschooling that allows me to know and nurture them.