This post was originally published as the introduction to an issue of TheHomeSchoolMom newsletter.
Sign up here (and get access to subscriber-exclusive printables!)
Don't ignore these warning signs of problems with homeschooling
There are two emotional red flags to look out for as a homeschooling parent:
resistance (the kids')
resentment (your own)
These red flags can be early warning signals that homeschooling could use some tweaking at your house. Listen to the warnings!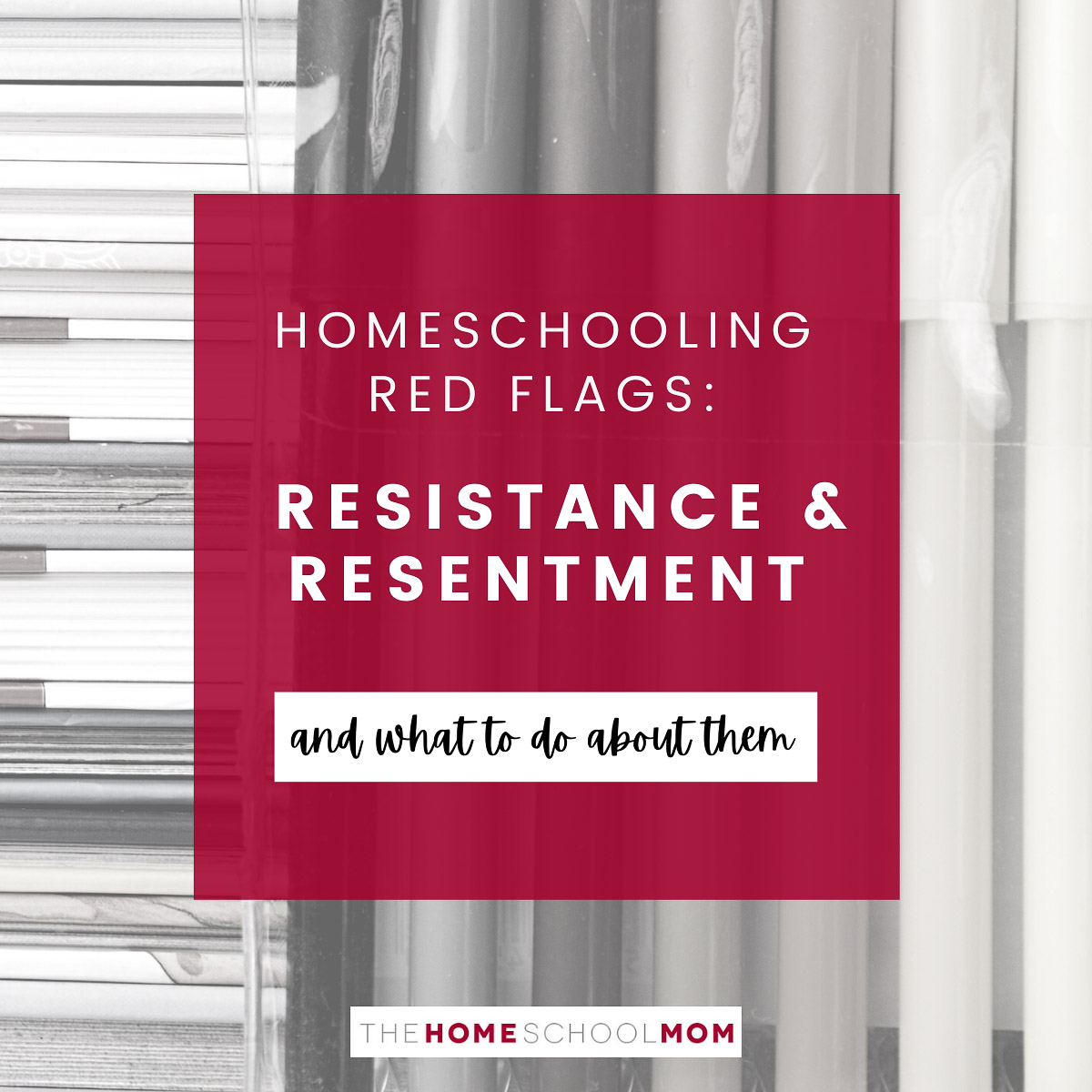 It's not always comfortable to hear, but resistance is communication from our children. Many parents insist (or try to insist) children obey and cooperate rather than respond to their children's resistance.
The other red flag is resentment—which is communication from ourselves. Many parents ignore resentment, feeling they need to muscle through homeschooling and stuff down their concerns.
The thing about resistance and resentment is that they aren't provoked in the same way for all kids or all adults. This confuses us:
"Daniel didn't resist this math program, so Luke must just be acting out."
"Camila got herself up and out of bed every morning; Darla's resistance must be because she's lazy."
Since one kid handled our expectation fine, we blame the other kid rather than our expectation or another circumstance.
And on we go. We frequently assign character flaws and motives to the kids who don't get with the program. We frequently compare our very individual kids with other homeschooled children in other families, whose lives we actually only have a glimpse of. We seek advice on how to make our kids do their schoolwork.
And we're not much kinder to ourselves. First, we blame ourselves for not being enough:
"I should get up earlier."
"I should be more disciplined (or organized)."
For many of us, that internal blame is also the step toward blaming others for being a burden or not helping. We resent the kids for needing to be homeschooled and not appreciating our effort. We resent our partners for not doing more or not being there. We resent ourselves for not being more capable and talented in captivating our own children's interests.
The antidote? Go upstream.
As author and clinical psychologist Ross Greene likes to say, "Children do well when they can."
Those who strive to improve family life with his approach have added, "Parents do well when we can, too."
Let your kid off the hook. Let yourself off the hook.
Go upstream, out of the moment when the problem manifests, and try to solve the problem collaboratively and proactively. Circle back to the actual causes of the red flags instead of focusing on the flags themselves. By the time resistance and resentment are occurring, their causes have been at work in our homeschool for hours, days, even weeks or months.
A recipe for permissive parenting? Indeed not.
Telling yourself the truth about your resentment and encouraging kids to tell the truth about their resistance encourages family members to take responsibility for working together to improve things.
Responsibility is hard. The difficulty of this challenge is one reason why parents succumb to the bandaid of authoritarianism ("because I said so") and the lure of punishments and rewards. So much more comfortable than telling the truth:
I hate the curriculum. I need more friends. I miss my dad. I need more help. I feel overwhelmed.
Notice, by the way, that these complaints can be the homeschool parent's or the child's.
If you see one or both of these red flags, consider exploring Dr. Greene's work. He wrote The Explosive Child, Lost at School, Lost & Found, and Raising Human Beings (affiliate links). His nonprofit, Lives in the Balance, has helped thousands of people "go upstream" to find durable solutions that reduce resistance and resentment.
While behaviorally challenged kids get top billing on his website, families with garden variety resistant kids also "go upstream" successfully. If you see a red flag in your homeschool, you can, too.
While you're here, be sure to check out Vanessa's top 9 resources for going upstream with differently wired kids. I think you will find them helpful.
Let's go upstream.