Our listing of New York jobs and volunteer opportunities for homeschoolers is ordered alphabetically by city. If you would like to submit a New York co-op or academic resource, you may do so using the red button above.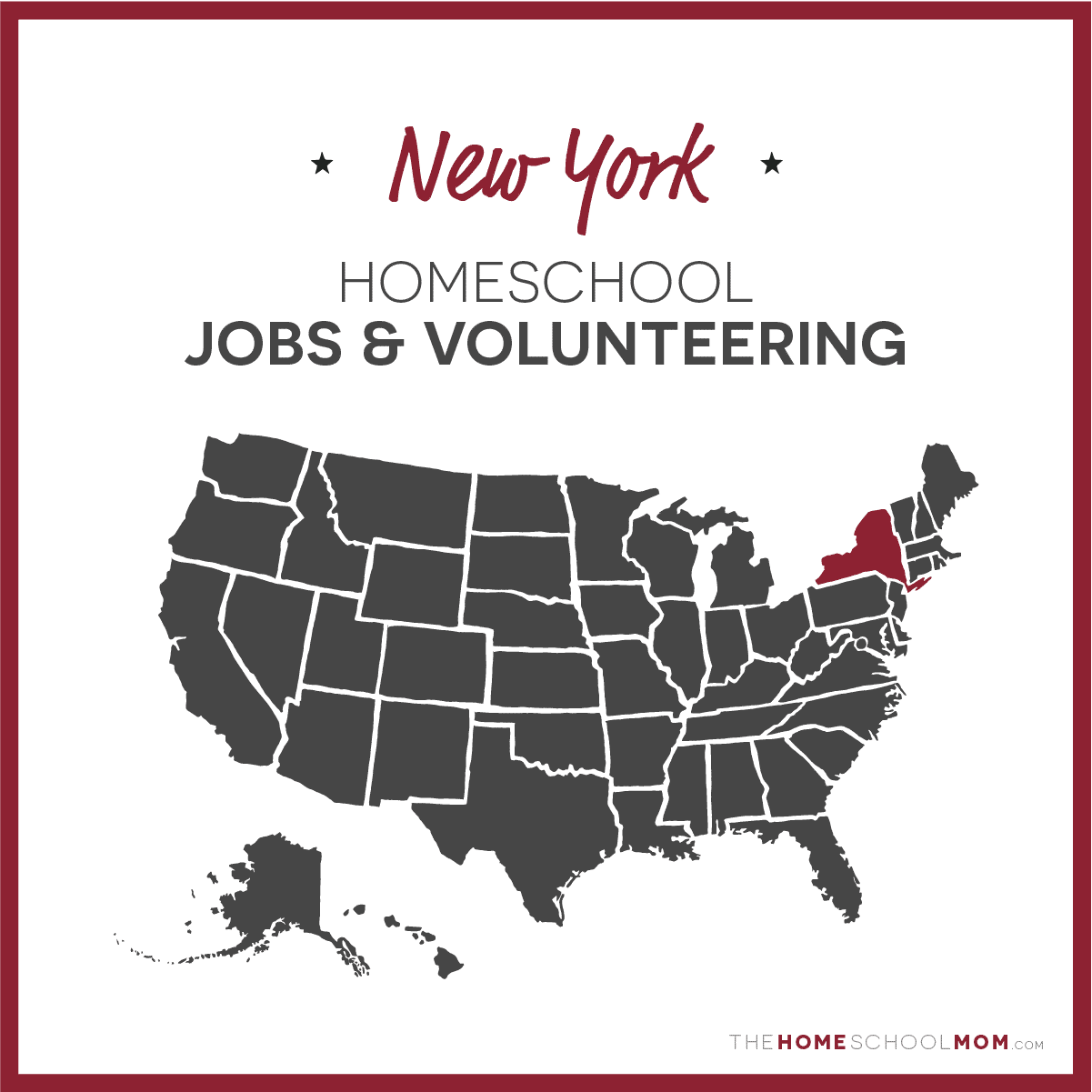 Submit a Local Resource
Christian Counseling Assoc, Delmar NY

Albany County

CCA is a group of licensed, Christian counselors in Albany county. CCA adheres to the statement of faith written by the National Assn. of Evangelicals. The Delmar, NY location is looking for a Christian High School student to work part time in the business office, for 3-6 hours/week. This is general clerical and tidying work. The student should be very organized and have good language and math skills. Interested candidates can email to jean@imaginelifecoaching.net.
Lil' Kickers of Syracuse

East Syracuse

We are currently looking for highly motivated, kid-centric, aspiring educators, and coaches to be a part of our team! No experience needed, we will train you. High School Students Welcome. We are a Child Development program based around the sport of soccer Our classes are high energy and loads of FUN. As a Lil' Kickers coach you will provide fun, friendly, and structured weekly classes for children ages 18 months – 9 years. You will be responsible for leading the kids through different soccer activities and games that promote each child's development, while providing a safe and creative learning environment. Coaches need to be professional, great communicators, organized, able to manage kids' behaviors, team players, enthusiastic, energetic, and of course, FUN. Our Lil' Kicker coach position is a great opportunity for high school students to gain experience in leadership, teaching and so much more. We appreciate our student coaches because they are full of energy and eager to learn. And the kids LOVE them! Job Type: Part-time Flexible schedule Available shifts: Tuesdays & Thursdays 5pm to 6pm and Sat's 9am to 11am Pay rate: $13.50 and up based on experience
Tompkins County Public Library Volunteer Opportunities

Ithaca

Tompkins County Public Library is reaching out to homeschooled students who are looking for volunteer opportunities. There are many new programs (especially in the Youth Services department) and a lot of volunteer involvement is anticipated. The link for the general volunteer webpage is https://www.tcpl.org/about-us/get-involved/volunteer, and the "apply online" link on that page leads to the application here: https://www.volgistics.com/ex/portal.dll/ap?ap=1455860806.

Tompkins County Public Library Volunteer Opportunities details
Behind the Book

New York City

Behind the Book's mission is to inspire New York City public school students to love reading by bringing accomplished authors and their books into classrooms and creating rich, innovative literacy programs. Programs take place in underserved public schools, are part of the class curricula and meet the Common Core Learning Standards. Currently looking for volunteers.
Rescuing Leftover Cuisine

New York City

Helping the hungry by rescuing and donating leftover food to homeless shelters. A Lead Rescuer is a volunteer who leads others on food rescue events, takes attendance, and reports the number of pounds of food rescued. All of our food rescue events are led by one, and they ensure that the rescued food arrives at its destination safely. Lead Rescuers are trained and must attend an orientation session. They commit at least 1-2 hours a week for at least 3-4 months. Lead Rescuers also receive letters of participation on RLC's letterhead for proof of volunteering. You can also be a Rescuer Associate! Rescuer associates lead 10 food rescue events per week. You will be paid $8 per event. If you are interested, please sign up to 2 trial events and email info@rescuingleftovercuisine.org to let us know which events you signed up for!