Jump to: Homeschool Arts | Homeschool Sports
In addition to the opportunity to get out of the house and socialize, homeschool sports and arts programs can offer long-term benefits by developing characteristics like leadership, self-confidence, perserverance, and self-esteem. Many organizations and businesses have opportunities specifically for homeschoolers, while others invite homeschoolers to participate in their regular programs.
Not sure how to choose activity/activities for your children? Read how Rebecca narrows down the choice of extra-curricular activities.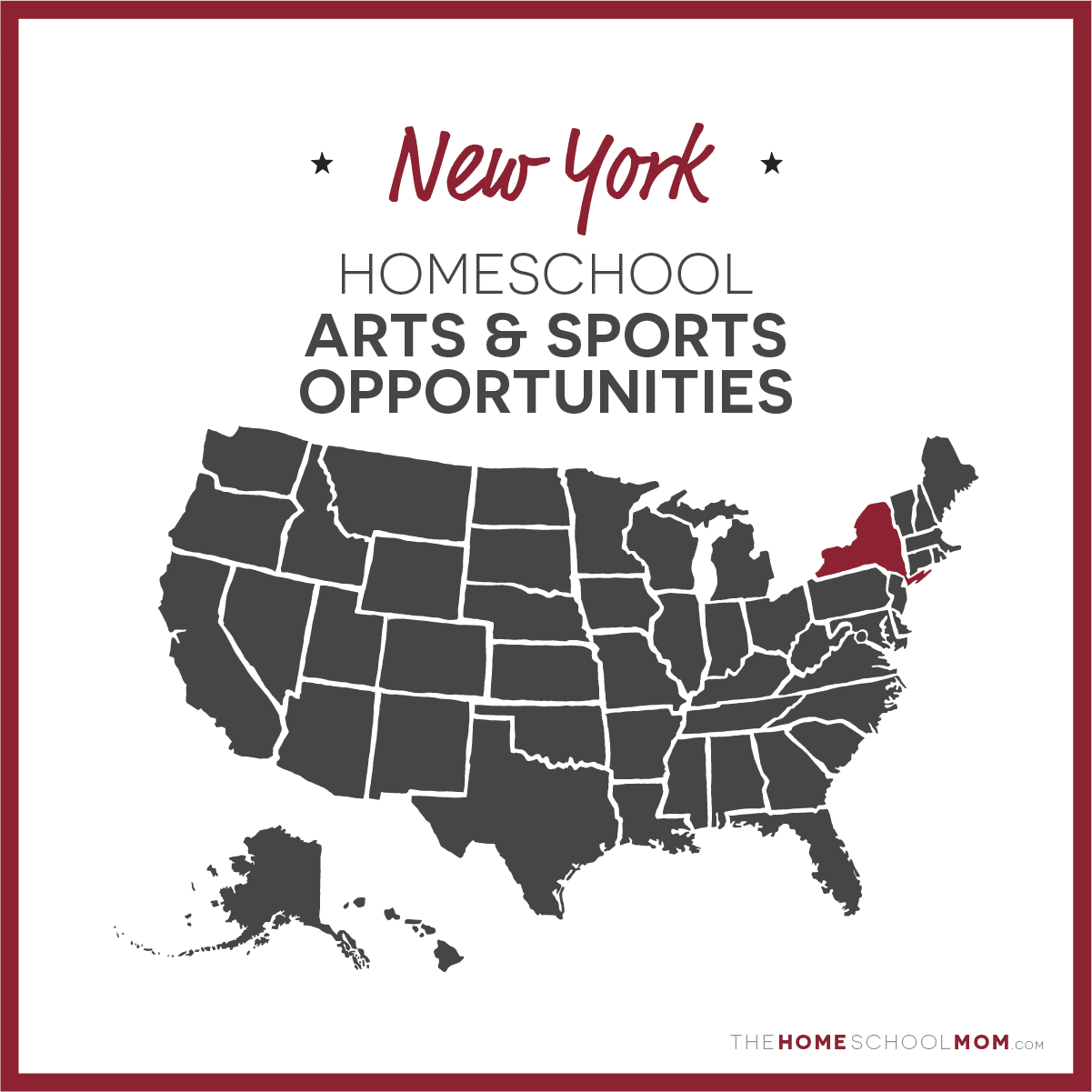 Submit a Local Resource
Our listing of New York list of homeschool arts and sports programs is ordered alphabetically by city, with arts in the first section and sports in the second section. If you would like to submit an New York arts or sports program, you may do so using the red button above.
New York Homeschool Arts Programs
Liberty Arts Studio Home School Class

Batavia

Liberty Arts is a locally owned Christian studio in Batavia, NY devoted to offering many forms of fine art to all ages. Offering Home School Art Classes biweekly including painting, sculpting, drawing, learning elements of art and famous artists.
Evamarie Violin Lessons

Bay Ridge, Brooklyn

Evamarie Violin Studio offers private and group violin lessons for young musicians ages 3 to 12 years old. An encouraging first experience to violin lessons is vital to a child's musical enjoyment. Violin lessons are tailored specifically to the child's pace and individual needs. Group lessons are conducted through a 3-day Violin Workshop specifically tailored to the very young violinist, ages 3 - 6, with imaginative games, finger play and a foundational understanding of violin playing. This introductory workshop class is held four to five times a year. A child can have a positive, engaging, and fun head start in music!
New York Musician's Center

Bellmore

The New York Msucian's Center is s a local music school in Bellmore Long Island that provides fun, and high quality music lessons during the daytime hours for New York's homeschool students.
Enlightened Cooking Lessons

Bethpage

My name is Andrea Nagel and I am a Wellness Mentor, certified in the psychology of eating. One of the services I offer is educational cooking lessons. I would love to bring these fun and hands on lessons into the home schooling community. All lessons are allergy aware, geared to developing healthier habits and become comfortable in the kitchen. I incorporate the 101 of cooking basics, food truths and myths and share how the food we eat nourishes our body and mind, while we chop, dice and cook together. Each lesson is customized to the age range I would be cooking with and I have experience with ages from 5 to 17.
Julie Pacheco Music Studio

Brooklyn

Julie welcomes new flute, clarinet and saxophone students ages 8 and older. Julie holds Bachelor's and Master's degrees in music education and performance, and has 14 years of experience teaching over 100 different students. She teaches from her studio in Carroll Gardens Brooklyn.
Rock Bands For Kids!

Brooklyn

Rock Bands For Kids is music program that focuses on the experience of being in a real band. Bands rehearse weekly at professional rehearsal studios as well as in private homes and schools. Rehearsals are led by highly experienced band leaders and professional musicians. We work with our students to choose the music they want to learn and to accomplish their goals. We aim to build confidence and broaden the love of music and performance. We learn to work together toward unified goals and to articulate ideas in a constructive and non-critical manner. We build community at our exciting all ages live concerts at world renowned NYC music venues. Rock Bands For Kids teaching artists also help our students to write original music and to make demo recordings of their songs. Above all it's about having fun and sharing the love of music.
Williamsburg Music Studio

Brooklyn

Williamsburg Music Studio helps young children and teens learn the piano, drums, guitar, violin, and other instruments in the Williamsburg neighborhood of Brooklyn, NY. Teachers have advanced degrees in music, and each has performed on their instrument professionally. Instructors have passed background checks. Families may enroll their children in our group classes or private 1-on-1 lessons. Many of our students take lessons on more than one instrument, and there is no audition required to get started.
Covenant Ballet Theatre of Brooklyn

Brooklyn

Covenant Ballet Theatre of Brooklyn is located in southern Brooklyn at 251 Avenue U (near McDonald Ave) in Gravesend. The CBT Academy programs range from ages 12 months through adult programs, beginner through professional. The Academy provides excellent, accredited training in ballet and modern dance while maintaining a welcoming environment that takes the needs of each student into account. Daytime and afterschool programs available. Graduates are accepted into professional training programs and many have gone onto dance professionally. Covenant Ballet Theatre was founded in 1987 by Marla Hirokawa and is a nonprofit organization.
Intellidance Dance and Movement Class for age 12 months - 3 years

Brooklyn

Covenant Ballet Theatre of Brooklyn offers TINY TOES workshops for ages 12 months - 3 years. Tiny Toes program is a playful and creative movement-based class for our youngest dancers with a caregiver. These toddlers are nurtured in gross motor, emotional and social development through movement concepts, circle dances, free exploration, songs and rhymes, and sensory activities.  Intellidance Dance and Movement Class for age 12 months - 3 years 45-minute class, 1x per week | With Caregiver  Wednesdays, 3:30-4:15 (ages 12 months - 2 years) Session #1: September 13, 20, 27 and October 11 (no class on October 4) 4-week workshop: $96/per session (First-time students: $25 registration fee) Click here to enroll: https://www.covenantballet.org/tiny-toes

Intellidance Dance and Movement Class for age 12 months - 3 years details
Music Room Music Classes

Buffalo

We specialize in learning instruments the right way and teaching students to read notes from a music staff. However, we also teach students to play their favorite songs by ear, as well as other skills. We also prepare students for ECMEA and NYSSMA solos and have had many students make it into All-County and Area All-State in the past.
Buffalo Dance Center

Buffalo

Our 6-week program is specially designed for homeschooled students. We offer classes for dancers ages 4-12 years old with instruction in ballet and jazz. ​Our curriculum includes: *Dance History *Theater Terminology *Kinesiology *Music Theory *Performing Art Appreciation *Student Performance Programs ongoing each season Ages 4-6: Mondays 2-3pm ​Ages7-11: Mondays 3-4pm Workshop Tuition: -$90 *BDC is also available for on-site classes for Homeschool Co-ops. Please call Stacey at 716-901-4263 for information. ​
Joyful Noise Music Studio featuring Kindermusik

Canandaigua

Joyful Noise Music Studio offers voice, piano,and Kindermusik programs. Large spacious studio also can accommodate homeschooling groups for meetigns and activities. Contact Dawn Yehl for more information.
Dix Hills Piano

Dix Hills

Dix Hills Piano has openings for piano and voice lessons in the fall. Morning slots are available. Lessons are catered to the individual needs of each student, and all levels are welcome. Students have fun while learning to read music, play by ear, compose, and music history and theory. Feel free to schedule a trial lesson to see if our studio is a good fit for you. Group lessons are also available.
Maria Fiora's Dance Studio

Fairfield County

Dance is a Universal language spoken all over the world What has been keeping you back from having a great time? Dance is great for social events and your own personal confidence goals. There are classes for fitness, team building, performance and for hobby. Learn Latin, Salsa, Swing, Hustle, Club dance, Argentine tango, freestyle & more Dance lessons in Connecticut, NYC or have them come to you!
Westport Arts Center Homeschool Art Classes

Fairfield County CT

Westport Arts Center's specialized homeschool projects are designed with family input to offer students in-depth art discovery in a group setting. Students will get their hands on an array of materials, exploring the possibilities while expressing themselves through the arts. Combining art history and hands-on practice, this class is a full-range art experience. These 1.5-hr weekly sessions change in theme throughout the year. The Westport Art Center's education for young learners of all abilities and backgrounds is immersive in making and creative problem-solving, exciting imaginations, and enriching minds.
Turk Hill Craft School-Pottery Classes

Fairport

Pottery school offering homeschool pottery classes in wheel throwing and handbuilding for children ages 6-teens. We emphasize a well rounded program to enrich students with knowledge about ceramics. They will learn about kilns, glaze formulation, various equipment including the clay extruder, slab roller and pug mill. We use stoneware clays that are ovenproof, microwave and dishwasher safe. This will be our 8 year of teaching pottery skills to homeschoolers.
Greenwich Suzuki Academy

Greenwich

The Greenwich Suzuki Academy strives to bring music to all children by using Dr. Suzuki's loving and nurturing approach to music education. Our goal is to help create more complete and developed children through the medium of music and cultivate each student's desire for excellence. Our faculty boasts more advanced degrees and Suzuki Teacher Training than any school between Hartford and Manhattan and draws students from throughout Connecticut and New York. Currently, we are offering private lessons, group classes, parent training seminars, and Chamber Music. We provide instruction on violin, viola, guitar, cello and bass for ages 3 through 18. All students attend a private lesson and group class each week. We also offer early childhood music education for children ages 0 to 3. We are a very home-school friendly music school with private lesson times available during the school day, and plenty of opportunities for group and peer based play.
Harlem School of the Arts

Harlem

Since its founding by internationally-acclaimed soprano Dorothy Maynor in 1964, Harlem School of the Arts at The Herb Alpert Center has transformed the lives of tens of thousands of young people ages 2-18 through world-class training in music, dance, theatre and art & design. Harlem School of the Arts (HSA) offers its students the freedom to find and develop the artist, student, and citizen within themselves in an environment that teaches discipline, stimulates creativity, builds self-confidence and adds a dimension of beauty to their lives, empowering them to become the creative thinkers and innovative leaders of tomorrow.
School of Rock - Beacon, NY

Hudson Valley, New York

School of Rock provides music education that transform children's lives through the music they love to play.The mission and approach helps young musicians find themselves, hone their talent, build self confidence, develop friendships and carve out a niche for themselves in a world where they might never have felt a sense of belonging before.
Theresa Academy of Performing Arts, Lido Beach, NY.

Lido Beach,Nassau County, New York

This program consists of classes in Music(instrumental and vocal), Art, Dance,Yoga,Zumba, African drumming classes and Creative Movement(Brain Dance Education) classes . Classes are offered during the day and after school. There is also a Saturday respite program, three weeks of summer camp and a Sunday workshop program. All faculty are NYS certified educators in their genre. Classes are small. This is an inclusion program for typically developing and children with special needs.
Music Together offered by While They're Little

Long Island/Nassau County

While They're Little is a proud provider of Music Together, an early childhood music and movement program for families with children ages newborn through 8 years old. Music Together offers several different ways to help integrate a music course into your curriculum, whether it's by attending one of the family classes or forming an exclusive class for other families in the local homeschool community. All classes are mixed ages, making it easy for siblings to learn together. In the Music Together program, you will (1) learn to recognize, support and nurture music development, regardless of your own music ability, (2) help create a musical community, (3) learn how to make music part of your every day and (4) support all the other learning aspects of your curriculum. Music learning supports all learning!
Daniel's Music Foundation

Manhattan

The instructors at Daniel's Music encourage everyone to discover the gift of music at their own pace, in a supportive and encouraging environment. The patient, talented instruction team is experienced at meeting each student's individual needs. Daniel's Music offers lessons during daytime, evening, and weekend hours. Students will have the opportunity to perform at the private lesson celebration DMF Expressions, and the option to participate in monthly jam sessions with other students at no extra cost.
Pam White Artwork - Homeschool Art Classes and Workshops

Manhattan

Pam is an artist and art educator who teaches classes at her cheerful studio in Harlem. Drawing, painting, sculpture, printmaking, puppet making, and much more are all possible in classes for ages 5 and up.

Pam White Artwork - Homeschool Art Classes and Workshops details
Digital, Web-based Visual Arts Education Program

Margaretville

The Art Docent Program teaches visual arts to children through history and culture, a "Humanities" approach, which is inextricably linked to humankind's development. Each program is a digital, web-based, visual arts education system to be instructed to students in grades (K-8). Our mission is to teach children about the history of art where students are introduced to the chronological development of art, which instills and awakens their natural sense of order and aligns with the history of human development. We begin over 100,000 years ago, with our first lesson plan, Art of the Caves. We offer lessons on African Art and Culture, Native American Art and Culture and Hispanic and Latin American Art and Culture. We accomplish this objective, by the use of our extensive digital timeline and multi-modal learning techniques such as animation, oral story telling and vocabulary and a world map. Please see our timeline intro on our website: artedco.org.
Lisa Itts Guitar, Piano, Voice & Songwriting Lessons

Nassau County

Lisa Itts Guitar, Piano, Voice & Songwriting Lessons details
Arts Horizons

New York

The LeRoy Neiman Art Center is a center in Harlem, NY where students can come and take a class in 3D Art/Sculpting, Painting/Drawing, Garageband, IMovie, Fashion Design, or Photography/Scrapbooking.
The Art Docent Co., LLC

New York

The Art Docent Company is curriculum which teaches digital visual arts education to grades (K-8) Our program is a digital, web-based, visual arts education system to be instructed to students in grades (K-8). The benefits are many such as: · SEDL concentrated · meets core standards · incorporates relaxation techniques · cost effective – lesson plans cost around $.25 per student per lesson · contains multi-media concepts · easy to navigate all lesson plans on all devices We attest to these tenets on our website at artedco.org located under "About." Our mission is to teach children about the history of art where students are introduced to the chronological development of art, which instills and awakens their natural sense of order and aligns with the history of human development. We begin over 100,000 years ago, with our first lesson plan, Art of the Caves. We offer lessons on African Art and Culture, Native American Art and Culture and Hispanic and Latin American Art and Culture. We accomplish this objective, by the use of our extensive digital timeline and multi-modal learning techniques such as animation, oral story telling and vocabulary and a world map. Please see our timeline intro on our website: artedco.org.
Different Directions Inc.

New York

Different Directions Inc. is a 501c3 (since 2009) community and enrichment center for homeschoolers in midtown Manhattan.
New York Piano School

New York City

Music school focused on classical piano, providing in-home private lessons to students of all ages in New York City and throughout Westchester County.
Singers' Workshops at Teachers College

New York City

Singers' Workshops at Teachers College - Columbia University offers vocal programs in a variety of musical styles to help students develop their vocal, musical, and communicative abilities. We work with students at ALL levels of experience. We offer an Audition Prep class (ages 11-20), a Gospel & Jazz choir (ages 11-18), and a special group for changing and lower voices (the "TBB'ers," ages 13-20) that performs at Carnegie Hall at the end of the semester! We also offer an adult solo and ensemble singing class (ages 18+). For information, contact us at info@singersworkshops.org Instagram: @singersworkshops
Anselmo Academy of Music & The Arts

New York Metropolitan Area

Anselmo Academy of Music & the Arts (formerly known as The Piano School of NYC) is a non profit organization serving thousands of students since 2001. We are offering lessons in Piano, Violin, Guitar, Voice, Theater/Acting + Tutoring to children in grades K- 6 grade.
Musical Theater Voice Lessons & Workshops with Tracey Grimaldi

New York Upper West Side

Musical Theater (including pop/rock) private voice lessons, group workshops. I also have a curriculum for interdisciplinary classes incorporating theater, literature and social studios, which we can launch if we get a group of at least 10-12 students. Broadway vocal coach with 20 years' experience teaching tweens, teens and adults.

Musical Theater Voice Lessons & Workshops with Tracey Grimaldi details
Svitlana Syrtsova Piano Studio

New York, Manhattan, Washington Heights

Piano lessons for children of all ages and levels
Dan Radzikowski Vocal Studio

New York, Westchester County, Fairfield County

Dan Radzikowski provides voice lessons for families with homeschoolers. 60 Minute In-Person Voice Lesson are taught at his Manhattan studio location. Dan served as a music director for NYCHEA Players (a theater ensemble for homeschooled students) in Manhattan productions of 'Into The Woods,' 'The Boy Friend,' 'Honk!', and 'Annie,' and loves working with voice students from the homeschooling community.
The Newton Theatre Arts Academy

Newton

The Newton Theatre Arts Academy provides courses that cover a wide range of artistic interests. The Academy offers programs for children K - 12th grade in Acting, Musical Theatre, Dance, and Fine Arts. They are able to create training programs that give students hands-on experience not only on the stage but also working on more technical aspects of the performing arts, including sound design, stage lighting, scenic painting, and design.
Bach to Rock Penfield

Penfield/Rochester Area

Bach to Rock in Penfield is THE music school offering lessons for students of all ages and skill levels living in the area. Instruments we teach include guitar, piano, drums, DJ, voice, violin, trumpet & more! B2R birthday parties and seasonal camps are great opportunities to play & learn music with your friends and make new ones! Offering early childhood classes for toddlers and preschoolers. Take your skills to the next level in a Glee Club or Rock Band. B2R offers opportunities for students to perform in venues around the area.
Yuasa Piano Studio

Queens

Private piano lessons in the comfort and convenience of your own home, serving Sunnyside, Queens and the surrounding area. Currently accepting new students from age 4. Lessons are fun and engaging, and often include duets and singalongs with younger students, and music production and composition with older students. Instruction is always tailored to fit the individual needs and interests of the student, with topics ranging from composition to popular music to jazz. A fun activity often incorporated into the lessons are bespoke arrangements of students' favorite movie themes or pop tunes.
The Mindful Cafe & Learning Center

Ramsey, Chestnut Ridge, Nyack

The Mindful cafe & Learning center fosters holistic, student centered learning for homeschoolers in the 7-9th grade. MC hosts individual academic and elective class opportunities with experienced teachers. Small group classes will begin via Zoom due to the covid-19 pandemic. Classes include all levels of Math, English, Science, Social Studies as well as Yoga, Zumba, Photography, jewelry making & more
A Magical Journey Thru STAGES

Rochester

Theater performance opportunities, workshops, and classes for kids in the Rochester Area.
Brava Dance Center

Rye

Brava Dance Center in Rye, NY is offering dance classes for home schooled students, beginning in September 2020. This program offers training in Ballet, Jazz, Lyrical and Tap between the hours of 9:00 AM and 2:30 PM, weekdays.
McEvoy Atelier

Suffolk County/New York

Studio Art Classes provide an opportunity for you to work alongside other artists on charcoal drawings, still life projects, or continuing projects you've been working on at home. Kevin McEvoy will be teaching the class, providing personal insight and direction on each artists piece. Offering in person Junior High and High School Classical Art Instruction. Questions about materials? Remember, you can just show up with a number two pencil, and a sketchbook, and have a very useful class. And remember, there will be a great deal of discussion about materials, during the course- so don't about feeling like you will be the only kid in gym class who forgot his sneakers that day.
Kerboomkidz Fitness

Suffolk/Nassau New York

To help kids dance into a healthy and active lifestyle! KerboomKidz is an energetic and challenging group exercise program that is designed for grades K-12. Our Kerboomkidz program is available in-person for a gym credit for home-schooled students. For more information www.kerboomkidz.com to ask us any questions or sign up for our trial home school class email: info@kerboomkidz.com
Creative Arts Academy - Syracuse

Syracuse

Creative Arts Academy is a tuition free program for students in grades 7 to 12 wishing to explore the arts. Offers Dance, Theater and Visual Art classes, all taught by area professionals. Providing daily snacks and homework tutoring, our students are also offered transportation to and from our program. This is a five day per week program, offering students the chance to explore their creativity and enhance their talents during after-school hours (4:00 - 6:30pm).
Eye Studio Arts LLC

Syracuse

Eye Studio Arts is an arts institute that provides visual, and culinary arts, classes, parties, and community events. Visual art classes include painting, drawing, sculpting, and glass fusing. The culinary program is equivalent to family and consumer science (home economics). Culinary Classes for all skill levels are available.
Loop of the Loom

Upper Eastside, New York City

Loop of the Loom is a craft studio introduces a unique improvisational style of hand weaving called SAORI, spininng, felting and enchanted earth art workshop.
Munson-Williams-Proctor Arts Institute, School of ART

Utica

Munson Community Arts offers kids, teens, and adult classes taught by experienced, professional artists using state of the art equipment in the same contemporary facilities that encompass the stellar Pratt Munson College of Art and Design in Utica. The Community Arts program mission is to enhance artistic appreciation, understanding, and skill in people of all ages.

Munson-Williams-Proctor Arts Institute, School of ART details
Joyful Noise Clarinet Studio

Utica

Private clarinet lesson to students of all ages with Kelsie Osenbach
Chatalbash Lessons

Wantagh

Chatalbash Lessons is a local piano studio in Wantagh Long Island that offers piano lessons to homeschool kids. They offer piano lessons in the evenings so classes can fit into anyone's schedule. They only teach piano, so if you want your child to learn piano this is a great place to start.
Habana Music Studio

Westchester County

The Habana Music Studio offers in-person piano lessons to kids, teens, and adults in Westchester County, NY. Come study with a teacher that offers a unique and highly personalized method of learning, and that creates an environment that nurtures, educates, and encourages creative individuals to achieve the highest level of success!
Day Rock Enrichment Porgrram

Westchester/Rockland/Dutchess

Experience – Education – Excitement The Dayrock experience is unlike any other musical activity! Since 2000, we've provided this interactive musical enrichment experience throughout the tri-state area. Our program immerses participants into a day or a whole rocking week of this unique musical performance opportunity. Everyone will experience a performance of their favorite popular songs, using professional musical equipment. The Dayrock education provides every participant a hands-on and fast-paced experience that is fun and exciting, "Dayrockers" learn about instruments they may have never seen before and get to rock out with the awesome instruments they've always wanted to play. The Dayrock excitement involves rotating around the bandstand, each person gets an opportunity to play a variety of instruments including electric guitar, bass, keyboard, drums, percussion and even demonstrate their vocal abilities using professional microphones and professional audio equipment!
New York Homeschool Sports Programs
Goldfish Swim School - Colonie

Albany

Children learn best in a safe environment, when they have plenty of room to play and explore. At Goldfish Swim School - Colonie, all of our certified swim instructors use The Science of SwimPlay® to teach kids important life lessons both in and out of the water. Our premier swimming school offers a range of fun, effective programs for swimmers between 4 months old and 12 years old, and we're passionate about helping kids reach their potential.
Goldfish Swim School - Colonie

Albany

Swim lessons are offered year-round. The Swim instructors are passionate about showing kids and toddlers just how fun it can be to learn a life skill that's as important as swimming. They also host family swim times. Goldfish Swim School Family Swim: Family Swim is a great way to spend an afternoon. Enjoy your day or evening in this resources shiver-free pool that's heated to a pleasant 90°. If you're not enrolled in Goldfish Swim School, Family Swim sessions are open to the public and are also a great way to get your feet wet. Explore our fun, safe, tropical facilities and get a glimpse of the experiences we create for our students and their families.
The Gagasphere

Bergen County

The Gagasphere is the only indoor facility in NJ dedicated to the game of Gaga Ball. Have you heard of Gaga? What is it? It's an extremely popular fast-moving ball game played inside a "gaga pit". The game is often called the "playground equalizer" because it is designed to be enjoyed by all ages and all athletic abilities, no special skills needed. Hit the ball with an open hand and try to get the other players "out" by hitting them below the waist. When you are out, you jump out of the pit. The last one in the pit wins. Before you know it the next game is starting! It sounds simple because it is – but this simple game is the biggest hit at camps, birthday parties and in PE class. Easy to learn, easy to play, gaga is a great way for the kids to be active and have a ton of fun! Our Gaga classes/sessions include a Gaga Pro to teach the game and make sure all kids are following rules and having fun! A great Physical Education game! Private group sessions can be arranged at any time.
Aikido of South Brooklyn

Brooklyn

Aikido is a traditional martial art. It originated in Japan during the twentieth century and is now practiced worldwide. While the emphasis of the day-to-day practice is on the compassionate resolution of physical conflict, the art offers its practitioners much more than self-defense techniques. Aikido offers a lifestyle devoted to personal growth, mental and physical fitness, and community. The AOSB dojo offers aikido for adults, teens, and children starting at age 4. Mind Body Arts brings these programs to adults and children in schools and offices, and other venues outside the dojo. In keeping with the spirit of transmitting a traditional martial art that emphasizes personal growth, AOSB maintains small class sizes, and provides all students with individualized and personal instruction. Every class offers students of all ages one-to-one, hands-on interactions with instructors and other students.
Brooklyn Ninja Academy

Brooklyn

At Brooklyn Ninja Academy, children of all skill levels learn how to analyze, approach, and conquer ninja warrior obstacles. This resource provides ninjas with challenging and unique obstacles that reflect those seen on NBC's American Ninja Warrior.
Sofive Soccer Center Brooklyn

Brooklyn,

Sofive Soccer Center is a unique venue that offers our groups the chance to play in a soccer specific facility to create memorable experiences among their friends and family. We offer 5-a-side matches which is the most popular form of small-sided soccer. It's the most intense, fun, engaging and skill-building form of soccer, as well. So expect a lot more action with 5x more touches, 15x more goals and non-stop games. Groups can either rent our field space or take advantage of our new STEM Program. Reach out to let us know how we could help you today!
Goldfish Swim School Williamsville

Buffalo

Our swim school in Williamsville focuses on much more than water safety skills. We use our special SwimPlay® program to boost children's potential in the pool and out. We love helping children have fun, exercise, and build their confidence as they splash in our Shiver-Free pool. Our lessons for children of all ages make learning to swim fun and safe!
Homeschool at The Warrior Factory

Buffalo

The Warrior Factory's Homeschool program offers the best of both our ninja training curriculum and open play formats. Utilizing multiple stations with different ninja obstacles each week, students gain familiarity with different techniques and obstacles with help of our Certified Ninja Coaches! Homeschool program is a great way to meet physical education requirements while also developing social skills in a fun and casual environment. The program meets for 8 sessions; one 60-minute class per week (Holidays/school breaks may extend sessions). See The Warrior Factory website for more information on sessions and schedules. Can't commit to the full 8-week session? Drop-in's are also accepted.
Lil' Kicker Soccer Classes

East Syracuse

Lil' Kickers is a child development program based around the sport of soccer. Classes are for ages 18 months to 12 years old and are divided by age/skill level. Lil' Kicker classes transform a playing field into a world created just for children. Well trained coaches thrill kids with 50 minutes of highly creative, high energy and age-appropriate activities that serve as a great introduction to soccer. Children will also learn to master developmental milestones that are appropriate for their age.
Brooklyn Fencing Center - Homeschool Fencing Classes

Gowanus, Park Slope, Brooklyn

Brooklyn Fencing has over a decade of experience and classes specifically for homeschoolers. Set up a one-time visit for your homeschool group. Fencing is a unique sport, rich in history, that offers something for everyone. It challenges you mentally and physically in a way that few pastimes can. Fencing lets you shine on your own merits, and you'll still make new friends along the way.

Brooklyn Fencing Center - Homeschool Fencing Classes details
Lake Effect Homeschool Association / Port City Royals

Hannibal

The Lake Effect Homeschool Association (LEHA), also known as the Royals, was formed as a Christian homeschool sports association in 2004, in order to provide competitive athletic opportunities to area homeschooling* families. LEHA providers competitive sports teams in a healthy environment that stresses teamwork, skill development, and honorable competition. *Students of the Oswego Community Christian School (OCCS) are also eligible to compete as members of the Royals sports teams.

Lake Effect Homeschool Association / Port City Royals details
KickStart Training Personal Training for Students

Henriatta

Personal trainer in the Rochester area specializing in weight loss, muscle building, and sports conditioning. Certified through National Academy of Sports Medicine and work out of a private personal training facility. Currently working with high school students.
Jodi's Gym

Kisco

Hundreds of thousands of children have cartwheeled with us and we work relentlessly to provide the best experinece for every child. Our gymnastics facility would be a great option in helping children up to the age of 12 fulfill their homeschool fitness requirements. We will help develop a love of movement which will last a lifetime.
Urban Air Indoor Adventure Park Homeschool Open Play

Lake Grove

Homeschool Open Play Kick Off Day was such a success, we decided to be open twice a month for daytime Homeschool Open Play with a new extended time, 10am-3pm! We have so many attractions to offer to get your children active so come Activate Awesome with us and earn P.E. Credits! Our Endless Play Memberships you will give you free access to our Homeschool Open Play Days plus unlimited visits each month during our regular park hours! Visit https://www.urbanairtrampolinepark.com/membership to join now! Buy one day tickets at the door or on the website in advance here:

Urban Air Indoor Adventure Park Homeschool Open Play details
Wojtek's Gymnastics

Lancaster

Wojtek's Gymnastics, LLC has been teaching kids and students how to perform gymnastics and tumbling since it opened in 2013! It is our goal to provide children with a positive youth development opportunity by offering a comprehensive and progressive gymnastics program, with trained staff and safe equipment. The gymnastic program will help foster confidence and self-esteem while children will learn to participate individually and with others. If you are looking for specialized training, in a more individualized setting, Wojtek's Gymnastics is the place for you! Wojtek's offers homeschool groups individual time slots during the day so grab some friends and make your own class. Want to work on flexibility, strength and endurance then stop over & fly at Wojtek's Gymnastics!
New York Sports Club Kids Club

Long Beach

For New York P.E. credits this program includes a swim instruction.
Open Squash

Manhattan

Open Squash, a brand new community squash center in Midtown Manhattan, offers home schoolers the opportunity to join our Junior Academy where we coach and teach squash at all levels of play. Squash is a game that teaches strategy while turbo charging fitness levels. We invite you to come to our Open Houses which are hosted on Fridays at 3:45pm. They are free! You will get an introduction to squash for those who are new to the sport and a 20 min session on court with one of our world class pros. You can register to attend any one of these on our website: www.opensquash.org.
New York City Ninja

Manhattan

New York City Ninja teaches kids ages 6 through 13 years old the exciting sport of ninja warrior. Students will learn ninja warrior obstacles, and gain strength, agility, and confidence as they improve their skills.
In Home Martial Arts - Physical Education

Manhattan, Brooklyn, 5 Borough

Bring Martial Arts and a great physical education activity to your child in the comfort of your own home. We travel to you! FREE TRIAL lesson available. We ask you try it before you commit and we guarantee your child will love it. All classes are 1 hour and taught by Sensei Xsavier Daniels. We specialize in offering at home instruction to children who are homeschooled or who want private lessons. We can be reached at 646-331-6024 or contact booking manager Ken Conyers at kconyers820@gmail.com. You may also visit the Free Trial form on our website!
Manhattan Fencing Center

Manhattan, New York

Manhattan Fencing Centers Home School Program is designed for beginner, intermediate, and competitive fencers in saber and foil. No experience necessary! The program includes fitness instruction, games, skill training, tactics/strategy, competitive bouts, and more. All classes are held in a brand new facility with sport court flooring, 18 full length fencing strips, homework room, waiting area with Wi-Fi, locker rooms and showers. Equipment is provided. Students need to bring clean indoor sneakers, sweat pants and a T-shirt to participate in class.
Fit2Fight Martial arts

Middletown

Fit2Fight Martial Arts in Middletown is excited to offer special classes for homeschoolers! The high energy program focuses on developing fitness and martial arts skills and drills. All geared to empower and strengthen growing bodies while having FUN. A great opportunity to socialize while learning life skills. Program counts towards student PE credits. Offered on Wednesdays 10:00 - 11:00am, only $10 per child Please reach out to Master Helen Stehlik for registration information: helen.fit2fight@gmail.com or call/text 914-850-3085 Feel free to visit the Fit2Fight Martial Arts Facebook page or website fit2fight4health.com for additional programs offered.
Goldfish Swim School - Pittsford

Rochester

Our swimming lessons are designed to let your kids have loads of fun while learning and building on their basic swimming skills! Our lessons can start as early as 4 months and we offer programs designed for children up to 12 years. Swim lessons are offered year-round at Goldfish Swim School - Pittsford, which offers an important and safe 4:1 maximum student-to-teacher ratio. We have dedicated our time to creating a place where kids are able to enter an inviting space while providing them a safe place to overcome fears, learn to respect water, and learn how to swim. Best of all: They get to develop these skills while having a ton of fun!
Tri-County Sports Complex

Rochester / East Side

Located on the east side of Rochester NY, our new multi sport indoor facility is host to youth and adult sports and events. With four full size maple hard courts and two box turf fields, we are more than capable of handling your sporting events, practices, and physical education programs. We offer sport-specific training, court and turf rentals, camps, clinics, and are the perfect place for home schooling sports activities. Our mission is to provide the best and safest family friendly environment for both youth and adult sports. Athletes , coaches, instructors, and parents from all over the United States and Canada make TCSC their first choice for indoor sports and events.
Marine Science Experiential Learning

Stonington

Our mission at New England Science & Sailing Foundation (NESS) is to empower students with a love of learning through ocean-based experiential programs that serve schools, teachers, and families. NESS is the first and only program of its kind to be accredited by the New England Association of Schools and Colleges (NEASC). Our goal is to advance academic opportunities for K-12 students of all backgrounds in both urban and suburban markets. We offer a unique education model that empowers students with leadership, teamwork, confidence, and problem-solving skills to ensure academic success. Our STEM-based curriculum uses marine science, sailing, powerboating, and adventure sports as learning platforms. We hope you will play a role in helping us continue this important educational mission! The NESS instructor-led, hands-on programs include topics such as: marine debris, navigation, erosion, camouflage, deep sea exploration, and even sailing at home! Classes range from 1-2 hours based on the needs of the students. These courses are correlated to standards related to science, ocean literacy, and socio-emotional learning. If you are interested in learning more about NESS programs, please feel free to email Nina Quaratella, Education Specialist, at nquaratella@nessf.org or call at 860-535-9362.
Orange County Sports Club Gymnastics

Sussex County/Orange County

Gymnastic classes for your homeschool child, please contact June Konsevick at 201-655-5893 or Sports, Fitness, & Fun at 845-651-1000 ask for Irene Lerz
Arts Sports Academy (ASA)

Syracuse

We are a group of individuals who understand the importance of the fundamentals. We provide personal and athletic development through our exclusive training and mentoring programs. ASA was created to fill the gap. With us it is more than just athletics, it is about developing well rounded individuals and preparing them for the next stages in life. We believe sports, academics and strength training are the vehicles to develop successful individuals who will make a positive contribution to their community and society. Studies prove children who participate in youth sports have an advantage in life over those who don't.
Goldfish Swim School Yorktown Heights

Yorktown Heights

Our premier swim school in Yorktown Heights uses a one-of-a-kind curriculum that makes our programs convenient for busy schedules and fun for infants, toddlers, and children up to 12 years old. We use The Science of SwimPlay® and the help of our amazing swim instructors to build essential life skills. Perpetual swim lessons and clinics available year-round in a state of the art, warm water indoor pool. Safety protocols in place with the CDC and local health department.