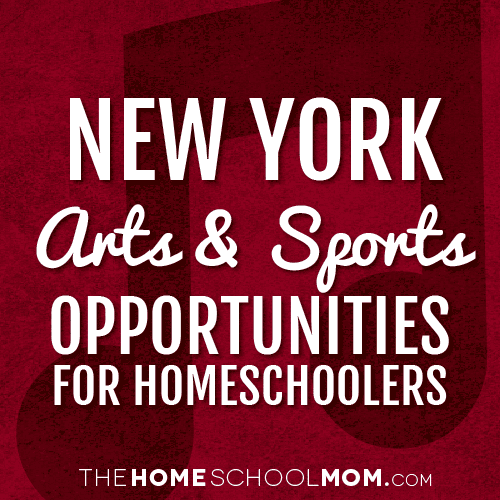 In addition to the opportunity to get out of the house and socialize, homeschool sports and arts programs can offer long-term benefits by developing characteristics like leadership, self-confidence, perserverance, and self-esteem. Many organizations and businesses have opportunities specifically for homeschoolers, while others invite homeschoolers to participate in their regular programs.
Not sure how to choose activity/activities for your children? Read how Rebecca narrows down the choice of extra-curricular activities.
Below is a list of homeschool sports and arts programs in New York listed alphabetically by city, with arts resources in the first section and sports resources below. If you would like to submit a New York arts or sports resource, you may do so using the red button above.
Use the secondary navigation menu above to quickly make your way to pages for New York state organizations, local homeschool groups, classes, co-ops, field trips, and more.
Homeschool Arts Opportunities in New York
New York Musician's CenterBellmore
The New York Msucian's Center is s a local music school in Bellmore Long Island that provides fun, and high quality music lessons during the daytime hours for New York's homeschool students.
Julie Pacheco Music StudioBrooklyn
Julie welcomes new flute, clarinet and saxophone students ages 8 and older. Julie holds Bachelor's and Master's degrees in music education and performance, and has 14 years of experience teaching o...
Joyful Noise Music Studio featuring KindermusikCanandaigua
Joyful Noise Music Studio offers voice, piano,and Kindermusik programs. Large spacious studio also can accommodate homeschooling groups for meetigns and activities. Contact Dawn Yehl for more info...
Dix Hills PianoDix Hills
Dix Hills Piano has openings for piano and voice lessons in the fall. Morning slots are available. Lessons are catered to the individual needs of each student, and all levels are welcome. Students ...
Edge CampDublin
Edge Camps are specialty camps that give a biblical world view for those teenagers that are looking to improve on a special skill that they might have. This year Edge Camps is excited to have six d...
Westport Arts Center Homeschool Art ClassesFairfield County CT
Westport Arts Center's specialized homeschool projects are designed with family input to offer students in-depth art discovery in a group setting. Students will get their hands on an array of mater...
Turk Hill Craft School-Pottery ClassesFairport
Pottery school offering homeschool pottery classes in wheel throwing and handbuilding for children ages 6-teens. We emphasize a well rounded program to enrich students with knowledge about ceramics...
Greenwich Suzuki AcademyGreenwich
The Greenwich Suzuki Academy strives to bring music to all children by using Dr. Suzuki's loving and nurturing approach to music education. Our goal is to help create more complete and developed ch...
Theresa Academy of Performing Arts,Lido Beach, NY.Lido Beach,Nassau County, New York
This program consists of classes in Music(instrumental and vocal), Art, Dance,Yoga,Zumba, African drumming classes and Creative Movement(Brain Dance Education) classes . Classes are offered during ...
Bridge View School of Fine ArtsLong Island City
Bridgeview School of Fine Arts teaches centuries-old techniques in drawing, painting and design developed by generations of European masters. These techniques were painstakingly preserved in Russia...
Music Together offered by While They're LittleLong Island/Nassau County
While They're Little is a proud provider of Music Together, an early childhood music and movement program for families with children ages newborn through 8 years old. Music Together offers several ...
Daniel's Music FoundationManhattan
The instructors at Daniel's Music encourage everyone to discover the gift of music at their own pace, in a supportive and encouraging environment. The patient, talented instruction team is experien...
Digital, Web-based Visual Arts Education ProgramMargaretville
The Art Docent Program teaches visual arts to children through history and culture, a "Humanities" approach, which is inextricably linked to humankind's development. Each program is a digital, web-...
Guitar, Piano, Voice & Songwriting LessonsNassau County
Art CenterNew York
The LeRoy Neiman Art Center is a center in Harlem, NY where students can come and take a class in 3D Art/Sculpting, Painting/Drawing, Garageband, IMovie, Fashion Design, or Photography/Scrapbooking.
Creative Arts & Athletics Summer ProgramNew York
Creative Arts & Athletics (CAA) is an inclusive and spirited community where everyone is welcome! At CAA, boys and girls aged 5-7 enroll in Kids Club for a full day of visual and performing arts, s...
Piano School of NYCNew York City
The Piano School of NYC is a non-profit organization with over 15 years of experience. They offer in home private lessons as well as small group piano classes and group music appreciation classes....
Singing Heart Voice LessonsNew York City
Private, group, or Skype voice lessons for children of any age! Abbey Jasmine Rose is a working performer and voice teacher in New York City, and can teach any vocal style from rock to classical. ...
Svitlana Syrtsova Piano StudioNew York, Manhattan, Washington Heights
Piano lessons for children of all ages and levels
Dan Radzikowski Vocal StudioNew York, Westchester County, Fairfield County
Dan Radzikowski provides in-person and online voice lessons for families with homeschoolers. He will meet at his studio in Manhattan or via your iPad, iPhone or desktop computer from the comfort of...
The Newton Theatre Arts AcademyNewton
The Newton Theatre Arts Academy provides courses that cover a wide range of artistic interests. The Academy offers programs for children K - 12th grade in Acting, Musical Theatre, Dance, and Fine A...
Bach to Rock PenfieldPenfield/Rochester Area
Bach to Rock in Penfield is THE music school offering lessons for students of all ages and skill levels living in the area. Instruments we teach include guitar, piano, drums, DJ, voice, violin, tru...
A Magical Journey Thru STAGESRochester
Theater performance opportunities, workshops, and classes for kids in the Rochester Area.
Long Island Blue Jays Jr. Drum and Bugle CorpsSuffolk
FREE MUSIC FOR YOUR CHILDREN... The Long Island Blue Jays Jr. Drum and Bugle Corps Inc. is seeking new members. Learn to play brass instruments or rudimental drums for FREE. Instruments are provide...
Creative Arts AcademySyracuse
Creative Arts Academy is a tuition free program for students in grades 7 to 12 wishing to explore the arts. Offers Dance, Theater and Visual Art classes, all taught by area professionals. Providing...
Jenni Foutch Flute StudioSyracuse
Flute lessons for all ages and abilities. Each lesson is specifically designed to help students reach their individual goals.
Eye Studio Arts LLCSyracuse
Eye Studio Arts is an arts institute that provides visual, and culinary arts, classes, parties, and community events. Visual art classes include painting, drawing, sculpting, and glass fusing. The...
Loop of the LoomUpper Eastside, New York City
Loop of the Loom is a craft studio introduces a unique improvisational style of hand weaving called SAORI, spininng, felting and enchanted earth art workshop.
Munson-Williams-Proctor Arts Institute, School of ARTUtica
Art classes and workshops for Kids, Teens, and Adults.Register Online for Spring, Summer, and Fall sessions.
American Music ProsWest Babylon, (Town of Babylon), West Islip, Bayshore , Western Nassau County
American Music Pros offers Music Lessons in the comfort of a student's home. Daytime Piano lessons are available on a weekly basis. Piano Tuning is also available.
Art Teacher for HireWestchester
Michael Grassia is an artist with over 20 years professional experience in a variety of creative fields including illustration, animation, graphic design, video production, puppetry, and more. He h...
Homeschool Sports Opportunities in New York
The GagasphereBergen County
The Gagasphere is the only indoor facility in NJ dedicated to the game of Gaga Ball. Have you heard of Gaga? What is it? It's an extremely popular fast-moving ball game played inside a "gaga pit"...
Edge CampDublin
Edge Camps are specialty camps that give a biblical world view for those teenagers that are looking to improve on a special skill that they might have. This year Edge Camps is excited to have six d...
Brooklyn Fencing Center – Homeschool Fencing ClassesGowanus, Park Slope, Brooklyn
Brooklyn Fencing has over a decade of experience and classes specifically for homeschoolers. Set up a one-time visit for your homeschool group. Fencing is a unique sport, rich in history, that offe...
KickStart Training Personal Training for StudentsHenriatta
Personal trainer in the Rochester area specializing in weight loss, muscle building, and sports conditioning. Certified through National Academy of Sports Medicine and work out of a private persona...
New York Sports Club Kids ClubLong Beach
For New York P.E. credits this program includes a swim instruction.
Central Park SportsManhattan
Our philosophy is simple: kids want to have FUN, being outside is FUN, sports and games are FUN! The Central Park Sports Summer Program provides outdoor athletic activity and instruction in a non-c...
Manhattan Fencing CenterManhattan, New York
Manhattan Fencing Centers Home School Program is designed for beginner, intermediate, and competitive fencers in saber and foil. No experience necessary! The program includes fitness instruction, g...
Ziggy's Gymnastics AcademyMiddletown
Gymnastics and fitness classes for children.
Fit2Fight Martial artsMiddletown
Fit2Fight Martial Arts in Middletown is excited to offer special classes for homeschoolers! The high energy program focuses on developing fitness and martial arts skills and drills. All geared to e...
Baseball Homeschool InstituteNew York City
BHI was created specifically for the serious baseball player. This unique program will provide our players with an onsite stellar education while also giving players the flexibility to train and de...
Orange County Sports Club GymnasticsSussex County/Orange County
Gymnastic classes for your homeschool child, please contact June Konsevick at 201-655-5893 or Sports, Fitness, & Fun at 845-651-1000 ask for Irene Lerz