Jump to: Homeschool Arts | Homeschool Sports
In addition to the opportunity to get out of the house and socialize, homeschool sports and arts programs can offer long-term benefits by developing characteristics like leadership, self-confidence, perserverance, and self-esteem. Many organizations and businesses have opportunities specifically for homeschoolers, while others invite homeschoolers to participate in their regular programs.
Not sure how to choose activity/activities for your children? Read how Rebecca narrows down the choice of extra-curricular activities.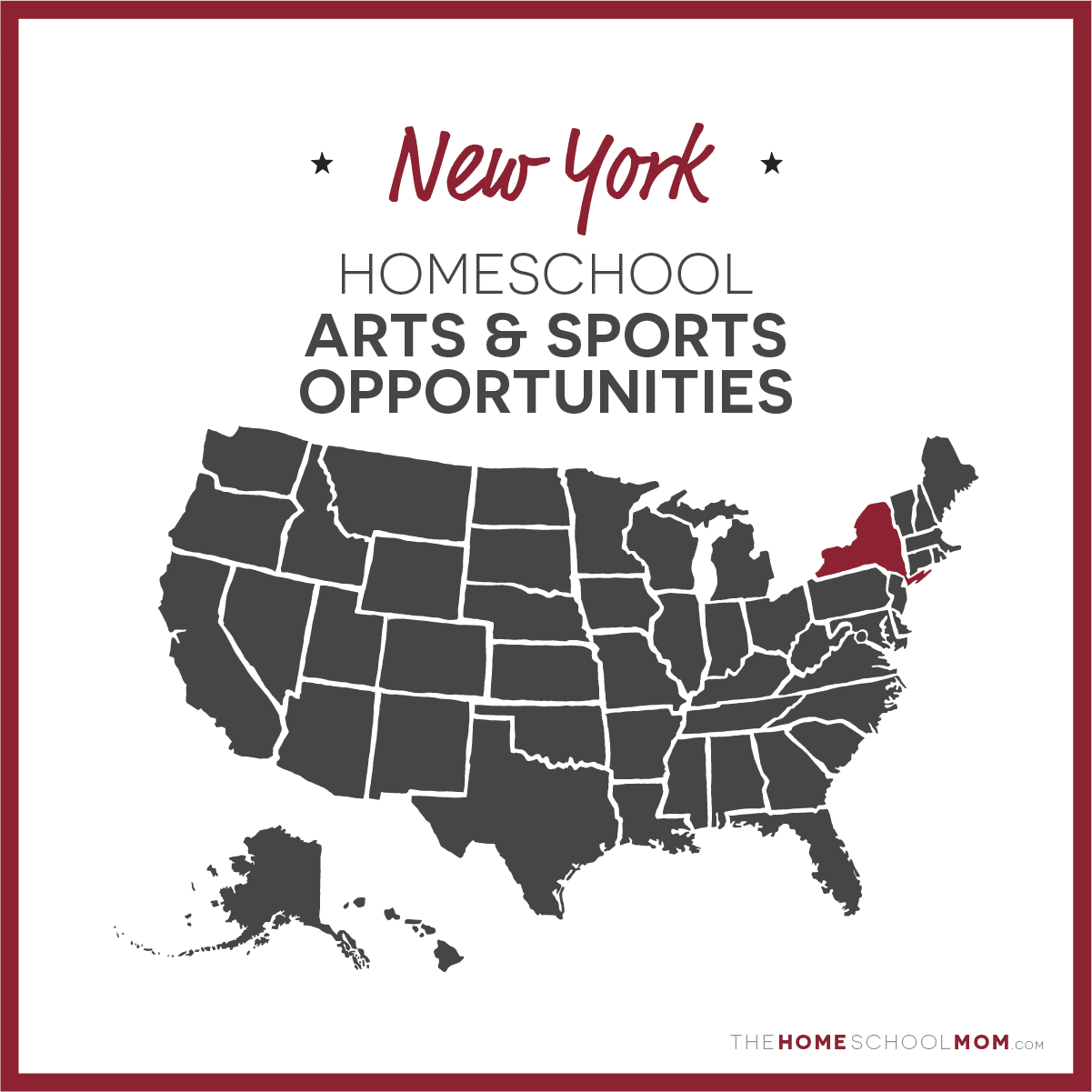 Submit a Local Resource
Our listing of New York list of homeschool arts and sports programs is ordered alphabetically by city, with arts in the first section and sports in the second section. If you would like to submit an New York arts or sports program, you may do so using the red button above.
New York Homeschool Arts Programs
Liberty Arts Studio Home School ClassBatavia
Liberty Arts is a locally owned Christian studio in Batavia, NY devoted to offering many forms of fine art to all ages. Offering Home School Art Classes biweekly including painting, sculpting, drawing, learning elemen...
Evamarie Violin LessonsBay Ridge, Brooklyn
Evamarie Violin Studio offers private and group violin lessons for young musicians ages 3 to 12 years old. An encouraging first experience to violin lessons is vital to a child's musical enjoyment. Violin lessons are ...
New York Musician's CenterBellmore
The New York Msucian's Center is s a local music school in Bellmore Long Island that provides fun, and high quality music lessons during the daytime hours for New York's homeschool students.
Julie Pacheco Music StudioBrooklyn
Julie welcomes new flute, clarinet and saxophone students ages 8 and older. Julie holds Bachelor's and Master's degrees in music education and performance, and has 14 years of experience teaching over 100 different st...
Williamsburg Music StudioBrooklyn
Williamsburg Music Studio helps young children and teens learn the piano, drums, guitar, violin, and other instruments in the Williamsburg neighborhood of Brooklyn, NY. Teachers have advanced degrees in music, and eac...
Rock Bands For Kids!Brooklyn
Rock Bands For Kids is music program that focuses on the experience of being in a real band. Bands rehearse weekly at professional rehearsal studios as well as in private homes and schools. Rehearsals are led by highl...
Covenant Ballet Theatre of BrooklynBrooklyn
Covenant Ballet Theatre of Brooklyn is located in southern Brooklyn at 251 Avenue U (near McDonald Ave) in Gravesend. The CBT Academy programs range from ages 12 months through adult programs, beginner through profess...
Music Room Music ClassesBuffalo
We specialize in learning instruments the right way and teaching students to read notes from a music staff. However, we also teach students to play their favorite songs by ear, as well as other skills. We also prepare...
Buffalo Dance CenterBuffalo
Our 6-week program is specially designed for homeschooled students. We offer classes for dancers ages 4-12 years old with instruction in ballet and jazz. ​Our curriculum includes: *Dance History *Theater Terminology *...
Joyful Noise Music Studio featuring KindermusikCanandaigua
Joyful Noise Music Studio offers voice, piano,and Kindermusik programs. Large spacious studio also can accommodate homeschooling groups for meetigns and activities. Contact Dawn Yehl for more information.
Dix Hills PianoDix Hills
Dix Hills Piano has openings for piano and voice lessons in the fall. Morning slots are available. Lessons are catered to the individual needs of each student, and all levels are welcome. Students have fun while learn...
Maria Fiora's Dance StudioFairfield County
Dance is a Universal language spoken all over the world What has been keeping you back from having a great time? Dance is great for social events and your own personal confidence goals. There are classes for fitness, ...
Westport Arts Center Homeschool Art ClassesFairfield County CT
Westport Arts Center's specialized homeschool projects are designed with family input to offer students in-depth art discovery in a group setting. Students will get their hands on an array of materials, exploring the ...
Turk Hill Craft School-Pottery ClassesFairport
Pottery school offering homeschool pottery classes in wheel throwing and handbuilding for children ages 6-teens. We emphasize a well rounded program to enrich students with knowledge about ceramics. They will learn ab...
Greenwich Suzuki AcademyGreenwich
The Greenwich Suzuki Academy strives to bring music to all children by using Dr. Suzuki's loving and nurturing approach to music education. Our goal is to help create more complete and developed children through the m...
Harlem School of the ArtsHarlem
Since its founding by internationally-acclaimed soprano Dorothy Maynor in 1964, Harlem School of the Arts at The Herb Alpert Center has transformed the lives of tens of thousands of young people ages 2-18 through worl...
LSPA Explorers workshopsHicksville
Various workshops for toddlers - thru high school home schooled students. Such as Science Lab , Math Lab , Readers workshop, Fun with art, Dance and Drama and so much more.
School of Rock - Beacon, NYHudson Valley, New York
School of Rock provides music education that transform children's lives through the music they love to play.The mission and approach helps young musicians find themselves, hone their talent, build self confidence, dev...
Theresa Academy of Performing Arts, Lido Beach, NY.Lido Beach,Nassau County, New York
This program consists of classes in Music(instrumental and vocal), Art, Dance,Yoga,Zumba, African drumming classes and Creative Movement(Brain Dance Education) classes . Classes are offered during the day and after sc...
Music Together offered by While They're LittleLong Island/Nassau County
While They're Little is a proud provider of Music Together, an early childhood music and movement program for families with children ages newborn through 8 years old. Music Together offers several different ways to he...
Daniel's Music FoundationManhattan
The instructors at Daniel's Music encourage everyone to discover the gift of music at their own pace, in a supportive and encouraging environment. The patient, talented instruction team is experienced at meeting each ...
Pam White Artwork - Homeschool Art Classes and WorkshopsManhattan
Pam is an artist and art educator who teaches classes at her cheerful studio in Harlem. Drawing, painting, sculpture, printmaking, puppet making, and much more are all possible in classes for ages 5 and up.
Digital, Web-based Visual Arts Education ProgramMargaretville
The Art Docent Program teaches visual arts to children through history and culture, a "Humanities" approach, which is inextricably linked to humankind's development. Each program is a digital, web-based, visual arts e...
Lisa Itts Guitar, Piano, Voice & Songwriting LessonsNassau County
Arts HorizonsNew York
The LeRoy Neiman Art Center is a center in Harlem, NY where students can come and take a class in 3D Art/Sculpting, Painting/Drawing, Garageband, IMovie, Fashion Design, or Photography/Scrapbooking.
The Art Docent Co., LLCNew York
The Art Docent Company is curriculum which teaches digital visual arts education to grades (K-8) Our program is a digital, web-based, visual arts education system to be instructed to students in grades (K-8). The bene...
Different Directions Inc.New York
Different Directions Inc. is a 501c3 (since 2009) community and enrichment center for homeschoolers in midtown Manhattan.
Singing Heart Voice LessonsNew York City
Private, group, or Skype voice lessons for children of any age! Abbey Jasmine Rose is a working performer and voice teacher in New York City, and can teach any vocal style from rock to classical. She can either teach ...
New York Piano SchoolNew York City
Music school focused on classical piano, providing in-home private lessons to students of all ages in New York City and throughout Westchester County.
John Gray Homeschool Music AcademyNew York City
John Gray is an experienced music educator, serving the homeschool and remote learning communities, offering weekday, daytime private virtual music lessons and music ensemble classes. John teaches online guitar and pi...
Anselmo Academy of Music & The ArtsNew York Metropolitan Area
Anselmo Academy of Music & the Arts (formerly known as The Piano School of NYC) is a non profit organization serving thousands of students since 2001. We are offering lessons in Piano, Violin, Guitar, Voice, Theat...
Musical Theater Voice Lessons & Workshops with Tracey GrimaldiNew York Upper West Side
Musical Theater (including pop/rock) private voice lessons, group workshops. I also have a curriculum for interdisciplinary classes incorporating theater, literature and social studios, which we can launch if we get a...
Svitlana Syrtsova Piano StudioNew York, Manhattan, Washington Heights
Piano lessons for children of all ages and levels
Dan Radzikowski Vocal StudioNew York, Westchester County, Fairfield County
Dan Radzikowski provides in-person and online voice lessons for families with homeschoolers. He will meet at his studio in Manhattan or via your iPad, iPhone or desktop computer from the comfort of your own home. Dan ...
Andreea Delisfort Piano StudioNew York/ Manhattan
I offer in-home private piano lessons in Manhattan, Queens and Westchester. Personalized curriculum and yearly recitals.
The Newton Theatre Arts AcademyNewton
The Newton Theatre Arts Academy provides courses that cover a wide range of artistic interests. The Academy offers programs for children K - 12th grade in Acting, Musical Theatre, Dance, and Fine Arts. They are able t...
Bach to Rock PenfieldPenfield/Rochester Area
Bach to Rock in Penfield is THE music school offering lessons for students of all ages and skill levels living in the area. Instruments we teach include guitar, piano, drums, DJ, voice, violin, trumpet & more! B2R...
Yuasa Piano StudioQueens
Private piano lessons in the comfort and convenience of your own home, serving Sunnyside, Queens and the surrounding area. Currently accepting new students from age 4. Lessons are fun and engaging, and often include d...
Sarah B PianoQueens, New York and online!
Private Piano Teacher based in Queens, NYC with experience teaching in the USA and Asia. I am a homeschool graduate and I have a MA in Music Education and am committed to inspiring children to find joy in music! I lov...
The Mindful Cafe & Learning CenterRamsey, Chestnut Ridge, Nyack
The Mindful cafe & Learning center fosters holistic, student centered learning for homeschoolers in the 7-9th grade. MC hosts individual academic and elective class opportunities with experienced teachers. Small g...
A Magical Journey Thru STAGESRochester
Theater performance opportunities, workshops, and classes for kids in the Rochester Area.
Brava Dance Center in Rye, NY is offering dance classes for home schooled students, beginning in September 2020. This program offers training in Ballet, Jazz, Lyrical and Tap between the hours of 9:00 AM and 2:30 PM, ...
Long Island Blue Jays Jr. Drum and Bugle CorpsSuffolk
FREE MUSIC FOR YOUR CHILDREN... The Long Island Blue Jays Jr. Drum and Bugle Corps Inc. is seeking new members. Learn to play brass instruments or rudimental drums for FREE. Instruments are provided to use for FREE. M...
McEvoy AtelierSuffolk County/New York
Studio Art Classes provide an opportunity for you to work alongside other artists on charcoal drawings, still life projects, or continuing projects you've been working on at home. Kevin McEvoy will be teaching the cla...
Kerboomkidz FitnessSuffolk/Nassau New York
To help kids dance into a healthy and active lifestyle! KerboomKidz is an energetic and challenging group exercise program that is designed for grades K-12. Our Kerboomkidz program is available in-person for a gym cre...
Creative Arts Academy - SyracuseSyracuse
Creative Arts Academy is a tuition free program for students in grades 7 to 12 wishing to explore the arts. Offers Dance, Theater and Visual Art classes, all taught by area professionals. Providing daily snacks and ho...
Jenni Foutch Flute StudioSyracuse
Flute lessons for all ages and abilities. Each lesson is specifically designed to help students reach their individual goals.
Eye Studio Arts LLCSyracuse
Eye Studio Arts is an arts institute that provides visual, and culinary arts, classes, parties, and community events. Visual art classes include painting, drawing, sculpting, and glass fusing. The culinary program is ...
Loop of the LoomUpper Eastside, New York City
Loop of the Loom is a craft studio introduces a unique improvisational style of hand weaving called SAORI, spininng, felting and enchanted earth art workshop.
Munson-Williams-Proctor Arts Institute, School of ARTUtica
Art classes and workshops for Kids, Teens, and Adults.Register Online for Spring, Summer, and Fall sessions.
Joyful Noise Clarinet StudioUtica
Private clarinet lesson to students of all ages with Kelsie Osenbach
Chatalbash LessonsWantagh
Chatalbash Lessons is a local piano studio in Wantagh Long Island that offers piano lessons to homeschool kids. They offer piano lessons in the evenings so classes can fit into anyone's schedule. They only teach piano...
Habana Music StudioWestchester County
The Habana Music Studio offers in-person piano lessons to kids, teens, and adults in Westchester County, NY and online. Come study with a teacher that offers a unique and highly personalized method of learning, and th...
Day Rock Enrichment PorgrramWestchester/Rockland/Dutchess
Experience – Education – Excitement The Dayrock experience is unlike any other musical activity! Since 2000, we've provided this interactive musical enrichment experience throughout the tri-state area. Our program imm...
New York Homeschool Sports Programs
Goldfish Swim School - ColonieAlbany
Children learn best in a safe environment, when they have plenty of room to play and explore. At Goldfish Swim School - Colonie, all of our certified swim instructors use The Science of SwimPlay® t... [Read more...]
The GagasphereBergen County
The Gagasphere is the only indoor facility in NJ dedicated to the game of Gaga Ball. Have you heard of Gaga? What is it? It's an extremely popular fast-moving ball game played inside a "gaga pit". ... [Read more...]
Aikido of South BrooklynBrooklyn
Aikido is a traditional martial art. It originated in Japan during the twentieth century and is now practiced worldwide. While the emphasis of the day-to-day practice is on the compassionate resolu... [Read more...]
Sofive Soccer Center BrooklynBrooklyn,
Sofive Soccer Center is a unique venue that offers our groups the chance to play in a soccer specific facility to create memorable experiences among their friends and family. We offer 5-a-side matc... [Read more...]
Goldfish Swim School WilliamsvilleBuffalo
Our swim school in Williamsville focuses on much more than water safety skills. We use our special SwimPlay® program to boost children's potential in the pool and out. We love helping children have... [Read more...]
Homeschool at The Warrior FactoryBuffalo
The Warrior Factory's Homeschool program offers the best of both our ninja training curriculum and open play formats. Utilizing multiple stations with different ninja obstacles each week, students ... [Read more...]
Lil' Kicker Soccer ClassesEast Syracuse
Lil' Kickers is a child development program based around the sport of soccer. Classes are for ages 18 months to 12 years old and are divided by age/skill level. Lil' Kicker classes transform a play... [Read more...]
Brooklyn Fencing Center - Homeschool Fencing ClassesGowanus, Park Slope, Brooklyn
Brooklyn Fencing has over a decade of experience and classes specifically for homeschoolers. Set up a one-time visit for your homeschool group. Fencing is a unique sport, rich in history, that offe... [Read more...]
KickStart Training Personal Training for StudentsHenriatta
Personal trainer in the Rochester area specializing in weight loss, muscle building, and sports conditioning. Certified through National Academy of Sports Medicine and work out of a private persona... [Read more...]
Jodi's GymKisco
Hundreds of thousands of children have cartwheeled with us and we work relentlessly to provide the best experinece for every child. Our gymnastics facility would be a great option in helping childr... [Read more...]
Urban Air Indoor Adventure Park Homeschool Open PlayLake Grove
Homeschool Open Play Kick Off Day was such a success, we decided to be open twice a month for daytime Homeschool Open Play with a new extended time, 10am-3pm! We have so many attractions to offer t... [Read more...]
New York Sports Club Kids ClubLong Beach
For New York P.E. credits this program includes a swim instruction. [Read more...]
Open SquashManhattan
Open Squash, a brand new community squash center in Midtown Manhattan, offers home schoolers the opportunity to join our Junior Academy where we coach and teach squash at all levels of play. Squash... [Read more...]
In Home Martial Arts - Physical EducationManhattan, Brooklyn, 5 Borough
Bring Martial Arts and a great physical education activity to your child in the comfort of your own home. We travel to you! FREE TRIAL lesson available. We ask you try it before you commit and we g... [Read more...]
Manhattan Fencing CenterManhattan, New York
Manhattan Fencing Centers Home School Program is designed for beginner, intermediate, and competitive fencers in saber and foil. No experience necessary! The program includes fitness instruction, g... [Read more...]
Ziggy's Gymnastics AcademyMiddletown
Gymnastics and fitness classes for children. [Read more...]
Fit2Fight Martial artsMiddletown
Fit2Fight Martial Arts in Middletown is excited to offer special classes for homeschoolers! The high energy program focuses on developing fitness and martial arts skills and drills. All geared to e... [Read more...]
Baseball Homeschool InstituteNew York City
BHI was created specifically for the serious baseball player. This unique program will provide our players with an onsite stellar education while also giving players the flexibility to train and de... [Read more...]
Goldfish Swim School - PittsfordRochester
Our swimming lessons are designed to let your kids have loads of fun while learning and building on their basic swimming skills! Our lessons can start as early as 4 months and we offer programs des... [Read more...]
Tri-County Sports ComplexRochester / East Side
Located on the east side of Rochester NY, our new multi sport indoor facility is host to youth and adult sports and events. With four full size maple hard courts and two box turf fields, we are mor... [Read more...]
Mohawk Valley LEAHSauquoit
Mohawk Valley LEAH is a local chapter of NYS LEAH. Drew & Kelly Alesia are the current chapter leaders and have been serving as such since 2015. MVLEAH provides coordinated soccer in the spring and... [Read more...]
Marine Science Experiential LearningStonington
New England Science & Sailing (NESS) is based in Stonington, CT, and runs on-the-water programs with homeschool families across New England. NESS's marine science and adventure sports programs ... [Read more...]
Orange County Sports Club GymnasticsSussex County/Orange County
Gymnastic classes for your homeschool child, please contact June Konsevick at 201-655-5893 or Sports, Fitness, & Fun at 845-651-1000 ask for Irene Lerz [Read more...]
Arts Sports Academy (ASA)Syracuse
We are a group of individuals who understand the importance of the fundamentals. We provide personal and athletic development through our exclusive training and mentoring programs. ASA was created ... [Read more...]
Goldfish Swim School Yorktown HeightsYorktown Heights
Our premier swim school in Yorktown Heights uses a one-of-a-kind curriculum that makes our programs convenient for busy schedules and fun for infants, toddlers, and children up to 12 years old. We ... [Read more...]
Go to...