Jump to: Homeschool Co-ops | Homeschooling Classes & Academic Enrichment
Looking for someone to teach physics to your teen? Need a way to avoid teaching algebra? Want to enroll your Kindergartener in a co-op for social time? Homeschool classes and co-ops are a great way to spend time with other homeschoolers and skill-share with other homeschool parents.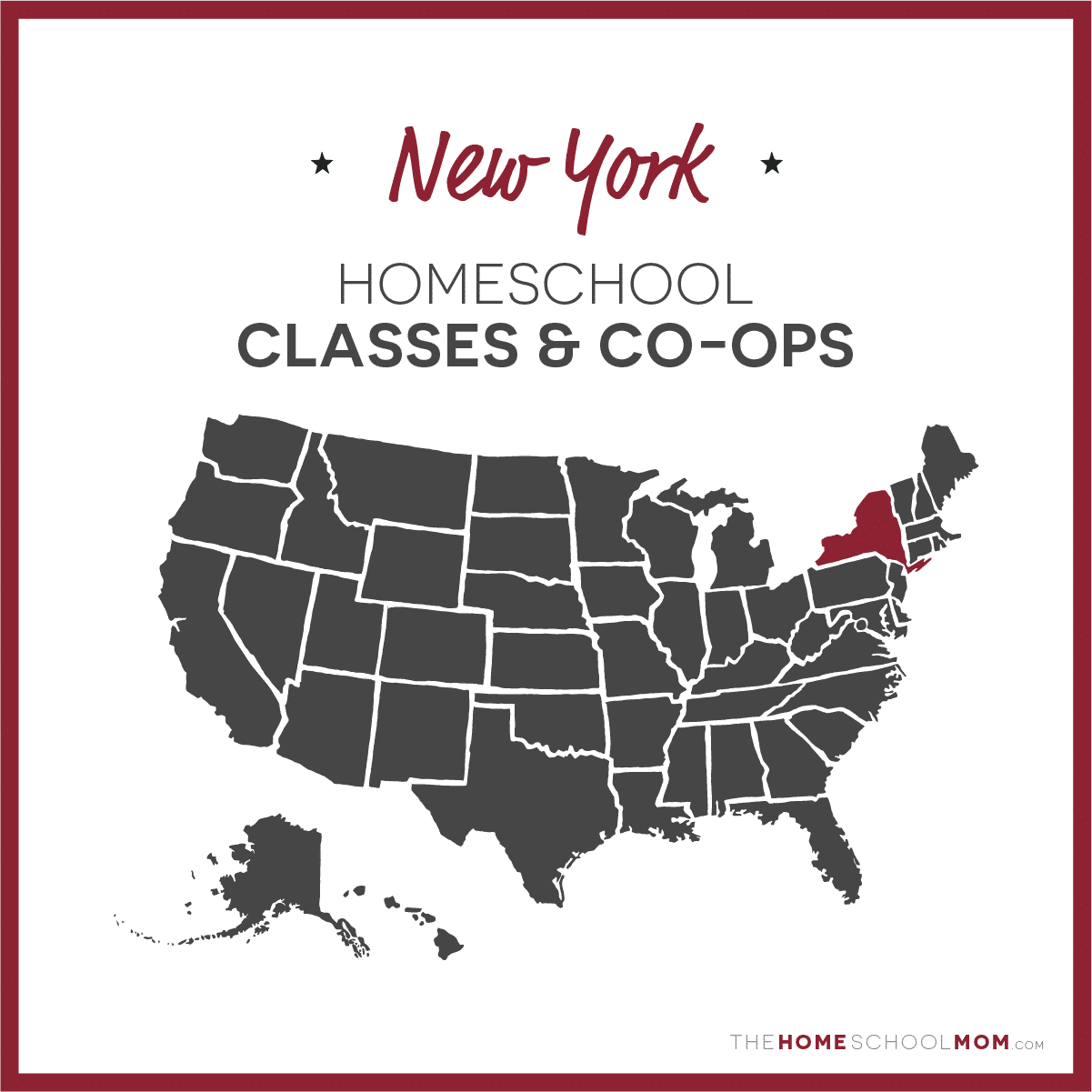 Submit a Local Resource
Our listing of New York co-ops and academic classes for homeschoolers is ordered alphabetically by city, with co-ops in the first section and all other academic resources below. If you would like to submit a New York co-op or academic resource, you may do so using the red button above.
New York Homeschooling Co-ops
Transformative Learning Community (TLC)Bronx
TLC is a South Bronx homeschool co-op serving students Pre-K through 12th grade. Entrance is free; however, a small donation is suggested to help cover supply costs. TLC meets at Fordham Community Church.
Mt Carmel Kids Community Co-OpCarmel
Mt Carmel Kids is a community co-op in Carmel/Kent NY. They have a focus on nature and offer a drop off program of structured and unstructured play. Kids also engage in academic activities like Stem projects, art and ...
Evermore Homeschool CooperativeColumbia County
This is a small, faith-based homeschooling group in Columbia County, NY offering a wide variety of educational enrichment opportunities for children of reading age and up. Programs are refreshed and new families are a...
Home School Academy LEAHHenrietta
We are a Christian program developed to partner with you to strengthen your home school experience by teaching skills and offering classes that are challenging to accomplish at home. Science labs, writing instruction,...
Finger Lakes HomeschoolIthaca
Fingerlakes Homeschool is comprised of a growing number of families who choose to educate their children at home in the Finger lakes Region. We are brand new and we are still developing our support system. We are curr...
Redeeming Mondays Co-opLiverpool
Redeeming Mondays Co-op (RMC) exists to help Christian homeschooling parents pool their resources to provide assistance for "hard to teach" courses and courses well-suited to group learning. Students meet at Redeemer ...
S.I. Elementary Homeschool FamiliesStaten Island
We are a secular group of like-minded families learning, growing and enjoying the homeschool life together.
Three Rivers Homeschool Co-opStone Ridge
We are a home-school coop that meets once a week at the Marbletown Community Center in Stone Ridge, New York.
Home Learners Association of Central New YorkSyracuse
Home Learners Association of CNY is a secular group open to all types of homeschoolers. HLACNY offers social activities, co-ops, classes, field trips and much more.
Cedarwood Christian SchoolWarwick
Welcome to Cedarwood Christian School and Homeschool Co-operative! Cedarwood offers both academic and enrichment opportunities for our member families in a Christian environment.
New York Homeschooling Classes & Academic Enrichment
Urban STEAM LabBay Ridge, Brooklyn
Urban STEAM Lab is a place where kids, teens, and adults can get messy, ask hard questions, and explore their curiosity. Most importantly, it is a place to nurture their inner scientist through hands-on projects, guid...
Mayflower TutoringBoston
Mayflower Tutoring is a reputable Plymouth, MA-based tutoring service. It proudly offers online and in-person tutoring sessions for elementary through high school students. Its founder, Matthew Rowe (Ed.M. Philosophy ...
Baseball Training InstituteBronx
Baseball Training Institute is now home to the 1st ever baseball homeschooling program in NYC. BTI's recent exclusive partnership with Enlightium Academy, now allows BTI athletes to have access to a quality Christian ...
ClasseteriaBrooklyn
Classeteria is a center for homeschoolers in Bushwick, Brooklyn providing students with academic fundamentals in an engaging, supportive environment. Students take classes in Reading, Writing, and Math. Small classes,...
Brooklyn Creative Learning LabBrooklyn
Based in the heart of Dumbo, Brooklyn, the Brooklyn Creative Learning Lab offers vibrant online and in-person Creative Lab Courses for students in middle school, high school, and early college. Our Labs foster collabo...
Bartlett Arboretum & Gardens Educational ProgramsFairfield County
The Bartlett Arboretum & Gardens offers developmentally appropriate, nature-based programs aligned to both Connecticut State Science Standards and the Next Generation Science Standards. The forested trails, wetlan...
Electronics at Home (online)Fairhope
This resource is designed for those who pose "The Edison Trait" so all kids will love the Hands-On learning of Electronic Engineering Technology. Only $65 a quarter and lab equipment that will be used for over two yea...
Compassionate MathHartford area
Compassionate Math is the idea that learning mathematics is both an intellectual and emotional challenge – you can't move forward intellectually if you don't address negative emotions. Compassionate Math provides ongo...
Home School Academy LEAHHenrietta
We are a Christian program developed to partner with you to strengthen your home school experience by teaching skills and offering classes that are challenging to accomplish at home. Science labs, writing instruction,...
LSPA Explorers workshopsHicksville
Various workshops for toddlers - thru high school home schooled students. Such as Science Lab , Math Lab , Readers workshop, Fun with art, Dance and Drama and so much more.
Home Is School LEAHHoosick Falls
We are a Christ-centered homeschool group that provides a variety of educational and enrichment classes for homeschooling families in a safe and loving environment. We co-labor with each other and God to achieve creat...
Fit LearningLocust Valley
Fit Learning is not a one-size, fits all tutoring center in Locust Valley. It help learners build fluency in core academic skills by combining learning science, precision teaching, and curriculum-based assessment. The...
Classical Conversations: MassapequaMassapequa
Classical Conversations: Massapequa is a classical, christian, homeschool community which meets weekly on Fridays and offers programs for all levels and ages 4yrs-12th grade. It's motto is "to know God and make him kn...
Summer Youth Enrichment Writing Programs | Hudson Valley Writing ProjectMid-Hudson Valley
Led by the region's finest teachers, the Hudson Valley Writing Project offers children and teens unique learning experiences at local cultural and historic sites, nature preserves, and college campuses. Teachers incor...
New Perspectives In Learning- Solutions for Dyslexia, ADD, and ADHDMontclair, NJ, New Jersey/New York/PA area
This resource provides one-on-one, hands-on programs that tap into the learning strengths of the visual/spatial learner. Dyslexia is a learning difference, not a "disability." The thinking style of bright, but often s...
Cathedral of Saint John the DivineMorningside Heights/UWS
Our programs are designed to encourage and champion active learning by engaging students in careful observation and critical thinking skills. Our mission to welcome all creates meaningful opportunities for learners to...
The Center for Architecture Vacation & Summer ProgramsNew York
The Center for Architecture's Vacation and Summer Programs give curious kids an opportunity to dive into an architecture topic of interest and test out their own design ideas. Each program explores a different theme t...
AfterSchool@theCenterNew York
The Center for Architecture offers an After-School Program for students in grades 3-5, discovering architecture and design through neighborhood exploration, drawing, and hands-on building activities. Each program meet...
Parliament Tutors - Diagnostic ExamNew York
Parliament Tutors offers all students a FREE diagnostic SAT exam to help assess their strengths and weaknesses and prepare for the real test.
Neuropsych or Academic testingNew York
Comprehensive Consultation Psychological Services, P.C. is a diagnostic and treatment center for neuropsychological, psychiatric, and educational difficulties. Led by Dr. Sanam Hafeez, the New York City based psycholo...
Girls Who CodeNew York
Partner with Girls Who Code (GWC) to bring free computer science learning opportunities to your community. Girls Who Code Clubs are free after-school programs for 3rd-5th or 6th-12th grade girls to join a sisterhood o...
Different Directions Inc.New York
Different Directions Inc. is a 501c3 (since 2009) community and enrichment center for homeschoolers in midtown Manhattan.
Autism Learners Tutoring and Homeschool Services for Special Education StudentsNew York
Autism Learners offers tutoring and homeschool services to student with special needs across all ability levels. Services are provided by seasoned and highly trained special education professionals. We offer in-home a...
Atelier Sucre Pastry and Cooking ClassesNew York
Atelier Sucré is the vision of New York-based pastry Chef Simon Herfray. In his kitchen, Chef Simon utilizes state of the art appliances and tools to create culinary delights that are truly breathtaking. He and his te...
Baseball Homeschool InstituteNew York City
BHI was created specifically for the serious baseball player. This unique program will provide our players with an onsite stellar education while also giving players the flexibility to train and develop themselves as ...
Uptown Stories - Writing Workshops and ClassesNew York City
Uptown Stories inspires kids to discover and develop their inner voices in a diverse community of writers. Based in upper Manhattan, we offer small-group writing workshops for children ages seven to seventeen, led by ...
Chess Max AcademyNew York City
A weekly Tuesday morning chess class taught by a chess master for Homeschooled students. The curriculum is developed by a former World chess champion grandmaster Maxim Dlugy.
New York Classical ConversationsNew York Statewide
CC is a national homeschooling program that uses a Bible based curriculum taught in a christian, classical tradition. Classes are geared for age 4 through high school.
ArchForKids- architecture for childrenNYC, Nassau County, Westchester
ArchForKids provides young people with dynamic, hands-on/minds-on learni G experiences that are grounded in architecture, engineering and urban planning.
The Mindful Cafe & Learning CenterRamsey, Chestnut Ridge, Nyack
The Mindful cafe & Learning center fosters holistic, student centered learning for homeschoolers in the 7-9th grade. MC hosts individual academic and elective class opportunities with experienced teachers. Small g...
Lab-Based Science ClassesRockland County
Lab-Based science classes for homeschoolers, both in-person and online. Courses offered by age group (8-11, 11-14, or 13+) and cover different topics each term. Lab-Based Biology includes cells and the chemistry of li...
Hudson Valley Writers CenterSleepy Hollow
The Hudson Valley Writers Center offers creative writing classes for youth. Depending on the session, classes are offered on weekdays or weekends. Please see website for details or email ask@writerscenter.org
Mathnasium Learning Centers of SouthtownsSouthtowns, Western NY
At Mathnasium Learning Centers, we make math make sense! Whether your child started out far behind or already ahead in math, Mathnasium will help them leap ahead because we know that any child can be successful in mat...
Marine Science Experiential LearningStonington
New England Science & Sailing (NESS) is based in Stonington, CT, and runs on-the-water programs with homeschool families across New England. NESS's marine science and adventure sports programs use the water as a c...
Nebula AcademySyosset
Nebula Academy offers a blended learning experience for families seeking to support their child's success. Programs are focused on STEAM education with experiential project-based learning. A unique opportunity for fam...
Xperiment Virtual RealityTrumbull
Xperiment VR is the newest place to experience the power of virtual reality. We host birthday parties & events as well as free play whenever you're in the mood to step into another reality. We are a fully immersive Vi...
Cedarwood Christian SchoolWarwick
Welcome to Cedarwood Christian School and Homeschool Co-operative! Cedarwood offers both academic and enrichment opportunities for our member families in a Christian environment.
National Museum of the American Indian ProgramsWashington DC and New York City
The National Museum of the American Indian is the sixteenth museum of the Smithsonian Institution. It is the first national museum dedicated to the preservation, study, and exhibition of the life, languages, literatur...
FFCS Watertown Homeschool PartnersWatertown
Faith Fellowship Christian School is planning to expand its Christ centered educational services to our local county, extended counties, state, nation and global communities. The goal is to offer an alternative to the...
Go to...