Jump to: Homeschool Co-ops | Homeschooling Classes & Academic Enrichment
Looking for someone to teach physics to your teen? Need a way to avoid teaching algebra? Want to enroll your Kindergartener in a co-op for social time? Homeschool classes and co-ops are a great way to spend time with other homeschoolers and skill-share with other homeschool parents.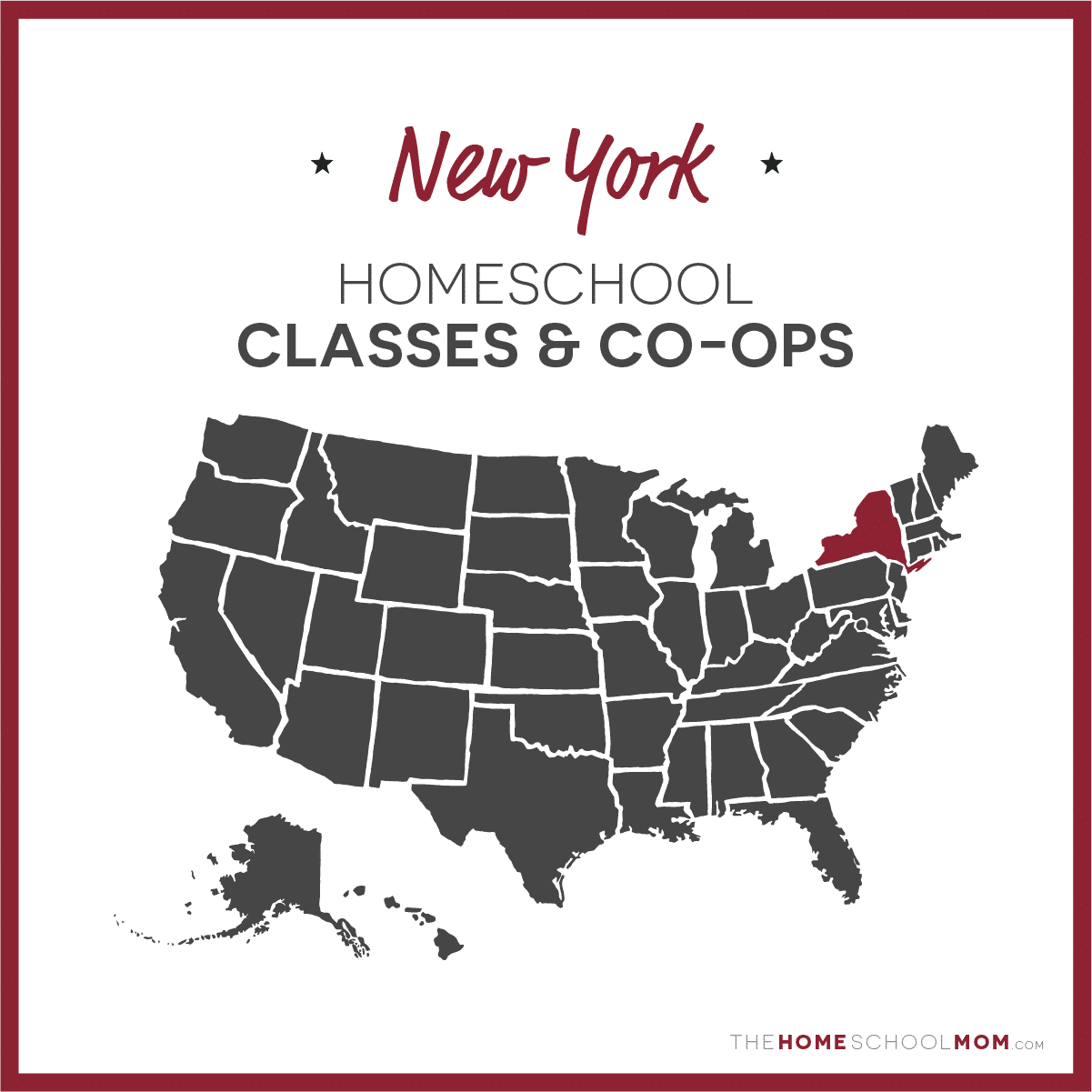 Submit a Local Resource
Our listing of New York co-ops and academic classes for homeschoolers is ordered alphabetically by city, with co-ops in the first section and all other academic resources below. If you would like to submit a New York co-op or academic resource, you may do so using the red button above.
New York Homeschooling Co-ops
Transformative Learning Community (TLC)

Bronx

TLC is a South Bronx homeschool co-op serving students Pre-K through 12th grade. Entrance is free; however, a small donation is suggested to help cover supply costs. TLC meets at Fordham Community Church.
Mt Carmel Kids Community Co-Op

Carmel

Mt Carmel Kids is a community co-op in Carmel/Kent NY. They have a focus on nature and offer a drop off program of structured and unstructured play. Kids also engage in academic activities like Stem projects, art and music. Individual tutoring is also offered to families.
Evermore Homeschool Cooperative

Columbia County

This is a small, faith-based homeschooling group in Columbia County, NY offering a wide variety of educational enrichment opportunities for children of reading age and up. Programs are refreshed and new families are accepted many times throughout the year.
Home School Academy LEAH

Henrietta

We are a Christian program developed to partner with you to strengthen your home school experience by teaching skills and offering classes that are challenging to accomplish at home. Science labs, writing instruction, presentation skills, technology, languages, art, music & theater, note taking, etc. are all part of what our qualified instructors will teach your children in an encouraging, fun school day once a week for 28 Tuesdays of the school year.
Finger Lakes Homeschool

Ithaca

Fingerlakes Homeschool is comprised of a growing number of families who choose to educate their children at home in the Finger lakes Region. We are brand new and we are still developing our support system. We are currently focused on developing a co-op in hopes of offering classes to preschool-12th grade. What is co-op? Co-op provides supplementary education for our children that we cannot easily provide ourselves, allows kids to learn accountability and study skills in a fun group environment, and opportunity to develop friendships. This environment is a mixture of core classes (e.g., chemistry, biology), enrichment classes (e.g., French & art) and fellowship for the children and parents. All families are welcome to join our group and our co-op, however, you must recognize that we are at our core a Christian organization. We ask all families who join to sign that they will honor and respect our Statement of Faith. Curriculum in our co-op may or may not be religious, and we ask teachers to refrain from teaching against anything found in our Statement of Faith. Other specifics, such as the inclusion of creation-based ideologies in a science class or Christian leanings in a history class for example, may be dependent on individual teachers and parents should ask teachers before registering children for those classes if that is a concern.
Redeeming Mondays Co-op

Liverpool

Redeeming Mondays Co-op (RMC) exists to help Christian homeschooling parents pool their resources to provide assistance for "hard to teach" courses and courses well-suited to group learning. Students meet at Redeemer Evangelical Covenant Church in Liverpool, NY on Mondays. The fall and spring sessions are each 11 weeks long, and the winter session is 7 weeks. Classes are offered from K-12 with a nursery available for younger children. Our members come from all over the Syracuse and Onondaga County area, and even beyond!
S.I. Elementary Homeschool Families

Staten Island

We are a secular group of like-minded families learning, growing and enjoying the homeschool life together.
Three Rivers Homeschool Co-op

Stone Ridge

We are a home-school coop that meets once a week at the Marbletown Community Center in Stone Ridge, New York.
Home Learners Association of Central New York

Syracuse

Home Learners Association of CNY is a secular group open to all types of homeschoolers. HLACNY offers social activities, co-ops, classes, field trips and much more.
Cedarwood Christian School

Warwick

Welcome to Cedarwood Christian School and Homeschool Co-operative! Cedarwood offers both academic and enrichment opportunities for our member families in a Christian environment.
New York Homeschooling Classes & Academic Enrichment
Pangea Programs

Albany

Pangea Programs offers mixed-age STEM and nature enrichment programs, small-group tutoring, and workshops for all ages. Programs meeting in Glens Falls, Saratoga Springs, and Albany areas.
Focus Online LLC

Amherst

Focus Online LLC works to empower parents to homeschool while offering students' social-emotional and educational growth by introducing affordable, personalized, creative, and evidence-based tutoring and learning.  1-1 K-8 Learning: Tutoring, Homeschool Curriculum Development, Parent Support. Offers in-person services.    We differentiates social and academic learning opportunities so as to accept and include all children, regardless of their personal skill-levels and abilities.  This includes special needs, 2e, and other neurodivergent students. Our belief is that students learn best in a nurturing, interest-based and systematic environment that includes and encourages questioning, as well as innovative thinking.
Focus Online, LLC - In Person Learning

Amherst/Western New York

Monday (ELA Focus) And Wednesday (Math Focus) Classes: Class themes are posted monthly. In-Person Classes are limited to 4 students. Please note that reservations are recommended!
Urban STEAM Lab

Bay Ridge, Brooklyn

Urban STEAM Lab is a place where kids, teens, and adults can get messy, ask hard questions, and explore their curiosity. Most importantly, it is a place to nurture their inner scientist through hands-on projects, guided activities, and interactive workshops. But this isn't your average science class. At Urban STEAM Lab, they think about how science and technology affect people. Instructors integrate lessons with the community, and use science, technology, engineering, art, and mathematics (STEAM) to help young scientists understand the world immediately around us. They do all this while learning how to create their own community of collaborators and partners.
Classeteria

Brooklyn

Classeteria is a center for homeschoolers in Bushwick, Brooklyn providing students with academic fundamentals in an engaging, supportive environment. Students take classes in Reading, Writing, and Math. Small classes, careful individualized attention, similarly aged peers, a clear curriculum map and discipline policy provides parents with the scaffolding they need to get those basics down, as well as the tribe many parents are looking to provide for kids.
Brooklyn Creative Learning Lab

Brooklyn

Based in the heart of Dumbo, Brooklyn, the Brooklyn Creative Learning Lab offers vibrant online and in-person Creative Lab Courses for students in middle school, high school, and early college. Our Labs foster collaboration and design thinking; they culminate in digital portfolio projects that showcase students' personal passions and community engagement. Final projects depend on student choice and have ranged from podcasts to interactive blog postings to short-form videos to reinvented items of recycled clothing. We encourage student engagement with the U.N. Sustainable Development Goals and social entrepreneurship at every stage of the project-based learning cycle. Our Labs prepare students to develop robust digital portfolios of projects ready to attach to the leading online high school and college applications. Each Lab is support by a committed instructional team of experienced educators, student teachers, experts in each field, and celebrated guest speakers. See student projects here:https://www.meshedco.org/student-voice-and-projects
Bartlett Arboretum & Gardens Educational Programs

Fairfield County

The Bartlett Arboretum & Gardens offers developmentally appropriate, nature-based programs aligned to both Connecticut State Science Standards and the Next Generation Science Standards. The forested trails, wetlands, gardens, and greenhouse are extraordinary settings for learning. These programs are hands-on, inquiry-based, and designed to complement and extend students' learning. The arboretum can adapt programs for younger or older students upon request, as well as for students with special needs. Please specify desired program length and age/needs of your students at time of scheduling. Come join the fun, feel inspired, and get connected with the natural world.
Electronics at Home (online)

Fairhope

This resource is designed for those who pose "The Edison Trait" so all kids will love the Hands-On learning of Electronic Engineering Technology. Only $65 a quarter and lab equipment that will be used for over two years of instruction, if you chose. Age 8 to 108.
Compassionate Math

Hartford area

Compassionate Math is the idea that learning mathematics is both an intellectual and emotional challenge – you can't move forward intellectually if you don't address negative emotions. Compassionate Math provides ongoing math learning support to homeschoolers and parents that does not ignore the emotional baggage that goes with learning math. Regular in-person workshops/classes held in and around CT.
Home School Academy LEAH

Henrietta

We are a Christian program developed to partner with you to strengthen your home school experience by teaching skills and offering classes that are challenging to accomplish at home. Science labs, writing instruction, presentation skills, technology, languages, art, music & theater, note taking, etc. are all part of what our qualified instructors will teach your children in an encouraging, fun school day once a week for 28 Tuesdays of the school year.
Home Is School LEAH

Hoosick Falls

We are a Christ-centered homeschool group that provides a variety of educational and enrichment classes for homeschooling families in a safe and loving environment. We co-labor with each other and God to achieve creative excellence by serving each other through our strengths.
Redeeming Thursdays

Liverpool

Redeeming Thursdays exists to provide assistance for "hard to teach" courses and courses well-suited to group learning. We meet at Redeemer Evangelical Covenant Church in Liverpool, NY on Thursdays. The fall and spring sessions are each 11 weeks long, and the winter session is 7 weeks. Drop-off classes are offered from 7-12 with a nursery available for younger children. Our members come from all over the Syracuse and Onondaga County area, and even beyond!
Fit Learning

Locust Valley

Fit Learning is not a one-size, fits all tutoring center in Locust Valley. It help learners build fluency in core academic skills by combining learning science, precision teaching, and curriculum-based assessment. The result is learners who are confident, possess the ability to expertly perform in any classroom environment, and who acquire a newfound capacity for learning. An expert conducts a comprehensive skills assessment to identify your learner's fluency in a range of core skills identified as drivers of academic success. Then, an individualized curriculum and approach are developed, so every learner builds the true mastery of skills for life-long learning. It doesn't matter if your learner is gifted and talented, struggling, average, or learning disabled; the Fit Learning approach is scientifically proven to meet your child's needs and transform their academic aptitude and overall cognitive abilities, routinely producing 1-2 year's growth in 40 hours of instruction – something standard tutoring in reading, math, writing, logic, and language simply cannot achieve.
Classical Conversations: Massapequa

Massapequa

Classical Conversations: Massapequa is a classical, christian, homeschool community which meets weekly on Fridays and offers programs for all levels and ages 4yrs-12th grade. It's motto is "to know God and make him known." Foundations is the morning grammar program for 4yrs-6th grade focusing on memory work, presentations, science experiments, fine arts, and fun! Essentials is the afternoon dialectic program designed for 4th-6th graders focusing on English grammar, writing, and math skills. Both Foundations and Essentials require parental participation in class. Challenge programs are full day dialectic and rhetoric programs designed for 7th-12th grades which integrates Latin, Research, Debate, Logic, Exposition/Composition, and Rhetoric. Parents may choose to attend Challenge classes with their student, but are not required. An application and interview are required for acceptance into the Classical Conversations program.
Summer Youth Enrichment Writing Programs | Hudson Valley Writing Project

Mid-Hudson Valley

Led by the region's finest teachers, the Hudson Valley Writing Project offers children and teens unique learning experiences at local cultural and historic sites, nature preserves, and college campuses. Teachers incorporate community-building activities from the start in order to build a safe and fun learning environment so that everyone is comfortable writing and sharing their work. In the first several days of the workshop, not only do writers start many pieces, they look closely at models of similar writing as a way to learn about how published writers "craft" their writing. As the week progresses, the writers continue to experiment with writing, while the teachers incorporate goal setting, conferences, and revision into the daily activities. By week's end, writers get support in editing, publishing, and celebrating their work. In most programs, students will not only work with HVWP teachers, but also with educators at the host site who take the group on behind-the-scenes tours to touch artifacts, to explore secret places, and to develop a personal appreciation for where they are. Programs available in Ulster, Dutchess, and Westchester; in Orange County, we have programs at Storm King Art Center and Museum Vilage.

Summer Youth Enrichment Writing Programs | Hudson Valley Writing Project details
Cathedral of Saint John the Divine

Morningside Heights/UWS

Our programs are designed to encourage and champion active learning by engaging students in careful observation and critical thinking skills. Our mission to welcome all creates meaningful opportunities for learners to see themselves reflected in Cathedral's history. Medieval Journeys- As a building whose architectural styles are rooted in Medieval Europe, we offer a unique opportunity for students to experience life in the Middle Ages. Immigration- Our history has spanned over 130 years and reflects the history of New York from the colony of New Amsterdam, through a young New York City, Immigration plays a strong role in the building of the Cathedral. Architecture- One of New York City's most treasured landmarks, the Cathedral offers an investigation of engineering concepts and discussion of how stability, function and aesthetics work together to create a cathedral. Geometry- Shapes and Patterns-Explore geometric shapes found in the Cathedral. Investigate math in real life. Civics- Explore the concepts of democracy and civic engagement through the Cathedrals' history. Investigate activist art, the historic connections to America between church and state, and the rights and responsibilities of citizens.
The Center for Architecture Vacation & Summer Programs

New York

The Center for Architecture's Vacation and Summer Programs give curious kids an opportunity to dive into an architecture topic of interest and test out their own design ideas. Each program explores a different theme through art and building activities, design challenges, and special site visits. Vacation Programs run three days (Tuesday-Thursday) during winter and spring vacations. Summer Programs run five days (Monday-Friday). All programs meet from 9am-4pm at the Center for Architecture. Students bring their own lunch daily.

The Center for Architecture Vacation & Summer Programs details
AfterSchool@theCenter

New York

The Center for Architecture offers an After-School Program for students in grades 3-5, discovering architecture and design through neighborhood exploration, drawing, and hands-on building activities. Each program meets once a week at the Center for Architecture.
Parliament Tutors - Diagnostic Exam

New York

Parliament Tutors offers all students a FREE diagnostic SAT exam to help assess their strengths and weaknesses and prepare for the real test.
Neuropsych or Academic testing

New York

Comprehensive Consultation Psychological Services, P.C. is a diagnostic and treatment center for neuropsychological, psychiatric, and educational difficulties. Led by Dr. Sanam Hafeez, the New York City based psychology practice specializes in providing solutions for common Learning Disabilities such as Dyslexia and Math Disorder, Attention Deficit Hyperactivity Disorder (ADHD/ADD), Autism, Anxiety, Depression, Bipolar disorder, executive and memory, and other developmental delays. Helping students with disabilities receive accommodations such as extended time, separate testing location and waivers for certain requirements in class and on standardized examinations such as the SATs, ACTs, GREs, LSATs, MCATs, GMATs, the Bar examination, CPA exam, and other such standardized tests.
Girls Who Code

New York

Partner with Girls Who Code (GWC) to bring free computer science learning opportunities to your community. Girls Who Code Clubs are free after-school programs for 3rd-5th or 6th-12th grade girls to join a sisterhood of supportive peers and role models and use computer science to change the world. Participants learn hard coding skills and computational thinking as well as project management skills, collaboration, bravery, resilience, and how to positively impact their community. Participants gain access to free resources, flexible plug and play curriculum, funding opportunities, ongoing support, alumni opportunities for young learners, and more! No computer science experience needed to get started since GWC is there for you every step of the way. Apply now with the 15-min Clubs Application or learn more about how to get started by joining the next live 30-min webinar or email clubs@girlswhocode.com.
Different Directions Inc.

New York

Different Directions Inc. is a 501c3 (since 2009) community and enrichment center for homeschoolers in midtown Manhattan.
Atelier Sucre Pastry and Cooking Classes

New York

Atelier Sucré is the vision of New York-based pastry Chef Simon Herfray. In his kitchen, Chef Simon utilizes state of the art appliances and tools to create culinary delights that are truly breathtaking. He and his team provide high quality French pastries and cooking experiences. Chef Simon can create a specific menu of his seasonal pastries to suit your taste. At our studio kitchen in the heart of NYC's bustling East Village, we offer numerous classes that are sure to strike your fancy & your sweet tooth!  Children (8+) are welcome to join classes (must be accompanied by an adult), and we now offer special discounted prices for children.
Uptown Stories - Writing Workshops and Classes

New York City

Uptown Stories inspires kids to discover and develop their inner voices in a diverse community of writers. Based in upper Manhattan, we offer small-group writing workshops for children ages seven to seventeen, led by master teachers and professional authors. To ensure our workshops are accessible to all children, tuition is pay-what-you-can. Uptown Stories creates an exciting, challenging, and supportive community in which young authors thrive.
Chess Max Academy

New York City

A weekly Tuesday morning chess class taught by a chess master for Homeschooled students. The curriculum is developed by a former World chess champion grandmaster Maxim Dlugy.
New York Classical Conversations

New York Statewide

CC is a national homeschooling program that uses a Bible based curriculum taught in a christian, classical tradition. Classes are geared for age 4 through high school.
ArchForKids- architecture for children

NYC, Nassau County, Westchester

ArchForKids provides young people with dynamic, hands-on/minds-on learni G experiences that are grounded in architecture, engineering and urban planning.
James Madison Academy

Oswego

The James Madison Academy for Educational Freedom is a parent lead, faith based, home schooling support group which offers a wide variety of classes through a "hybrid" drop off co-op program, family oriented field trips and events, home schooling support meetings, and fellowship with like-minded believers in Christ.
The Mindful Cafe & Learning Center

Ramsey, Chestnut Ridge, Nyack

The Mindful cafe & Learning center fosters holistic, student centered learning for homeschoolers in the 7-9th grade. MC hosts individual academic and elective class opportunities with experienced teachers. Small group classes will begin via Zoom due to the covid-19 pandemic. Classes include all levels of Math, English, Science, Social Studies as well as Yoga, Zumba, Photography, jewelry making & more
Lab-Based Science Classes

Rockland County

Lab-Based science classes for homeschoolers, both in-person and online. Courses offered by age group (8-11, 11-14, or 13+) and cover different topics each term. Lab-Based Biology includes cells and the chemistry of life, the human body, ecology, genetics, and evolution. Lab-Based Astronomy teaches about the earth, solar system, and beyond. Lab-Based Physics explores energy, motion, and forces, and Lab-Based Earth Science investigates various topics related to our planet, weather, and climate. Classes are taught by an experienced, certified science teacher, and all materials are included.
Hudson Valley Writers Center

Sleepy Hollow

The Hudson Valley Writers Center offers creative writing classes for youth. Depending on the session, classes are offered on weekdays or weekends. Please see website for details or email ask@writerscenter.org
Mathnasium Learning Centers of Southtowns

Southtowns, Western NY

At Mathnasium Learning Centers, we make math make sense! Whether your child started out far behind or already ahead in math, Mathnasium will help them leap ahead because we know that any child can be successful in math—it's a matter of teaching it in a way that makes sense to them. Our experienced math tutors utilize our proprietary teaching materials and techniques, The Mathnasium Method™, to deliver a customized learning plan designed to address each student's needs. Our instructional approach goes beyond traditional math tutoring to develop understanding and build a love for math. If math is a problem, Mathnasium can solve it. Students will grow more excited and confident about math—and their grades will reflect that. For students who already excel in math, the sky's the limit. They will work to expand their math skills and, with math learning made exciting, can see all the doors that being great at math can open.
Marine Science Experiential Learning

Stonington

Our mission at New England Science & Sailing Foundation (NESS) is to empower students with a love of learning through ocean-based experiential programs that serve schools, teachers, and families. NESS is the first and only program of its kind to be accredited by the New England Association of Schools and Colleges (NEASC). Our goal is to advance academic opportunities for K-12 students of all backgrounds in both urban and suburban markets. We offer a unique education model that empowers students with leadership, teamwork, confidence, and problem-solving skills to ensure academic success. Our STEM-based curriculum uses marine science, sailing, powerboating, and adventure sports as learning platforms. We hope you will play a role in helping us continue this important educational mission! The NESS instructor-led, hands-on programs include topics such as: marine debris, navigation, erosion, camouflage, deep sea exploration, and even sailing at home! Classes range from 1-2 hours based on the needs of the students. These courses are correlated to standards related to science, ocean literacy, and socio-emotional learning. If you are interested in learning more about NESS programs, please feel free to email Nina Quaratella, Education Specialist, at nquaratella@nessf.org or call at 860-535-9362.
Nebula Academy

Syosset

Nebula Academy offers a blended learning experience for families seeking to support their child's success. Programs are focused on STEAM education with experiential project-based learning. A unique opportunity for families to provide a social environment.
Xperiment Virtual Reality

Trumbull

Xperiment VR is the newest place to experience the power of virtual reality. We host birthday parties & events as well as free play whenever you're in the mood to step into another reality. We are a fully immersive Virtual Reality social play space that delivers the best VR experiences to you without any hassle and expensive home set ups. ​ Prepare to jump into realistic worlds with explosive visuals as you step beyond reality and explore just about anything you can imagine. Whether you're playing games, exploring the world, or unleashing your artistic talents, It's fun for EVERYONE and a great way to stay active!
Cedarwood Christian School

Warwick

Welcome to Cedarwood Christian School and Homeschool Co-operative! Cedarwood offers both academic and enrichment opportunities for our member families in a Christian environment.
National Museum of the American Indian Programs

Washington DC and New York City

The National Museum of the American Indian is the sixteenth museum of the Smithsonian Institution. It is the first national museum dedicated to the preservation, study, and exhibition of the life, languages, literature, history, and arts of Native Americans. Established by an act of Congress in 1989, the museum works in collaboration with the Native peoples of the Western Hemisphere to protect and foster their cultures by reaffirming traditions and beliefs, encouraging contemporary artistic expression, and empowering the Indian voice. Check Web Site for newest classes
FFCS Watertown Homeschool Partners

Watertown

Faith Fellowship Christian School is planning to expand its Christ centered educational services to our local county, extended counties, state, nation and global communities. The goal is to offer an alternative to the traditional public directed education systems. Our experienced, caring and certified staff will now offer a high level of educational standards to our distance learning students. Through generous gifts, donations, volunteers, and cooperation with the open source community, we are able to research, build and utilize our own proprietary online learning environment. We will also offer a turnkey solution that will include all hardware, software, and the necessary equipment to have a trouble free and child safe online educational experience. We are using the latest cryptography and security systems to insure our students information stays private. Our school is proud of having twenty seven years of service, an average tuition cost that is 90% less than national average, and student's scores that are an average of 134 points higher on the SAT than the national average.