Homeschooling is regulated at the state level, so connecting with local homeschoolers is an important step to start homeschooling in New York. Find the New York homeschool groups closest to you and get connected with your local homeschooling community, learn about the homeschool requirements in New York, and discover the co-ops, classes, sports and arts opportunities, and social get-togethers in your area.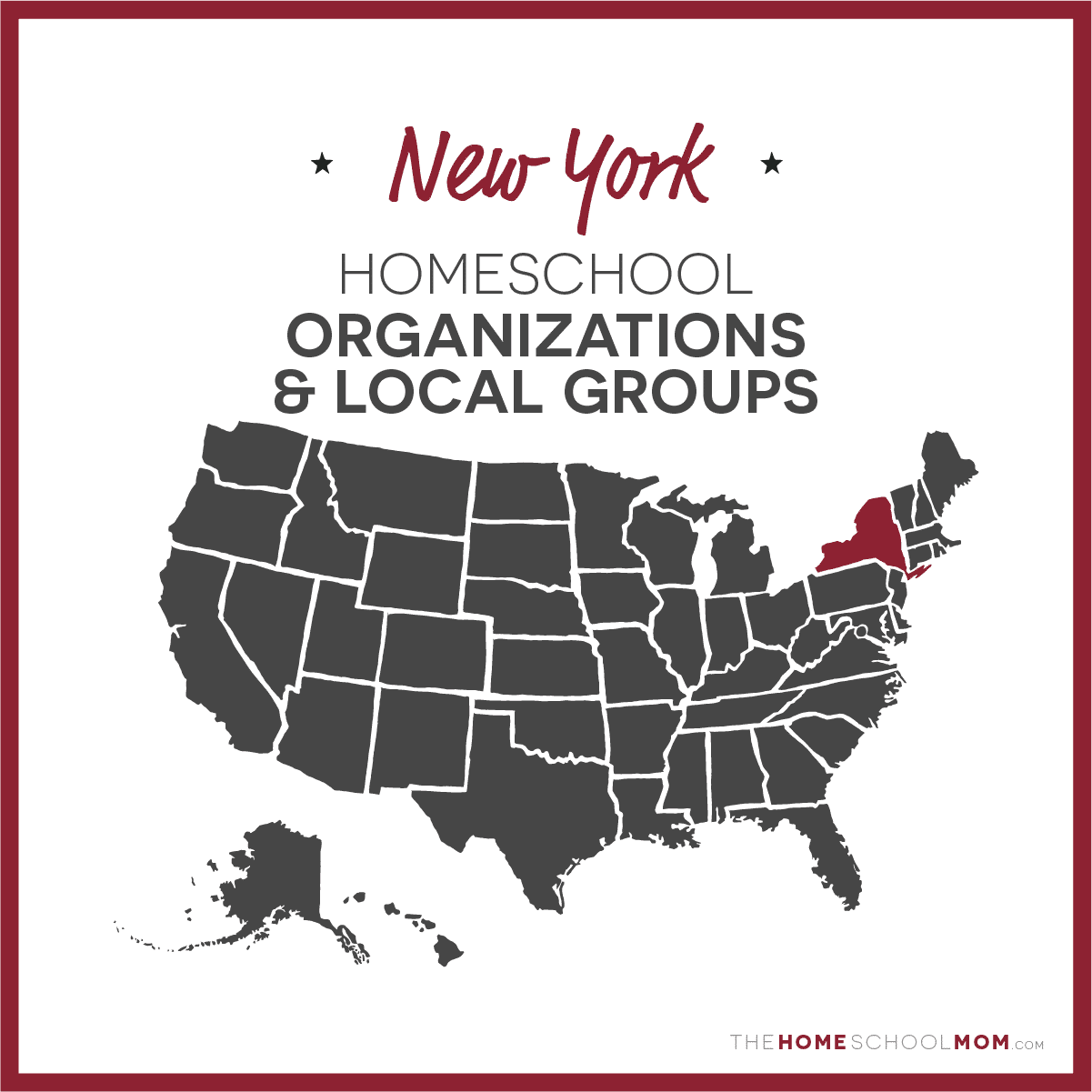 Submit a Local Resource
Jump to: State Organizations | Local Groups
Our listing of New York state organizations and local homeschool groups is ordered alphabetically by city, with statewide organizations listed first. If you would like to submit a group, you may do so using the red button above.
New York Homeschool Organizations (Statewide)
Loving Education At Home

New York Statewide

The Christian Resource for Home Schoolers in New York
New York Local Homeschool Groups
CultivatED Playdates

Albany

This homeschooling opportunity has moms and kids attending playdates to various field trips around the Capital Region of New York. The playdates meet Mondays every week and is free to attend. Each week/month locations of the field trips change. Emails are sent monthly with specific time and locations.
Adirondack Home Education Fellowship

Bolton Landing

We area group of Christian homeschoolers in the Adirondacks of New York. We offer weekly co-op, field trips, soccer and homeschool support!
MOSAIC Homeschool Community

Boston

MOSAIC Homeschool Community is an inclusive group of homeschooling families that come together to provide academic and social activities for their children. Members meet weekly for education and enrichment, and learning opportunities are offered à la carte so families have maximum flexibility with their children's education!
Community Lower Westchester LEAH (CLEAH)

Bronxville/Westchester

A local chapter of New York State Loving Education At Home, the statewide Christian homeschooling support group. LEAH provides a variety of services and opportunities to members in order to help members in their homeschooling endeavor.
Park Slope Playgroup (ages 7-14)

Brooklyn

The playgroup is aimed at 7-14 years olds, but younger or older siblings are always welcome. We aim to be an inclusive, kind and diverse community group, and to learn from each other. I have received a few questions relating to nationalities, gender, racial diversity, languages, kids with special needs, foods, and religious needs. You are always welcome. You may speak any language you would like with your kids, come from any religion, racial or cultural group, identify as any gender, or in any other way, be yourself, as long as you pay the same respect and offer the same kindness and rights to those around you and help your children do the same. The playgroup is deliciously diverse in nationalities, ideas, occupations, schooling ideas (homeschoolers, unschoolers, private, public, homeschooling coop) and backgrounds. We love welcoming new people and sharing ideas about what to do with the kids and all that is available in this amazing city called NYC. There are no fees of any kind.
North Country Homeschoolers

Clinton, Essex, and Franklin Counties

The North Country Homeschoolers get together weekly for field trips, potluck meals, game nights, and other fun events. We also get together regularly during the warmer months for a playdate every Friday. There are monthly meetings to plan and schedule the events.
Family Educators Resource Network (FERN)

Columbia to Berkshire counties and surrounding areas

FERN is an informal networking group for home educators in the areas of Columbia, Rensselaer, and Albany counties in New York and in Berkshire county in Massachusetts. FERN operates as a computer-based "newsletter" for activities, resources, and information to support homeschooling families and those interested in home education.
Electronics at Home (online)

Fairhope

This resource is designed for those who pose "The Edison Trait" so all kids will love the Hands-On learning of Electronic Engineering Technology. Only $65 a quarter and lab equipment that will be used for over two years of instruction, if you chose. Age 8 to 108.
Brooklyn-Queens LEAH

Far Rockaway

In BQ LEAH we are a Christ-centered group of homeschoolers Loving Education at Home and outside together. Homeschooling like so many things is better done with the support of community. They give you a network and friends that are on a similar path. Trust me when I tell you encouragement, social dynamic and mentors are wonderful additions to this journey. We hold monthly themed meetings that will help keep your family engaged. Career Night, Spelling Bee, Science Fair and Art Gallery name a few of our evening adventures for the whole family. Homeschool Days like Be Creative Day, Homeschool 101 Workshops and Picnics are always fun and educational offerings. At BQ LEAH there is something for everyone and every age.
Home Is School LEAH

Hoosick Falls

We are a Christ-centered homeschool group that provides a variety of educational and enrichment classes for homeschooling families in a safe and loving environment. We co-labor with each other and God to achieve creative excellence by serving each other through our strengths.
Finger Lakes Homeschool

Ithaca

Fingerlakes Homeschool is comprised of a growing number of families who choose to educate their children at home in the Finger lakes Region. We are brand new and we are still developing our support system. We are currently focused on developing a co-op in hopes of offering classes to preschool-12th grade. What is co-op? Co-op provides supplementary education for our children that we cannot easily provide ourselves, allows kids to learn accountability and study skills in a fun group environment, and opportunity to develop friendships. This environment is a mixture of core classes (e.g., chemistry, biology), enrichment classes (e.g., French & art) and fellowship for the children and parents. All families are welcome to join our group and our co-op, however, you must recognize that we are at our core a Christian organization. We ask all families who join to sign that they will honor and respect our Statement of Faith. Curriculum in our co-op may or may not be religious, and we ask teachers to refrain from teaching against anything found in our Statement of Faith. Other specifics, such as the inclusion of creation-based ideologies in a science class or Christian leanings in a history class for example, may be dependent on individual teachers and parents should ask teachers before registering children for those classes if that is a concern.
Classical Conversations: Massapequa

Massapequa

Classical Conversations: Massapequa is a classical, christian, homeschool community which meets weekly on Fridays and offers programs for all levels and ages 4yrs-12th grade. It's motto is "to know God and make him known." Foundations is the morning grammar program for 4yrs-6th grade focusing on memory work, presentations, science experiments, fine arts, and fun! Essentials is the afternoon dialectic program designed for 4th-6th graders focusing on English grammar, writing, and math skills. Both Foundations and Essentials require parental participation in class. Challenge programs are full day dialectic and rhetoric programs designed for 7th-12th grades which integrates Latin, Research, Debate, Logic, Exposition/Composition, and Rhetoric. Parents may choose to attend Challenge classes with their student, but are not required. An application and interview are required for acceptance into the Classical Conversations program.
Different Directions Inc.

New York

Different Directions Inc. is a 501c3 (since 2009) community and enrichment center for homeschoolers in midtown Manhattan.
New York City Home Educators Alliance

New York City

NYCHEA is a nonsectarian, non-profit organization dedicated to homeschoolers in the New York City
Homeschool NYC

New York City

This website is a resource for families, parents, and teachers homeaschooling in New York City.
Brooklyn Apple Academy

New York City

Brooklyn Apple Academy is a Homeschool Resource/Community center providing part time full day classes to homeschool families, and free community meetups and events since 2011. Their home base on 5th ave. serves as a Self Directed Education environment, students meet with staff at the beginning of the day and discuss what kinds of projects/experiences/adventures they would like to manifest and staff make sure the kids have the tools, materials, and advice to make it happen. In addition, Brooklyn Apple offers: -Field Trip Days -Athletics/Sports meetups -Groups for Teen -Afterschool Programming/Camps Brooklyn Apple serves children k-12.
Loving Education At Home

New York Statewide

The Christian Resource for Home Schoolers in New York
NYHEN

New York Statewide

Local Homeschooling Groups in New York State
Oswego Homeschool Association

Oswego

The Oswego Homeschool Association is a non-profit group for homeschooling parents and children of all ages. We believe that parents are the primary teachers and are responsible for all lawful reporting, curricula choices, and core subject instruction. OHA aims to support the role of the parent by offering meetings, special events, field trips, and educational opportunities. We are an inclusive, eclectic, local, member-run organization that honors the diversity of homeschoolers and provides a supportive community for our members. Our reasons for homeschooling differ, as do our styles and approaches to education. What we share is a respect for all learners and a desire to support one another.
Oswego County LEAH

Oswego County

Oswego County LEAH is a Christ centered support group for homeschoolers in the Oswego County area. We offer a educational co-op for grades k-12 each fall and spring. We have monthly support groups for the parents, monthly newsletter, monthly field trips and much more!
New Life LEAH

Patchogue

A Christ centered cooperative fellowship of homeschooling families, which exists to encourage, equip and serve one another as we pursue the goal of educating our children at home to be 21st century world changers.
Zenschooling NY

Pine Bush

A family sangha. This is a growing group of families with children striving to build both a mindful homeschooling co-op and a support community offering guidance and encouragement. This group is based in the Bloomingburg/Pine Bush/Middletown Area in Orange County, NY. Combining a forest school approach of fostering appreciation for, and immersion into, the natural world, with the Buddhist views of interdependence fully connecting us, as a human species, to that living system, this community provides a space and time each week to truly enrich the lives and minds of families.
Greater Glens Falls Christian Homeschoolers

Queensbury

Greater Glens Falls Christian Homeschoolers is part of the LEAH (Loving Education at Home) Network.
St. Thomas Aquinas Homeschoolers of the Rochester Area

Rochester

St. Thomas Aquinas Homeschoolers of the Rochester Area (STAHRA) is an association of over 60 Catholic homeschooling families throughout the Diocese of Rochester who support one another in providing our children's primary education at home. In line with this mission, the organization publishes a monthly newsletter and holds a variety of meetings, family activities, children's clubs, and social events which provide opportunities for worship, learning, fellowship, and fun. Please contact Pam M. at hsinfostahra@yahoo.com to learn more about joining.

St. Thomas Aquinas Homeschoolers of the Rochester Area details
Rochester Area Home Schooling Groups/Resources

Rochester

From Kids Out And About
PCC LEAH

Rochester

PCC LEAH is a ministry of Pittsford Community Church and a chapter of New York State LEAH, Inc. (Loving Education at Home). LEAH is a Christian organization, made up of Christian home schooling families in the greater Rochester, NY area. This chapter is open to membership from within and outside Pittsford Community Church. Members must agree to the LEAH statement of faith (below). The group offers support and fellowship to homeschooling parents as well as activities and relationships for homeschooled children which complement and build upon the parent's homeschooling goals.
Greater Rochester LEAH

Rochester

Greater Rochester LEAH is a Christian home-schooling support group whose intent is to encourage, inform, and provide fellowship for both home-schooling parents and their children. As a support group, our purpose is to help you in your God-given responsibility of training your children through home education. We offer a variety of programs and activities; we encourage you to choose the ones that will most benefit your family.
Rome Area LEAH

Rome

Welcome to the Rome chapter of New York State Loving Education at Home (LEAH). NYS LEAH is a state-wide network of support groups, serving home school families from around the state. We are a non-denominational Christian organization, promoting home education as the Scriptural design for education. We believe every family has the God-given legal right to home educate in NYS, regardless of their educational philosophy or religious affiliation. LEAH is not a church, nor is it meant to replace the ministry of the local church to the homeschool family. Rome LEAH is comprised of more than 30 families who choose to educate their children at home. We offer: Monthly support group meetings Ice-skating, soccer and bowling Drama Club Annual picnics Holiday parties Curriculum & clothing swaps An annual learning fair Pizza Hut Book-It Reading Program Discounted membership in HSLDA Field trips...and more!
Saratoga LEAH

Saratoga

Saratoga LEAH is a local chapter of Homeschool New York (Loving Education At Home, Inc.), a statewide Christian homeschooling support group. Saratoga LEAH support meetings are held on a quarterly basis at Perry Road Baptist Church which is located at 150 Perry Rd Saratoga Springs, NY, unless another location is chosen. At the meetings we discuss topics that pertain to homeschooling, plan activities, ask for advice and suggestions, and share resources we have found. Parents can connect with others whose children are the same age and build a network of like-minded friends and fellow homeschoolers. We do offer separate childcare at the meetings for those who really need it, but the space is limited. As a member of our group, some of the activities which families participate in may include: Recreation days Cooperative group lessons Family fellowship dinners Parent Support Meetings Fine Arts Night Holiday parties Field trips Group-discounted activities
Staten Island Collaborative

Staten Island

The mission of the Staten Island Collaborative is to encourage a diverse community of homeschooling families as they foster a lifelong love of learning and creativity in their children. Our pedagogical approaches and religious affiliations may vary, but our shared values and goal will unify us, as we work together, instilling the desire to discover and explore the world around us.
Home Learners Association of Central New York

Syracuse

Home Learners Association of CNY is a secular group open to all types of homeschoolers. HLACNY offers social activities, co-ops, classes, field trips and much more.
FFCS Watertown Homeschool Partners

Watertown

Faith Fellowship Christian School is planning to expand its Christ centered educational services to our local county, extended counties, state, nation and global communities. The goal is to offer an alternative to the traditional public directed education systems. Our experienced, caring and certified staff will now offer a high level of educational standards to our distance learning students. Through generous gifts, donations, volunteers, and cooperation with the open source community, we are able to research, build and utilize our own proprietary online learning environment. We will also offer a turnkey solution that will include all hardware, software, and the necessary equipment to have a trouble free and child safe online educational experience. We are using the latest cryptography and security systems to insure our students information stays private. Our school is proud of having twenty seven years of service, an average tuition cost that is 90% less than national average, and student's scores that are an average of 134 points higher on the SAT than the national average.
Classical Christian Community of Erie

Westfield

Our goal is to create a supportive community that bolsters families during their homeschooling adventure. We offer a rich and diverse selection of opportunities to meet our families' needs.