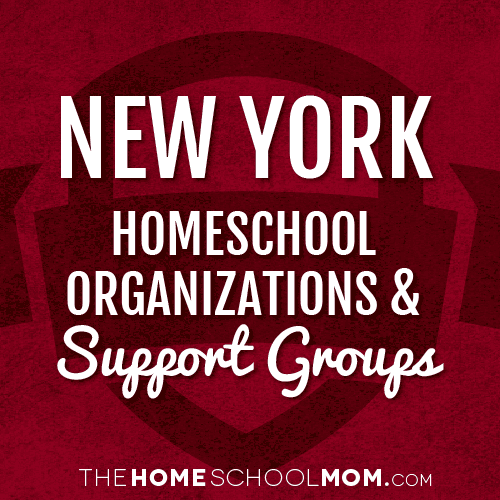 Our listing of New York state organizations and local homeschool groups is ordered alphabetically by city, with statewide organizations listed first. If you would like to submit a group, you may do so using the red button above.
Use the secondary navigation menu above to quickly make your way to pages for New York state organizations, local homeschool groups, classes, co-ops, field trips, and more.
New York Homeschool Organizations
Loving Education At HomeNew York Statewide
The Christian Resource for Home Schoolers in New York
New York Home Educators' NetworkNew York Statewide
NYHEN is a founding member of the National Home Education Network. NYHEN is also an Associate Member of the Alliance for Parental Involvement in Education (AllPIE).
New York Local Homeschool Groups
Saratoga LEAHAlbany and Saratoga
A local chapter of New York State Loving Education At Home, the statewide Christian homeschooling support group. We provide a variety of services and opportunities to our members in order to help o...
Home Education Exchange of the Southern TierBinghamton
A nonsectarian activity and support group for homeschoolers and for those exploring educational alternatives. We respect each child's interests, learning style, and rate of progress; and strive to ...
Community Lower Westchester LEAH (CLEAH)Bronxville/Westchester
A local chapter of New York State Loving Education At Home, the statewide Christian homeschooling support group. LEAH provides a variety of services and opportunities to members in order to help me...
North Country HomeschoolersClinton, Essex, and Franklin Counties
The North Country Homeschoolers get together weekly for field trips, potluck meals, game nights, and other fun events. We also get together regularly during the warmer months for a playdate every F...
Family Educators Resource Network (FERN)Columbia to Berkshire counties and surrounding areas
FERN is an informal networking group for home educators in the areas of Columbia, Rensselaer, and Albany counties in New York and in Berkshire county in Massachusetts. FERN operates as a computer-b...
East Hampton Homeschool GroupEast Hampton and Suffolk County
Started in 2004. Homeschool families in Nassau Suffolk Queens or NYC are welcome. This group is serving the Hamptons, (East End of Long Island, New York), Montauk, Amagansett, Wainscott, Watermill,...
Classical Conversations: MassapequaMassapequa
Classical Conversations: Massapequa is a classical, christian, homeschool community which meets weekly on Fridays and offers programs for all levels and ages 4yrs-12th grade. It's motto is "to kno...
D.R.E.A.M. Homeschool Group (Discovery, Resources, Education and More)Nassau County
A diverse homeschooling community that provides opportunities for support, resources, networking and activities for homeschoolers of various ethnic and religious backgrounds throughout Nassau, Quee...
Homeschool New YorkNew York /Hudson Valley/Tri-State
Homeschool New York is for families who are *currently* homeschooling in the New York City, Tri-State, and Hudson Valley areas or who are *seriously* considering homeschooling in the future.HSN...
New York City Home Educators AllianceNew York City
NYCHEA is a nonsectarian, non-profit organization dedicated to homeschoolers in the New York City
Homeschool NYCNew York City
This website is a resource for families, parents, and teachers homeaschooling in New York City.
Loving Education At HomeNew York Statewide
The Christian Resource for Home Schoolers in New York
NYHENNew York Statewide
Local Homeschooling Groups in New York State
Orange County HomeschoolersOrange County
An inclusive homeschool support group for families in and around Orange County, NY. The purpose of the group is to provide community-based educational and social activities for our children and net...
Oswego County LEAHOswego County
Oswego County LEAH is a Christ centered support group for homeschoolers in the Oswego County area. We offer a educational co-op for grades k-12 each fall and spring. We have monthly support group...
New Life LEAHPatchogue
A Christ centered cooperative fellowship of homeschooling families, which exists to encourage, equip and serve one another as we pursue the goal of educating our children at home to be 21st centur...
Simply HomeschoolingRochester
A resource/support network for those currently homeschooling or planning to homeschool in greater Rochester, NY. We gather together to play, network, encourage, inspire and learn. Membership is fre...
Greater Rochester LEAHRochester
A Christian support group for homeschooling families. Membership in Greater Rochester LEAH is open to all families who are homeschooling, considering homeschooling, or interested in promoting homes...
St. Thomas Aquinas Homeschoolers of the Rochester AreaRochester
St. Thomas Aquinas Homeschoolers of the Rochester Area (STAHRA) is an association of over 60 Catholic homeschooling families throughout the Diocese of Rochester who support one another in providing...
Rochester Area Home Schooling Groups/ResourcesRochester
From Kids Out And About
PCC LEAHRochester
PCC LEAH is a ministry of Pittsford Community Church and a chapter of New York State LEAH, Inc. (Loving Education at Home).LEAH is a Christian organization, made up of Christian home schooling fa...
Rome Area LEAHRome
50+ family support group
Suffolk County HomeschoolersSuffolk County: Long Island
A Secular group of homeschooling families located on the eastern half of Long Island.
Home Learners Association of Central New YorkSyracuse
Home Learners Association of CNY is a secular group open to all types of homeschoolers. HLACNY offers social activities, co-ops, classes, field trips and much more.
Woodstock HomeschoolersUlster County
The purpose of this group is to facilitate communication among members of the Woodstock Home Educators' Network, a group of homeschooling families in northern Ulster County, NY.