Field trips are a great way to reboot a bad homeschooling week, get out of the house when everyone has cabin fever, and learn about your local area. Before heading out, check out Jeanne's tips for improving homeschool field trips.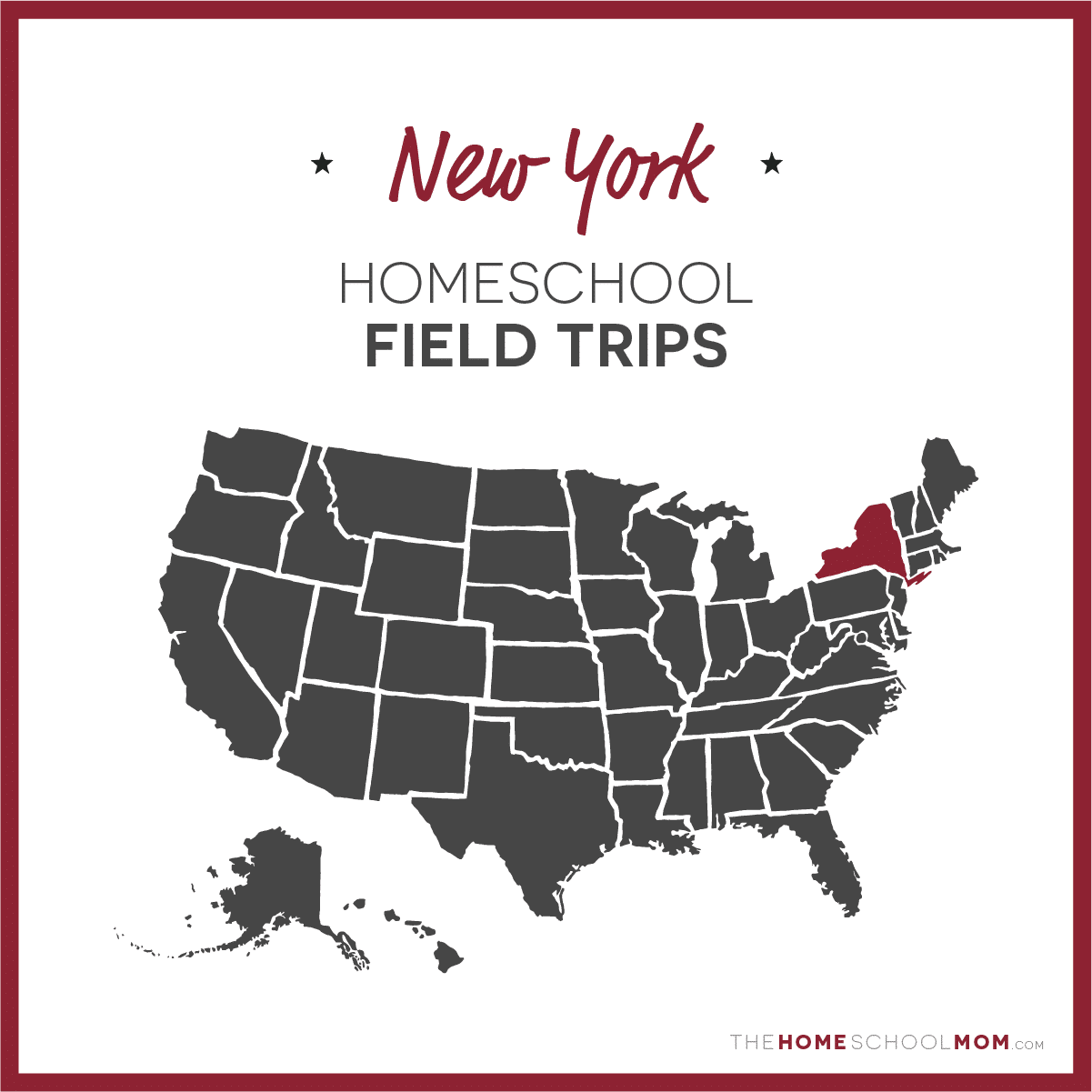 Submit a Field Trip Destination
Our listing of New York field trips for homeschoolers is ordered alphabetically by city. If you would like to submit a New York field trip destination, you may do so using the red button above.
An asterisk * after the title indicates that a virtual field trip is also available.
North Country National Scenic Trail

The North Country National Scenic Trail is the longest continuous hiking trail winding its way through seven states.
Appalachian National Scenic Trail

Appalachian Mountains

The People's Path and America's First National Scenic Trail. The Appalachian Trail (A.T.) is more than 2,175-mile long footpath stretching through 14 eastern states from Maine to Georgia. Conceived in 1921 and first completed in 1937, it traverses the wild, scenic, wooded, pastoral, and culturally significant lands of the Appalachian Mountains.
Seward House Museum

Auburn

Welcome! We invite you to visit Seward House Museum, the historic home of William H. Seward and his family. Our knowledgeable staff is on-hand to provide guided tours, or to help you navigate the many fascinating aspects of this beautifully preserved home. Enjoy masterpieces of American art and special exhibitions in both the historic house and the museum's gardens.
Madam Brett Homestead

Beacon

An early 18th-century home located in the city of Beacon, New York, USA. It is the oldest standing building in its part of Dutchess County. In 1954, it was purchased by the Melzingah chapter of the Daughters of the American Revolution and turned into a museum preserving a total of seventeen rooms, complete with original furnishings and a collection of China-trade porcelain. It has been listed in the National Register of Historic Places since 1976.
Bundy Arts & Victorian Museum *

Binghamton

Virtual field trip onlineThe Bundy Imaginarium, Inc., was developed as a not for profit organization in 2007 with a mission to collect, maintain, disseminate and preserve art, artifacts, media and architecture from the late nineteenth and early twentieth centuries. The overall goal of the Bundy Imaginarium is to use these items to educate and entertain visitors of all ages to stimulate their interest and enhance their understanding of the period and how it relates to the modern world.
Adirondack Museum

Blue Mountain Lake

The Adirondack Museum believes in the power of history to ignite the imagination, stimulate thought and shape the future. Our collections and engaging programs reflect stories of life, work, and play in the Adirondack Park and northern New York State.
Wave Hill

Bronx

Wave Hill is a 28-acre public garden and cultural center in the Bronx overlooking the Hudson River and Palisades. Its mission is to celebrate the artistry and legacy of its gardens and landscapes, to preserve its magnificent views, and to explore human connections to the natural world through programs in horticulture, education and the arts.
Bartow-Pell Mansion Museum

Bronx

Bartow-Pell's school programs reinforce the scope and subject sequence that students are taught in the classroom while creating a unique place-based learning experience. Through touch-tours, open-ended inquiry challenges, craft projects, and interactive games, Bartow Pell's curriculum-rich sessions build critical thinking and evidential reasoning skills that benefit students across disciplines. Bartow-Pell aligns its programs and tailors the sessions to meet the needs of the students for grade-appropriate learning. All programs are approximately 90 minutes and limited to 30 student
Van Cortlandt House Museum

Bronx

When you arrive at Van Cortlandt House Museum for the program "Growing Up in Little Yonkers", your class will be greeted outdoors (weather permitting) for a brief introduction to the land surrounding the house to set the scene back in time to the 18th century. The class then participates in hands-on activities which connect your students to the actual daily routine of Colonial era children. The visit concludes with a guided tour of Van Cortlandt House using the collections and artifact reproductions to further explore the role of children in an 18th century house.
New York Botanical Garden

Bronx

The New York Botanical Garden is a museum of plants, an educational institution, and a scientific research organization open to the public and dedicated to better understanding and preserving our natural world.
Ferox Athletics LLC

Brooklyn

FEROX is the biggest ninja warrior and trampoline park on the East Coast for adults and kids! Perfect for exercise charged field trips. Offering special pricing for school groups. We offer open gym, classes, calisthenics, parkour training, trampoline flipping, rock climbing, and more! But most importantly, we offer a FUN and PRODUCTIVE athletic experience for all ages!
Brooklyn Children's Museum

Brooklyn

A pioneer in education, the Brooklyn Children's Museum was the first museum created expressly for children when it was founded in 1899. Its success sparked the creation of similar institutions around the globe, and today the Museum continues as a world-class institution with community roots. With a recent expansion, all-new exhibits, and all-new programs, the Museum is now both the world's oldest and the world's newest children's museum.
The Brooklyn Historical Society

Brooklyn

The Brooklyn Historical Society connects the past to the present and makes the vibrant history of Brooklyn tangible, relevant and meaningful for today's diverse communities, and for generations to come.
Brooklyn Museum

Brooklyn

The Brooklyn Museum, housed in a 560,000-square-foot, Beaux-Arts building, is one of the oldest and largest art museums in the country. Its world-renowned permanent collections range from ancient Egyptian masterpieces to contemporary art, and represent a wide range of cultures.
City Reliquary Museum

Brooklyn

The City Reliquary is a not-for-profit community museum and civic organization located in Williamsburg, Brooklyn. Through permanent display of New York City artifacts, rotating exhibits of community collections, and annual cultural events, The City Reliquary connects visitors to both the past and present of New York.
Micro Museum

Brooklyn

Micro Museum's name is metaphoric because Micro Museum focuses on Contemporary American Artists. Its sizeable collection is primarily digital art and its spaces are intimate.
New York Transit Museum

Brooklyn

The New York Transit Museum, one of the city's leading cultural institutions is the largest museum in the United States devoted to urban public transportation history, and one of the premier institutions of its kind in the world. The Museum explores the development of the greater New York Metropolitan region through the presentations of exhibitions, tours, educational programs, and workshops dealing with the cultural, social, and technological history of public transportation.
Theodore Roosevelt Inaugural National Historic Site

Buffalo

An Unexpected Inauguration that Changed the Nation - As president, Theodore Roosevelt created protections for ordinary citizens, began regulation of big business, and made the US a major force in international affairs. Yet one of the most important presidencies in America's history nearly didn't happen. See the place where a brief, emotional, and improvised ceremony in Buffalo, NY brought TR into office, and forever altered the nation.
Frank Lloyd Wright's Martin House

Buffalo

The Martin House offers educational tours and programs for all ages and skill levels surrounding topics related to architecture, design, art, and landscape. These also include virtual tours and programming.
Vanderbilt Museum

Centerport

The Suffolk County Vanderbilt Museum is located in Centerport, New York on William K. Vanderbilt II's spectacular 43-acre, "Gold Coast" estate. Acquired in 1947, the museum opened in 1950. Vanderbilt's will stipulated that the estate was to be dedicated to the "education and enjoyment of the public" and "enhanced" as a museum. A planetarium was built by the county in 1970. The facility is the legacy of a man with the resources to conduct collecting expeditions worldwide. The great-grandson of railroad tycoon Cornelius Vanderbilt, William K. collected natural history specimens, ethnographic artifacts, fine and decorative arts. Today's museum is accredited by the American Association of Museums and listed on the National Register of Historic Places.
New Castle Historical Society - Horace Greeley House

Chappaqua

The museum features items from the Colonial and Victorian period as well as many Chappaqua items.

New Castle Historical Society - Horace Greeley House website
Alice T. Miner Museum

Chazy

A colonial revival museum. Opened in 1924, the museum was created by Alice T. Miner, a pioneer in the colonial revivement movement and wife of William H. Miner, railroad industrialist. You will see 15 rooms filled with period furniture, miniature furniture, a vast china collection, porcelain and glass, a superb collection of early samplers and other textiles, War of 1812 muskets, Revolutionary War cannon balls, dolls and other early Americana.
Chesapeake Bay Gateways Network

Chesapeake Bay region

First thoughts of the Chesapeake Bay often bring up images of crabs and oysters. But, as the largest estuary in North America, the Chesapeake Bay has touched and influenced much of the American story -- early settlement, commerce, the military, transportation, recreation and more. The Bay and its surrounding 64,000 square mile watershed hold a treasure trove of historic areas, natural wonders and recreational opportunities.
The Antique Boat Museum

Clayton

Our mission is to collect, preserve, exhibit and interpret boats and other objects related to the history of boating in North America and to enhance public understanding and appreciation of the contributions of the St. Lawrence River region to North America's boating history. Our 4.5 acre campus is located on the banks of the majestic St. Lawrence River in the picturesque river-side village of Clayton, NY. Our galleries are overflowing with unique and beautifully-preserved examples of great North American pleasure boats.
Putnam County Historical Society & Foundry School Museum

Cold Spring

The purpose of the society is to collect, preserve, and present to the public historical and cultural materials pertaining to Putnam County, especially the Philipstown area, the West Point Foundry, and the Hudson Highlands. To fulfill this mission, the society maintains and administers the Foundry School Museum and a research library. The museum organizes changing exhibitions, with accompanying catalogues, and provides educational programming for the public.

Putnam County Historical Society & Foundry School Museum website
Corning Museum of Glass

Corning

Located in the heart of the Finger Lakes region of New York State, The Corning Museum of Glass is the world's largest glass museum, featuring 35 centuries of glass artistry, live glassblowing demonstrations, Make Your Own Glass experiences for all ages and an international GlassMarket. It is also home to the Rakow Research Library, which is the library of record on glass and glassmaking, and The Studio, a highly respected glassmaking school.
Rockwell Museum of Western Art

Corning

The best of American Western and Native American art are preserved and interpreted at the Rockwell Museum of Western Art, a focal point for engaging, dynamic exhibitions and educational events in Corning, New York. Families can explore the Museum's collection together through a variety of daily drop-in activities.
International Maple Museum Centre

Croghan

A trip to the Maple Museum offers a unique experience where visitors will learn about the science behind and the evolution of the process of maple production. The maple industry of North America has a very long history, dating back to before the arrival of Europeans. Today it is a multi-million dollar industry, with much of the production in the United States happening right here in New York State! Please contact us to schedule a group tour. Other local attractions in Lewis County include the Mennonite Heritage Museum and a Railroad Museum.
Upper Delaware Scenic and Recreational River

Delaware River region/Beach Lake

A River of Compromise - Rolling hills, riverfront villages, and bald eagles perched on trees form a vibrant backdrop as the Delaware River snakes gracefully through the rural countryside. But the story of the Upper Delaware is more than just a collection of beautiful pictures. We enjoy the river's recreational opportunities while it supports a healthy ecosystem for wildlife and provides water for over 17 million people.
Statue of Liberty National Monument & Ellis Island

Ellis Island

Opened on January 1, 1892, Ellis Island became the nation's premier federal immigration station. In operation until 1954, the station processed over 12 million immigrant steamship passengers. The main building was restored after 30 years of abandonment and opened as a museum on September 10, 1990. Today, over 40 percent of America's population can trace their ancestry through Ellis Island.
National Soaring Museum

Elmira

The NSM is an aviation museum working to preserve the history of motorless flight. Stop in and see a multitude of gliders on display, try out computerized flight simulators, and participate in fun educational programs.
Queens Botanical Garden

Flushing

Queens Botanical Garden is an urban oasis where people, plants and cultures are celebrated through inspiring gardens, innovative educational programs and demonstrations of environmental stewardship.
Cradle of Aviation Museum

Garden City

For over a century, from the first flights by frail biplanes on the Hempstead Plains, to man's walking on the Moon, Long Island has been on the leading edge of America's aviation and space adventure. Long Islanders have helped transform aviation from a spectator sport to a major means of commercial transportation. We have also produced a large portion of America's aerial arsenal in time of war. The many historic flights that transpired here, and the many aviation companies that developed here, helped make aviation the integral part of our world that it is today. This museum is proof that our dreams can come true. But what is so astonishing is that they can come true so quickly.
Long Island Children's Museum

Garden City

LICM is a hands-on museum for kids and their grown-ups. You'll find places to play, learn and have fun.
Tinker Homestead and Farm Museum 5th Annual Civil War Days

Henrietta

Battles Saturday and Sunday @1pm, Concert Friday evening, Blue/Gray Dance Saturday evening. Camps open Friday after noon. Check website for event held in August.

Tinker Homestead and Farm Museum 5th Annual Civil War Days website
Eleanor Roosevelt National Historic Site

Hyde Park

Val-Kill - "The greatest thing I have learned is how good it is to come home again," Eleanor Roosevelt. This simple statement expresses her love for the modest house she called Val-Kill. The only National Historic Site dedicated to a first lady, Val-Kill welcomes visitors in the style of Mrs. Roosevelt. Come and be part of the entire Roosevelt Experience at Eleanor Roosevelt's Val-Kill.
Home of Franklin D. Roosevelt National Historic Site

Hyde Park

"All that is within me cries out to go back to my home on the Hudson River" FDR This quote captures FDR's connection to Springwood, the estate that he loved & the place he considered home. The first US Presidential Library was started by FDR here. Visit the Home of FDR and Presidential Library & Museum to learn about the only President elected to four terms.

Home of Franklin D. Roosevelt National Historic Site website
Vanderbilt Mansion National Historic Site

Hyde Park

Vanderbilt Mansion, in terms of architecture, interiors, mechanical systems, road systems and landscape, is a remarkably complete example of a gilded-age country place, illustrating the political, economic, social, cultural, and demographic changes that occurred as America industrialized in the years after the Civil War.
Martin Van Buren National Historic Site

Kinderhook

Martin Van Buren was the eighth President of the United States. He was the first president born a citizen of the United States, as all previous presidents were born before the American Revolution. The website offers historical information about Martin Van Buren for those who cannot visit in person.
Hudson River Maritime Museum

Kingston

The Hudson River Maritime Museum is the only museum in New York State exclusively preserving the maritime history of the Hudson River. This includes the history of its tributaries, and the industries dependent on the river. Founded in 1980 by members of the "Steamship Alexander Hamilton Society", the National Maritime Historical Society, and local historians.
Niagara Power Project Visitor Center

Lewiston

Just downriver from Niagara Falls, the newly renovated Power Vista visitor center perched atop the Niagara Power Project in Lewiston, the state's largest electricity producer, offers more than 50 interactive multi-media exhibits. Operated by the New York Power Authority, the center offers scientific exploration and hands-on learning about the role the Niagara region has played in the building of the nation's power grid. Admission is free and the center makes special arrangements for groups
Catskill Fly Fishing Center & Museum

Livingston Manor

The Catskill Fly Fishing Center & Museum is located on 52 beautiful acres in the southwestern Catskills. The Center features nature trails, river access, and a museum dedicated to preserving and teaching the history of fly fishing, which began in America is this very region. Field trip programs are inquiry-based and engaging with hands-on activities that teach about the science, history, art and meditative nature of fly fishing. Children will learn about rivers and bugs while also getting to try their hand at casting a fly rod. Great fun for all ages!
The Noguchi Museum

Long Island City

Created by Isamu Noguchi (1904-1988), The Noguchi Museum opened in 1985, presenting a comprehensive collection of the artist's works in stone, metal, wood, and clay, as well as models for public projects and gardens, dance sets, and Akari Light Sculptures. The Museum--chartered as The Noguchi Museum--is housed in thirteen galleries within a converted factory building and encircles a garden containing major granite and basalt sculptures.
Museum Village

Monroe

Museum Village still pursues its founder's vision of educating generations of Americans about the work and life of their ancestors. Through educational programs, hands-on-exhibits and special events Museum Village is dedicated to exploring and interpreting 19th century rural life as well as inspiring an appreciation for the evolution of industry and technology in America.
The Kartrite Resort & Indoor Waterpark

Monticello

The Kartrite Resort & Indoor Waterpark is like nothing New York's Sullivan Catskills has ever seen before. With the USA's most modern, state-of-the-art, indoor waterpark, 324 exquisitely designed suites and a fantastic new luxury lodge experience set right in the mountains, the Kartrite Resort delivers an unbelievable family adventure for all ages.
St. Paul's Church National Historic Site

Mount Vernon

The Church That Preserves an Important Chapter in Our Nation's History - St. Paul's Church helps to tell the story of the development of colonial society and the road to the American Revolution. It consists of an 18th century stone church that was used as a Revolutionary War hospital, a cemetery with burial stones dating to 1704 and the remnant of a Village Green that was the scene of the famous Election of 1733 which raised issues of Freedom of Religion and the Press.
Ripley's Believe It Or Not Museum

Multiple Locations

Offers museums and attractions in multiple countries focusing on odd and amazing things. Provides videos, details about exhibits, and their history.
The Jewish Museum

New York

The Jewish Museum is dedicated to the enjoyment, understanding, and preservation of the artistic and cultural heritage of the Jewish people through its unparalleled collections, distinguished exhibitions, and related education programs. Using art and artifacts that embody the diversity of the Jewish experience from ancient to present times, throughout the world, the Museum strives to be a source of inspiration and shared human values for people of all religious and cultural backgrounds while serving as a special touchstone of identity for Jewish people. As a vital cultural resource for New York residents and visitors of all ages, the Museum also reaches out to national and international communities as it interprets and preserves art and Jewish culture for current and future generations.
Museum of Modern Art Teacher Resources

New York

MoMA offers online courses designed for K-12 classroom teachers and any other educators who want to learn about modern and contemporary art and develop their pedagogical skills: Art & Inquiry: Museum Teaching Strategies for Your Classroom, Art & Activity: Interactive Strategies for Engaging with Art, and Art & Ideas: Teaching with Themes. Visit Coursera to learn more.
Lapidus Center for the Historical Analysis of Transatlantic Slavery

New York

The Lapidus Center for the Historical Analysis of Transatlantic Slavery was funded by a generous $2.5 million gift from Ruth and Sid Lapidus matched by The New York Public Library. It is the only facility of its kind based in a public research library. The 2014 gift also included 400 rare items of printed material, making the Schomburg Center home to one of the world's premier collections of slavery material.

Lapidus Center for the Historical Analysis of Transatlantic Slavery website
Castle Clinton National Monument

New York

Built to keep people out; now welcomes millions in. - Located at the southern tip of Manhattan Island, Castle Clinton represents not only the growth of New York City, the the growth of a Nation. First intended to keep out a British invasion in 1812, the Castle has transformed over the years to welcome theater goers, immigrants, sightseers and now millions of visitors to New York Harbor.
Federal Hall National Memorial

New York

The Birthplace of American Government - Here on Wall Street, George Washington took the oath of office as our first President, and this site was home to the first Congress, Supreme Court, and Executive Branch offices. The current structure, a Customs House, later served as part of the US Sub-Treasury. Now, the building serves as a museum and memorial to our first President and the beginnings of the United States of America.
General Grant National Memorial

New York

General Ulysses S. Grant National Memorial is the largest tomb in North America. Grant's Tomb (as it is commonly called) is not only the final resting place of the General, but a memorial to his life and acomplishments.
Governors Island National Monument

New York

Governors Island lies a few hundred yards off the southern tip of Manhattan in New York Harbor. The island's fortifications served as an early outpost to protect New York City from enemy naval attack.
Hamilton Grange National Memorial

New York

Alexander Hamilton was the first United States Secretary of the Treasury, a Founding Father, economist, and political philosopher.
Lower East Side Tenement Museum *

New York

Virtual field trip onlineThe heart of the museum is the historic tenement, home to an estimated 7,000 people from over 20 nations between 1863 and 1935. Tour the tenement's cramped living spaces. Learn about the lives of past residents and the history of the Lower East Side. Throughout the year, take part in programs such as walking tours, plays, art exhibits, and readings that represent the immigrant experience.
Manhattan Sites

New York

Our Nation's past is present - You can discover some of the most fascinating people in American history at the Manhattan Sites. Visit the homes of Alexander Hamilton and Theodore Roosevelt, the tomb of Ulysses Grant, a Revolutionary War church, a fort from the War of 1812, and the place where George Washington became President.
Statue of Liberty National Monument

New York

The Statue of Liberty was a gift of friendship from the people of France to the people of the United States. It is a universal symbol of freedom and democracy. The Statue of Liberty was dedicated on October 28, 1886, became a National Monument in 1924 and was refurnished on July 4, 1986.
Theodore Roosevelt Birthplace National Historic Site

New York

TR, The Making of the Legend - Not all Presidents were born in log cabins. One was actually born in a New York City brownstone! Visit the birthplace and boyhood home of Teddy Roosevelt and see what it was like to grow up in the "gilded age".

Theodore Roosevelt Birthplace National Historic Site website
The Toy Museum of NY

New York

A traveling Museum. The Toy Museum of NY, was established in 1999, and provides a theatrical play for children about the historical toys from its collection. The shows are held weekday mornings in theaters throughout downtown Brooklyn, Queens and Manhattan. Performances are held several times per month and last year over 15,000 students, teachers and parents enjoyed this new Mini Musical Production.
Hoodwinked Escape

New York

Harlem's premiere 'escape the room' adventure is finally here. Hoodwinked is the perfect activity for date night, fun with friends, family bonding and team building. Use your wits to solve puzzles, riddles, and codes to escape the room in 60 minutes. Do you have what it takes? Learn team building, enhance communication, develop critical thinking skills...and more. FOR ALL AGES.
Merchant's House Museum

New York

The landmark Merchant's House Museum, preserved intact both inside and out, offers a unique and authentic glimpse of life in mid-19th century New York City. Built in 1832 and home to merchant Seabury Tredwell, his wife, Eliza, their eight children, and four Irish servants for nearly 100 years, the house is virtually complete with the family's furnishings, personal belongings - and even their clothing. Students will explore four floors of period rooms and experience daily life in the 19th century by comparing the lifestyles of the Tredwell family and their servants to life today.
Cathedral of Saint John the Divine

New York

Guided experiences enhance classroom curricula through a variety of entry points. Cathedral Educators lead programs that support Common Core Learning Standards on a variety of subjects. All programs can be adapted to your group's needs. From learning about Architecture and Geometry, Math in the Real World, Medieval Journeys, Immigration, Civics, Art and Architecture Workshop, the Cathedral is an experience that engage students. Educator=led Tours and Workshops range from Kindergarten to College. We welcome all Homeschool groups.
American Museum of Natural History

New York
American Folk Art Museum

New York

The American Folk Art Museum is the premier institution devoted to the aesthetic appreciation of traditional folk art and creative expressions of contemporary self-taught artists from the United States and abroad. The museum preserves, conserves, and interprets a comprehensive collection of the highest quality, with objects dating from the eighteenth century to the present.
Asia Society Museum

New York

Asia Society Museum organizes groundbreaking exhibitions of both traditional and contemporary Asian and Asian American art. The Museum is known for its Mr. and Mrs. John D. Rockefeller Collection of masterpiece-quality traditional Asian works.
The Morgan Library & Museum

New York

The Morgan's arts in education programs are available for virtual field trips to School, Camp, and Community groups for grades K-12. Programs take place live online and use the digital platforms Zoom. A Morgan staff member will lead a guided discussion with your students; tours last approximately forty-five minutes. Larger groups may be split into multiple sessions. A teacher, camp counselor, or chaperone must be present online during the program. Programs are available Monday-Friday, between 10:00am-4:00pm EST.
Japan Society Gallery

New York

Japan Society Gallery is among the premier institutions in the U.S. for the exhibition of Japanese art. Extending in scope from prehistory to the present, the Gallery's exhibitions since 1971 have covered topics as diverse as classical Buddhist sculpture and calligraphy, contemporary photography and ceramics, samurai swords, export porcelain, and masterpieces of painting from the thirteenth to the twentieth century. Each exhibition, with its related catalog and public programs, is a unique cultural event that illuminates familiar and unfamiliar fields of art.
Metropolitan Museum of Art

New York

The Metropolitan Museum of Art is one of the world's largest and finest art museums. Its collections include more than two million works of art spanning five thousand years of world culture, from prehistory to the present and from every part of the globe. Founded in 1870, the Metropolitan Museum is located in New York City's Central Park along Fifth Avenue (from 80th to 84th Streets). Nearly five million people visit the Museum each year.
Mount Vernon Hotel Museum & Garden

New York

The Mount Vernon Hotel Museum & Garden presents the period of the Mount Vernon Hotel which operated from 1826 until 1833. Constructed in 1799 as a carriage house for a 23-acre estate, and converted into the Mount Vernon Hotel in 1826, this stone building sits on land originally owned by Colonel William Stephens Smith, and his wife Abigail Adams Smith, daughter of John Adams.
Museum at Eldridge Street

New York

Located within the 1887 Eldridge Street Synagogue, the Museum at Eldridge Street presents the history & culture of the great wave of Jewish immigrants to the Lower East Side. Nearly lost over time, this landmark has been restored to its original grandeur. Unlike a traditional museum, Eldridge Street offers an intimate, authentic portal to the past for people of all backgrounds. Step into the footsteps of the synagogue's immigrant founders. See, hear and touch objects associated with Jewish rituals and culture. Eldridge Street is one of few museums that are open for free on Mondays.
Museum of Arts and Design

New York

The Museum of Arts and Design collects, displays, and interprets objects that document contemporary and historic innovation in craft, art, and design. In its exhibitions and educational programs, the Museum celebrates the creative process through which materials are crafted into works that enhance contemporary life.
Museum of Jewish Heritage

New York

When the Museum of Jewish Heritage - A Living Memorial to the Holocaust first opened its doors on September 15, 1997, visitors gained a vital perspective on 20th century Jewish history. Created as a living memorial to those who perished during the Holocaust, our Museum honors those who died by celebrating their lives - cherishing the traditions that they embraced, examining their achievements and faith, and affirming the vibrant worldwide Jewish community that is their legacy today.
The Museum of Modern Art

New York

The Museum of Modern Art is a place that fuels creativity, ignites minds, and provides inspiration. With extraordinary exhibitions and the world's finest collection of modern and contemporary art, MoMA is dedicated to the conversation between the past and the present, the established and the experimental. Our mission is helping you understand and enjoy the art of our time.
Museum of the City of New York

New York

Among the city's major museums, there is only one with the words "New," "York," and "City" in its name, and this is precisely what gives the Museum of the City of New York its unique mandate: to explore the past, present, and future of this fascinating and particular place and to celebrate its heritage of diversity, opportunity, and perpetual transformation. A variety of exhibitions, public programs, and publications all investigate what gives New York City its singular character.
New York City Fire Department Museum

New York

The New York City Fire Museum houses one of the nation's most prominent collections of fire related art and artifacts from the late 18th Century to the present. Among its holdings are painted leather buckets, helmets, parade hats and belts, lanterns and tools, Volunteer-era hand pumped fire engines, horse drawn vehicles and early motorized apparatus.
Society of Illustrators

New York

Founded in 1901, the Society has had a distinguished yet lively history as an active participant in the ever-changing field of illustration. Featuring 120 powerful works from the world's foremost illustrators addressing the current environmental issues that we face today.
Solomon R. Guggenheim Museum

New York

An internationally renowned art museum and one of the most significant architectural icons of the 20th century, the Guggenheim Museum is at once a vital cultural center, an educational institution, and the heart of an international network of museums. Visitors can experience special exhibitions of modern and contemporary art, lectures by artists and critics, performances and film screenings, classes for teens and adults, and daily tours of the galleries led by experienced docents. Founded on a collection of early modern masterpieces, the Guggenheim Museum today is an ever-growing institution devoted to the art of the 20th century and beyond.
South Street Seaport Museum

New York

South Street Seaport Museum sits in a 12 square-block historic district that is the site of the original port of New York City.[2] The Museum has over 30,000 square feet (2,800 m2) of exhibition space and educational facilities. It houses exhibition galleries, a working 19th-century print shop, an archeology museum, a maritime library, a craft center, a marine life conservation lab, and the largest privately owned fleet of historic ships in the country.
Wolf Oak Acres

Oneida

CNY's Largest Corn Maze and Harvest Festival. Wolf Oak Acres is the hottest new agritourism venture in Madison County, with 150 acres of good ole farmin' fun! Come make this season the first of many annual traditions your family can enjoy together! Our harvest festival will open mid September with everything you need to decorate your home this fall, not to mention all the fun you'll experience while you visit!
Sagamore Hill National Historic Site

Oyster Bay

Theodore Roosevelt's Home - Sagamore Hill was the home of Theodore Roosevelt, 26th President of the US, from 1885 until his death in 1919. From 1902 to 1908 his "Summer White House" in Oyster Bay, New York was the focus of international attention. Otherwise it was home to a most remarkable fellow and his interesting family.
Planting Fields Arboretum State Historic Park

Oyster Bay

Planting Fields State Park offers field trips for pre-K-12th grade students. Students become naturalists in Nature Detectives (grades preK-5) and Bird Explorers (grades 6-9). They explore using scientific tools and create their own nature journals. In Hunt for Symbols, MS and HS students investigate the symbols found throughout our 1920s historic mansion and create an art project using symbols to reflect their unique selves. Soil Chefs (for grades 3-8) teaches students all about composting through the creation of mini compost bottles and planting seeds to investigate soil fertility.
Pyramid Life Center

Paradox

Pyramid Life Center is a camp and retreat center locate in the southern Adirondacks. We offer boating, swimming, retreats, class trips, faculty retreats, hiking, and more! We have lodging for 150. PLC is comprised of 850 private acres including a private lake and 16 acre island. We offer a ropes course, team building and many other programs.
Fire Island National Seashore

Patchogue

Rhythmic waves, high dunes, ancient maritime forests, historic landmarks and glimpses of wildlife--Fire Island has been a special place for diverse plants, animals and people for centuries. Far from the sounds and pressures of nearby big-city life, Fire Island National Seashore's dynamic barrier island beaches offer solitude and camaraderie, and spiritual renewal to civilization-weary people.
Port Byron Old Erie Canal Heritage Center

Port Byron

Open everyday 9am to 6pm May through October 31. Historic Erie Canal Lock 52, restored 1890's Erie House, exhibits and displays. Free admission. Docents on site. Call 315-776-4601 to schedule a group. Thruway eastbound mileage marker 308.4 AND Route #31 just west of village of Port Byron.
Children's Maritime Museum at Port Jefferson

Port Jefferson

Families exploring the fun and interactive hands-on exhibits at the Children's Maritime Museum at Port Jefferson will enjoy the excitement of scientific discovery, develop a broadened cultural awareness and experience a sense of artistry while learning about Long Island's rich and varied maritime heritage.
Mid-Hudson Children's Museum

Poughkeepsie

Our Mission is to enlighten minds through a fun and creative learning environment where hands-on experiences spark curiosity, discovery and the joy of exploration.
New York Hall of Science

Queens

Science Playground - Experience the scientific principles of motion, balance, sound, sight and simple machines in NYSCI's 60,000 square-foot Science Playground.
Queens Museum of Art

Queens

The Queens Museum of Art is dedicated to presenting the highest quality visual arts and educational programming for people in the New York metropolitan area, and particularly for the residents of Queens, a uniquely diverse ethnic, cultural and international community.
Vander Ende-Onderdonk House

Ridgewood

The oldest Dutch-American farmhouse in New York City. Its notable architectural features include heavy fieldstone walls, a wooden-shingle gambrel roof and large brick chimneys. The interior is mainly exposed post-and-beam construction with wooden floors. On display inside the house are objects found during excavations conducted in the 1970s and 1980s as well as architectural and historical exhibits. The house was built by Paulus Vander Ende, a Dutch farmer, about 1709. The smaller wooden wing was erected much later. In the early 1800s, the house was purchased by the Onderdonk family. After the last Onderdonk moved out, successive owners used the house as a livery stable, speakeasy, office and, most recently, as a factory for parts for the Apollo space program.
Memorial Art Gallery

Rochester

The Gallery's many programs, events and a permanent collection are described as the best-balanced collection in the state outside of metropolitan New York City. Come explore 5,000 years of world art, learn about current and upcoming lectures, events and temporary exhibitions, and experience our award-winning educational site,
Fort Stanwix National Monument

Rome

Discover how people endured harsh conditions along the Oneida Carrying Place. Learn how the American victory at this frontier fort directly contributed to the British defeat at Saratoga in 1777; setting the stage for westward expansion through New York. Follow in the paths of the people who made history in the Mohawk Valley during the American Revolutionary War.
Greenburgh Nature Center

Scarsdale

The Greenburgh Nature Center is a nonprofit nature preserve and wildlife refuge with a mission to ignite passion, curiosity and respect for our natural world. A leader in environmental education since 1975. The 33-acre property includes a woodland preserve with hiking trails, a pond, organic garden, Native Plant Meadow, Native American Replica Village, and nearly 100 animals.
Old Stone Fort

Schoharie

The Old Stone Fort offers 6 different historical buildings including a revolutionary war fort, a one room school house, a court house, a tv/ radio house and more. Kids can partake in a scavenger hunt. This amazing location is in the heart of Schoharie County an area that was home to much action in revolutionary times.
Women's Rights National Historic Park

Seneca Falls

The park commemorates the First Women's Rights Convention. The website offers historical information about the convention for those who cannot visit in person.
National Women's Hall of Fame

Seneca Falls

It's Women's History Month all year long at the National Women's Hall of Fame. The website showcases great American Women through history.
Smithtown Historical Society

Smithtown

Three historic buildings areopen for tours, with trained Educators available to answer questions and assist with the hands on activities available for students, including candle-dipping, quill & ink writing and more. The farm animals are always available for petting and pictures, and the grounds are perfect for picnics. Programs and activities best suite students ages 6-12, and is $10 per student, with a $30 max per larger family. Contact us for more info and for required registration.
Parrish Art Museum

Southhampton

The Parrish Art Museum is devoted to the collection, preservation, interpretation and dissemination of American art with particular focus on the art of the East End of Long Island. The Museum is committed to bringing art and people together in its education and outreach programs.
Lucy Bensley Research Center

Springville

Operated by the Concord Historical Society, the Lucy Bensley Genealogy Library has resources and information for those seeking their family histories. Cival War enthusuasts may research volumes of data located at the center as well. The Echoes Through Times Civil War Museum also has members that will give and present Civil War talks, presentations and tell you like it was, all the while helping to preserve that time in History.
Staten Island Children's Museum

Staten Island

Enjoy imaginative, creative, and cultural hands-on experiences for children ages 1 and up on the park grounds of Snug Harbor. With 12 indoor and outdoor exhibits, science and story time, cooking and art classes and birthday parties, there's something for every kid as they learn, explore and play. Here at SICM we offer group programming for ages 4-10. We have museum tours, art immersions, science immersions, and cooking programs. We can also customize a program to accommodate your needs. Please visit our website or call for more information. We have free parking on site and a small cafe for lunch.
Gateway National Recreation Area

Staten Island

A Special Place - Gateway provides abundant recreational and learning opportunities, from swimming, boating and fishing to team sports, bicycling and nature study. The nation's oldest operating lighthouse, forts that defended America, and sites that trace aviation's early days tell significant stories. The living world can be explored in a wildlife refuge, holly forest, ocean dunes and coastal uplands.
Alice Austen House

Staten Island

Clear Comfort (a.k.a. The Alice Austen House) was built in 1690. Alice Austen herself moved there as a young girl in the late1860's with her mother. Alice Austen was introduced to photography when she was 10 years old. Alice Austen's work is significant because of its high quality, its range, and its level of expression that together form a beautiful visual window on 19th century America. The House currently serves as a museum of Alice Austen's life and times.
Garibaldi-Meucci Museum

Staten Island

The Garibaldi-Meucci Museum is owned by the National Order Sons of Italy Foundation and administered by the New York Grand Lodge Order Sons of Italy in America. This National Landmark is preserved as a memorial to the lives of Antonio Meucci the true inventor of the telephone and Giuseppe Garibaldi, a legendary hero who championed the unification of the Italy. Today the museum offers historical tours, Italian language programs for all levels, school programs for K-12, permanent and temporary exhibitions, lectures and concerts. Additionally, the museum serves as a repository for Italian American Heritage and Culture.
The Jacques Marchais Museum of Tibetan Art

Staten Island

Nestled into the side of Lighthouse Hill, the Jacques Marchais Museum of Tibetan Art is a uniquely peaceful retreat. The museum presents the art and culture of Tibet and the Himalayas to a world audience in order to educate and inspire others in the value of this significant cultural heritage. The surrounding landscape design, which Marchais named the 'Samadhi Garden,' features a fish pond, meditation cells and many of her original plantings. The museum's distinctive setting highlights and enhances the experience of viewing the art within.
The Noble Maritime Collection

Staten Island

The mission of the Noble Maritime Collection is to preserve and interpret the art, writings, and historical maritime artifacts of the distinguished marine artist, John A. Noble; to continue Noble's legacy of celebrating the people and traditions of the working waterfront of New York Harbor; to preserve and interpret the history of Sailors' Snug Harbor in its collections, exhibitions and programs; and to operate a maritime study center inspired by John A. Noble and the mariners of Sailors' Snug Harbor.
Staten Island Museum

Staten Island

Lenape: The First Staten Islanders - A classic favorite returned to the Museum! Come and see artifacts from the Museum's renowned Lenape Collection with pieces that date back to the Paleo-Indians of more than 10,000 years ago.
Saratoga National Historic Park

Stillwater

A Crucial American Victory - Here in the autumn of 1777 American forces met, defeated and forced a major British army to surrender. This crucial American victory renewed patriots' hopes for independence, secured essential foreign recognition and support, and forever changed the face of the world.
The Long Island Museum

Stony Brook

Discover what life was like for Long Island families in centuries past.
Lyndhurst

Tarrytown

Overlooking the Hudson River in Tarrytown, New York, is Lyndhurst, one of America's finest Gothic Revival mansions. The architectural brilliance of the residence, designed in 1838 by Alexander Jackson Davis, is complimented by the park-like landscape of the estate and a comprehensive collection of original decorative arts. Its noteworthy occupants included: former New York City mayor William Paulding, merchant George Merritt and railroad tycoon Jay Gould. A historic site of the National Trust for Historic Preservation. The grounds at Lyndhurst survive as an outstanding example of 19th century landscape design.
Jones Beach Energy & Nature Center

Wantagh

The Jones Beach Energy & Nature Center links the natural beauty of Jones Beach to New York State's pioneering efforts to forge a renewable energy future. Explore the wonders of energy & nature! Our center offers S.T.E.M based programs for all ages. Learn how to build a wind powered motor, and walk along our beautiful dune filled beaches to see a seal, all in one day. Check our website on the link above to see the programs we are offering!
Mount Peter Ski Area

Warwick

Mount Peter is conveniently located in Warwick, just one hour from New York City (the George Washington Bridge) in the Hudson Valley, of Orange County, New York. An easy day trip! We are known for many things, like our famous FREE beginner ski and snowboard lessons, our great snowmaking and expert grooming, an awesome terrain park, our top-notch racing and development programs, and our family atmosphere.
Erie Canalway National Heritage Corridor

Waterford

A New Kind of National Park - Explore America's most famous and influential man-made waterway along the Erie Canalway National Heritage Corridor. Stretching 524 miles across the full expanse of upstate New York, the Erie, champlain, Oswego, and Cayuga-Seneca Canals are among our nation's great successes of engineering, vision, hard work, and sacrifice.
The Warrior Factory Buffalo

Williamsville

The Warrior Factory accommodates school groups of all kinds and has the ability to format your field trip in a way that is fun and a learning experience for all. Open Gym formats are popular for large groups (30-70 participants) while our team building sessions are an unforgettable experience for smaller groups (up to 20 participants). Regardless, everyone has fun at The Factory and learns how Ninja Culture and a positive attitude can help overcome obstacles.
LEGOLAND® Discovery Center

Yonkers

The ideal place to let your students experience a world of fun, creativity and imagination.
Hudson River Museum

Yonkers

Museum complex includes six art galleries, the Andrus Planetarium, and Glenview Mansion, an historic house museum of 1876.