So you have a high school student who is definitely not college-bound. How do you educate him? What does she REALLY need? Are there alternative training options available? I asked myself these same questions not so very long ago. Here is what I discovered...
College isn't for everyone, and that's OK. That became my new mantra. You know what? It really is OK. If you're in the same boat, don't row wildly in an attempt to try and motivate your student into following an educational ocean wave when all they really need to do is competently maneuver around the lake.
Repeat after me: college isn't for everyone. Excellent.
One of the beauties of homeschooling high schoolers is the freedom it allows for students to explore and learn—differently. So where can you find alternative learning opportunities? Everywhere.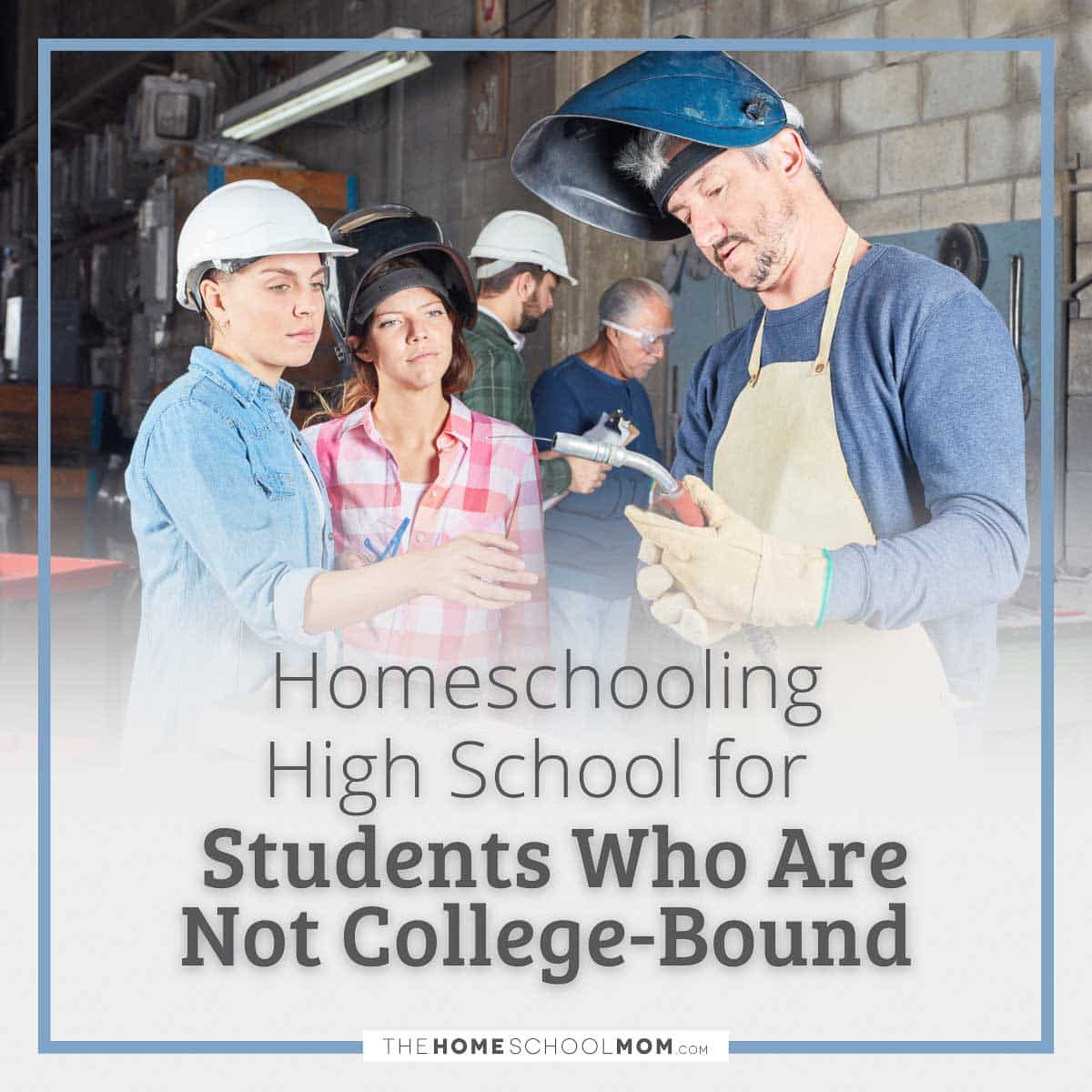 Jump to:
Volunteer Opportunities
Many homeschool students volunteer. It's a great way to serve others and learn while doing. And, volunteer opportunities abound—you literally can't turn around without bumping into the perfect volunteer position. Businesses, non-profits, self-employed entrepreneurs, libraries, farms, fire stations, animal shelters and rescues, and even freelancers are always on the lookout for a little extra help.
My son, Jeremy, had no interest in attending college. When he developed an interest in horses while in high school, we found a wonderful resource in Flint Hill Farm and Educational Center. The owner relies on a large team of volunteers to help with a variety of tasks and chores. Jeremy learned how to properly care for and feed many different farm animals, how to safely handle, wash, and store chicken eggs, and all about daily farm operation. He often showed visitors around the farm and helped to answer their questions. To supplement his new interest, I created several agricultural-related electives. Ah, the beauty of homeschooling!
Volunteering teaches both academic and non-academic skill sets.
Academic skills include:
Computer proficiency
Writing
Public speaking
Organization
Training in the trades and subject-specific areas
Non-academic skills may include:
Time management
Responsibility
Tolerance
Patience
Social skills
Accountability
Jobs
What teen doesn't crave a little extra cash?
A job can serve two purposes—teens can earn a little spending money while also learning the skills necessary to work in a specific field someday. Even being a gofer can lead to a basic understanding of how things are done in a particular business.
Jobs can even develop from volunteer positions. Our daughter, Emily, always loved children. She was a mother's helper from a young age which led to frequent babysitting jobs. In high school, she volunteered at our church's preschool, and you guessed it—that eventually led to a teaching position.
Volunteer positions and jobs teach similar skills; however, having a job has an added bonus—an introduction to finances. Your kids will learn all about debit vs credit, taxes, budgeting, and more. If they don't yet have a savings and/or checking account, now is the perfect time.
When helping your high school student find a job, do your homework and be sure to access and follow the federal labor laws as well as any labor laws for your state. This may be especially important if your teen is out and about a lot during traditional public school hours and is very visible to the public and non-homeschooling eyes.
Mentoring
Mentoring centers on relationship.
According to Barbara Hettle, a fellow homeschool mom and experienced professional  homeschool consultant, "Mentors can enrich a student's academic performance and also provide important support as students move from adolescence to adulthood." A mentor can be anyone who shares similar interests with your student.
The beauty of mentoring is that it typically develops naturally as the result of an already-established relationship between your student and someone within your community. Interest attracts interest.  "Mentors who share a subject interest can provide additional depth to homeschooling subjects," Barbara says.
Apprenticeships
When you think about an apprenticeship, does your mind wander back hundreds of years to Colonial days? Apprenticeships have a rich and historic past and still provide excellent learning opportunities for high school homeschoolers today.
Apprenticeships can be paid or unpaid and can be found within a variety of trades and businesses. Two great resources recommended by fellow homeschool mom Susan Raber are the United States Department of Labor Apprenticeships USA and the Vocational Information Center's Apprenticeship Training Resources page. Susan says that although she didn't actively seek out apprenticeships for her children, the opportunities came about naturally due to her family's strong connections within their community.
Creative High School Courses
As you can see, there are plenty of opportunities for non-college-bound students to learn and receive training.
Another way to incorporate interest-specific training into your homeschool is through creative coursework. This can be in the form of co-op classes, local community college classes, or personalized curricula that you create for your student. Don't worry. You don't need to be an expert in your child's specific area of interest because there are abundant resources available. Begin at the library and check out books on the subject. Search online--there are often free courses, interactive tutorials, and articles that you can incorporate into your courses. Add a little up close and personal view and seek out someone in the field for your teen to shadow.
Does your son really need to take higher math courses and a complex high school Chemistry course? Absolutely not! Here is an opportunity to get really creative. When my son was in high school, it was clear that he was not college bound. With a little creativity, we mixed several chemistry courses together to create just the right balance for his needs and ability while also doing a lot of kitchen science. He learned the basics and that was sufficient for high school credit.
Transcripts and Life Prep
Yes, you should still make a transcript reflecting your teen's learning during high school even if they do not plan to go to college. You can create a homeschool transcript using our free template. This is a way of helping your young adults have documents they may need someday since you cannot possibly predict the opportunities they will want to pursue years in the future.
Check out our list of practical alternatives to college and ways to prepare for non-college life.