Need a high school American government class for credit for your older teens? These free ideas are a great way to implement a US government class without a dry curriculum.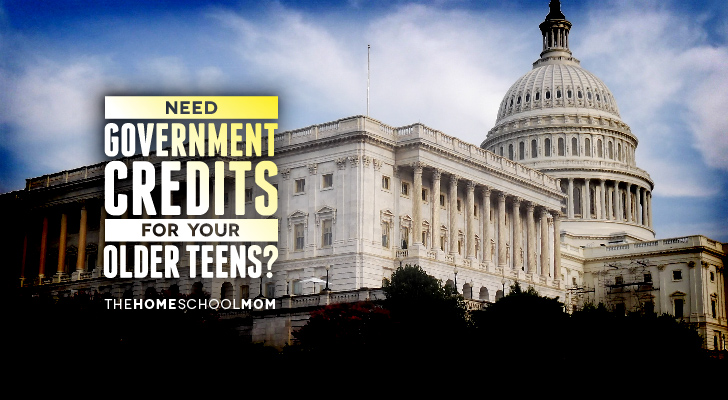 Don't depend on boring government textbooks; use an activities approach to learning how government works.
If teens do these activities, talk about their experiences with you and others, and follow rabbit trails online, they will likely retain more knowledge about how government works than if they just read from a government textbook. Gaining this knowledge can fulfill the requirement for high school government credits.
You'll want to ask them good questions, using the approach called inquiry-based learning.
Teens could keep a journal or blog about their experiences, or they could write essays, record short videos, or create presentations based on some of the activities. Your teens learning about government could:
Do a police ride-along. Yes, in some communities, 14-year-olds are allowed to ride along with law enforcement. Others require ride-along passengers to be 16 or 18.
Attend your locality's local government meetings. This might be your town, city, county, or parish council or board, where elected representatives vote on local business.
Attend a rally or march in support of a cause.
Visit your state capital. If possible, tour the chambers where the legislature meets or attend a session, and meet with your state legislators.
Go to court. Except for certain types of cases, court sessions are public!
Talk to people who can converse knowledgeably and first-hand about:

Living in the U.S. South as an African-American before desegregation and the Civil Rights Movement
The Viet Nam War and anti-war movement
The near extinction and rebound of bald eagles
Regulations they are required to follow in their business or profession
Immigrating to the U.S. or another country
The legal aspects of being a midwife
How laws and government policies shape the practices of farmers and farmers markets
Being in a labor union

Visit a gun store and talk to the proprietor about state requirements to make purchases there.
Help someone register to vote or get to the polls on election day. Register to vote yourself if you're old enough.
Experience the paperwork and process of applying for a passport. If you actually apply, there are fees. Learn about the significance of all the "important papers" you need to keep for identification and travel purposes. Make a plan for keeping documents safe but available.
Read a book that has been banned or challenged.
Read news coverage of multiple stories from six or eight different media sources, including international and those with opposing editorial viewpoints.
Visit a municipal (public) water treatment plant. Yes, I know you did this when you were 7. Do it again now, and find out about the history of providing public water service in that community.
Imagine a natural disaster or civic crisis that would require you to get along without government services. List what you would need to survive and strategies that might help.
 Research possible reasons for the dramatic decline of drunk driving fatalities since 1982.
Take a look at a parent's federal and state tax returns. Discuss.
Watch the Ken Burns PBS documentary Not for Ourselves Alone: The Story of Elizabeth Cady Stanton & Susan B. Anthony about women winning the right to vote in the U.S.
Attend an event sponsored by each of your local or state political organizations - Republican, Democrat, and Libertarian parties. No fair choosing just one.
Watch as many of the movies as possible that the ABA Journal has deemed the Top 25 Legal Movies. Compare to actual issues and events.
Listen to the soundtrack or see the play Hamilton.
Find out which businesses and industries are making the biggest federal political contributions in your state.
Watch episodes of some "dated" television shows from the 1960's, such as I Love Lucy and Andy Griffith. Consider how roles of women and girls have changed. Look at 1960's- and 1970's-era laws which affected women's legal status in the U.S.
Prepare for the civics portion of the U.S. Citizenship and Immigration Services naturalization test, using the same materials as someone aspiring to become a U.S. citizen.
Visit a U.S. military base or armed services recruitment center. Talk to current and retired service members.
Visit a local, state, and national park.
Watch a video about the Federal Reserve Bank, and look for critiques of the U.S. Federal Reserve as well.
Volunteer in a public school and/or attend a local school board meeting.
Play online government simulation games.
Look for Environmental Protection Agent cleanup sites in your state or community.
Determine in which states marijuana is legal and under what circumstances. What is its status in your state? What are the federal marijuana laws? How do state and federal laws work together or in conflict?
Read about these teens who are running for governor of U.S. states.
Explore the films, videos, features, and articles at the PBS American Experience collection, The Presidents.
Talk to people and read articles with opposing views on these topics (library websites--often available from home with a library card--usually have subscriptions to databases such as InfoTrac and Opposing Viewpoints which offer articles searchable by topic):

affirmative action
abortion
gun laws
the death penalty
the electoral college
eminent domain
equal rights amendment
national anthem protests
You get the idea. Homeschooling provides a unique opportunity to go, do, experience, think, question, and use unusual resources to earn high school credits. Add your own activities and get your teens' input. Include experiences that both support and challenge your family's usual worldview. Help your teens look for logical fallacies as they speak to people and write about what they are learning. Understand that not every aspect of government is covered in this list of activities, but many aspects will be encountered if this exploration is done with a rabbit trailing approach to learning.
Teens immersed in this kind of exploration can build a habit of involvement that can lead to lifelong learning about how government works.
And yes, you can give high school government class credit for that.
Check out our other ideas for high school homeschool curriculum on a budget.
Author's note: This article is intended as nonpartisan, which sometimes causes people of opposing political points of view to each think it is biased against their position. There is no intent to suggest activities that advocate for any specific political party or position. Homeschoolers spring from all walks of life and have a wide variety of political points of view, religious beliefs, and philosophies. The educational methods recommended will help children learn about government regardless of their parents' specific political affiliation.