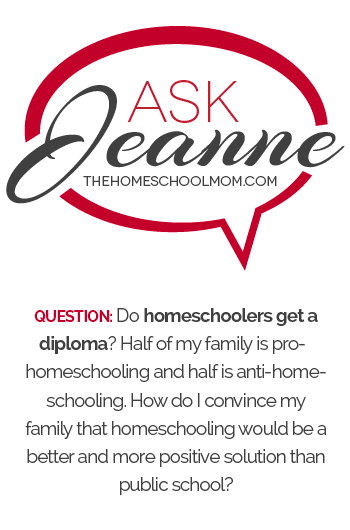 Dear Jeanne,
Do homeschoolers get a diploma? Half of my family is pro-homeschooling and half is anti-homeschooling. How do I convince my family that homeschooling would be a better and more positive solution than public school?

S.H. in Colorado
You have a couple of overt questions and a couple of implied ones. Let's see what we can tease apart here, because these are common concerns for prospective homeschoolers.
Homeschool Diplomas
What you are talking about when you mention the diploma, I think, is whether homeschooling will open or close doors for your children. It sounds like your family - and maybe you - have concerns about whether having a homeschool diploma and not having a diploma from an accredited school could close doors. No one wants to make a decision that will reduce kids' opportunities.
The short answer to your first direct question is: Yes, homeschoolers get a diploma - one issued by their parents.
The short answer to your implied question is: No, in most cases, homeschoolers do not get a diploma from an accredited institution.
The short answer to another implied question is: No, it mostly doesn't affect homeschoolers negatively not to get a diploma from an accredited institution. In most cases, they go right on with their educational plans with no disadvantage from this.
But let's take a look at the more involved answer.
Homeschool Laws
First, you need to understand that homeschooling is administered state-by-state, and each state has its own laws governing homeschooling. One of the initial steps you should take is to find a state-wide homeschooling group that is located in your state and consult their website for information about the state laws where you live. My experience is that national groups and local or state school authorities themselves do not have the best information about homeschooling, unless they are providing links directly to those state-wide homeschooling groups. National groups are unable to keep up with changes in fifty states' laws and often don't understand the nuances as practiced in each state. School authorities are the experts on school, not homeschooling, and they may unintentionally mix up expectations for school children with those of homeschooling. Your best authority on homeschool law is your statewide homeschool organization, with a strong local homeschool organization or longtime local homeschooling parent being excellent alternatives. Ask the right people to get the applicable answers.
That said, in general, homeschoolers get a diploma when their parents give them one. They do not typically receive a diploma from their school divisions or the state where they live. While school authorities often make a big deal out of whether teens will have or won't have a diploma from their school, most of the time, this is not an issue for homeschoolers.
Job & College Applications
When young adult homeschooled graduates are asked on a job application, "Are you a high school graduate?" they mark Yes. They graduated from homeschooling when they completed their work and their parents (often with their child's input) decided they were graduated. This often means having completed work similar to that of their peers who attended school, but not always.
When they are asked, "Do you have a diploma?" they mark Yes. Their parents gave them a diploma.
When they are asked, "Name of high school," they either write "homeschooled" or the name of their homeschool, since it is a legal requirement in some states to name your homeschool, and since other families have a tradition of naming their homeschool.
Now, the trick is, if a prospective employer or institution of higher education wants to see evidence that a graduate was really homeschooled and well-educated rather than a "dropout," then the graduate needs to be able to do two things - (1) provide written evidence, typically through a homeschool transcript and other evidence, and (2) talk the talk of authentic homeschooling.
High school graduates who intend to pursue higher education need more than a diploma, and that's the case whether they are homeschool graduates or graduates of a public or private school. They also need a transcript. Parents can and should look at the requirements of colleges and universities and make decisions about their child's homeschooled education with an eye toward keeping the door open. That is, if a child wants to attend college, his or her parents should have been helping along the way to make sure this can happen, certainly starting to think about this by around eighth grade. Parents help their kids study the typical courses and have the skills required for higher education. Families using a less common approach to home education look at how others using that approach have navigated work and higher education so they can help their kids prepare.
Homeschoolers typically do not have an issue with not having a state-awarded diploma when they want to go to college. They have to show they can do college level work, but they can do that in multiple ways. One is, as we have noted, by providing a homeschool transcript listing what they studied in high school. Another is by including outside evidence of college readiness. A third is by attending community college classes as a dual-enrolled high school student. More selective colleges and universities might be interested in seeing test scores, including those on subject area SAT tests (for example, to show that the student can test well in particular subjects, such as physics). Most college and university websites now feature admissions policies for homeschoolers, and most welcome questions from homeschooling students and their parents.
The best preparation is to pick a few likely possible colleges and look at their requirements before the high school years. Networking with other homeschoolers and learning about college admission is important, and there are homeschool conferences and books that offer this kind of information.
But a state-awarded diploma for college admission? Not a necessity at all.
Keep in mind that students who graduate from state-accredited high schools do get diplomas, but that doesn't ensure they get admitted to the colleges of their choice either. They, too, have to do their homework regarding taking the right courses and making themselves attractive candidates for admission - just like homeschoolers.
By now, colleges, universities, and many employers also know how to recognize whether a young adult can "talk the talk of homeschooling." A legit long-term homeschooler is considered a desirable employee and a desirable student, and admissions counselors and prospective employers ask questions that give these homeschooled students plenty of opportunity to distinguish themselves as homeschoolers - who are worthy of the diplomas their parents granted.
Military
That said, there are a few times when diplomas from accredited institutions may come into play. One is for entrance into the military. A teen's entrance into the military without a high school diploma may be difficult, although most report, again, that a semester's worth of community college courses and certain high test scores may make the difference to a military recruiter. The homeschool-straight-to-military-service question seems to be evolving, and homeschooling parents whose kids are interested in this route should make an effort to follow this issue in the coming years.
Vocational and Trade Schools
It may seem strange, but another area where a diploma from an accredited high school may matter is in certain vocational training and vocational or trade schools, such as massage schools or technical schools that are not associated with community colleges. These schools, often for-profit, have been under increasing scrutiny for offering financial aid through loan programs to students who end up not completing their program or not finding employment in the vocational field. Because these students end up owing a lot of money for education that may not result in employment, these schools may use "having a high school diploma from an accredited institution" as a kind of benchmark that "proves" they are offering loans only to students who have a true ability to benefit.
Ironically, this policy by some for-profit vocational schools has resulted in some of the least flexible policies homeschoolers have seen regarding diplomas, if those homeschoolers are heading to those schools immediately following their graduation from homeschooling as 18 year olds. Some of these types of schools will accept diplomas from co-ops and university model schools (a kind of homeschool/high school hybrid) when they do not accept parent-generated diplomas. And in some states and locales, even these schools accept parent-awarded diplomas, so it's not a problem everywhere.
If you begin to think your child may want to go the route of one of these vocational schools, seventh grade would not be too early to begin asking questions about what they require in your area. Keep in mind that most of the similar programs that are associated with community colleges seem much more open to homeschool diplomas awarded by parents - but check ahead.
Taking on homeschooling as a parent should mean taking on the responsibility for keeping doors open for your children.
Accredited Transcripts
In addition to the other strategies mentioned here to keep doors open, some homeschoolers use accredited correspondence or distance education schools if they feel their child will need that diploma from an accredited school rather than a parent-generated one. Debate can ensue about whether students using these programs are attending "virtual private schools" or whether they are authentic homeschoolers. A similar debate occurs when students learn at home using online curriculum provided for free by schools run by the state government. These students may receive accredited diplomas, but many homeschoolers who have tried it find it's not worth the trade-off. While it's a valid form of education that may solve problems for some children, these "virtual public schools" often have little of the flexibility and customization of independent homeschooling, often requiring the same "seat time," testing, and standardized learning that are reasons many leave public school in the first place.
Flexibility vs. Accreditation
Most long-term homeschoolers would say they'd rather have the independence to customize learning experiences and not have the accredited diploma, which currently does not seem to be a barrier if parents use forethought in keeping doors open for their children.
If the importance of getting a diploma has been brought up to you by family members as a reason not to homeschool, now you have the information to counter that assertion. Homeschoolers with parent-awarded diplomas are doing great things in the world without doors being closed to them.
I do homeschool evaluations in the state of Virginia, and I regularly see homeschoolers I've worked with attend some of the most prestigious and selective public and private universities, in our state and out. Their only diploma is the one granted by their parents. Have they and their parents seen that they do other things during their teen years to meet admissions criteria of these selective institutions? Indeed they have. And many more homeschoolers go on to less selective colleges and universities, too, depending on their interests and preparation during high school.
Convincing your family members about the worthiness of homeschooling besides the diploma issue is a whole 'nother post, which I'll address in an upcoming column. Your family members may be surprised that not only does homeschooling not have to close doors, but it can provide unique opportunities for customized education throughout a child's growing-up years.