Unschooling is an approach to home education based on
learning through living rather than through the conventions of school
parents partnering with their children rather than re-creating "school at home"
children following their interests and curiosity, with help and resources from supportive parents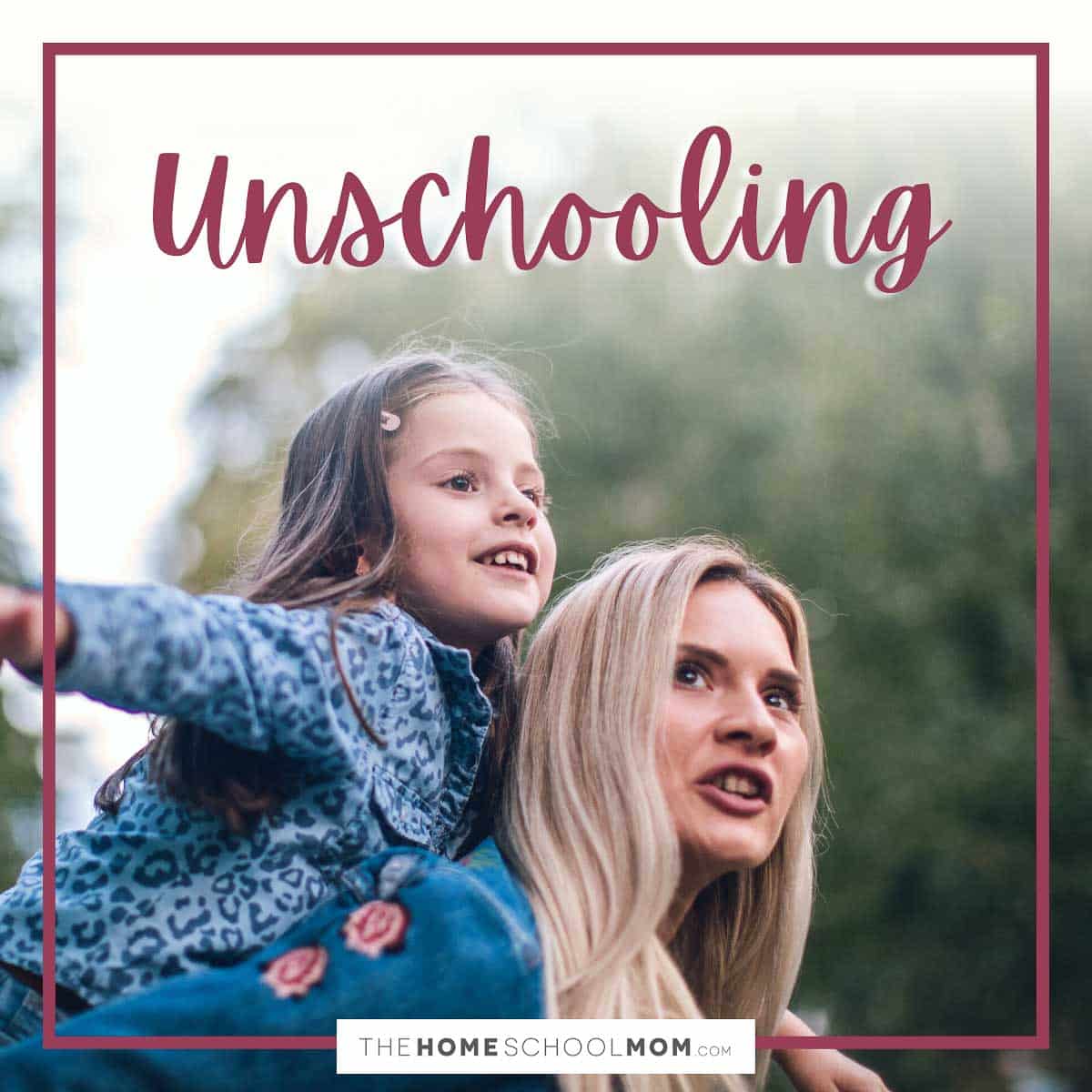 Jump to:
Unschooling by Any Other Name
If you can't figure out what the term "unschooling" means, don't feel alone. Defining, recognizing and naming unschooling can lead to disagreements even among people who have been homeschooling or unschooling for years. Originally, to "unschool" meant "not sending your kid to school."
It's become more specific than that now, and it's commonly known as a "homeschooling style" or an approach to homeschooling that generally means learning without prescribed lessons, textbooks, or the school-like methods many other homeschoolers use.
Sometimes unschooling is called delight-directed learning, child-led learning, autodidactic, natural learning, life learning, autonomous learning, non-coercive learning, or interest-led learning, but people disagree on the words.
For example, some people see a difference between, say, interest-led learning and unschooling, while other people see them as the same.
Some people don't see unschooling as autonomous or "child-led" since it works best with a highly engaged parent, who provides valuable guidance, experience, and resources useful to unschoolers. Yet, compared to learning that is prescripted by a school curriculum and taught by a teacher, unschooling certainly is more child-centered.
Some people see unschooling as simply thinking outside the textbook.
The terms do matter. If your interest in unschooling is more than casual, you'll learn from discussions about the definitions of unschooling. You may be surprised that something with an "un" as its prefix also has the potential for dogma and disagreement.
Unschooling vs. Deschooling
The similarity in the words can make people think they mean the same thing, when in fact, there is a big difference in unschooling vs. deschooling. Deschooling is recognized as a transition from school, and homeschoolers of all stripes recognize that honoring time "to deschool" is important. We don't need to follow school rules at home, and even parents need to come to grips with the idea that homeschooling is not school.
Unschooling, on the other hand, can be seen as  one of many styles or approaches to homeschooling, as you can read in our Beginners' Guide to Unschooling. Sometimes, as a result of deschooling, families land on unschooling as their approach to homeschooling. (That said, many will argue unschooling is a lifestyle rather than a homeschooling style.) This typically means that children will learn naturally, according to their own curiosity, with active parent partners to facilitate their learning. The parents won't prescribe textbooks, curriculum, quizzes, worksheets or tests, but they will support real-world learning that naturally occurs outside of school: projects, reading, writing, creating, experimenting, observing, and more. Parents don't coerce or require academics if they are unschoolers, but they do provide rich experiences such as library visits, read-alouds, things to build with, opportunities to pretend, resources other than curriculum, and more.
Unschooling and Radical Unschooling
Unschoolers don't coerce or trick their kids into doing schoolwork. Radical unschoolers extend this non-coercion into other areas of family life. As you can imagine, this concept is also ripe for misunderstanding. Commonly misrepresented as "complete freedom" for kids, radical unschooling is more nuanced than that. Radical unschoolers who do well with it (and it is possible to radically unschool poorly), guide and partner with their children to help them understand both their relative freedoms and their responsibilities or societal limitations and expectations.
Yet, radical unschoolers are good at sniffing out arbitrary limits. "Clean your plate" is probably not something you'll hear a radical unschooler say. "Because I said so" is not a radical unschooling parent's phrase. Many radical unschoolers point out the value of letting kids have more say in figuring out how much time they'll spend playing video games, and they don't use behavior modification like rewards and punishments to control bedtimes and chores.
Some people identify as unschoolers but not as radical unschoolers. Usually they mean, "I am willing to follow my kids' interests in learning, but we're still going to have more mainstream parenting around things like bedtime, behavior, meals, video games, chores, and activities."
Unschooling is Legal
Can learning without textbooks, classes, tests, trained teachers, and even curriculum or lesson plans possibly be legal?
Yes, absolutely! Unschooling is legal.
Homeschoolers of all stripes do away with many of the conventions of school. Unschoolers just take it further.
In some states and countries, home education laws include specific requirements that unschoolers (like all homeschoolers) have to meet. These may include year-end testing, evaluation, or portfolios with specific examples of work. While these laws create hoops for unschoolers to jump, unschoolers in every state in the United States are able to comply with the laws. If you're wondering how to do this, look for unschoolers where you live. Those who have been there can give you the information you need.
Amy Childs' Unschooling Life podcast also addresses the question, "Is Unschooling Legal."
Remember, unschooled kids are still learning. Unschooled does not equal uneducated. They aren't learning using the conventions of school, but they are still learning. Parents may have to recognize and present every-day activities as meeting "learning standards" in a few states, but it's legitimate. A child who is reading a favorite book that's not in a curriculum is still reading. A child who has written up a menu for a pretend restaurant is still writing. A teen who has built her own computer is still doing tech. A little child who recognizes mushrooms, pine cones, and a hawk on a nature walk is still being introduced to the life sciences.
Unschooling is Effective
Unschooling is effective partly because the approach allows parents to respect the developmental readiness of the child. There is no pressure for children to do things on an artificial timetable that sorts children and specific skills into grade levels. Science and psychology both tell us that children develop within wide ranges of "normal," and unschooling allows parents to take that into consideration. Children don't have to be pressured, shamed, or remediated when they are later readers or writers.
Like other homeschoolers, unschoolers can and do graduate from college, start businesses, get jobs, live creative lives, and become independent adults. Some unschoolers take nontraditional learning paths right through their teen years and into adulthood; others begin taking community college classes as teens, or they work with mentors.
UnschoolingMom2Mom has a great collection of resources about grown unschoolers and what they're doing.
Unschooled teens have different backgrounds, different abilities and interests, and different aspirations—just like teens who go to school. Everyone has a different journey in mind, and mileage may vary! There is a lot of variety in how unschoolers turn out.
If You Want to Unschool Well
Unschooling is not un-everything. Unschooling that works well includes a parent who has time and commitment to provide resources and experiences to help a child follow interests. Unschooling parents spend a lot of time with their children. They're not teaching didactic, pre-planned lessons, but they are enjoying the wonder of the world with their kids, reading aloud, helping a child engage, providing loving guidance.
You will hear unschoolers talk about using techniques such as:
Unschooling parents typically don't overplay "learning moments," and they aren't concerned with disguising learning as fun in order to make it more palatable. They trust their children will learn what they need to know through lived experiences, their interests, and when or if the time and goal are right—self-motivated study.
Unschoolers may not use typical praise phrases and do not tend to use rewards-based learning, since research shows that external rewards can make people less motivated to learn independently.
Unschooling parents also help their kids with the tools they need to move forward, such as having transcripts and outside evidence that they can do college-level work if they want to go to college.
Unschooling is not...
It's true that there are some "school things" that homeschoolers and unschoolers don't have to do. That said, just not doing school things doesn't mean a parent is being a responsible unschooling parent.
Unschooling does not mean:
Not helping children learn what they need to know
Neglect of medical or mental health needs
Homeschooling, but not doing it well so calling it "unschooling"
Not having a schedule
Sure, unschoolers may enjoy not having a schedule, and that can be part of unschooling. Unschoolers certainly don't have to use "school hours" any more than other homeschoolers do, but avoiding schedules is not necessary to unschooling. Families whose kids enjoy dance or art lessons or soccer or visiting with friends or even regular afternoon tea may have a busy schedule that includes keeping a calendar to keep it all straight.
Unschooling parents aren't hands-off; unschooling parents are highly engaged.
Unschooling is Misunderstood
Unschooling is the most misunderstood of all approaches to homeschooling, by people who don't homeschool at all, by people who homeschool but don't unschool, and by people who call themselves unschoolers but don't quite.
One of the problems is stereotypes about unschooling, even within homeschooling communities. If people (even other homeschoolers) meet one unschooling family where parents aren't adequately partnering with their kids, they may presume this is the way of all unschoolers. It's especially unfortunate for homeschoolers to let this bias go unchallenged in themselves, since they are frequently stereotyped by the general public as well.
When the media depict unschooling, they sometimes do sensationalist stories. Sometimes they feature families who identify as unschoolers but who actually don't represent unschooling accurately. They may be "anything goes" parents who let their kids run amok. Unschooling parents who are helping their children learn and who have peaceful, non-chaotic lives may be skipped over for interviews because they don't fit some stereotype a reporter has.
Media stories also tend to follow a formula of always consulting an "education expert" to "balance" a positive depiction of unschooling. These experts are often experts on school-based education, and they may not have first-hand experience with unschooling families. Frequently they "know" what they know based on institutional practices rather than family-based education. Reporters may unknowingly trap themselves in false-equivalency journalism when they attempt to cover unschooling. This adds to the misunderstandings of unschooling.
Real Pictures of Unschooling
The Class Dismissed movie paints a more realistic picture of how and why people arrive at unschooling, or over at UnschoolingMom2Mom, you can track down stories of typical unschooling days.
Issues around Unschooling
Some Unschooling Thinkers
Laura Grace Weldon of Free Range Learning
Sue Wolfe Patterson of UnschoolingMom2Mom
Amy Childs of The Unschooling Life podcast
Wendy Priesnitz of Life Learning Magazine
John Holt of Growing Without Schooling
Patrick Farenga of Growing Without Schooling
Sandra Dodd of Just Add Light and Stir
Mary Griffith of The Unschooling Handbook
Grace Llewellyn of Not Back to School Camp
Blake Boles of College without High School
I never teach my pupils. I only attempt to provide the conditions
in which they can learn. ~ Albert Einstein
Insight into Unschooling Life
Suggested Unschooling Reading From Other Sites
Unschoolery (archived at Wayback)
Leo Babauta's insightful blog covering many aspects of unschooling
Unschooling : How Good Morning America Got It All Wrong
I know I'm naive to expect the mainstream media to cover a subject like "radical unschooling"as anything other than a freak show, but the recent hatchet job that George Stephanopoulos and Good Morning America did on the topic was so hopelessly biased that it'd make Rupert Murdoch blush. Unschooling is a type of homeschooling that promotes organic, self-directed learning without the structure of traditional education. My family has unschooled our kids for over a decade...
If you are required to submit a curriculum description
From Sandra Dodd's unschooling site, here is a sample submission for an unschooler that was required to submit a curriculum (written and generously offered as a model for other homeschoolers by Carol Narigon).
Endless Summer
This Salon.com article from 2005 is just as relevant today as it was then. "Since 1960, when A.S. Neill published 'Summerhill,' a chronicle of life at his "free-learning" British boarding school, and American educational reformer John Holt coined the phrase "un-schooling" in his books of the late 1970s, the philosophy has emerged as the rebellious twin of the home-schooling movement. While paired in many people's minds, the two have distinct agendas and ideologies...
Education as a Rat Race
Thoughts from Stephanie of Throwing Marshmallows regarding an article in the Baltimore Sun about unschooling
Unschooling with Sandra Dodd
Sandra Dodd is one of the strongest voices in favor of unschooling. Her writings and talks have instpired many parents to consider unschooling as a natural choice. Her website is full of thought-provoking resources.
Unschooling Books
(all books are affiliate links)
Christian Unschooling Questions Answered by Heather Young et al
From amazon.com Packed with genuine, real-world answers to hard questions, this new books answers these and many more questions in a chatty Q&A format with answers from multiple veteran unschoolers. These questions and answers were compiled over the years from real conversations at the Christian Unschooling website and Facebook group and are filled with encouragement for those who feel God may be leading them down a less-traveled path of gentleness and respect for their children's education and lives.
Christian Unschooling : Growing Your Children in the Freedom of Christ by Teri Brown and Elissa Wahl
From amazon.com For too many years, the segment of homeschoolers that consider themselves "Christians" and "unschoolers" have been ignored. Many thought one couldn't be both a Christian and an unschooler. But Teri Brown with Elissa Wahl expose that not only to Christian Unschoolers exist, they are growing in numbers. Through Christian Unschooling: growing your children in the freedom of Christ, the authors support Christian unschoolers everywhere--letting them know they are not alone. For those Christian parents who are facing school-at-home burnout form a strict schedule, they offer another path to learning. Unschooling, child-led learning, free learning, interest based education, child-delighted learning--whatever you choose to call it, this book explains what unschooling is (and isn't) in easy-to-understand terms while holding your hand as you walk the unschooling pathway. Many essays of unschoolers are included--offering their viewpoints, "typical days", opinions on lessons and learning, how they are guided by the Lord and much more. Additionally, comprehensive information on starting an unschooling support group is included along with plenty of ideas to inspire you in the subjects of language arts, history, math, science and more.
Educating the Wholehearted Child by Clay and Sally Clarkson
From amazon.com A handbook for Christian home education. A commonsense, disciple-based biblical approach to home schooling using real books and real life. Filled with Scriptures, anecdotes, insights, ideas, methods, lists and charts to make living and learning at home natural and enjoyable.
The Unschooling Handbook by Mary Griffith
From amazon.com Unschooling, a homeschooling method based on the belief that kids learn best when allowed to pursue their natural curiosities and interests, is practiced by 10 to 15 percent of the estimated 1.5 million homeschoolers in the United States. There is no curriculum or master plan for allowing children to decide when, what, and how they will learn, but veteran homeschooler Mary Griffith comes as close as you can get in this slim manual. Written in a conversational, salon-style manner, The Unschooling Handbook is liberally peppered with anecdotes and practical advice from unschoolers, identified by their first names and home states. The book also includes resources such as one teenager's sample "transcript," a typical weekly log of a third-grader's activities, and helpful lists of magazines, online mailing lists, Web sites, and catalogs...
Teach Your Own: The John Holt Book of Homeschooling by John Holt
From amazon.com The classic work on teaching children at home, updated for today's new laws, new lifestyles, and a new generation of homeschooling parents. Today more than one and a half million children are being taught at home by their own parents. In this expanded edition of the book that helped launch the whole movement, Pat Farenga has distilled John Holt's timeless understanding of the ways children come to understand the world and added up-to-the-moment practical advice. Rather than proposing that parents turn their homes into miniature schools, Holt and Farenga demonstrate how ordinary parents can help children grow as social, active learners. Chapters on living with children, "serious play," children and work, and learning difficulties will be of interest to all parents, whether homeschooling or not, as well as to teachers. This new edition is supplemented with legal advice as well as a guide to cooperating with schools and facing the common objections to homeschooling. Teach Your Own not only has all the vital information necessary to be the definitive reference for parents teaching their own children, it also conveys John Holt's wise and passionate belief in every child's ability to learn from the world that has made his wonderful books into enduring classics.
Instead of Education: Ways to Help People do Things Better by John Holt
From amazon.com It has become common knowledge that our educational system is in dire straights. Children graduate high school without knowing how to read while students are driven to violence by the brutal social climate of school. In Instead of Education John Holt gives us practical, innovative ideas for changing all that. He suggests creative ways to take advantage of the underused facilities we already have. Reading this brilliant educator revolutionizes our thinking about what schooling is for and what we can do to accomplish its true goals.
The Teenage Liberation Handbook by Grace Llewellyn
From amazon.com While many homeschooling authors hem and haw that learning at home isn't for everyone, this manifesto practically tells kids they're losers if they do otherwise. With the exception of a forwarding note to parents, this book is written entirely for teenagers, and the first 75 pages explain why school is a waste of time. Grace Llewellyn insists that people learn better when they are self-motivated and not confined by school walls. Instead of homeschooling, which connotes setting up a school at home, Llewellyn prefers "unschooling," a learning method with no structure or formal curriculum...
Homeschooling Our Children Unschooling Ourselves by Alison McKee
From amazon.com A compelling story about one family's journey into the unknown territory of homeschooling, told with skill by Alison McKee, a gifted teacher with a wide experience in traditional education and a special sensitivity to the individual needs of children. Trusting her own children to "show me the way" was a difficult challenge - but one that gave unexpected and rich rewards. Anyone familiar with the writings of John Holt will be interested to learn how things worked out for a family that decided to test his belief that children are the best directors of their own education. McKee offers the reader insights on how children learn, plenty of illustrations and practical advice about how "unschooling" works, and thoughtful commentary on the state of education today. This book will reassure parents considering homeschooling that nurturing children's natural desire to learn can empower their children to become enthusiastic life-long learners.