First the bad news about beginning homeschooling in high school:
If your child might return to public education in a future year, the school will have the right to determine what grade the child should be in.
If your child returns to public school after homeschooling, he might have to pass end-of-course tests and standardized tests or show other work to be granted credit for work done while homeschooling. Accepting or denying credit for such work is at the school's discretion.
It may be harder for your child to adjust to homeschooling because she's been in school longer. Homeschoolers typically go through a process called deschooling—an adjustment from attending school to homeschooling. It may take longer for older kids.
You might think an online homeschool program or "all-in-one" curriculum will work well because at this age your child should be able to work independently, but some curricula are inflexible and don't stimulate the interests of some kinds of learners. It might take a while to find what works.
Homeschooling communities are harder to join when you start with older kids. Many homeschoolers do attend school for the first time during their high school years, making it harder to find homeschool classes and social opportunities for older teens, especially if your kids didn't "grow up" in homeschooling. As a parent, you haven't had years to grow into the networking.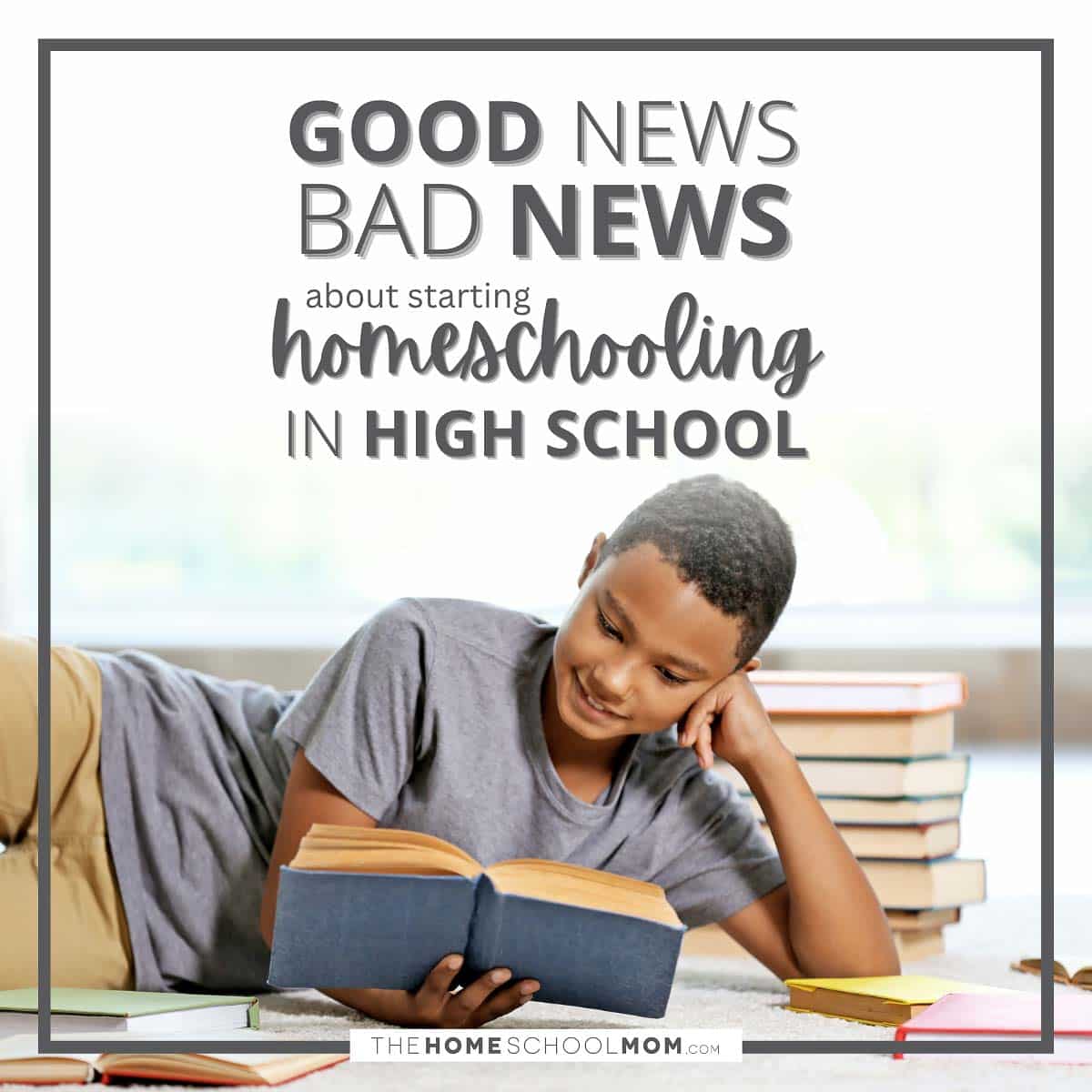 Now the good news about beginning homeschooling in high school:
It's never too late to learn with home education. Kids are always able to benefit from a more customized approach to education and greater one-on-one time.
Many high school age homeschoolers can take community college classes through dual enrollment, usually beginning around age 16 (varies from state-to-state and within some states). This provides both academic experience and social time with other students.
The high school years are a great time for parents to facilitate or support special opportunities such as apprenticeships, mentorships, and entrepreneurship. Your teen can learn by starting her own business or working alongside someone in an interesting field.
Older teens are frequently welcomed as volunteers and can learn a lot in great service environments.
Teenagers benefit from getting out of negative school social situations, if you can provide something safer and more productive at home.
With your guidance, your homeschooled high schooler can prepare for admission to college or prepare for a vocation. You'll need to help with a transcript—both knowing what to put on it and helping your child with the appropriate learning.
Many high school age homeschoolers have a great capacity for creativity and work. During these high energy years, they can spend generous time making art or music, studying dance or drama, building things and doing experiments, writing code and tinkering with hardware—or earning money. Let them make!
Older teens may be driving or secure in their ability to use public transit. Homeschooling moms of many little kids find they are driving the mom-taxi for many hours each week—but your child may be closer to being able to make his own way to activities and classes.
You'll have more time to spend with your teen than when he or she was going to school. The high school years go by in the blink of an eye; homeschooling gives you more time together.
Yes, your homeschooled child can have a diploma—the one you give him.
Your homeschooled teen will be able to sleep more and on a better schedule for the developmental stage.
A teenager who wants to leave school in order to homeschool is often happier. That's an amazingly good thing. Just sayin'.