Jump to:
Homeschooling and college admission requirements for high school courses
In most states, there are no specific course requirements for the homeschool high school years. I know, this seems impossible, given the emphasis on specific credits required to graduate from a public high school. Course selection and completion are very big deals when you're in school, and even if you are homeschooling, colleges may have specific courses that they want to see.
However, homeschooling is not public schooling, and homeschooling parents have wide latitude in what their children should study, how they should learn, and what qualifies a teen for graduation or a diploma.
Homeschooling is governed by state laws, which vary from state-to-state, and you should check with a homeschooling organization in your state to see if there are course or "subject" requirements, and how homeschoolers show they have met those requirements in that state.
If there are no course requirements, as with homeschoolers in most states, what should your child study and learn during high school, if college is on the horizon?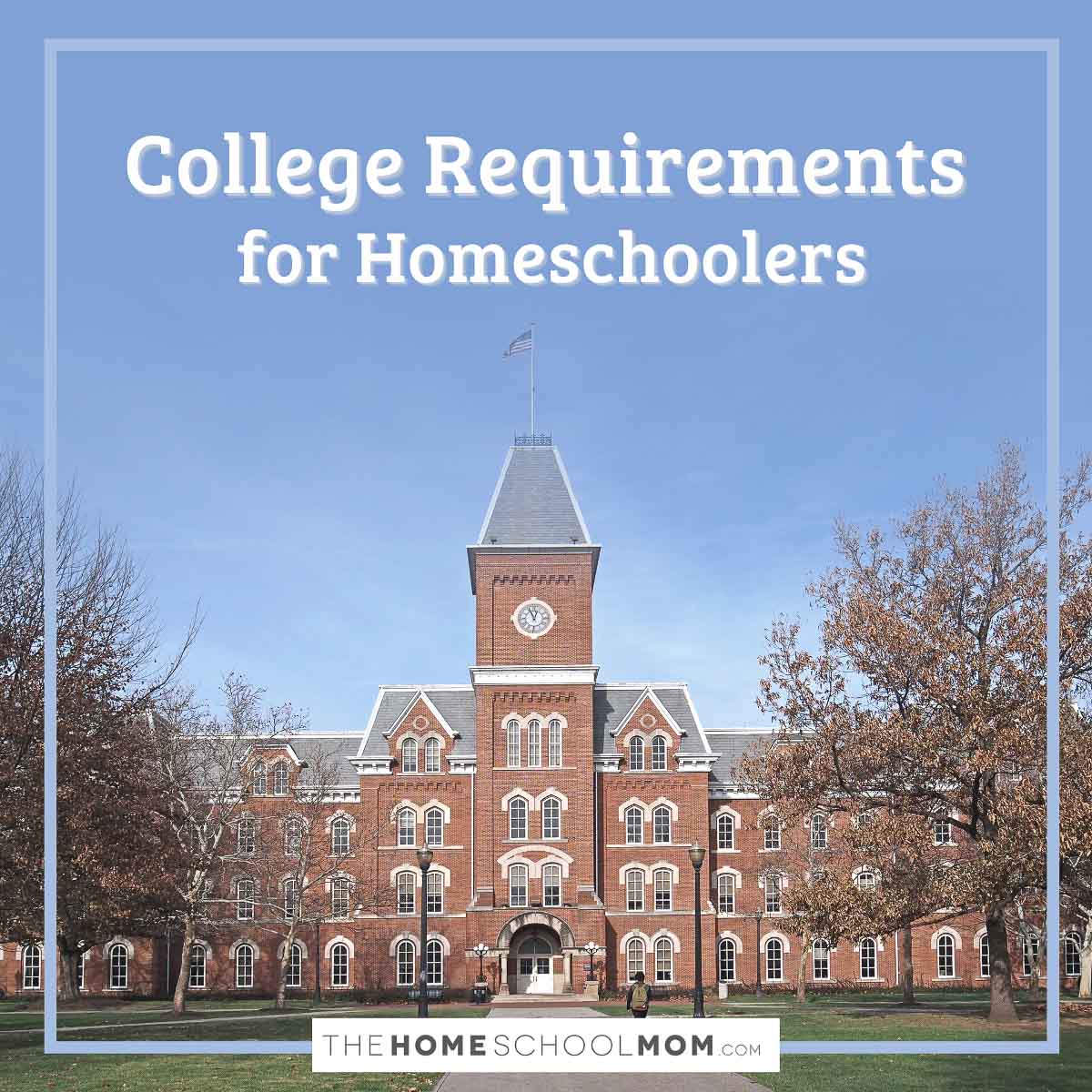 Consider college-recommended courses.
If your child may want to attend college, either around age 18 or in a few years, you should certainly consider using college admissions course requirements as a guideline for studies. For example, many colleges require four years of English, three years of science, three years of social studies, three years of math, two or three years of foreign language, and additional electives. You can get an overall list of commonly required high school courses at the ACT website (archived version; a bit slow to load) or similar sites, but there is also no substitute for looking at specific college and university websites that are within the realm of possibility for your child to attend. I often suggest looking at several state universities in your state, several state universities out of your state, and several private colleges.
Consider non-course requirements.
There are often additional college admissions standards besides coursework, such as test scores, community service, letters of recommendation, and extra-curricular activities. A minority of colleges have extra requirements for homeschooled students (such as SAT Subject Tests). More competitive colleges have higher requirements. Private colleges may be more flexible, but not always.
Use college resources to plan.
Most colleges now have information on their websites about admission for homeschooled students, and many have a particular admissions staff member who specializes in working with homeschoolers, sometimes called a homeschool liaison or the homeschool admissions officer. When planning your high schooler's studies, a practical approach is to use information from colleges and universities to help decide what course work will ultimately appear on your child's final transcript.
Think about both traditional and non-traditional approaches.
Keep in mind that some universities will want to see evidence that your child studied in a traditional way, using recognized text books, taking tests, and earning grades. Other colleges may be enthusiastic about non-traditional approaches, including work on original art, English, social studies, mathematics, and science projects.
Many homeschoolers meet college admissions requirements by learning the same or more about specific subjects as their public school peers, but doing so in non-traditional ways, sometimes even without tests and grades. It may be surprising to many people to find, for example, that unschoolers may be sought-after by colleges and universities.
Learning more about colleges and universities your child might attend is one way to know how to approach the high school years for a possibly-college bound student. Keep in mind that if you have a non-traditional learner or use a non-traditional approach, it's often better to find a college that has the right fit for your child rather than to try to switch gears and suddenly force a "school-at-home" style during the high school years if your child is not likely to thrive on it. Conversely, you may also be able to keep track of the ways the non-traditional learning has met the requirements that may equal the amount of content learned in a course. A history student who has read widely, watched and analyzed documentaries, and volunteered as a docent at a museum may well have learned more than one who took quizzes based on reading a high school history text. As a parent, your job is to help your child document this information so it can be provided to prospective colleges.
Consider community college courses.
Many teens take community college courses either to serve as high school credit or to receive both high school and college credit at the same time through a dual enrollment designation (TheHomeSchoolMom offers a free course planner for this). Successful completion of community college courses signals to four-year institutions that the student is capable of learning in a college classroom. Many four-year universities and colleges waive other requirements if a student has a significant number of credits from a community college, most commonly exempting them from submitting ACT or SAT scores—but not always.
Provide colleges with outside evidence of learning
A homeschool transcript full of parent-graded courses and independent learning done at home may not by itself convince university admissions counselors of a teen's preparation for college-level work. Test scores, letters from instructors, and community involvement can all provide colleges with evidence from outside the parent-graded courses that the student is ready for college-level work. For more ways to provide outside evidence, read my in-depth piece, "Homeschool to College: Outside Evidence."
Remember college-bound students need both skills and knowledge.
Some homeschooling parents make the mistake of assuming that having their son or daughter step through content-based courses in specific subjects will be enough college preparation. Additional academic preparation should include an opportunity for students to practice and learn writing, research, inquiry, deep reading, scientific thinking, making interdisciplinary connections, presentation skills, keyboarding and computer user skills, and math skills.
Additional executive function skills your child will need will include time management, self-discipline, stress management, assertiveness, and life skills. A kid who doesn't remember to eat well and get the laundry done will struggle even if he or she is academically well-prepared.
Create a transcript.
As a parent, you will create a transcript that shows the subjects ("courses") your daughter or son has studied (or you will provide support as she or he creates her own transcript). There are many homeschool transcript resources to help you learn how to do this. TheHomeSchoolMom offers a free homeschool transcript template that automatically calculates GPA based on credits taken, course weight, and grades assigned.
Consider special circumstances.
A student who wants to be recruited as a college athlete needs to plan courses according to guidelines for homeschooled students at the NCAA Eligibility Center.
An artist, dancer, actor, or musician may need to be prepared for an audition or to present a portfolio, which may best be built over several years, not just a single year.
Students who want to major in specialized areas may have to gain admission not only to a university itself but also to the "school" within the university that offers that major. For example, a university may ask only for "three sciences" for general admission to the university—but specify that one of those sciences be physics if a student wishes to also gain admission to the university's school of engineering.
You have to think ahead for this kind of thing, especially if your child intends to pursue one of these situations or a similar situation immediately after high school, with admission to a four-year university as a freshman—or if your child is hoping to attend a highly selective institution.
Consider the whole child.
While required courses can be important for college admission—or at least learning in amounts and ways that can be equated to or substituted for course work—if your child burns out checking "required" boxes, he or she is less likely to be interested in college and maybe even less prepared. Additionally, older teens can become anxiety-ridden when there is emphasis on achievement for college prep, even if it is just hitting the marks by completing certain courses. As a homeschooling parent, you can be more flexible and look for ways for your child to have a more balanced life. Preparing for college should not be at the expense of your child's mental or emotional health.
Know that there are other ways.
Not all college admission approaches are dependent on meeting course requirements. There are both unique colleges (google non-traditional colleges, unique colleges, and best colleges for homeschoolers) and unique approaches to college. Read College Without High School: A Teenager's Guide to Skipping High School and Going to College by Blake Boles (affiliate links) to get a totally different look at how your kids can attend college -- without thinking in terms of "required high school courses" at all.
And what about homeschooled kids who don't plan to attend college?  Be sure to read Karen Doll's ideas for homeschooling high school when college is not the goal.