TheHomeSchoolMom may earn affiliate commissions from purchases made using links on this page. Read our full
disclosure
.
Keeping College Prep Simple & Inexpensive
Homeschoolers often think an effective college-prep high school track will be expensive or complicated. High school homeschool curriculum doesn't need to be either. If your student is going from homeschool to college, you don't need to do lots of expensive dual enrollment (DE) and outside classes; you just have to be clever in how you go about things (and yes, homeschoolers can go to college).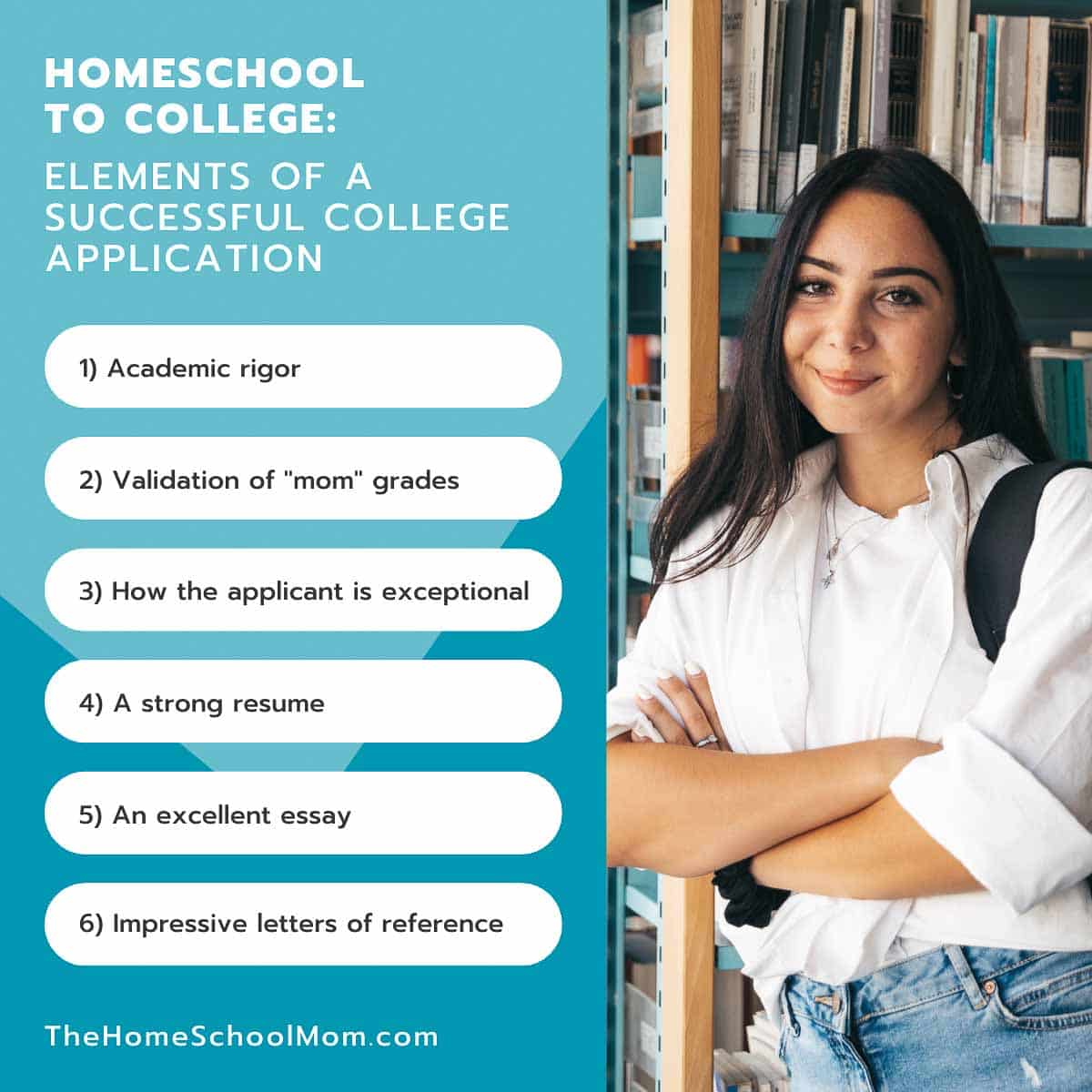 Elements of a successful college application:
Academic rigor
Validation of "mom" grades
How the applicant is exceptional
A strong resume
An excellent essay
Impressive letters of reference
Below are free and affordable resources to help your homeschool high school student stand out from other college applicants without breaking the bank.
Jump to:
Use the library
Become close friends with your librarian. Use interlibrary loans.
Join multiple library systems. Each system offers something different. One might offer access to courses from one foreign language company, another will offer a different one. Some offer Linkedin Learning, others don't. I've found not all libraries do a good job of highlighting what they offer, so be sure to look through all of the website menus and talk to the librarians. You may find that access to resources the library offers is not well-publicized.
Take a second language course. Many libraries offer free foreign language programs. Use them, and ask librarians if they have any native speakers they can put you in touch with. Watch movies in your target second language. Read books in that language (starting with children's books). Use Livemocha for free practice. Quizlet also has excellent free resources, and the flashcards are great practice.
Join a conversation group for that language. I've seen a bunch of conversation groups listed on Meet Up, or find them online.
Prep for a language proficiency test. Cat Jackson, homeschool academic counselor, suggests "a great free way to add rigor to your admissions package is to have your student prep for a language proficiency test. This is a fun way to dive deep into language learning. This is particularly helpful for a kid who's interested in linguistics or a foreign language as a college major."
Use The Great Courses. Many libraries offer free access to The Great Courses, which are absolutely fabulous lectures by college professors on all sorts of topics. I used them extensively in the middle to high school years. Note that sometimes these courses are available through libraries under the Wondrium brand, which is the subscription site owned by the parent company of The Great Courses.
If accessed via the separate Great Courses database (login is at The Great Courses or Wondrium website with your library credentials), you may find the guidebook that comes with the commercial version of each course. If the courses are available through Libby/OverDrive, the guidebooks may not be available. The guidebook gives you questions you can use for paragraphs, essays, and to test understanding. It also lists additional readings for each lecture. The guidebooks can sometimes be purchased used on Amazon or eBay.
Combine similar courses to make full credits. I used them for meteorology, geology, oceanography, geography, personal finance, the judicial system, how to be a super star student, world history, American history, physics, and chemistry.
Borrow equipment. Many libraries offer free lab equipment; others offer telescopes or science backpacks. Some have Maker Spaces with tools like 3-D printers or laser engravers. Find out what your libraries offer—you may be able to put together a high school science course with these resources.
The loan of a telescope combined with some books and one of the Great Courses makes for an excellent astronomy course with lab. Combine those resources with meeting with your local astronomy club. Become involved with the astronomy club, and—voilà!—you can get an academic letter of reference, which is one way to show colleges outside evidence of college readiness.
Get a grant. Speak to your librarians about the possibility of their getting a grant to find a teacher for a class you want your teen to take. My library happily does this, so definitely check with yours.
Have your student offer to help write (under supervision) the grant proposal. If your child writes or assists substantially with multiple grants, you may award them a high school credit called "Grant Proposal Writing." This experience is a great way to get your student writing well, and it's an excellent professional skill to include on a resume or college application. Encourage your students to work closely with the librarians when planning classes they want and writing grant proposals.
Join a committee. Encourage teens to volunteer for the library's Teen Advisory Committee. Have them do various volunteer projects around the library. Propose to your librarian that the library become eligible to certify the Presidential Service Award, and ensure your student earns an award each year. This enhances your teen's resume and will also ensure they have someone to ask for a letter of recommendation.
Use living books. Borrow living books from the libraries and use them as the basis for a course. Use Worldcat to find which libraries have copies of specific books you want, and use the information for the book to request an interlibrary loan if your libraries don't carry a book you want. (The interlibrary loan system uses the same database as Worldcat, so linking to the Worldcat listing for a book helps librarians when you place the request).
For example, The Disappearing Spoon and Napoleon's Buttons can form an excellent spine for a science class. These are interesting books with lots of ideas for independent research and essay topics. Reading biographies of all the Founding Fathers, their letters, and source documents can form the basis of an excellent early U.S. history credit.
If you google "<subject name> living book" you will find excellent lists, and many of the sites you find will also offer free lesson plans. Ambleside Online is also a good resource.
Use Linkedin Learning
Find a library system that offers free access to Linkedin Learning (formerly Lynda). Your student can learn photography, digital design, software development, web design & business. Check local community colleges also—some offer free access to Linkedin Learning as well.
If offered through your local community college, check to see if access is active for all registered students or is restricted to students enrolled in a class. Your teen might be able to use it when they have an account but are not registered in a class.
Haunt secondhand book stores, thrift stores, and eBay
You can often find secondhand curriculum or school textbooks for pennies. They make perfectly good high school course spines with the addition of some readings, essays, projects. [Ed. note: It is a good idea to check older texts for out-of-date content that may be inaccurate or no longer considered inappropriate, particularly for science and social studies textbooks.]
Take free online courses
Khan Academy offers every high school program for free. It even offers SAT and PSAT prep.
Use MOOCs
Massive Open Online Courses (MOOCs) are online courses from top universities, generally free. Students may be able to get credit for these courses through EdX, another provider of MOOCs.
Sometimes, for a nominal amount, universities offer certification once you have done the course. As an example, Coursera offers Python certification for $79 and for the R statistical programming language.
If your student completes courses and performs well, you could spring for certification. This will add validation to parental grades and look good on the transcript.
Parents can also award credit when teens complete MOOCs or use them in combination with other resources.
Use OpenStax
OpenStax, a nonprofit organization affiliated with Rice university, offers free textbooks for high school and college level courses. The textbooks are "high-quality, peer-reviewed, openly licensed college textbooks that are absolutely free online and low cost in print."
In addition to college level texts, OpenStax offers several texts "designed to meet and exceed the requirements of the College Board's AP®" courses. Although use of the textbook does not allow a student to use the AP® designation on transcripts unless the course is certified by the College Board, such textbooks will prepare students for the AP® tests. Coursework using these texts can be designated as honors courses.
Take free AP® and CLEP courses
Modern States offers free classes for AP® and College-Level Examination Program® (CLEP) exams. They also offer to rebate the cost of the CLEP if the student passes it. These exams run around $90.
The College Board also offers AP® classrooms that give more help for the AP® courses. AP® & CLEP scores provide outside validation to parental grades. Depending on the college, they can also result in college credit.
Libraries will have copies of practice tests, or you can often find them online. There are many online groups for practicing for AP®s and CLEPs (there are many more online groups for CLEPs).
Take dual enrollment courses
Dual enrollment may be offered to homeschoolers through community colleges, local universities, online schools, and (in some states) public schools. Homeschooling for College Credit maintains a current list of colleges offering affordable dual enrollment courses.
Each school on the list is regionally accredited, which is the gold standard for college accreditation. The following information is included for each institution:
Institution type (2 or 4 year, public vs. private, whether religious)
Dual enrollment program name
Cost
Restrictions on enrollment (location, grade, course restrictions, etc.)
Requirements (transcripts, placement tests, etc.)
Whether scholarships are available
Link to the information about the program on the institution's website
In addition to the list at Homeschooling for College Credit, check your local community college for affordable DE classes. Be aware that DE students may be required to jump through additional hoops when registering (such as registering in person with a counselor instead of using the online portal).
In some states, homeschoolers may be eligible to enroll in DE classes for free through their public school system (classes may be either at the school or at a local college). Check with your state homeschool organization for more information.
Prep for the SAT/ACT
Don't let people make you think your student can't do well without expensive prep courses. They can absolutely prep and do really well without spending a penny. Khan Academy offers free SAT prep.
1600.io has lots of excellent free test prep (my son says their math is excellent). He says the best prep teaches you how to recognize the type of question and how to answer that without actually knowing how to do the problem.
Use prep books from the library. Math Planet offers free SAT and ACT prep too. While many colleges are now test-optional, scholarships often still require standardized scores.
Join interest-based clubs
Join clubs of adult enthusiasts—astronomy, boat building, blacksmithing, cosplay, the Society for Creative Anachronism (SCA), historical re-enacting, and more.
You get a huge bang for your buck—your student gets to learn from enthusiasts (and you can turn that into high school credits), they get mentored by an adult/s who isn't a parent, they build a resume, and they work with people who can write needed letters of reference/recommendation.
Join organizations & take leadership positions
Examples are:
Volunteer at a museum
My son volunteered at Nauticus, our local maritime discovery museum. He had to become an expert on sharks, horseshoe crabs, knot tying and maritime signal flags, among other things. They provided the base training, and then he went off and did tons of research. Then every Sunday, he worked as a docent and taught those topics.
Here you have multiple benefits:
Your teen can earn a high school credit.
Their volunteer hours can go toward the Presidential Service Award and/or The Congressional Award (I am an advisor for The Congressional Award if your students wants to work toward that achievement).
Volunteer hours can go on the student's resume.
The person your student works for can provide a letter of recommendation.
You might get resources to create further high school credits—all for free, depending on the museum. Make friends with the curators, and see if they will teach your teen.
Look for summer research/internships/jobs
Summer research and internships are tricky to find and can take lots of research by parents. I helped my kids write resumes for the companies we identified as potentially offering internships and jobs. My network of friends and business associates was often able to help by priming the contact person at a business to expect a cold call from my kids.
Do not be shy to make requests of people on behalf of your child. Get friends of friends to help you out—these experiences build resumes, could be turned into credits, and can be sources of letters of recommendation.
When I crowd sourced on social media, homeschool group member Chas Felton said it can be beneficial to allow "your student to have a part-time job. This helps with teaching them how to manage their money, how to be responsible, manage their time, handle conflict, and allows students to converse with others from various backgrounds. Many of the scholarship organizations we work with appreciate seeing a student who has a desire to contribute financially. This was a bonus for us."
Jeanne Faulconer suggested that when a teen demonstrates entrepreneurship by starting a business, their experience contributes to their resume.
Homeschool group member Kelly Florence added, "If they do have any interest in a specialty field which could be viable as a small business, allow them to register for their own business LLC. . . . My son who is interested in environmental sciences owned his own farm-to-table produce business which definitely helped to offset his average SAT scores." [Ed. note: Be sure to consult with a CPA and attorney before forming any sort of business entity, since there are tax and legal implications.]
Do a gap year
Jeanne added that a productive/innovative/creative/adventurous gap year and a portfolio of original work or research (depending on your intended major) will add to your teen's application.
Build a portfolio or resume
If it makes sense for the desired program the student will be entering, a portfolio can be an excellent way to show off skills and accomplishments. Whether a digital portfolio for dance, a visual portfolio for art, or a portfolio covering a major project, consider whether some kind of portfolio would be useful to showcase a student's work.
Submitting a resume can show a student's strengths outside of the classroom. Janny Alvarado, an admissions counselor at Roanoke College in Virginia, said that Roanoke College students "are highly engaged outside the classroom," and the admissions office likes to see that incoming students have a similar penchant for "community service, extracurriculars and taking on leadership roles." These activities can be highlighted through a well-crafted resume.
If a college does not accept resumes as part of an application, an essay might work well instead. Many colleges, Roanoke College among them, allow application essays to be written on the student's choice of subjects. Ms. Alvarado points out that this allows students to highlight their uniqueness and differentiate themselves from other candidates.
Unless specifically against application instructions, prospective college students can add elements that don't fit elsewhere on a college's application platform (such as a resume and course descriptions) to the end of their transcript document, which will be saved as a PDF file. That way, all the documents are uploaded as a single file.
Research
Cat Jackson added, "Research! Research is a great addition to any college application. It has always been an impressive component to my kids' applications as well as my clients'. Often, you can approach a local college professor with your interests. In many cases, they will take on a high school student if your student presents themselves as mature and academically curious."
Jeanne Faulconer also suggested using thoroughly documented citizen science and independent science projects to demonstrate research abilities.
Pay attention to program requirements
Jeanne pointed out that some colleges and universities have general college admission requirements and more stringent or different requirements for particular majors. A student can end up being admitted to the university but not the "school" or "college" within the university that hosts the intended major.
This could be an engineering school (within a university) which might want more math for its students or an art school which wants a portfolio or a music/performing arts school which requires auditions. It is important to plan your high school credits based on the requirements of the desired "school" or "college" within the university.
Many of the best ways to learn and to showcase learning are not found in expensive outside classes. Get creative and help your teen stand out from the crowd.
We would love to hear how teens are accomplishing this (with their permission of course!), so please let us know in the comments what has worked for your homeschooled high school students.