When my oldest child neared the end of homeschooling middle school, I had mixed feelings. We knew we'd probably keep homeschooling for high school (based on conversations we had with him) but I also knew that homeschooling him for high school might not look exactly like what I was picturing in my head.
Jump to:
Know Your Non-Traditional High School Goals
Over the last two years, I've shared in several blog posts about the non-traditional high school path we've taken with him. There's been a delicate balance of checking the boxes and partnering with my son to take steps (sometimes leaps and bounds) towards his goals.
Our ultimate goal with homeschooling our children is for them to have a personalized education, lean on their strengths, and set them up for success in this ever-changing world.
One thing that worried me was creating a transcript that showcased his specialized education but would also be appropriate if he decided to attend a post-secondary educational institution.
Let's dive into a few ways you can turn your teen's non-traditional homeschooling or unschooling resources and experiences into credits for an interest-led or unschool transcript.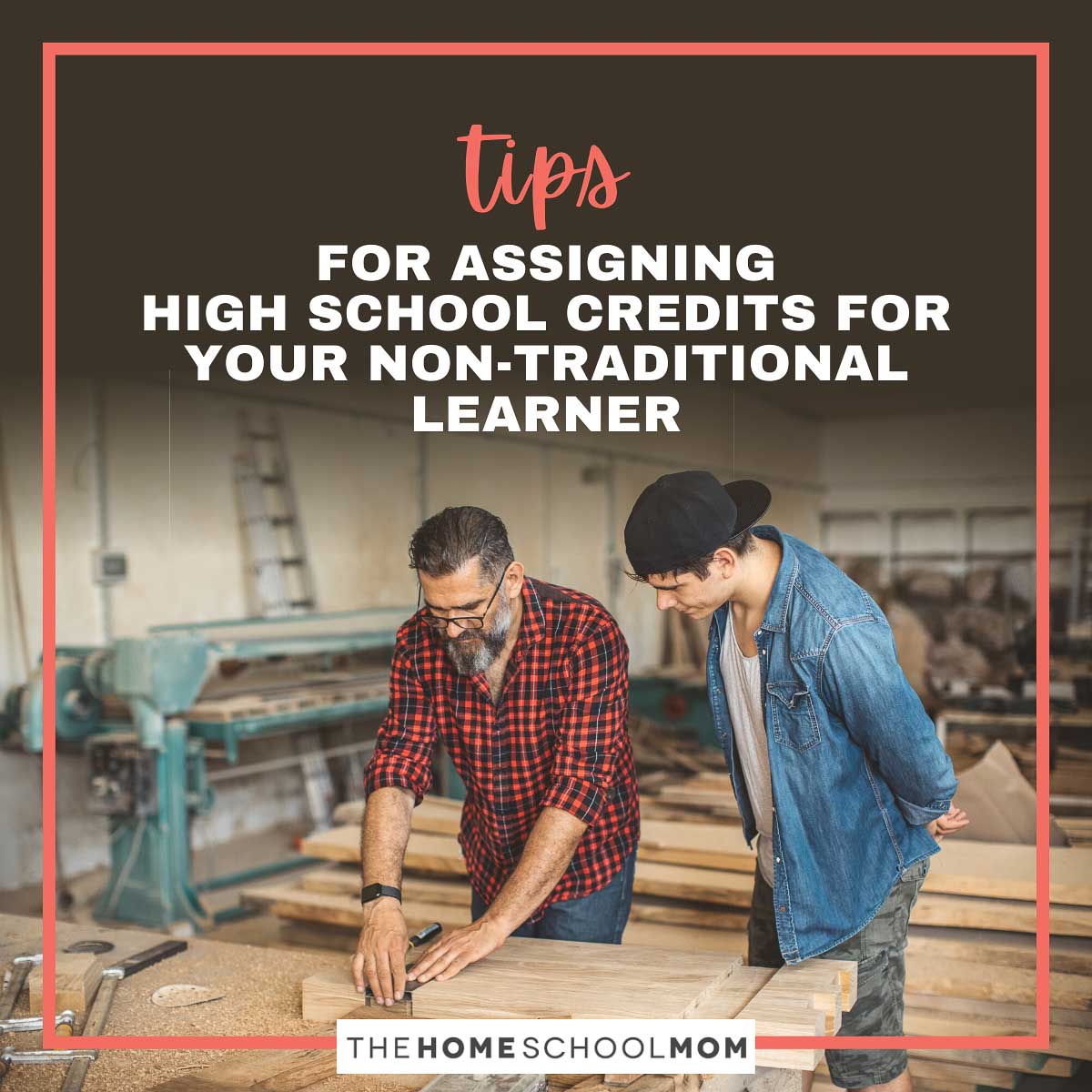 Make a Plan + Start Documenting
By high school, you will most likely know if your teen is on a non-traditional path with his courses, learning, experiences, etc. If your teen even thinks they will want to apply to and/or attend a traditional four-year college or university, check out what is required by a handful of potential colleges your teen might be interested in.
This will give you a great place to start. For example, if you know that most colleges have certain math, science, and English requirements, then you can figure out how to weave your non-traditional resources into a traditional transcript (more on this below).  TheHomeSchoolMom also has a detailed guide for course planning for college admissions chock full of ideas, resources, and a homeschool transcript resource with a free transcript spreadsheet template.
Another idea is to research non-traditional colleges/universities. These might be smaller schools with vastly different transcript requirements. I recently had a friend tell me about a visit to a local art school and she was pleased to find out that the school was looking for a portfolio and raw talent over basic high school classes.
Don't forget to connect with your local community colleges. Often, high school students can dual-enroll in their local community colleges and begin completing general education classes towards an associate degree. These courses are strong additions to any transcript. Contact your local community college for their policies and programs.
Once you have a general plan, it's time to start documenting. Each of my kids has a section in my homeschool planning notebook so I can write down class ideas, resources, books, and more. I also print out blank transcripts and fill them in for each kid so I can keep track of what everyone is doing. The important thing is to have some sort of documentation in place that you can refer back to as your teen progresses through high school.
Name the Courses
So, what should you call the course on the transcript? Well, it depends.
If your student is applying to a more traditional college that requires specific courses to apply, then you'll want to be sure material is covered for the required courses and label them in a way that the college will recognize: "English Literature" or "Earth Science" or "Physical Science".
If you have some leeway on your transcript (again, depending on the college), you could get more creative.
If you have a kid whose learning experience includes a focus on poetry, you could list that as English: Poetry Writing and Analysis. If you have a budding artist who has studied a variety of art and artists within the context of history, that is "Art History". If your teen has done a deep dive into gardening, "Botany" and "Botany Lab" would be appropriate under Science.
An example... If your teen has learned all about podcasting and implemented their own podcast over a two year period, simple names like "Podcasting Basics" and "Intermediate Podcasting" are good descriptors of what is being covered the first year. You could also use course numbers like 101/102/201, etc. The second year could be drilled down to more specifics, like "Advanced Podcasting: Editing, Publication, and Monetization."
Look for naming inspiration online in courses about the topic—what do courses about the topic in MasterClass, LinkedInLearning, and The Great Courses call their courses and sections? If your teen has covered the topics referenced, use the name as inspiration for coming up with your own course name.
Don't forget to include internships and mentorships where appropriate as well; they can simply be called "<Topic> Internship".
Contact the admissions counselor at the particular college or university and share your teen's experience with them.  They might have helpful guidance when it comes to coming up with proper course names for this type of transcript.
Group the Transcript by Subject, Not by Date
I recommend grouping your transcript by subjects and not by dates. Most traditional transcripts will show that a student completed certain classes or subjects within a fixed period of time. If you have a non-traditional kid, you'll need to get creative. Homeschooled teens might spend the bulk of their time volunteering, working, interning, doing project-based learning, and traveling.
If you can, keep track of hours of time spent on what I call the learning and the doing. What do I mean? If your teen is more hands-on, this might be mean tracking the hours building a computer (computer science credit) or writing a play (language arts credit). I've pulled together some other ideas based on common high school subjects.
Please note: this is not an exhaustive list. The goal of this list is to spark ideas as you and your teen brainstorm to pull together your teen's unique transcript.
History & Social Studies:
Listening to podcasts
Watching documentaries
Taking field trips
Engaging in project-based learning
Reading historical books (fiction and non-fiction)
Traveling (planning trips, geography, cultures, etc.)
Language Arts:
Writing and editing papers for other classes (they're still writing and it still "counts")
Keeping a journal for projects, travel, jobs, etc.
Reading (keep a book list)
Playing language games like Scrabble or Scattergories
Blogging
Write and produce a podcast or YouTube channel
Science:
Home science experiments
Raising a pet/raising animals
Farming and/or gardening
Participating 4H Club
Stargazing
STEM projects
Physical Education:
Playing team sports
Family hikes/walks/runs
YouTube exercise videos (solo or with family/friends)
Lawn work and landscaping
Swimming
Skiing or snowboarding
Fine Arts:
Music lessons and/or playing in a band
Keeping an art journal
Taking art lessons
Visiting art museums
Going to the theater or symphony
Acting in local theater productions
Public Speaking:
If you teen volunteers or works in an area that requires interaction with the general public, this can be counted as public speaking. Keep track of the hours (if needed) and consider this good life experience as well as an elective.
Be Flexible + Work Together
My oldest son recently completed an emergency medical technician (EMT) cadet training program. He has spent hundreds of hours studying medical vocabulary (language arts, science), physiology and anatomy (science), pharmaceuticals (science), trauma response (science, life skills, growth mindset), natural disaster response (science, geography, life skills), and more.
In addition, he has worked community events (public speaking), and he does 12-hour EMT shifts where he's learning real-world skills such as business paperwork, empathy, communications, geography, and more. Once the training finished, he stepped up to start teaching the next round of cadets and you can bet we will work this into his transcript.
As a homeschool parent, here are some things you can do:
Keep a journal that outlines what your teen is doing on a week-to-week basis. You might be surprised how much they are learning outside of any traditional bookwork.
Document with photos, write-ups, projects, etc. so you'll have everything at your fingertips when it comes time to create the transcript.
Make a date to review your notebook and your teen's work every few months so you can get a feel for how much time they're spending on a particular subject or interest area.
As always, keeping an open dialogue with your teen is key. Bring them into the transcript writing process and give them ownership. You can be there to guide them. If you need outside assistance, consider working with a homeschool consultant (especially one familiar with out-of-the-box learning and students). Homeschooling high school and preparing your teens for their future is a lot of work, but you don't have to do it alone.
One final thought - don't get so caught up in making the perfect transcript. With the field of higher education rapidly changing and more and more families homeschooling for high school, a student's portfolio, interview, and willingness to learn and grow can be just as important as a transcript.