Ask Jeanne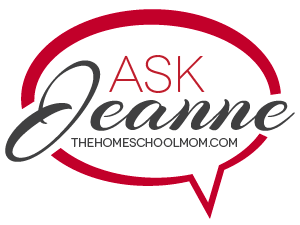 Jeanne Potts Faulconer answers your homeschool questions in this ongoing series from TheHomeSchoolMom. A popular speaker at homeschooling conferences, business groups, and parents' groups, Jeanne has homeschooled her three sons in North Carolina, Mississippi, and Virginia.
She is a former college faculty member, former editor and book reviewer for Home Education Magazine, a long-time editor for VaHomeschoolers Voice, and a recent news correspondent for WCVE, an NPR-member station.Jeanne is a student of how learning works – at home, in the music room, in small groups, in the college classroom, on the soccer field, and in the car to and from practice.
Holding her Master of Arts degree in Communication, Jeanne is a former evaluator for Virginia homeschoolers for evidence of progress. To read more of Jeanne's posts, visit her contributor page.