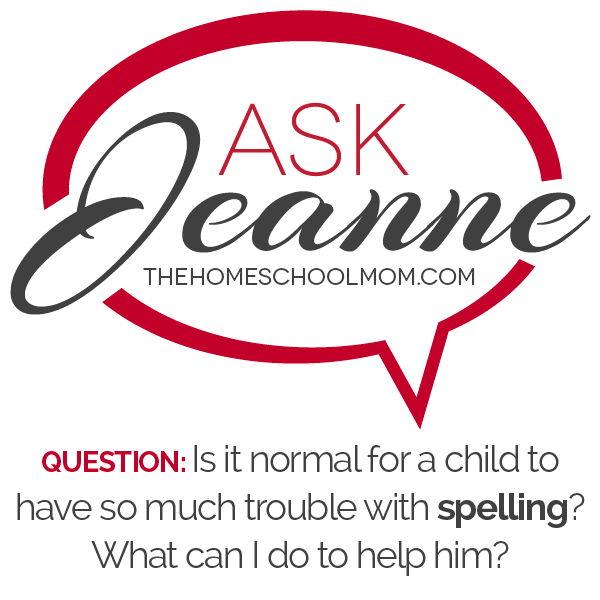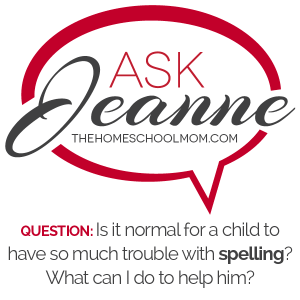 After we'd met for a homeschool evaluation, a mom of a ten year old wrote to me with concerns about her son's spelling.
We have are having an issue (problem?) with spelling. Up until last fall we had been using All About Spelling with good success (I thought) and had made it through five levels. Since then, it's kind of fallen to the wayside, and every few weeks I have my son write a story, mark the words he has misspelled (which he always identifies), and then work on spelling them correctly.
When he tries to write things out, he has a really hard time spelling and has to really think things through. I know how to help him and what language to use (based on what he learned in All About Spelling, which for him had very consistent rules).
 So, for instance, if he needs to spell "tea" I will remind him what "e" sound vowel team he needs to use and these days, he can usually remember. I honestly think sometimes, it's a confidence issue! And he does seem to be getting better, based on where he was a year ago, which is what counts, I guess.
Hmmm...maybe I'm the one having a confidence issue!? I guess I'm asking...is this normal? Should I be doing more (although I know I should be doing more frequently and maybe more consistently) or is there a better curriculum I should/ could be using? Although the older he gets and the further we get into homeschooling, the less formal curricula I find myself using.
After I emailed her a response, the mom encouraged me to share it with others who might have similar concerns about spelling. This is what I wrote to her, with some editing:
My thoughts on spelling: Some kids are natural spellers. Some kids are not natural spellers. Sometimes a specific spelling curriculum or program will help kids in either of these groups to a point. And sometimes "tincture of time" does about as much as a spelling program -- with the understanding that it helps "natural spellers" much, much more than kids who aren't natural spellers, generally because they just need the experience of seeing new words or letter combinations and they'll really pick up on it.
That said, there are some kids who are able to focus on specific rules and apply them, so it can be helpful for them to have direct instruction. Of course -- the trick there is the inconsistency of English -- we have "tea" but "bee" and "Leigh," so even the kids who do absorb direct instruction will have challenges knowing when to apply which rule. (Think of how toddlers over-apply syntax rules: "I go'd to the bathroom" instead of "I went").
And, finally, the "tincture of time" thing is because some aspects of spelling seem to be either developmental or related to ongoing repetition over years -- which is not quite the same things as developmental but manifests in a similar way. So, I'd say his challenge with spelling is not at all atypical for many ten year olds.
Spelling Help
Here are a few ideas to help him learn more about spelling:
Labeling: Your son really likes to draw and label things. I'd keep encouraging this as a cross-curricular and integrative way for him to pay attention to single words instead of words in stories, which come at you faster and thicker and can be hard for a young learner to master while his brain is story telling. You might see if encouraging additional labeling works to your advantage (if it doesn't spoil the experience for him). For example, he labels all the trucks in his pictures with names, but maybe he can also give some other category for each drawing -- how many cylinders? What kind of transmissions? Body colors? Etc. This gives him additional "wordular" (a word my 16 year old made up for a poem recently) experience in small doses, which is just an opportunity for him to see how the letters go together more and more.
However, I would be careful not to do this in any way to mess with the pleasure of his experience with his charts and drawing that are of the most importance to him.
Maps (real or imagined), scrapbooks, greeting cards, and signs: These are all similar "bite size" opportunities for spelling practice. One of the moms I do evaluations for promises her child learned to spell by making their signs for the items they sold at the farmers market, and her challenge was to keep coming up with new "sign orders" so the child would keep having new spelling tasks!
Latin: Another thing to consider that worked with an evaluation client from last year to this was Latin. This young man, a little older than your son, is interested in animals. He had quite a bit of trouble with spelling but his mom got him interested in including Latin genus species designations on his drawings. Then she began introducing other Latin-related zoology vocabulary that is used in science and medicine. She said the improvement in his spelling was notable.
Now, I laughed and joked, well, it might have been the "tincture of time" working. She agreed but said it gave her something to do while she was worrying about it through the year -- which is kind of how all this works, right?
Seriously, though, I think she and I both feel that the additional exposure to Latin through labeling and simple copy work of those words did help her son. You might be able to expand on what your son knows because of his interest in birds by adding other Latin vocabulary.
One of my sons was very interested in Latin and Greek roots, and I got several of the popular Latin and Greek workbooks for him, and that might be a way to go. You might be able to find something particularly related to birds or another interest of his.
Now, this does not help as much with the Anglo Saxon-based words in English, but I think just keep on with the reading and writing. I will say that my most word-oriented kid became interested in etymologies at about 13, and loved listening to and looking at Old English and Middle English and thinking about the history of language. This helped him some with the Anglo Saxon -- knowing the history and relationships of the words.
We listened to a couple of extensive audiobooks (like from Great Courses and similar companies) about history of language and specifically History of the English Language. These appealed to his inner linguistic geekiness, and while it was not immediately measurable in terms of spelling lists, I have no doubt that this has led to him to be an excellent speller.
Or, maybe it was tincture of time.
Or, maybe he is a natural speller.
Technology and social media: This sounds counter intuitive, but I have found that with many of my evaluation clients and homeschooling friends, technology helped. When their kids became interested in participating in online forums and/or virtually "talking" to their friends (especially of the opposite sex), their spelling took dramatic turns for the better. They did not want to look like "noobs" when they were on some forum about one of their interests, and so they were highly motivated to take extra care with their spelling, even when "spell check" was not available.
I'd say that spell check, often maligned in some educational circles, actually helped them learn to spell. It is pretty instant feedback -- it's got a line under it, and so it's not right. Click on it, and the right choice is shown. The kids don't really want to have to take that extra clickity click, so they begin focusing on the corrections, so they type the words right in the first place.
Higher stakes -- contests and forms: The last idea is to have him do some stuff that is higher stakes, if it doesn't wig him out. So maybe he fills out forms to order stuff or enter a contest. Maybe he designs a bookmark for a library contest, and it has to have words on it. Maybe he enters a student poem contest, so the words matter. Not too much of this, but a bit now and then, just to keep in front of him that oh, yeah, people pay attention to this spelling thing.
In summary, find stuff to do so you won't worry about it while tincture of time works, and feed his passions and proclivities with additional info that is word-oriented. Don't deny him instruction that you think would be helpful to him (marking his papers or giving his helpful tools and practice), but don't feel that it is going to work any short- or mid-term miracles.