My 7-yr old spends most of her homeschool time in tantrums wanting to short-cut her work. We have tried everything from punishment to taking away free-time activities. I am at my wit's end and I don't know what to do to get her to do her school work without a meltdown every few minutes. Do you have any advice that may help? ~ Michigan Mom
Hi Michigan Mom,
Sounds like you feel you've tried everything to get your seven-year-old daughter to do school work, and you're frustrated that you have not been able to make her do her work without her having multiple tantrums. You may be seeing her as a difficult or defiant child because of the meltdowns.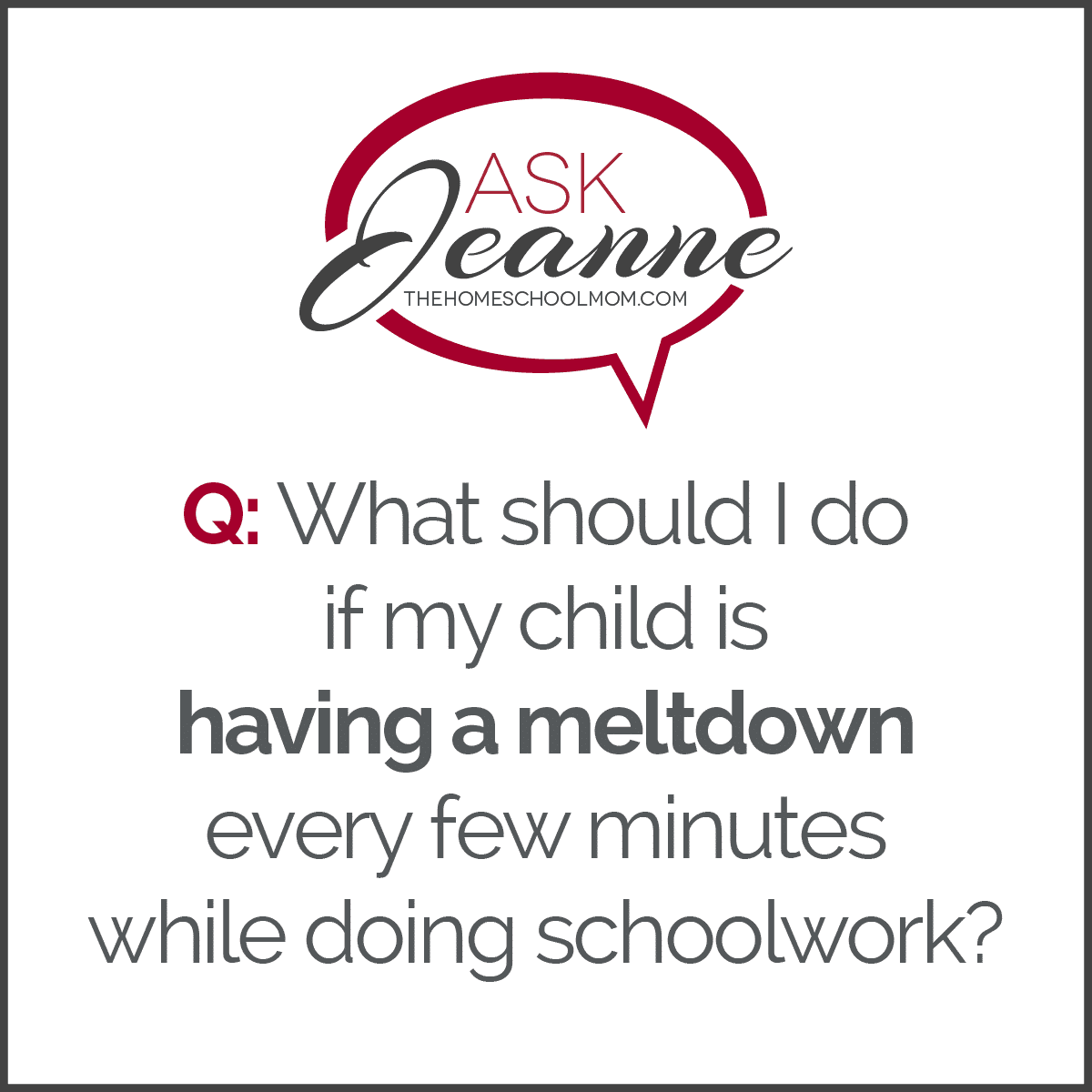 My advice for homeschooling a difficult or defiant child
Here's the short version:
Consider what you really want her to learn about learning at age seven
Check your parenting defaults
Learn more about child development
Consider your child's actions to be communication and listen
Reframe your picture of  your child
Accept what you cannot change; change what you can
Here's the thing:
You cannot make learning happen.
You're not in control of her.
Her responses are her own.
If she learned to walk at twelve months old, you couldn't make her walk at ten months old.
If she learned to say "momma" at ten months old, you couldn't make her say "momma" at five months old.
If she was ready to sing the ABC song at three years old, you couldn't make her sing the song at one year old.
If she was ready to toilet train at two years old, you couldn't make her toilet train at eleven months.
It's all about what she is ready to do and what she is willing to do.
It's not about you or your desire for her to do schoolwork.
It's not about what is commonly taught in schools.
It's not about the age other children do school work or the age you did it when you were little.
It's not about what other seven-year-olds in your homeschool group do.
It's not about whether you can punish her enough to make her do schoolwork.
It's not about how important you believe it is for her to do schoolwork at age seven.
It's about what she is ready to do and what she is willing to do.
Let's break it down.
Learn to love learning
Did you know that many homeschoolers do no formal lessons at age seven? Some parents purposely choose to delay formal academic lessons—or "work"—for all of their children at that age; other parents simply wait until each individual child shows interest and developmental ability, whether that be at age five or age nine.
Parents may offer the following learning experiences to children of any age:
reading aloud
making art
experiences to develop number sense
science experiments
field trips
cooking together
rich play times
PBS documentaries
nature walks
Then they can follow a child's lead as to when or whether a child is ready for more formal "work."
There is a lot of evidence that this relaxed approach to learning at the beginning is what helps a child develop a positive relationship to learning in general.
What we really want children to learn at age seven is to love learning. What we really don't want is children to associate school work with punishment and loss of free-time activities.
What we really don't want is to leave them with the perception that schoolwork is so terrible, that people only do it if they are bribed or punished.
Check your parenting defaults
Many times, parents who use punishment to try to "make" kids do work are dependent on an authoritarian or behavior modification model of parenting.
In my opinion, the authoritative model of parenting is more effective and has longer-term results than the authoritarian parenting model based on punishments and rewards (behavior modification).
Yes, I wish the words "authoritative" and "authoritarian" were more distinct, too. They sound too much alike. In any case, you can read more about how parents who are new to homeschooling may benefit from considering how they parent and how that may affect their kids' responses to homeschooling. You may be fortunate in that your child is showing you early that this type of parenting has its limits.
Some children are more compliant and like to please others.
Some children find their parents' preferred approach to schoolwork to be engaging at an early age.
Some children are more responsive to the behavior modification approach of rewards and punishments, which are common in our schools as well as in many families.
In other words, the authoritarian model of parenting works often enough that we can begin to believe it is the ideal.
When children are young, it may even be difficult to see the downside when this approach is overused, though the downside generally emerges in the tween and teen years, sometimes along with rocky family relationships.
But some children are like your daughter, and no amount of punishment can or will move her into compliance, even at age seven. That may not be due to her willfulness or intent to disobey, but due to her own sense of her developmental readiness. Which brings us to your need to --
Learn more about child development
Children develop along some common timelines, but there are wide ranges of what is considered normal. It's not uncommon for seven-year-olds to be unable to cooperate with certain types of formal lessons or "work." Many homeschooling parents of children this age use brief five- to eight-minute lessons multiple times a day, interspersed with play, joy, and companionable learning activities such as reading aloud or cooking together. Your child may not be ready for more than this.
You can keep learning informal so none of it is assigned "work" that a child must be "made" to do. More children are ready for that. Learn more about how individual children develop and learn.
Reframe your child's "defiance" with these thoughts:
If she could do better, she would do better.
She's not giving me a hard time, she's having a hard time.
In fact, if you have begun thinking of her as a difficult or defiant child, consider how that label is shaping your interactions with her. Try to see her without the label, remembering the two bullet points above. This will help you see her fully as the little girl she is, one who needs your help rather than punishment.
Your homeschooled child's response is telling you something
Your child's responses are telling you that she is not ready for this. She's communicating to you that even punishment and loss of privileges aren't enough to force her into it.
What will you do with this information?
Change what you can
You cannot change your daughter's responses. You cannot change her readiness. You can wait for it. You can encourage it. You can change how you set her up for success. You can:
Have shorter lessons
Have learning embedded in daily life
Stop thinking of homeschooling as something she has to do, and think instead of how you can learn together
Stop associating punishments with learning
Change your homeschool curriculum or homeschool approach
Emphasize developing a love of learning
Use Plan B —Ross Greene's approach to address causes rather than outward behaviors
Finally, a child who has had negative experiences with school or homeschooling may take some time to recover natural curiosity and interest in school work. Although your child is young and may not have even been to school, consider using my tips for deschooling rather than greater application of typical schoolwork or more emphatic punishments.
I think you'd benefit from reading our five-part series on parental deschooling. Even if your child has never attended school, you—like many homeschool parents—may have attended school, and we live in a society where assumptions about school and required school work can reduce the effectiveness of home education.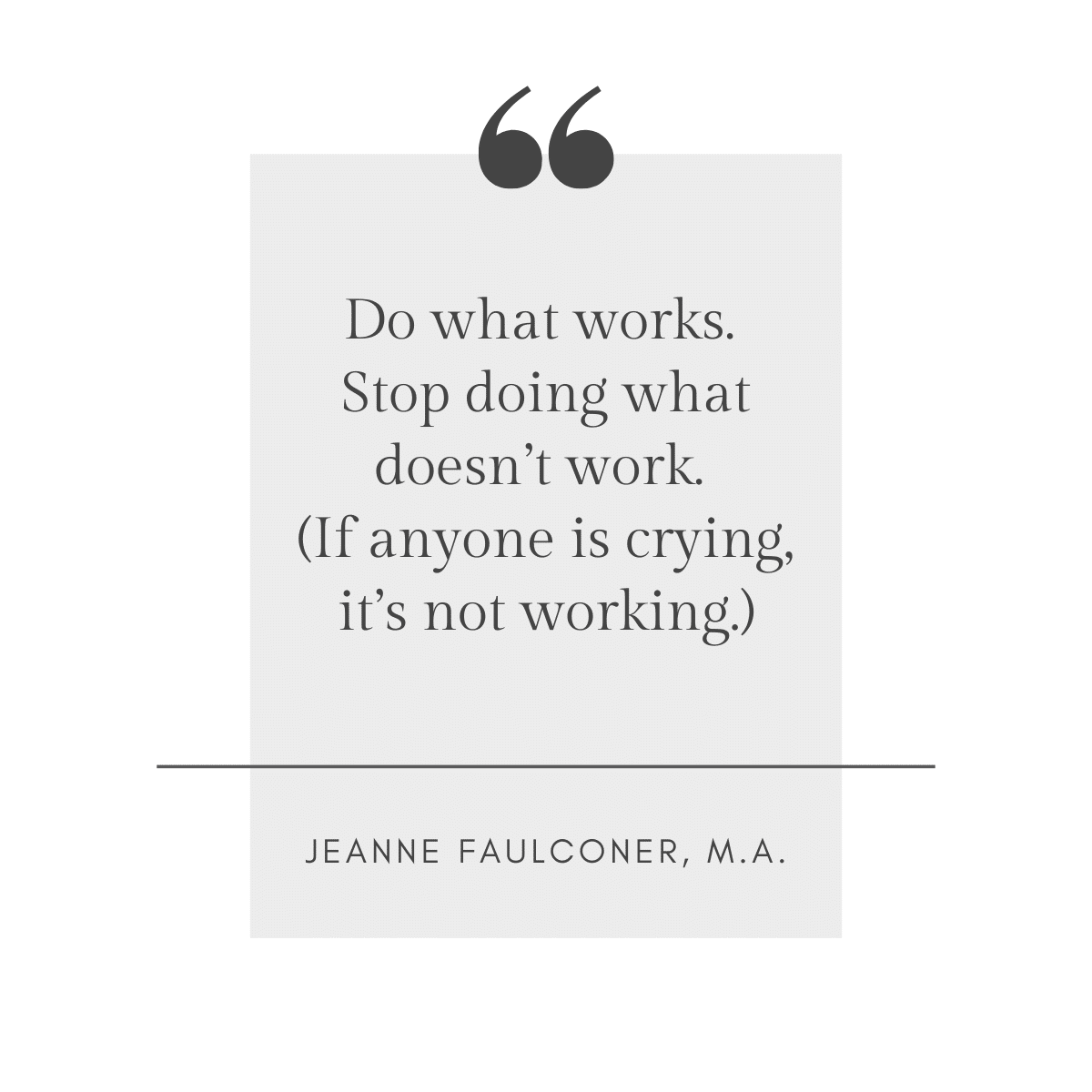 In closing, in case you haven't heard them, I have two rules of homeschooling:
Do what works.
Stop doing what doesn't work

Corollary: if anyone is crying, it's not working.
You can't change the child, and you can't make her do the work. Change the homeschooling.
Good luck! I'll be thinking of you as you make one of the most valuable paradigm shifts a homeschooling parent can make!
Jeanne