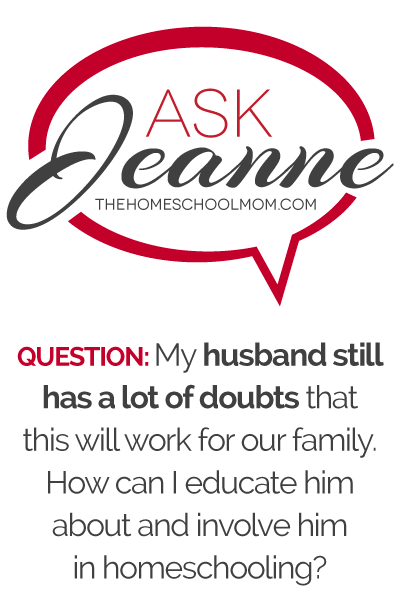 We will be homeschooling all three of our daughters this fall (ages 9, 12 and 17). I am excited and nervous about this new adventure, but my husband still has a lot of doubts that this will work for our family. He recently said "I'll never see you" and thinks homeschooling will take over our life. Are there any resources out there to educate him on the benefits, and to somehow involve him more in this change? Thank you.
Your concerns about your husband's doubts and feelings about homeschooling show you're on the right track. While more and more dads are taking on the role of "primary homeschooling parent," and many other couples are tag teaming the homeschool duties, the dominant  homeschooling model is still one where the mom is the instigator, organizer, and implementer of most homeschooling activities.
Depending on how Mom handles this, Dad can certainly feel left out. And, frankly, if Dad is the primary homeschooling parent, the reverse can also be true. However, homeschooling allows for so much more family time than other educational models that, handled well, homeschooling can be a boon to fathers' relationships with their kids and their wives.
First, I think you're onto something. You have heard his concerns and want to take them seriously. I read in your letter that you're getting both his emotional worry — that he'll not see you and lose connection with the kids — and his practical worry — his doubts about the benefits of homeschooling. Try to hang on to this, because he's done a great job of expressing himself, and you're seeing his worries clearly. This is Homeschool Win #1 for your family, because family communication wins are homeschool wins!
You might even write down those two concerns of his and put them on your desk or bulletin board or inside a kitchen cabinet door, so you'll have a reminder of his perspective.
Here in part 1 of my response, I'll address his concern about losing his connection with family.
Dad's Concern about Spending Time with his Homeschooling Family
This, my friend, is something to treasure. He wants to be with you and the kids, and he's afraid that all the homeschool hoopla you've been reading and talking about is so all-encompassing that it will sweep you away. A few ideas:
Put regular family time on the calendar first. What are the daily, weekly, monthly, and seasonal "special times" you can set aside for you and your girls to spend with their father?
Daily: When my husband worked second shift many years ago, that meant he could not eat dinner with us in the evenings, so we made "brunch" our family meal. If your husband works regular hours, long hours, or out-of-town, what are the daily touchstones you can establish with him? Would he be willing to do "the family read-aloud" each evening with candles lit? Would he rather walk the dog with a different daughter each night? Will he be able to do a Skype check-in or phone call at 9 am a couple of  regular mornings a week? Can you and he plan a few minutes after dinner with your daughters to look at any of the artwork or the projects the girls created during the day?
Weekly: Set aside a special family night and prioritize it. It can be something you do a lot of times anyway, but don't let it get covered up by "homeschool" activities except on the rarest of occasions.  Wednesday, Friday, or Sunday night, you make a big deal of watching a movie with popcorn, playing board games, going out for (or making) smoothies or milk shakes, playing music together, or taking a special walk all together. It's amazing how this time provides for re-connection. You think you're playing the games or taking the walk, but you're also getting a chance to talk and laugh and listen.
Monthly: Pick an outing or an activity that's a bit more of a big deal at least once a month, and do it together. Depending on your budget, interests, and location, you could go camping, hiking, visiting relatives, to a pro or semi-pro ballgame, or on field trips that can include dad — museums, historical sites, or natural areas. You and your husband can see if a theme emerges — something that you all enjoy doing together or that he especially enjoys sharing with you and his daughters. I know a family that does a monthly "sky watch" where they get out the telescope and look at the night sky, learn the constellations, and hear about their dad's love for astronomy. Since they live in the city, they drive to different "dark places," which makes it more of an experience, and they go no matter how cold or hot it gets, often taking sleeping bags and looking up from the bed of their pickup truck. I know another family that goes to a different historical site (with a Civil War emphasis here in Virginia) each month. A theater family I know has visited community theater in many different communities, attending plays and marking the theaters on their state map. A farming family I knew years ago did farm visits with other farm families who were too distant to spend much time together otherwise.
Seasonally: Of course your husband will continue to be involved in your existing holiday and seasonal traditions. However, you'll probably find your homeschool community (such as a group, co-op, or class) will have some new traditions he can be included in. Look for a Not-Back-To-School picnic or party in the fall, and for a homeschool conference or convention (in our state, that's in the spring, but there are others at other times). Attending each year will give him a sense of the rhythm of homeschooling families, and that your family is part of a larger community.
Put regular couple time on the calendar. Really, this is no different than it probably was before you began homeschooling, when you had three kids in school. You will want to continue to prioritize your efforts to emphasize your relationship with your partner even though your kids take a lot of time.
It is generally easier to homeschool with two parents in a family, so if you're tempted to take shortcuts on time with your husband "because of homeschooling," you should be tempted not to take shortcuts on time with your husband — "because of homeschooling." Does that make sense? Because homeschooling is ultimately at less risk for most families if there is no divorce and no distancing and no always-choosing-the-kids-over-the-spouse.
Besides, your daughters need to see the two of you work this out. They need to see you take care of them and meet their needs, but also to see you take care of one another and love each other. This will create a wonderful backdrop for homeschooling and make it more sustainable into the future.
Continue reading on the next page…