I am a homeschooling mom from Minnesota.  My brother-in-law told me that he knows of homeschool families in North Dakota who get paid $1500.00 a month to homeschool. Is this true?
Get paid for homeschooling? Sounds good, right?
In some states, parents do receive money when their kids learn at home.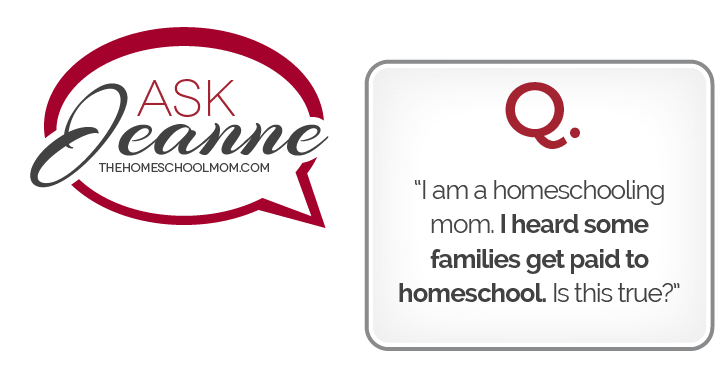 Their children might be officially categorized as students at a charter school, or they may live in a state that has a tax benefit when children learn at home. Parents in those states may be able to use funds to purchase curriculum, activities, or supplies, up to a specific allowable amount. Other families may receive funding to pay for specific online curriculum students use at home with parents' support (virtual public school), or they might receive that curriculum at no cost because it is purchased by the public schools and then distributed to families for use at home.
Money for Homeschoolers in North Dakota?
North Dakota specifically? I'm not sure, but so far I haven't found any online evidence to support your brother-in-law's claim. As we say in our Ask Jeanne guidelines, TheHomeSchoolMom doesn't give state-specific advice because homeschool laws differ from state-to-state and can change with new legislation passed by each state's legislature.
What are the Pros and Cons of Money for Homeschooling?
Those who favor funds for students learning at home believe
more people can afford for their children to learn at home if money for curriculum and resources is provided
school divisions don't have to provide services for students who are learning at home, meaning less crowding and lower costs for schools
public schools should have competition, so they will innovate and provide high quality education
learning at home should not just be for more affluent people
parents should have choices in how their children are educated, and there is no real choice without funding
public schools may fail to meet the needs of some students, so alternatives are needed
homeschooling parents pay taxes for education and should not be excluded from funding for education
Those who do not favor funds for students learning at home believe
homeschool freedom and effectiveness could be affected by regulations governing curriculum and resource purchases
public funds could be used by families for educational materials that don't meet state standards
funds for public schools could be diminished
community support for public schools could be jeopardized
policies that support "education choice" mean fewer people will choose public schools
people might confuse independent homeschooling with public school at home and charter schools at home although the education approaches are quite different
many people pay taxes for education and don't directly benefit by having children in school
Opinions Might Surprise You
This issue makes strange political bedfellows.
It surprises some to find many homeschoolers themselves do not want government funding because they feel funding will bring government regulations around how funds are used and educational oversight that interferes with authentic learning. Some homeschoolers actually move away from using government funds to independent homeschooling to create better learning for their families.
People new to the possibility of having their own children learn at home are often intrigued by the possibility of funds or "getting paid to homeschool." They are sometimes met with "be careful what you wish for" by longer term homeschoolers, depending on how state laws are written where they live.
Some non-homeschoolers favor educational choice for political and social reasons, and they want to see education funds distributed to families whose children are learning at home.
Some families with children learning at home are grateful for funds that help them financially afford it.
Some homeschoolers support public education and don't want to see community support diminished for their local public schools.
States have become even more diverse in their offerings since this forum discussion about getting paid to homeschool, but the comments show the various options and parents' opinions on them.
Does My State Provide Money for Homeschooling?
State homeschool organizations and local homeschool groups are the authorities on state-specific homeschooling information. That said, state homeschool organizations may not have information on some of the educational options where parents receive funds since those options may not legally be considered homeschooling. State homeschool groups do not necessarily support parents whose kids are learning at home through a public charter school or a public virtual school because different laws apply.
For info about public charters, public virtual schools, and funding for kids learning at home, go to the website for each state's department of public education.
In other states, there is a longer history of state funds for homeschoolers and the same laws apply. On those state homeschool sites, you'll find more learning-at-home options explained and supported.
And that's why we don't give state-specific advice in Ask Jeanne columns. I homeschooled in three states over twenty years, and I know first-hand that it's better to count on in-state experts. However, at TheHomeSchoolMom, we can help with understanding what the issues are.
Education Hybrids
For more information about different ways of learning at home, read our article on education hybrids, sometimes called homeschool hybrids.