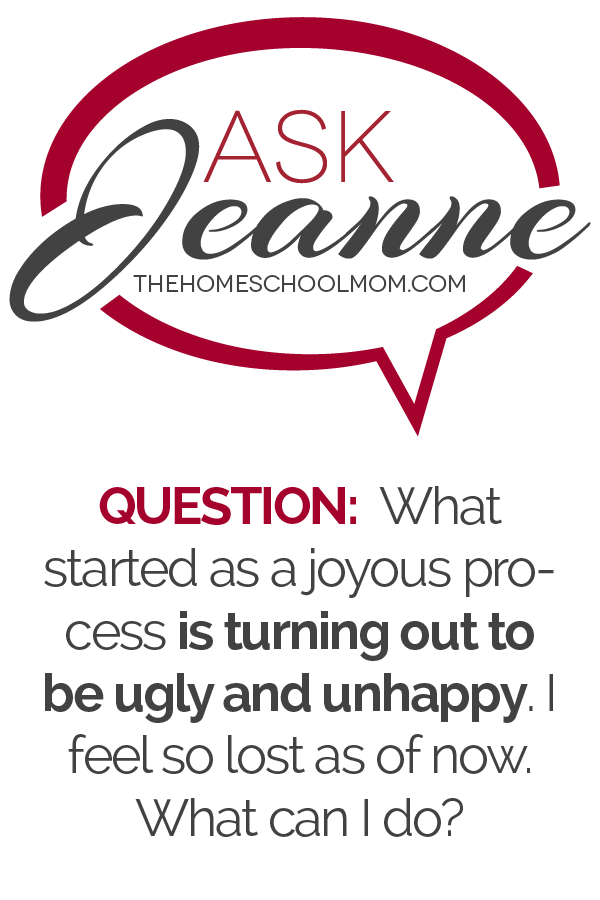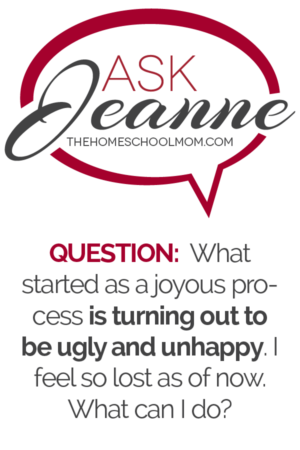 Dear Jeanne,
I am stuck in a terrible situation and need some advice. I quit my job to follow my husband to another country. I put my daughter in a public school as my husband wanted, but then I started homeschooling because of poor school quality. While I feel comfortable teaching my daughter, and she has made some progress, I have ill health, and my daughter is still behind in school due to a vision problem. We have financial problems, so I'm teaching to earn money, and my husband is not supportive of homeschooling. It's all affecting my mental health.
Nothing can be changed now, but I don't know how to bring her to the level according to her age. How do I start her subjects she has fallen behind in? Have I taken too much on my plate? She hates written work. Do I still need to push her to write? She still finds it difficult to focus her eyes, and that makes her slow in her work. 
I feel so lost as of now. What started as a joyous process is turning out to be ugly and unhappy.
~ Unsupported Homeschool Mom
Dear Unsupported Homeschool Mom,
I'm so sorry you are having such a hard time. Your story is difficult because you are facing so much. I can understand why you feel so lost. This would be a huge number of setbacks in any family, whether the children were homeschooling or not.
Because there are so many problems, I wonder if you can pick one problem to focus on to see if you can improve your lot. Sometimes there are actually reasons to quit homeschooling while a family focuses on a better financial situation, addresses marital problems, or seeks more intense help for physical or mental health issues. On the other hand, maybe you can keep homeschooling and make your daughter's education your focus.
My sense is that with "all the things" spinning out of control, it's difficult to get past feeling overwhelmed and start to be methodical about solving anything.
No one can tell you for sure what your best focus is. You say yourself, "Nothing can be changed now." I assume you mean the past is past, and while you can think about how you arrived at this point, you can't change the background that brought you here. This is a hard truth.
There are those who would tell you to work to improve your marriage and accept your husband's input about schooling. There are those who would tell you to leave your husband and start a new life with your daughter. Religion and culture may be strong influences in which choices are acceptable to you. There are those who would tell you to push your daughter in writing, and there are those who would tell you to have her assessed by an expert before pushing, since she may be doing the best she can if she still is affected by her vision problem. What we can tell you is that there are strategies for homeschooling kids who would be considered behind in school.
Is there any person or trusted agency with whom you can share your concerns? A relative, friend, or counselor who could help you think about your situation? Anyone who might assess how your daughter's vision problem is affecting her current ability? Someone who can help you think clearly about her education?
On the one hand, you say your daughter is behind, but on the other hand, you say she has made progress.
It's not uncommon for some kids to lack specific skills, and if they have the opportunity, many kids can catch up. The question is, with the demands on you and lack of resources, can you reliably  provide that opportunity?
I know you are saying something powerful when you say this: "What started as a joyous process is turning out to be ugly and unhappy."
Begin reflecting on things you could do to make life less ugly and unhappy. Think of one thing at a time, considering changes you could make, rather than getting stuck on the big picture of everything at once. One of the benefits of homeschooling is that you can focus on your child's current needs.
Homeschooling can be a way to make the most of a life full of challenges, or homeschooling can be a factor in making the rest of life more challenging. Of course, we'd all love to be happily homeschooling; sometimes, instead, we feel lost. You are not alone. Many homeschool moms have doubts every day, and once we say our truth as you have in your letter to me, we begin to know we have to take new steps toward better homeschooling and/or better lives. I hope writing your letter to me helped you find your truth.
We'll be thinking of you here at TheHomeSchoolMom,
Jeanne