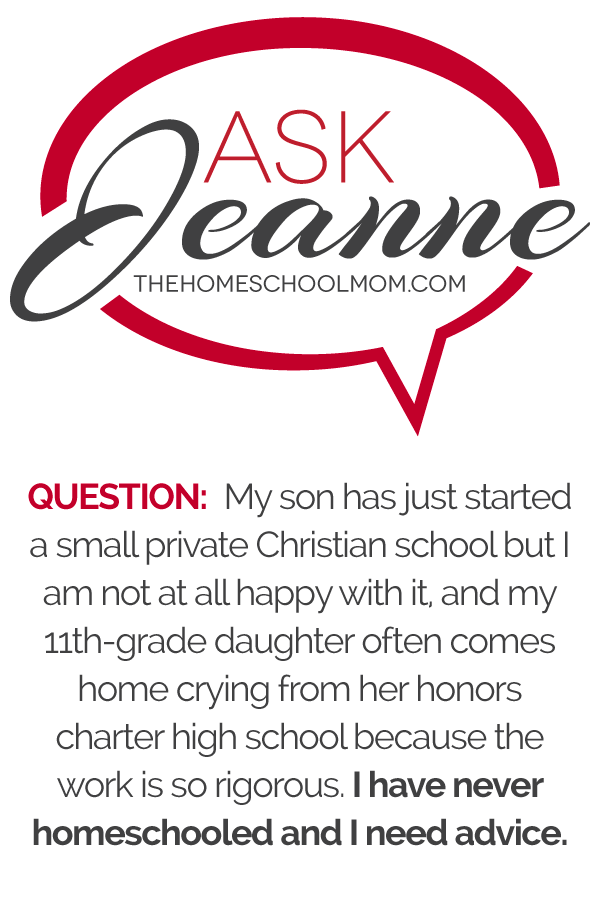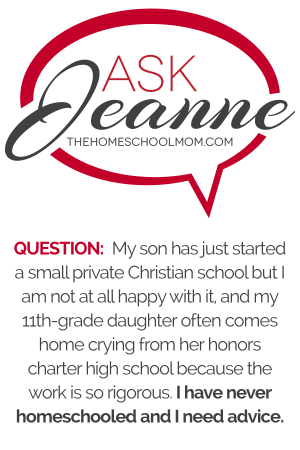 Hi Jeanne,
My son has just started a small private Christian school but I am not at all happy with it. I want to withdraw him but I need to make sure it is the right decision. He is in 7th grade. My husband is worried he will be isolated. He is also not disciplined enough to sit continuously without being distracted. My 11th-grade daughter is in an honors charter high school. The work is rigorous and she often comes home crying. I have never homeschooled and I need advice - should I homeschool? I thought of doing an online homeschool. Please help!  ~ Cheryl

Hi Cheryl,
You are considering homeschooling after your kids have had a rough start to school. You are not alone.
Near the beginning of each academic year, homeschooling advocates, current homeschooling parents, organizations, and websites get many inquiries from parents who are considering homeschooling because their kids' initial days, weeks, or months in school are not meeting expectations.
Sometimes you realize your kid is not going to fit the teacher or curriculum this year. Sometimes there is a problem with bullying or peer pressure. Sometimes it's a child or teen's reaction to the schedule or stress.
You may have vaguely considered homeschooling previously and dismissed it, but something is tipping you over the edge. Maybe it's just the accumulation of years of trying to make school work. Maybe it's a new level of your child's distress, boredom, or lack of academic progress.
Maybe it's a change in your own situation--you now have the opportunity to homeschool, or you see the balance of things differently. "Fighting school" in a situation that is not working for your child no longer seems like less trouble than withdrawing your child and homeschooling.*
Yes. You can homeschool.
Will homeschooling be the right decision? Can you make sure it's the right decision?
I don't know if homeschooling will be the right decision for you and your kids, and no, you can't be certain it is.
Deciding to homeschool is like deciding anything else. Homeschooling may or may not be the right decision. Just like no one can tell you whether you should move to a new state, have another baby, take a new job, or hike the Appalachian Trail, no one can tell you whether homeschooling is the right decision.
There is no homeschool crystal ball, and there is no homeschool guarantee.
(Don't forget there is no school guarantee either. You are living that now).
What I can tell you is there are many kids who have successfully homeschooled in response to negative school situations, whether they are academic, emotional, or otherwise. There are many who have homeschooled without the social isolation your husband may think surely accompanies homeschooling. There are many seventh-grade homeschooled boys who aren't troubled by sitting still or being distracted.
Social isolation and sitting still for long periods aren't necessary to homeschooling and aren't part of homeschooling for many kids.
These concerns stem from this mistaken perception: that homeschooling always looks like school. It doesn't, and it shouldn't.

So, if you decide to homeschool, that's one of the first hurdles to overcome. For best results, you should seek to overcome the assumption that homeschooling will or should look like school. It doesn't have to. And your kids might be better off if homeschooling does not look like school; after all, school is not working for them right now, and that's why you are considering alternatives!
You begin to address this with a period of deschooling. During the deschooling period you do things to help your kids and your family transition from school, learn about homeschooling, and allow time for healing. It's often counter-intuitive ("We need to jump into the curriculum, so we won't get behind!"), but experienced homeschoolers will tell you over and over again not to skip deschooling. An 11th-grader who often comes home crying from the rigors of school needs time to recover and adjust.
You mentioned considering an "online homeschool." Considering an online school is common for people in your situation because it seems like an all-in-one package deal that will smoothly take the place of school and still hit all the requirements. However, in many cases, the option you are considering is an online public school, and it may or may not be a good alternative. Because this is a big question itself, I'm addressing it for you in a separate Ask Jeanne column about online public schools.

I also want to address your daughter's age and grade. One thing you may hear some homeschoolers say is that "school is always there" and "they can always go back to school." People who have only homeschooled young children may not be aware that beginning to homeschool an older teen may be more complicated.
Re-enrollment in school is not difficult before the high school years, but in many states, should your daughter try homeschooling and then want to return to school, she may not receive credit toward a state-issued diploma for work done at home. Using an online public school might be helpful if she is likely to want to go back to school. Please read my article on returning your child to public school and talk to homeschoolers and school administrators about the re-enrollment rules in your state and at your kids' specific schools. Charter and private Christian schools may have unique rules that could help or hinder re-enrollment.
So let's go back to the decision-making process. You want assurance homeschooling is the right decision, and I can't give you that. But I will tell you that most of the fears that cause people to hesitate are unfounded. After twenty years of homeschooling, I've found that:
Homeschooled kids can have a parent-issued diploma and do go to college using parent-generated transcripts.
Homeschooled kids get jobs and are often sought after as employees.
Homeschooled kids can have vibrant social lives which include diversity, though it takes a commitment from parents, especially in some places.
Homeschooled kids can learn at their own pace and in their own way.
Being "ahead" or "behind" grade level is a school construct. Kids can learn what they're ready for.
Homeschooling can be much less stressful for kids and teens. Rigor is overrated.
Homeschooling solves many problems, while it also creates new logistics and responsibilities.
It's also true that the best homeschooling requires commitments from the parent. The commitments include:
Willingness and ability to spend one-on-one time with kids.
Willingness to continuously adjust the approach to homeschooling and not assume it will be a turnkey venture that you set up and plug your kids into.
Willingness to network with homeschooling parents and groups.
Willingness to research opportunities for kids and actively help them reach their goals and enjoy daily life.
Willingness to learn homeschool laws.
Willingness to learn what colleges and employers require from homeschoolers in their state.
That's a lot of commitment, right?
And yet, this commitment can be rewarding. This commitment can make it possible for kids to learn in a richer, more satisfying, and less stressful environment. Kids can learn more efficiently and more effectively than in a school situation that is not working.
Should you homeschool? Only you can decide if homeschooling the right decision for you.
I will tell you many parents before you have said deciding to homeschool feels like jumping off a cliff and finding you have wings. But I will tell you that those wings are made up of a parent's time, commitment, willingness to learn, and courage to do things in a different way.
*Author's note: Negative school situations are a common reason people consider homeschooling. Homeschool advocates hear hundreds of stories and questions each year because school is not working well for specific children. Other kids go to school when homeschooling is no longer the best answer. Homeschoolers are not monolithically opposed to school, and homeschoolers have varying opinions about public education.