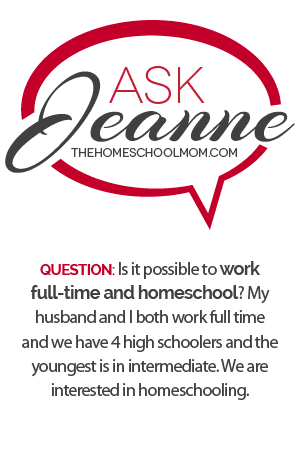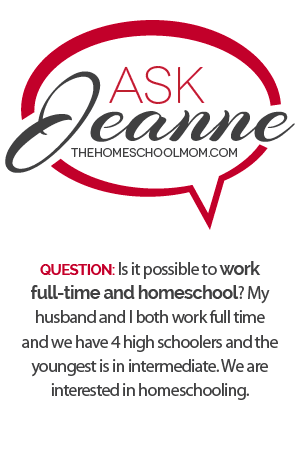 I work full time, and so does my husband. There is no way I could stay home and be a full time mom. We have 4 high schoolers and the youngest is in intermediate. The youngest we have the most trouble with, and I am at wit's end trying to get her at grade level of her peers without medication. I have read about families who work full time and still homeschool their children. If I could make this work in our lifestyle, I would be interested in learning more about it. In addition, I would like to start a "trial" period during the summer months. Are their any resources available for summer curriculum and assistance for full time working parents?
A Working Mom
You provide a lot of background and then ask some specific questions. Answering your questions is the easiest part of the response to write. First, you ask about a summer trial of homeschooling. I've already written an article about the pros and cons of trying homeschooling over the summer. As you'll read there, a summer of homeschooling does not necessarily give you an indication about how ongoing homeschooling would work for your family, but you might gain some insight.
Most homeschooling curricula are not designed just for the summer, but you can start in a curriculum any time and go for as long as you want. You just won't cover it all if you have a shorter time period to work on it. However, your question here sort of demonstrates that you need to do more research about homeschooling. Before picking a curriculum, you need to give attention to the adjustment kids and parents make as they transition from school to homeschooling. We have numerous deschooling articles so you can read more about that.
As for assistance for full time working parents who are homeschooling, no, there is no formal assistance any place I know of. There may be homeschooling co-ops (short for "co-operatives") in your area that your kids could attend. These are usually one day a week, but parent involvement can be high in some co-ops, and you'd be expected to volunteer or possibly pay, depending on how the co-op is set up, so it may not work with a full time job. Here is an article called "From School to Co-op", that discusses  the possibility of new homeschoolers using co-ops as a main way to meet academic needs, and here's one about things to consider when joining a co-op.
You might also be able to use an online curriculum for your kids. Some school divisions offer this for free as long as your kids stay officially enrolled in public school. This can be a double edged sword -- kids may have advantages in opting out of a brick and mortar school, but if they are enrolled students, then they are not independent homeschoolers, and they'll have to meet school requirements for testing and other things. This is far less flexible than homeschooling without enrollment, so what seems great because it's "free" sometimes ends up being difficult to manage. With the number of kids you have at home, computer time might also be an issue. You'd want to look at any online options carefully.
Now to comment on the background you provide. It sounds like you are considering homeschooling four teens plus a challenging middle schooler while you and your husband would be working full time jobs. If you have unusually well-behaved kids or flexible work schedules so that you and your husband could tag team being at home to guide children in their learning, this could work. It could also work if you are able to pay tutors or trade with another family that would be willing to help with the kids' learning in exchange for a service you could provide. However, that's a lot of kids, honestly, and without longer-term ties in the homeschooling community it could be difficult to find an advantageous situation.
Are some of your kids very independent? It's possible that those kids could read and study a lot on their own or even dual-enroll in community college classes, and you wouldn't have to spend as much time supervising their school work. However, it would still be a big deal making sure that kids who have never homeschooled before are all on track, especially if they are working on studies they need for admission to college or for a vocation. Taking kids out of school during the high school years does have the added challenge that they don't have a long time to adjust to learning outside of school. And, some teens need supervision to stay out of trouble.
To complicate things in a way you haven't imagined, your mention of curriculum is like it is a turn-key thing -- like you "apply" curriculum to kids, and they get what they need. However, many high schoolers in particular don't function well when they are just given curriculum to work through. They want to do projects or things that are interesting to them, and sometimes parents who thought "follow-the-curriculum" would work find that it does not work, and parents have to spend time helping kids find another approach to learning.
Finally, your child in intermediate sounds like she is struggling academically. She might benefit from a really different pace or approach. Sometimes, indeed, homeschooling allows parents to take the pressure off and give kids time to develop further -- or to provide one-on-one attention to create progress. However, this works ideally if a kid is in a rich environment where she is doing things she is highly engaged in. Sometimes a child is so relieved to be out of school that a packaged curriculum is something she's willing to work on. Other times, it is so similar to the "school approach" that despite her initial commitment, she won't do that work, and she needs an adult to guide her through learning in ways that are more customized. Are you in a position to provide that guidance?
In short, I'm saying that providing a homeschool education does take time. People do manage to work and homeschool. They find ways to keep their kids busy during their work hours, and they trade off work hours and child responsibilities with their partners or other caring adults in the family. Here are some ideas for balancing work and homeschooling. Working parents who have kids who are "self-starters" tend to have a smoother time, especially if they are new to homeschooling, so you have to assess how your kids' temperaments play into this. Not that you would do this, but leaving five kids to their own devices with curriculum to complete but little hands-on guidance or first-person involvement would not typically bring you the results you're looking for -- but there are exceptions, and you may be able to work this out.
I wonder if the high school age kids are doing well enough in school that you might consider homeschooling just the younger one. She might need it the most and be young enough to adapt, and it wouldn't leave you with a houseful of kids on their own while you're working. You might be able to find a type of child care for her during your work hours, which could even include having her with another family. Then during your off hours, you could work with her on her academics. In general, people often do find it harder to "homeschool some and school some" of the kids, but it all depends on the family. I wouldn't rule out this middling option, which might help the child who needs it most. Since you mention medication and keeping up with her peers, I sense she may have been diagnosed with ADD/ADHD. If that is the case, you may want to read my article "Will Homeschooling Help ADD?"
In addition to the articles and topics I've linked here, I'd encourage you to read up on homeschooling large families, homeschooling high school, homeschooling teens, and starting homeschooling in high school. (Just Google those terms).  It's not just the full time jobs that complicate the question for you, but the ages and stages of the kids as well.
No one can come to the conclusion about what is best for your family other than you, but I hope some reading and thought will help you make some decisions. While people definitely make homeschooling and jobs work, you'll want your kids' learning to be a priority, and that does just take time and interaction.