This Ask Jeanne column is not a response to sudden schooling at home because schools are closed; if you are looking for help to implement homeschooling and working full time, Balancing Work Outside the Home and Homeschooling will be more relevant to you. Continue reading for tips if you are considering homeschooling and are concerned about how one parent can stay at home.
Recently, a visitor commented on a post on TheHomeSchoolMom about educating at home. The visitor expressed sentiments that homeschoolers often hear, including the idea that homeschooling is only for privileged families that can afford for at least one parent to stay home.
I would love to homeschool, but I have to work. It's great that you can stay home, but that isn't realistic for most families.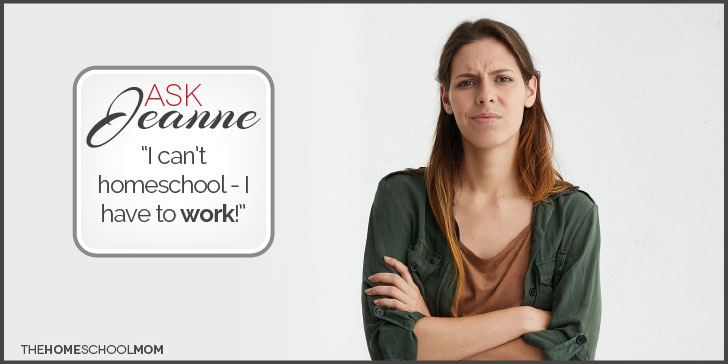 Jeanne's Response:
Homeschooling families work out the balance of earning and providing education for their children in many ways, just as families with children in public school do.
Among both homeschool and public school parents, there are at-home parents (the majority are indeed mothers, but there are also dads who are the primary at-home parent), parents who both work, and single parents who are working.
Having an at-home parent is not in reach for all families; that's for sure. That said, I've seen families sell their larger homes, SUVs, and minivans and move to less expensive places and drive Griswald station wagons in order to make their priorities happen - whether that be homeschooling or college savings for kids or starting a business.
And yes - in some cases, parents can't shrink their expenses into the possibility of one parent staying home with kids. Absolutely. Those parents are fighting to put food on the table every day and pay the electric bill.
But you know what? Some of them still do indeed work for pay and homeschool. If you google "work+homeschool," you'll find a lot of information on how families make this work. Yes! As you can see from googling, some people are even finding a way to blog about it! There are even single parents who are homeschooling.
Child care can work in conjunction with home education, just as child care works in conjunction with preschool or school. Parents plan the child care, and then add their approach to homeschooling: some parents use online programs; others homeschool at night after work; others tag team the homeschooling by having each parent work a different shift and homeschooling when they're off; some people team up with other families, trading kids on different days or for different subjects; some families use homeschool cooperatives ("co-ops") or university model homeschool academies; some families have one parent work part-time; some families are fortunate to have the support of a grandparent who helps with homeschooling (some do it all!) or helps with housing, creating a two generation homeschool family. Still other families manage to homeschool by taking their kids to work with them!
And yes, some people do use blogs or Etsy sales as hobby income, but I also know some at-home moms who have been able to parlay their skills into serious cash. For others, sewing is actually a way to save money on kids' clothes or make furnishings for a cozy home. Still others find crafting and blogging to be part of self-care, time out from being a 24-hour parent or from combining work - paid or unpaid - and raising a family.
None of these possibilities is right for everyone, of course! But my hat is off to the parents I've met who have had the ingenuity to work out how homeschooling, or having an at-home parent, or sending their kids to school, will work best for their family.
Raising kids is tough these days, and homeschooling can feel like it is for the elite. However, homeschoolers do represent a wide range of income levels, including families whose kids would be eligible for free and reduced price lunch programs if they otherwise attended school. That's according to the latest income statistics from the National Center for Education Statistics (the feds who bring us the U.S. Census).
And one last thing about this? Homeschooling is not "school at home." Many people who are sure that homeschooling can't be achieved without an at-home parent may be unfamiliar with the potential efficiency of homeschooling. They are picturing having to move children through curriculum during a six- or eight-hour day at the pace of a school classroom. But helping fewer children learn, in ways that are well suited for them, without the institutional interferences of school (lining up for the bathroom, frequent test prep, children at many levels in one class, etc.), is something that can be accomplished in much less time than non-homeschooling parents sometimes imagine. Of course, child care beyond those hours is still something that has to be covered.
Working for pay and homeschooling is not for everyone. It's not easy. But it's definitely happening.
Some families are also able to find ways to have an at-home parent, whether their kids go to school or homeschool. Some families making this happen are cutting every economic corner they can to make this a priority; others are affluent.
Sometimes an "it-must-be-nice" disdainful attitude is what at-home parents and homeschooling parents are greeted with from people who have no idea what goes into making things work.
I promise: it's complicated, just like the lives of parents whose kids go to public school and who work for pay.