Homeschooling is regulated at the state level, so connecting with local homeschoolers is an important step to start homeschooling in Virginia. Find the Virginia homeschool groups closest to you and get connected with your local homeschooling community, learn about the homeschool requirements in Virginia, and discover the co-ops, classes, sports and arts opportunities, and social get-togethers in your area.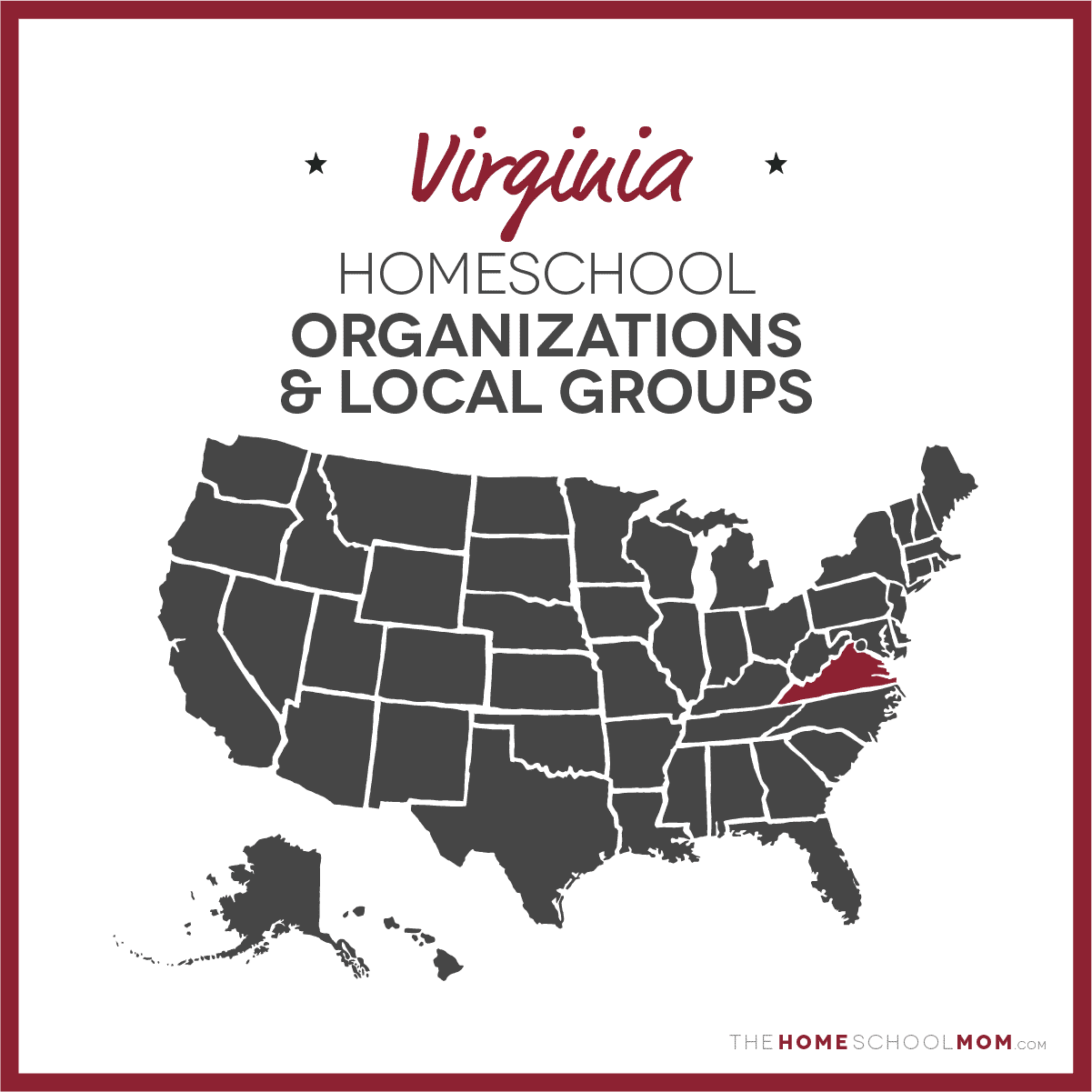 Submit a Local Resource
Jump to: State Organizations | Local Groups
Our listing of Virginia state organizations and local homeschool groups is ordered alphabetically by city, with statewide organizations listed first. If you would like to submit a group, you may do so using the red button above.
Virginia Homeschool Organizations (Statewide)
Home Educators of Virginia

Virginia Statewide

Home Educators Association of Virginia is a member-supported, statewide, nonprofit homeschool association that operates from a biblical worldview. HEAV serves all homeschoolers and since 1983 has worked tirelessly to promote and protect homeschool interests in Virginia through information, legislation, and resources.
VaHomeschoolers

Virginia Statewide

The Organization of Virginia Homeschoolers - The Old Dominion's only fully inclusive, member directed, and volunteer driven state association. VaHomeschoolers is neutral in matters of religion and partisan politics. Helping homeschoolers is our only agenda.
Virginia Local Homeschool Groups
Homeschoolers of Bealeton (HOB)

Bealeton

Homeschoolers of Bealeton (HOB) is a support system for homeschooling families located in Bealeton, VA. Members are invited to share their ideas, concerns, events, achievements, support, encouragement and resources.
Caroline Area Homeschoolers

Caroline County

Caroline Area Homeschoolers is a social and support group for homeschoolers in Caroline County, Virginia and surrounding areas. Offering Friday afternoon park days most weeks as well as field trips, special seasonal events and parties, show and tell, arts and crafts, poetry tea, board games, science projects and small groups and clubs our members dream up. Each family in our group contributes to planning and hosting fun and learning events according to their interests and abilities. To join this group, you must first attend one of our public events. Please see web page for details.
REACH Group Homeschool

Central and Northern Virginia

REACH is Christian led but is open to all regardless of religion, race or politics. REACH's goal is to offer meaningful and educational opportunities for all homeschoolers in the Virginia area. We are a very active group that participates in many field trips and workshops for children of all ages.
GraceLife Home Educators

Christiansburg

As the homeschool ministry of GraceLife Baptist Church our desire is to encourage DEEPER relationships and WIDER educational experiences for homeschool families of the New River Valley. By sharing our gifts and talents we offer a low cost co-op with academic and enrichment classes for the whole family. We recognize homeschooling is hard work and we want to lighten the load, not add to it. Our desire is to supplement what each family is already doing at home, not direct it. We do this by providing: *Nursery *Preschool play & learning time *K-1 students with interesting learning experiences *Elementary students with classroom experiences to help foster respect for other adults and students. Our desire is that they would become more mature and more independent in their learning. *Middle school students with opportunities to learn new topics or go deeper in subjects of interest. Our desire is that they would build strong friendships through teamwork, joint experiences, and fellowship times. *High school students with opportunities to build their faith and their transcripts. Our desire is that they would take ownership of their faith, their education, and their service to the Lord through positive peer relationships. They will also have the opportunity to work toward our co-op Excellence Award. The co-op should help us to become authentic Christians through regular, transparent interactions and encourage our hearts to press on toward the prize.
Tri-Cities Home Educators of Virginia

Colonial Heights

Tri-Cities Home Educators of Virginia is a local Colonial Heights support group upholding Biblical principles and conservative Christian values. Members offer encouragement in homeschooling, recreational activities, parenting and spiritual needs to homeschooling families.
GRACE Homeschool Group

Fairfax Station

GRACE - Growing Responsible Adults through Christian Education A place where children of all ages can come to participate in classes, field trips, special events and parties, alongside their friends. It is also a place for parents to come together to share talents, ideas and issues related to homeschooling and raising children today.
Mayflower Homeschoolers

Fauquier, Rappahannock, Culpeper, Prince William, Loudon, and Stafford Counties

The group is a Roman Catholic homeschool support group. It is independent, not affiliated with any particular parish. Two chapters are available. One chapter meets in the Warrenton area of Fauquier Co. The other meets in the greater Richmond metropolitan area. Annually, a full year's schedule is offered of weekly prayer, monthly field trips, monthly works of mercy, weekly clubs, social activities, feast day parties, teen dances, and graduation.
Belvoir Home Educators (BHE)

Fort Belvoir

BHE is a group of military and DoD families dedicated to the home education of children. BHE is committed to providing support and encouragement to one another and participating in activities that will enrich the lives of children. Members have children ranging from infant through high school. Attempt to plan activities that appeal to all ages.
FAHA- Fredericksburg Area Homeschoolers' Association

Fredericksburg

FAHA (Fredericksburg Area Homeschoolers' Association) began as more than a homeschool support group. It started as an intentional community, secular, close-knit, and like-minded. In 2003, the founders were immersed in attachment parenting, respectful parenting, and natural living. That is still strong in many of us, and has continued to inform our lives as our children grow. New members have been attracted to some or all of these values and interests.

FAHA- Fredericksburg Area Homeschoolers' Association details
Valley Homeschooling Network

Harrisonburg

A Christian homeschool support group that serves the Harrisonburg, VA area. Our purpose is to offer a variety of events, activities, and resources designed to support and enhance the experience of homeschooling families.
Valley Home Educators

Harrisonburg

Valley Home Educators is a Christian homeschool support group that serves the Harrisonburg, VA area. Their purpose is to offer a variety of events, activities, and resources designed to support and enhance the experience of homeschooling families.
Art With Mrs. Jaynie

Harrisonburg

Art with Mrs. Jaynie teaches in-person pod learning art classes to kiddos in and around the Harrisonburg, VA area. She will bring all the art supplies you need to complete art projects ranging from drawing, to painting, to clay. In-person classes are for small groups of students together for weekly or bi-weekly art classes. Additionally, she teaches virtual homeschool art curriculum, where she will ship supplies to individuals around the country. In-person and virtual classes area available from PreK- High School students.
Homeschool First

Lynchburg

Homeschool First hopes to aid every member in becoming a whole person, and to that end, we offer community events, so that we may build relationships; academics, so that we may build knowledge of ourselves and our world; and service opportunities, so that we may contribute to the people around us. Our foremost purpose is to serve each other in all things. Our other purposes include offering classes for preschool through high school, field trips, social events for our members, themed "sanity" meetings for moms, and get-togethers for dads. We would like to offer city-wide events such as science fairs, spelling bees, and geography bees.
Manassas Area Roman Catholic Homeschoolers

Manassas

We are a Catholic homeschool group in the Manassas area that works to support our families and enrich their homeschool journeys through community.
S.E.E.D.S. of Grace Homeschool Co-op

Newport News

SEEDS, a ministry of Menchville Baptist Church, is a Christ-centered ministry that endeavors to honor God through support and encouragement for families that are striving to educate their children. SEEDS is a volunteer cooperative of families that provides resources for educational opportunities, fellowship, and enrichment activities. Classes, taught by parents, range from art, drama, PE, and cooking to language, science, and math. In addition to classes, SEEDS offers regular field trips, spirit days, and Mom's Nights Out, as well as events like the Fall Pumpkin Patch Trip, Talent Show, Project Fair, Used Curriculum Sale and parties, such as the Happy Birthday Jesus Party, Valentine's Bowling Party, and End of Year Party. Our annual yearbook is designed by the SEEDS' students and we also have at least one service project that we coordinate for the families to participate in.
Home Educators Recreation & Enrichment Group

Newport News

Welcome to H.E.R.E! We are a Christian homeschool support group whose members plan and implement fun and educational activities, field trips, service projects, and social events. We hold our events on the Peninsula of Hampton Roads and surrounding areas. Our main goal is to create a homeschooling community to offer fellowship, support, and socialization opportunities for both the parents and the children of our group.
H.O.P.E. - Home Organization of Parent Educators

Nokesville

HOPE-Home Organization of Parent Educators, Serving Northern Virginia Homeschooling Families is a Christ-centered, non-profit organization seeking to glorify God by providing fellowship, encouragement, and support to homeschooling parents to help them successfully teach and minister to their children. We offer educational, social, and family-oriented activities in an atmosphere that promotes biblical standards and values.
Homeschool Plus (HSP)

Norfolk

Homeschool Plus is a Christian homeschooling program founded in 1990. Families partner with professional educators for customized support. Parents choose from creative hands-on enrichment classes, core academic support, high school credit, music, theater and cognitive therapy classes. Centrally located to serve all of Hampton Roads with the largest selection of classes in the area. Registration is open at homeschoolplus.org or call 757-466-3477.
Northern Virginia Gifted Club

Northern Virginia

We have a small social group for gifted kids in the Northern VA area. No "definitions" -- no "proof" of any kind required. We are not an academic group. The goal is to help our "statistically insignificant" kids meet others who are as sensitive, intense, and persistent as they are, and to have a good time together.
ASK Homeschool Community

Portsmouth

We are a unique homeschooling community that is focused on finding affordable educational resources for our families. We encourage sharing information in the form of free resources, special offers, and group buys.
CHRSM

Purcellville

CHRSM differs from the others in that we seek to be a support to the entire homeschool family. We accomplish this first and foremost by making prayer a focus of our ministry. Additionally, we provide opportunities for the homeschooling parent to find the support and encouragement they need. Finally, we offer classes for children 0-18 in order to supplement that which the parent is able to accomplish at home, and to provide our children with a sense of community. For the upcoming academic year, our community will gather on Tuesdays for Pre-K, Elementary, and Middle School, and Tuesdays/Thursdays for High School. We meet at the Parish Center of Saint Francis de Sales Church in Purcellville.
Teaching Social Skills to Special Needs Kids

Reston

Licensed clinicians on staff to help families thrive.
Richmond Area Homeschoolers

Richmond

This is an inclusive group of Richmond (Virginia) area homeschoolers to share ideas, organize get togethers, and for general support. We get together for picnics and have regular field trips. We have Spanish and French classes and various homeschool clubs.
Expressive Therapy Center - Social Skills Support Groups

Rockville,MD and Washington,DC

In groups of 3-7 members, preschoolers through adolescents who are having difficulty in social situations work on communication skills, self-esteem, expressing feelings and learning how to read both verbal and nonverbal social cues. Groups utilize role-playing, art, games, relaxation, music and traditional therapeutic techniques. Facilitators are Licensed Psychologists, Social Workers, Movement and Art Therapists. Multiple Locations in Maryland and Virginia.

Expressive Therapy Center - Social Skills Support Groups details
Monroe Tutoring Center. LLC

Spotsylvania

Monroe Tutoring offers support for local students (k-12) needing assistance with math, reading and test taking skills. Sessions are conducted in person or online. During the summer students, ages six to nine, participate in a math/science camp to help keep skills sharp.
St. Raymond's Home School Group

Springfield

St. Raymond's Home School Group is a group of about 80 families that are linked together by our love of the Catholic Church, and who want to educate our children at home. Most of us use a Catholic home school program such as Seton or Mother of Divine Grace; however, the beauty of home schooling is the flexibility that it provides each family – so there are numerous educational options available. Our twice-monthly club days and social gatherings help our group's children interact with other home schooled children. Our mission is to support Catholic home school families.
Tazewell Homeschool Support Group

Tazewell

This is an informal Christian group for homeschool families in Tazewell, Virginia and surrounding areas. Families of all faiths or no faith are welcome as long as they respect that it is a group primarily based on Christian principles. We also welcome everyone from unschoolers to relaxed homeschoolers to traditional homeschoolers. We strongly believe that all homeschool methods are valid and request all members to respect each other and the choices they have made for their family.
Scent of Water Learning Community

Vienna

This new program from the Center for Redemptive Education (CRE) offers "the whole story for the whole child" to support home schooling families in their quest to align with God's design for their children. The CRE believes God's design for teaching and learning is BRIE: Biblical – through and through! Relational – they want to know you and your child! Integral – a holistic view of image-bearers and the world in which they live! And Experiential – head, hands and heart! Highly qualified Redemptive Educators invite your child to engage deeply with the Creator and His creation. With a strong outdoor education focus, Scent of Water classes reflect all school subjects, while also celebrating the "emergent curriculum" that springs from the interests, ideas and explorations of the students themselves. Meeting times are T/W/TH, from 9:00 a.m. – 3:00 p.m., and provide robust and innovative academic instruction for students in K-8th grade while cultivating real community among kids, their teachers, and their families. September through May.
Tidewater Educators Association for Christian Homeschooling, Inc

Virginia Beach, Northeastern NC

T.E.A.C.H. (formerly BEACH) is a regional homeschool support group, serving southeastern Virginia and northeastern North Carolina. We are a tax-exempt, non-profit Virginia corporation. General information about our organization can be found below.

Tidewater Educators Association for Christian Homeschooling, Inc details
Local Virginia Homeschool Support Groups

Virginia Statewide

By HEAV
Virginia Homeschool Groups

Virginia Statewide

From VaHomeschoolers
St. John's Home Educators

Warrenton

St. John's Home Educators (SJHE) is a private group of homeschooling families based at St. John the Evangelist Church (Warrenton, VA), a Roman Catholic parish of the Diocese of Arlington (VA).
SOAR

Warrenton

K-9 Homeschool drop off program
Sankofa Homeschool Community

Washington

Sankofa is a community of homeschooling families of color who want to grow, learn, and build together. We are dedicated to creating a rich, supportive homeschool village through a combination of social outlets, field trips, and the sharing of resources. Sankofa Homeschool Collective Classes are held on Fridays at: Ft. Chaplin Community Center, 4212 East Capitol St. NE Washington, DC 20019
GRACEducators

Washington and Smythe Counties

GRACEducators is an Abingdon area, Washington county Virginia, Christian homeschool group. Members are a decidedly Christian group of families that seeks to encourage and support one another in the calling to homeschool children in a Christ-centered environment through a communication community (email loop) and generally a once a month support meeting.
Prism Learning Community

Waynesboro

Our mission is to support homeschooling families in Virginia by offering phone and email support as well as a catalog of professionals and materials. Prism does not adhere to any one educational philosophy. While we are happy to provide basics on starting your homeschool journey and tips from our experience, we cannot substitute for professional legal advice. Also follow on FB for field trip ideas and homeschooling tips
Homeschoolers for Christ (HFC)

Williamsburg

We are a group of Christian homeschoolers who meet weekly for fellowship and field trips. Our goal is to spend time together building relationships so that we can support one another in raising and educating Godly children according to Biblical principles. HFC is designed for families who desire a Christian homeschool support group that meets every week. If you would like the consistency of weekly field trips and fellowship for your family, HFC may be what you are looking for.
Lumen Christi Catholic Homeschool Group

Woodbridge

Providing homeschool enrichment activities and support to families in Eastern Prince William County
Welcome to We Home Educate and Train (W.H.E.A.T.)

Woodbridge

We Home Educate and Train (W.H.E.A.T.), a homeschool support group for Woodbridge/eastern Prince William County, Virginia and the surrounding areas. Our mission is to share information, provide support for homeschooling, and to enrich those families spiritually, academically, and socially.