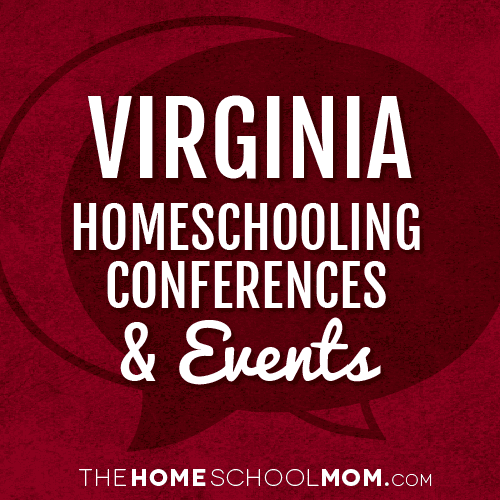 Our listing of Virginia conventions and other homeschool events is ordered by date with ongoing events listed first. If you would like to submit a Virginia homeschool convention or event, you may do so using the red button above.
Free NASA STEM Educator WorkshopOxon Hill
May 24, 2019
Escape Velocity 2019 Educator Workshop: NASA's AFTERSCHOOL UNIVERSE Friday, May 24, 2019 10am – 2:30pmThe Gaylord National Resort and Convention Center 201 Waterfront Street National Harbo...
Family Camp at Holiday Lake 4-H CenterAppomattox
May 27, 2019 - May 31, 2019
Family camp, an annual event at Holiday Lake 4-H Educational Center in Appomattox, Virginia. Family camp offers the chance for family members to bond with each other while at the same time experien...
HEAV Virginia Homeschool ConventionRichmond
June 6, 2019 - June 8, 2019
Homeschooling, or considering it? Get the information and inspiration you need at the 36th Annual Virginia Homeschool Convention, Home Education: "Live Freely, and Lighty" at the Greater Richmond C...
Immaculate Heart of Mary National Home School and Parent ConferenceFredericksburg
June 14, 2019 - June 15, 2019
The largest Catholic homeschooling conference in the country. Location: Fredericksburg Expo and Conference Center. 2371 Carl D. Silver Parkway. Fredericksburg, VA 22401
National Fossil Day at the National MallWashington D.C.
October 16, 2019
Come enjoy a National Fossil Day celebration experience at the National Mall where nine National Fossil Day Partners will be hosting activities and exhibits.Partner activities include:Natio...
US Science and Engineering FestivalWashington, DC
April 22, 2020 - April 23, 2023
The mission is to stimulate and sustain the interest of our nation's youth in science, technology, engineering and math (STEM) by producing and presenting the most compelling, exciting, and educati...