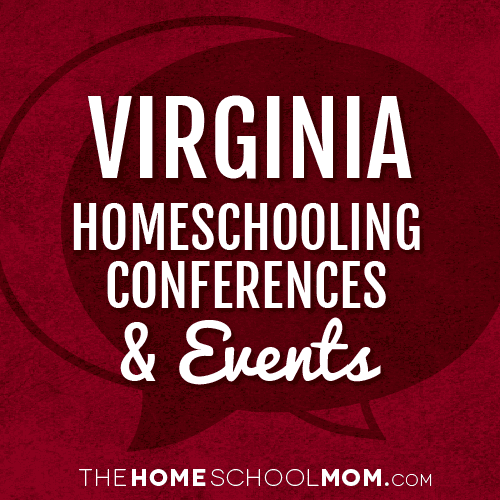 Homeschool conventions are a great place to find encouragement, motivation, and inspiration. Before heading out to the Virginia homeschool conventions listed below, read about how to make the most of conventions.
Our listing of Virginia conventions and other homeschool events is ordered by date with ongoing events listed first. If you would like to submit a Virginia homeschool convention or event, you may do so using the red button above.
Archaeology Day at Gunston HallFairfax, Lorton
September 21, 2019
On Saturday, September 21, 2019 Gunston Hall will celebrate their annual Archaeology Day from 10:00 AM – 4:00 PM. Archaeology Day is a day dedicated to digging up and discovering the mysteries of t...
Cherry Hill Farmhouse Home School Program: Life on a 19th Century FarmFalls Church
September 25, 2019
Children will tour the farmhouse and barn to learn how technology of the day made life easier for the 19th century farmer. Hands-on activities include identify tools a housewife would have used in ...
National Fossil Day at the National MallWashington D.C.
October 16, 2019
Come enjoy a National Fossil Day celebration experience at the National Mall where nine National Fossil Day Partners will be hosting activities and exhibits.Partner activities include:Natio...
Promoting Resilience, Motivation, and Social CompetenceRockville
October 19, 2019
The 6th annual Innovators in Education Conference 2019 will focus on how identifying the brain-based strengths and challenges of children and teens translates into designing targeted, and consequen...
Revolutionary War DayLorton
November 9, 2019
The Revolutionary War touched everyone in the American colonies, not just the soldiers. Explore life at home, and join Colonel Mason and his fellow Virginians at they support the war effort. This...
VaHomeschoolers Conference and Resource FairRichmond
March 20, 2020 - March 21, 2020
"Envisioining a Bright Future" Make Connections with Virginia's homeschooling families at the Statewide Annual Conference and Resource Fair held at Fort Macgruder Hotel and Confe...
US Science and Engineering FestivalWashington, DC
April 25, 2020 - April 26, 2020
The mission is to stimulate and sustain the interest of our nation's youth in science, technology, engineering and math (STEM) by producing and presenting the most compelling, exciting, and educati...
HEAV Virginia Homeschool ConventionRichmond
June 11, 2020 - June 13, 2020
The 2020 Homeschool Convention will be on June 11, 12, and 13 at the Greater Richmond Convention Center!Discover the best homeschooling event of the year. Gain unexpected solutions & inspirat...