Jump to: Homeschool Co-ops | Homeschooling Classes & Academic Enrichment
Looking for someone to teach physics to your teen? Need a way to avoid teaching algebra? Want to enroll your Kindergartener in a co-op for social time? Homeschool classes and co-ops are a great way to spend time with other homeschoolers and skill-share with other homeschool parents.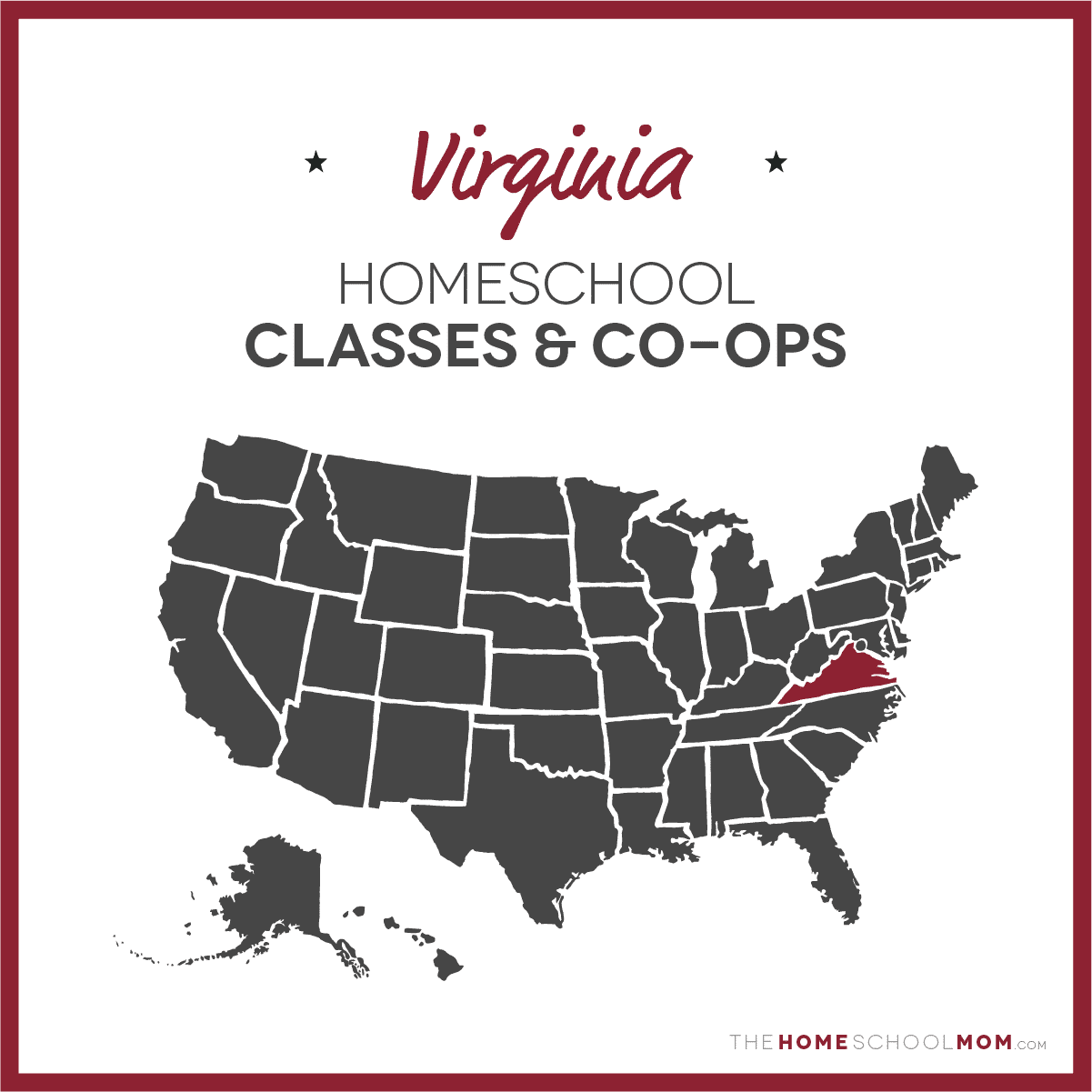 Submit a Local Resource
Our listing of Virginia co-ops and academic classes for homeschoolers is ordered alphabetically by city, with co-ops in the first section and all other academic resources below. If you would like to submit a Virginia co-op or academic resource, you may do so using the red button above.
Virginia Homeschooling Co-ops
CHATTAbingdon
Christian Homeschoolers of Abingdon Training Together is a co-op of volunteers. All classes are taught by parent volunteers and all parents are actively involved on site for the time their children are at CHATT. A boa...
Capital Baptist Homeschool Co-op (Thursday)Annandale
We are a group of like-minded homeschool families who value effective communication, critical thinking, and character development. We work together as a team to give students the tools, honest feedback, and experience...
Capital Baptist Co-op TuesdayAnnandale
We are a group of like-minded homeschool families who value effective communication, critical thinking, and character development. We work together as a team to give students the tools, honest feedback, and experience...
Assisi Bridge Co-opAshburn
A 4th-7th grade Roman Catholic Co-op adhering to the magisterium of the Catholic Church
Albemarle Christian Teaching Support (ACTS)Charlottesville
An educational organization designed to provide support and enrichment for home educating families. ACTS admits students of any race, color, national and ethnic origin to all the rights, privileges, programs, and acti...
Reaching for Educational Excellence (REX)Chesapeake
REX is a Christian homeschooling Cooperative offering quality instruction of exceptional curricula with an emphasis on layered and discussion-based learning. Currently, REX has made the decision to focus on History an...
KINDRED Homeschool CollectiveChesapeake, Norfolk, Portsmouth, Virginia Beach,
KINDRED Homeschool Collective (KHC) is a Christian, inclusive homeschool co-op organized to provide supplemental educational support and group activities for children grades Pre-K-12. It is intended to complement the ...
The Bridge AcademyChester/Chesterfield
Bridge Academy is a homeschool co-op in the Chester area offering academically strong, Christ centered courses for students in the 1st through 12th grades. Core classes and a variety of electives including photography...
GraceLife Home EducatorsChristiansburg
As the homeschool ministry of GraceLife Baptist Church our desire is to encourage DEEPER relationships and WIDER educational experiences for homeschool families of the New River Valley. By sharing our gifts and talent...
Northern Virginia Secular Co-OpFairfax
Northern Virginia Secular Co-Op (Nova Scoop/Scoop) is a radically inclusive learning community, whose purpose is to provide weekly classes and opportunities to enrich the homeschooling experience at an affordable pric...
Marva Collins Cottage SchoolFalls Church
This homeschool cooperative is a PreK-Grade 2 classroom in Falls Church, VA taught by a professional educator. The learning day is 9a-3p with an option for before care beginning at 7a and after care until 6p. Learners...
The STEAM SchoolFauquier County
The STEAM School is an elementary homeschool support group that offers science and arts classes from September to May, a June summer camp and monthly field trips to the local community. Located in Delaplane, VA, some ...
Grace Church Homeschool Co-opFredericksburg
GHC serves church members and local homeschool communities in Fredericksburg, Virginia. Co-op meets on Mondays, 12-4pm, from August to May.
Home Grown HeartsFredericksburg
HGH offers several activities to support homeschool families including a cooperative program (Co-Op), middle and high school core classes (Ad Astra program), 7th-12th grade worship/social gatherings (Impact), field tr...
Art With Mrs. JaynieHarrisonburg
Art with Mrs. Jaynie teaches in-person pod learning art classes to kiddos in and around the Harrisonburg, VA area. She will bring all the art supplies you need to complete art projects ranging from drawing, to paintin...
HOPE2King George
HOPE2 (Hope Squared) is a Christian co-op made up of like-minded families who have come together to support each other as we educate our children. We strive to be God-honoring in our classes and activities and all cla...
Guiding Arrows - VirginiaLoudoun County
Guiding Arrows Co-op is a great place to be encouraged by other families during your homeschool journey. Becoming a member of Guiding Arrows Co-op gives you the opportunity to select classes (taught by qualified teach...
Homeschool FirstLynchburg
Homeschool First hopes to aid every member in becoming a whole person, and to that end, we offer community events, so that we may build relationships; academics, so that we may build knowledge of ourselves and our wor...
St. Nicholas Cottage SchoolManassas
St. Nicholas has in-person small-size classes for homeschool students in grades K-10 on Wednesdays and Fridays in Manassas, in a Christian setting. Latin, English, Math, Bible, Saints, Science, Geography, Literature, ...
The Orchard Homeschool FellowshipMoseley
The Orchard Homeschool Fellowship is a community of parents aiming to provide cooperative and biblically grounded learning experiences through classroom environments. The Orchard offers elective classes for enrichment...
Peninsula Classical ScholéNewport News
A Christian, Classical Homeschool Co-op focused on Restful Learning
S.E.E.D.S. of Grace Homeschool Co-opNewport News
SEEDS, a ministry of Menchville Baptist Church, is a Christ-centered ministry that endeavors to honor God through support and encouragement for families that are striving to educate their children. SEEDS is a voluntee...
Hope for Tomorrow Co-opNewport News
The co-op started in 2021 with a small group of parents who wanted more for their children and were frustrated with the current situation in public schools. We opened our doors to meet a need that was and is continuin...
Community Homeschool Enrichment Support Services (CHESS)Northern Virginia
Since 2001, CHESS (Community Homeschool Enrichment Support Services) has become known by homeschoolers in Northern Virginia as a trustworthy support in their pursuit of excellent education. We offer both online and in...
CHAMPIONS for ChristOrange
CHAMPIONS is a "co-op" of parents and mentors partnering together to provide academic classes and elective opportunities for high school students in a Christian environment on a class-by-class basis once a week for 32...
James River CobblestonesPowhatan,
Cobblestones is a unique blend of traditional and non-traditional learning methods offered to enhance and enrich your homeschool journey; just as cobblestones along a well worn path are all different, so are our child...
Providence Preparatory AcademyPurcellville
Providence Prep is a Scholé Community. Our weekly co-op meeting focuses on three disciplines within the larger classical liberal arts: Humanities and English Studies in the morning, and Latin in the afternoon.
Richmond Homeschool CollectiveRichmond
Richmond Homeschool Collective is a dynamically governed, affirming, and secular homeschool cooperative focusing on the Middle and High school ages. Classes are organized by the collective but are private transactions...
God's Homeschool WarriorsSuffolk
God's Homeschool Warrior's co-op supports parents and children in achieving excellence in education through an environment of Godly wisdom and talented partnerships. We partner with families from Suffolk, Chesapeake, ...
Renaissance School of the Arts!Suffolk
An inclusive, secular homeschooling cooperative in Suffolk, Virginia. RSA offers classes in the visual and performing arts, along with academics and an exciting S.T.E.M. program. Co-op instructors are a mix of profess...
Renaissance School of the ArtsSuffolk
We are an inclusive, secular homeschool cooperative for pre-k through high school. We meet in Suffolk, VA on Tuesdays and Thursdays from September through April, with a winter break at the holidays. We offer classes i...
Homeschool Out of the BoxVirginia Beach
Homeschool Out of the Box is a secular homeschool co-op serving families in the Tidewater area. Fall and Spring semester classes are held in Virginia Beach.
Creation ExplorersVirginia Beach
We are a Christian Homeschool Co-op that focuses on Science and PE meeting every other Monday. We use Apologia Science books and have classes from Kindergarten through High School. We do have a preschool class and nur...
Naked Apple TribeWarrenton
Naked Apple exists to encourage, support, and build up the local community of homeschool families, reaching out in the name of Jesus Christ. The co-op brings together homeschooling families to support each other in th...
Sankofa Homeschool CommunityWashington
Sankofa is a community of homeschooling families of color who want to grow, learn, and build together. We are dedicated to creating a rich, supportive homeschool village through a combination of social outlets, field ...
City KidsWashington, D.C. metro area.
City Kids is a parent-run, cooperative education program located in Northwest, D.C. The mission is to provide multicultural, science, literacy, and arts education. Through cooperative planning, community building, and...
Compass Home Education CooperativeWinchester
We are a Christian homeschool group providing a program designed to support parents in providing a high quality education for their children with a like-minded Biblical worldview based on our Statement of Faith. We of...
Lumen Christi Catholic Homeschool GroupWoodbridge
Providing homeschool enrichment activities and support to families in Eastern Prince William County
Trinity of Woodbridge Homeschool Co-opWoodbridge
Trinity's homeschool co-op is a small, family-run co-op that meets twice a month September through May at our church in Woodbridge, VA. Past classes have included art, creative writing, book club, cooking class, and s...
Kindred Learning AdventuresWoodbridge
Kindred Learning Adventures provides homeschool learners an assortment of opportunities to socialize and learn through fun hands-on experiences and adventures in Northern Virginia and the surrounding areas. We specifi...
Virginia Homeschooling Classes & Academic Enrichment
E.nopi Learning CenterAlexandria
E.nopi is a learning program in Math, English and Writing. E.nopi follows the U.S. Department of Education curriculum standards for English Language Arts, teaching skills such as grammar, punctuation, comprehension an...
Hearts for the LordAshburn
HEARTS offers classes for 7th - 12th grade homeschool students! This allows students to join the academy as early as 7th grade and develop peer relationships that will last through their high school years. It also pro...
Knollwood Agriculture TrainingBedford
Knollwood is a peaceful farm located in Bedford, Va. I offer and teach a wide variety of agricultural classes, including, gardening, herbs, fruit and vegetable preserving, poultry care and beekeeping. Knollwood's visi...
Shine For GirlsBurke
SHINE for Girls is an eight-week program that combines Dance with a tailored math curriculum to create an environment for young girls to explore math in a unique and creative way. Shine For Girls strives to not only i...
Homeschool Workshop SeriesCharlottesville
Classes are designed for student's age 7-11 and 12 and up. Interactive programs will use hands on experimental learning to discover the world of science. To register for the Homeschool Workshop Series e-mail mike@trip...
STEAM Discovery AcademyCharlottesville
STEAM Discovery Academy provides unique opportunities for students to experience science while encouraging them to learn how the universe works, to be creative, and developing innovative solutions. Tactile activities ...
Free Tour of Amazon Fulfillment CenterChester
See the magic that happens after you click 'buy' on Amazon.com by touring one of our fulfillment centers and seeing first-hand how we deliver for our customers. Groups of more than 10 guests can email tours@amazon.com...
Brainy Bytes of Central VirginiaChesterfield
Brainy Bytes of Central Virginia On-site and On-line STEM/STEAM Classes, Camps, and Workshops are offered throughout the year for youth in grades K–12. Options available: after-school, evenings, weekends and weekdays ...
Chesterfield Christian AcademyChesterfield/Midothian
Chesterfield Christian Academy offers homeschool classes for grades K through 12 in a large variety of subjects. Classes are offered in a Godly environment with qualified teachers striving to create a thirst and love ...
Chincoteague Bay Field Station Homeschool ProgramsChincoteague
Chincoteague Bay Field Station is a resource for bridging the gap between marine science curriculum and student understanding. Homeschool workshops are tailored for the budding marine biologist, providing hands-on obs...
The BraineryClinton
The Brainery is an educational service provider that provides an online and in-person homeschool tutorial program for students in grades K-8, the program includes instruction in English, Math, Science, and Social Stud...
Colonial Driving SchoolColonial Heights
Colonial Driving School provides a great teen driver's ed option to homeschoolers in the Richmond, VA area.
Enrich Your Learning - Economics, Math and Spanish TutorDC Metro
"After more than twenty years of teaching and tutoring students at college preparatory independent schools, I have the experience and qualifications necessary to be a subject tutor in Spanish, Math and/or Economics. A...
Learning through Animals by Alejandra AbellaDC metropolitan area
Learning through animals provides courses that allow students from K-12 and adults to draw the parallels between human and animal behavior. Each course is built on the premise that all minds are valuable and, by study...
Homeschool Naturalist and Outdoor ExplorersDC/MD/Va Metro Area
The Home School Naturalist Program uses nature observation, awareness and earth based skills to introduce your child to a world of adventure,discovery and learning! This program focuses on cultivating the existing pas...
Kings Dominion Homeschool and Youth ProgramsDoswell
Whether it's for a reward, end-of-year celebration or educational experience, Kings Dominion provides the perfect adventure for your students. Take your lesson plan on the road and show how your lessons apply to the w...
Foreign Language & General TutoringFairfax
Tutoring in foreign languages, including French, Spanish, and Italian. Focus is on speaking, listening, reading, and writing, with a emphasis on grammar and phonology. Tutoring available in geography, history, art, an...
George Mason University ObservatoryFairfax
The George Mason University Observatory is located on the Fairfax Campus, on the roof of Research Hall and officially opened on January 24, 2007. The GMU Observatory presents Evenings Under the Stars, A FREE event ser...
GRACE Homeschool GroupFairfax Station
GRACE - Growing Responsible Adults through Christian Education A place where children of all ages can come to participate in classes, field trips, special events and parties, alongside their friends. It is also a plac...
Fredericksburg Area Speech and DebateFredericksburg
FASD is a Christian speech and debate club for students ages 12-18. Students have the opportunity to compete in regional and national tournaments in several speech events, team policy debate, and Lincoln Douglas debat...
Gainesville Homeschool ConnectionGainesville
Gainesville Homeschool Connection (formerly LIFE) is a set of classes taught by qualified, local teachers at Gainesville Presbyterian Church to assist parents who oversee the education of their children. Classes which...
Holy Infant Paideia Hy-Brid SchoolGordansville, Orange
In this program, parents and qualified tutors are co-educators. 2 days onsite in an academic environment that covers the bulk of instruction; Parents supervise work at home and complete a math curriculum of their choi...
Girl Scouts of the Colonial CoastHampton Roads and Northeast NC
Fun, friendship and new adventures are what Girl Scouts is all about. Making friends, testing her strengths, exploring new possibilities. It's all here for her. Whether teaming up with others or learning to shine on t...
Williamsburg Classical AcademyHampton Roads/Williamsburg
An inclusive academic community with a University model education program for the independent and homeschool education community. Offering an exclusive program for students who require small tutored classes and academ...
Art With Mrs. JaynieHarrisonburg
Art with Mrs. Jaynie teaches in-person pod learning art classes to kiddos in and around the Harrisonburg, VA area. She will bring all the art supplies you need to complete art projects ranging from drawing, to paintin...
SimTek Game DevelopmentHerndon
Learn programming at SimTek Game Development. SimTek has five areas of study, C# programming, Unity3d Game Engine, Blender for 3D modeling, Java Programming, and Roblox with Lua scripting language. All skill levels ar...
Logos Classical AcademyLorton/Woodbridge
Logos Classical Academy is a 5-day a week academic program for homeschooled students in the Lorton/Woodbridge area. Logos offers a classical Christian curriculum to support parents who are homeschooling their children...
Alliance Christian AcademyLynchburg
Alliance Christian Academy (ACA) is an academic center that supports homeschool families by providing a structure for independent tutors to teach college-prep classes for homeschoolers in grades 7–12. ACA tutors are n...
Amherst Arms BobcatsMadison Heights
Amherst Arms has been in business since 2010 to serve the outdoorsman in their Hunting, Fishing, Archery, Firearms and Gunsmithing needs. We are dedicated to customer service and providing customers with quality produ...
St. Nicholas Cottage SchoolManassas
St. Nicholas has in-person small-size classes for homeschool students in grades K-10 on Wednesdays and Fridays in Manassas, in a Christian setting. Latin, English, Math, Bible, Saints, Science, Geography, Literature, ...
Tochterman Muir Educational Consulting LLCMcLean
Learning: Evaluation, diagnosis and recommendations for school services and accommodations. Providing baseline cognitive and achievement data, as well as instructional strategies and intervention, to guide homeschool ...
MLS Educational ConsultantsMcLean
MLS Educational Consultants is a McLean, Virginia, based educational practice designed to provide comprehensive services for students in grades kindergarten through college. Tutors work in both individual and small gr...
James River Homeschool AcademyMidlothian
Previously the Midlothian Christian Academy, the James River Homeschool Academy offers classes to augment your homeschool curriculum. Classes will meet on Fridays at the Midlothian Campus of the James River Home Schoo...
James River Home School AcademyMidlothian
James River Home School Academy offers quality classes for grades K - 12 in the Midlothian, VA area. Classes offered both enhance and augment each participating family's homeschool experience. Students are taught in s...
Brainy Bytes - Central VirginiaMidlothian
Stem Programs Classes K-12 After-school & home-school classes held online, in school and throughout your community. ► Unique hands-on, project-based programs introduce STEM in a fun and nurturing environment focused o...
Treehouse Pediatric Therapy, LLCMidlothian (Southside)
Treehouse Pediatric Therapy provides occupational therapy, speech-language therapy, oral motor and feeding therapy, and social skills pairings/group therapy for children in the greater Richmond area. We are located in...
The Mariner's Museum Homschool ProgramsNewport News
The Mariners' Museum provides engaging student programs designed to enhance and supplement classroom instruction. Whether participating in a program at The Mariners' Museum, having a museum educator come to your class...
Community Homeschool Enrichment Support Services (CHESS)Northern Virginia
Since 2001, CHESS (Community Homeschool Enrichment Support Services) has become known by homeschoolers in Northern Virginia as a trustworthy support in their pursuit of excellent education. We offer both online and in...
Compass Homeschool ClassesNorthern Virginia
Compass Homeschool Classes offers homeschool families in northern Virginia and the DC metro area core, extracurricular, and enrichment classes to supplement the academic material taught at home. All classes are taught...
Humane Rescue AllianceNorthwest
The Humane Rescue Alliance's school programs, shelter tours, and camps target upper elementary and middle school students. Participants learn about our organization, our programs, and how we help animals and the peopl...
National Law Enforcement Museum K12 ProgramsNorthWest Washington
Add a workshop to your field trip plans for a truly engaging, unforgettable Museum experience! Workshops are aligned to the Common Core Standards and Next Generation Science Standards. The Museum offers student-center...
Youth For Understanding USANorthwest Washington
A non-profit international educational organization with partners in more than 60 different countries, Youth For Understanding is one of the world's oldest, largest and most respected intercultural exchange programs. ...
Cole's ClassesOrange
Secondary Courses Online for Anyone Teaching Mostly High School Science, Labs, and a Little Math There is One Day a Week Instruction For 30 Weeks
Spanish Classes with Tricia McClintokRichmond
Tricia McClintock is offering all levels of Spanish classes in the Richmond area. She has been teaching Spanish to homeschoolers for 14 years. See http://spanishwithtricia.webs.com for more info. She is also offering ...
DiazFlute StudioRichmond
Where Private Lessons Meet Personal Growth
Acers Lane Tutoring and Test PrepSouthWest DC
With experience ranging from university bridge programs to her own classroom, AC Lane, founder of Acers Lane, has been tutoring and teaching since 2010. The mission of Acers Lane is to help students fast-track their b...
Hearthstone Enrichment Classes for HomeschoolersSperryville
Hearthstone will be offering classes for homeschoolers, as well as after-school and weekend classes for children in school and adults. Please see our website for details and registration. A drop-off option is offered ...
Monroe Tutoring Center. LLCSpotsylvania
Monroe Tutoring offers support for local students (k-12) needing assistance with math, reading and test taking skills. Sessions are conducted in person or online. During the summer students, ages six to nine, particip...
Harvester Teaching ServicesSpringfield, Fairfax, Northern Virginia, Fort Belvoir, Lorton.
Harvester Teaching Services has been assisting homeschool families in all of Northern Virginia for over 30 years. HTS offers enrichment and solid academic classes to PreK through Grade 12, as well as end-of-year testi...
Grace Preparatory SchoolStafford County
Grace Preparatory School is a fully accredited, non-denominational, K4-12th grade school offering families a Christian, college-preparatory education in a warm, community environment. We combine the best attributes of...
Barefoot University Forest School - VirginiaStatewide
Barefoot University aims to connect kids to nature by encouraging child-led experiences and outdoor learning. Our Forest School communities promote the health and education of each child. We do this through engaging a...
The Frontier Culture MuseumStaunton
The Frontier Culture Museum offers homeschool families the opportunity to learn history through historic cooking, gardening, wool and flax processing, and animal care. Special events throughout the year for homeschool...
Blackfriars Playhouse School Matinee ScheduleStaunton
ASC offers 10:30am shows on Thursday mornings during the school year.
Sylvan of SterlingSterling
Sylvan of Sterling is a tutoring center committed to getting children ahead and helping students gain confidences in problem areas. Tutors specialize in reading, writing, mathematics, SAT/ACT prep, study skills, etc. ...
NOVA Catholic Homeschool (NCHS)Sterling
NOVA Catholic Homeschool (NCHS) has been offering high quality, college preparatory courses for homeschooling families since 2014. High school students and mature 8th graders ready for high school level work are eligi...
Classical Conversations Strasburg VAStrasburg/Shenandoah
Classical Conversations campus in Strasburg VA uses the classical method of education and a biblical world view to teach students "To Know God and to make Him known." Classical Conversations is a Christian Community o...
Dream CatchersToana
Dream Catchers at the Cori Sikich Therapeutic Riding Center enriches the lives of children, adults, and families through equine assisted services offering education, empowerment, healing, and hope. Weekly equine assis...
Art of Problem Solving Academy in ViennaVienna
Art of Problem Solving (AoPS) Academy offers advanced math and language arts enrichment classes for grades 2-12. This program's 36 week curriculum is comprehensive and fully accredited. Classes are 1 hour 45 minute, w...
Scent of Water Learning CommunityVienna
This new program from the Center for Redemptive Education (CRE) offers "the whole story for the whole child" to support home schooling families in their quest to align with God's design for their children. The CRE bel...
Samurai AcademicsVienna
Samurai Academics focuses on two main methods, incremental learning, and mastery, to assist students in achieving their academic goals. These methods are then applied to mathematics and test prep, as well as to severa...
Language Academy of Coastal VirginiaVirginia Beach
Language Academy of Coastal Virginia provides English and foreign language classes to teens and adults. All foreign language classes are taught by native speakers of the target language.
FREE S.M.I.L.E Sustainability CampVirginia Beach
Operation Smile invites middle school and high school students to a FREE OPERATION SMILE CAMP: S.M.I.L.E Sustainability Camp 9:00 AM-2:00 PM on Monday, April 10th to Friday, April 14th Campers will spend a week at the...
MathnasiumVirginia Beach/RedMill
Mathnasium of Red Mill is your neighborhood math-only learning center. When math makes sense, kids leap way ahead – whether they started out far behind or already ahead in math. The Mathnasium Method™ has transformed ...
Virginia Scholastic Chess Association EventsVirginia Statewide
Chess tournaments all of Virginia's school children. Events held monthly around the state.
Driver Education Information for Home SchoolersVirginia Statewide
(from VDMV). If you are an approved home schooler, driver education can be taught at home. The student must currently be enrolled in a home-schooled program approved by your school division superintendent. The student...
Virginia Classical ConversationsVirginia Statewide
CC is a national homeschooling program that uses a Bible based curriculum taught in a christian, classical tradition. Classes are geared for age 4 through high school.
Blessing God's Way - Maidens by His DesignWarrenton
This course will teach menses from a Christian perspective to mother/daughter teams - includes student workbooks and materials to make it fun, easy and understandable - not to mention modest and Godly!
National Postal Museum ProgramsWashington
Learning that Delivers! The National Postal Museum offers a creative selection of programs that attract a wide audience base of all ages, genders, ethnicities, and interests. Whether it be a workshop, film, family pro...
National Fossil Day at the National MallWashington D.C.
Join paleontologists, educators, and students in fossil-related events and activities across the country in parks, classrooms, and online during National Fossil Day. National Fossil Day is an annual celebration held t...
National Museum of the American Indian ProgramsWashington DC and New York City
The National Museum of the American Indian is the sixteenth museum of the Smithsonian Institution. It is the first national museum dedicated to the preservation, study, and exhibition of the life, languages, literatur...
The French AcademyWashington DC Metro Area
The French Academy is a small French school in the Alexandria/DC/ Baltimore region, offering flexible classes based on the individual needs of the students. Small class sizes allows each team to work intensively on th...
Colonial Williamsburg Foundation Home Educator ExperienceWilliamsburg
Events of the 1770s pushed Williamsburg and its residents into Revolution and Independence. Yet, while politics raged, domestic life and work as well as commerce continued. Learn about running a household and preparin...
We Rock the Spectrum - WilliamsburgWilliamsburg
We Rock the Spectrum Williamsburg offers affordable Field Trips for Pre-School, Elementary School, Special Needs Classes and more. Our Gym provides your kids with the sensory play they need to improve their fine motor...
Go to...