Jump to: Homeschool Arts | Homeschool Sports
In addition to the opportunity to get out of the house and socialize, homeschool sports and arts programs can offer long-term benefits by developing characteristics like leadership, self-confidence, perserverance, and self-esteem. Many organizations and businesses have opportunities specifically for homeschoolers, while others invite homeschoolers to participate in their regular programs.
Not sure how to choose activity/activities for your children? Read how Rebecca narrows down the choice of extra-curricular activities.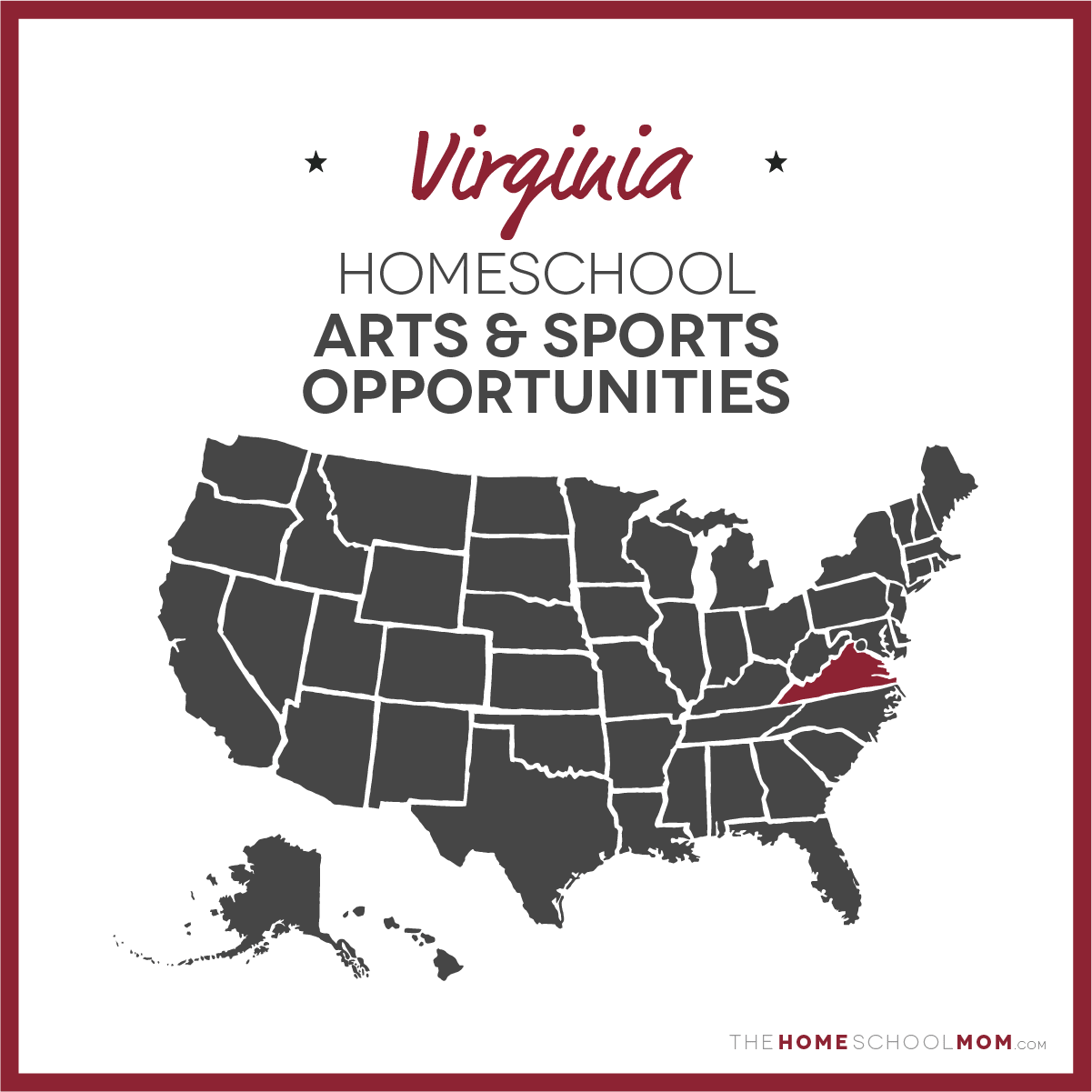 Submit a Local Resource
Our listing of Virginia list of homeschool arts and sports programs is ordered alphabetically by city, with arts in the first section and sports in the second section. If you would like to submit an Virginia arts or sports program, you may do so using the red button above.
Virginia Homeschool Arts Programs
MEA Piano StudioAlexandria
MEA Piano Studio offers private piano lessons for students aged 3.5 to 18. Lessons take place in a relaxing atmosphere at a professional office location. Students learn technique, theory, music com... [Read more...]
Alexandria Piano SchoolAlexandria
Private piano lessons, one on one traditional training. This includes learning to read music, performance etiquette, practice techniques and music theory. Instructor creates a fun atmosphere, offer... [Read more...]
Silk painting classes with Anna YakubovskayaAlexandria
Anna Yakubovskaya is an artist at the Torpedo Factory Art Center and silk painting instructor at the Art League School. She has years of experience working with young students and would be happy to... [Read more...]
School of Rock AlexandriaAlexandria
School of Rock provides performance based music education for ages 6-17 on guitar, bass, drums, keyboards and vocals. We teach a "song first" approach that gets the student excited to learn songs, ... [Read more...]
Kidcreate StudioAlexandria
Kidcreate's homeschool classes offer children an exciting format for art exploration, experimentation, and fun! It's perfect for homeschooled kids who are looking for a weekly social experience, le... [Read more...]
HIIT Hard Boxing with Maxie SprottAlexandria
HIIT Hard Boxing presents: The Boxing Dojo Youth Programs We created the world's first boxing progression system. We have strong roots in the Martial Arts community. Our boxing coaches have Blue be... [Read more...]
Kat and Mo Studios Kid's Art WorkshopAlexandria, FAIRFAX, Springfield, Woodbridge
Art Workshop, for kids, age 4 and up. This resource, is located in the Hobby Lobby Store, in Alexandria, Va., some Tuesdays and some Saturdays, normally, 11:00 am - 1:00 p.m. Each session, we try t... [Read more...]
Art classes for homeschoolers ages 8–14+ with Nataliya GurshmanAnnandale
Fun classes for children to learn principals of design elements, composition, value, structure, movement, and colors. Art classes are taught by a professional artist, and a teacher of 22 years, and... [Read more...]
Vicky's Music Studio Piano and Voice LessonsAnnandale, VA and D.C. Metro Area
Music lessons enhance skills in every area of life. The ability to create music is a skill very few regret learning, and the other skills learned through music lessons (discipline, time management,... [Read more...]
Blue Feather MusicArlington
Blue Feather Music is the newest in-home music studio serving the Washington, D.C. metro! Blue Feather Music specializes in making music lessons fun again for all ages and experience levels, and ha... [Read more...]
Arlington Arts CenterArlington
Join the Arlington Arts Center for a class that explores the visual arts through a variety of fun and engaging techniques. Observation and imagination will be emphasized while students learn about ... [Read more...]
Gabby Hartley Private Piano StudioArlington
Piano teacher's private studio. This music teacher has many students during the after school hours and is looking to advance her day time piano student lessons. She is an in home teacher who goes t... [Read more...]
School of Rock - LoudounAshburn
School of Rock's performance-based music curriculum develops confidence and skills in students using a fun and interactive environment. This method combines weekly private lessons with structured g... [Read more...]
Notes N' BeatsAshburn
Notes N' Beats is a dynamic, community-centered music studio located in Ashburn offering private, group, and online music lessons year-round for a variety of instruments, including piano, guitar, v... [Read more...]
Bach to Rock - BristowBristow
At B2R we believe that: - Learning to play music should be fun. It's called 'play' for a reason. - Students feel motivated by playing with their peers. - A student's individual music instruction sh... [Read more...]
Shine For GirlsBurke
SHINE for Girls is an eight-week program that combines Dance with a tailored math curriculum to create an environment for young girls to explore math in a unique and creative way. Shine For Girls s... [Read more...]
Russell School of BalletChantilly
The Russell School of Ballet has been serving the metropolitan area for 50 years. Classical Ballet, Pointe and Variations, Jazz, Tap and Modern classes are offered for children, teens and adults. D... [Read more...]
Bach to Rock South RidingChantilly
Bach To Rock is "THE" music school for students of all ages. B2R's unique method is based on the idea that students learn best when they join together in groups to play the music they like the most... [Read more...]
Cornerstone Ballet and Theatre Homeschool classesChantilly
Offering quality dance and theatre education in a Christian environment. Check out the morning classes for homeschoolers! [Read more...]
The Virginia ConsortCharlottesville
The Virginia Consort Youth Chorale is a choir for serious young musicians in Charlottesville, VA. The mission of The Virginia Consort is to enrich and perhaps even change lives with choral music. T... [Read more...]
STEAM Discovery AcademyCharlottesville
STEAM Discovery Academy provides unique opportunities for students to experience science while encouraging them to learn how the universe works, to be creative, and developing innovative solutions.... [Read more...]
Art Box Virginia Art classesCharlottesville, Crozet, Lynchburg
Since 1968, encouraging people to embrace the Arts through Classes and Gallery Shows. Charlottesville, Lynchburg, and Crozet Virginia. For more information and to register contact Lexy at The Art Box [Read more...]
Charlottesville Piano TeacherCharlottesville/Albemarle
Piano teacher, with more than 10 years teaching experience looking to connect with homeschool families who are interested in learning piano. [Read more...]
Cello LesssonsCity of Fairfax
Rachel Sexton teaches private cello lessons at her home studio in City of Fairfax, VA. She has extensive experience teaching the traditional method of cello study to students of all ages and backgr... [Read more...]
Trumpet LessonsCity of Fairfax
Dr. Hussell teaches private trumpet lessons out of his home studio in City of Fairfax, VA. He has extensive experience teaching students of all ages and levels, and holds a DMA degree from the Shen... [Read more...]
Private Violin Lessons with Tara PlanetaCity of Fairfax
Tara Planeta earned her Master's Degree in Music Performance from Arizona State University, and has performed with numerous ensembles across the nation including the National Philharmonic, Maryland... [Read more...]
Clifton Forge School of the ArtsClifton Forge
Clifton Forge School of the Arts (CFSOTA) offers classes in the fine and applied arts to children and adults. CFSOTA offers a wide variety of classes, workshops and events throughout the year to ap... [Read more...]
Music Enrichment Center - MECDC metropolitan area (DMV)
25 years of experience teaching music both in the classroom and privately. My focus is on developing a quality TONE. So many young or beginner musicians focus on playing fast, technically challengi... [Read more...]
Youth Media MD - Free Art and Film Classesdowntown Silver Spring
Art class, Takoma Park at Heffner Center- Three-week class on Tuesdays and Wednesdays, 2pm to 4pm, for grade 6 through 10 Art class, Silver Spring at Media Arts Studio- Two-week class on Wednesdays... [Read more...]
Elizabeth's Music & ArtsFairfax
Piano lessons, group piano classes, and arts classes designed to inspire creativity are available in-home, in a home studio in Fair Oaks, and online. Elizabeth teaches piano using a unique combinat... [Read more...]
Douglas Rogers Guitar StudioFairfax
Lessons available for classical guitar. Both Suzuki and Traditional methods of instruction available from a teacher with over 10 years experience. [Read more...]
The Capitol Symphonic Youth Orchestras (TCSYO)Fairfax
TCSYO is a true youth orchestra, not a college or post-college age group. It includes students ranging in age from 7 to 18, from public, private and home schools. The diversity of students is a str... [Read more...]
Tara Planeta: Private/Group Violin lessonsFairfax & Fauquier Locations
Now offering morning lessons (Monday in Fairfax, T-F Fauquier) to a select few homeschool students ~ accepting all levels and ages 3+! Ms.Planeta brings 20 years of professional experience includin... [Read more...]
Private Cello Lessons with Ryan NoblesFairfax County
Ms. Nobles teaches private cello lessons at her home studio in Reston, VA. She offers 30 min, 45 min, and 60 min lessons tailored to each student. These private lessons are an excellent accompanime... [Read more...]
Art private lessons for teens with Nataliya GurshmanFairfax/Annandale
Private art lessons for teens seeking entrance to an art college. Unique one-on-one experience and 100% teacher's attention. Result: an art college acceptance with possible Portfolio Merit Scholars... [Read more...]
Awaken the Voice: StudioFalls Church
This is a private voice/music studio offering a wide range of services including coaching in singing, acting, public speaking, presentation coaching, and more. The studio trains homeschool students... [Read more...]
Amazing Grace Notes Piano StudioFalls Church
Amazing Grace Notes is a private piano studio in Falls Church. For over 20 years, Claudia's goal has been to help guide students, ages 5 through adult, to experience their own "grace note moments" ... [Read more...]
Christian Youth Theater - FredericksburgFredericksburg
Christian Youth Theater (CYT) is an after-school theater arts training program for students ages 4 - 18. CYT is not affiliated with a church body, and people of all faiths are welcome. Every sessio... [Read more...]
FAYM Fredericksburg Area Young MusiciansFredericksburg
FAYM offers music ensembles and classes to homeschooled students in the greater Fredericksburg area. Classes offered are: Band (5 levels), Orchestra (5 levels), Choir (4 levels), Music Theory (3 le... [Read more...]
SMG Music (Music Lessons/Music Therapy)Fredericksburg
Sarah Griffin was home educated all the way through, and has her degree in Music Therapy from Shenandoah University where her primary instrument was Piano. She currently is a performer and accompan... [Read more...]
M&S Studio of the Performing ArtsFredericksburg
M&S music program includes piano lessons, guitar lessons, voice lessons and many other instruments. The dance program offers a variety of dance forms such as ballet, jazz, tap, lyrical, hip hop... [Read more...]
The Happy PianoFredericksburg
Looking for a music, dance, & art studio that teaches all ages and levels? Come to the Happy Piano in Fredericksburg, VA. The Happy Piano offers fine arts education that will help students disc... [Read more...]
The Music StudioFredericksburg
The Music Studio provides music lessons through in-person and online learning opportunities. Instruments taught include strings, piano, harp, and saxophone. Private group instruction as well as ens... [Read more...]
LYNX Art AcademyGaithersburg
LYNX Art Academy offers a variety of classes that are designed to encourage confidence and artistic expression. At LAA there is no limitation to creativity. [Read more...]
Sophia Lim Arriaga Violin StudioGreat Falls
Learn how to play the violin with physical freedom and compelling musicality. Sophia's studio utilizes an amalgamation of methods including that of Suzuki, Paul Rolland, Mimi Zweig, and Kurt Sassma... [Read more...]
Creative Music Entertainment +Hampton Roads
Online, in person or in studio educational, music and practical arts classes and lessons. Language classes available as well. We offer tutoring and special needs classes as well. The Home School Hu... [Read more...]
Young Musicians of VirginiaHampton Roads Southeast
Young Musicians of Virginia is a K-12 music enrichment program for homeschooled students. It offers multiple levels of musical ensembles, including band, strings, and choir, as well as other music ... [Read more...]
Art With Mrs. JaynieHarrisonburg
Art with Mrs. Jaynie teaches in-person pod learning art classes to kiddos in and around the Harrisonburg, VA area. She will bring all the art supplies you need to complete art projects ranging from... [Read more...]
Piano Lessons by Ellen NordlofHaymarket, Gainesville, Bristow, Warrenton, Manassas, and Centreville
Private piano lessons are available for beginning, intermediate and advanced students age 7 and older. Professional instruction is provided by Ellen Nordlof, a classically trained pianist with Bach... [Read more...]
Monroe Street Studio (Yana's Art Center)Herndon
Monroe Street Studio offers classes to homeschoolers which include drawing, painting on canvas, printmaking, pottery, sculpture, stained glass, mosaic, and more. Kids become familiar with a variety... [Read more...]
Bach to Rock HerndonHerndon
Bach To Rock is "THE" music school for students of all ages. B2R's unique method is based on the idea that students learn best when they join together in groups to play the music they like the most... [Read more...]
Bach to Rock LansdowneLeesburg
Bach To Rock is "THE" music school for students of all ages. B2R's unique method is based on the idea that students learn best when they join together in groups to play the music they like the most... [Read more...]
Building Brilliant MindsLeesburg
Building Brilliant Minds is located in Northern Va. Best known for online courses in architecture, Mrs, G. also provides online courses in the Arts such as: piano, art, photography, dance history a... [Read more...]
Excelsior Voices Youth ChoirManassas
Excelsior Voices is a community youth choir for high school & young adult singers located in the Manassas/Woodbridge Virginia area. We have a weekly rehearsal on Thursday nights as well as pop-... [Read more...]
Manassas Flute AcademyManassas
The Manassas Flute Academy is more than just flute lessons. As a member of the Academy, you can participate in…Weekly Flute Choir and Small Group Rehearsals, Annual Community Service Outing, Winter... [Read more...]
Big Dog Pots Pottery - Clay and Fused Glass Classes for All AgesMarshall
Big Dog Pots Pottery is a working Pottery Studio situated in a renovated house built in 1890. Children will build on learned skills to create basic to complex clay forms. Classes run monthly and ar... [Read more...]
Bach to Rock McLeanMcLean
Bach To Rock is "THE" music school for students of all ages. B2R's unique method is based on the idea that students learn best when they join together in groups to play the music they like the most... [Read more...]
Lewinsville Presbyterian Church choral/handbell programsMcLean
Lewinsville Presbyterian Church has three choral/handbell programs for children in elementary grades and high school grades. All classes meet on Sunday afternoon and prepare the attendees for perfo... [Read more...]
Exceptional Art (private or small group Art education classes)Mechanicsville & Hanover County
Exceptional Art offers a unique Art education experience with holistic curriculum and specialized instruction for student artists in a home studio environment. Curriculum choices based on your arti... [Read more...]
Thrive Music Academy Music ClassesMechanicsville/Hanover
It's never too early to start learning music! Studies show that learning music at a young age greatly benefits the development of children. Following the Music Rhapsody curriculum, these general mu... [Read more...]
Rock Creek Music Studio: Brass lessonsMontgomery County
Private and group instruction for brass instrumentalists. Learn to play your instrument with an easy and relaxed sound. Develop your ear, your sense of musical line and play the music that you want... [Read more...]
The Montpelier Center for Arts & EducationMontpelier
The Montpelier Center for Ars & Education invite you to the Summer Sun & Sand art summer camp. In this 4-day camp, students will get to create jelly fish sea creatures with real sea urchins... [Read more...]
High Notes Music SchoolNewport News
This resource includes music classes for ages PreK through high school that include singing, movement, story telling, and drumming. [Read more...]
School of RockNorfolk
School of Rock offers students of all skill levels age 7-18 a performance-based music curriculum in a fun environment. Weekly private lessons are combined with structured group rehearsals. Students... [Read more...]
Astilla Piano StudioNorthEast
As a musician who practices continued learning, evolving and figuring out ways to elevate performance, Christopher has worked as an educator in the Capitol Hill and greater Washington, DC community... [Read more...]
NOVA Music AcademyNorthern Virginia
At NOVA Music Academy the mission is to provide the Shenandoah Valley expert quality music education in a family atmosphere. At NOVA Music Academy each teacher has the very highest possible level o... [Read more...]
Clay Cafe ChantillyNorthern virginia
Art studio specializing in classes for kids. Pottery wheel, hand building with clay, canvas painting, paint your own pottery. Also schedules field trips, specialty holiday classes and daily 9-5 art... [Read more...]
Timothy Judd Suzuki Violin ProgramRichmond
Private lessons and group classes. If you want information about the Suzuki Method or violin study in general please contact Timothy Judd: (804) 353-0428 or (585) 746-3723. Timothy Judd has been a ... [Read more...]
Johnson Drum Instruction - Drum LessonsRichmond
Johnson Drum Instruction offers drum and percussion lessons to students of all ages and levels. The studio features snare drums, two drum sets, Latin percussion instruments, and mallet percussion i... [Read more...]
CharacterWorksRichmond
CharacterWorks is a non-profit after-school theater arts program for students ages 4-19 dedicated to the mission of honoring Christ, building character, and creating community through quality theat... [Read more...]
Greater Richmond School of Music - Homeschool Band, Choir, Strings ensembles plus Private Lessons in all instrumentsRichmond
The Greater Richmond School of Music is a comprehensive music school that offers group and private instruction in many areas of study including: voice, woodwinds, brass, strings (including but not ... [Read more...]
Veronica Rose Music - Voice Lessons & MoreRichmond
Veronica Rose Music is a private voice studio providing voice lessons to students of all ages in the Richmond metro area and beyond. Veronica Kokas, studio owner, has been teaching voice lessons fo... [Read more...]
Violin Lessons with Cecilio StudiosSilver Spring
Welcome to Cecilio Studios! I have been a full time violin teacher for over 15 years and provide violin instruction in person at my home studio, and online through high quality virtual lessons. My ... [Read more...]
The Washington School of Ballet Homeschool ClassesSouthEast Washington
The Washington School of Ballet's SE Campus will be offering daytime ballet classes for homeschoolers ages 5-10, beginning in September 2019. Classes will take place on Mondays and Wednesdays betwe... [Read more...]
Hearthstone Enrichment Classes for HomeschoolersSperryville
Hearthstone will be offering classes for homeschoolers, as well as after-school and weekend classes for children in school and adults. Please see our website for details and registration. A drop-of... [Read more...]
Silver Line Theatre Exchange Acting, Improv, and Private CoachingStaunton
Silver Line Theatre Exchange offers theatre classes include acting and improv, dramatic literature, physical training (foil fencing, self defense, and karate) and private/group coaching for student... [Read more...]
Sterling Music for All Violin and Viola LessonsSterling
Sterling Music for All is a private violin and viola lesson studio run by Nicole Fainsan. She teaches private Suzuki and traditional violin and viola lessons including a weekly group class option. ... [Read more...]
Adrenaline Dance StudioTysons Corner
The Adrenaline Dance Academy offers professional and accessible jazz, lyrical , hip hop, and tumbling programming to your student. Your dancer(s) can expect high quality classes taught by professio... [Read more...]
School of Rock - ViennaVienna
School of Rock's performance-based music curriculum develops confidence and skills in students using a fun and interactive environment. This method combines weekly private lessons with structured g... [Read more...]
Harmonia School of Music and ArtVienna
Harmonia School of Music and Art in Vienna, VA offers music lessons in all instruments and voice, as well as musical theater instruction and productions, and a unique youth opera program. In additi... [Read more...]
WoodFellas WorkShopVirginia Beach
WoodFellas offers custom tailored creative workshops for students 5 and up. You and your group will be able work together and create simple woodcraft items from scratch. You will learn how items ar... [Read more...]
Note Distinction LLCVirginia Beach
Musicians enrolled in Note Distinction have the benefit of self-paced online content in the form of videos and assignments. On alternating weeks, musicians login to bi-weekly "Live Q/A Sessions" wh... [Read more...]
Ballroom Dance InstructionVirginia Beach/Hampton Roads
This resource offers home school group dance classes. These classes cover a variety of dance styles. Students may learn the basics of various Ballroom, swing, and line dances in addition to perform... [Read more...]
Mark's Music PrepWashington D.C Metropolitan
Mark's Music Prep is a music education service that offers private and group music lessons for the piano, violin, viola, cello, composition, performing, and music theory to people of all ages. The ... [Read more...]
Dodgeball TheatreWashington DC area/Herndon
Dodgeball is dedicated to empowering young artists and developing their theatrical voices through all-ages classes, independent productions, and its youth company, the Teen Ensemble. Dodgeball make... [Read more...]
KCC Suzuki Piano LessonsWaynesboro
Looking for Suzuki piano lessons in the greater Charlottesville area? Karin Constant is accepting students ages 3 and up! For those unfamiliar with the Suzuki method, Suzuki uses a combination of e... [Read more...]
Sarah B Music StudioWaynesboro
K-12 private music studio specializing in beginner piano and saxophone instruction. In-studio options available. Crozet, Waynesboro, Fishersville, Staunton, VA. [Read more...]
Piano and Cello instruction by Marina HayesWilliamsburg
Piano and Cello instruction is provided by Marina Hayes, a classically trained piano and cello teacher with BA in Music Studies from Naberezhnye Chelny College of Music and MA from Perm State Unive... [Read more...]
Virginia Homeschool Sports Programs
EvolveAll - Martial ArtsArlington
This resource, provided by EvolveAll, is a martial arts and self defense course. They provide day time classes in martial arts and self defense that will increase your child's confidence, disciplin... [Read more...]
SwimBoxArlington and Sterling
SwimBox is a swim school with private 1:1 services including Swim Lessons and Private Swim Workouts. SwimBox brings together technology and expertise to give you the best swim lesson experience ava... [Read more...]
James River Home School FoundationCentral Virginia
James River Home School Foundation offers and organizes interscholastic, recreational, and developmental sports programs for the physical strengthening and training in discipline of home-schooled s... [Read more...]
Kids First Swim School of ChantillyChantilly
The KIDS FIRST Swim Schools are the world's largest provider of children's swimming instruction, operating 32 locations across 5 states, teaching over 150,000 students annually. Kids First Swim Sch... [Read more...]
PickleballerzChantilly
Learn to play Pickleball Homeschool Program (4th-8th graders and 9-12th graders). Students will learn the fundamentals of how to play pickleball through fun drills and game play. Sessions vary betw... [Read more...]
Sandy River Outdoor AdventuresCharlottesville
A one of a kind outdoor education and recreation experience for groups of all make ups. Programs challenge participants to push themselves beyond their normal comfort zone and into the mind set whe... [Read more...]
Triple R RanchChesapeake
Triple R Ranch is a summer camp and retreat center that has been around since 1960. The staff enjoys serving kids of all ages and welcomes them as volunteers. Offering summer camp during the summer... [Read more...]
River City CrewChesterfield County
River City Crew is a non-profit youth rowing program for 8th-12th graders in the Richmond, Va. area located at Robious Landing Park in Midlothian, Va. RCC is not affiliated with any school and acce... [Read more...]
CrossFit Burke Kids ClassesFairfax
CrossFit Burke offers kid programs from ages 3-18 years old. The focus is creating a fun environment while teaching kids of all ages how to move well and enjoy exercise. Teaching proper form and te... [Read more...]
Fairfax Home School Athletic Association (FHS)Fairfax
Fairfax Home School Athletic Association supports the home school community by offering competitive sports for middle school and high school students. FHS offers sports for each specific season sta... [Read more...]
Majest Martial ArtsFredericksburg
Home School classes to the local communities. Classes are held on Tuesdays and Thursdays while expanding to include Mondays and Wednesdays. Training encourages leadership, public service and mentor... [Read more...]
Invicta Sports Club: Fencing and ArcheryGaithersburg/Washington DC metropolitan area
Classes and one-time trial sessions in Olympic Sport of Fencing for children ages 5 and up. Fencing is an exciting activity to train sharp minds and reflexes, sport of tactics, and psychology, dubb... [Read more...]
Martial Arts WorldGlen Allen
Fun, challenging classes for self-defense, fitness, confidence, discipline, focus & more. Martial Arts World of West End (10454 Ridgefield Pkwy., Henrico, VA 23233) is offering a great deal for you... [Read more...]
Ryan's RecreationGoochland County
Ryan's Recreation is a small tennis center located in Goochland county offering private and group tennis lessons as well as clinics and camps. [Read more...]
Surge Adventure ParkHenrico
Surge Adventure Park is the largest indoor trampoline park in the Richmond, VA area. With trampoline courts, a ninja course, a 4-story toddler zone, two ziplines, a wipeout, and much more, Surge Ad... [Read more...]
Ion International Homeschool Ice Skating LessonsLeesburg
Ion International Training Center is a brand new, state of the art Ice Rink and Arena in Leesburg, VA. We offer 30 minute group ice skating lessons, followed by a 30 minute practice, for home schoo... [Read more...]
Majest Tae Kwon Do Martial ArtsMontclair
Majest Martial Arts is a traditional Taekwondo school led by Master K.B. Kim of Korea. Tae Kwon Do encompasses a "whole life" mantra, and is well known for helping instill self-confidence, physical... [Read more...]
TSUGA VBCNew Market
The purpose of the club is to provide an environment where young athletes will improve in the game of volleyball and learn the important values of team, spirit and sportsmanship, a "Culture of Coop... [Read more...]
HR SportspleXNewport News
This resource offers a variety of sports at HR SportspleX including soccer, basketball, pickleball, dodgeball, cornhole, batting cages, etc. The facility is looking to be filled with athletic-minde... [Read more...]
Nova Lions BaseballNorthern VA
The Nova Lions are a competitive high school baseball program in Northern Virginia comprised of homeschool students and private school students from schools without baseball teams. The Lions are pr... [Read more...]
Project HorsePurcellville
Project Horse connects people in need of renewed hope and confidence with rehabilitated rescue horses, through innovative experiential learning and therapy programs. The calming presence of horses,... [Read more...]
SwimRVARichmond
SwimRVA is a local non-profit in Richmond, VA that aims to elevate swimming in the Richmond region making water safety and aquatic fitness more accessible to all. The programs offered include swim ... [Read more...]
Elkin Sports PerformanceRichmond
Elkin Sports Performance is the top strength and conditioning gym in Central Virginia. The ESP facility features 2 turf sections and a large weight room ready and waiting to help you! ESP has been ... [Read more...]
Aqua-Tots Swim Schools P.E. at the Pool - RichmondRichmond
Aqua-Tots Swim Schools is a local swim school owned and operated by a home school family. We are excited to offer a brand new program - P.E. at the Pool! This small group P.E. class is designed for... [Read more...]
The Virginia Axe CompanyRichmond
Sport axe and knife throwing in the central Virginia area! Learn how to throw knives an axes in a safe, friendly, alcohol-free environment. The coaches are national and international champions whos... [Read more...]
Richmond Olympiad GymnasticsRichmond-Chesterfield-Midlothian-Ashland
Richmond Olympiad has been serving the Richmond Area for over 47 years and have four convenient locations. The Olympiad offers preschool - school age gymnastics-fitness classes, homeschool and tumb... [Read more...]
Fox Pointe Farm IEA Equestrian Team Ages 11-19Richmond/Quinton
Upper and Middle School Equestrian Sports Program. Fox Pointe Farm of Quinton, VA has a upper and middle school equestrian team with member openings for the 2010-2011 season! Unique opportunity for... [Read more...]
Richmond Fencing ClubScott's Addition, Richmond
The Richmond Fencing Club is a 501C non-profit organization that teaches the Olympic Sport of Fencing. RFC has been in business for over 20 years in the city of Richmond, VA. RFC offers classes for... [Read more...]
Word of Life Christian Academy FootballSpringfield
Word of Life Christian Academy in Springfield, VA is currently putting together a football team for grades 8-12. If there are homeschool children that would like to join the team please have them c... [Read more...]
Yamasaki Academy Jiu JitsuSpringfield
Yamasaki Academy Springfield location is offering a program for Homeschool children ages 7 – 13 years old! Our classes will run in Fall, Winter, and Spring Programs with classes on Mondays and Wedn... [Read more...]
Paladin Martial Arts Federation LLCSterling
Offering martial arts training during the day for homeschool groups. Paladin Martial Arts Federation offers the most comprehensive martial arts in the NOVA area. The Founder and Instructor has almo... [Read more...]
AcroKidzSterling
AcroKidz is a full-sized school bus converted into a safe and fun gymnasium. The bus is padded and filled with fun equipment specifically designed for children ages 2 - 7. [Read more...]
Loudoun Ice CentreSterling
Loudoun Ice Centre is a smaller ice rink that accommodates skaters of all ages. Accommodates non-skaters with on-ice activities such as broom-ball and sledding. Facility has party/meeting rooms (3)... [Read more...]
Jeff Smith Mile High KarateSterling
Jeff Smith Mile High Karate is a martial arts school in Sterling, Virginia providing a perfect venue for children (and adults) to train and get exercise while learning to protect themselves. Progra... [Read more...]
Dream CatchersToana
Dream Catchers at the Cori Sikich Therapeutic Riding Center enriches the lives of children, adults, and families through equine assisted services offering education, empowerment, healing, and hope.... [Read more...]
Picturesque Farm horseback riding lessonsWarrenton
Picturesque Farm offers horseback riding lessons to kids (and adults) of all ages, from beginners through advanced. Learn horsemanship, proper horse care, safety, and, of course, how to ride! Great... [Read more...]
Williamsburg GymnasticsWilliamsburg
Homeschool Gymnastics classes for ages 5-18. Located at the College of W&M in Williamsburg, Virginia. A great way to get moving in a fun, safe, and friendly environment. Get those PE credits here. ... [Read more...]
Competitive Edge Athletic Center - Homeschool PE ProgramWoodbridge
Home School P.E. program is designed to improve students' motor skills, overall fitness level, and to be enjoyable for home school students. This program allows the opportunity for social interacti... [Read more...]
Yamasaki Academy Martial ArtsWoodbridge
Yamasaki Academy of Woodbridge has a program for Homeschool children ages 4 to 14 years old! Our classes run in 3 month semesters with classes on Monday and Tuesday 1:30pm - 2:30pm. One class/week ... [Read more...]
Go to Virginia...