Jump to: Homeschool Arts | Homeschool Sports
In addition to the opportunity to get out of the house and socialize, homeschool sports and arts programs can offer long-term benefits by developing characteristics like leadership, self-confidence, perserverance, and self-esteem. Many organizations and businesses have opportunities specifically for homeschoolers, while others invite homeschoolers to participate in their regular programs.
Not sure how to choose activity/activities for your children? Read how Rebecca narrows down the choice of extra-curricular activities.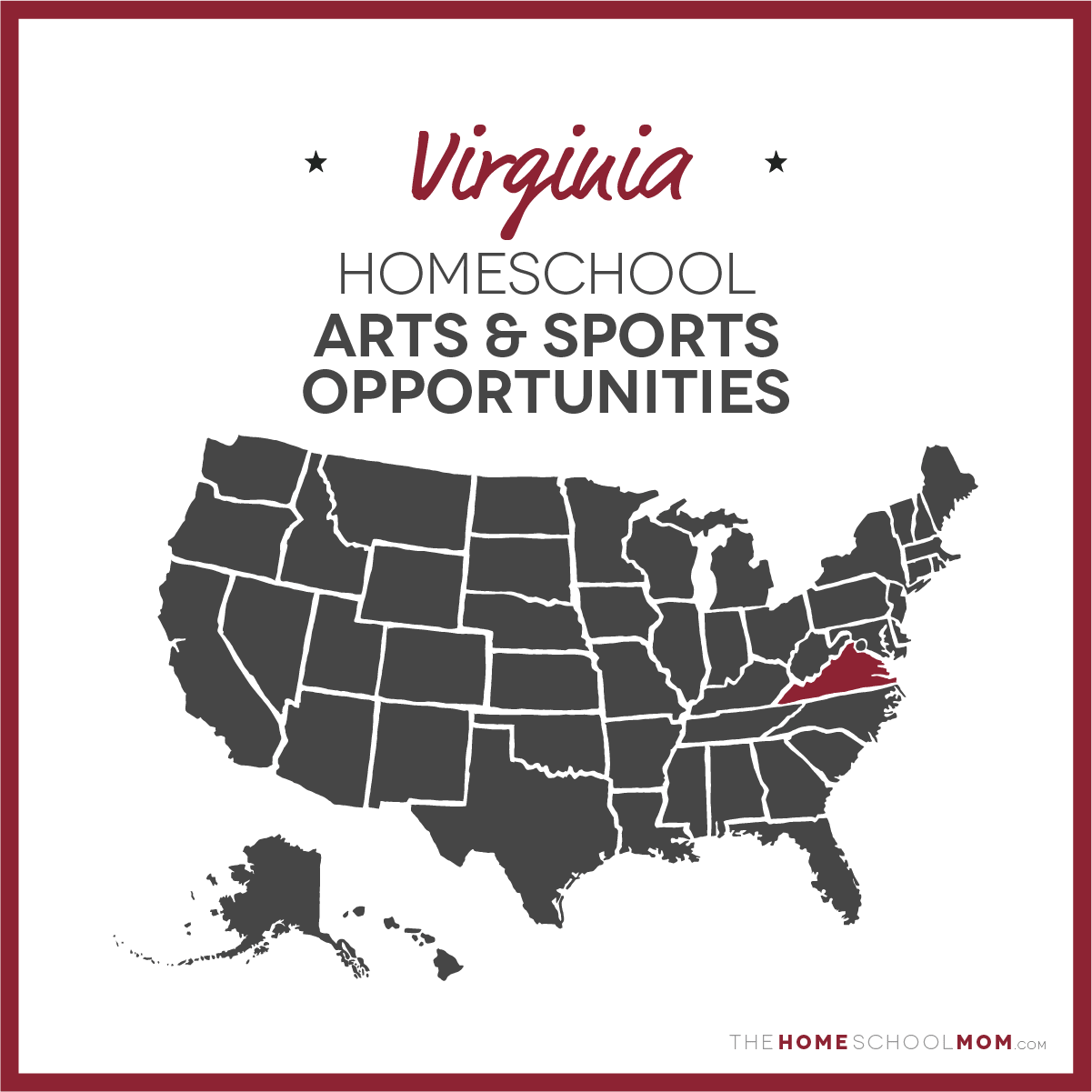 Submit a Local Resource
Our listing of Virginia list of homeschool arts and sports programs is ordered alphabetically by city, with arts in the first section and sports in the second section. If you would like to submit an Virginia arts or sports program, you may do so using the red button above.
Virginia Homeschool Arts Programs
MEA Piano Studio

Alexandria

MEA Piano Studio offers private piano lessons for students aged 3.5 to 18. Lessons take place in a relaxing atmosphere at a professional office location. Students learn technique, theory, music composition, duets, and more. A free trial lesson is available for all new students. The studio also offers a 20% discount for lessons before 3:00. Visit the website or call 703-229-1708 for more information.
Alexandria Piano School

Alexandria

Private piano lessons, one on one traditional training. This includes learning to read music, performance etiquette, practice techniques and music theory. Instructor creates a fun atmosphere, offering reward systems and prizes. The kids are always studying repertoire that they recognize or find fun in additional to their traditional curriculum. It' an excellent balance and maintains interest. New students and their parents attend an interview lesson to determine if we are all a good fit and your child's readiness for private music instruction. Preschoolers are also welcome! Offering a home school tuition rate in addition to a sibling discount.
School of Rock Alexandria

Alexandria

School of Rock provides performance based music education for ages 6-17 on guitar, bass, drums, keyboards and vocals. We teach a "song first" approach that gets the student excited to learn songs, along with music theory to hone their skills. The collaboration and mentoring between students in the groups are amazing and help build social skills. Along with group sessions, our one on one lessons with our Method Books teach music theory in 5 volumes from beginner to advanced. Registration can begin at any time and we offer free trial lessons for you to see the facility, meet some instructors and rock out in a 30 minute lesson. Simply go to our website and enter your information in the FREE TRIAL LESSON form.
Kidcreate Studio

Alexandria

Kidcreate's homeschool classes offer children an exciting format for art exploration, experimentation, and fun! It's perfect for homeschooled kids who are looking for a weekly social experience, learn new art techniques and explore creative expression. Your child doesn't have to attend public school to experience all the benefits of art education. Homeschool classes are available for both weekly enrollment and one-time studio workshops. Our goal is to provide your child with quality art education, and we keep our hours flexible so that parents can find the time. Once you drop off your child, we will entertain them for an hour or more and keep their creative mess contained within our studio walls. They'll be sent home at pick up time with a smile on their face and a fridge-worthy masterpiece for you to hang up. In addition to homeschool classes listed on our site we also offer homeschooling families and groups the opportunity to book private classes. Kidcreate can match the learning themes homeschoolers are currently focused on.
Weddington String Studio

Alexandria

Anna Weddington is a violinist, music teacher, and Suzuki trained violin teacher. At her home studio, Anna offers weekly violin and viola lessons for kids and adults of all ages and abilities. Beginners are welcome! Students may sign up for individual lessons or can choose to learn with a friend.
HIIT Hard Boxing with Maxie Sprott

Alexandria

HIIT Hard Boxing presents: The Boxing Dojo Youth Programs We created the world's first boxing progression system. We have strong roots in the Martial Arts community. Our boxing coaches have Blue belts in multiple disciplines. We have been coaching and training, over 30 years, combined and one thing we all noticed, Boxing classes for children are very limited. Limited in options, limited in focus and limited in knowledge. Boxing is traditionally taught by ex fighters or group fitness instructors. But there was no system to gauge or track a child's progress, until now. We introduce The Boxing Dojo. We developed a 10 stage progression program system which includes testing, every 6 weeks. We combined the structure of martial arts with personal training and boxing FUNdamental to create The Boxing Dojo. Our program focus' on both the mental health and physical health of our students.
Vicky's Music Studio Piano and Voice Lessons

Annandale, VA and D.C. Metro Area

Music lessons enhance skills in every area of life. The ability to create music is a skill very few regret learning, and the other skills learned through music lessons (discipline, time management, appreciation, observation) can transfer to all aspects of life. Music lessons help students learn to appreciate music for its own merit, while also teaching them transferable life skills. Vicky provides private lessons for students of all ages and abilities. She teaches lessons in her home studio, as well as in students' homes, for an additional travel fee. Lessons are weekly, and last from 30 minutes to 90 minutes. In home lessons are subject to location, time, and date of lesson, as her schedule is already quite full in the after school hours. Daytime availability is more open.
Blue Feather Music

Arlington

Blue Feather Music is the newest in-home music studio serving the Washington, D.C. metro! Blue Feather Music specializes in making music lessons fun again for all ages and experience levels, and has a passion for sharing the love of music. Offering high quality lessons from experienced music professionals all within the convenience of your home.
Arlington Arts Center

Arlington

Join the Arlington Arts Center for a class that explores the visual arts through a variety of fun and engaging techniques. Observation and imagination will be emphasized while students learn about line, color, shape, texture, space and form. During this eight-week course, participants will experiment with various media such as drawing, painting, collage, and printmaking, which will be combined to create finished projects.
School of Rock - Loudoun

Ashburn

School of Rock's performance-based music curriculum develops confidence and skills in students using a fun and interactive environment. This method combines weekly private lessons with structured group rehearsals and prepares students to perform live on stage. Programs are designed for ages 8-18 and all skill levels. Areas of instruction range from guitar lessons to bass, vocals, keys and drums lessons. Also offers summer camps, monthly events, workshops, clinics, guest professors and additional performance opportunities through local House Bands and national All-Stars programs. Call to schedule a trial lesson or a tour. 703-850-2100. Located at 20660 Ashburn Road, Ashburn, Virginia 20147.
Notes N' Beats

Ashburn

Notes N' Beats is a dynamic, community-centered music studio located in Ashburn offering private and group music lessons year-round for a variety of instruments, including piano, guitar, voice, and percussion. At Notes N' Beats, teachers introduce students to classical music study, while also letting students explore other genres, such as pop, rock, and world music. Students at Notes N' Beats get several chances to rock out throughout the year, either at the annual studio recitals, the annual fundraiser, or with the several student-led rock bands. The studio's teachers are all experienced musical professionals in their respective fields, and work tirelessly to help every student love and appreciate music. At Notes N' Beats, students have the opportunity to explore music...just the way they like!
Greater Richmond School of Music

Atlee/Chesterfield

Greater Richmond School of Music (GRSM) is a multi-award winning music school which offers group and private instruction in many areas of study including: voice, woodwinds, brass, strings (including but not limited to violin and guitar), and percussion (including but not limited to piano and drums). GRSM has homeschool-specific programs including Homeschool Band, Homeschool Choir, Homeschool Musical Theater, Homeschool Uke/Guitar Groups, as well as Homeschool Music Appreciation and Keyboard Groups and these are offered between our Atlee and Chesterfield locations.
Bach to Rock - Bristow

Bristow

At B2R we believe that: - Learning to play music should be fun. It's called 'play' for a reason. - Students feel motivated by playing with their peers. - A student's individual music instruction should be supplemented by jam sessions and playing in a band. - Like a sports team, a band builds teamwork, develops social skills, fosters self-esteem, promotes peer recognition, and leads to lasting friendships. - Students learn faster playing music they like, whether it's Rock or Bach. And the technical foundation is the same. - Students are motivated to learn when they see early results and have an exciting, achievable goal. - Introducing toddlers and very young children to music instruction, rhythm, and motion supports cognitive development, learning, and motor skills. B2R Offers a Unique Method of Instruction: We base our method of music instruction on the knowledge that students learn best when they play the music they enjoy most. That's why we use special arrangements of today's music to help students become proficient instrumentalists or vocalists as well as seasoned performers. At B2R Music, individual music instruction is combined with band instruction that leads to regularly scheduled public performances, "Battles of the Bands," and recording sessions in our professional sound studio.
Shine For Girls

Burke

SHINE for Girls is an eight-week program that combines Dance with a tailored math curriculum to create an environment for young girls to explore math in a unique and creative way. Shine For Girls strives to not only improve mathematic skills, but also EMPOWER our students with the confidence to chase after their passions, and inspire SUCCESS in middle school and beyond. SHINE sessions are offered throughout the year.
Russell School of Ballet

Chantilly

The Russell School of Ballet has been serving the metropolitan area for 50 years. Classical Ballet, Pointe and Variations, Jazz, Tap and Modern classes are offered for children, teens and adults. Dancers trained at the Russell School of Ballet have gone on to dance professionally in the New York City Ballet, Joffrey Ballet, San Francisco Ballet and many others. Starting in Fall of 2015, Russell School of Ballet is starting a program targeting homeschoolers age 6-12 for a new ballet class program during the day, minimum 6 per class. For more information please check out our website or contact Karla at (703) 803-1055.
Bach to Rock South Riding

Chantilly

Bach To Rock is "THE" music school for students of all ages. B2R's unique method is based on the idea that students learn best when they join together in groups to play the music they like the most. These creative group activities foster teamwork, build self-esteem and motivate students to perfect their musicianship through independent practice. This school provides a variety of group music classes geared toward infants, toddlers, pre-schoolers, as well as elementary through high school aged students. One-on-one private lessons are available for all ages.
Cornerstone Ballet and Theatre Homeschool classes

Chantilly

Offering quality dance and theatre education in a Christian environment. Check out the morning classes for homeschoolers!
The Virginia Consort

Charlottesville

The Virginia Consort Youth Chorale is a choir for serious young musicians in Charlottesville, VA. The mission of The Virginia Consort is to enrich and perhaps even change lives with choral music. The Virginia Consort is committed to excellence in choral music. Our performances will be places where all present—performers and audience—share a common delight in music and are renewed by it. We aim to bring music alive for those who perform and who listen, enriching our lives through a shared experience of the vast world of choral music. At the very core of our existence is a commitment to introduce young people to the fun and joy of singing together, to expose them to a rich and diverse repertoire of choral music and to instill in them the discipline necessary to produce a fine performance. We hope to encourage young musicians to continue singing throughout their lives. The Virginia Consort Youth Chorale was formed in 1992 by The Virginia Consort, a choral ensemble of adult singers under the direction of Judith Gary. The Youth Chorale began with 20 singers but has since grown to include over 100 young people in four choirs: The High School Chorus, a mixed chorus made up of the most experienced young men and women through high school age, the Treble Chorus for experienced treble-voiced singers through 12th grade, the Prelude Choir for children in 4th grade through 7th grade and the First Step Choir, our newest choir, for children from Kindergarten through 3rd grade who love to sing and desire more singing experience. Members of each of these choruses are chosen by audition and are re-auditioned each year. Every one of our concerts includes a segment featuring the talented young people that make up our Youth Chorale.
STEAM Discovery Academy

Charlottesville

STEAM Discovery Academy provides unique opportunities for students to experience science while encouraging them to learn how the universe works, to be creative, and developing innovative solutions. Tactile activities with experienced educators in a fun, interactive learning environment, STEAM Discovery Academy offers hands-on learning activities with experienced educators that spark students' interest in all aspects of STEAM: Science, Technology, Engineering, Art, and Math. Courses like Lego Lab, Forensic Science, Robotics, and Mixed Media Art present concepts and challenges by combining education and entertainment, allowing students to grow while having fun.
Art Box Virginia Art classes

Charlottesville, Crozet, Lynchburg

Since 1968, encouraging people to embrace the Arts through Classes and Gallery Shows. Charlottesville, Lynchburg, and Crozet Virginia. For more information and to register contact Lexy at The Art Box
Trumpet Lessons

City of Fairfax

Dr. Hussell teaches private trumpet lessons out of his home studio in City of Fairfax, VA. He has extensive experience teaching students of all ages and levels, and holds a DMA degree from the Shenandoah Conservatory of Music. Dr. Hussell also teaches music history, music theory, as well as trumpet pedagogy.
Private Violin Lessons with Tara Planeta

City of Fairfax

Tara Planeta earned her Master's Degree in Music Performance from Arizona State University, and has performed with numerous ensembles across the nation including the National Philharmonic, Maryland Symphony, Arizona Opera, Phoenix Symphony, Roanoke Symphony,and Two Rivers Chamber Orchestra. In addition to performing, she maintains a busy teaching schedule with students of all ages and levels with The Hussell Music Studio in Fairfax, as well as the Catoctin School of Music in Leesburg, and loves spending time with her horses, dog, and cats.
Clifton Forge School of the Arts

Clifton Forge

Clifton Forge School of the Arts (CFSOTA) offers classes in the fine and applied arts to children and adults. CFSOTA offers a wide variety of classes, workshops and events throughout the year to appeal to all ages and interests. Classes include many levels of: painting and drawing, photography, blacksmithing, clay (pottery and ceramics), glass (shaping, stained glass, etc.), language arts, music, voice and dance, sculpture, woodworking and carving, yoga, and needle-fiber arts (felting, knitting, sewing, etc.) and many more! CFSOTA is a 501(c)(3) organization and is supported by private donors, individual gifts, and grants.
Music Enrichment Center - MEC

DC metropolitan area (DMV)

25 years of experience teaching music both in the classroom and privately. My focus is on developing a quality TONE. So many young or beginner musicians focus on playing fast, technically challenging music, often overlooking their tone quality. The Music Enrichment Center works with students to achieve superior tone quality on their chosen instrument. It would be my honor to be your guide on this Musical journey!!! *** We also offer Instruction on: CLARINET, FLUTE, TRUMPET, Beginning PIANO, Music THEORY, and Digital MUSIC PRODUCTION. Currently accepting openings for: Weekdays: M, T, W, & F Midday, Afternoons, Evenings Weekends: Sat - 3-8p 30 min - $30 45 min - $40 60 min - $50 *Discounts available for lessons purchased in bulk *Sibling / Group discounts available **$10 fee for travel over 20 miles HOME SCHOOL NETWORK / GROUP DISCOUNTS
The Capitol Symphonic Youth Orchestras (TCSYO)

Fairfax

TCSYO is a true youth orchestra, not a college or post-college age group. It includes students ranging in age from 7 to 18, from public, private and home schools. The diversity of students is a strong reflection of the contemporary area we live in. The young musicians all have in common a love for music and a willingness to spend their Monday or Tuesday evenings rehearsing and playing together. These students make important friendships and discover a passion for music that continues whether or not they pursue an instrumental career. The focus of TCSYO is education – fundamentals and skill building. Rehearsals emphasize teamwork. There is a positive environment – parents are welcome to sit in during rehearsals. Rehearsals begin in September at Lanier Middle School in Fairfax, VA. Auditions are held at Lanier MS annually in early June. Auditions are required for membership into the orchestras.
Douglas Rogers Guitar Studio

Fairfax

Lessons available for classical guitar. Both Suzuki and Traditional methods of instruction available from a teacher with over 10 years experience.
Tara Planeta: Private/Group Violin lessons

Fairfax & Fauquier Locations

Now offering morning lessons (Monday in Fairfax, T-F Fauquier) to a select few homeschool students ~ accepting all levels and ages 3+! Ms.Planeta brings 20 years of professional experience including both public and private school classroom teaching, in addition to private studio ages 3-85. A unique blend of Suzuki and Traditional with supplemental "fun" music.
Private Cello Lessons with Ryan Nobles

Fairfax County

Ms. Nobles teaches private cello lessons at her home studio in Reston, VA. She offers 30 min, 45 min, and 60 min lessons tailored to each student. These private lessons are an excellent accompaniment to academic pursuits cultivating skills that will enhance each student's ability to learn and gift them with a skill they can enjoy for years to come.
Art private lessons for teens with Nataliya Gurshman

Fairfax/Annandale

Private art lessons for teens seeking entrance to an art college. Unique one-on-one experience and 100% teacher's attention. Result: an art college acceptance with possible Portfolio Merit Scholarship. Individualized lesson plans specific to the desired college or university and student's interests.

Art private lessons for teens with Nataliya Gurshman details
Awaken the Voice: Studio

Falls Church

This is a private voice/music studio offering a wide range of services including coaching in singing, acting, public speaking, presentation coaching, and more. The studio trains homeschool students currently, and has daytime slots available on a rolling basis. This studio focusses on presence and practice for students age 10- adult and does offer some competition/performance opportunities as an option for competative students, though not required to participate. No audition required, interview only. There are rate reductions for homeschool students and there is wide daytime availability.
Amazing Grace Notes Piano Studio

Falls Church

Amazing Grace Notes is a private piano studio in Falls Church. For over 20 years, Claudia's goal has been to help guide students, ages 5 through adult, to experience their own "grace note moments" through learning to play piano and filling their lives with music they enjoy - and make - on their own! Lessons are individualized to each student's goals, interests, strengths, and learning styles. A core curriculum of piano pedagogy methods is offered, in addition to theory and technique instruction, with an emphasis on a well-rounded variety of musical styles and genres. Performance opportunities and music appreciation experiences are always encouraged.
Fishersville Piano Studio

Fishersville/Waynesboro

Fishersville Piano Studio, LLC offers private piano lessons to students of all ages from beginner to advanced. Contact fishersvillepianostudio@gmail.com for details
Christian Youth Theater - Fredericksburg

Fredericksburg

Christian Youth Theater (CYT) is an after-school theater arts training program for students ages 4 - 18. CYT is not affiliated with a church body, and people of all faiths are welcome. Every session (fall, winter and spring) CYT offers theater arts classes for children. Each CYT across the country conducts three independent ten-week sessions throughout the school year, teaching drama, voice, dance and a broad spectrum of specialty theatrical workshops at weekly two-hour classes. Enrolled students have the opportunity to work behind the scenes, or audition and perform on stage in a Broadway-style musical performed for the community.
FAYM Fredericksburg Area Young Musicians

Fredericksburg

FAYM offers music ensembles and classes to homeschooled students in the greater Fredericksburg area. Classes offered are: Band (5 levels), Orchestra (5 levels), Choir (4 levels), Music Theory (3 levels), Beginning Group Piano (2 levels), Beginning Group Guitar (3 levels), Elementary Music, and Recorder.
M&S Studio of the Performing Arts

Fredericksburg

M&S music program includes piano lessons, guitar lessons, voice lessons and many other instruments. The dance program offers a variety of dance forms such as ballet, jazz, tap, lyrical, hip hop, musical theater and ballroom. To have music and dance lessons at the same location, give families the ability to schedule lessons for 2 or more family members at the same time, providing more time for other activities and less driving for the family. M&S offers day time classes that are especially designed for homeschoolers. Check website for FREE trial class information.
The Happy Piano

Fredericksburg

Looking for a music, dance, & art studio that teaches all ages and levels? Come to the Happy Piano in Fredericksburg, VA. The Happy Piano offers fine arts education that will help students discover and unlock their true artistic potential! Using music, dance, and art as a medium of communication and self-expression, The Happy Piano is inclusive to all abilities.
The Music Studio

Fredericksburg

The Music Studio provides music lessons for strings, piano, harp, and saxophone. Private group instruction as well as ensemble lessons are available for all ages, all levels of experience, including adults! Classes are offered throughout the week, Monday through Saturday.
511 Creative Studio

Fredericksburg

511 Creative Studio is a homeschool graduate owner music and fine arts studio. Offering group, semi-private and private music and fine arts lessons for ages 3+, they have something for every student. 511 Creative offers graded or non-graded classes for homeschoolers and will travel to your group to partner with you. Scholarships are available and they offer many local, state, and national performance opportunities as well.
YssaMusic

Fredericksburg

YssaMusic provides a unique and highly personalized method of learning, creating an environment to nurture, educate and encourage creative individuals to achieve the highest level of success. We pride ourselves in offering music lessons to students of all abilities including those with special needs. In fact, we consider this our greatest honor and privilege. If you have been looking for a caring and fun music lesson provider, we hope you will look to YssaMusic.
LYNX Art Academy

Gaithersburg

LYNX Art Academy offers a variety of classes that are designed to encourage confidence and artistic expression. At LAA there is no limitation to creativity.
Sophia Lim Arriaga Violin Studio

Great Falls

Learn how to play the violin with physical freedom and compelling musicality. Sophia's studio utilizes an amalgamation of methods including that of Suzuki, Paul Rolland, Mimi Zweig, and Kurt Sassmannhaus. Sophia attended Vanderbilt University where she received her Bachelor of Music degree on a full Dean's Merit Scholarship and was honored with the Jean Keller Award for Excellence in String Playing. She attended Cincinnati College Conservatory of Music on a merit scholarship where she completed her Masters and doctoral coursework. Sophia resides and teaches in the Great Falls, VA. Her playing has been featured on television, radio, in newspaper, and magazine. She has appeared as a soloist with several orchestras in San Diego, given recitals nationwide, played professionally as an orchestral musician, as well as served as concertmaster of multiple orchestras. She has taught the violin for many years including as a faculty at the Cincinnati College Conservatory of Music Preparatory Program.
Creative Music Entertainment +

Hampton Roads

Group and Individual Lessons for all Ages from an award winning business! Lessons offered in Piano, Voice, Guitar, Ukulele, Bass, Violin, Drums, Saxophone, Clarinet, Flute, Songwriting, Music Theory, & Conducting. Also offering: drama, public speaking, dance, cooking, art, and more!
Young Musicians of Virginia

Hampton Roads Southeast

Young Musicians of Virginia is a K-12 music enrichment program for homeschooled students. It offers multiple levels of musical ensembles, including band, strings, and choir, as well as other music classes in secondary ensembles and pedagogy (general music, music theory, conducting, music technology). Private lessons are available on most instruments. The program includes access to a wide range of academic classes, primarily for 6th-12th grade students, including classes in mathematics, English, social studies, the sciences, and foreign language. Students have opportunities to serve in student government, socialize, and participate in community outreach while developing their skills and abilities in their classes. The summer program varies from year to year but includes opportunities for private lessons and week-long summer day camps.
Art With Mrs. Jaynie

Harrisonburg

Art with Mrs. Jaynie teaches in-person pod learning art classes to kiddos in and around the Harrisonburg, VA area. She will bring all the art supplies you need to complete art projects ranging from drawing, to painting, to clay. In-person classes are for small groups of students together for weekly or bi-weekly art classes. Additionally, she teaches virtual homeschool art curriculum, where she will ship supplies to individuals around the country. In-person and virtual classes area available from PreK- High School students.
Piano Lessons by Ellen Nordlof

Haymarket, Gainesville, Bristow, Warrenton, Manassas, and Centreville

Private piano lessons are available for beginning, intermediate and advanced students age 7 and older. Professional instruction is provided by Ellen Nordlof, a classically trained pianist with Bachelor of Music degree and National Certification (NCTM) through Music Teachers' National Association as well as 27 years of experience. Fundamentals of sight reading, rhythm, technique and interpretation are emphasized through a systematic approach with fun and interesting music. Teacher is focused on maintaining high standards and excellent quality of piano instruction. Call 703-332-9778 for more info and to setup an interview
Monroe Street Studio (Yana's Art Center)

Herndon

Monroe Street Studio offers classes to homeschoolers which include drawing, painting on canvas, printmaking, pottery, sculpture, stained glass, mosaic, and more. Kids become familiar with a variety of techniques and styles, and will receive guidance to help them discover their own favorite artistic medium. Teenagers may participate in the stained glass and mosaic classes, which are available for beginners and advanced students.
Bach to Rock Herndon

Herndon

Bach To Rock is "THE" music school for students of all ages. B2R's unique method is based on the idea that students learn best when they join together in groups to play the music they like the most. These creative group activities foster teamwork, build self-esteem and motivate students to perfect their musicianship through independent practice. This school provides a variety of group music classes geared toward infants, toddlers, pre-schoolers, as well as elementary through high school aged students. One-on-one private lessons are available for all ages.
Bach to Rock Lansdowne

Leesburg

Bach To Rock is "THE" music school for students of all ages. B2R's unique method is based on the idea that students learn best when they join together in groups to play the music they like the most. These creative group activities foster teamwork, build self-esteem and motivate students to perfect their musicianship through independent practice. This school provides a variety of group music classes geared toward infants, toddlers, pre-schoolers, as well as elementary through high school aged students. One-on-one private lessons are available for all ages.
Excelsior Voices Youth Choir

Manassas

Excelsior Voices is a community youth choir for high school & young adult singers located in the Manassas/Woodbridge Virginia area. We have a weekly rehearsal on Thursday nights as well as pop-up weekend rehearsals for those already skilled at reading music.
Manassas Flute Academy

Manassas

The Manassas Flute Academy is more than just flute lessons. As a member of the Academy, you can participate in…Weekly Flute Choir and Small Group Rehearsals, Annual Community Service Outing, Winter Community Performance Opportunities, Bi-Annual Academy Get Togethers (complete with flute games and prizes!), Halloween Recital (complete with costume contest!), Spring Recital, Leadership Roles and Opportunities, Regular mock auditions to help prepare you for chair placement, All State, and college auditions, and more! If this sounds like a community that you want to be a part of, schedule your FREE lesson today!
Big Dog Pots Pottery - Clay and Fused Glass Classes for All Ages

Marshall

Big Dog Pots Pottery is a working Pottery Studio situated in a renovated house built in 1890. Children will build on learned skills to create basic to complex clay forms. Classes run monthly and are available as listed in Studio Schedule, or by appointment. In addition to hand-building, and wheel throwing, classes are available in fused glass. Fused glass is similar to stained glass, however pieces are fused together in a kiln instead of soldered. Ask about sibling and group discounts!! Contact the Studio for additional information (540) 364-2834.

Big Dog Pots Pottery - Clay and Fused Glass Classes for All Ages details
Bach to Rock McLean

McLean

Bach To Rock is "THE" music school for students of all ages. B2R's unique method is based on the idea that students learn best when they join together in groups to play the music they like the most. These creative group activities foster teamwork, build self-esteem and motivate students to perfect their musicianship through independent practice. This school provides a variety of group music classes geared toward infants, toddlers, pre-schoolers, as well as elementary through high school aged students. One-on-one private lessons are available for all ages.
Lewinsville Presbyterian Church choral/handbell programs

McLean

Lewinsville Presbyterian Church has three choral/handbell programs for children in elementary grades and high school grades. All classes meet on Sunday afternoon and prepare the attendees for performances at worship services and a Christmas concert. Children and parents do not need to be members of the church to attend. Junior Choristers/Junior Bells is for children in grades 1-3. Each rehearsal provides 30 minutes of beginning-level voice training with an emphasis on developing the fundamentals of singing and music theory. The class also provides a 30-minute beginner level handbell training with emphasis placed on developing the fundamentals of ringing and musical rhythm. This class meets on Sundays from 3:00-4:00 pm. Children's Choir Specialist Evans Ayars leads the voice portion of the class and Handbell Director Kylie Johnson teaches bells. The Lewinsville Choristers is a singing program for grades 4 through 12. The group learns repertoire appropriate for use in worship services while developing lifelong leadership and musical skills. The class meets on Sundays from 4:45-5:30 pm and is led by John Nothaft, Director of Music with assistance from Evan Ayars, Children's Choir Specialist. The Lewinsville Bells is a ringing program for grades 4 through 12. The class teaches handbell repertoire appropriate for use in worship services and also develops lifelong leadership and musical skills. This class meets on Sundays from 5:30-6:15 pm and is led by Handbell Director Kylie Johnson. Many students in grades 4 through 12 attend both the singing and ringing classes on Sundays

Lewinsville Presbyterian Church choral/handbell programs details
Exceptional Art (private or small group Art education classes)

Mechanicsville & Hanover County

Exceptional Art offers a unique Art education experience with holistic curriculum and specialized instruction for student artists in a home studio environment. Curriculum choices based on your artist's interests and needs: Art Elements and Principles of Design Literacy inspired and book based artwork Social and emotional learning structured Art creation Art history & appreciation of famous artists artwork Art Career exploration Multicultural based on Art around the world At home Art studio experience: yours or mine! Network and socialize with other home school families.

Exceptional Art (private or small group Art education classes) details
Thrive Music Academy Music Classes

Mechanicsville/Hanover

It's never too early to start learning music! Studies show that learning music at a young age greatly benefits the development of children. Following the Music Rhapsody curriculum, these general music classes meet your child exactly where they are, encouraging growth and creativity as they learn. Young Musicians classes are taught in small groups of 3-8 students by one of our professional teachers. Classes/lessons on specific instruments such as guitar, ukulele, violin, piano, and singing are also offered by request. All classes occur weekly at the same scheduled day and time each week for 45 minutes, and students participate without a parent.
Rock Creek Music Studio: Brass lessons

Montgomery County

Private and group instruction for brass instrumentalists. Learn to play your instrument with an easy and relaxed sound. Develop your ear, your sense of musical line and play the music that you want to play. This studio promotes a flexible approach to repertoire that is grounded in the basic fundamentals of brass performance: long tones, lip slurs and scales, with emphasis on technique. These are the tools you will use to craft beautifully expressive music! Instruction in all styles of music.
High Notes Music School

Newport News

This resource includes music classes for ages PreK through high school that include singing, movement, story telling, and drumming.
Mary M. Torggler Fine Art Center

Newport News

A variety of engaging art workshops for 8-17-year-old homeschool students!
School of Rock

Norfolk

School of Rock offers students of all skill levels age 7-18 a performance-based music curriculum in a fun environment. Weekly private lessons are combined with structured group rehearsals. Students prepare to perform live on stage. Areas of instruction range from guitar lessons to bass, vocals, keys and drums lessons. Also offers summer camps, monthly events, workshops, clinics, guest professors and additional performance opportunities through the local House Band and national All Stars programs. Call today to schedule a trial lesson or a tour. 757-961-7626. Located at 430 Boush Street, Norfolk VA 23510.
Astilla Piano Studio

NorthEast

As a musician who practices continued learning, evolving and figuring out ways to elevate performance, Christopher has worked as an educator in the Capitol Hill and greater Washington, DC community for over ten years. Teaching piano and music production, his instruction focuses on the development of methods that enable the musician to build inspired, creative work while working independently. Learning to play an instrument takes patience, persistence, and focus — the same qualities students need to excel in school and in their future career. He supports our students every step of the way, helping them achieve their goals. He also highlights how the unique skills one works toward in becoming a musician can be carried over to independent learning in the academic and professional world. Working from his home studio close to Lincoln Park, he enjoys teaching students of all ages and abilities.
NOVA Music Academy

Northern Virginia

At NOVA Music Academy the mission is to provide the Shenandoah Valley expert quality music education in a family atmosphere. At NOVA Music Academy each teacher has the very highest possible level of music education and is a successful performing musician. Students at NOVA music academy win first chair, are accepted to their top college choices, and develop a meaningful relationship with art that they'll carry for a lifetime. Offering a FREE TRIAL LESSON at the Winchester Studio. In this lesson, your child has a chance to meet us and to experience a music lesson without long-term commitment. Parents are welcome to observe the lesson so they can familiarize themselves with teaching styles and assess the comfort of their child. NOVA Music Academy maintains a physical address and studio in Winchester but instructors are available to travel up to 75 miles to individual houses or teaching spaces like churches, classrooms, etc.
Clay Cafe Chantilly

Northern virginia

Art studio specializing in classes for kids. Pottery wheel, hand building with clay, canvas painting, paint your own pottery. Also schedules field trips, specialty holiday classes and daily 9-5 art camps with advanced notice to support families. Plenty of space, affordability and years of experience.
Timothy Judd Suzuki Violin Program

Richmond

Private lessons and group classes. If you want information about the Suzuki Method or violin study in general please contact Timothy Judd: (804) 353-0428 or (585) 746-3723. Timothy Judd has been a member of the Richmond Symphony since 2002. He is a graduate of the Eastman School of Music, where he earned the degrees Bachelor of Music and Master of Music. Mr. Judd studied with Anastasia Jempelis, one of the pioneers of the Suzuki Method in the United States.
Johnson Drum Instruction - Drum Lessons

Richmond

Johnson Drum Instruction offers drum and percussion lessons to students of all ages and levels. The studio features snare drums, two drum sets, Latin percussion instruments, and mallet percussion instruments. Mention The Home School Mom and you will receive a free trial lesson.
CharacterWorks

Richmond

CharacterWorks is a non-profit after-school theater arts program for students ages 4-19 dedicated to the mission of honoring Christ, building character, and creating community through quality theater arts education and productions. CWorks - building character on and off the stage!
Greater Richmond School of Music - Homeschool Band, Choir, Strings ensembles plus Private Lessons in all instruments

Richmond

The Greater Richmond School of Music is a comprehensive music school that offers group and private instruction in many areas of study including: voice, woodwinds, brass, strings (including but not limited to violin and guitar), and percussion (including but not limited to piano and drums). The Greater Richmond School of Music takes great pride in our Faculty. All of our instructors hold Music Degrees which they have received from some of the finest music schools, and have performed with major orchestras, jazz ensembles, and chamber ensembles around the country and abroad.

Greater Richmond School of Music - Homeschool Band, Choir, Strings ensembles plus Private Lessons in all instruments details
Veronica Rose Music - Voice Lessons & More

Richmond

Veronica Rose Music is a private voice studio providing voice lessons to students of all ages in the Richmond metro area and beyond. Veronica Kokas, studio owner, has been teaching voice lessons for almost 10 years, and her students have been named to the All-Virginia Chorus, have been named as finalists in national musical theatre/classical voice competitions, and have received top ratings in the Texas State Solo/Small Ensemble contest, among other accolades. As a teacher, her focus is to tailor lessons to each individual student's needs, with a focus on developing healthy vocal technique so that the student is able to sing the style of music that they want to pursue. In addition to providing students with the tools needed to produce healthy & beautiful singing, Veronica works with students on their mindset to give them the confidence needed to perform at their highest level.
All About the Arts RVA

Richmond

This resource provides private and group piano and vocal lessons for children between the ages of 4 and 18. This resource also provides theory, composition, and performance workshops.
Greater Richmond Pipes & Drums

Richmond

The Greater Richmond Pipes & Drums are a 501c3 organization who's mission is to teach and promote Scots-Irish culture through music. We specialize in the great highland bagpipe and pipe band drumming. We would like to reach out to the Richmond area home school community to offer our services in teaching your students music, whether the pipes or drums. You might be wondering what credentials we have as educators. We have two middle/high school band teachers on our Executive Committee. The majority of our drum corps have degrees in percussion from VCU. Our primary instructor teaches percussion as his full-time profession and was a percussion instructor for Collegiate and several of the Henrico area high schools. We have three piping instructors, two of which are full-time piping instructors and currently teach pipes at Benedictine College Prep. They are also among only a handful of Open grade pipers in the state and have competed at the highest level at the World Pipeband Championships. Instruction includes learning how to read music, either standard notation or percussion. We primarily teach highland bagpipes which would include marches, dance tunes and piobaireachd (classical piping music). Highland piping also translates to Scottish smallpipes and border pipes. For drumming we teach Scottish snare, tenor and bass, As well as marching band, orchestral, rock and other popular forms. Scottish band drumming is similar enough that it will help the student prepare for college marching band if that is something of interest.
Virginia Theatre Machine

Richmond & Henrico

The Virginia Theatre Machine is a custom built mobile stage bringing professional theater to wherever the Virginia Theatre Machine can park it! There are two shows this Fall both on tour for FREE and at Firehouse Theatre at very affordable pricing: H&G, THE RIFT- A Contemporary loose adaptation of Hansel & Gretel where with a digital witch who entices the children with a myriad of screen / virtual offerings. This is a play with occasional songs, performed with two actors, masks, and puppets. A CHRISTMAS CAROL- A widely successful "abrevidation" of the Dickens Classis: 2 Actors. 10 Puppets! More detailed descriptions of both shows are found on the website. The Shows/Resources for Fall 2023 are: H&G, THE RIFT and Charles Dickens' classic A CHRISTMAS CAROL The Virginia Theatre Machine has also teamed up with FEED MORE this year to help address food insecurity in our community. Another good tie in for the Homeschool Mom.
Star City School of Ballet

Roanoke

We offer dance classes for all ages and all levels. The Star City School of Ballet specializes in the teaching of Classical Ballet. We believe that a solid ballet foundation (regardless of body type) can prepare a student for almost any other form of dance. The students learn to dance in a structured environment. Whatever the ultimate goal of the individual may be, Star City School of Ballet students have a unique opportunity to receive the expert training needed to achieve their goals. The priceless mental, as well as physical, benefits our students receive from quality dance instruction, will last a lifetime.
Southwest Virginia Ballet

Roanoke

The mission is to make the performing arts experience available to all ages from all walks of life through full-length productions of varied repertoire including classical ballet, contemporary, and new works. Southwest Virginia Ballet provides, free of charge, the highest quality of pre-professional training possible to young dancers and promotes cultural enrichment and awareness to the art of dance. SVB is committed to offering outreach opportunities for under-served and at-risk children and adults from across Southwest Virginia. Dance students from all dance schools are welcome to audition to be in Junior or Senior Company.
Violin Lessons with Cecilio Studios

Silver Spring

Welcome to Cecilio Studios! I have been a full time violin teacher for over 15 years and provide violin instruction in person at my home studio. My primary teaching curriculums are the Suzuki Method, FiddleQuest, and Music Mind Games (for music theory). I teach students ages three through adult. I have daytime availability and the space and flexibility to accommodate families with multiple children. Get in touch directly to learn more!
The Washington School of Ballet Homeschool Classes

SouthEast Washington

The Washington School of Ballet's SE Campus will be offering daytime ballet classes for homeschoolers ages 5-10, beginning in September 2019. Classes will take place on Mondays and Wednesdays between 10:30am-2:30pm (exact time will depend on class placement). For class placement, questions, or to schedule an audition, please call 202-889-8150 or email mwilliamson@washingtonballet.org
Hearthstone Enrichment Classes for Homeschoolers

Sperryville

Hearthstone will be offering classes for homeschoolers, as well as after-school and weekend classes for children in school and adults. Please see our website for details and registration. A drop-off option is offered on Fridays for children who will attend for the whole day. Subjects will include a variety of art and craft classes, cooperative games, Waldorf activities, Latin, dance, tutoring, knitting, piano and more!
Silver Line Theatre Exchange Acting, Improv, and Private Coaching

Staunton

Silver Line Theatre Exchange offers theatre classes include acting and improv, dramatic literature, physical training (foil fencing, self defense, and karate) and private/group coaching for students in grades 5-12. SLTE is connected to a wide theatre network including the American Shakespeare Center (Staunton), Wayne Theatre (Waynesboro), Heritage Theatre Festival (Charlottesville), and many colleges and universities in the area. SLTE focuses on sharpening every students' skills in empathy, creativity, and collaboration through rigorous actor training, performances, and personal development.

Silver Line Theatre Exchange Acting, Improv, and Private Coaching details
Sterling Music for All Violin and Viola Lessons

Sterling

Sterling Music for All is a private violin and viola lesson studio run by Nicole Fainsan. She teaches private Suzuki and traditional violin and viola lessons including a weekly group class option. Nicole is also a pediatric physical therapist and offers violin and viola lessons to students with special needs. Nicole is also fluent in French and Spanish. She aims to teach critical thinking, empathy, mindfulness, imagination and curiosity through music.
Adrenaline Dance Studio

Tysons Corner

The Adrenaline Dance Academy offers professional and accessible jazz, lyrical , hip hop, and tumbling programming to your student. Your dancer(s) can expect high quality classes taught by professional instructors.
School of Rock - Vienna

Vienna

School of Rock's performance-based music curriculum develops confidence and skills in students using a fun and interactive environment. This method combines weekly private lessons with structured group rehearsals and prepares students to perform live on stage. Programs are designed for ages 8-18 and all skill levels. Areas of instruction range from guitar lessons to bass, vocals, keys and drums lessons. Also offers summer camps, monthly events, workshops, clinics, guest professors and additional performance opportunities through local House Bands and national All-Stars programs. Call to schedule a trial lesson or a tour. 703-850-2100. Located at 111B Center Street South, Vienna, Virginia 22180.
Harmonia School of Music and Art

Vienna

Harmonia School of Music and Art in Vienna, VA offers music lessons in all instruments and voice, as well as musical theater instruction and productions, and a unique youth opera program. In addition to traditional private lessons, Harmonia features a Suzuki strings program which is based on Dr. Shinichi Suzuki's "mother tongue" method and includes weekly private lessons and biweekly group classes for children ages 4+ and special group lessons for younger students ages 2-4. Harmonia also offers group classes in piano, violin, guitar, and voice, as well an early childhood music program using the Harmony Road Method for students as young as 18 months.
Ballroom Dance Instruction

Virginia Beach/Hampton Roads

This resource offers home school group dance classes. These classes cover a variety of dance styles. Students may learn the basics of various Ballroom, swing, and line dances in addition to performance dance. They will also receive valuable skills such as dance etiquette, teamwork, respect for others, and self-confidence. These skills are applicable both in the real world, and at social events. These classes can count toward a PE or an Art credit. The instructor holds a bachelor's degree and is skilled in: Training, coaching, instructional methods, classroom management, syllabi, teaching strategy, evaluation & assessment process, childhood education, performance dance and choreography.
Mark's Music Prep

Washington D.C Metropolitan

Mark's Music Prep is a music education service that offers private and group music lessons for the piano, violin, viola, cello, composition, performing, and music theory to people of all ages. The mission of Mark's Music Prep is to spread the joy of music through education that supports, engages, and enhances the quality of life.
Dodgeball Theatre

Washington DC area/Herndon

Dodgeball is dedicated to empowering young artists and developing their theatrical voices through all-ages classes, independent productions, and its youth company, the Teen Ensemble. Dodgeball makes theatre focused on questions of identity, narrative, and storytelling. Its training method combines movement, improvisation, and nonfiction writing to develop multimedia performances.
KCC Suzuki Piano Lessons

Waynesboro

Looking for Suzuki piano lessons in the greater Charlottesville area? Karin Constant is accepting students ages 3 and up! For those unfamiliar with the Suzuki method, Suzuki uses a combination of ear training, repetition, modeling by the teacher, and high levels of parental involvement and praise, teaching students to play before teaching them to read music. For more information about Karin Constant or the Suzuki method, please see https://kccsuzukipiano.com.
Elder Music Studio

West Point

Located in West Point, VA and offer in-person lessons for K-12 in piano, saxophone, and guitar lessons.
Virginia Homeschool Sports Programs
Virginia Pride Track & Field Club

Aldie/ Gainesville/ Fairfax

Virginia Pride Track & Field Club provides year-round training in track & field, cross country, speed & agility training and pre-season conditioning programs. Our coaches are certified with USATF (USA Track & Field) with the ability to provide your athletes with high level coaching & training. We have boys & girls ages 7 - 18 in our program. We are currently training in Loudoun County; Prince William County and Fairfax County, we are sanctioned and compete under both the AAU & USATF rules and guidelines. We currently have athletes who have run with the program competing at the high school and collegiate level. For more information about any of our programs please contact us. www.vptrackclub.com
EvolveAll - Martial Arts

Arlington

This resource, provided by EvolveAll, is a martial arts and self defense course. They provide day time classes in martial arts and self defense that will increase your child's confidence, discipline, self control and focus. They are a great option for an enriching activity for the homeschool community in northern Virginia. These classes are exclusively for homeschool children and are designed to build community, while teaching children how to set goals and accomplish them.
SwimBox

Arlington and Sterling

SwimBox is a swim school with private 1:1 services including Swim Lessons and Private Swim Workouts. SwimBox brings together technology and expertise to give you the best swim lesson experience available. The core of our protocol is injury prevention, and our dream is that everyone know how to swim. We work towards that by providing you with the safest and most technical swim lessons you can find.
James River Home School Foundation

Central Virginia

James River Home School Foundation offers and organizes interscholastic, recreational, and developmental sports programs for the physical strengthening and training in discipline of home-schooled students. We currently offer volleyball, basketball, and soccer.
Kids First Swim School of Chantilly

Chantilly

The KIDS FIRST Swim Schools are the world's largest provider of children's swimming instruction, operating 32 locations across 5 states, teaching over 150,000 students annually. Kids First Swim School is dedicated to teaching kids to be safe and proficient in the water. Specialty designed training pools maintained at 90 degrees with depths ranging from 2 to 5 feetare used. Shivering and goosebumps, often a major deterrent to the learning process, are outlawed at the KIDS FIRST Swim Schools!! Expert instructors, a trademarked curriculum and a kid-friendly environment enhance your child's learning experience. KIDS FIRST Swim School - Chantilly offers classes Monday through Friday's morning and mid-day for home-school groups.
Pickleballerz

Chantilly

Learn to play Pickleball Homeschool Program (4th-8th graders and 9-12th graders). Students will learn the fundamentals of how to play pickleball through fun drills and game play. Sessions vary between 4-8 weeks long, 1-2 hours per day, 1x per week. Children do not need previous experience. The program is geared towards beginners but is open to all levels of play. All equipment is provided. Program takes place at Pickleballerz, an indoor pickleball facility located in Chantilly, VA. Pickleballerz has 6 indoor pickleball courts and a cafe.
Sandy River Outdoor Adventures

Charlottesville

A one of a kind outdoor education and recreation experience for groups of all make ups. Programs challenge participants to push themselves beyond their normal comfort zone and into the mind set where learning and growth can take place allowing them to truly learn and grow through play! Sandy River Outdoor Adventures offers an outdoor adventure park, team building programs, bike rentals, and canoe/kayak outfitting.
Triple R Ranch

Chesapeake

Triple R Ranch is a summer camp and retreat center that has been around since 1960. The staff enjoys serving kids of all ages and welcomes them as volunteers. Offering summer camp during the summer and activities, retreats, and horseback riding for groups during the school year! Specializing in horseback riding and offer other traditional camp activities such as archery, canoeing, climbing wall, laser tag, and an escape room!
River City Crew

Chesterfield County

River City Crew is a non-profit youth rowing program for 8th-12th graders in the Richmond, Va. area located at Robious Landing Park in Midlothian, Va. RCC is not affiliated with any school and accepts new rowers whether in a school or home school. RCC runs summer Learn-to-Row programs for those who wish to join the team.
CrossFit Burke Kids Classes

Fairfax

CrossFit Burke offers kid programs from ages 3-18 years old. The focus is creating a fun environment while teaching kids of all ages how to move well and enjoy exercise. Teaching proper form and technique is paramount to all movements our kids do. Coaches have advanced degrees and certifications in exercise science, kinesiology, advanced nutrition, and top level certifications along with years of coaching experience. Contact info@crossfitburke.com for more information.
Fairfax Home School Athletic Association (FHS)

Fairfax

Fairfax Home School Athletic Association supports the home school community by offering competitive sports for middle school and high school students. FHS offers sports for each specific season starting with boys soccer, girls volleyball, and co-ed cross country in the fall, girls and boys basketball in the winter, and boys baseball, girls soccer, and co-ed track in the spring. If your son or daughter is interested in competing at their school level, please go to fhs-aa.com to look at the specific schedule and see what's happening now.
Fairfax Homeschool HS Varsity Baseball

Fairfax

The FHS baseball team is a high school varsity program that provides homeschooled athletes the opportunity to compete at the varsity level. All homeschool players grades 8-12 are welcome to try out for a roster spot. We also offer a junior varsity program for younger players. This provides our players, not ready for the varsity level of play, the opportunity to practice and develop alongside the varsity athletes. Practices and training sessions are held as a single unit, allowing both groups to work together, growing and developing alongside one another with the coaching staff. Once the season begins the two teams will play separate game schedules.
Fairfax Homeschool Athletic Association

Fairfax County

This Fairfax based 501C3 organization offers a variety of sports serving Middle School through High School homeschooled students year-round. 2023-2024 teams include soccer, basketball, tennis, volleyball, baseball, flag-football, track & field, and cross-country. Teams enjoy competition in more than one league against private schools, Christian schools, and other home school teams. Team schedules observe weekly practices with nearly all games for most sports held on weekdays. Most sports participate in end-of-season tournaments. Coaches sign a statement of faith, as this is a faith-based organization.
Majest Martial Arts

Fredericksburg

Home School classes to the local communities. Classes are held on Tuesdays and Thursdays while expanding to include Mondays and Wednesdays. Training encourages leadership, public service and mentoring.
Aikido in Fredericksburg

Fredericksburg

A non-profit educational organization teaching and practicing the effective yet non-violent traditional martial art of Aikido. Aikido is non-competitive and fosters individual development. Classes are offered throughout the region including at our beautiful green headquarters building on 20 acres in Spotsylvania. Students generally start at about age 6 and classes are offered for different ages and ability levels.
Nexus American JiuJitsu

Fredricksburg

JiuJitsu is a self defense based sport, originally created to help smaller people defend themselves against larger opponents. There is absolutely NO punching, kicking, or any type of striking involved. That's what makes it so good for Kids! There is also opportunities to compete in jiujitsu competitions, which is a safe way for your child to learn how to cope under pressure, as well as critical thinking skills. JiuJitsu helps teach structure, respect, self defense and confidence. Every child can benefit from training JiuJitsu.
Invicta Sports Club: Fencing and Archery

Gaithersburg/Washington DC metropolitan area

Classes and one-time trial sessions in Olympic Sport of Fencing for children ages 5 and up. Fencing is an exciting activity to train sharp minds and reflexes, sport of tactics, and psychology, dubbed physical chess. Success in fencing is not based on size, or strength alone. Victory goes to the smartest and sharpest. Protecting gear makes fencing safe. Fencing could be a path to the college of your dream. Over 40 leading colleges and universities, to include every Ivy League school, have NCAA fencing programs. Day classes/private lessons are available. Archery sessions are also available. Summer camps offered June through August.
Martial Arts World

Glen Allen

Fun, challenging classes for self-defense, fitness, confidence, discipline, focus & more. Martial Arts World of West End (10454 Ridgefield Pkwy., Henrico, VA 23233) is offering a great deal for your homeschool family. 5 weeks of unlimited classes, for just $10.99. The classes are every Monday and Wednesday at 12 p.m. for one hour. This special also gets you a free T-shirt and your white belt. Any questions, or to schedule your first visit, contact Martial Arts World at 804-673-5200.
Surge Adventure Park

Henrico

Surge Adventure Park is the largest indoor trampoline park in the Richmond, VA area. With trampoline courts, a ninja course, a 4-story toddler zone, two ziplines, a wipeout, and much more, Surge Adventure Park has something for everyone in your family! Each Thursday from 11am - 1pm, they offer an exclusive discount to homeschoolers of just $12 per student for two full hours of admission!
Ion International Homeschool Ice Skating Lessons

Leesburg

Ion International Training Center is a brand new, state of the art Ice Rink and Arena in Leesburg, VA. We offer 30 minute group ice skating lessons, followed by a 30 minute practice, for home schoolers on Tuesdays and Thursdays from 11am - 12pm. These classes run in 9 week sessions but you can start up any time! If you join late you will be prorated.
Majest Tae Kwon Do Martial Arts

Montclair

Majest Martial Arts is a traditional Taekwondo school led by Master K.B. Kim of Korea. Tae Kwon Do encompasses a "whole life" mantra, and is well known for helping instill self-confidence, physical fitness, and discipline to one's life. The Home School program is geared for students ages 5 and up. Classes meet on Tuesdays and Thursdays
HR SportspleX

Newport News

This resource offers a variety of sports at HR SportspleX including soccer, basketball, pickleball, dodgeball, cornhole, batting cages, etc. The facility is looking to be filled with athletic-minded youth and adults to utilize the turf field and sports court, as well as the indoor pickleball court. The space can be used for PE programs, birthday or team celebrations, or any type of event located in Newport News. Please contact 757-586-5001 or info@hrsportsplex.com for more information.
Nova Lions Baseball

Northern VA

The Nova Lions are a competitive high school baseball program in Northern Virginia comprised of homeschool students and private school students from schools without baseball teams. The Lions are primarily a Varsity baseball team but will field a JV team with enough interest. The Nova Lions compete in the Old Line Baseball Conference against Fairfax Homeschool, Avalon, St. Maria Goretti, and The Heights. The team is open to all home schooled students interested in playing competitive high school baseball but prior baseball experience is required. The team's indoor practice facility is at the NZone in Chantilly, VA and off-season workouts typically begin in January. Games are played in Northern Va, Washington DC, and Maryland. If interested, please contact the team administrator: Scott Faircloth at jscottfaircloth@gmail.com
Project Horse

Purcellville

Project Horse connects people in need of renewed hope and confidence with rehabilitated rescue horses, through innovative experiential learning and therapy programs. The calming presence of horses, with their keen ability to sense and respond to the human condition, provides an ideal environment for healing and self-discovery. Project Horse is dedicated to improving the quality of life for both horses and humans, creating a unique community of mutual healing and benefit. Summer camps available.
SwimRVA

Richmond

SwimRVA is a local non-profit in Richmond, VA that aims to elevate swimming in the Richmond region making water safety and aquatic fitness more accessible to all. The programs offered include swim lessons, aquatic fitness, aquatic team sports, and general aquatic programming. SwimRVA has created a whole new program specific to homeschoolers in RVA! Swim lessons available earlier in the day! School Aged lessons (6+) are 1:40p-2:10p Monday through Thursday and you get to select your own two day combination. Preschool lessons (3-5) are 1:10p-1:40p also Monday through Thursday selecting your two day combo! We also have swim team practices earlier in the day for those who've already completed our 7 stations in swim lessons! Those times are 2:15p-3:45p Monday-Thursday and you can attend as many practices as you are up to!
Elkin Sports Performance

Richmond

Elkin Sports Performance is the top strength and conditioning gym in Central Virginia. The ESP facility features 2 turf sections and a large weight room ready and waiting to help you! ESP has been offering group speed, agility, and weight training for ages beginning at 7 years old up to 18 and adult programs for the past 10 years. Elkin Sports Performance works with private organizations to provide speed, agility, or weight training off site or hosting them at our 10,000 square foot facility. Our group training programs begins with the 7-10 age group program. These athletes work on building a strong movement foundation practicing a variety of speed, agility, and strength training exercises tailored to their ability. The 11-14 program builds on that foundation. With increased intensity and focus, athletes will be challenged and encouraged to work hard on improving. We offer a structured weight training program for interested individuals designed to improve strength, mobility, and build for the future. Our 15-18 program challenges the teenage athlete by applying time tested principles of strength, speed, and agility training to maximize their potential while preparing them for the rigors of their athletic endeavors. Anyone interested in improving strength, speed, or agility along with losing weight, reducing injury, or looking to begin a new and different fitness plan can find their program at Elkin Sports Performance.
Aqua-Tots Swim Schools P.E. at the Pool - Richmond

Richmond

Aqua-Tots Swim Schools is a local swim school owned and operated by a home school family. We are excited to offer a brand new program - P.E. at the Pool! This small group P.E. class is designed for students ages 5-6 and 7-10 to get fun, engaging active time in the safe environment of our indoor swimming pool! This program will begin the 1st week of September, with Monday/Wednesday and Tuesday/Thursday options available between 1 and 4PM. We are open to creating additional class times if groups of at least 8 students are interested. This is not a swim lesson - swimming ability is preferred but not required. Monthly tuition comes out to only $10 per class! We have two locations in the Richmond area - West End and Midlothian. Call us at (Richmond - West End 804-740-1185) and (Midlothian - 804-205-1184) for more info and to reserve your child's spot!
The Virginia Axe Company

Richmond

Sport axe and knife throwing in the central Virginia area! Learn how to throw knives an axes in a safe, friendly, alcohol-free environment. The coaches are national and international champions whose focus is solely on education and making sure you feel good about throwing pointy things! There has never been an accident at the facility and steps are taken everyday to ensure there never is one!
Richmond Olympiad Gymnastics

Richmond-Chesterfield-Midlothian-Ashland

Richmond Olympiad has been serving the Richmond Area for over 47 years and have four convenient locations. The Olympiad offers preschool - school age gymnastics-fitness classes, homeschool and tumbling for cheer & dance. Call or email today to set up a special homeschool class that fits groups needs. www.richmondolympiad.com or 804-794-2813
Fox Pointe Farm IEA Equestrian Team Ages 11-19

Richmond/Quinton

Upper and Middle School Equestrian Sports Program. Fox Pointe Farm of Quinton, VA has a upper and middle school equestrian team with member openings for the 2010-2011 season! Unique opportunity for "horseless" equestrians, all levels of riders welcome. Train on the quality schooling horses, only personal riding gear needed. Team member eligibility is primarily ages 11 through 19, or grades 6-12. The season is September through April, students practice twice weekly and compete a minimum of 3 - maximum of 6 times per season.
Southwest Virginia Academy Conquerors

Roanoke

This homeschool sports group offers many sports opportunities. They are competitive and depending on which sport do travel. The sports offered are Swimming, Track, Cross Country, Volleyball, Soccer, and Basketball.
RVHR (Roanoke Valley Homeschool Rec.,Inc.)

Roanoke

This is a homeschool recreation soccer group. They are comprised of player from 4-5 years old to graduating. They are put into age groups and play against others who sign up to be on different teams. There is a championship before the season ends. This sports group has two playing seasons in spring and fall.
Richmond Fencing Club

Scott's Addition, Richmond

The Richmond Fencing Club is a 501C non-profit organization that teaches the Olympic Sport of Fencing. RFC has been in business for over 20 years in the city of Richmond, VA. RFC offers classes for students from 6 years old to adults at our permanent facility in the Scott's Addition area of Richmond. Classes are held in the evenings Monday through Thursday. See our website for start times for specific classes. Classes are one hour in length and we train from the beginner level to advance competitive fencers. Monthly, RFC offers Intro to Fencing Classes through Groupon. These Groupon classes offer a considerable cost saving while allowing students to try the sport without a long-term commitment. RFC provides all necessary equipment to participate in the sport.
Word of Life Christian Academy Football

Springfield

Word of Life Christian Academy in Springfield, VA is currently putting together a football team for grades 8-12. If there are homeschool children that would like to join the team please have them contact Coach Spargo. Children do not have to attend Word of Life and we currently have several homeschool students on our team. This is a great way for homeschool children to be able to play football and be part of a great group of boys. If interested please contact Coach Spargo ASAP at 571-722-5466.
Yamasaki Academy Jiu Jitsu

Springfield

Yamasaki Academy Springfield location is offering a program for Homeschool children ages 7 – 13 years old! Our classes will run in Fall, Winter, and Spring Programs with classes on Mondays and Wednesdays from 1:30- 2:30pm throughout the standard school year. For families who spend their weeks Home Schooling, social outlets are a great way to balance the school week. Yamasaki Academy has developed our afternoon program specifically for Home School students. Our program teaches invaluable life skills, such as respect, perseverance, goal setting, discipline, and confidence. Our class focus is on learning Brazilian Jiu Jitsu, while also improving our fitness and having fun! Program Information: Our Programs run for 8 weeks in the Fall, Winter, and Spring. We aim to match the Fairfax County school calendar breaks to accommodate families who have children who Home School and children who attend public school. Our Fall Program runs from September – December. Our Winter Program runs from February – March. Our Spring Program runs from April – June. We offer family discounts and also Homeschool group discounts. We also offer a discount if you sign up for the entire year. Email info@grappling.com for more information, use the subject line "homeschool" or contact Coach Kristen Allan at 703 407 3952.
SPIRE Running

Springfield

Spire Running is a competitive cross country and track team for middle school and high school, homeschooled athletes.
Paladin Martial Arts Federation LLC

Sterling

Offering martial arts training during the day for homeschool groups. Paladin Martial Arts Federation offers the most comprehensive martial arts in the NOVA area. The Founder and Instructor has almost 30 years of experience in multiple styles of martial arts from around the world.
AcroKidz

Sterling

AcroKidz is a full-sized school bus converted into a safe and fun gymnasium. The bus is padded and filled with fun equipment specifically designed for children ages 2 - 7.
Loudoun Ice Centre

Sterling

Loudoun Ice Centre is a smaller ice rink that accommodates skaters of all ages. Accommodates non-skaters with on-ice activities such as broom-ball and sledding. Facility has party/meeting rooms (3) for other fun activities such as arts and crafts and STEM experiments.
Jeff Smith Mile High Karate

Sterling

Jeff Smith Mile High Karate is a martial arts school in Sterling, Virginia providing a perfect venue for children (and adults) to train and get exercise while learning to protect themselves. Programs are designed to help students become good stewards of their community. The leadership program promotes positive behaviors and regularly offers anti bullying seminars open to the community at large. Attending these seminars are required for each student. Students leveling up to Black Belt are required to complete a community service.
Dream Catchers

Toana

Dream Catchers at the Cori Sikich Therapeutic Riding Center enriches the lives of children, adults, and families through equine assisted services offering education, empowerment, healing, and hope. Weekly equine assisted activities, including therapeutic riding, speech therapy and psychotherapy, designed to each participant's capabilities to help achieve greater independence and pursue their dreams. With the cooperation of local schools, children in special education classes may receive therapeutic riding lessons for a 6- to 8-week period as part of their curriculum. Camps for junior volunteers offer a fun environment where students learn about horses and horse care, complete projects around the barn, and receive a daily riding lesson.
Picturesque Farm horseback riding lessons

Warrenton

Picturesque Farm offers horseback riding lessons to kids (and adults) of all ages, from beginners through advanced. Learn horsemanship, proper horse care, safety, and, of course, how to ride! Great activity for young kids to learn responsibility, dedication, team work, as well as improve confidence. It gives kids a chance for social interaction as well as a great way to exercise and enjoy the outdoors! Also offers Summer Day Camps, Spring Break Camps, and Winter Break Camps. Please call (540-349-2026) with questions or to schedule a tour.
Williamsburg Gymnastics

Williamsburg

Homeschool Gymnastics classes for ages 5-18. Located at the College of W&M in Williamsburg, Virginia. A great way to get moving in a fun, safe, and friendly environment. Get those PE credits here. Classes are on Fridays 11:00am-12:00pm. Visit the website to register now. Classes run monthly.
Competitive Edge Athletic Center - Homeschool PE Program

Woodbridge

Home School P.E. program is designed to improve students' motor skills, overall fitness level, and to be enjoyable for home school students. This program allows the opportunity for social interaction and development with fellow home schoolers. Incorporating the SPARK PE curriculum into all PE classes to provide a variety of fun and challenging activities that will instill safe and effective fitness habits for students.

Competitive Edge Athletic Center - Homeschool PE Program details
Yamasaki Academy Martial Arts

Woodbridge

Yamasaki Academy of Woodbridge has a program for Homeschool children ages 4 to 14 years old! Our classes run in 3 month semesters with classes on Monday and Tuesday 1:30pm - 2:30pm. One class/week is $249 for the semester ($220 if you already have a uniform) or $399 for both classes/week ($369 with the uniform discount). Topics in the Homeschool Program will include techniques from Judo, wrestling and Brazilian Jiu-Jitsu. As children progress they may receive gradings on their belts when possible. We will use the IBJJF kids belt rankings for this program. For more information please email info@yamasakiwoodbridge.com or call 571 402 7208. This program is offered in our Springfield, VA Yamasaki location too!